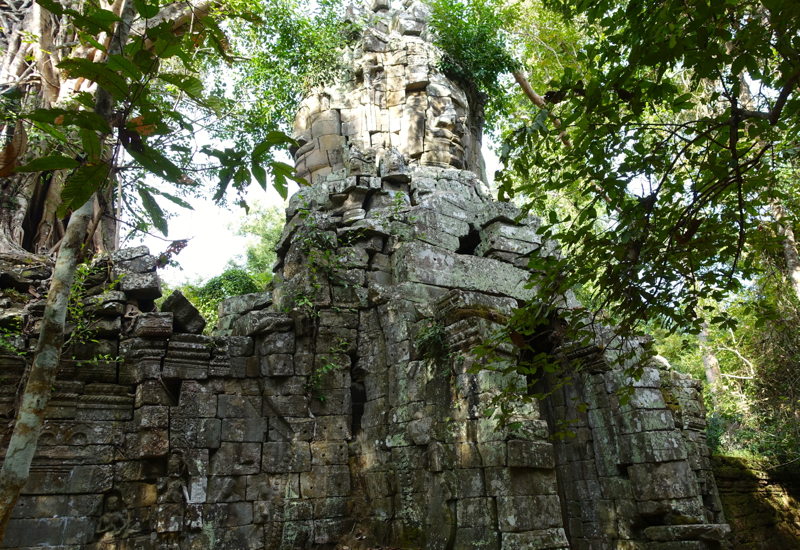 This Ta Prohm and Preah Khan Temple Photo Tour is part of a trip report on Siem Reap, Cambodia, including Asiana First Class and luxury resorts and dining in northern Thailand.
For the previous posts in this trip report please see:
SWISS Lounge JFK Terminal 4 Review
Review: Asiana First Class Suite NYC JFK to Seoul ICN
Review: Cornerstone Restaurant, Park Hyatt Seoul
Lounge Review: Asiana Business Class Lounge Seoul Incheon
Asiana Business Class A330 Review
Review: Novotel Bangkok Airport Hotel Suite
Review: Anantara Golden Triangle Elephant Camp and Resort
Anantara Golden Triangle Sala Mae Nam Restaurant Review and Menu
Mahout Experience at Anantara Golden Triangle Elephant Camp
Dining By Design at Anantara Golden Triangle Elephant Camp
Hotel Review: Park Hyatt Siem Reap
Beng Mealea Jungle Temple Photo Tour, Siem Reap Cambodia
Touich Restaurant Siem Reap Menu and Review
Getting to Ta Prohm and Preah Khan and Angkor Entrance Fee
Ta Prohm are each about a 16-20 minute ride by Amansara remork (moped-powered trishaw), and about an 8 minute ride from each other.
Adults and children 12 and older each need an Angkor Pass to visit these temples; the most popular pass is for 3 days and costs $40, although a 1 day pass for $20 and a 7 day pass for $60 is also available. Children under 12, such as our son, are free. A photo is taken at the time you buy your pass, since the pass is for your own personal use and not transferable.
Tour Ta Prohm and Preah Khan While Avoiding the Crowds
One of the things we loved about Amansara was the great timing for visiting the temples. Peak temple visit times tend to be during the day until about 3:30pm, so instead, Amansara arranges its twice daily tours (included in the mandatory half board and touring charge) to be either early morning or with a 3pm departure.
Another benefit of Amansara's included temple visits is access to the best guides. Ours had trained most of the more knowledgeable guides currently working, and he showed us aspects of the temples we'd never have seen on our own or with a less experienced guide.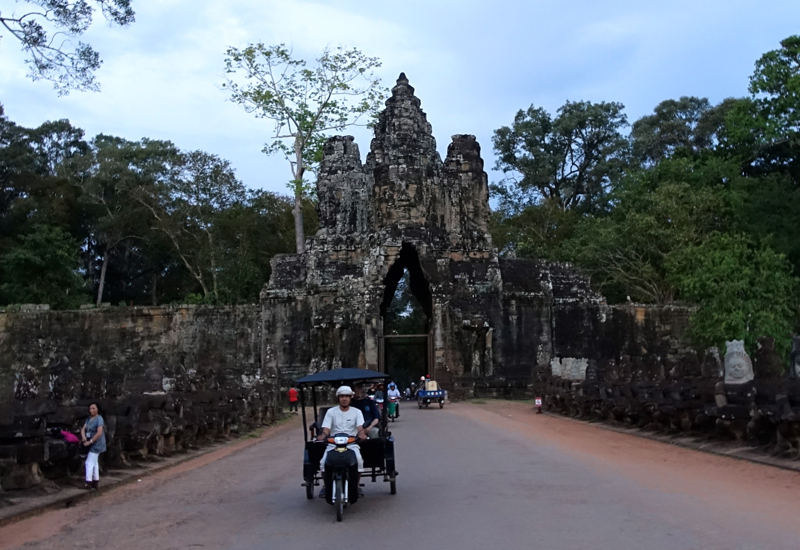 What We Enjoyed About Ta Prohm and Preah Khan
1. Secret Entrance Path to Ta Prohm
Ta Prohm's largely unrestored state makes it one of the most popular temples in the jungle in the Angkor complex–not everyone makes it out to Beng Mealea, after all. So its regular entrance and the temple itself is often very crowded, with visitors lining up to take photos with the tree roots at particularly photogenic spots.
That's why it was especially nice to approach the temple from a "secret" entrance path where we and our guide were literally the only visitors. Seeing the heads on the gate through the trees, in complete silence, was magical–we had an inkling for what it must have felt like to be Henri Mouhot or one of the French missionaries who were among the first Westerners to see the Angkor temple ruins (although they of course did not "discover" them–the temples were always known to the Khmer living in the area).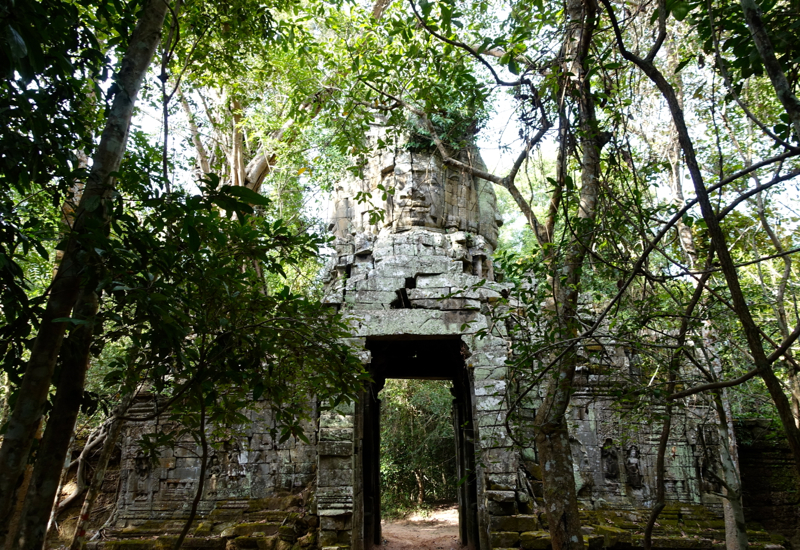 2. Sacred Goddess Shrines Hidden Within Preah Khan
At Preah Khan, also known as the Monastery of the Sacred Sword, a special highlight was being led by our guide to the hidden shrines dedicated to the sacred goddesses (devata). They are said to be in the image of Queen Indradevi and Queen Jayadevi, the two wives of King Jayavarman VII.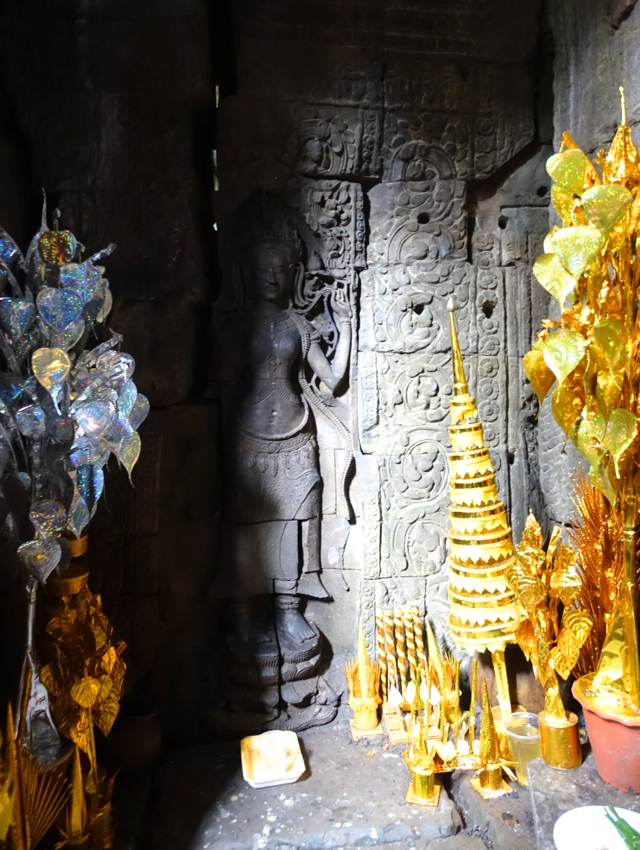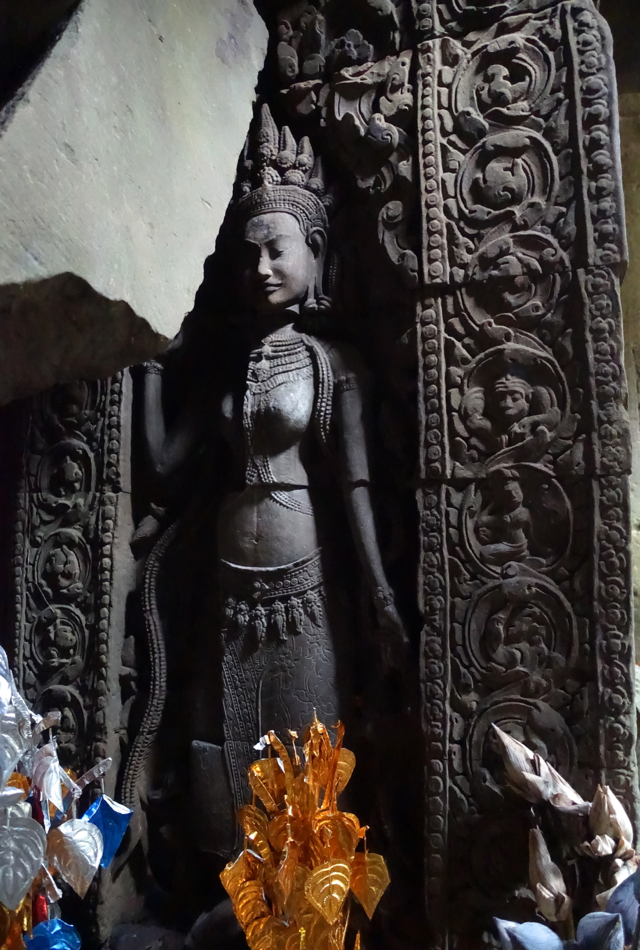 3. Marvelling at the Tree Roots Taking Over Ta Prohm
There's good reason why the tree roots taking over Ta Prohm has become one of the most iconic images of the Angkor temples. From one large tree root powerfully rooted over the ruins, to an intricate web of smaller roots spreading lace-like over the sandstone, it's hard not to be moved by nature taking back temples that were Khmer civilization at their zenith.
While we're not too into lining up just to take a photo at the most popular tree root spots, fortunately, if you come later in the day, you can easily find a less popular spot for a photo with the roots.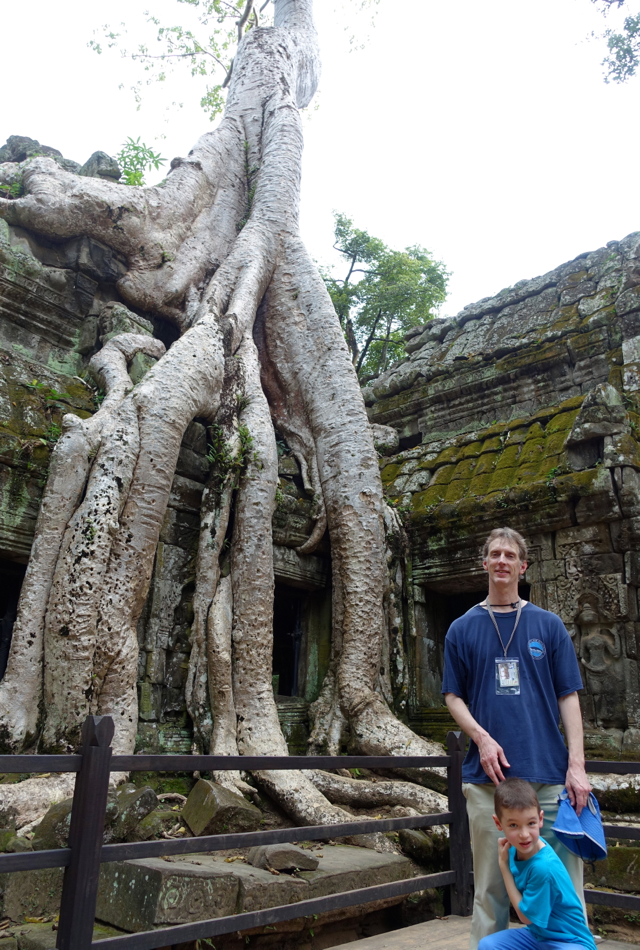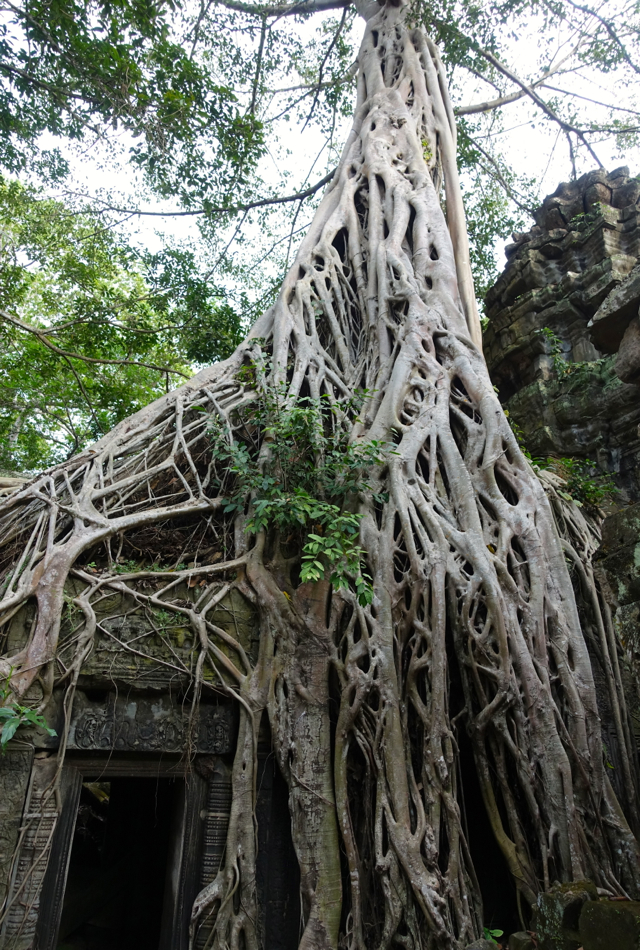 4. Intricate Carvings That Have Survived Over 800 Years
It still amazes me that over 800 years, in a humid climate and subject to various bacteria, the carvings have survived even in the condition they're in and haven't degraded more than they have.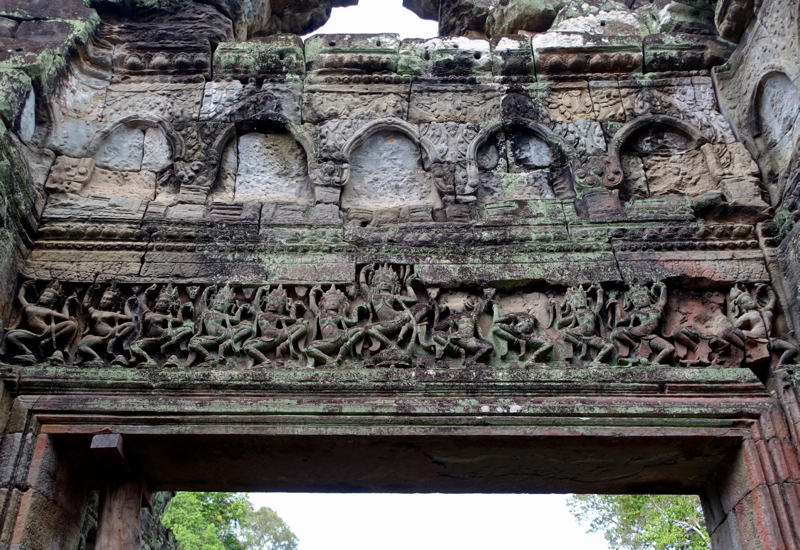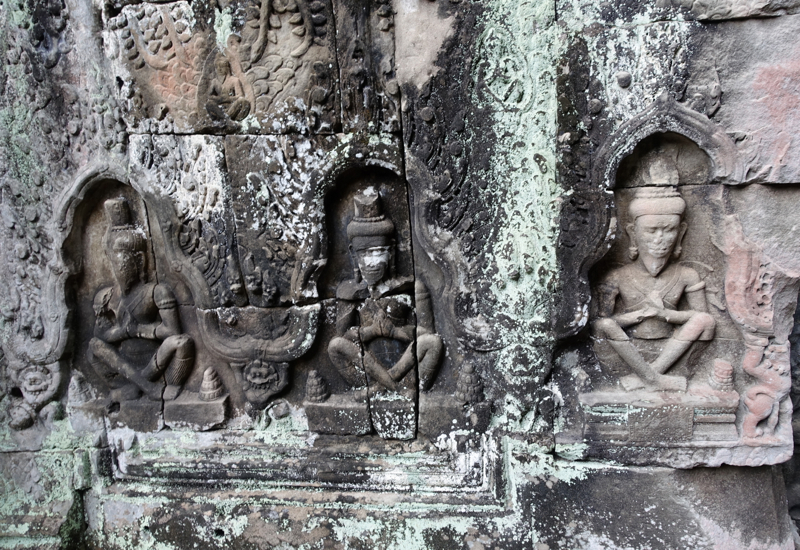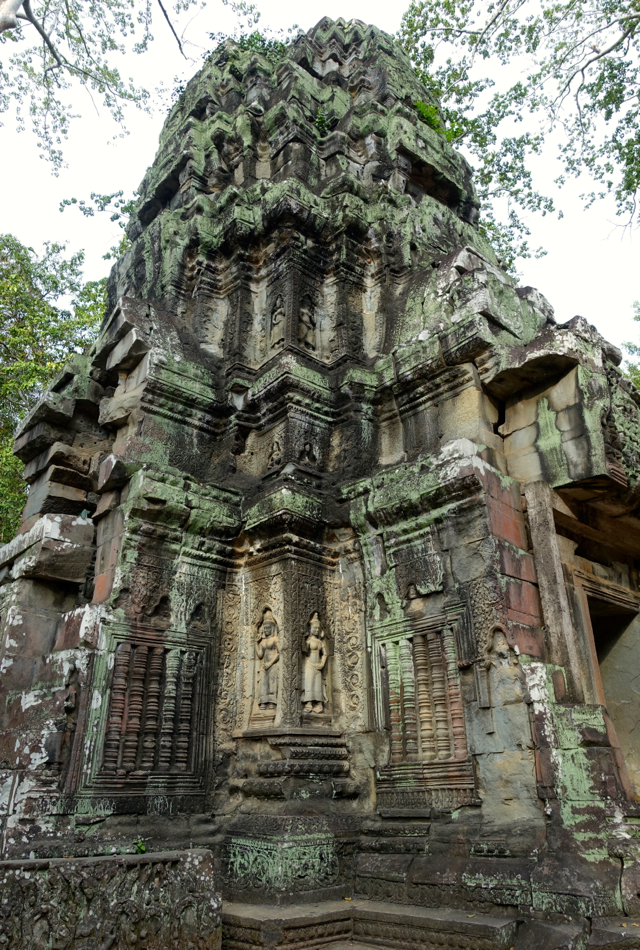 5. Buddhist Monks Visiting the Temples
A quite common but distinctive sight was that of Buddhist monks in their bright orange robes visiting the temples: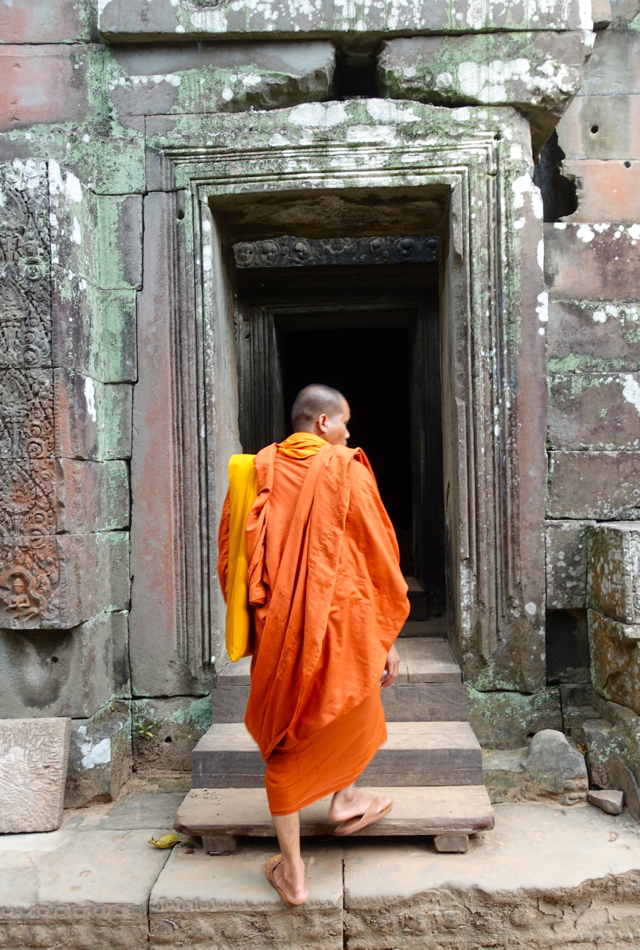 6. Unusual Two Storied Building at Preah Khan
This two-storied building at Preah Khan is the only one of its type to have survived in the Angkor temples, although traces of similar buildings are at Ta Prohm and Banteay Kdei. It's not known exactly what it was used for; speculation is that it may have been a granary or a library.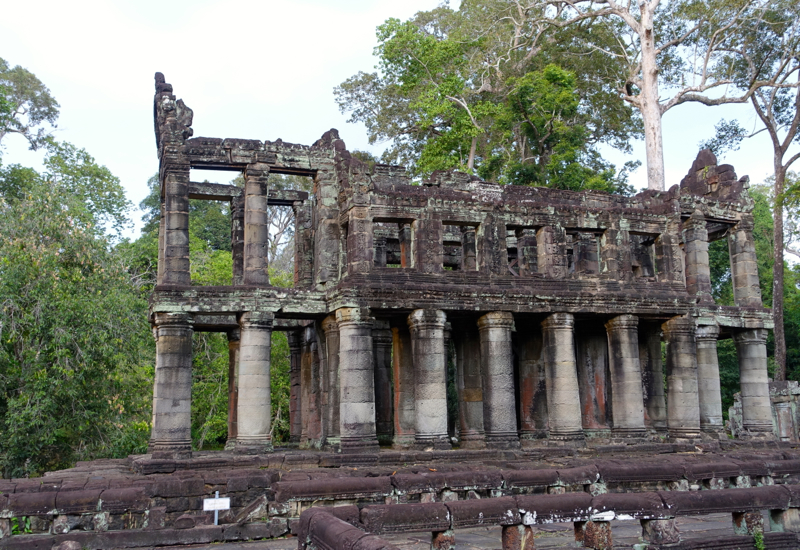 If you've explored Ta Prohm and Preah Khan, what was your experience?
Related Posts
Beng Mealea Jungle Temple Photo Tour, Siem Reap Cambodia
Need Award Booking Help? Our fee is as low as $75 per ticket if you book your hotel through us.
If you enjoyed this, join 150,000+ readers: please follow TravelSort on Twitter or like us on Facebook to be alerted to new posts.
Become a TravelSort Client and Book 5-Star Hotels with Virtuoso or Four Seasons Preferred Partner Amenities!