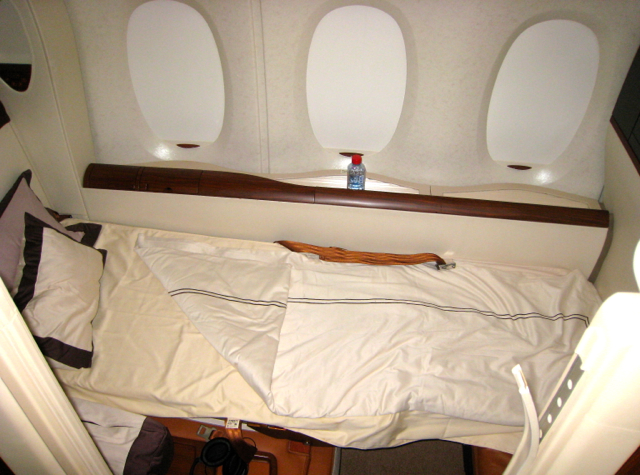 Singapore KrisFlyer announced an award chart devaluation that will take effect March 23, 2017, although it could have been worse. The main awards affected are Singapore Business Class Saver and Singapore Suites / Singapore First Class Saver awards, although some Economy Saver awards are also increasingly slightly.
The Bad News: Higher Award Rates + No More 15% Online Booking Discount
The biggest change? Effective March 23, 2017, the 15% online booking discount will be eliminated. This is a shame, because it made saver awards much more affordable. And you would think that Singapore Airlines would want to continue to motivate passengers to book online, rather than inundating the already besieged call center. Quite often, when I've had to call Singapore, there have been extremely long hold times.
Coupled with the award chart increases, popular Singapore First Class and Business Class saver awards will increase 28-30% in mileage terms.
Here's the current Singapore Airlines Saver Award Chart for the U.S.: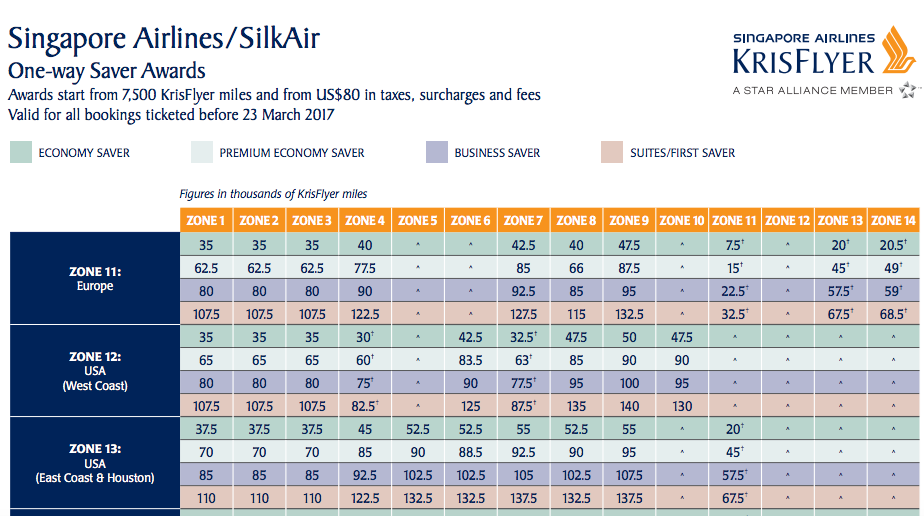 And the New Singapore Airlines Award Chart Effective March 23, 2017: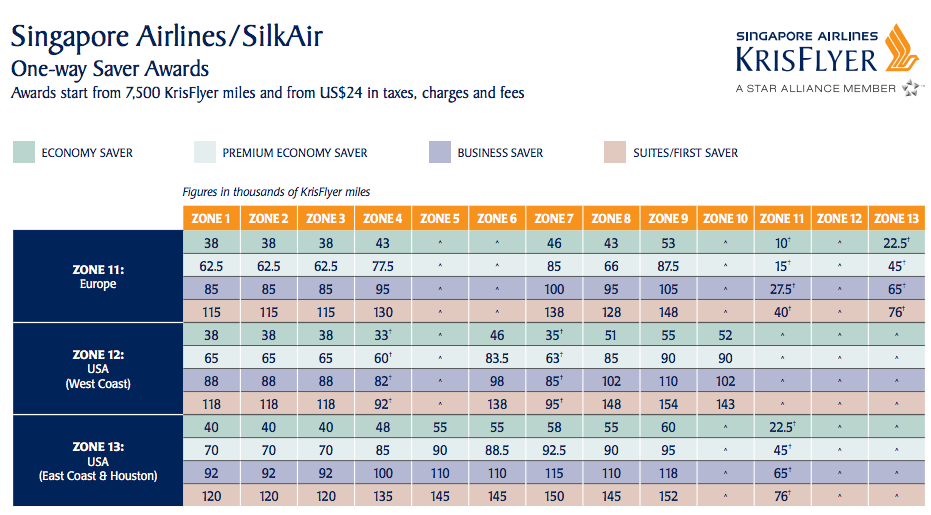 Singapore KrisFlyer Regions
Zone 1: Singapore
Zone 2: Malaysia, Indonesia, Brunei
Zone 3: Philippines, Thailand, Vietnam, Myanmar, Cambodia, Laos
Zone 4: South China, Hong Kong, Taiwan
Zone 5: North China (Beijing and Shanghai)
Zone 6: South Asia (India, Sri Lanka, Maldives, Bangladesh)
Zone 7: Japan, South Korea
Zone 8: Perth and Darwin only, Australia
Zone 9: Australia (except Perth and Darwin), New Zealand
Zone 10: Africa, Middle East, Turkey
Zone 11: Europe
Zone 12: USA West Coast
Zone 13: USA East Coast and Houston
Examples of Award Increases:
Singapore Suites New York JFK to Singapore via Frankfurt: 93,500 KrisFlyer miles with 15% online discount, increases 3/23 to 120,000 KrisFlyer miles (28.3% increase)
Singapore First Class West Coast to Japan: 74,375 KrisFlyer miles with 15% discount, increases 3/23 to 95,000 KrisFlyer miles (27.7% increase)
Singapore Business Class Europe to Australia / New Zealand: 80,750 KrisFlyer miles with 15% discount, increases 3/23 to 105,000 KrisFlyer miles (30% increase)
The other change to note is that currently, if you make an online change to an award booking, changing your route, class of service or award type, you're charged $12, instead of $20 when calling. Effective March 23, 2017, ALL changes, online and offline, will cost $20. It's not a big change, and Singapore KrisFlyer is still much less expensive than most frequent flyer programs when it comes to changes, but is something to note.
The Good News: Elimination of Fuel Surcharges
The good news is that Singapore KrisFlyer is eliminating fuel surchages on its award tickets, so you'll only have to pay regular airport taxes and fees. This can mean savings of over $300 per ticket on a one way award between Singapore and the U.S., as Singapore Airlines' example below illustrates: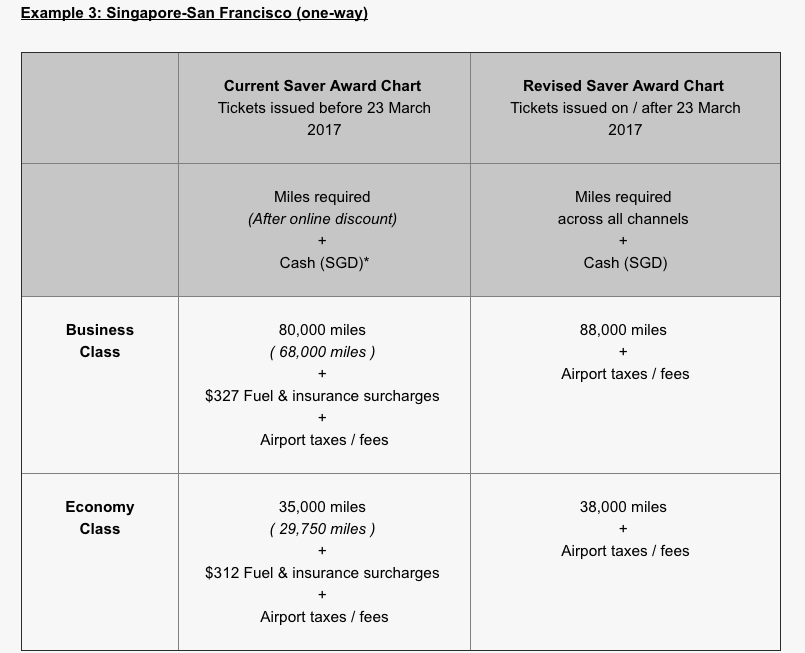 Personally, I'd rather keep the status quo and continue the current award chart and 15% online booking discount with no change to the fuel surcharges–the elimination of the fuel surcharges is worth less than the increase in miles, at least if you value KrisFlyer miles around 2 cents per mile. But since the award chart and elimination of the 15% online discount is definitely occurring, at least there's some good news to be had.
FAQ
Does This Affect Any Already Ticketed Singapore KrisFlyer Tickets?
No, as long as the tickets are issued before March 23, 2017 and you fly the tickets as ticketed.
What If I Change a Ticket March 23, 2017 or Later? Will I Have to Pay More Miles?
Yes, assuming the ticket is reissued, which is typically the case for change of routing, change of cabin, type of award, etc. The only scenario I can see where you may avoid additional miles being charged is a simple change of date, although since I'm not Singapore Airlines I can't guarantee this won't reprice as well. Best to assume that any change will result in an increase in miles for the same or similar ticket, due to the higher award prices and elimination of the 15% online discount.
What About Wait Listed Awards?
To enjoy the current award pricing you'll need to clear the wait list and ticket before March 23.
Do you plan to redeem Singapore KrisFlyer miles before March 23?
Recommended Posts
Review: Singapore Airlines First Class 777-300ER
Singapore Airlines Private Room Lounge Review
Review: Singapore Suites A380 New York JFK to Frankfurt with a Kid
Where to Transfer AMEX Points and Citi ThankYou Points Before Closing Credit Cards?
Earn Singapore KrisFlyer Miles for JetBlue Flights
Need Award Booking Help? Our fee is as low as $75 per ticket if you book your hotel or cruise with TravelSort.
If you enjoyed this, join 200,000+ readers: please follow TravelSort on Twitter or like us on Facebook to be alerted to new posts.
Become a TravelSort Client and Book 5-Star Hotels with Virtuoso or Four Seasons Preferred Partner Benefits