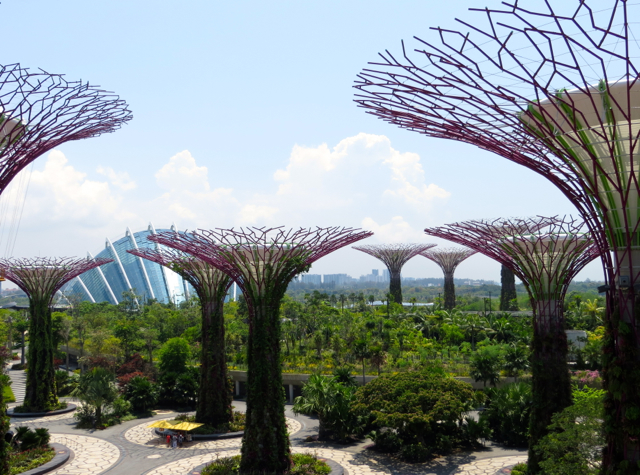 This Singapore Gardens by the Bay review is part of a trip report including Singapore Suites, Cathay Pacific First Class, Emirates First Class, Asiana First Class and luxury resorts and dining in Southeast Asia. For the previous posts, please see:
Singapore Suites A380 Review: New York JFK to Frankfurt
Review: Lufthansa Senator Lounge Frankfurt
Singapore Suites A380 Review: Frankfurt to Singapore
Singapore Airlines Private Room Lounge Review
Cathay Pacific First Class Review NYC JFK to Hong Kong
Singapore Suites A380 Review: Singapore to Hong Kong
Review: Grand Hyatt Hong Kong Club Harbour View Room
Tin Lung Heen Hong Kong Dim Sum Review
Review: Grand Club Lounge, Grand Hyatt Hong Kong
Emirates First Class A380 Review: Hong Kong to Bangkok
Review: Novotel Bangkok Suvarnabhumi Airport Hotel
Conrad Koh Samui Zest Restaurant Review, Menu and Prices
Koh Taen Snorkeling with Tours Koh Samui Review
Conrad Koh Samui Jahn Restaurant Review, Menu and Prices
Four Seasons Koh Samui Breakfast and Koh Thai Kitchen Review
Takho Bangpo (Bang Por Seafood) Koh Samui Review
W Koh Samui Breakfast and Kitchen Table Review
Gardens by the Bay opened after my previous visit to Singapore, in 2012, so I was excited to take my family to see it on this trip's one night stopover in Singapore. Although we had only a little over an hour, we wanted to see the Supertrees, and at least one of the two conservatories (the Cloud Forest Dome and the Flower Dome).
From the Four Seasons Singapore, a taxi took just over 15 minutes and was about SGD $12. The ticket booth was well signed, and the price to visit both conservatories is SGD $28 for adults and $15 for children. That said, my husband and son just wanted to visit the Cloud Forest Dome, so it was roughly half that cost to visit just that conservatory.
Also note that Singapore Airlines and Tiger Airways provide discounted admission if you present your boarding pass; 10% off with a Singapore Airlines boarding pass, and SGD $8 off adult admission to both conservatories with your Tiger Airways boarding pass.
Cloud Forest Dome
The Cloud Forest Dome replicates the environment you find in tropical mountain regions 3300-9800 feet above sea level, found in South East Asia and Central and South America. The first thing that greets your eyes upon entering is a 115 feet waterfall: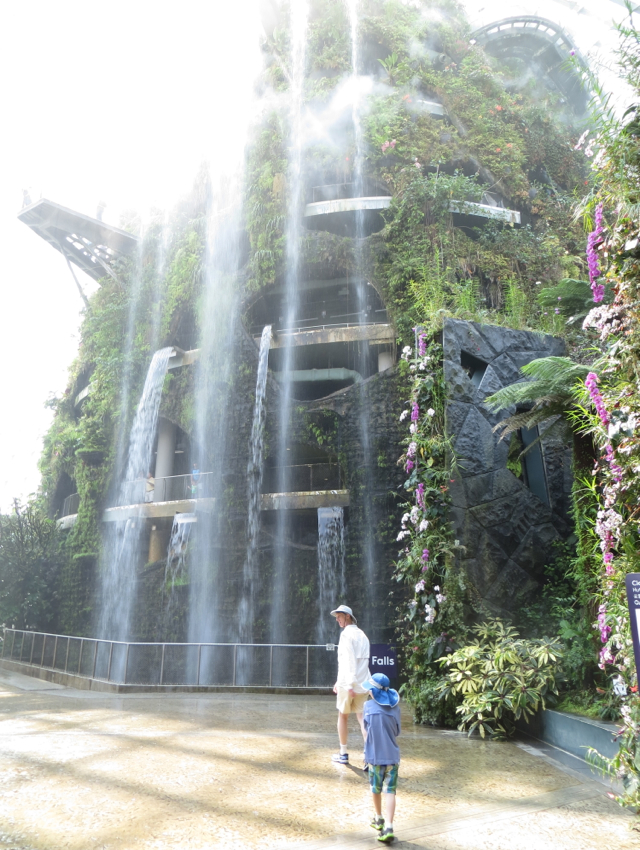 You then wend your way around the base of the mountain, past lush ferns and even a moss and flower covered truck to an elevator that takes you up to the "Lost World."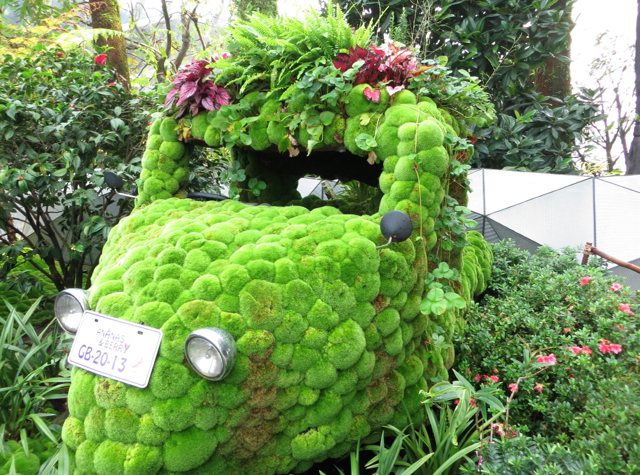 This being Singapore, there's a helpful sign describing the route and sequence of places you'll see during your visit: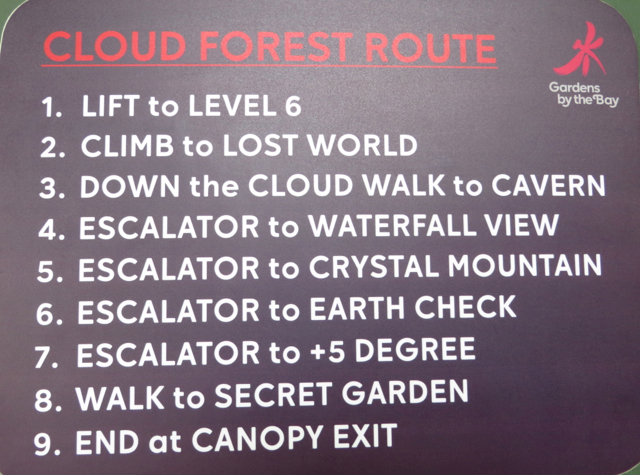 The Lost World at the top was itself a bit anti-climactic compared to the name (I was perhaps expecting something a little more exotic I suppose, out of Avatar) although if you look closely, there are some carnivorous plants–cue Little Shop of Horrors. There's no question it affords some great views of the Singapore Flyer, the Supertrees and the Marina Bay Sands: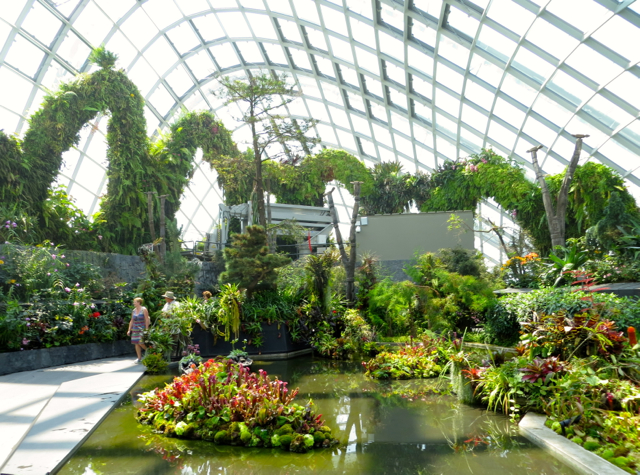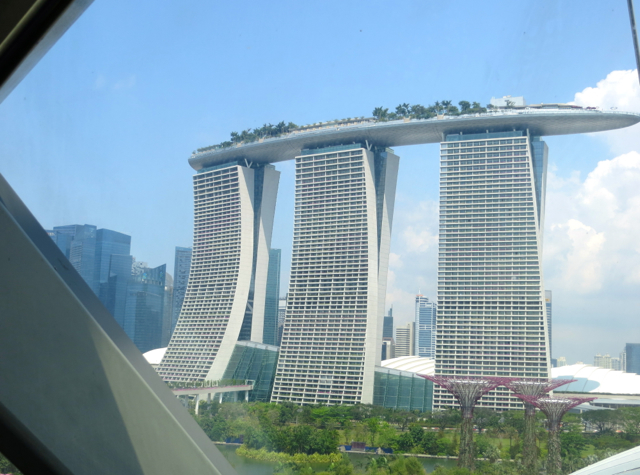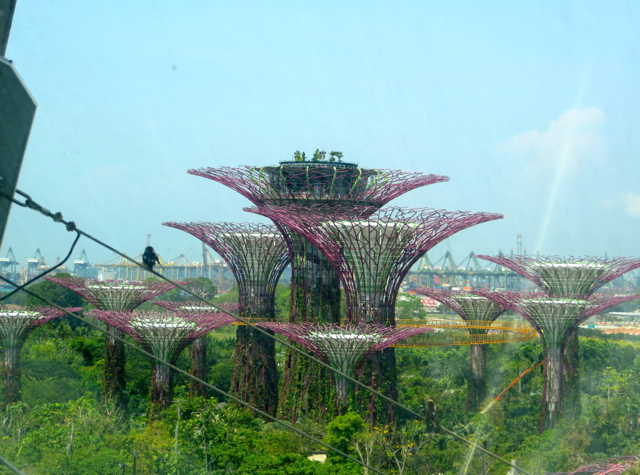 I would have happily meandered at a more leisurely pace, to enjoy the amazing landscaping of The Cloud Mountain, but the munchkin was dragging my husband down rather quickly along the route. You descend an escalator to see "Crystal Mountain" with its displays of stalactites and stalagmites.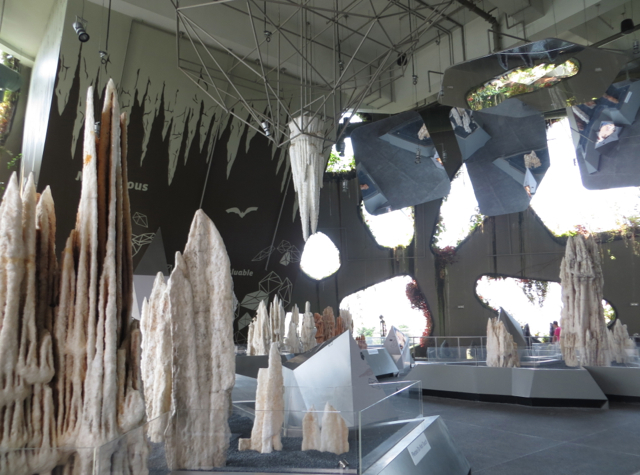 Next, you descend further escalators to "Earth Check" and "+ 5 Degrees" which offer a film and interactive and educational exhibits about human impact on the environment. If we had had more time, we would have spent it here, since the munchkin is very interested in science and the environment.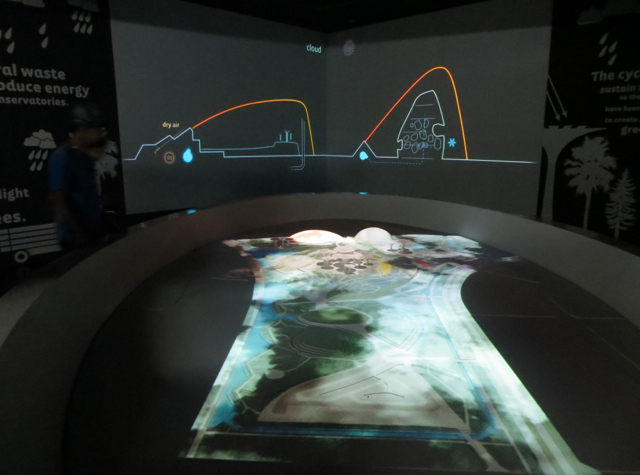 Flower Dome
I paid for access to both conservatories so I could quickly get a taste of the Flower Dome. While this is undoubtedly the dome to visit if you're an avid gardener, I'm not one, so I found it beautiful but less interesting than the Cloud Forest Dome. The climate here is mild and dry, meant to replicate the semi-arid environment of the Mediterranean and parts of Australia, South Africa and South America.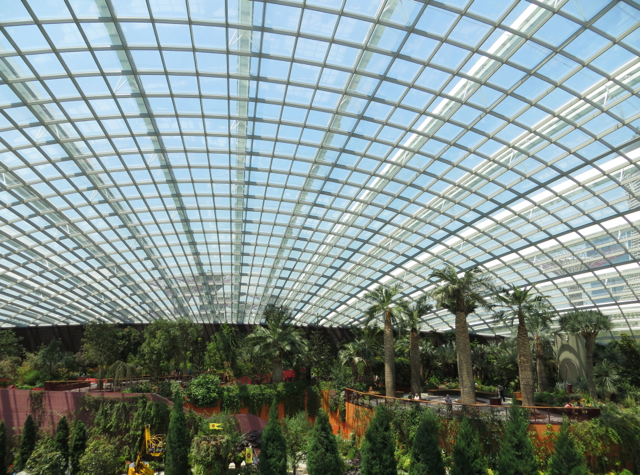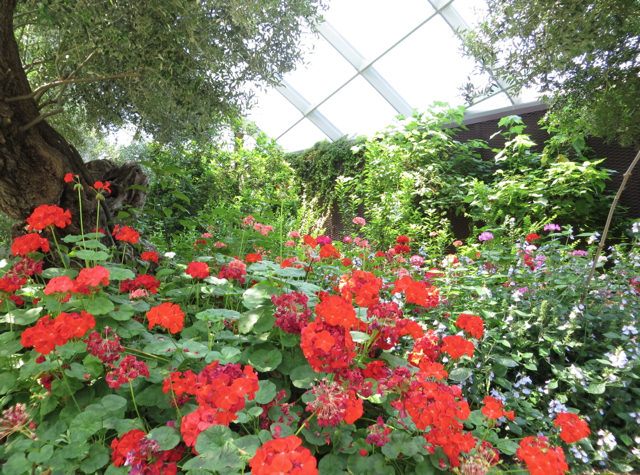 There were various costumed statues in some of the gardens, which proved to be very popular as photo ops for many of the visitors. Here's an example, in one of the rose gardens: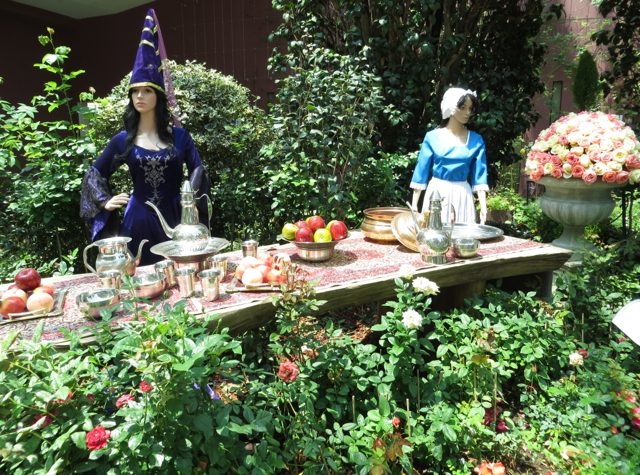 OCBC Skyway and Supertrees
As soon as the munchkin spied the bridge connecting a few of the Supertrees, known as the OCBC Skyway, he wanted to go on it. You purchase tickets for this separately, either at the original ticket booth or near the entrance to the OCBC Skyway (Singapore dollars only, $5 per adult, $3 per child 3-12 years old).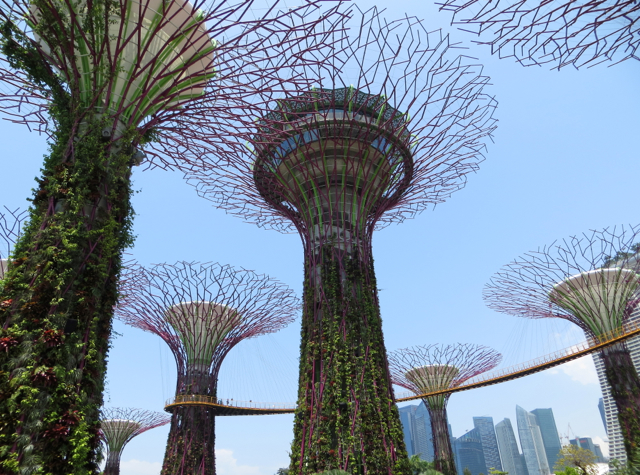 You take a short elevator ride up, then get treated to a unique close-up view of the Supertrees: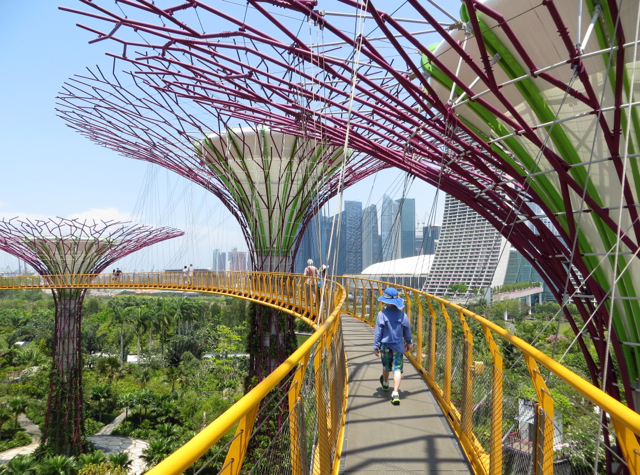 Again, great views from here of the Marina Bay Sands and of the other Supertrees: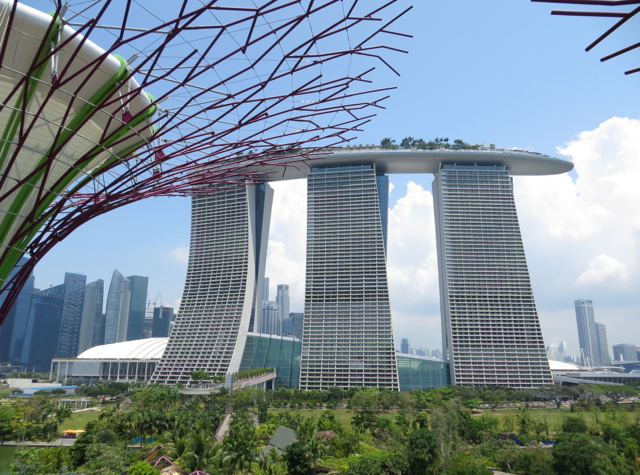 I was amused however by the long list of prohibited behavior, which included everything "no high heel shoes" to "no umbrellas" and "no flying kites."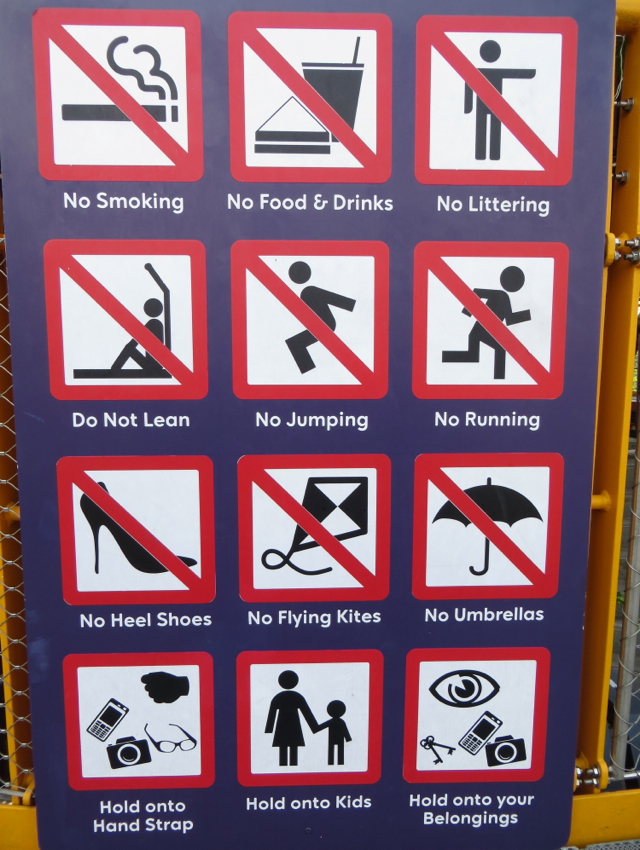 The Verdict: We enjoyed our visit to Gardens by the Bay, especially the Cloud Forest Dome, with its waterfall, interesting plants and great views. We also enjoyed the views from the OCBC Skyway. While it's certainly possible to spend several hours in the Gardens by the Bay complex, we were able to see most of what we wanted to see in a little over an hour, so even a short trip here is worthwhile.
Have you visited Singapore's Gardens by the Bay?
Related Posts
Singapore Suites A380 Review: Frankfurt to Singapore
Singapore Suites A380 Review: Singapore to Hong Kong
Need Award Booking Help? Our fee is as low as $75 per ticket if you book your hotel or cruise through us.
If you enjoyed this, join 100,000+ readers: please follow TravelSort on Twitter or like us on Facebook to be alerted to new posts.
Become a TravelSort Client and Book 5-Star Hotels with Virtuoso or Four Seasons Preferred Partner Amenities!