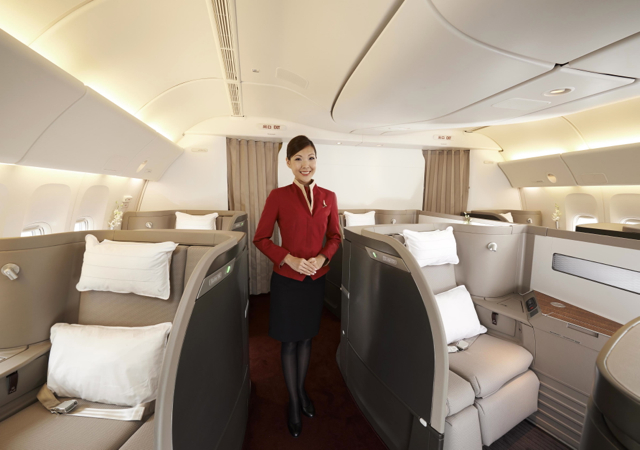 Is Singapore First Class or Cathay Pacific First Class better? A TravelSort reader writes:
"The price difference between
Singapore First Class
and
Cathay Pacific First Class
make them worth comparing. The price of Singapore Suites is in another league, and I don't think it's fair to compare it with Cathay First Class. So the question I have is which is better, Cathay First Class or Singapore First Class for travel to Hong Kong, leaving the higher priced Singapore Suites out of the comparison."
Normally I write more about Singapore Suites than Singapore First Class, both since most of my Award Booking Clients aspire to fly Singapore Suites on the A380 and because as an award ticket, Singapore Suites is the same cost in KrisFlyer miles as Singapore First Class. I've also seen Singapore Suites fares that, for the distance flown, are about the same as Singapore First Class, so the price differential isn't necessarily there.
Another aspect is that while the hard product, i.e. the seat/suite of course is different in Singapore Suites vs. Singapore First Class, the Book the Cook options (where available) are the same, service tends to be equally polished, and of course lounge access is the same: both Singapore Suites and First Class passengers have access to the Private Room in Singapore Changi Airport.
So without further ado, here are my thoughts comparing Cathay Pacific First Class to Singapore First Class, with the caveat that I haven't flown in
Singapore Airlines' New First Class
seat yet, or the
Cathay Pacific New First Class
(although both are more refreshes than significantly different products) and the food, entertainment and lounge assessments are based on my recent experiences on 3 Singapore Suites flights.
First Class Seat and Cabin
Winner: Cathay Pacific
Cathay Pacific offers one of, if not the widest, roomiest seat in first class, at 36 inches across, which I love. I can sit side by side very comfortably with my son and read him a story, which just isn't possible in most other first class products especially Suites, although Singapore New First Class does come close at 35 inches in width. That space is also welcome when the seat becomes a bed, at least if you move around a bit and don't enjoy feeling as if you're in a coffin.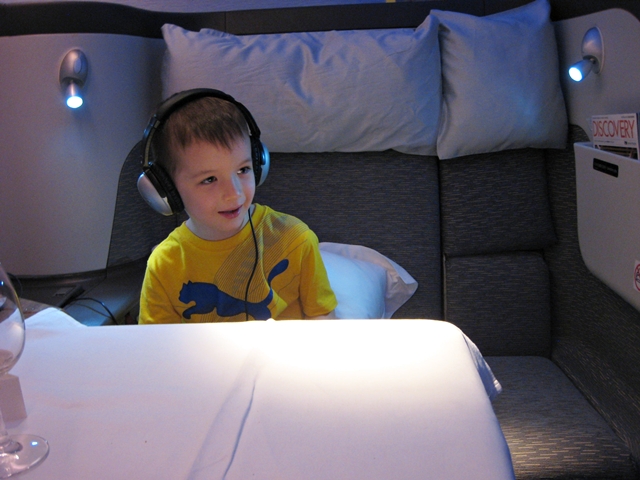 I will say that I prefer the padding of Singapore's bed, which has the edge in terms of comfort. But with the help of a sleep aid I've slept fine, if not quite as well, in Cathay Pacific First Class.
While Cathay Pacific first class seats are "open" in the sense of not being enclosed suites with doors, if anything the first class cabin has a more private feeling since on the 777-300ER there are only 6 spacious seats.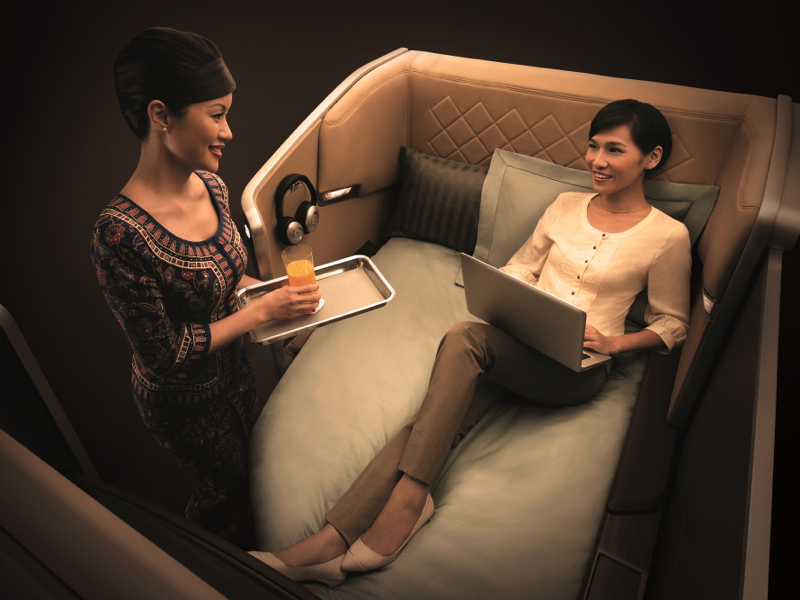 First Class Service
Winner: Tie
I've enjoyed the service in both Cathay Pacific First Class and Singapore First Class/Singapore Suites. Know going in that Cathay Pacific tends to be a little more reserved in service style, and less proactive after meal service, but you have only to either walk up to the galley or press the call button and you'll enjoy very attentive service. And don't be shy about trying different things–for example, I've enjoyed a wine tasting, asking to try a taste of each of the reserve wines they had on board, and Cathay Pacific's First Class attendants were happy to oblige.
Singapore Airlines service is a little more candid and open in style, which I enjoy. As with Cathay Pacific, both the purser and the attendants working first class will typically introduce themselves to you after you've boarded, and I like the fact that they usually have great eye contact–if you're standing, they'll stand, and if you're seated, they'll kneel so that they can be face to face with you.
They seem to instinctively know when a passenger would enjoy speaking about something–I've seen them engage an older couple in conversation about recommendations for their trip to Singapore, and on one flight when traveling alone, I enjoyed speaking with the attendant about our children, parenting, and schooling.
Hence, this one for me is a tie–some may prefer one or the other style, but on the whole I've found both Cathay Pacific and Singapore First Class teams consummate professionals who take great care of passengers and are better trained than many other first class cabin crews.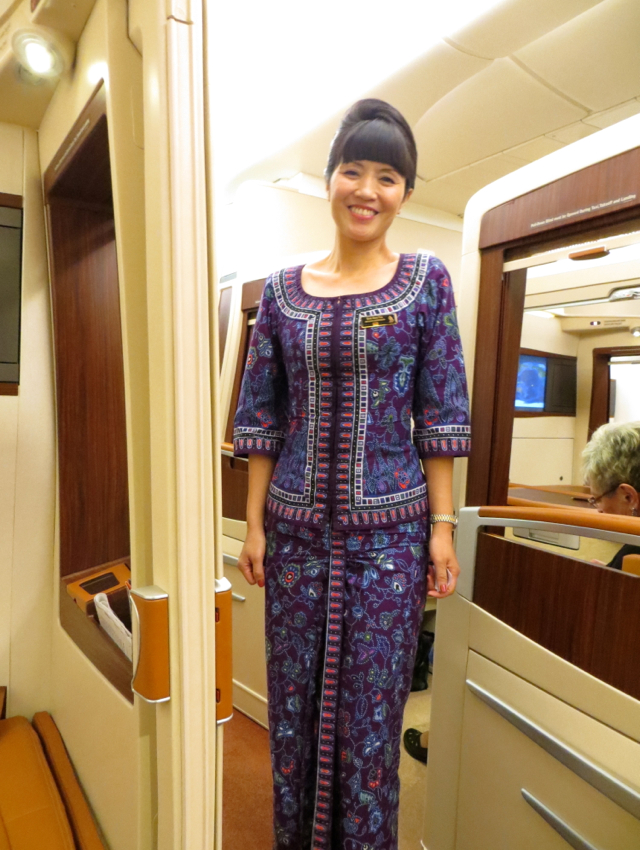 First Class Menu and Food
Winner: Singapore
Let me preface this by saying that airline food just doesn't match up to the best restaurant fine dining, and the kitchen limitations, high altitude and dry cabin air doesn't help matters.
That said, kudos to Singapore Airlines' Book the Cook, which on many routes offers a number of options you can pre-select, if you're a Suites, First Class or Business Class passenger. It's an especially good option flying out of Singapore, where you have all kinds of Singaporean options, but to my surprise, even my Frankfurt to Singapore flight, which was of course catered in Frankfurt, had a quite decent rendition of Nasi Padang (coconut rice with various curries).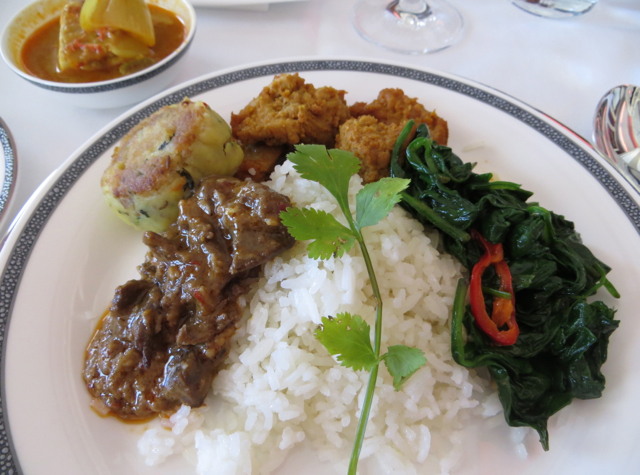 My favorite aspect of Cathay Pacific First Class has always been the Caviar with Balik Salmon, but sadly, as of May 2014 this year, Cathay has changed their caviar service to Calvisius, providing an individual tin for each passenger but no balik salmon. Looks like my husband and the munchkin enjoyed their last Cathay Pacific First Class with balik salmon on their flight in March.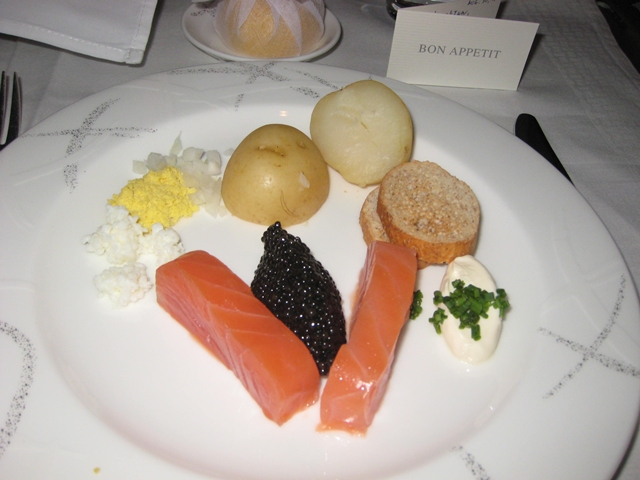 While Cathay's main dishes have been fine, I have yet to be wowed by any of them, and their desserts (as with Singapore Airlines, to be fair) are weak. Breakfast yogurt is good on both Cathay and Singapore, at least if Cathay still serves fantastic French brand La Ferme du Manege yogurt, and Singapore's creamy Moevenpick yogurt, at least out of Frankfurt.
In-Flight Entertainment (IFE)
Winner: Singapore Airlines
There may be disagreement about this category based on what you enjoy watching. And Cathay does have a strong IFE, Studio CX, which has kept the munchkin so happy with funny kids' films such as Horton Hears a Who that he's chortling with laughter (fortunately when other passengers were awake anyway).
I was so impressed, however, by the sheer variety of foreign language films on Singapore Airlines that I kept the inflight entertainment guide so that I'd be able to refer to it when my husband and I are trying to find a new interesting film to watch that isn't on our radar.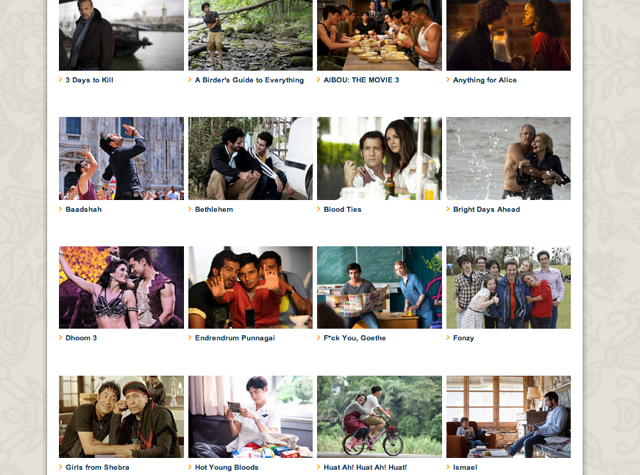 First Class Lounge
Winner: Cathay Pacific
I've not yet visited Cathay's recently renovated The Wing First Class Lounge in Hong Kong, but it has a couple important amenities that to me, anyway, place it above The Singapore Airlines Private Room for first class passengers departing Singapore: 1) Private cabanas with day beds for resting and 2) bathtubs in the cabanas.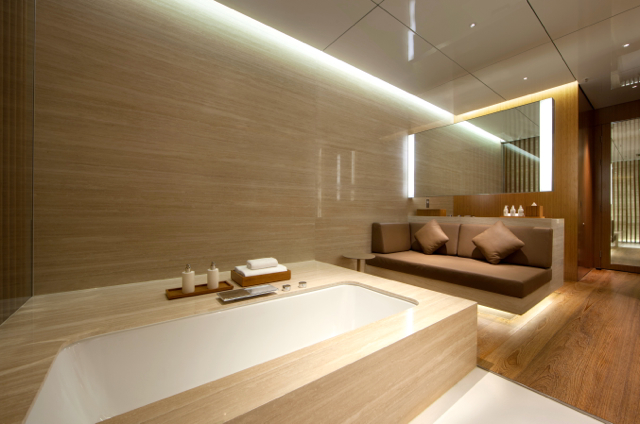 I do think a first class lounge should have a nap room or place to lay down, and there wasn't such an option in the
Singapore Airlines Private Room
, as elegant as it was, plus, at least in the ladies' bathroom, there were only showers, no bathtub. And while I don't need a bathtub, if traveling with my son I'd definitely want one, since he still hates showers. If your priority is food, the Singapore Airlines Private Room may be a better bet, since that was a strong point during my visit and I haven't seen from reports that The Wing offerings, even though ostensibly catered by The Peninsula Hotel, are all that enticing.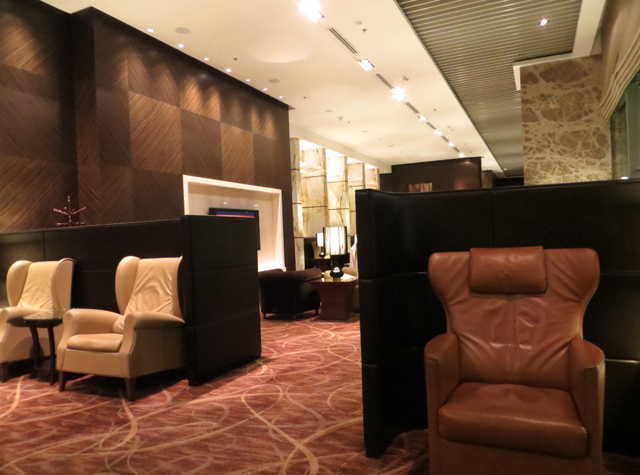 Which do you prefer, Singapore First Class or Cathay Pacific First Class, and why?
Related Posts