This Singapore First Class Review is part of a trip report including First Class and Business Class to Moscow on Lufthansa and Singapore Airlines, with reviews of luxury hotels and dining in Moscow and St. Petersburg, Russia.
For the prior posts, see:
Lufthansa First Class Award Booked 15 days in Advance
Lufthansa New First Class Review
Review: Lufthansa First Class Lounge in Munich
3-Year Russian Visa Application Requirements and Tips
Radisson Royal Moscow Hotel Review
8 Things to Eat in Moscow, Russia
Les Menus par Pierre Gagnaire at Lotte Moscow, Restaurant Review
Getting Around Moscow by Metro: Top 10 Tips
Sapsan Train Moscow to St. Petersburg Review and Booking Tips
miX in W Hotel St. Petersburg Restaurant Review
Preview: Four Seasons St. Petersburg Opening 2013
Red Arrow (Krasnaya Strela) Night Train St. Petersburg to Moscow Review
My Singapore First Class award ticket was something I'd been looking forward to for a few months, having booked it back in July that weekend that KrisFlyer award inventory was available on United.com. See Deal Alert: Singapore Airlines First Class Bookable on United. Even though that's no longer possible, you can still book Singapore first class and business class using KrisFlyer miles, by transferring SPG points (transfer in increments of 20,000 in order to receive a 25% bonus: 20K SPG points = 25K KrisFlyer miles) or AMEX Membership Rewards points. Also see our Singapore Airlines Suites Award Tips and FAQ
I arrived at Domodedovo Airport without a lot of time to spare, having missed the Aeroexpress train I wanted to take and taken a local train. There was no line at check in, although I did discover a gaggle of trainees who were learning how to check folks in and issue boarding passes. Fortunately that didn't take long, and security and passport control were expedited for first and business class. I just had time to snap a photo of the rather ordinary business class lounge Singapore uses in Domodedovo before proceeding to the gate and boarding.
I was welcomed by the purser and shown to my seat, 1F. There was only one other first class passenger on my flight, seated in 1A. Here's the first class cabin's first row: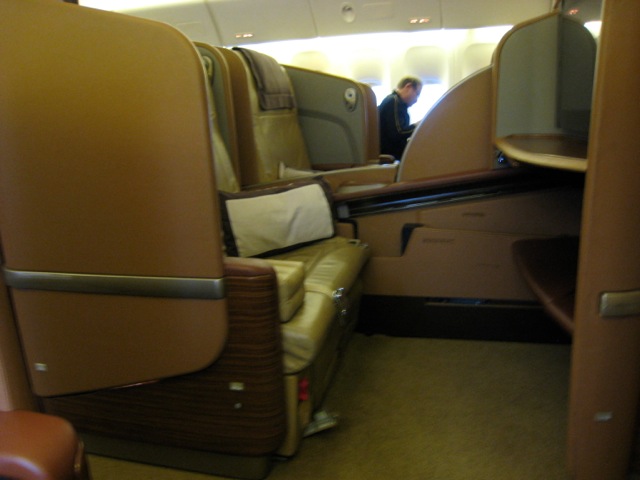 Even though this was Singapore's "old" product and not a Suite, the lack of other passengers on my flight made it a very private experience. The male flight attendant served the male passenger in 1A, and the friendly and personable female flight attendant served me. Can't really ask for better than a 1:1 staff to passenger ratio!
I was offered my choice of Dom, Krug or other preflight beverage, but opted for water. It's easy to not get enough water when traveling, especially in the dry winter months.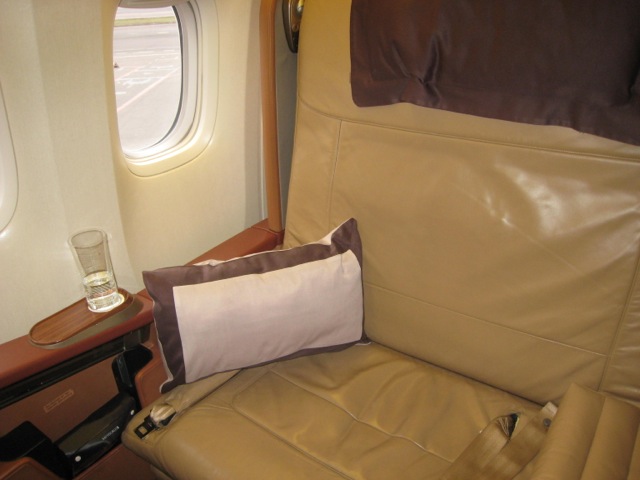 While I didn't use it, the flat screen seemed plenty big enough to me 🙂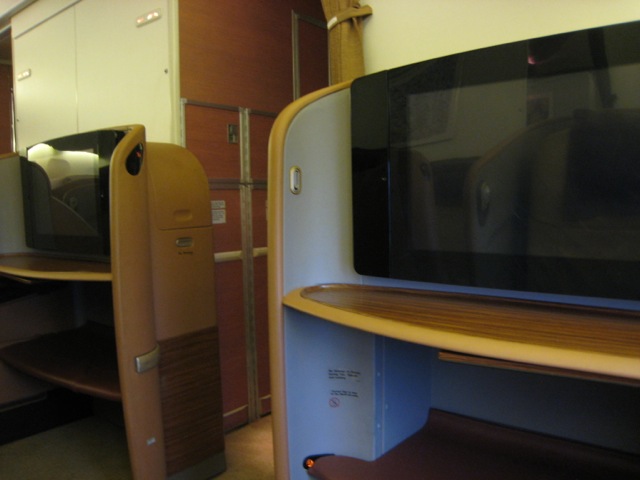 Pajamas, slippers, socks and an amenity kit were also presented. Singapore's pajamas are made by Givenchy and are black with yellow accents. I found the pants to be a bit short in the leg, but otherwise they fit well.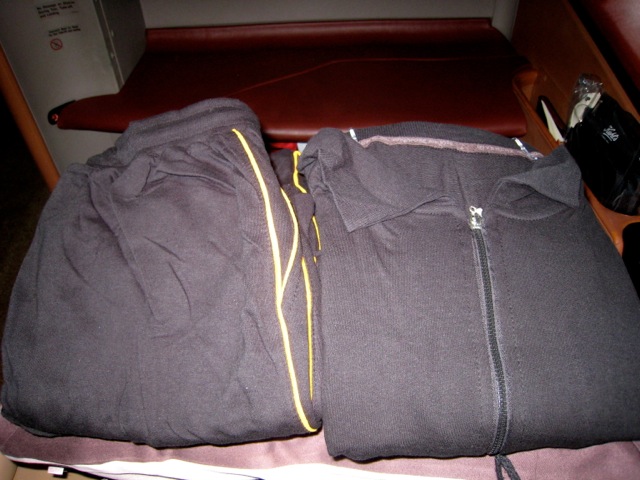 I especially liked the Kiehl's products in the amenity kit, which includied facial cleanser, lip balm, calendula toner, ultra facial cream, and hand salve. At first I thought it strange that there weren't more ordinary but essential items such as a toothbrush and toothpaste, but later discovered them in a drawer in the bathroom.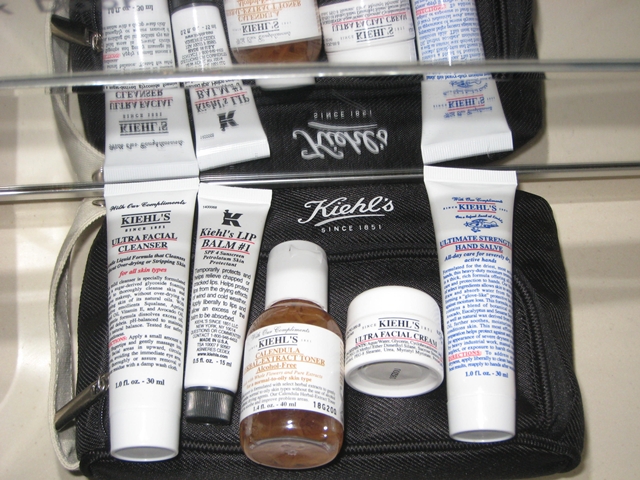 The lunch menu wasn't Singaporean at all, which I was a bit disappointed by, but did nod to the U.S. Thanksgiving Day holiday by including a choice of turkey with chestnut stuffing.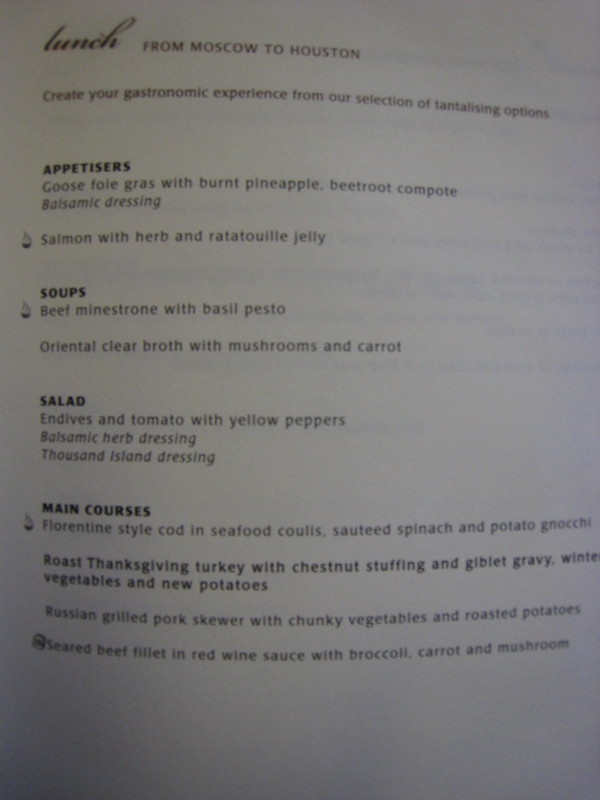 b
I was famished, not having really eaten breakfast, so was doubly delighted when a pre-meal dish of satay with peanut sauce was brought out. It may not have been as good as satay I've had in Singapore and Bali, but it's one of the best homestyle appetizers I've ever had on a flight.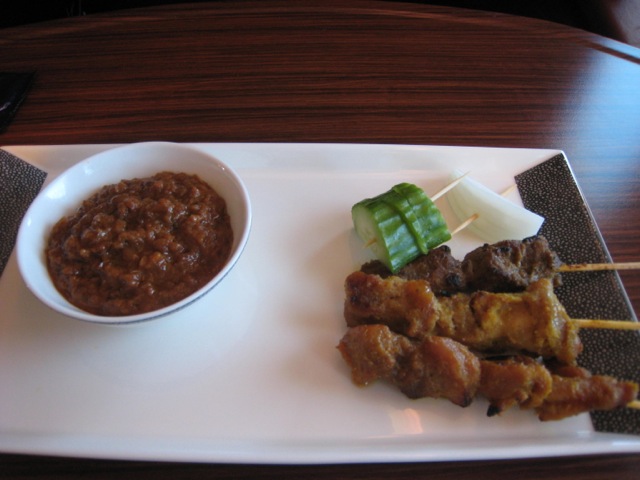 From the menu, I chose the Goose foie gras with burnt pineapple and beetroot compote. I don't think I've ever had those accompaniments to foie gras before, but they worked pretty well and this dish was as good as it looked. To accompany, I had a taste of Dom Perignon. I'm not a big fan of champagne, but in the absence of a good sauternes or ice wine, champagne seemed the best choice to go with the foie gras.
I opted out of soup and salad and instead followed with a main course of Florentine style cod in seafood coulis, sauteed spinach and potato gnocchi. This was quite good for flight food, although I usually tend to shy away from fish when it comes to flights–it's hard to get it anywhere near restaurant quality, given the nature of premade flight dishes and reheating. Still, I didn't feel like following a rich appetizer with a heavy meat course.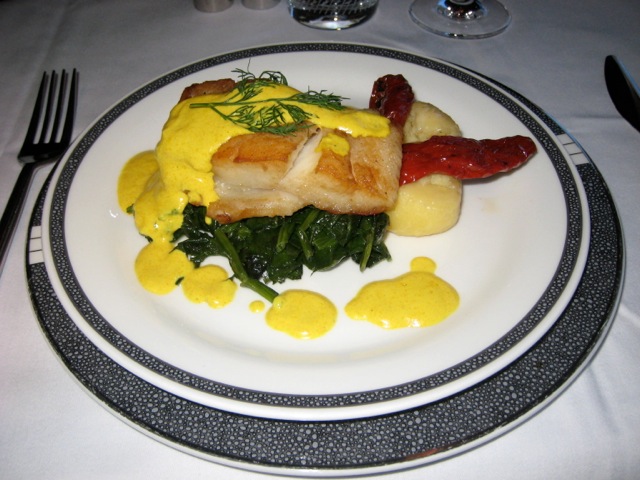 The dessert was pistachio creme brulee (no choice of dessert) with cherry sauce. I was wondering how they'd tackle the brulee part, but they didn't even attempt it; it should have been called pistachio cream or pudding, because the top wasn't bruleed at all. The taste was good, and as puddings go one of the better I've eaten in-flight and well complemented by the cherry sauce and almond flecks, but a bit of a misnomer.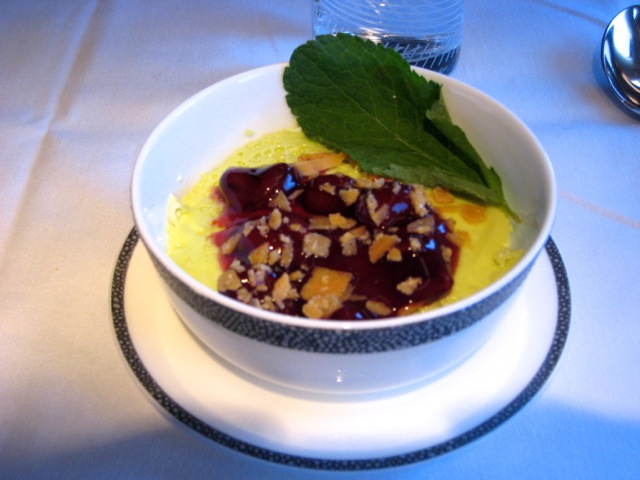 Afterwards, I changed into my pajamas and got ready to rest. While the flight attendant didn't proactively offer to change my seat into a bed, a quick request and she immediately offered to make 1D into a bed, so that I could remain in my seat until it was ready. It's a good thing the flight attendants make the bed, since I didn't realize that you need to fold down the seat back and do some other non-intuitive things before putting the mattress pad on; it's not as if you can just press a button and have it recline all the way, as you can with Cathay Pacific First Class. Once ready, it look like this, and a bottle of Evian water was provided as part of the turndown: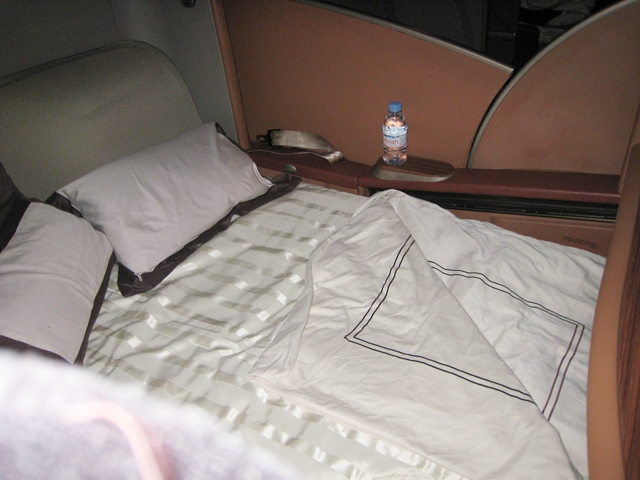 I didn't expect to necessarily sleep, since I often have trouble sleeping in even first class fully flat beds due to the padding not being as comfortable as my bed at home, but I can honestly say that I had the best solid sleep ever in this Singapore First Class bed. My caveat is that I had gotten so little sleep the night before that I was dead tired, but I still have to give some credit to the bed. Being completely objective, I do think it's a bit firm for my taste, probably even more so than Cathay Pacific, although some folks prefer firm beds anyway.
While I was completely full from lunch, there was a Light Bites menu provided: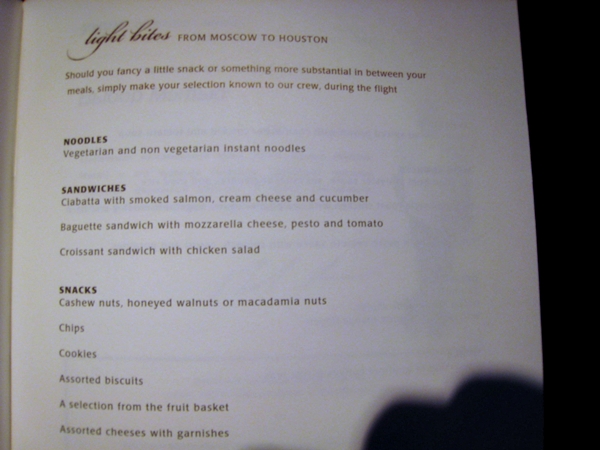 After awaking, I changed back into my clothes. No wait of course, since the bathroom closest to me was only being used by Singapore flight attendants, probably not even the pilots since the bathroom on the other side was closer to them. There are Salvatore Ferragamo amenities provided, although I didn't use them: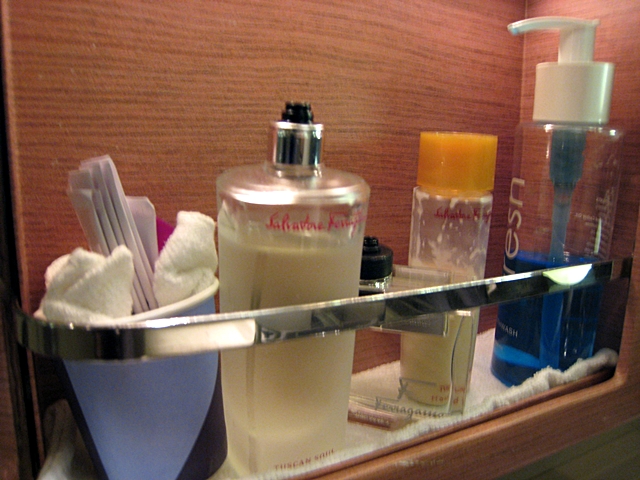 A light meal was offered before landing in Houston. Here's the menu: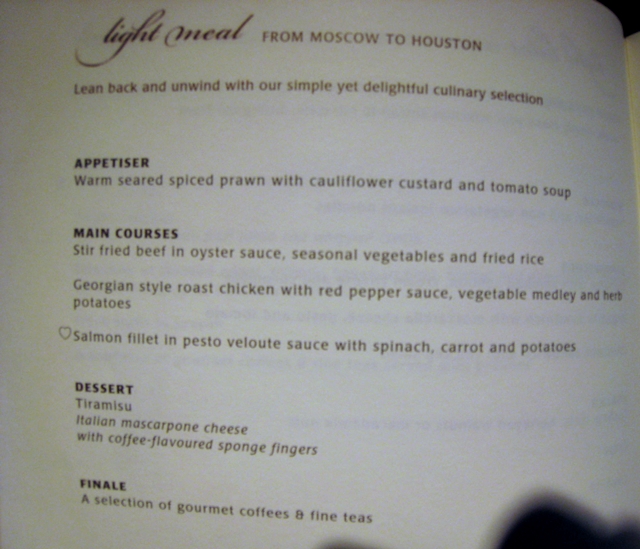 The tomato soup with grilled prawn and cauliflower cream was delicious, even though normally I don't care for tomato soup: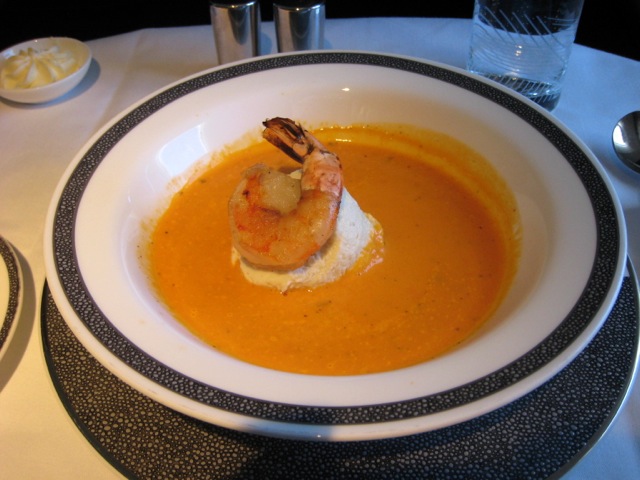 The salmon was a bit dry, so I can't really give full marks to it, although I'm probably about as much at fault for ordering fish again. Trying to eat (a little) more lightly!
The tiramisu is again not one of my favorite desserts, but it was a very decent rendition and good when paired with a cappuccino. It's a pretty nice treat to have a delicious foamy cappuccino in the sky.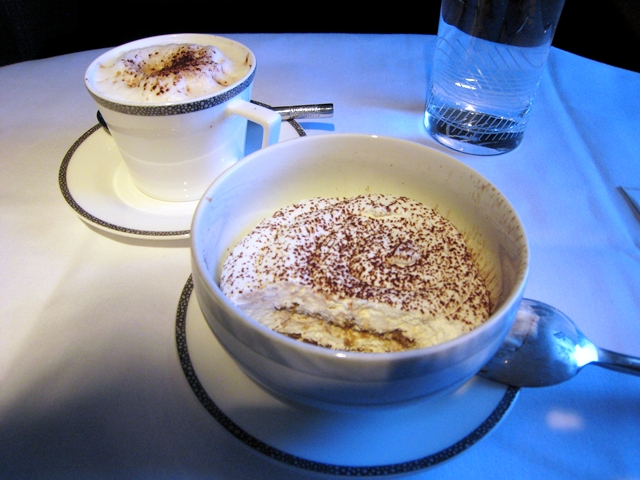 While I was dining, I got a chance to speak with the flight attendant serving me–she's also a mother, and we discovered that our kids are about the same age. She was debating about whether to bring her daughter and husband all the way with her to California to go to Disneyland–a very long flight–but in the meantime they were looking forward to a family ski trip in Korea. We talked about schools and life in Singapore and in NYC and about our kids, and I really enjoyed this kind of personal connection that's all too rare when flying. I can't think of a better brand ambassador for an airline than those in the front line–flight attendants. I couldn't resist asking to take a picture of her with a colleague:
The Verdict: The things I enjoyed most about my Singapore First Class flight were the personable service, great sleep and privacy, although I rather lucked out having only one other passenger in first class. The food was a bit hit and miss–I really enjoyed the satay, foie gras and cappuccino, but less so the fish dishes. Soup and desserts were fine, though not special. That said, I'm betting catering is better on flights from and within Asia, as I had the best business class food ever in Singapore Business class.
If you've flown Singapore First Class, what was your experience?
Related posts
Singapore Airlines Suites Award Tips and FAQ
Singapore Airlines Suites Class Available at Saver Award Level on KrisFlyer
Singapore Airlines' New Saver Awards: First and Business Class for Star Alliance Partners?
Singapore Airlines Business Class Review: Tokyo to Singapore
Airlines and Routes with First and Business Class Award Availability for Asia
The Airlines with the Best International First Class Products
Need Award Booking Help? Our fee is as low as $75 per ticket if you book your hotel through us.
If you enjoyed this, join 200,000+ readers: please follow TravelSort on Twitter or like us on Facebook to be alerted to new posts.
Become a TravelSort Client and Book 5-Star Hotels with Virtuoso or Four Seasons Preferred Partner Amenities!