Usually Singapore Business Class and First Class can only be booked with Singapore's own frequent flyer program, KrisFlyer. Yes, there was a weekend when Singapore upgraded their IT system and it was temporarily possible to book Singapore First Class using United Miles, US Airways Dividend Miles and other Star Alliance partners' miles, but that is the exception.
Currently though you can use AviancaTaca LifeMiles, or a combination of LifeMiles and cash, to book Singapore Business Class (but not First Class) awards.
If you are were already an AviancaTaca LifeMiles member before April 8, you can take advantage of a 100% bonus on the purchase of LifeMiles through April 30, 2013, which equates to buying miles at 1.5 cents per mile. Note that the maximum number of LifeMiles you can buy is 75,000 during the promotion period, all in a single transaction, and you can buy a maximum of 150,000 LifeMiles during a calendar year.
But as Ben points out, you're actually better off just redeeming 40% of the miles you need for a redemption and purchasing the remaining points for about 1.27 cents per mile as part of your transaction.
What if you aren't a LifeMiles member? It will be more expensive of course, but you could just buy enough miles to meet the 40% threshold for your award (without being able to use the 100% bonus, since you're ineligible).
For example, if you wanted to redeem for a one way on the current longest flight in the world, NYC (EWR) to Singapore (SIN) or the return, Singapore to NYC, it would be 62,500 LifeMiles, and there are no fuel surcharges. In comparison, Singapore Airlines KrisFlyer, even with the discount booking online, charges 72,250 KrisFlyer miles + $312.50 in taxes and fees.
But even if you just open a LifeMiles account now, you could buy 25,000 LifeMiles for ~$780, then pay the additional $474 (equivalent to buying the remaining 37,500 miles needed for the award at ~1.27 cents per mile) for a total of $1254 for the one way, almost 19 hour business class flight. That's still a pretty good deal, considering it's Singapore Airlines business class, with full lie flat seats (unlike my Singapore regional business class, which was angled flat).
Plan to visit Singapore this way? Don't wait long–some phantom availability is being reported, and it will take time to nail down available dates, especially if you're trying for 2 seats. Plus, the EWR-SIN and EWR-SIN nonstop flights will stop in November of this year. Here's a sample search for 2 seats in October: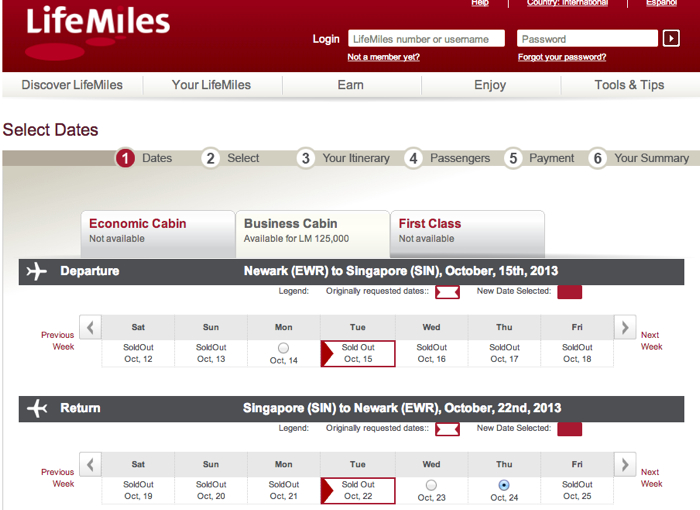 Related posts
Singapore Airlines Suites Award Tips and FAQ
Singapore Airlines Suites Class Available at Saver Award Level on KrisFlyer
Singapore Airlines' New Saver Awards: First and Business Class for Star Alliance Partners?
Singapore Airlines Business Class Review: Tokyo to Singapore
Airlines and Routes with First and Business Class Award Availability for Asia
The Airlines with the Best International First Class Products
Need Award Booking Help? Our fee is as low as $75 per ticket if you book your hotel through us.
If you enjoyed this, please follow TravelSort on Twitter or like us on Facebook to be alerted to new posts.
Become a Member to find your perfect luxury or boutique hotel at up to 50% off: TravelSort Hotels
HT: Ben