Since posting Singapore Airlines Suites Class Available at Saver Award Level on KrisFlyer, I've been getting questions about redeeming for Singapore Suites on Singapore Airlines, and thought it would be helpful to answer these in a post rather than individual emails. So here we go:
What's the Difference Between Singapore First Class and Singapore Suites?
Singapore First Class seats are not enclosed, whereas Singapore Suites have doors that close. Service and food offerings, however, are very similar. I'll be reviewing Singapore's First Class hard and soft product soon and comparing it to Cathay Pacific First Class, so stay tuned!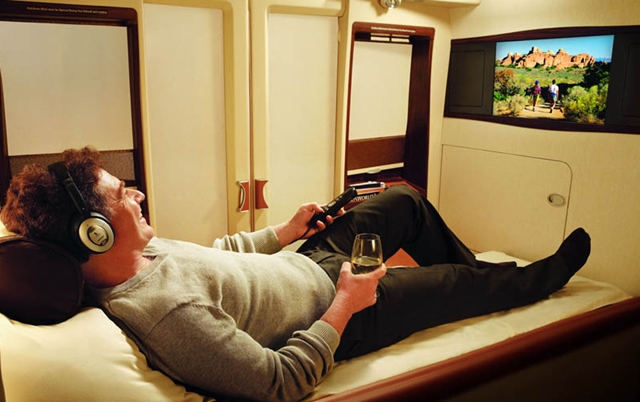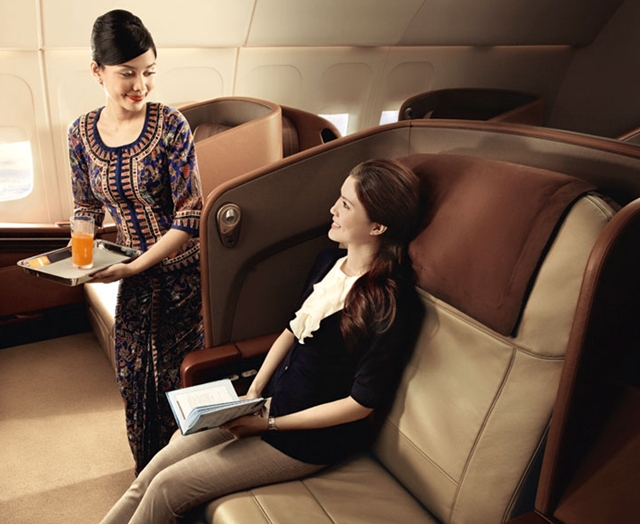 Which Flights Offer Singapore Suites? Do They Offer Suites and First Class on the Same Flight?
Singapore Suites are only available on the Airbus 380, so if you want to fly in Suites, you need to verify that the aircraft type is A380. On A380 flights with Suites, Suites are instead of first class; the other classes are business and economy. Singapore Airlines offers its older first class product on Boeing 777-300ER.
Which U.S. Flights Offer Singapore Suites?
From the U.S., you can fly in Singapore Suites on these routes:
New York (JFK) to Singapore via Frankfurt
Los Angeles (LAX) to Singapore via Tokyo
San Francisco (SFO) to Singapore via Hong Kong
How Many Suites Does Singapore Release for Award Bookings at the Saver Level?
So far, Singapore Airlines seems to only be releasing 1 Suite Saver award per flight. It's too early to say whether Singapore Airlines will make another Suite Saver level award available later, closer to the date of departure or not.
So Is There Any Way to Book 2 Suite Awards for My Spouse/Partner and Me?
Not unless you're willing to book one of them at the standard award level (which is often available, in addition to a Saver level award), and use more miles. You could alternatively book one in Business Class at the Saver level, and keep monitoring in case another Suite award opens up, but don't count on this happening–we just don't know yet if Singapore will only release one Suite award per flight period, or if another will be released later. Many times First Class and Suites fly with only 2 or 3 passengers, so just because there are many available Suites doesn't mean Singapore will release any more of them as awards.
How Many Miles or Points Do I Need for Suites?
It depends of course on the route. Here are the one way and round-trip amounts at the Saver level, including the 15% discount you receive when booking online:
New York (JFK) to Singapore: 187,000 miles roundtrip, 93,500 miles one way
Los Angeles (LAX) to Singapore via Tokyo: 182,750 miles roundtrip, 91,375 miles one way
San Francisco (SFO) to Singapore via Hong Kong: 182,750 miles roundtrip, 91,375 miles one way
Expect to pay ~$700 in taxes on the LA and San Francisco to Singapore roundtrips, and almost $900 in taxes for NYC-Singapore roundtrip.
Or, if you're not traveling all the way to Singapore, here are the amounts to the stops en route:
New York to Frankfurt: 114,750 miles roundtrip, 57,375 miles one way
Los Angeles to Tokyo: 148,750 miles roundtrip, 74,375 miles one way
San Francisco to Hong Kong: 140,250 miles roundtrip, 70,125 miles one way
Why Are the Saver Amounts Higher Than Expected?
You won't initially see the 15% off discount that you receive when booking online; you'll need to click the "Display total cost" button to see the amount of miles including the 15% online booking discount: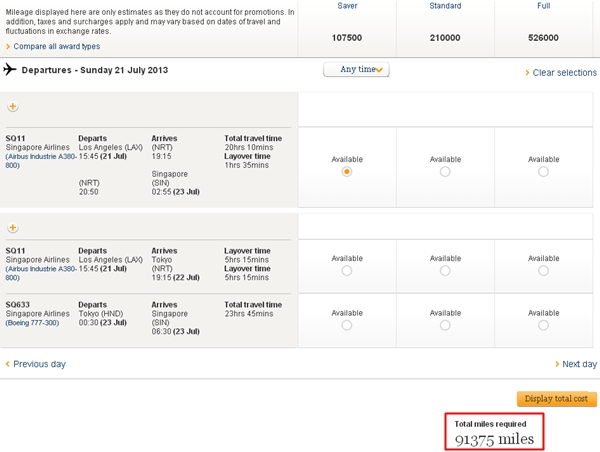 What's the Best Way to Get KrisFlyer Miles?
The best way for most U.S. based flyers to get KrisFlyer miles is by earning AMEX Membership Rewards points or Starwood Preferred Guest points, and transferring them to KrisFlyer. The nice thing about SPG points is that you can transfer them with a 25% bonus, if you transfer in increments of 20,000 points: 20,000 SPG points becomes 25,000 KrisFlyer miles.
That said, it's easier for many people to earn more Membership Rewards points via credit card signups and category bonuses:
Watch for the periodic 1 day offers for 75,000 bonus Membership Rewards points for the Gold Business Rewards card
Get the 50,000 bonus Membership Rewards points offer for the Mercedes-Benz Platinum AMEX; see link in Earn 1 Million Miles and Points a Year Without Flying
Are the Suites Fully Enclosed, Including at the Top?
No, the tops are not enclosed; only the sides are.
What Suites Seats Are the Best?
If you're traveling with a spouse or partner (say you book one at the Saver level and one at the Standard level as described above) you'll likely want the middle seats in Row 2 or 3.
If you're traveling solo, I would recommend 3A or 3F, since they offer more privacy and 3 windows. Row 1 seats can be viewed by those using the stairs to the upper level, where business class seats are, and Row 4 seats can are close to the galley and lavatories, which can be bothersome. Also see Singapore Airlines Seat Assignment and Seat Selection Using an Award Ticket.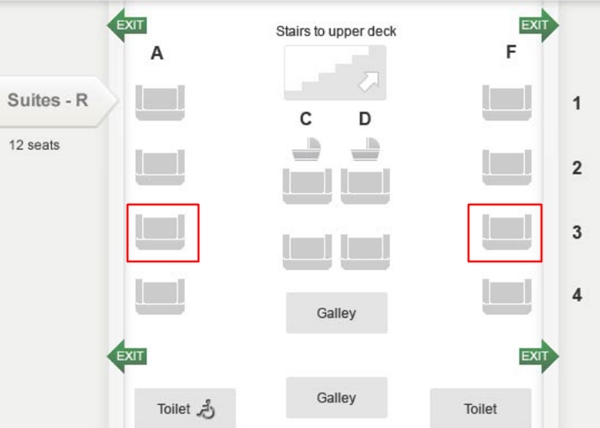 Can I Invite a Guest from Business Class to Dine with Me in Suites Class?
Unfortunately no–you would both need to be flying in Suites class.
Related posts
Review: The Singapore Air Private Room
Singapore Airlines Suites Class Available at Saver Award Level on KrisFlyer
Singapore Airlines Business Class Review: Tokyo to Singapore
Airlines and Routes with First and Business Class Award Availability for Asia
The Airlines with the Best International First Class Products
Need Award Booking Help? Our fee is as low as $75 per ticket if you book your hotel through us.
If you enjoyed this, join 90,000+ readers: please follow TravelSort on Twitter or like us on Facebook to be alerted to new posts.
Become a TravelSort Client and Book 5-Star Hotels with Virtuoso or Four Seasons Preferred Partner Amenities!