Singapore Airlines' Book the Cook allows Suites, First Class and Business Class guests to pre-order a meal from a variety of Asian and Western menu options, for flights departing from select cities. Having taken 3 Singapore Suites flights recently, and helped Award Booking clients choose meals, I thought I'd share some recommendations for the service.
Singapore Airlines Flights Offering Book the Cook
Suites, First Class and Business Class Flights from these cities offer Book the Cook (note that only Business Class flights operate to/from Amsterdam and Taipei)
Amsterdam
Dubai
Frankfurt
Hong Kong
London
Los Angeles
Melbourne
Milan
Munich
New York JFK
San Francico
Singapore
Sydney
Taipei
Tokyo (Haneda, Narita)
Are the Same Book the Cook Menu Items Offered from Each City?
No–the Book the Cook menu selections differ by location. For example, Book the Cook from Dubai offers Prawn Machbous, a spiced rice dish popular in the Gulf and considered the national dish of Bahrain; Milan's Book the Cook Western menu features several Italian dishes, such as Grilled Lamb Chops with Spinach Polenta Crespelle and Truffled Tortellini with Parma Ham; and of course Singapore's Book the Cook features extensive Singaporean choices such as Prawn and Chicken Laksa, Nonya Assam Fish and Singapore Bak Kut Teh, in addition to Malay, Thai, Indian and Western selections.
How to Order Your Meal via Book the Cook
Once you've booked your Singapore Suites, First Class or Busines Class Ticket, here's what you do:
1. Log into your Singapore Airlines KrisFlyer Account and select your booking
2. Click on Select Meals
3. Select "Book the Cook" in the Meal Category dropdown
4. Select your "Book the Cook" meal in the Meal dropdown

Top Recommendations for Book the Cook
I've personally only tried a lamb version of the rendang, the lobster thermidor and the kyo-kaiseki, but clients also rava about some of the other items on this list:
1. Malay Style Beef Rendang (Singapore; Lamb Rendang available from Frankfurt)
While I haven't tried this as a Book the Cook option, I enjoyed a surprisingly delicious lamb rendang as part of Nasi Padang on the regular menu from Frankfurt, so I can only imagine how good the Singapore version must be. Clients of mine that enjoy Indonesian and Malaysian food often order this.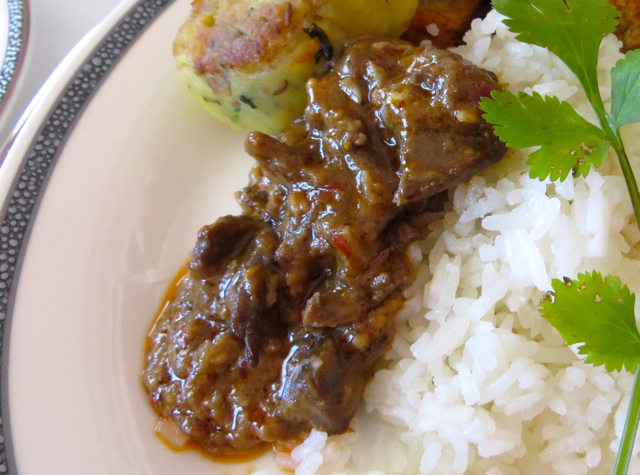 2. Lobster Thermidor (London, Hong Kong, NYC, San Francisco, Singapore, Sydney, Tokyo)
How many restaurants, let alone airlines, even serve Lobster Thermidor these days? This is a lobster as dressy comfort food, and my only complaint was that there wasn't more of it.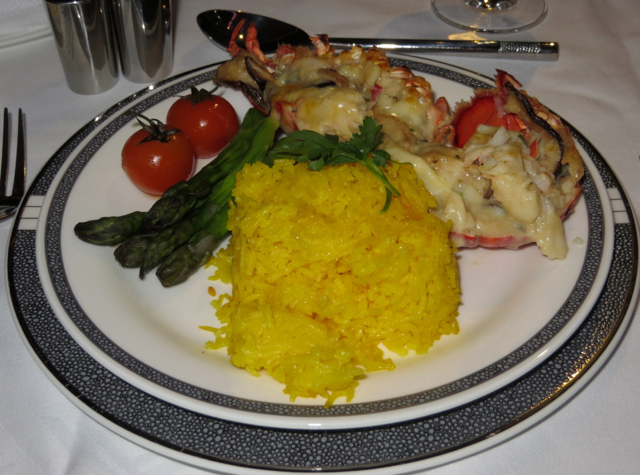 3. Kyo-Kaiseki (Singapore Suites or First Class from Singapore)
This isn't Japanese food for those who like California rolls at their local sushi joint–kaiseki is Japanese haute cuisine, highly seasonally driven and served in multiple courses. Pro tip: you may not see this option on the short Singapore Hong Kong flight in the Book the Cook dropdown, but you can phone in to request it.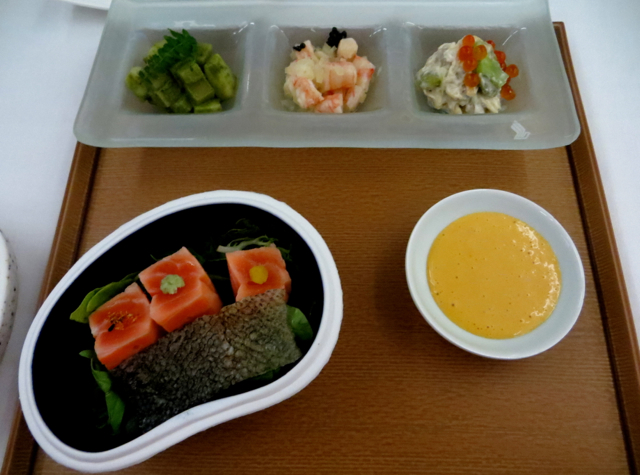 4. Wagyu Sirloin with Eringi Mushrooms (Singapore Suites or First Class from Singapore)
For beef lovers, Wagyu is the creme de la creme, and a good bet if flying Singapore Suites or First Class from Singapore if you're not tempted by the many stellar Asian selections.
5. Prawn and Chicken Laksa (Singapore)
I haven't actually ordered this personally via Book the Cook, since I make a pretty mean laksa myself, but again, clients who've had this seem to enjoy it.
6. Lontong Rendang Ayam (Singapore)
As with the Rendang, another favorite Malaysian/Indonesian choice, especially if you prefer chicken to beef.
Kids' Book the Cook Options
In case your kids are flying with you in Singapore Suites, Singapore First Class or Singapore Business Class, but don't want the fine dining options, there are plenty of kid-friendly choices. This is what the munchkin said he'd order if we ever take him on Singapore Airlines:
Macaroni and Cheese, served with barbecued chicken drumlets
Spaghetti and Meatballs, served with a choice of chicken or beef meatballs
Chicken and Vegetable Lasagne, served with carrot sticks
Vegetarian, Religious and Dietary Special Meals
While I haven't tried any of these, it's hard to imagine an airline offering more variety when it comes to various vegetarian and special dietary meals. In addition to the expected religious meals, such as Hindu, Kosher, Kosher Vegetarian and Muslim meals, here are just a sampling of the special dietary meals available:
Vegetarian Jain Meal:

No meat, seafood, egg and dairy products are used in the preparation of this meal. Onions, garlic, ginger, mushrooms and root vegetables are also not used.

Vegetarian Ovo-Lacto Meal:

Prepared in Western style, this is a non-strict vegetarian meal which can include eggs and dairy products but eliminates all meats and seafood.

No Carbohydrate Meal:

No starch and carbohydrates in any form will be featured in this meal.

Gluten Free Meal:

No wheat, rye, barley, oats and bran in any form (including food items which may contain such ingredients) are served for this meal.

Low Lactose Meal:

This meal excludes foods which contain milk, dry milk solids, casein, cheese, cream, butter, lactose and margarine.

Diabetic Meal:

Sugar is not used in the preparation of this meal. Salt in restricted quantity is allowed.

Ulcer Diet Meal:

This meal contains easily digestible, plain, poached and broiled foods (e.g. white meat or fish). Food or fruits that are acidic (e.g. citrus fruits) are avoided.

Non-Strict Nut Free Meal: Ingredients such as groundnuts and legumes are omitted from this meal.
The Verdict
Singapore Airlines may not offer some of the other nice ground perks such as chauffeur service or 15 minute complimentary massage treatments, but they've pretty much nailed being able to customize and pre-order your meal selection. Is it as good as my favorite high end restaurants? No, but then again nothing I've tried in a number of first class airline products is. I can say that even though the occasional Book the Cook option hasn't been so great, Singapore Airlines' great cabin service ensures I always end up eating something delicious, especially from the Asian menu.
What are your favorite Singapore Book the Cook meals?
Related Posts
Singapore Suites A380 Review Frankfurt to Singapore
Singapore Airlines Private Room Lounge Review
Singapore Suites Review: Frankfurt to JFK
Singapore Airlines Suites Award Tips and FAQ
Singapore Airlines Suites Class Available at Saver Award Level on KrisFlyer
Need Award Booking Help? Our fee is as low as $75 per ticket if you book your hotel through us.
If you enjoyed this, join 100,000+ readers: please follow TravelSort on Twitter or like us on Facebook to be alerted to new posts.
Become a TravelSort Client and Book 5-Star Hotels with Virtuoso or Four Seasons Preferred Partner Amenities!