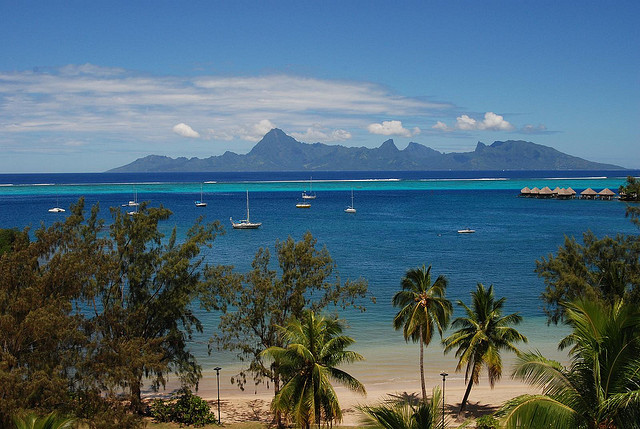 Update: Korean has updated the SkyPass site. See How to Redeem Korean Air SkyPass Miles for Award Travel
——-
Recently TravelSort reader John C. asked about transferring Ultimate Rewards points to Korean Air Skypass vs. to United MileagePlus for an upcoming trip, which prompted me to look at the Korean Air Skypass program and award charts.
First off, as you probably know, Ultimate Rewards points transfer 1:1 to Korean Air Skypass miles:
Korean Air Skypass Partners
Korean is part of SkyTeam, so partners include: Aeroflot, Aeromexico, Air Europa, Air France/KLM, Alitalia, China Airlines, China Eastern, China Southern, Czech Airlines, Delta, Kenya Airways, TAROM, and Vietnam Airlines.
Additional non-SkyTeam partners include: Alaska Airlines, Emirates, Hawaiian Airlines, Garuda Indonesia
Skypass Award Charts
Now, Korean Air has two award charts, one for travel on Korean Air and the other for Skyteam redemptions. As you can see, the Korean Air chart has a number of blackout dates that include Christmas, New Year's and mid July-mid August and tends to be quite stingy with award availability, so I wouldn't advise booking on Korean Air metal.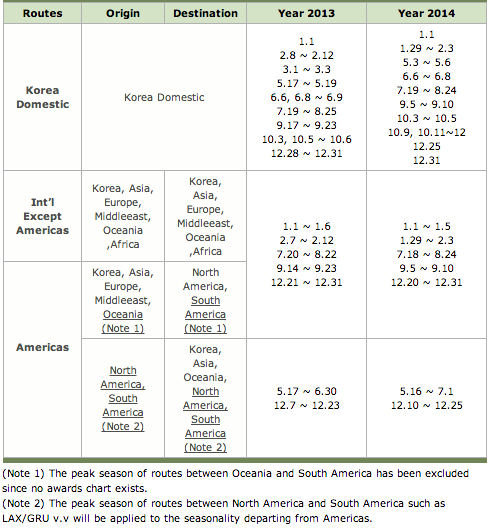 Korean Air's SkyTeam chart offers redemptions that on the whole are on par with or more expensive than those available via United, American and Delta, with a few key exceptions: U.S. business class awards to Europe, which are 80K Skypass miles (vs. 100K MileagePlus miles, 100K AAdvantage miles and 100K Delta SkyTeam miles).
You may get excited to see that, unlike Delta, Korean does even appear to offer first class awards. Don't get too excited about flying Air France First Class though–Air France doesn't release any First Class award availability to partners; it's reserved for Air France Flying Blue members. And Air France would have been the only First Class option, since Alitalia and KLM don't have First Class, only Business Class (see Airlines and Routes with the Best First and Business Class Award Availability for Europe).
It's also worth noting that if you're flying from Hawaii to Europe, even though there is a different award chart (since Hawaii is grouped with Mexico and Central America) the roundtrip business class award cost to Europe is still 80K–this is a great deal, since Hawaii-Europe with MileagePlus miles would be 115K miles, 100K AAdvantage miles and 120K Delta SkyMiles.
Business awards to North Africa are also a good deal, at 80K Korean Skypass miles, vs. 115K MileagePlus miles, 150K AAdvantage miles and 120K Delta SkyTeam miles.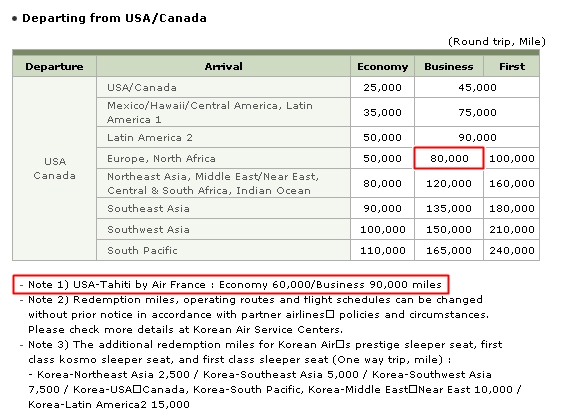 Arguably though, the best deal of all is USA to Tahiti via Air France for 90K Korean Skypass miles. This same award would be 150K Delta SkyTeam miles, so Korean offers a savings of 60K miles!
Granted, Air France business class award availability to Tahiti isn't great, and the seats are my least favorite (see Best International Business Class Seats for Sleeping).
Of the non-SkyTeam partners, I think the most intriguing alliance is with Emirates, since Emirates now partners with so few airlines. Unfortunately, there's no real bargain here–in fact, you'll pay a premium for this award (140K Korean Skypass miles, vs. 120K MileagePlus or Delta SkyTeam miles or 135K American AAdvantage miles) but it may be worth it to some people who value the Emirates experience. 210K Skypass miles for First Class though just seems too much of a premium to pay, given that it's 150K with MileagePlus.
And you can forget getting a reasonably priced award to the Maldives, since that would count as 2 awards: 1 to Dubai or Colombo, and a separate award from there to the Maldives.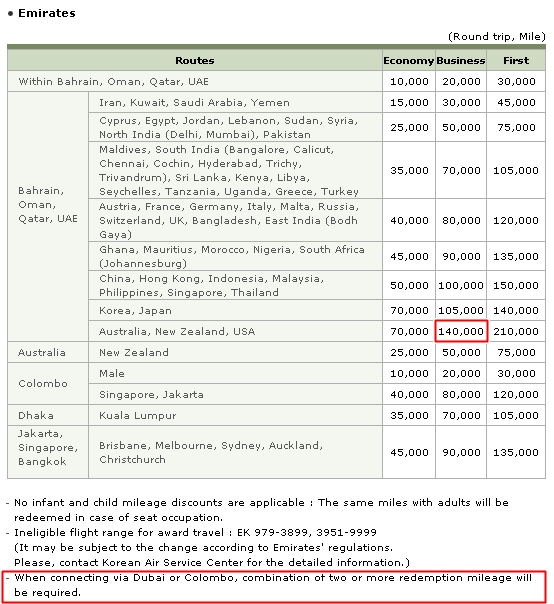 Searching Korean Skypass Partner Award Space
You can't search for Korean partner award space on Korean Airlines' own site, but you can search using Air France, Delta and ExpertFlyer as described in How to Find SkyTeam Award Space.
Booking Korean Skypass Partner Awards
You can either call the Korean Air Service Center at 800-438-5000 or book Korean Air Skypass Awards Online.
Get More Chase Ultimate Rewards Points
If you're finding this post helpful, please consider getting yourself more Ultimate Rewards point by applying for one or more Chase credit cards through one of our referral links.
The Chase Sapphire Preferred card offers 50,000 Ultimate Rewards points after you spend $3000 in the first 3 months, gives you 2 points per dollar spent on travel and dining, a 7% annual points dividend on all points earned, has no foreign fee and gives you 24/7 access to a human advisor
The Ink Bold Charge Card also offers 50,000 Ultimate Rewards points after you spend $5000 in the first 3 months. You earn 2x points per dollar spent at gas stations, hotels and travel agencies, and 5x points per dollar spent on wireless/cell service, cable and satellite TV, and office supply stores.
The Chase Freedom Visa offers $200 cash back (which can instead be earned as Chase Freedom points that transfer into 20,000 Chase Ultimate Rewards points) after $500 spend in 3 months, with 5x for bonus category spend up to 30,000 bonus Ultimate Rewards points for the year. Unfortunately the $300 cash back/30,000 for $500 spend offer that we mentioned in Get 60,000 Points with the No Fee Chase Freedom Card is no longer available, but 50,000 Ultimate Rewards points (20K points after $500 spend and 30K points if you max out the bonus categories) is still very good, especially for a no fee card.
Bottom Line
For a Tahiti award, where there are so few award options, it's a no brainer to save 60K miles and use Korean Skypass miles instead of Delta Skymiles. Call ahead to check availability before transferring.
If you're looking for the cheapest possible business class award to Europe or North Africa, definitely consider transferring Chase Ultimate Rewards points to Korean Skypass after calling and checking that the space is available on your desired dates
If you're traveling from Hawaii to Europe, you'll save even more on a business class award with Korean Skypass, vs. using United MileagePlus or Delta SkyTeam miles.
If you're traveling to the UAE, Bahrain, Oman or Qatar, you could fly Emirates in business class for a bit more than you'd pay using MileagePlus, AAdvantage or SkyTeam miles, but for some, the Emirates experience may be worth it.
If you need a business class flat-bed seat or first class seat to Europe, you'll probably want to stick with Star Alliance (United and Continental where the fully flat beds are installed; or Swiss if you're willing to fly from Montreal), British Airways (if you're willing to pay high fuel surcharges) or Delta (767-400s with staggered business class).
Related Posts
Book Korean SkyPass Awards Online
Chase Ultimate Rewards Points Transfer Rules
Best Ways to Use Chase Ultimate Rewards Points
Asiana's New First Class Suites Bookable with United Miles
Need Award Booking Help? Our fee is as low as $75 per ticket if you book your hotel through us.
If you enjoyed this, join 200,000+readers: please follow TravelSort on Twitter or like us on Facebook to be alerted to new posts.
Become a TravelSort Client and Book Your Hotel with Virtuoso or Four Seasons Preferred VIP Amenities!
Photo: Lazy Monkey