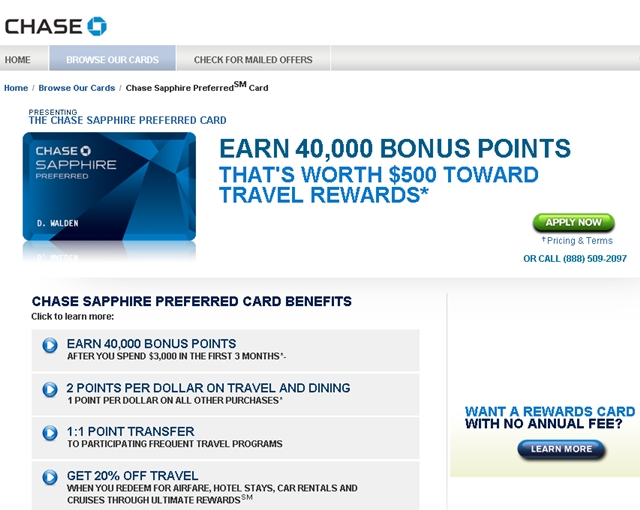 Update: The Sapphire Preferred offer has actually improved a bit: the 40,000 bonus is now awarded after $2000 in spend within the first 3 months ($1000 less than the prior $3000 spend requirement). If you recently applied, ask via secure message to be matched to this offer.
Apply: Chase Sapphire Preferred – 40,000 Points
Chase has notified me that it will be updating the Sapphire Preferred offer on Monday August 20, and that my link for the Sapphire Preferred will stop working at 10am Monday.
While I have no inside info on what the new offer will be, the last update involved the signup bonus going down from 50,000 points to 40,000 points so if you were considering the Sapphire Preferred, you should apply now.
If the offer actually goes up, you could ask to be matched to the better offer (Chase is good about matching recent publicly available offers that were better) but if you don't apply now and the signup bonus goes down, you won't be able to get a match to an expired offer.
The Sapphire Preferred really is the all-around best travel credit card, if you don't want to deal with finding Office Depots that stock Visa gift cards or reload cards for the AMEX Prepaid in order to get 5X using the Ink Bold or Ink Plus.
Key Benefits of the Sapphire Preferred
40,000 points after spending $3000 within 3 months (almost as much as the 50,000 for Ink Bold or Ink Plus, with lower spend)
2.14X (2X with annual 7% dividend) Ultimate Rewards points for all travel spend (airfare, hotels, car rentals, trains, subways, buses, taxis, tolls, parking, ferries)
2.14X (2X with annual 7% dividend) Ultimate Rewards points for all dining spend
You can earn additional points by buying through the Ultimate Rewards Mall, even on travel. For example, if you book a flight through Travelocity, you'd earn an additional 2 points per dollar, for a total of 4.28 points per dollar (1.07 x 4). Since the prices are usually the same as on the airline site, you'd be getting twice as many points. You may even be able to get more points if you pay with your AMEX Premier Rewards Gold card (which earns 3X Membership Rewards points on airfare) *but* this is a risk because not all Travelocity flight purchases are coded as airfare. So your mileage may vary on that one. Also note that hotels booked through Travelocity, Expedia, etc. do not accrue loyalty points or count towards elite status.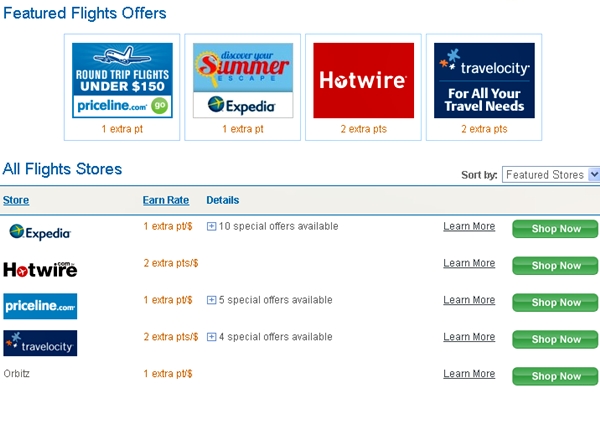 Points transfer to United (Star Alliance) and Hyatt (highest value uses) as well as British Airways (oneworld),

Korean (Skyteam), Southwest, Marriott, Priority Club and Amtrak
No foreign transaction fee
No annual fee the first year; thereafter $95
What to Know
Don't expect to get much if any retention bonus–Chase knows the Sapphire Preferred is a killer travel credit card, and that many folks will pay the annual fee to continue getting the benefits.
The above notwithstanding, you could always transfer your points to another Ultimate Rewards account (such as your Ink Bold or Ink Plus or your partner's Sapphire Preferred account), transfer your credit limit to another Chase card, then cancel the card and either 1) Use your partner's Sapphire Preferred; 2) Convert your Visa to a Sapphire Preferred MasterCard, then apply again for the Sapphire Preferred Visa to get the bonus; or 3) Apply for the Sapphire card, a no fee card that gets 2X for all dining (although not 2X for travel) and transfer points out, as long as you have another UR points card such as the Ink Bold or Ink Plus
While you could use your

points to get 1.25 per dollar if you book airfare and hotel directly through Chase, you'll get greater value for premium class Star Alliance awards by transferring your points into United miles
Application Tips
If the spend is too high, I'd recommend applying for the Hyatt Visa if you don't already have it, since you'll get 2 free nights at any Hyatt (including $1000/night Park Hyatts) after first use. If you apply for it at the same time as the Sapphire Preferred, it will only be one hard credit pull.
Or, apply for the Chase Freedom at the same time; it only has a $500 spend requirement and is a must-have card if you're seeking to build up a lot of Ultimate Rewards points. Combined with Chase Exclusives, it's really the best no annual fee card out there.
Related Posts