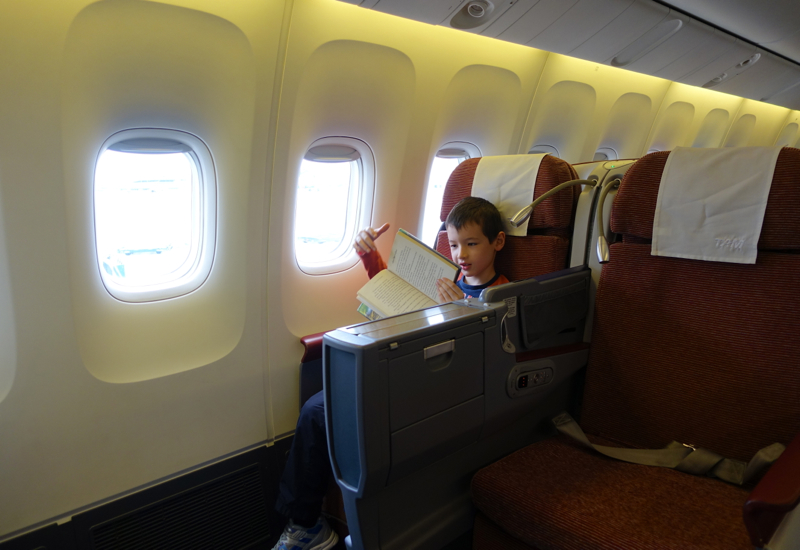 This review of TAM Airlines business class 767-300ER is part of a new trip report on Toronto luxury hotels and dining. TAM Airlines used to be one of the few South America based airlines that offered a first class, but TAM discontinued first class as of November 1, 2014, so now TAM's flat bed business class on the 767-300ER is the airline's best offering.
TAM Airlines 767-300ER Business Class Cabin and Seat Selection
TAM New Business Class on the 767-300ER has 30 seats in a 2-2-2 configuration, with 74 inches of pitch. Since my son prefers a window seat, my preference was 2J and 2L on the right hand side, or 2A and 2C on the left hand side. I don't care for the first row of seats due to their proximity to the galley, not that it mattered much on such a short flight, as we were flying between NYC JFK and Toronto YYZ. Likewise, I recommend against rows 4-5 if you can help it, since these are closer to economy and row 12 of economy has bassinet seats, so families with (possibly noisy, possibly not) babies could be seated there.
Although I picked seats when booking, the confirmation inexplicably came back with middle seats selected, so I called TAM only to be told that I needed to email especialistas_alem_ing@cc.lan.com regarding our seat request. So if you have any issues with your original seat selection not being honored, I recommend emailing that email address with your TAM booking reference number or ticket number and reiterating your seat selection preference.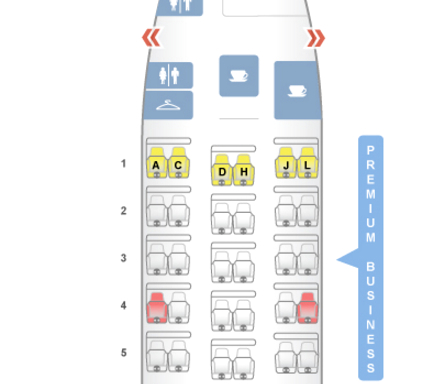 TAM 767-300ER Business Class Seat Map, Courtesy SeatGuru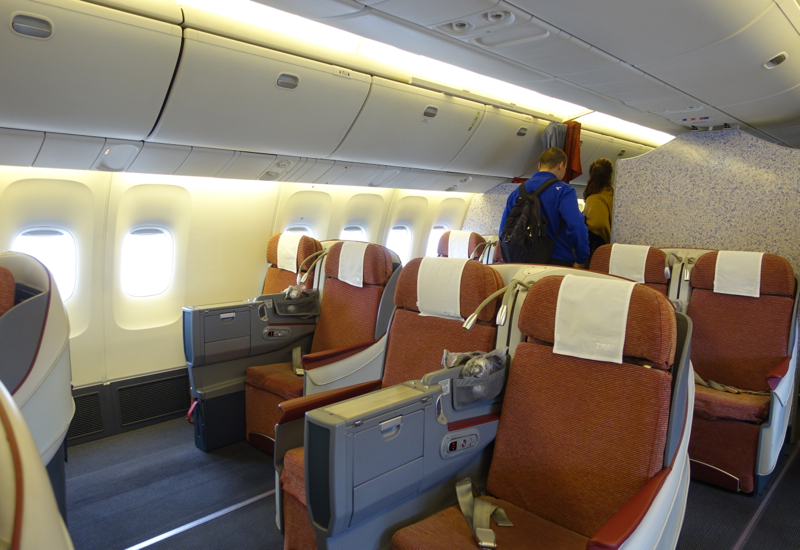 TAM Airlines 767-300ER Business Class Seat
TAM's paired business class seats are perfect for couples or friends traveling together, though less so for solo business travelers. There's a ton of space between rows of seats in order to accommodate the length of the flat bed when the seats are in bed mode, which gives the cabin a quite spacious appearance when all the seats are in the upright position. On the other hand, the seats are quite narrow, at 20 inches in width, so larger passengers may not be that comfortable.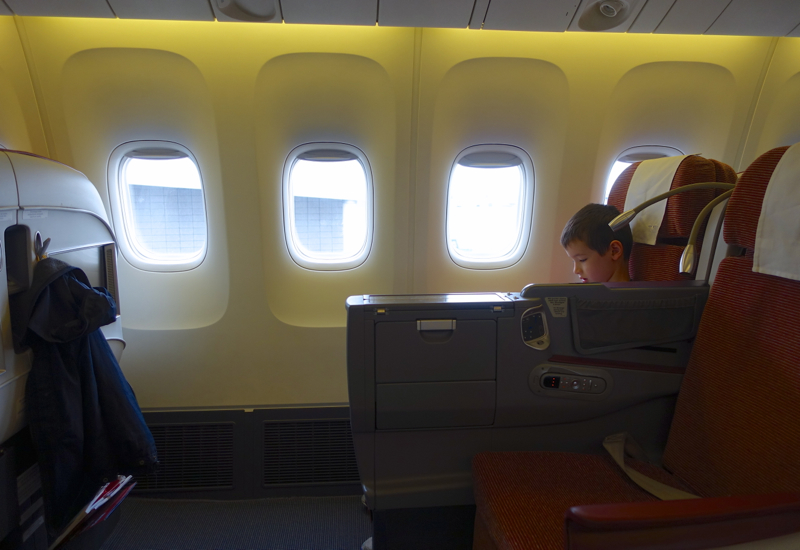 TAM Airlines Business Class Food
Pre-flight drinks on our departing flight from NYC JFK were just orange juice or water, and we were offered them promptly after we were seated.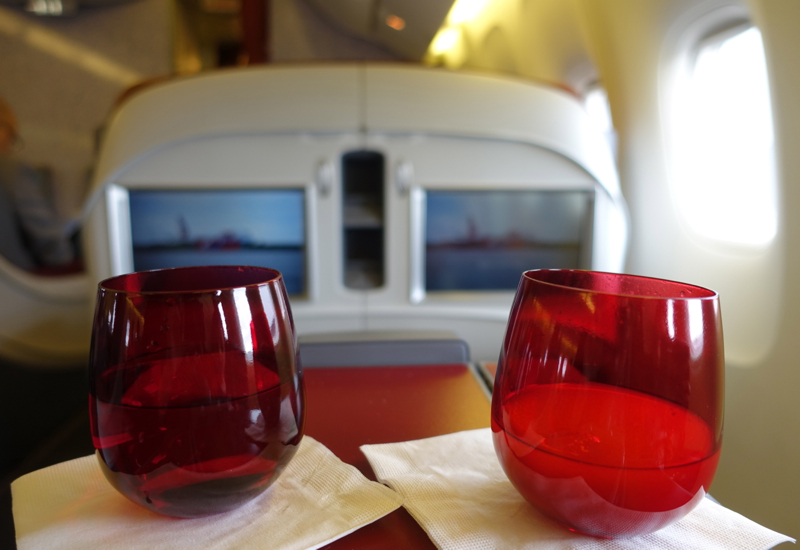 On our return flight from NYC JFK, I waited about 20 minutes after sitting down and saw that most every other passenger had already been served a pre-flight departure beverage by the male crew member serving them, before finally flagging down a female flight attendant and asking for champagne for me and orange juice for my son. She was very nice, and not a big deal, but still a service lapse that I had to ask for a drink and hadn't been offered one 20 minutes in.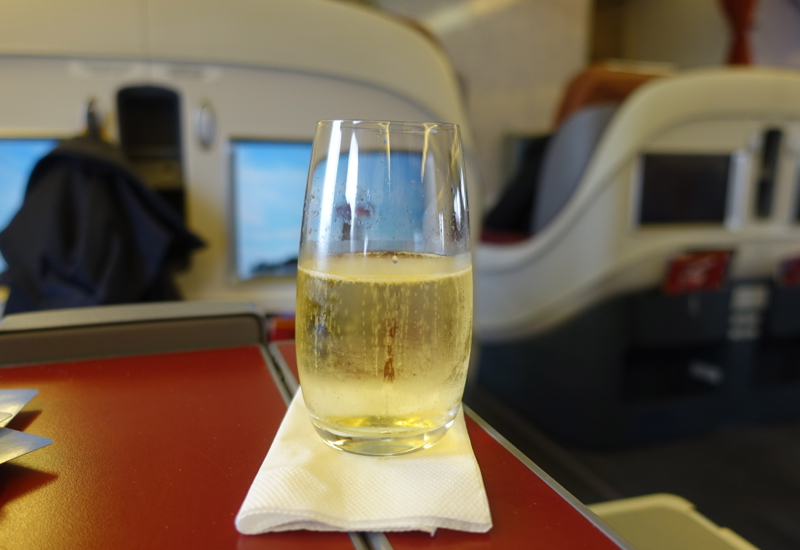 Prior to the meal service hot towels were offered: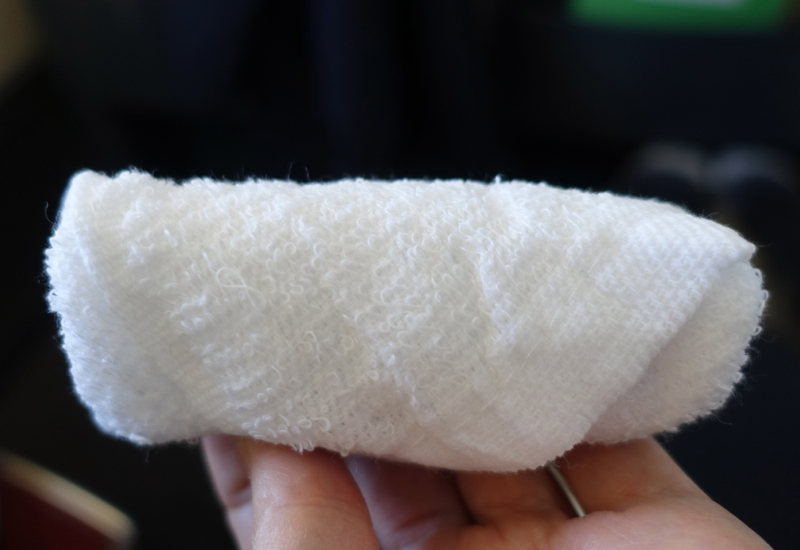 It's just a 90 minute or so flight between NYC JFK and Toronto, so I wasn't surprised that catering was very simple, though I do think some mixed nuts or other snack could have been offered. There was no choice, just a cold sandwich plate that consisted of a cheese and ham sandwich on baguette and another sandwich on rye bread, neither of them very good.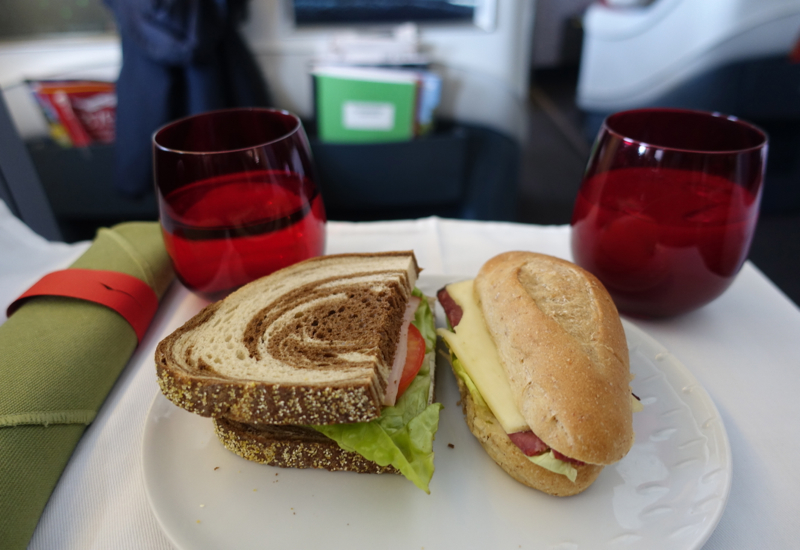 TAM Airlines Business Class Bed
If you're traveling solo, beware of the window seat since it will entail an awkward hop over your fellow passenger in the aisle seat, if s/he has fully extended the seat into bed mode, as you can see in this photo: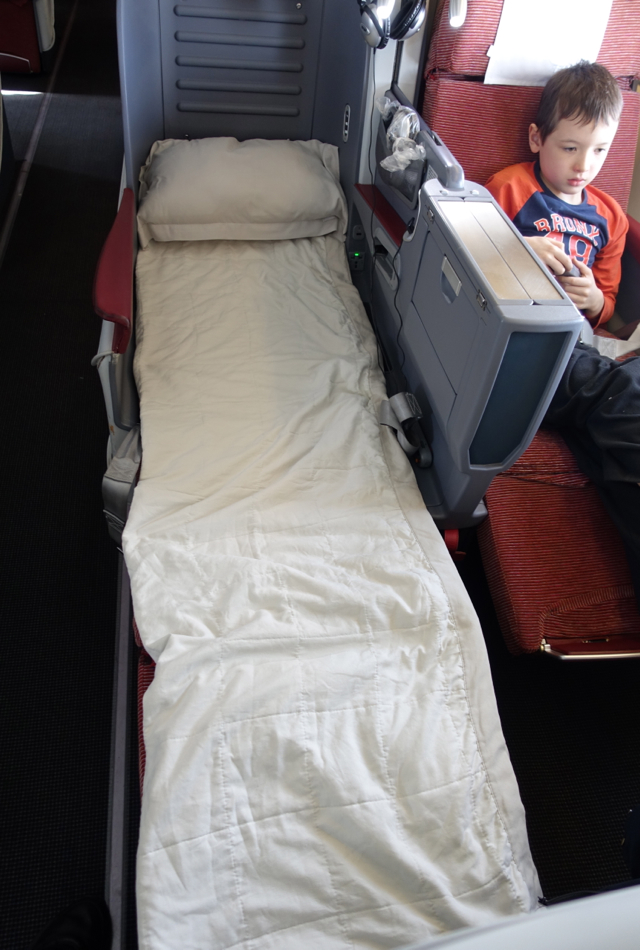 Though our flight was short, I tried out the bed, making it up myself with a duvet and pillow, since as a business class product, there's of course no turn down service (though interestingly on our morning flight from JFK to Toronto the crew did turn off the lights right after meal service). I have to say, I didn't find the bed comfortable. Yes, it's nearly flat (though angles down a bit for the leg portion) but, as with Qatar Business Class, there's a part of the seat that dug into my lower back a bit and would definitely have prevented me from sleeping on a long haul flight unless I had significant pharmaceutical help. While I'll readily admit that I'm pickier than plenty of flyers when it comes to a bed, I'd take even the old British Airways Business Class any day over this.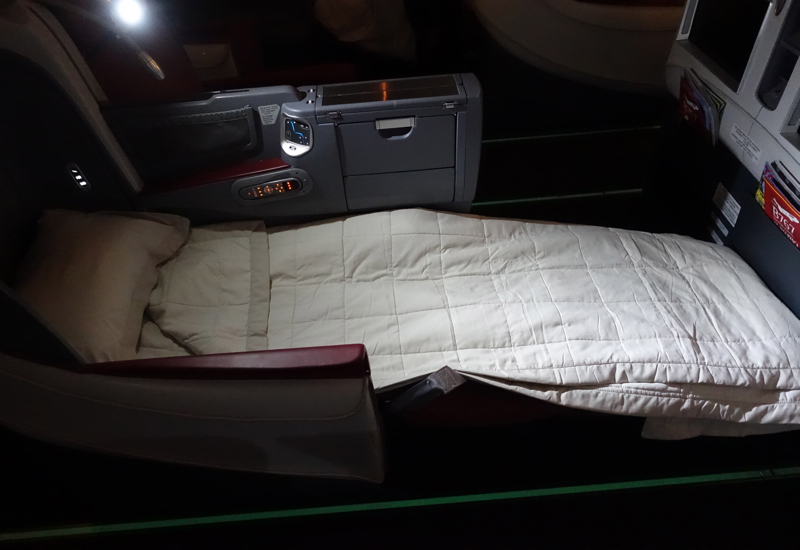 TAM Airlines In-Flight Entertainment
I'm fairly easy to please in the IFE department. I'd say TAM is better than average in terms of films, which is the only part of the IFE I really care about. Sure, it's not Singapore Airlines in terms of the amazing range of films from almost all corners of the world, but I found a greater selection of film choices than on Air Berlin, Asiana or Etihad. And I appreciated that for films such as Jurassic World there was a warning screen informing parents that the film was inappropriate for kids (yes, something that most parents of young kids would know anyway, but still good a good reminder).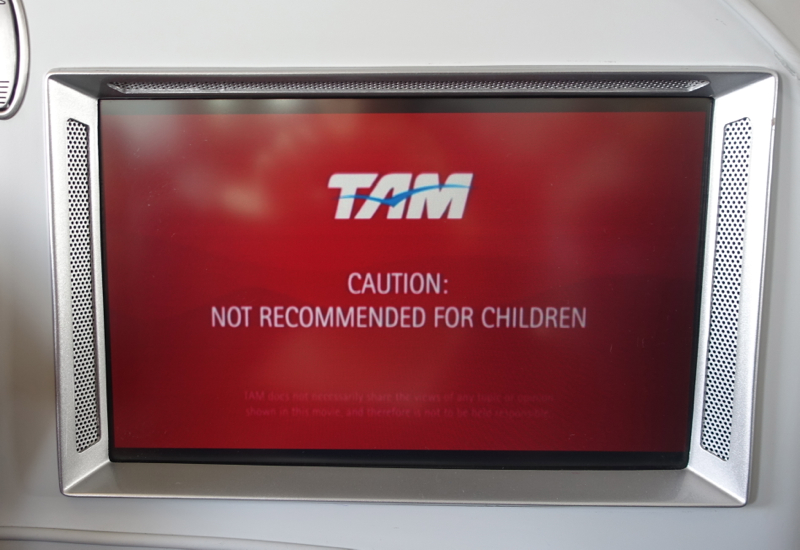 That of course didn't stop me from a little popcorn fun in seeing the latest dinosaur CGI: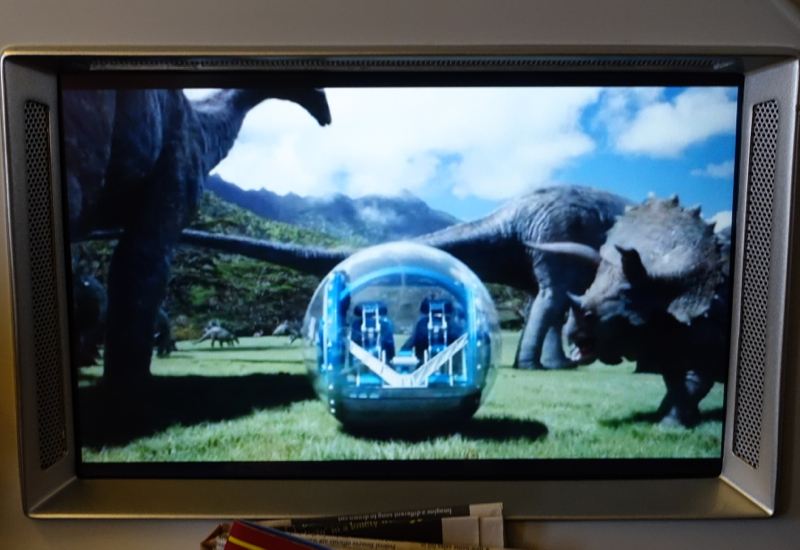 My son would probably rate the kids' film selection average, but he did enjoy some of the games. Flights are the only time he plays them, since we're a no-TV, no iPad household, so even the simple ones aren't boring for him.
The Verdict
TAM Airlines Business Class was great for our short daytime flights between NYC and Toronto–it's not often that you get a flat bed international business class product on such a short flight, and the bed is great for relaxing. That said, I wouldn't want to fly this product for a flight I actually needed to sleep on, due to the uncomfortable bump in the seat digging into my lower back in the fully flat position, even with the duvet placed over the seat to provide some padding.
Service was good on the outbound flight, but very inattentive at the outset of our return flight, when I had to ask after 20 minutes for a pre-flight drink. While it's normal to have limited catering on such a short business class flight, I would probably bring my own food next time since neither my son nor I liked the sandwiches (which were exactly the same on the outbound and return flights).
If you've flown TAM Airlines Business Class on the 767-300ER with flat bed seats, what was your experience?
Related Posts
Airline Hubs by Airline and Alliance
American and Oneworld Protection on Separate Tickets?
Hawaiian Airlines: New Flat Bed Seats in First Class
Our 2015 Progress Towards 1 Million Frequent Flyer Miles and Points
Need Award Booking Help? Our fee is as low as $75 per ticket if you book your hotel or cruise through us.
If you enjoyed this, join 200,000+ readers: please follow TravelSort on Twitter or  like us on Facebook to be alerted to new posts. 
Become a TravelSort Client and Book 5-Star Hotels with Virtuoso or Four Seasons Preferred Partner Amenities!