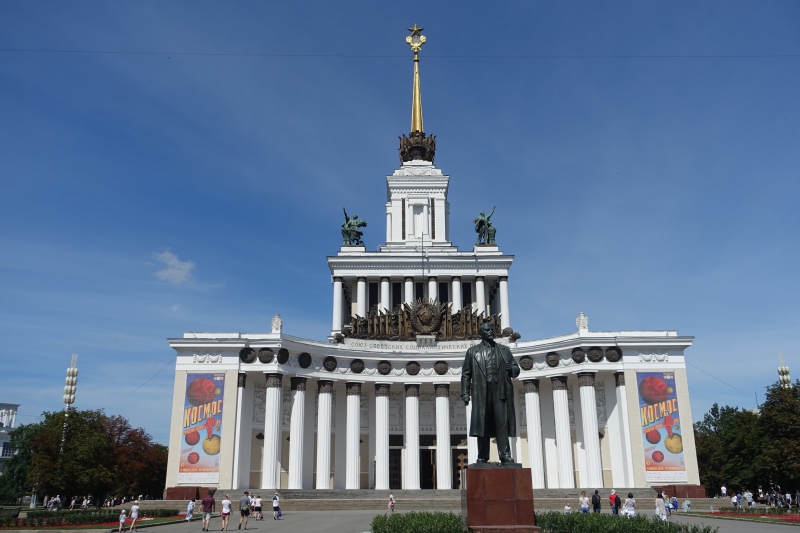 This Review of the Space Museum and VDNKh Exhibtion Center in Moscow is part of a new Russia trip report that includes St. Petersburg and Moscow. Visiting Russia? See all of our posts tagged Russia.
VDNKh stands for Vystavka Dostizheniy Narodnogo Khozyaystva (Выставка Достижений Народного Хозяйства in Russian), meaning the Exhibition of the Achievements of the National Economy. It was first opened in 1939, closed in 1941 due to the German invasion and World War II, and during Soviet times attracted about 11 million guests annually to its dozens of pavilions, each dedicated to a particular industry.
Today VDNKh remains a popular outing for many local Russians, strolling the vast grounds, enjoying the fountains, Cosmonauts Alley, and the Space Museum.
Prior posts include:
Review: Hotel Astoria St. Petersburg, Russia
Review: Astoria Cafe, St. Petersburg, Russia
Vkus Est (Taste to Eat) Review, St. Petersburg, Russia
Summer Garden (Летний сад), St. Petersburg, Russia Review
Duo Gastrobar Review, St. Petersburg, Russia
Mansarda St. Petersburg Restaurant Review
Ararat Park Hyatt Moscow Review
Review: Anatoly Komm for Raff House, Moscow Russia
Summer in Moscow, Russia: Festive and Flower Filled
Review: St. Regis Moscow Nikolskaya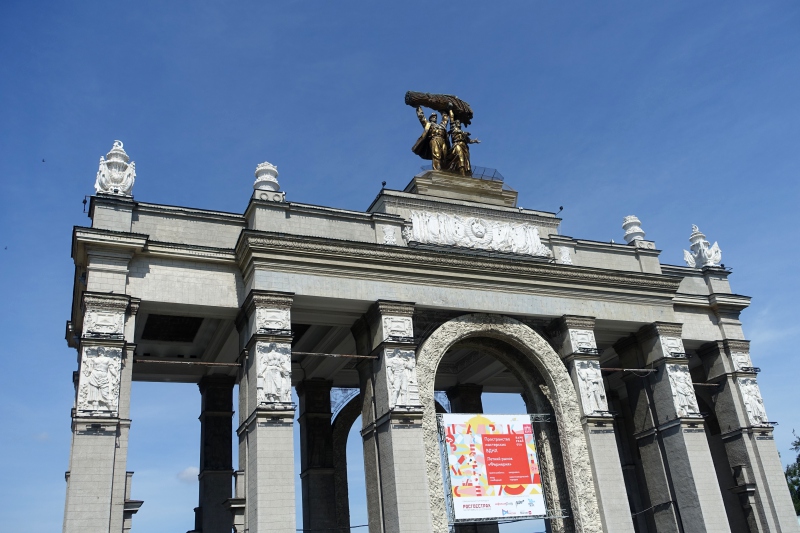 Getting to VDNKh, Cosmonauts Alley and the Space Museum and Hours
To get to VDDNKh, take the orange line 6 in the direction of Rizhskaya to the VDNKH Metro Station, which is between stations Alekseevskaya and Botanichesky Sad. If you're taking the red line 1 from Okhotny Ryad or Lubyanka, transfer at station Chistye Prudy to Turgenevskaya Station, on the orange line.
Once you alight at the VDNKH station, look for the exit towards VDNKH.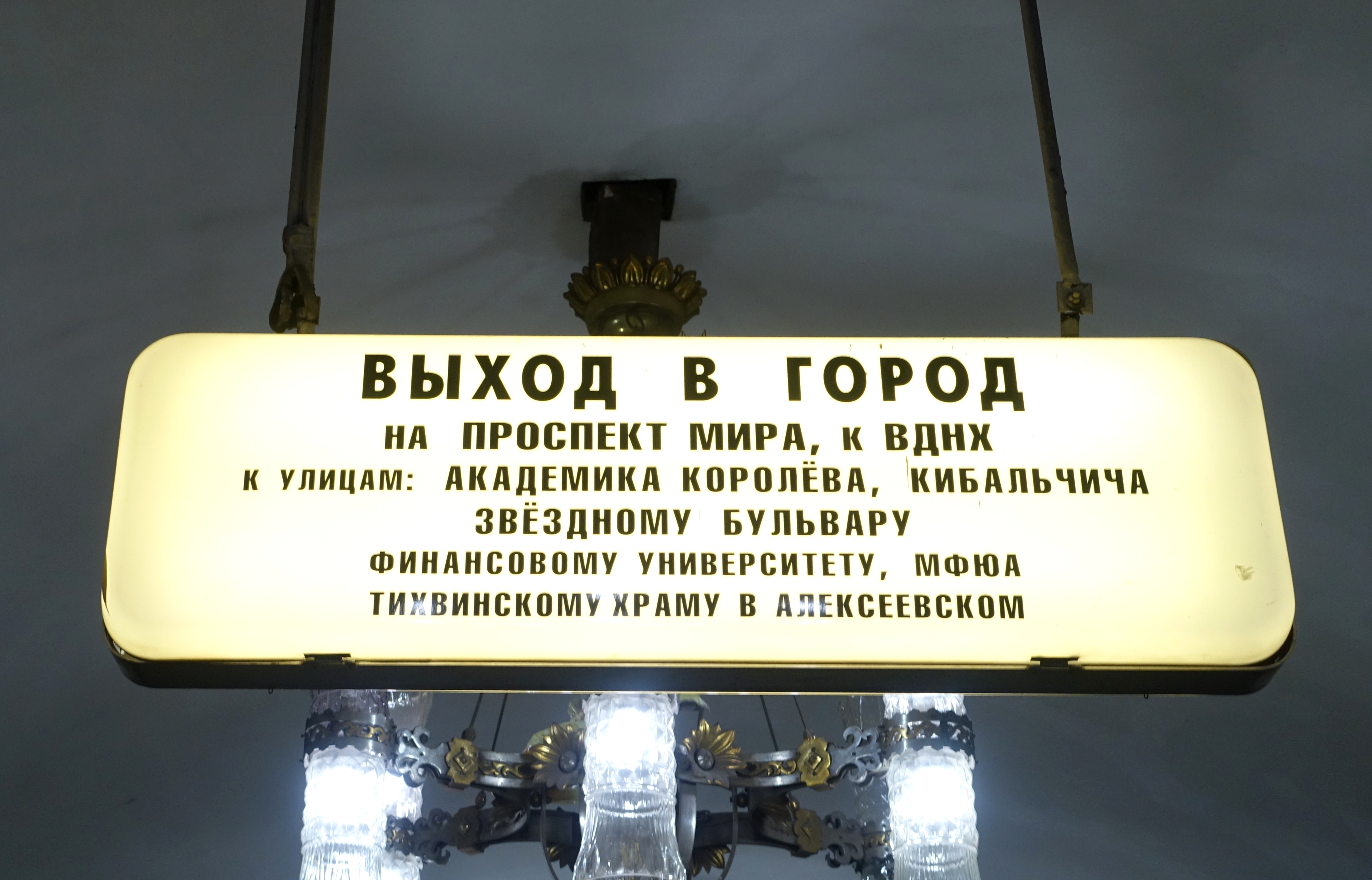 Happy Moscow Tours Moscow VDNKh Soviet Tour Details and Cost
Happy Moscow Tours offers a variety of private walking tours, both half day and full day excursions. We opted for a half day (3 hour) tour, which was RUR 6000 for me, with my son free of charge (children up to 14 years old are free of charge with a paying adult). We opted to have our guide show us Cosmonaut Alley and the VDNKh outdoor exhibition center, and to drop us off at the Space Museum afterwards, for us to explore on our own.
Entrance fees, for example to the Space Museum, are not included, but are very reasonable: at the time of our visit, just 250 RUR per adult and 50 RUR per child age 7-17.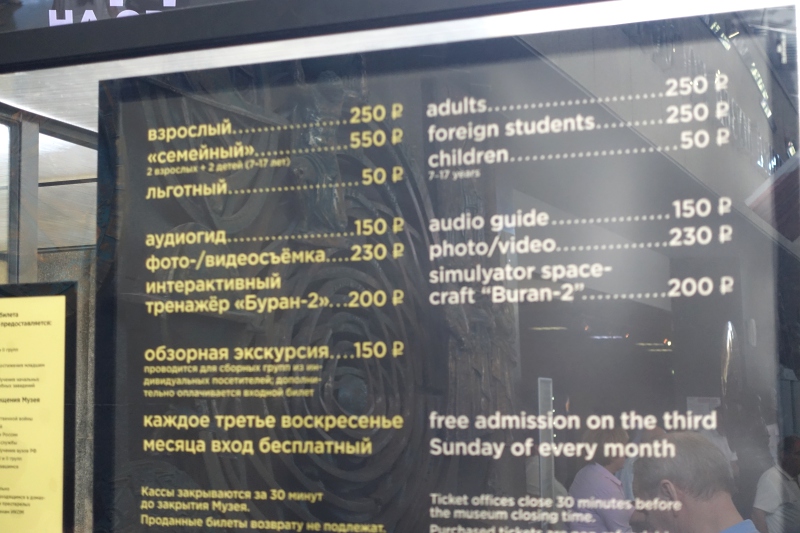 We enjoyed a Moscow Metro tour with Happy Moscow Tours last year, and other walking tours include:
Moscow Must See
Moscow Kremlin, Armoury Chamber, Diamond Fund
Vodka Museum, Souvenir and Flea Market, and Izmailovsky Kremlin
Sanctuary Places
Russian Art
Highlights of Our Moscow Soviet Tour to VDNKh and the Space Museum
1. Monument to the Conquerors of Space (Покорителям Kосмоса)
The monument to the Conquerors of Space, unveiled in 1964, is still very striking as you make your way up Cosmonauts Alley. It anchors the Museum of Space (more below) and its bas-reliefs features Soviet men and women critical to the space program: scientists, engineers, computer programmers, cosmonauts, and even Laika, the first space dog.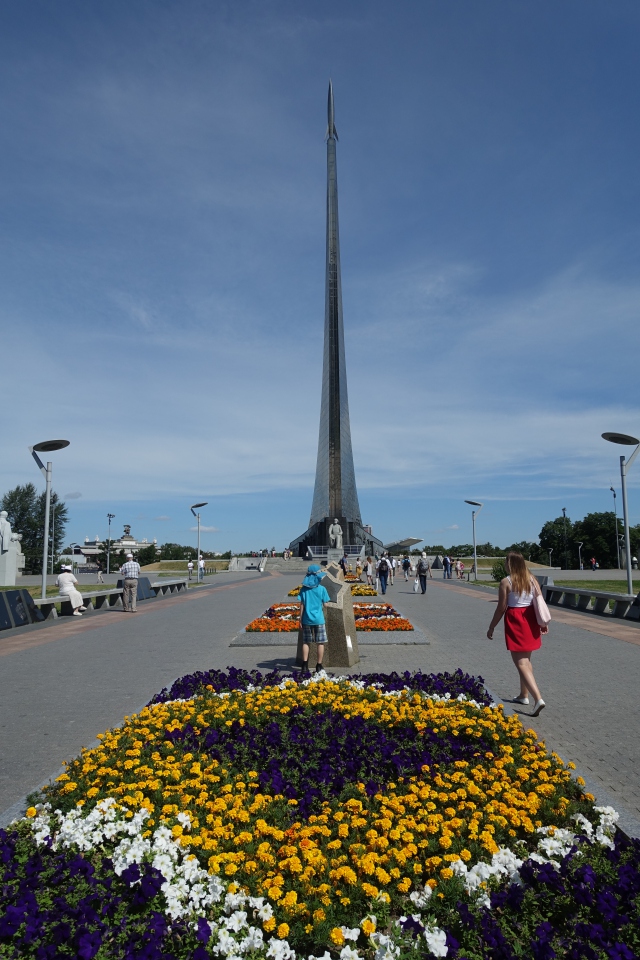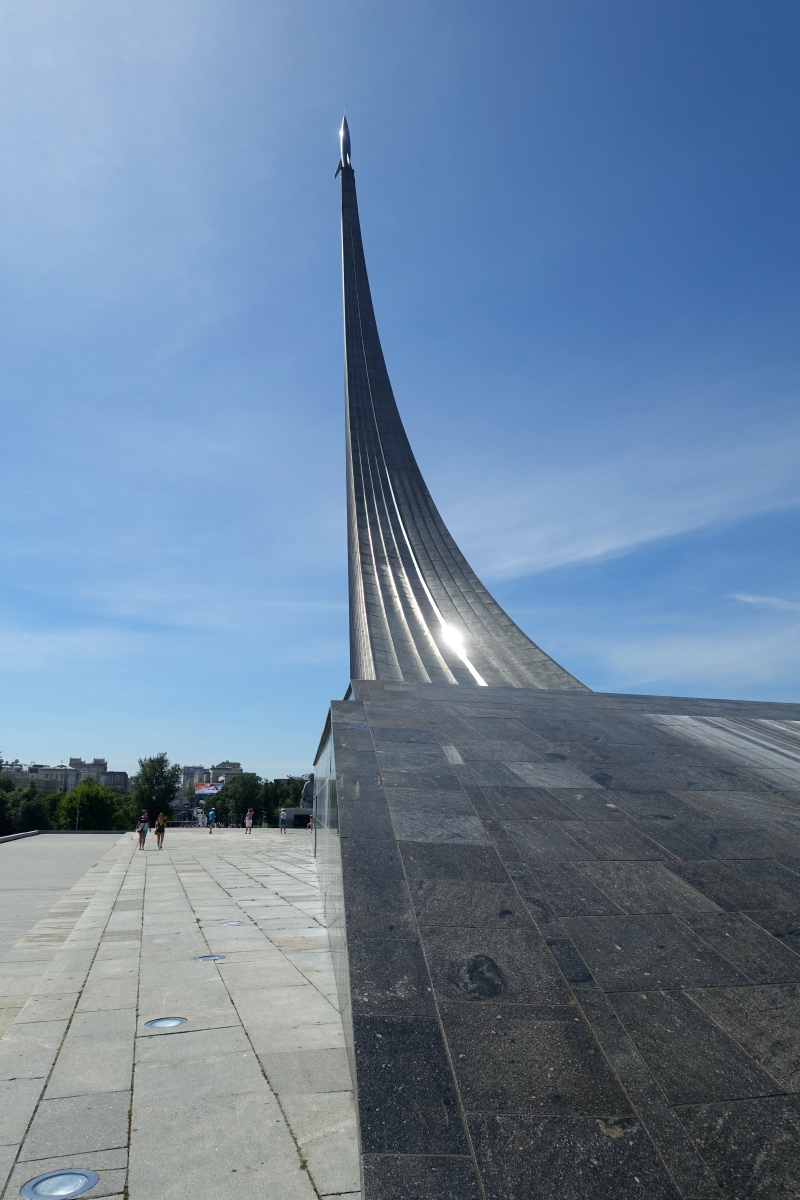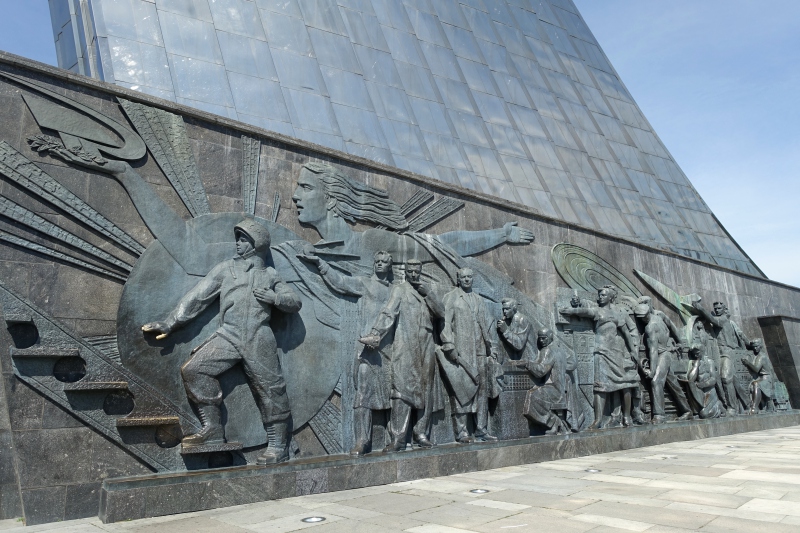 Of course the cosmonaut's finger was shiny where people had touched it for good luck, and before I could even warn her that my son was a heavy 8 year old, our guide Maria had already lifted him up, much to his delight: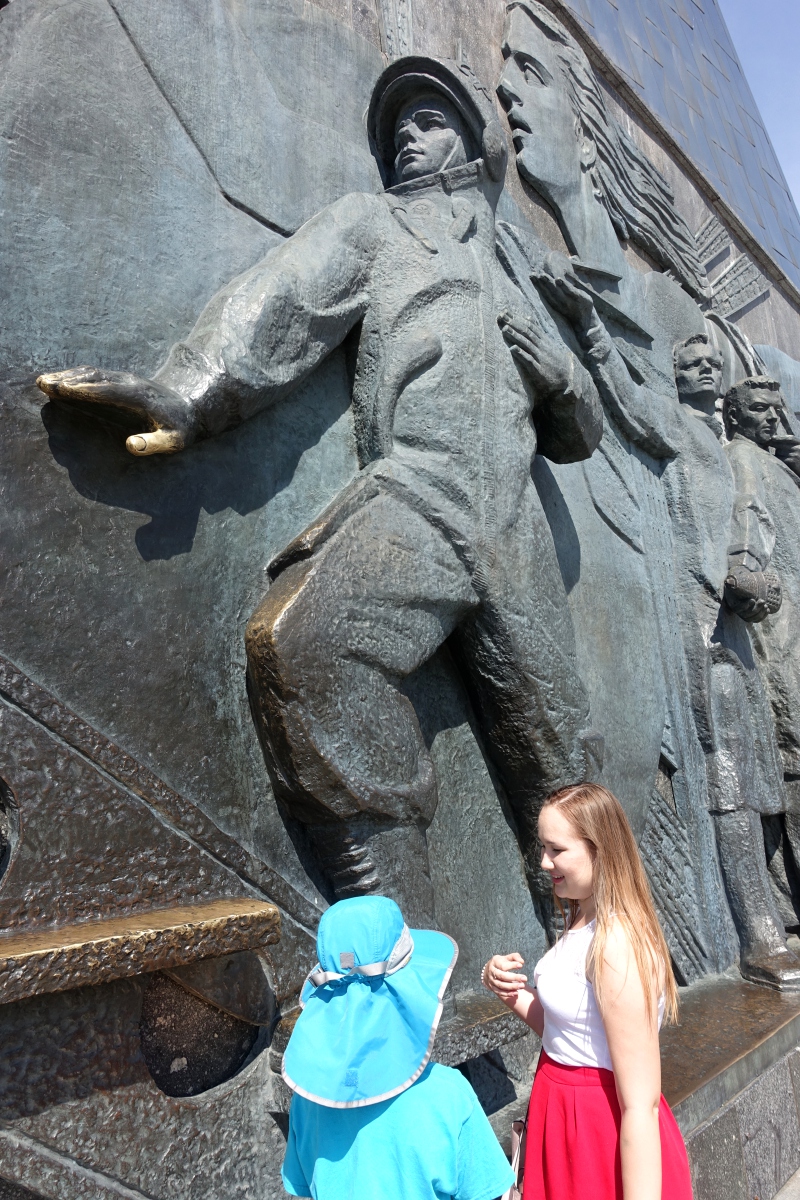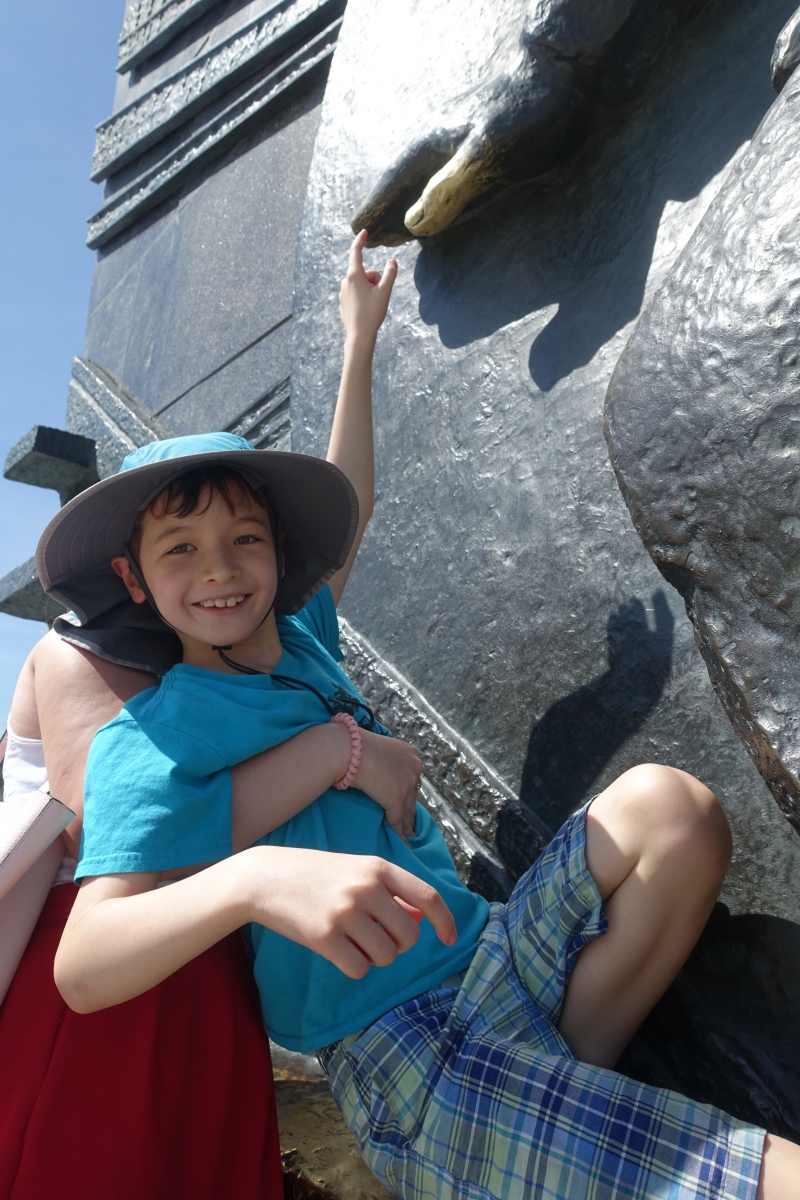 2. Cosmonauts Alley
Cosmonauts Alley begins with some bronze works kids will love; among other things, a globe and a sundial: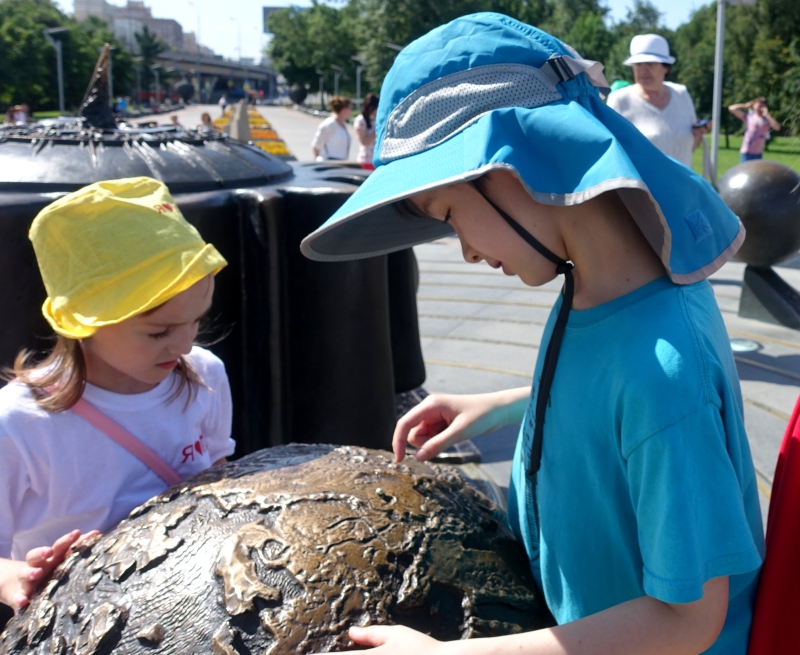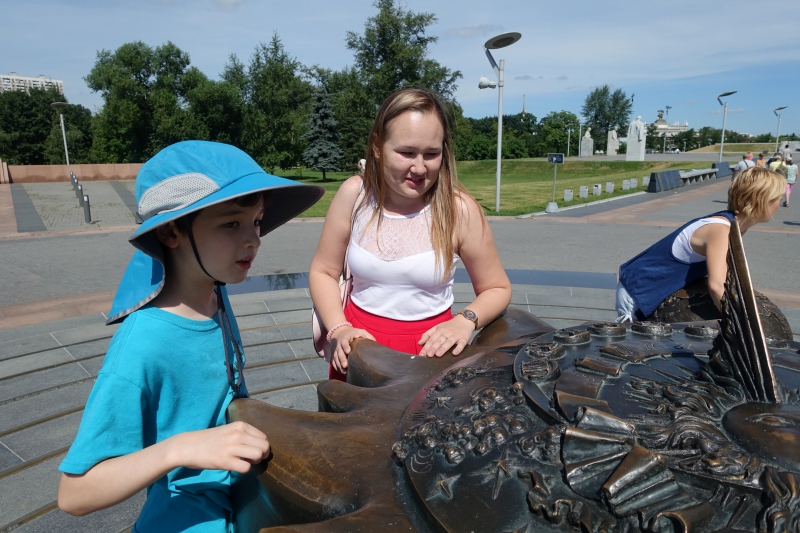 Leading up to the Monument, there are stars that commemorate each Soviet or Russian cosmonaut: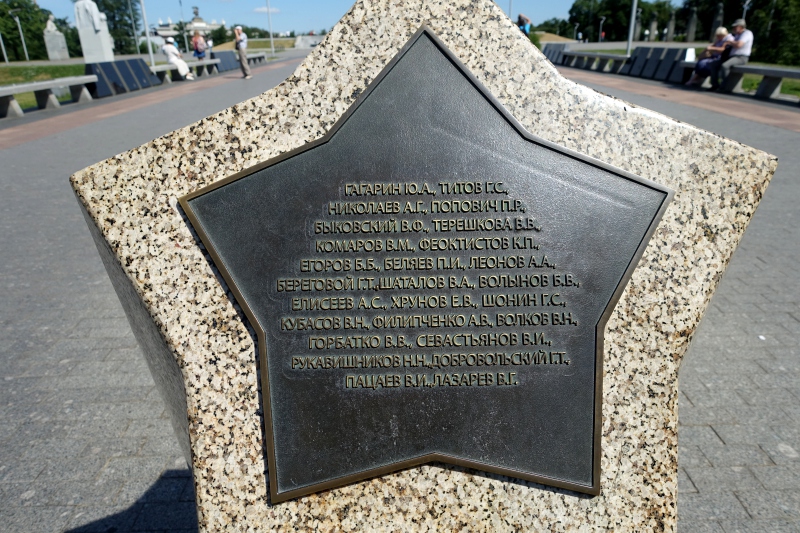 Closer to the monument, there's a statue of Konstantin Tsiolkovsky, a founding father of astronautics and rocket science: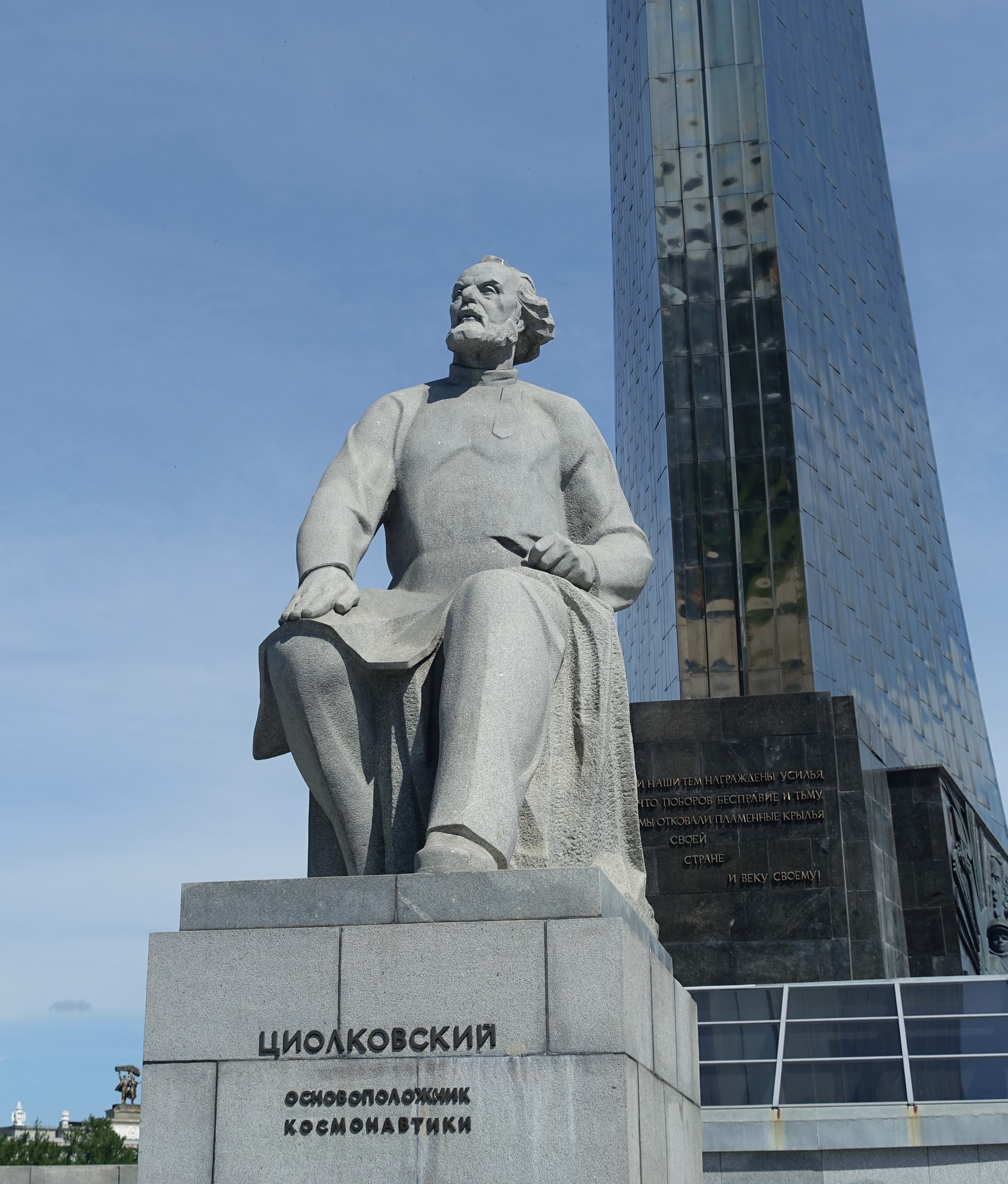 3. VDNKh Fountains, Including Peoples Friendship Fountain
Pavilions from the former Soviet republics are dotted around the VDNKh, but on a warm day, it's especially nice to be by one of the fountains. The most stunning one is the Peoples Friendship Fountain, where each of the maidens represents one of the former Soviet republics.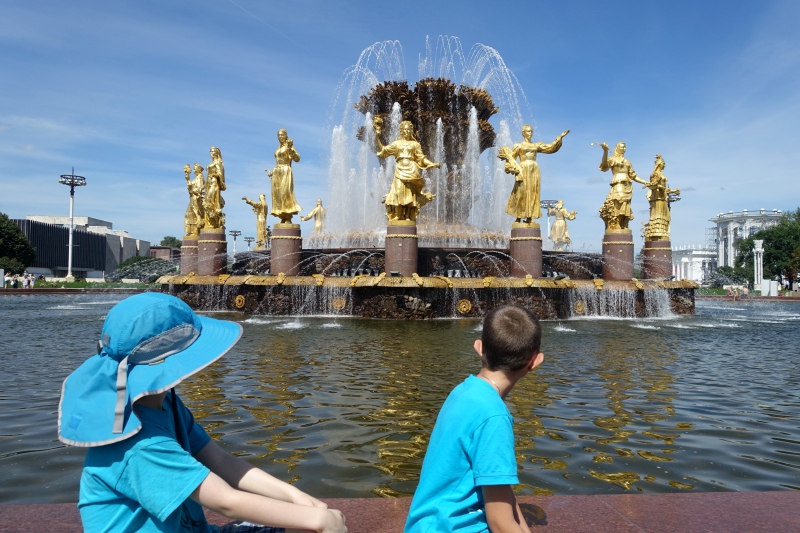 There's also a large pool with fountains from stone flowers: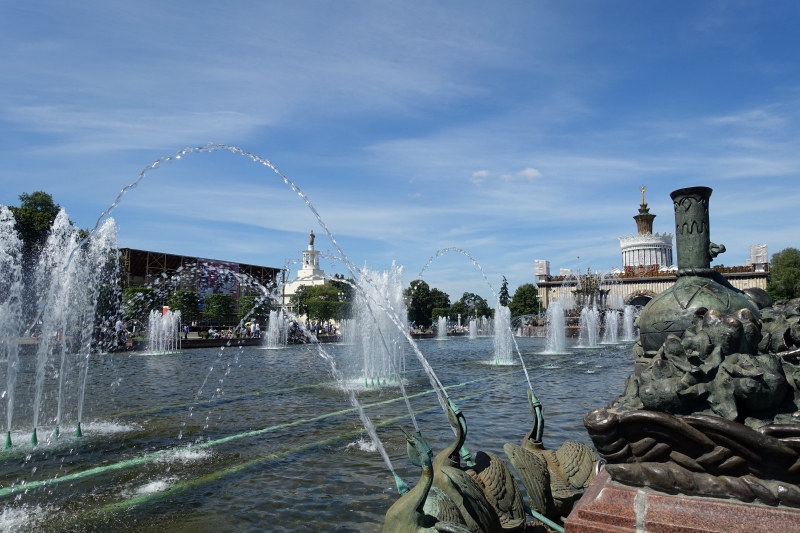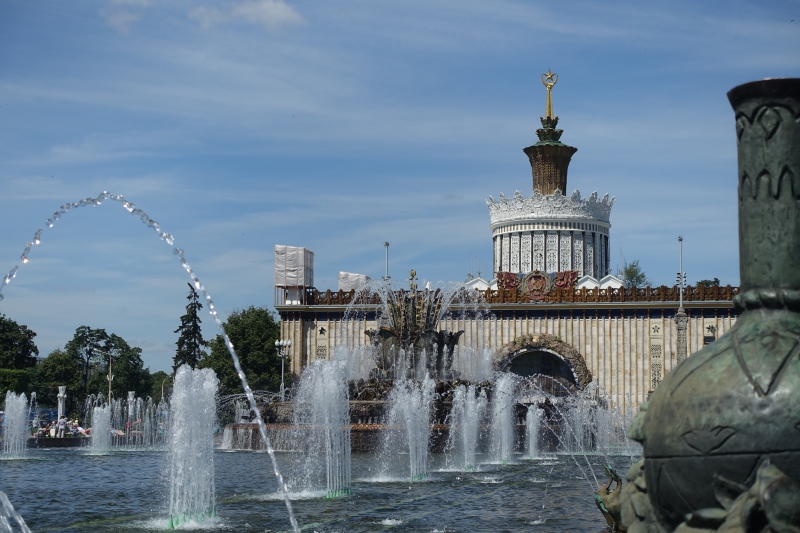 And another one with a rocket at its center: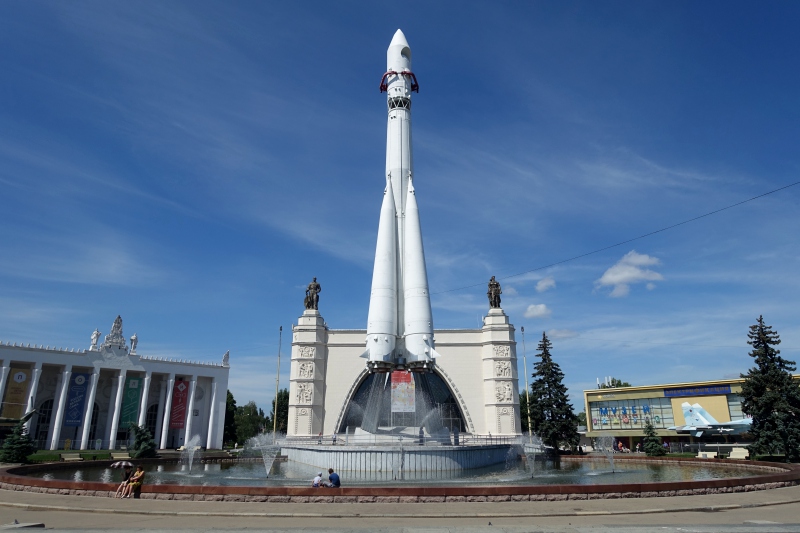 4. Mir Space Station Model
A highlight of our visit to the Space Museum was seeing a model of one of the Mir Space Station's modules. Mir was the first modular space station and the largest man-made satellite put into orbit at the time, as well as the first continuously inhabited research station in orbit.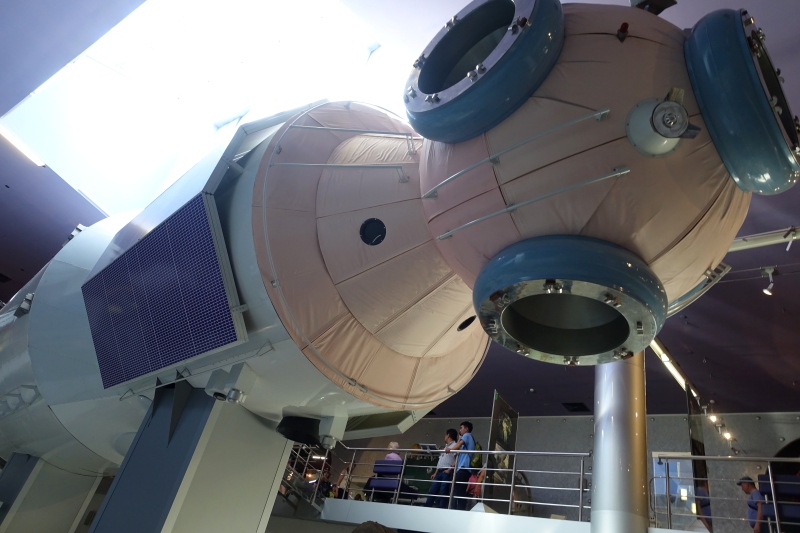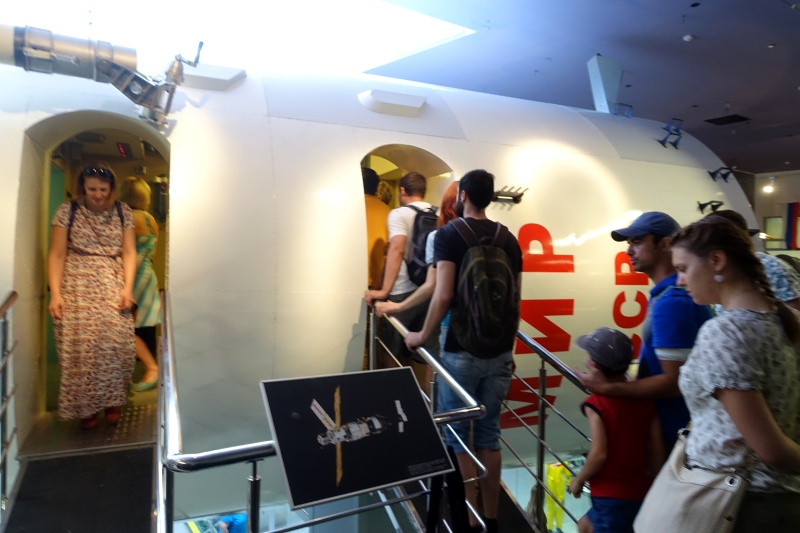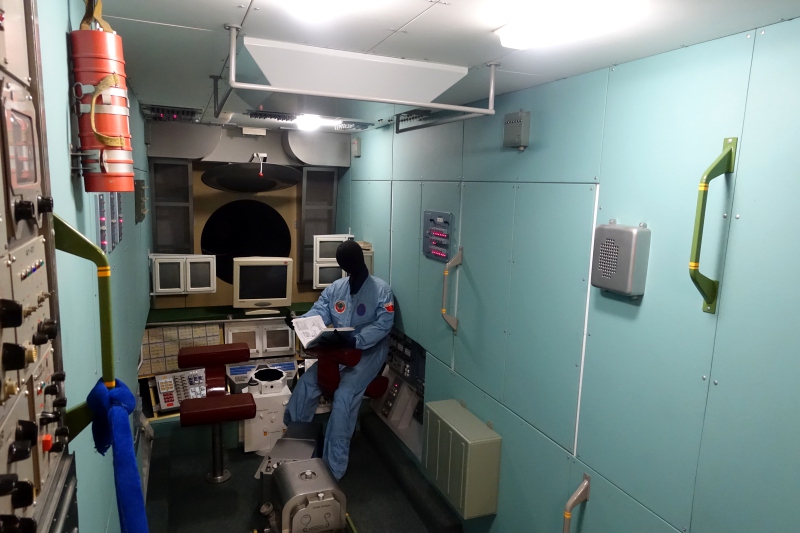 5. Trying Space Food
After our guided tour of the Space Museum, my son was hungry, so we visited the cafe. While there were regular menu items available, we didn't want to miss out on trying Russian space food made by Biryulevsky, the only company in Russia that specializes in making food for cosmonauts/astronauts.
We picked out a tube of tvorog (farmers cheese) with black currants. While it took some strength to actually squeeze the food into our mouths, we both agreed that it was delicious, even if it did come from something looking like a toothpaste tube.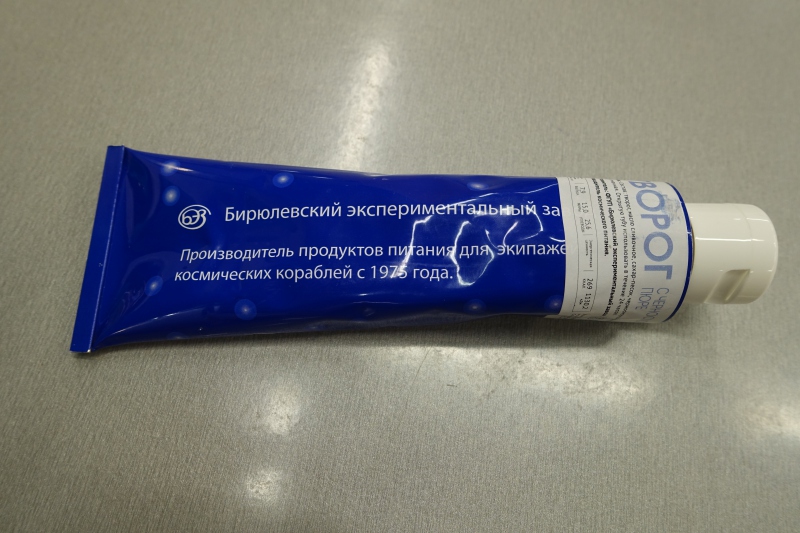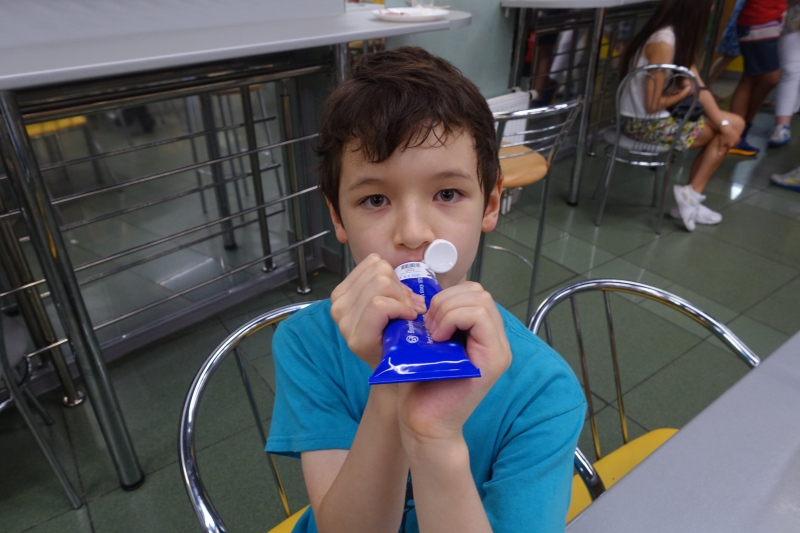 6. Yuri Gagarin's Vostok 1 Space Capsule
Yuri Gagarin's Vostok 1 space capsule isn't large–just 90.5 inches in diameter–yet it is what held him as he became the first human in outer space, on April 12, 1961, also commemorated by the United Nations as the International Day of Human Space Flight.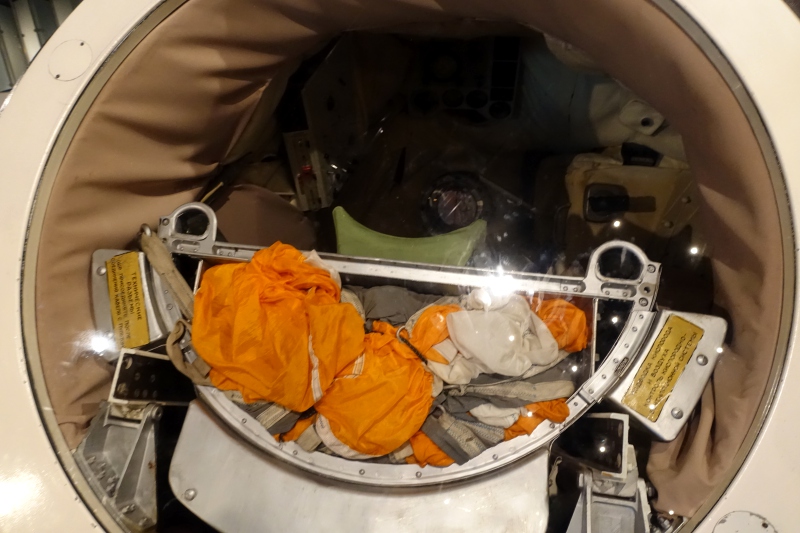 7. Tour of Space Museum (in Russian only)
The Space Museum can easily be explored on your own, but an interesting option if you speak Russian is a guided tour, for a nominal fee. This was incredibly popular with Russians, there were probably about 40 people in our group. Our guide, a woman, was upbeat, thorough, and took questions, and spoke rapid fire Russian. The tour concluded with two excellent movies, also in Russian, although one of them included talks with both Americans and Russians on the International Space Station.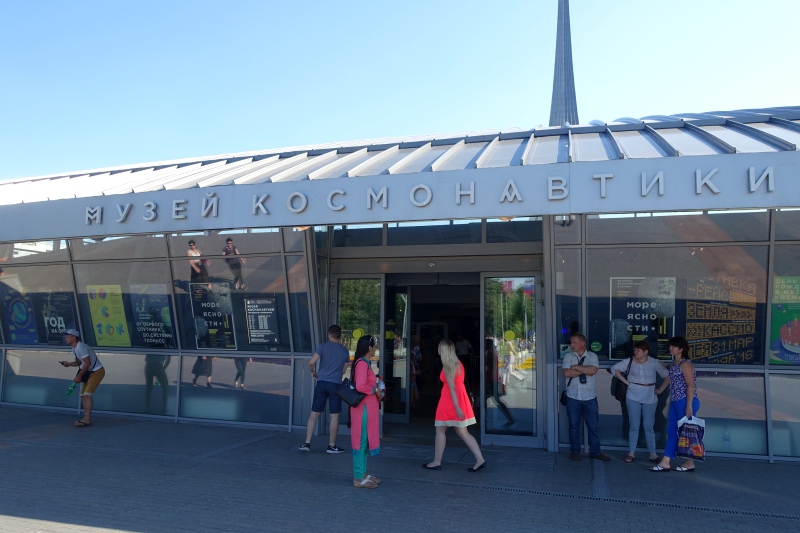 Have you been to VDNKh, Cosmonauts' Alley and the Space Museum in Moscow?
Related Posts
Moscow Metro Tour with Happy Moscow Tours
Review: St. Regis Moscow Nikolskaya
Need Award Booking Help? Our fee is as low as $75 per ticket if you book your hotel or cruise with us.
If you enjoyed this, join 200,000+ readers: please follow TravelSort on Twitter or like us on Facebook to be alerted to new posts.
Become a TravelSort Client and Book 5-star hotels with Virtuoso Perks or Four Seasons Preferred Partner Benefits