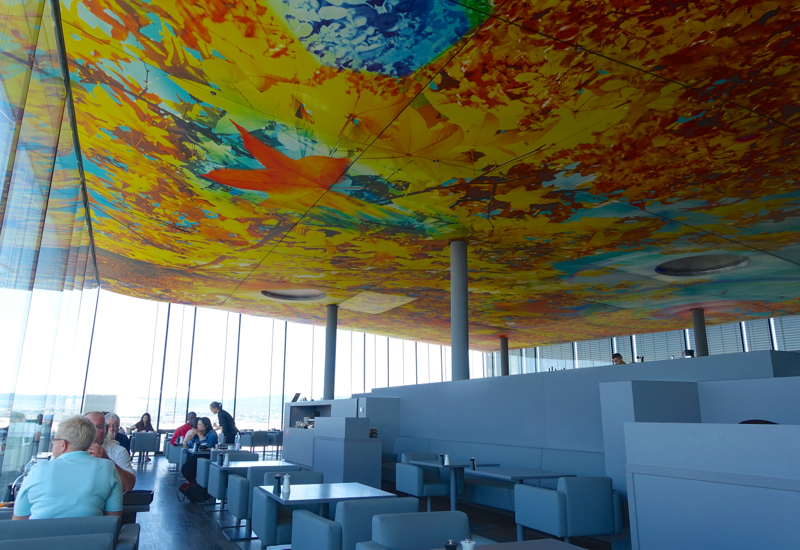 This Sofitel Vienna Stephansdom Review is part of a trip report including Vienna and Moscow and St. Petersburg in Russia. Our Vienna stay transpired because it was a convenient overnight from Florence (see our reviews of the Four Seasons Firenze, with links to our other stays in Tuscany, the Amalfi Coast and Rome) en route to Moscow, Russia.
TravelSort Clients enjoy Sofitel STEP Program benefits:
Upgrade from Classic to Superior Room or from Superior to Luxury Room guaranteed at time of booking
Upgrade from Luxury Room to Suite upon arrival, based on availability
Complimentary High Speed Internet for all rates and room types
Personal greeting by management upon arrival
Personalized welcome amenity and note
Automatic placement at the top of waitlists
No walk policy for guaranteed bookings
Sofitel Vienna Stephansdom Location and Check-In
The Sofitel Vienna Stephansdom is located at Praterstrasse1, across the Danube Canal (Danaukanal), and about a 4 minute walk from U Bahn (subway) station Schwedenplatz. Our flight was delayed a bit, so we simply took a taxi to the hotel, which took about 25 minutes. The lobby itself is sleek and modern, with ample seating, so no complaints there.
Check-in went well until I asked about the view of Stephansdom, which I'd specifically reserved a Luxury Room for and requested, along with a high floor. At that point, the front desk agent sheepishly admitted that my room wouldn't have a good view of the cathedral at all. I insisted on a good view, so he eventually found a room on the 9th floor for me, which is about midway up in the 18 floor building.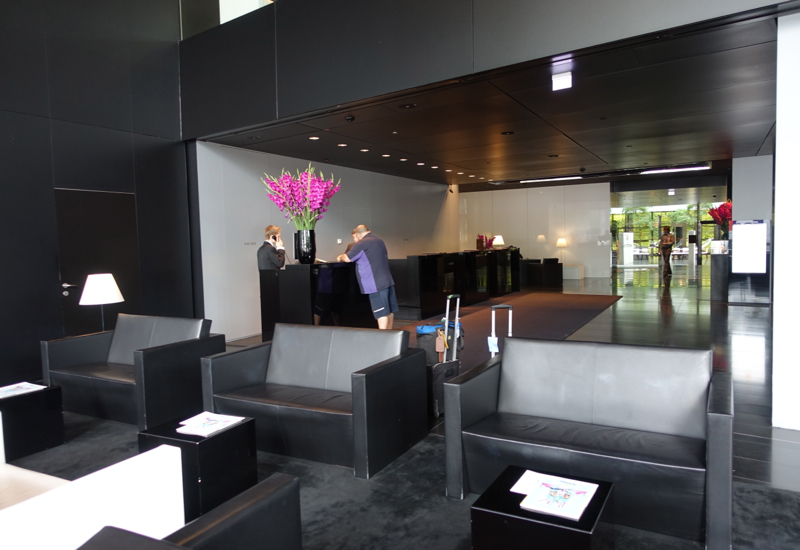 Sofitel Vienna Stephansdom Luxury Room
After inserting my key in the room and opening the door, I initially wondered if I'd been downgraded or somehow given the wrong room. I knew from the Web site that the rooms were grey, but I wasn't prepared for just how institutional and depressing it would feel, from the cold metal floors to the grey walls. I get that it's going for an avant-garde look, but it simply felt cold and cheap rather than luxurious.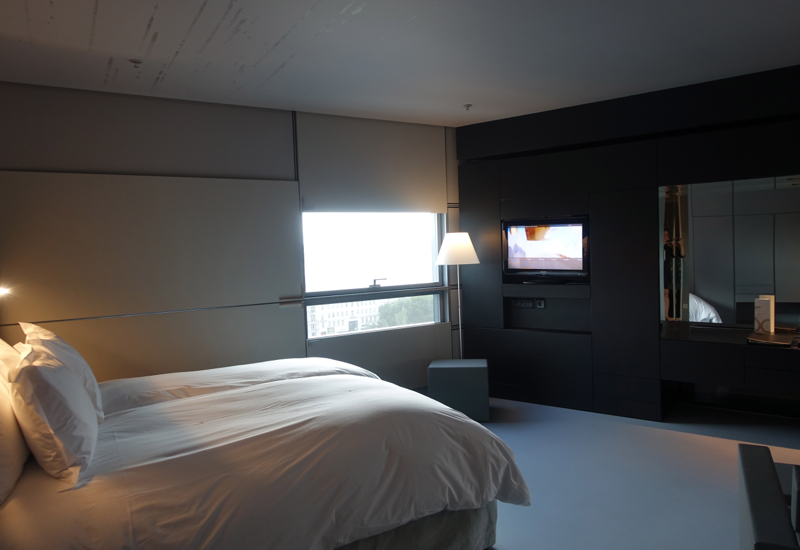 One half of the windows facing the city and Stephansdom have dots on them, which seemed utterly nonsensical for anyone wanting to enjoy the view:
The other side, fortunately, was regular clear glass, although given that the room was on the 9th floor, I didn't find the view that impressive: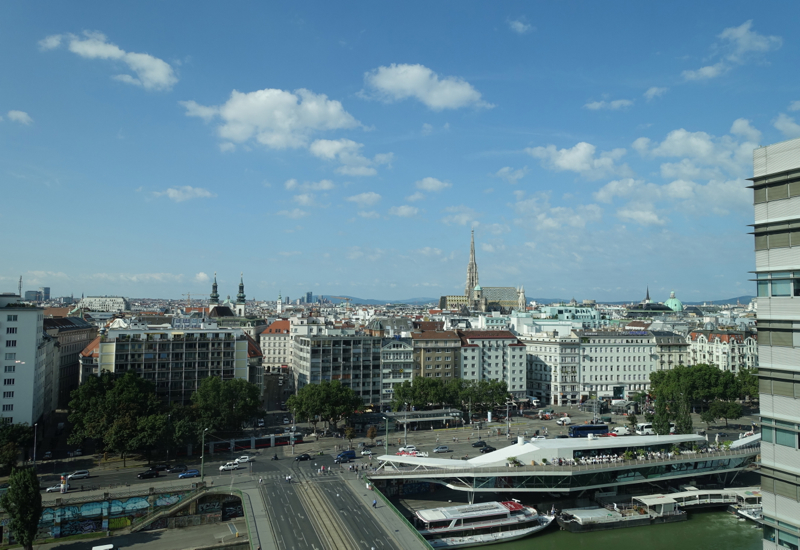 The bathroom opened up into bedroom, although frustratingly, the sliding doors didn't close all the way, so if anyone was in the bathroom taking a bath or shower, light and noise automatically seeped into the bedroom. I also didn't like the fact that there was no towel rack right by the shower. I had to awkwardly step into the bathtub to reach over and grab a bath towel.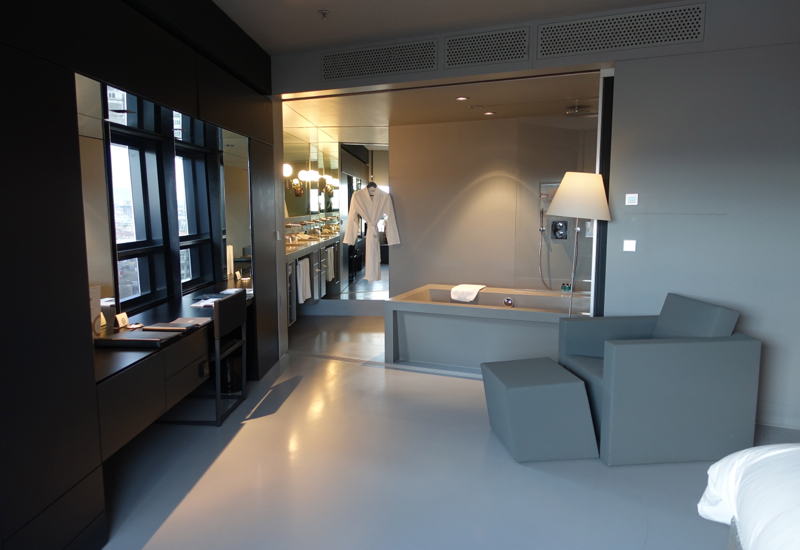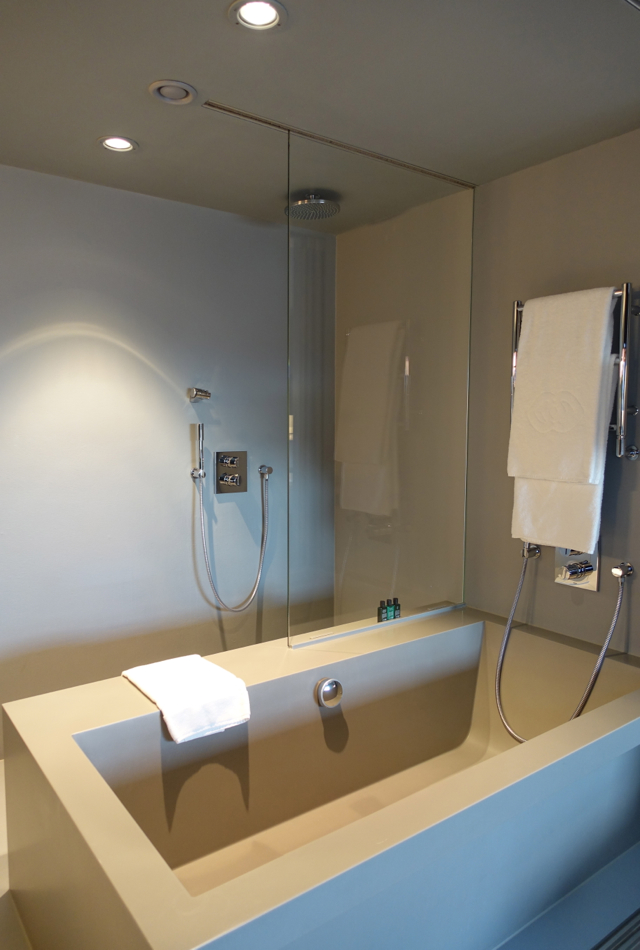 At least there were double sinks, the bath products were Hermes, and there was a Nespresso machine–three of the few tasteful touches for this ostensible "Luxury" Room.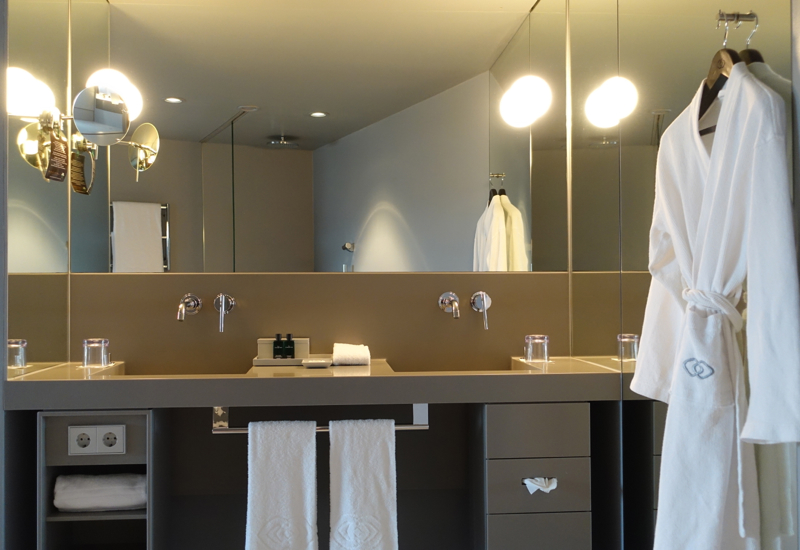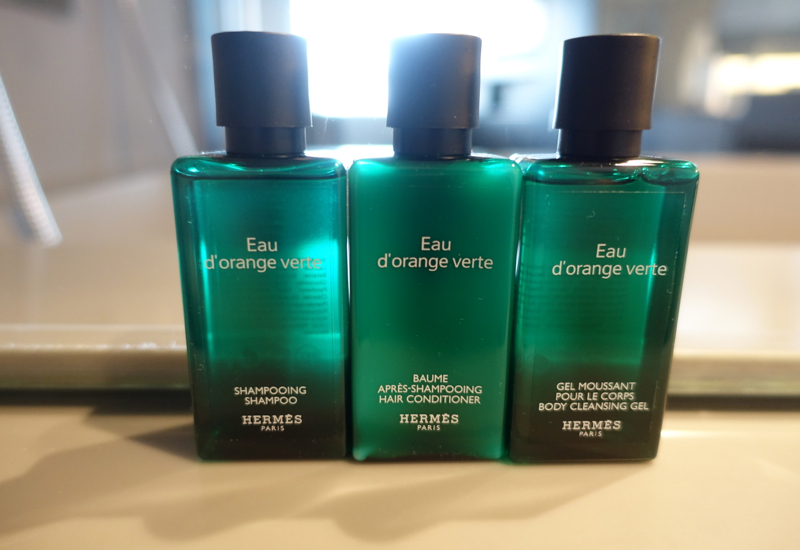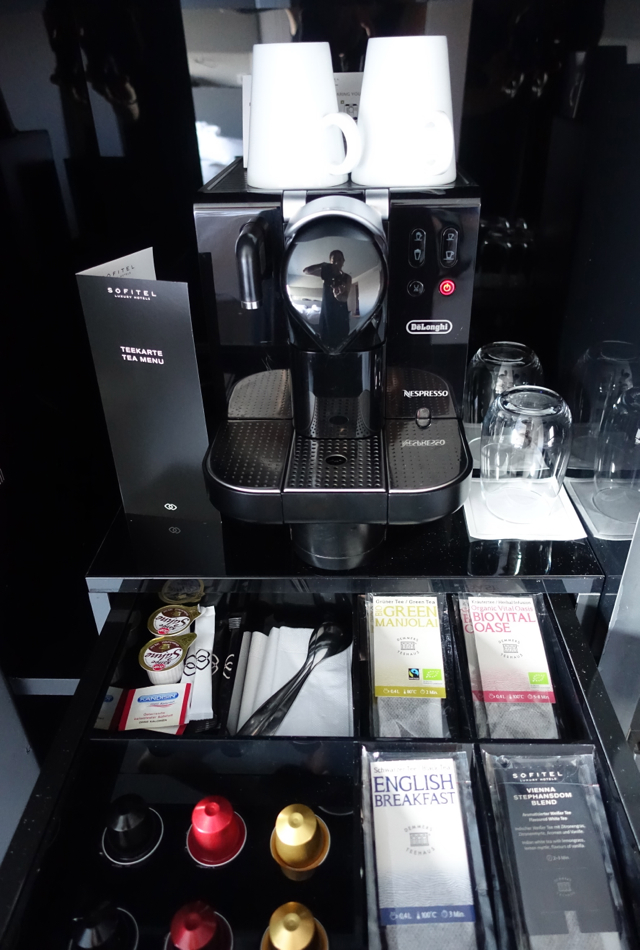 The beds were ok, but somehow harder and less plush than at other Sofitels I've been to. Normally Sofitels are known for their incredibly comfortable bedding, but these mattresses were too hard.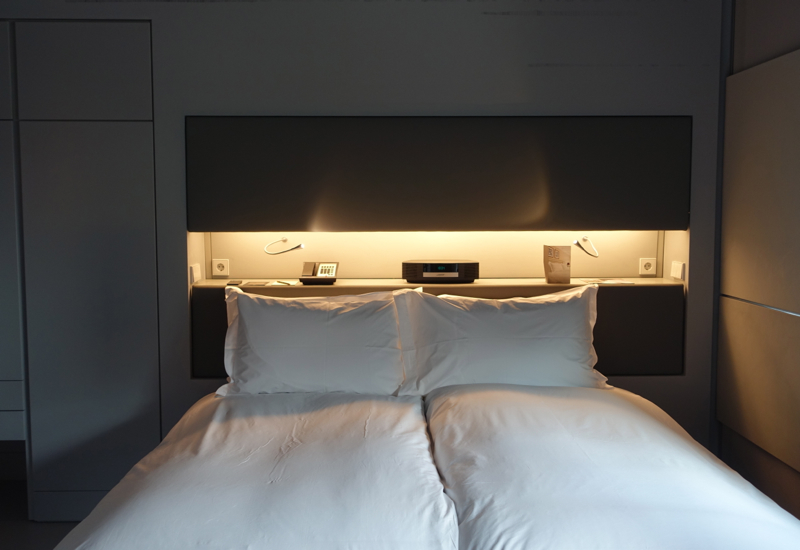 The toilet area reminded me of an airport bathroom, with cheap metal fixtures, and not having been cleaned properly.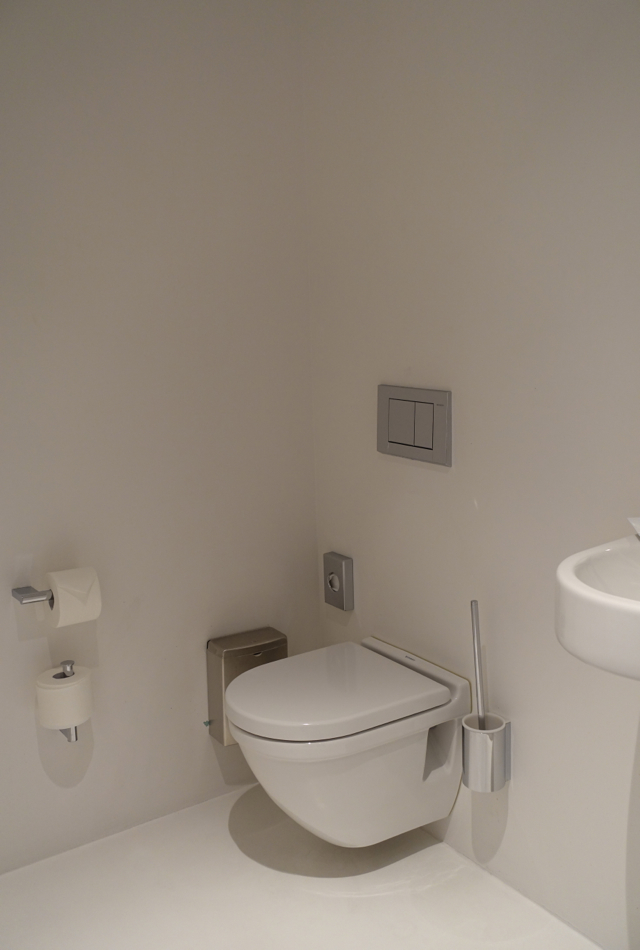 I also wasn't too impressed with the scratches on the closet doors: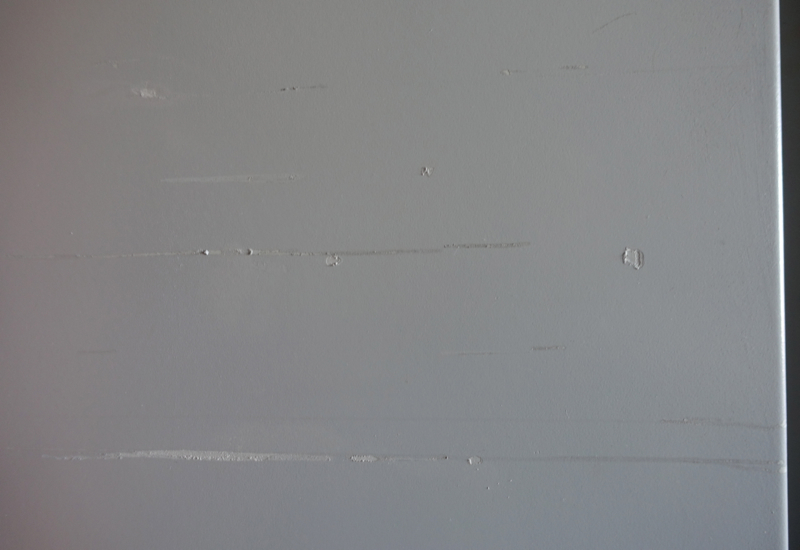 Sofitel Vienna Stephansdom Breakfast
Our rate didn't include breakfast, but for the sake of convenience, and to take in a better view than we had in our room, we decided to eat breakfast at the LOFT Restaurant on the 18th floor anyway. The ceiling is my favorite design element of the hotel–it's wild and a bit garish, but added much needed life and color given the institutional feel of our room.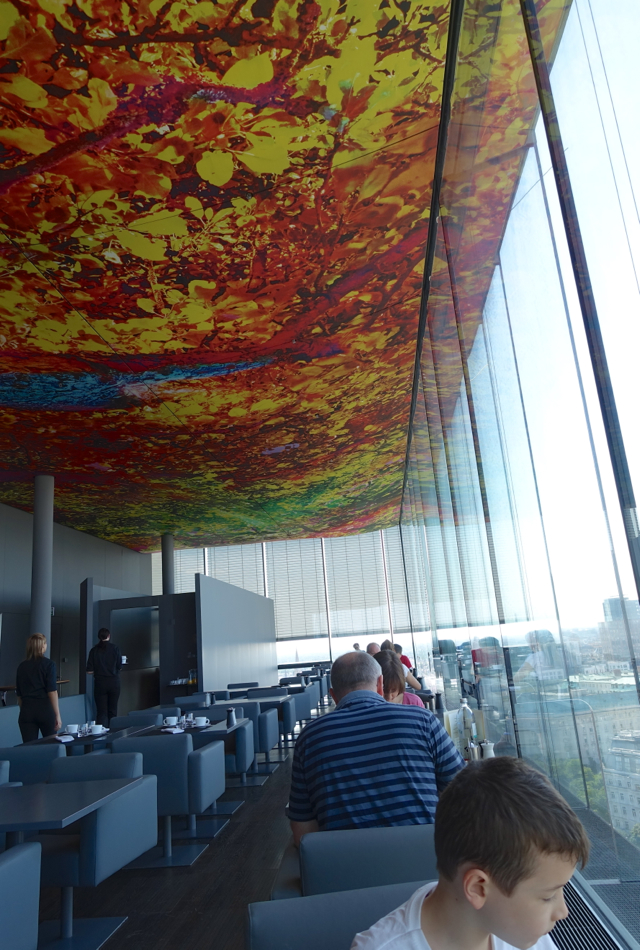 Views were indeed much better than from our 9th floor room: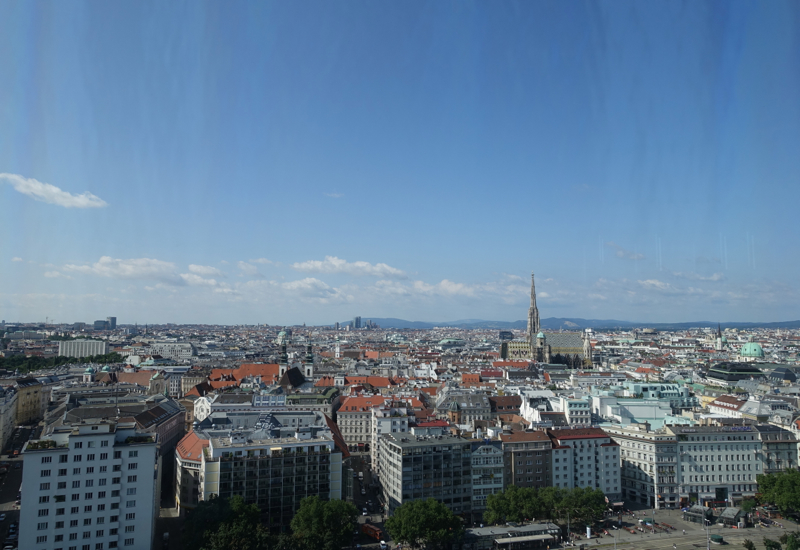 The breakfast buffet was best in terms of fresh fruits, which included fresh passionfruit, always one of my favorites, and the breads and pastries.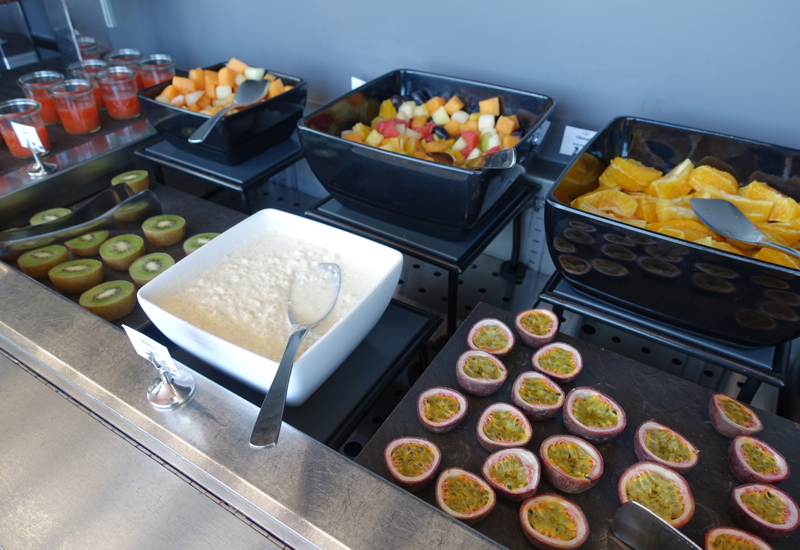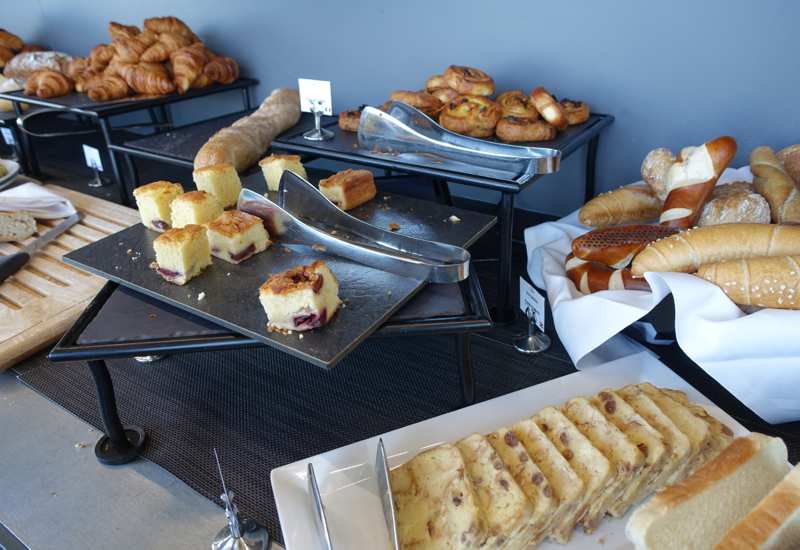 I was especially happy to see apple strudel, even though I've had much better apple strudel in Vienna, Budapest, and even Russia.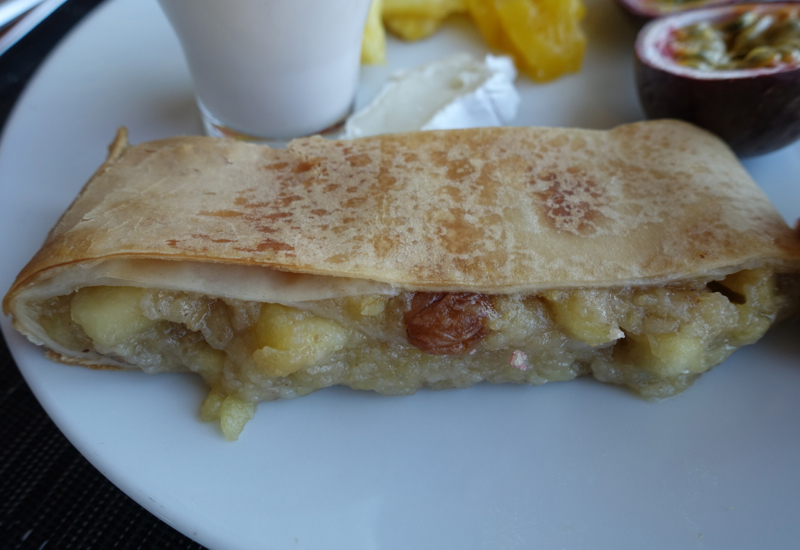 Smoked salmon, cold cuts and cheeses were also fine, although nothing that memorable or unusual in the varieties offered.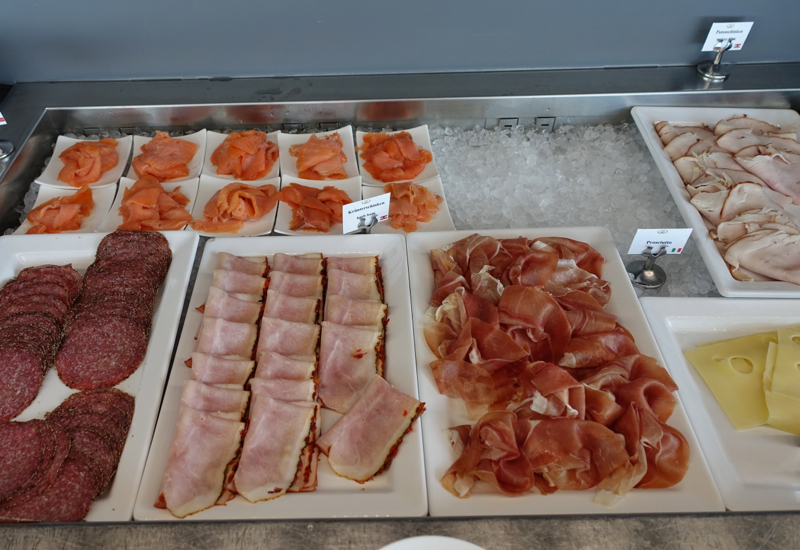 I was disappointed with the yogurt selection–the yogurt wasn't very good and there was very little choice: just plain and mixed berry: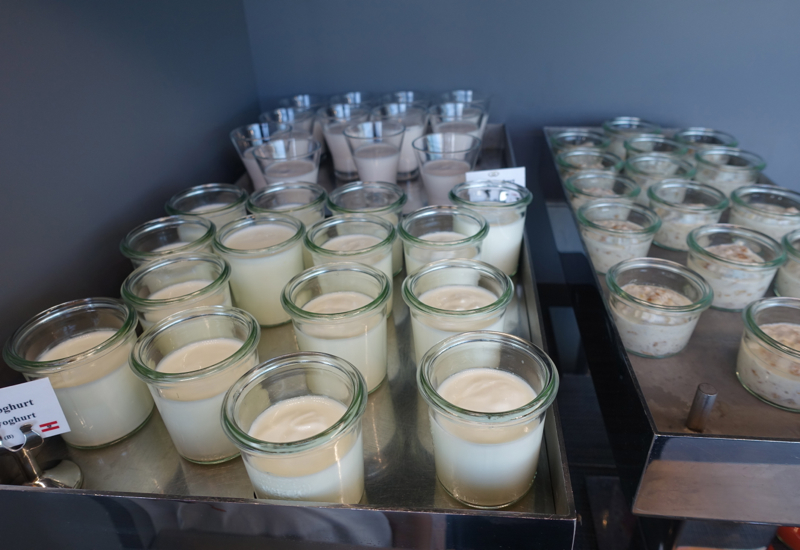 There was also a menu so that you could order egg dishes, waffles and crepes cooked to order: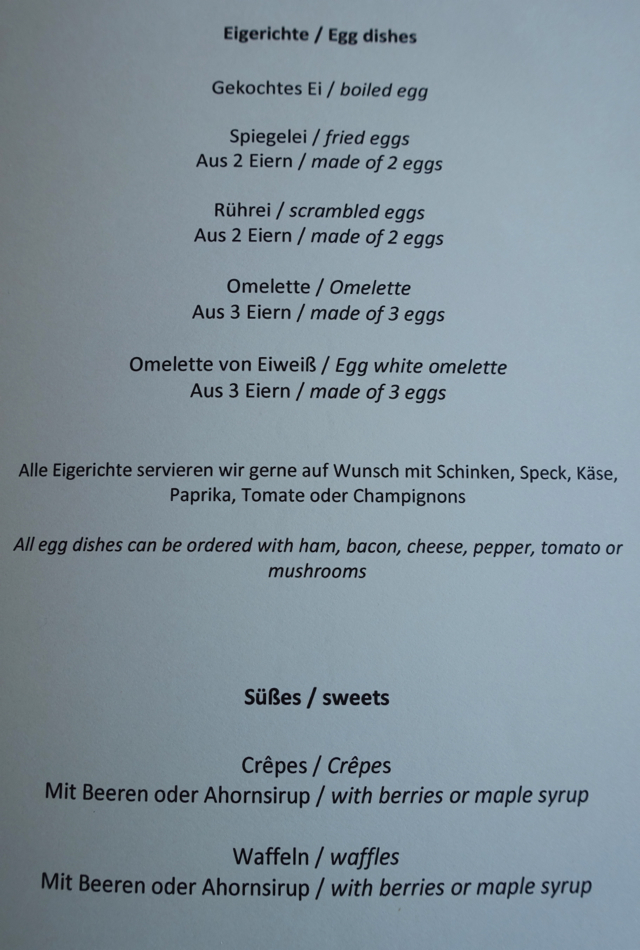 My son ordered scrambled eggs, which were decent, although a bit too runny for my taste.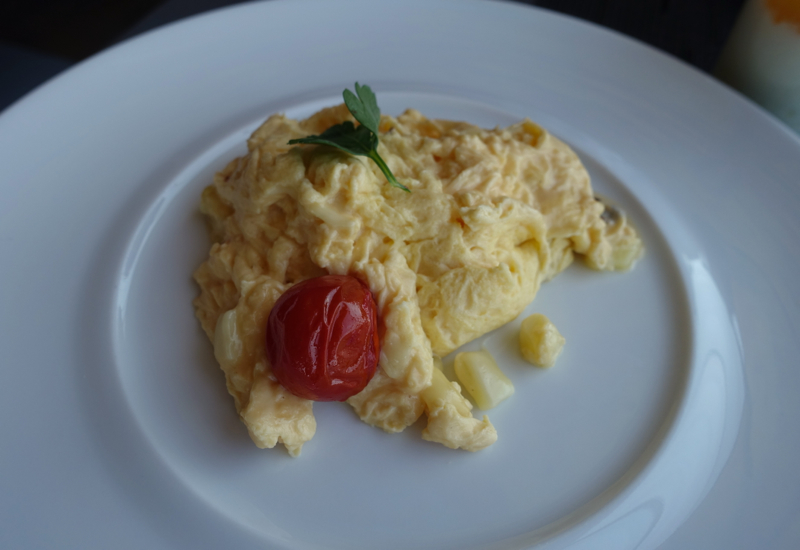 My crepes were good, especially with the accompanying berry sauce.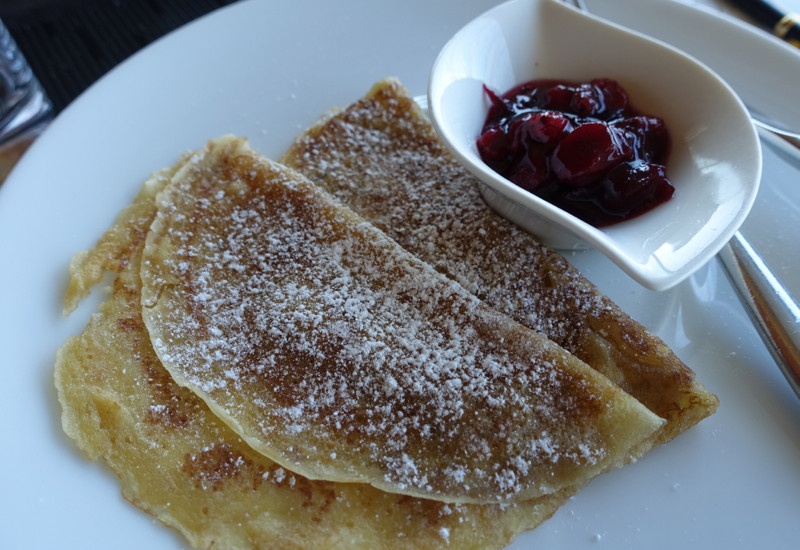 I did wonder about the food safety of what we'd been eating when I saw that the black currant jam on our table was 5 months past its expiration date: it had a February 2015 expiration and our visit was in July 2015.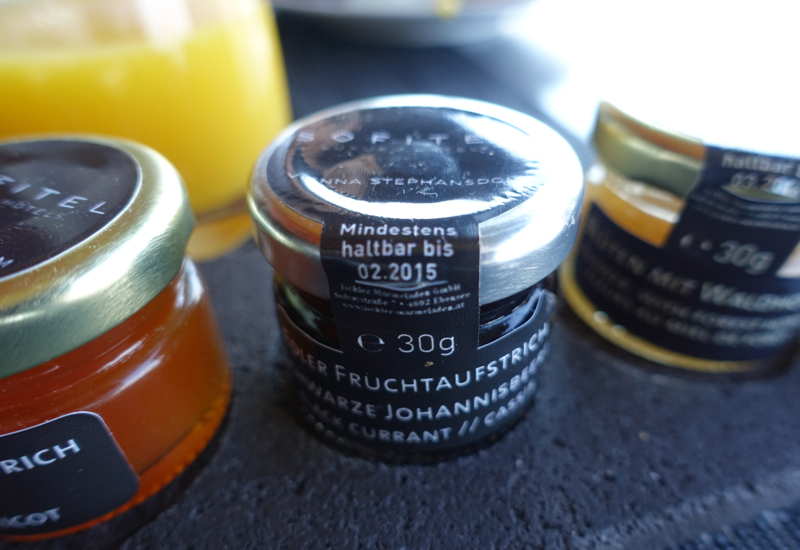 The Verdict
Given our very pleasant stay at the Sofitel Legend Metropole in Hanoi earlier this year I'd been hoping for a great stay at the Sofitel Vienna Stephansdom, but I can't say I cared much for the hotel. From the lack of attention to our room request, which was only caught by asking the front desk point blank about our view, to the institutional feel of the room, poor design choices and its noticeable wear and tear to the expired jam at breakfast, I just didn't feel that the details were being looked after.
If you've stayed at the Sofitel Vienna Stephansdom, what was your experience?
Related Posts
Sofitel: STEP and Virtuoso Benefits
Where to eat in Vienna, Austria
Review: Sofitel Berlin Kurfurstendamm, Club Luxury Room
Sofitel Legend Metropole Hanoi Review
Review: Novotel Bangkok Suvarnabhumi Airport Hotel
Disclosure: I reserved the hotel with a travel professional rate. The views expressed in this post are mine.
Need Award Booking Help? Our fee is as low as $75 per ticket if you book your hotel or cruise with us.
If you enjoyed this, join 200,000+ readers: please follow TravelSort on Twitter or like us on Facebook to be alerted to new posts.
Become a TravelSort Client and Book 5-star hotels with Virtuoso Perks and Four Seasons Preferred Partner Benefits