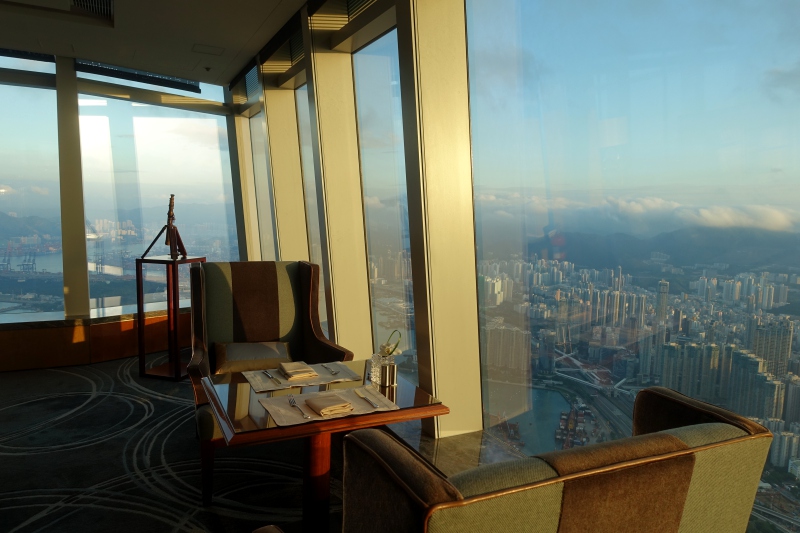 This Ritz-Carlton Hong Kong Club Level Review is from a recent Hong Kong trip that included Cathay Pacific First Class and luxury hotel stays in Vietnam. Visiting Hong Kong? See all our articles tagged Hong Kong.
For other posts in this trip report, please see
Review: The Centurion Lounge New York LaGuardia Airport (LGA)
Review: American Airlines Old A321 First Class with Recliner Seats
Qantas First Class Lounge Los Angeles LAX Review
Review: Cathay Pacific 777 First Class
Review: Cathay Pacific The Pier First Class Lounge, Hong Kong Airport
Review: Cathay Pacific The Wing First Class Lounge, Hong Kong Airport
Review: Cathay Pacific's Renovated The Pier Business Class Lounge, Hong Kong
Hotel Review: The Reverie Saigon, Ho Chi Minh City
Amanoi Restaurant Review and Menu
Yan Toh Heen Review Hong Kong, 2 Michelin Stars
Review: Ritz-Carlton Hong Kong Club Grand Victoria Harbour Room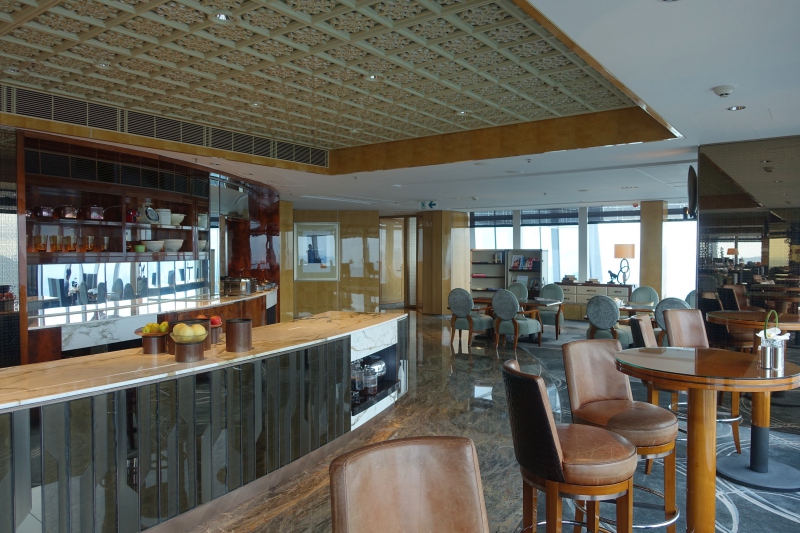 Ritz-Carlton Hong Kong Club Lounge Benefits and Hours
The Ritz-Carlton Hong Kong Club Lounge, located on the 116th floor, offers several benefits, notably 5 complmentary food and beverage presenations daily:
Breakfast: 6:30am-10:30am
Light Lunch: 11:30am-2pm
Afternoon Tea: 3pm-5pm
Hors d'Oeuvres and Cocktails: 5-8pm
Desserts and Cordials: 8:30pm-10:30pm
Additional benefits include:
Check-in and check-out in the Club Lounge
Dedicated concierge service 6am – 11pm
Complimentary WiFi
Complimentary pressing service of two garments per day
Complimentary coffee/tea with wake-up call
Experiential event every Saturday from 5pm to 8pm
Especially useful for those with business in the nearby Kowloon area is complimentary town car service on a first come, first served basis from 7am-11pm. Naturally as this is subject to availability I would leave extra time and know that you may need to take a taxi if the town car isn't available, but if it is, it's much more nicely appointed than regular taxis:
Ritz-Carlton Hong Kong Club Lounge Rules
Dress code: smart casual at all times
Well behaved children under 12 may enjoy the lounge 6:30am-6pm daily; after 6pm adults and children 12 and older only.
Guests with Club Lounge access may invite colleagues/friends to join them, but there is a cost of HKD 350 + 10% service charge per presentation per person should they consume any food or drinks during their visit.
Afternoon Tea, Ritz-Carlton Hong Kong Club Lounge
Afternoon Tea turned out to be very popular during my visit–so much so, that by the time I'd taken photos of my room and gotten to the lounge at 4pm, the lounge was completely out of their afternoon tea items. But this turned out to be to my advantage, as the excellent staff were so apologetic that they put together an afternoon tea set that included fabulous mini Pierre Herme desserts normally served as part of the special Pierre Herme Afternoon Tea in Cafe 103.
I started with a glass of mango juice, which was fine, although not fresh squeezed.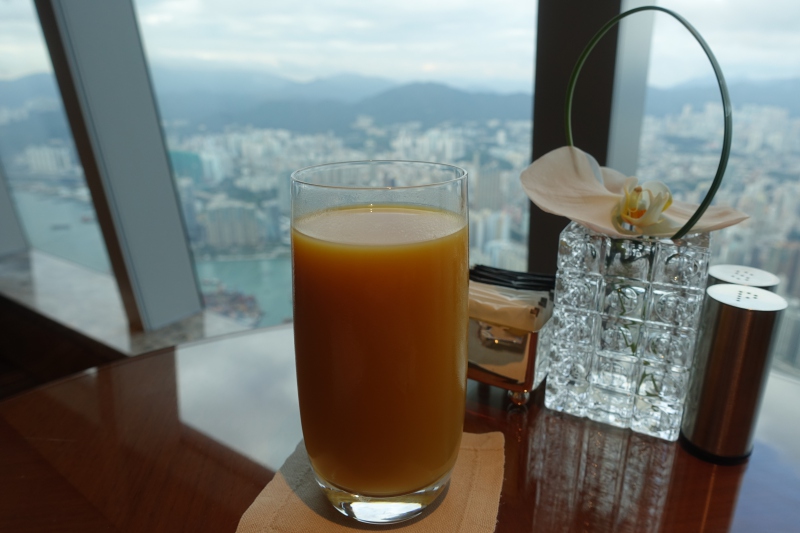 The afternoon tea tiered platter included sandwiches and some fish cakes, although to be honest none of these was memorable.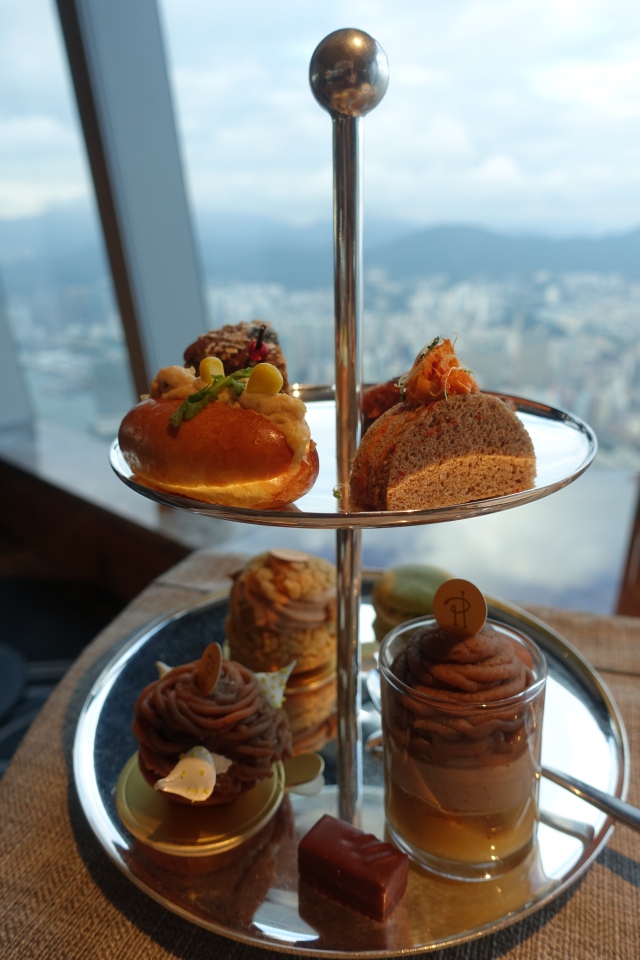 The Pierre Herme desserts, however, were all fantastic, and the best thing I sampled in the Club Lounge. I can't say if some of the macarons served later, during the Desserts & Cordials presentation are Pierre Herme or not, but it's worth asking the Club Lounge staff if any are, because truly Pierre Herme makes the best macarons and many of the best pastries in the world.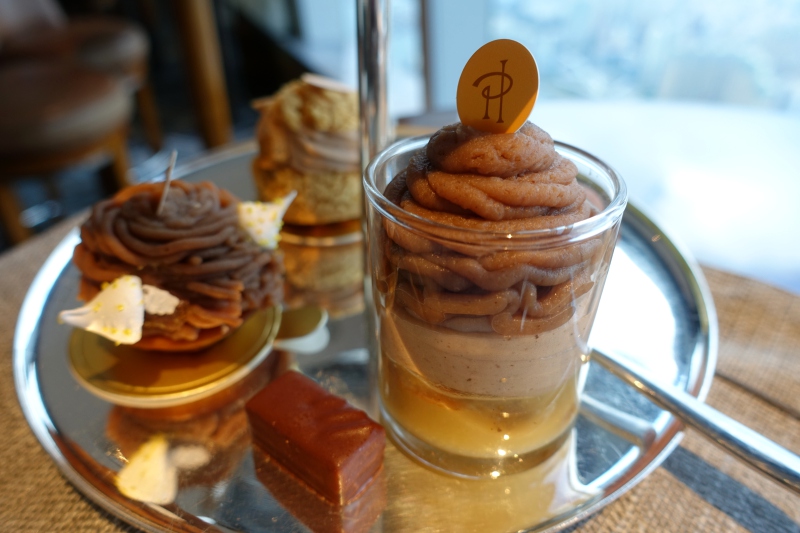 I especially liked the seasonal flavors of pear and marrons glaces (candied chestnuts) that appeared in several of the desserts, such as this macaron: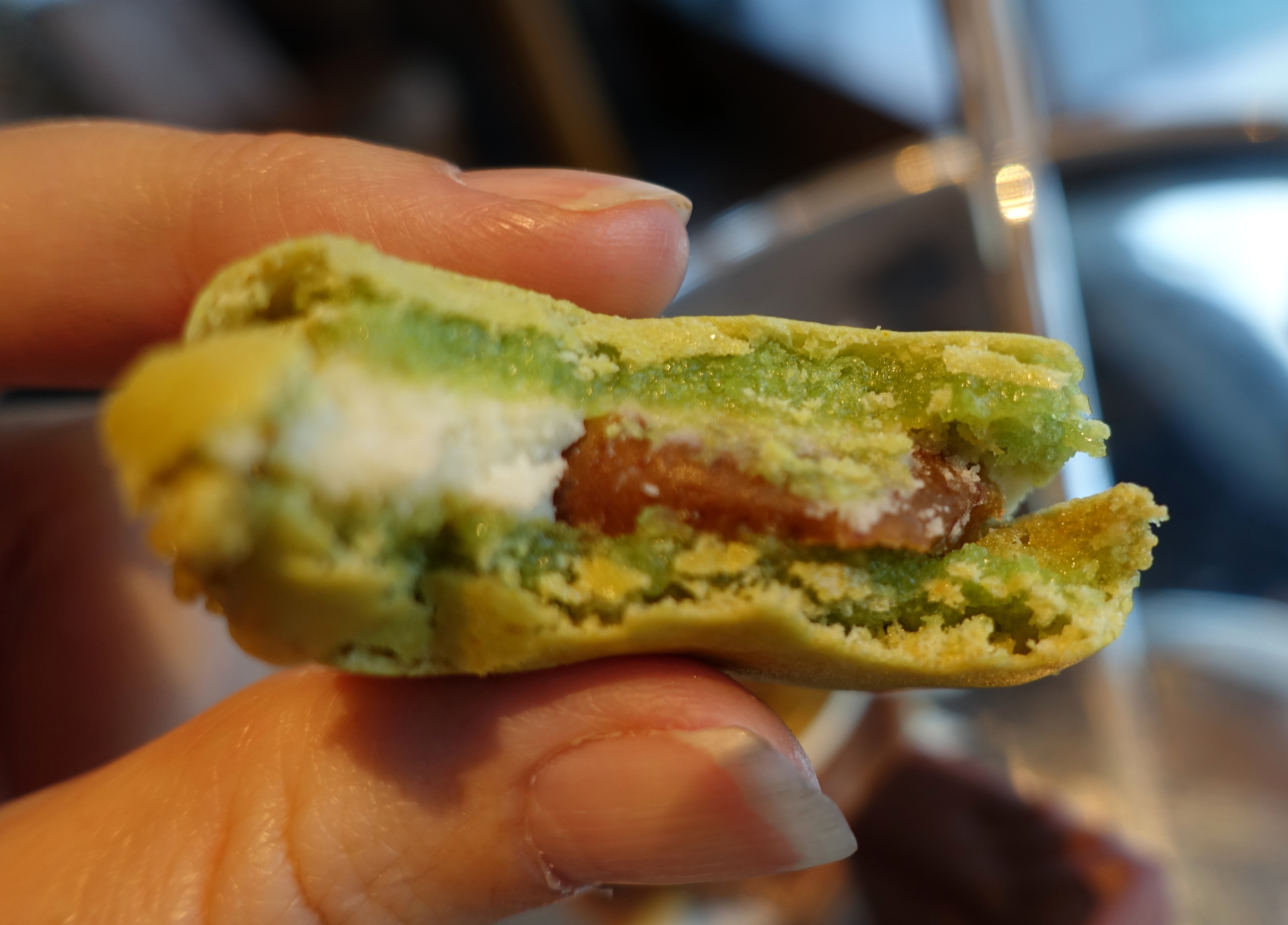 Evening Hors d'Oeuvres and Desserts, Ritz-Carlton Hong Kong Club Lounge
Evening hors d'oeuvres also featured some tasty bites. My favorite of these were the mini Peking Duck buns, with hoisin sauce: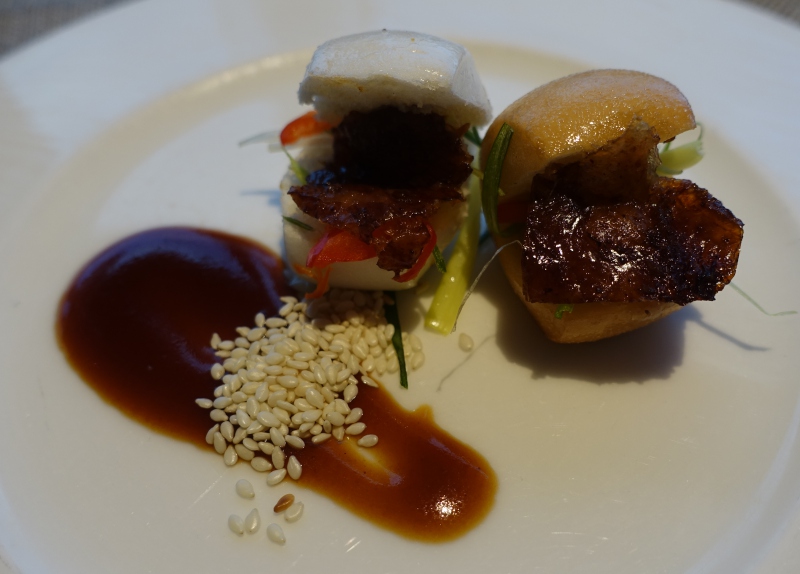 A chef was carving Peking Duck for these, so you could probably ask him for just some duck, if for example, you're gluten free.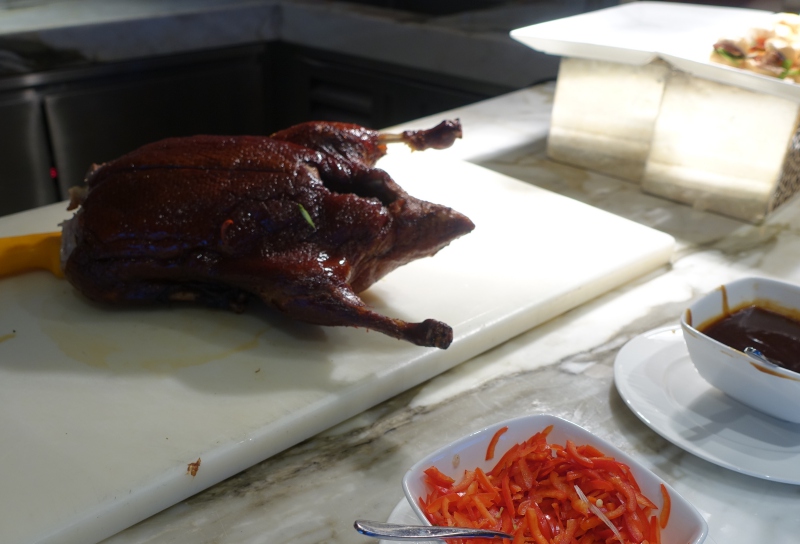 My other favorites were the scallop bites: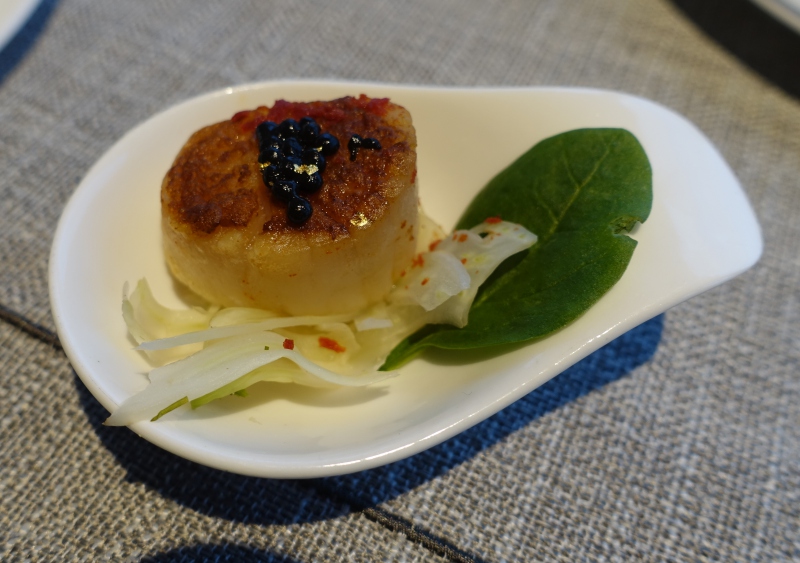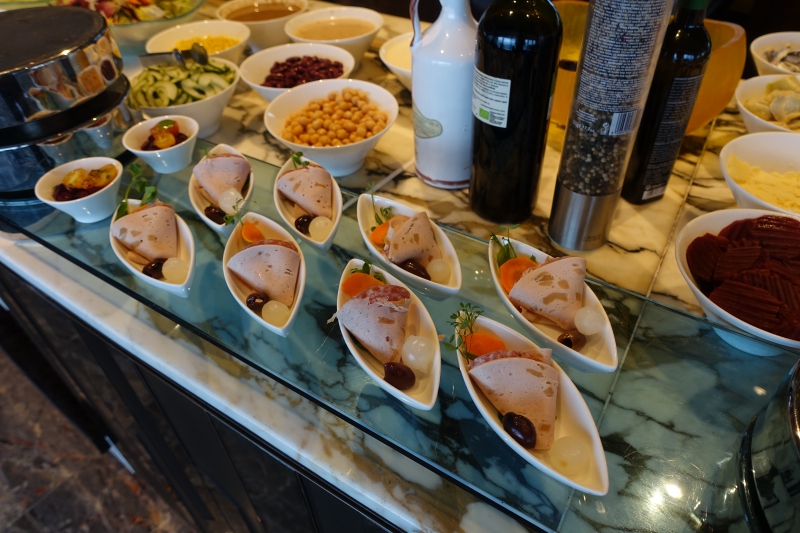 Even as part of the evening hors d'oeuvres, several desserts were displayed, although I'd had my fill of sweets with the Pierre Herme tea items.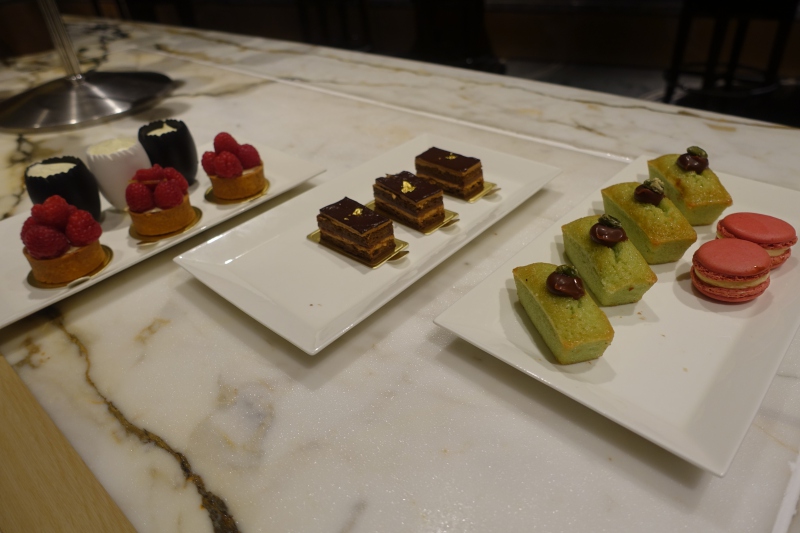 While I had a heavy work schedule and opted not to drink, there were an assortment of wines on tap: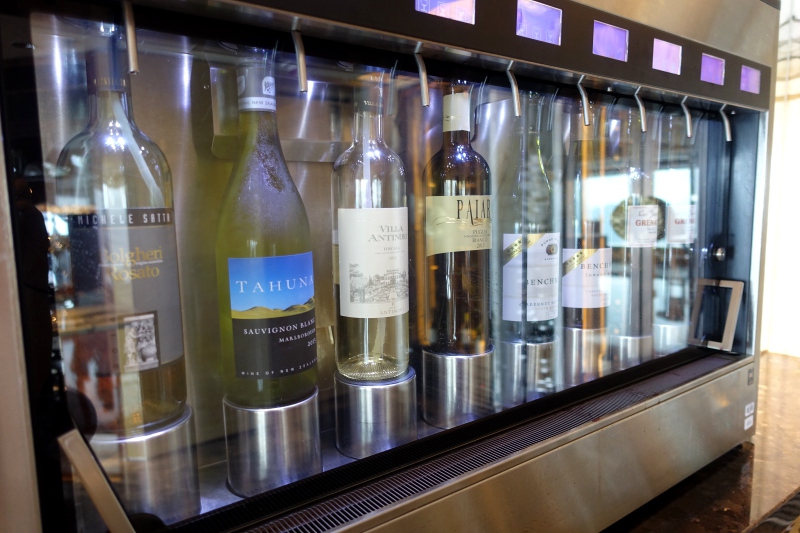 And also espresso drinks courtesy of this Nespresso machine: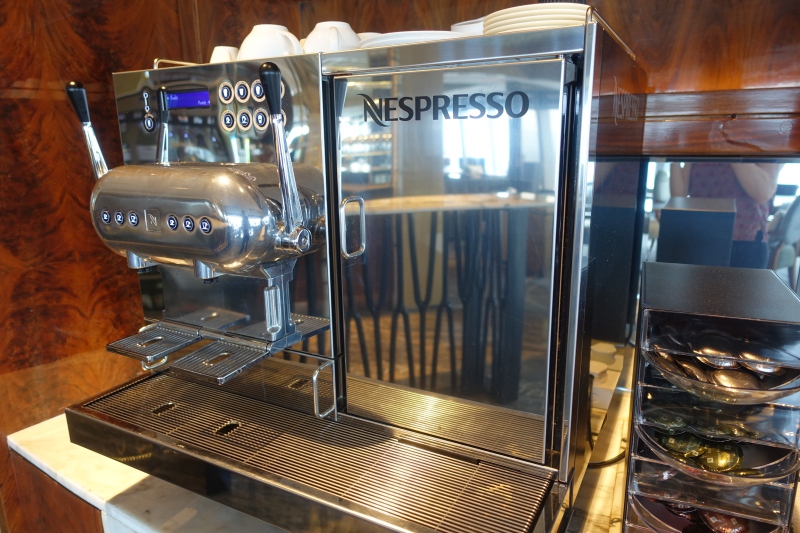 Breakfast, Ritz-Carlton Hong Kong Club Lounge
I had a hurried early morning breakfast in order to get to the airport in time for my morning Cathay Pacific flight back to the U.S. But if I wasn't thrilled to be waking up so early, one benefit was that the lounge was completely deserted at 6:30am, and I was able to sit in my favorite place in the corner, with two walls of windows.
Here's the breakfast buffet: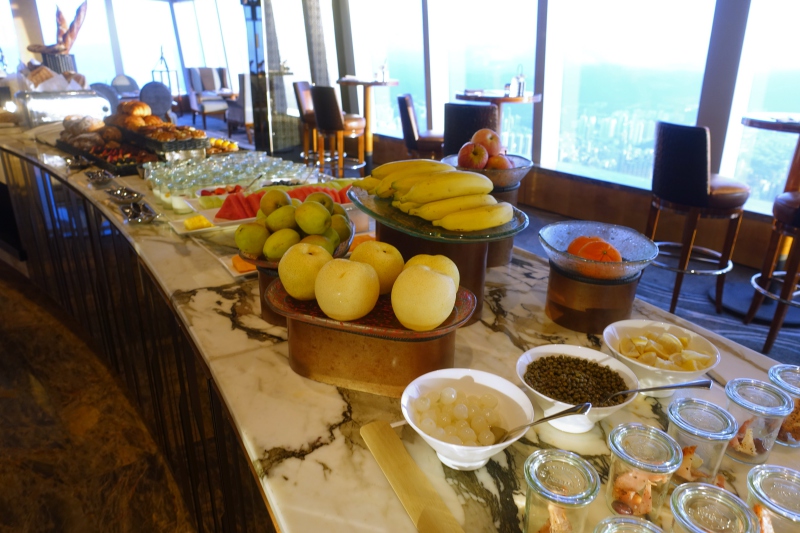 There were several bottles of juices, and the orange juice I tried was indeed fresh squeezed.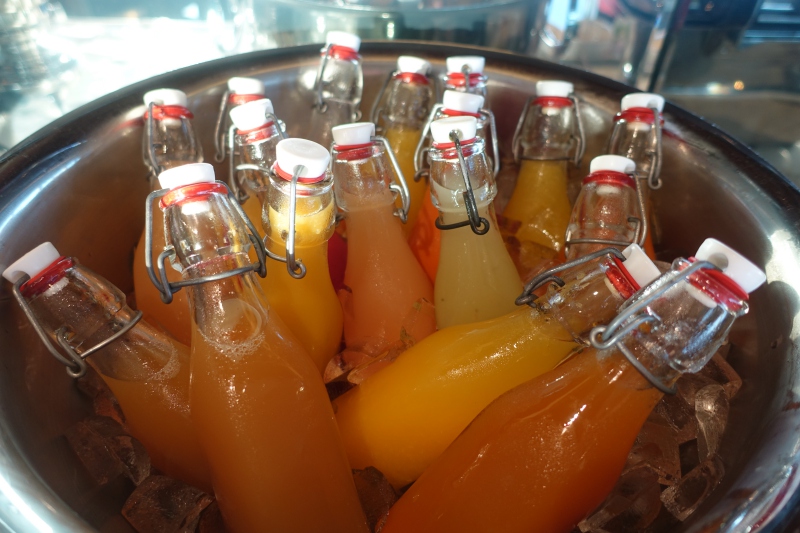 Fresh fruit was beautifully cut and presented: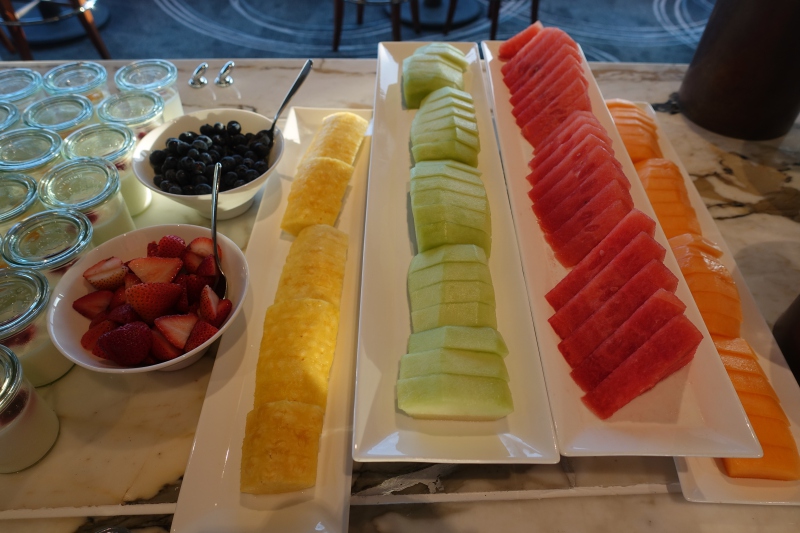 There were also a variety of yogurts on offer: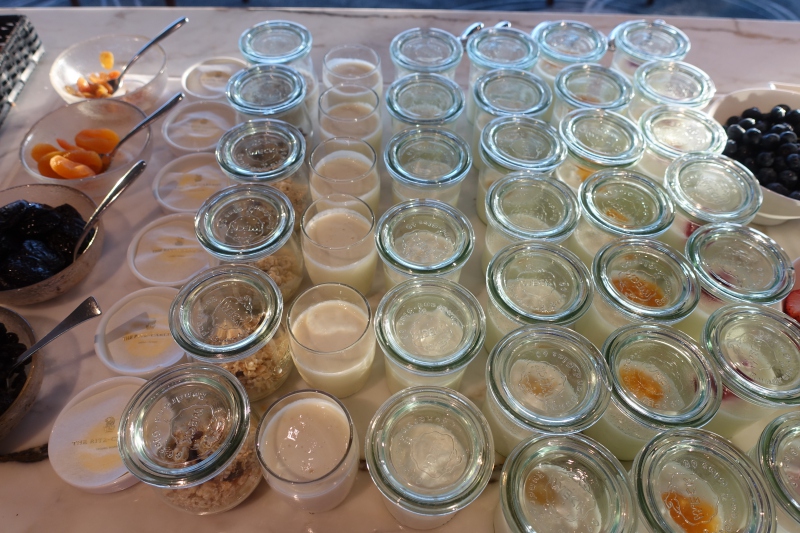 And many pastries. I tried an almond croissant, which was fresh and quite good, although not as good as Tartine Bakery in San Francisco or Volkonsky Bakery (Maison Kayser) in Russia, let alone Pierre Herme's viennoiserie.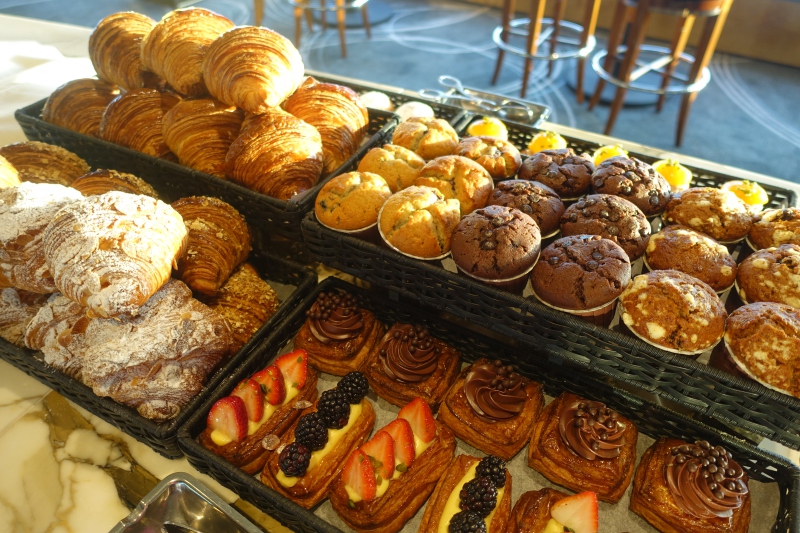 There's also an omelet station, and I got a mushroom, spinach and cheese omelet that was freshly prepared, although quite average.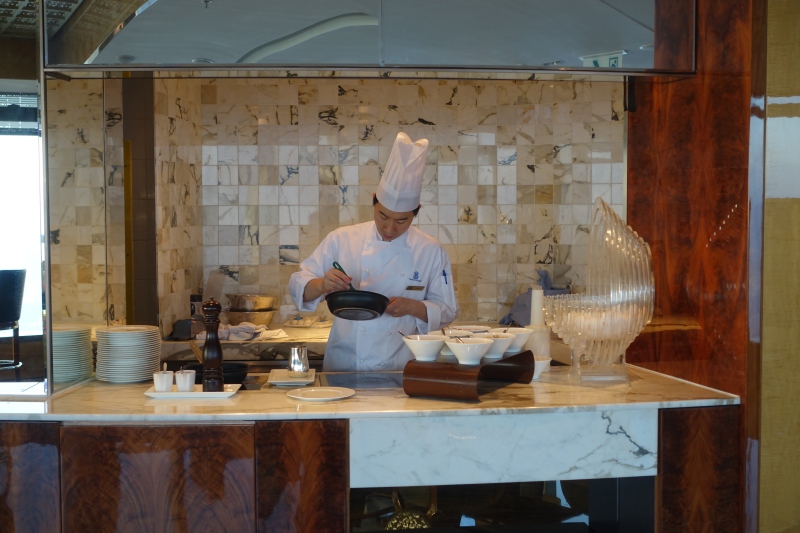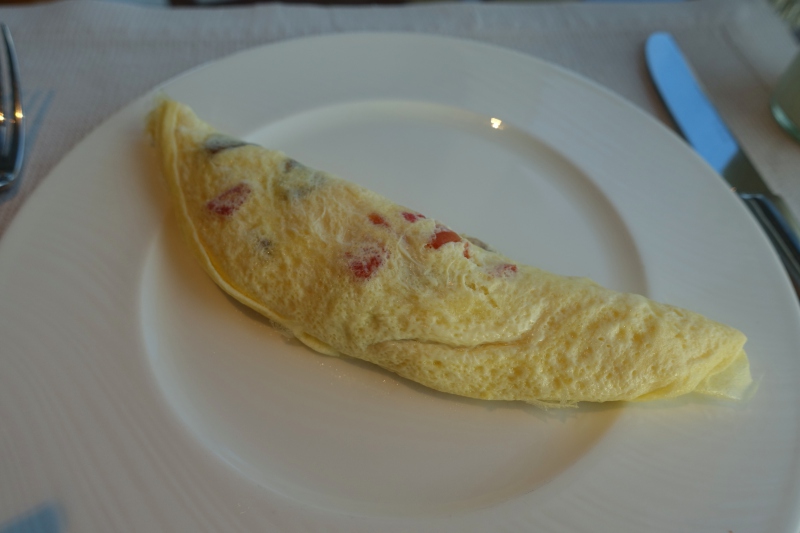 The Verdict
I very much enjoyed the Ritz-Carlton Hong Kong Club Lounge, particularly the pleasant check-in/check-out with no wait, fantastic service, and several delicious items, particularly the Pierre Herme desserts (although note that this was due to running out of the usual presentation), Peking Duck buns, and scallops. I did miss the hot noodle soup station that the Four Seasons Hong Kong Executive Club offers, but food quality at the Ritz-Carlton Hong Kong Club Lounge is definitely the highest of the Ritz-Carlton Club Lounges I've been in.
If you've recently visited the Ritz-Carlton Hong Kong Club Lounge, what was your experience?
Related Posts
Top Ritz-Carlton 3rd Night Free and 4th Night Free Virtuoso Offers
Review: Grand Club Lounge, Grand Hyatt Hong Kong
Four Seasons Hong Kong Hotel Review
Review: The Upper House, Hong Kong
Disclosure: I used Ritz Rewards points for my stay, and was graciously upgraded to Club Level by the hotel. The views expressed in this post are my own.
Need Award Booking Help? Our fee is as low as $75 per ticket if you book your hotel through us.
If you enjoyed this, join 200,000+ readers: please follow TravelSort on Twitter or like us on Facebook to be alerted to new posts.
Become a TravelSort Client and Book your Hong Kong Luxury Hotel with Virtuoso or Preferred Partner Benefits!