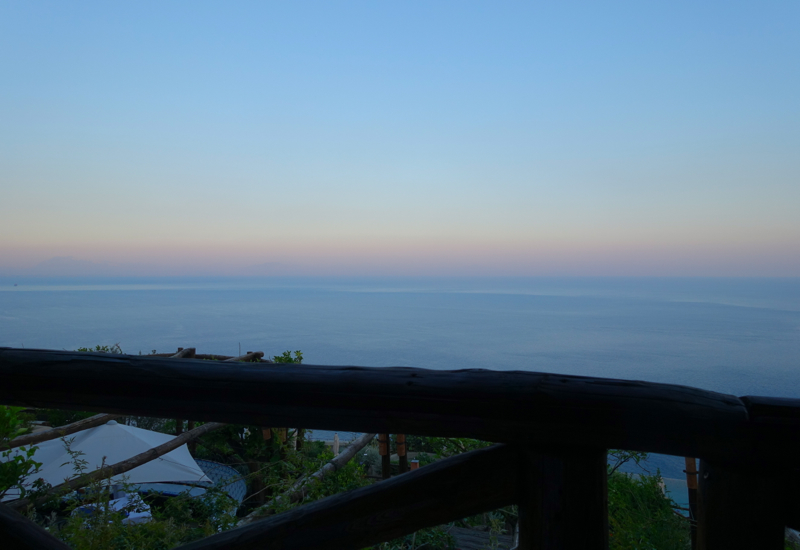 This review of Ristorante Il Refettorio at Monastero Santa Rosa in Conca dei Marini on the Amalfi Coast is part of a trip report featuring the Amalfi Coast, Tuscany, Florence, Rome, Singapore Suites, Air Berlin Business Class, and luxury hotel stays, dining and activities in Berlin and Italy.
For the prior posts, please see:
Review: Air Berlin Business Class A330 JFK to Berlin
One of Europe's Best Hidden Secrets: Guess the Place
Review: Virgin Atlantic Clubhouse, New York JFK Airport
Review: Singapore Suites A380 New York JFK to Frankfurt with a Kid
Katz Orange Berlin Restaurant Review
Marzapane Rome Restaurant Review
Emma Pizzeria Rome Review: Great Pizza in Rome
Review: Pompeii with Private Tours of Pompeii
Review: Monastero Santa Rosa Hotel and Spa, Amalfi Coast
Paestum's Greek Temples: A Must See While Staying on the Amalfi Coast
If you reserve Monastero Santa Rosa as a TravelSort Client with Virtuoso amenities, you'll enjoy daily full breakfast and a $100 food and dining credit for use during your stay!
Ristorante Il Refettorio Location
Monastero Santa Rosa in Conca dei Marini has its own restaurant, Ristorante Il Refettorio, located just down the stairs from the entry level of the hotel.
The Scene
As you'd expect for an intimate, romantic Amalfi Coast hotel that only permits children 16 and older to stay at the property, other diners were all couples. Our son was allowed for dinner, since the restaurant does serve outside guests, even though he couldn't stay at the property due to his age.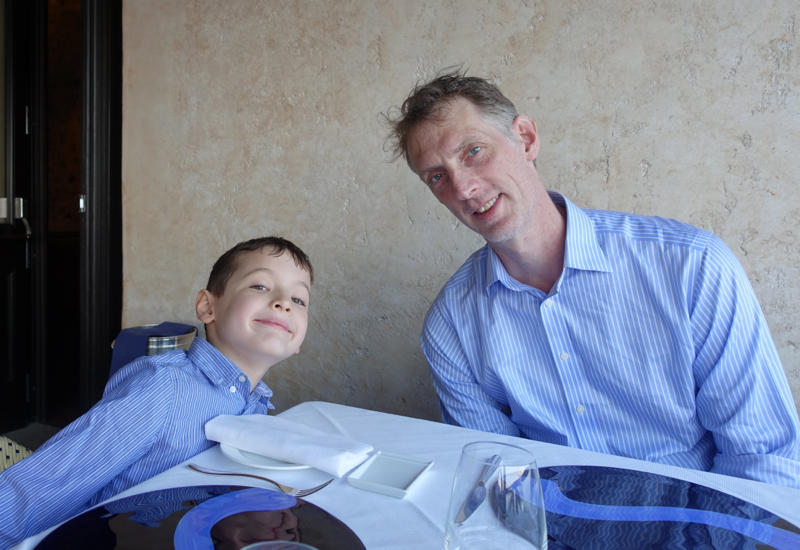 Ristorante Il Refettorio Menu and Food
We dine early when we're with our son, so we were the very first guests and were warmly welcomed, before being seated at a table with a lovely sea view (most all the tables here have great views). We were offered menus, and opted to order family style, sharing several dishes. I was surprised by the number of options for appetizers, pastas and main courses, particularly considering that the hotel has just 20 rooms.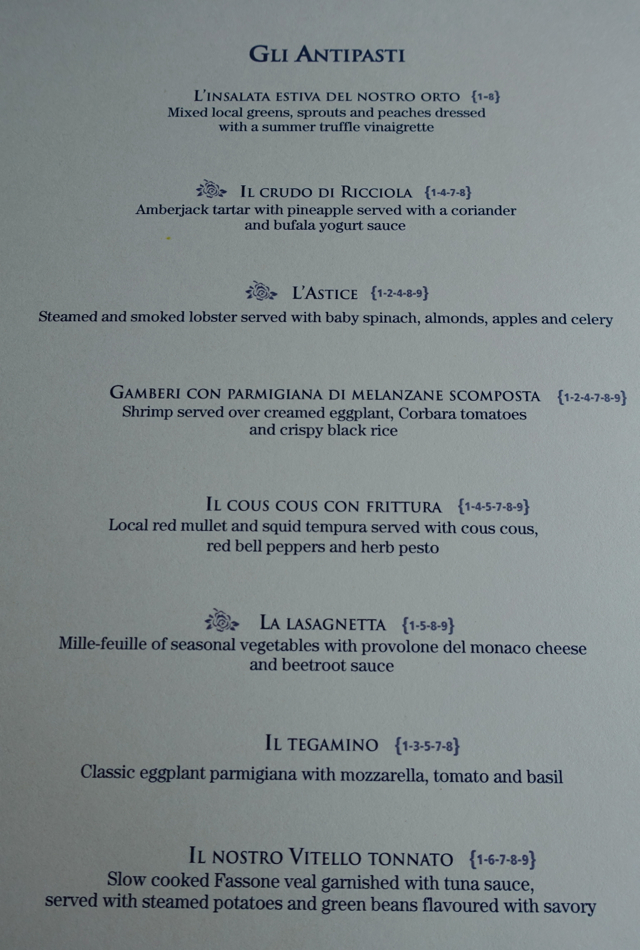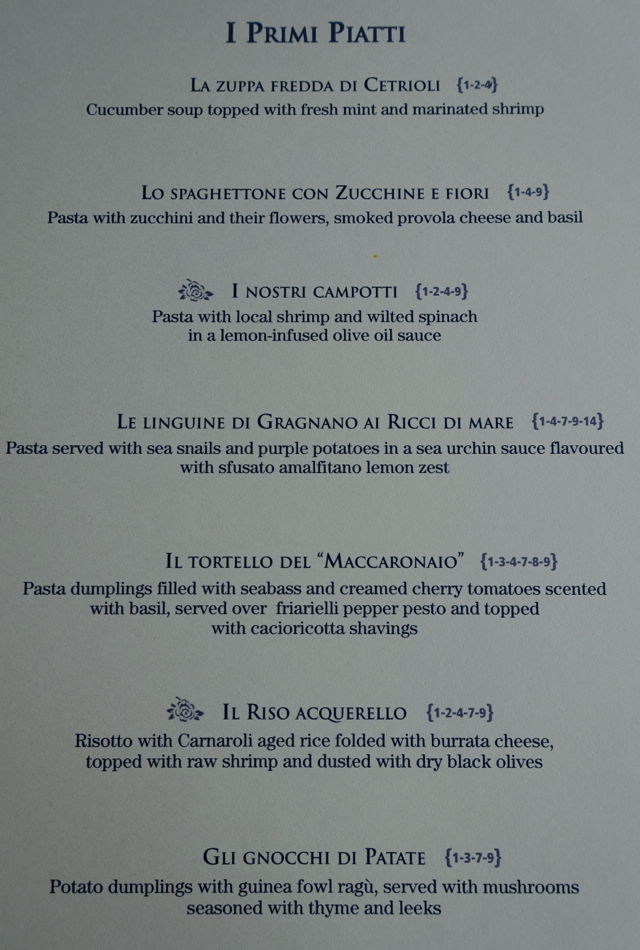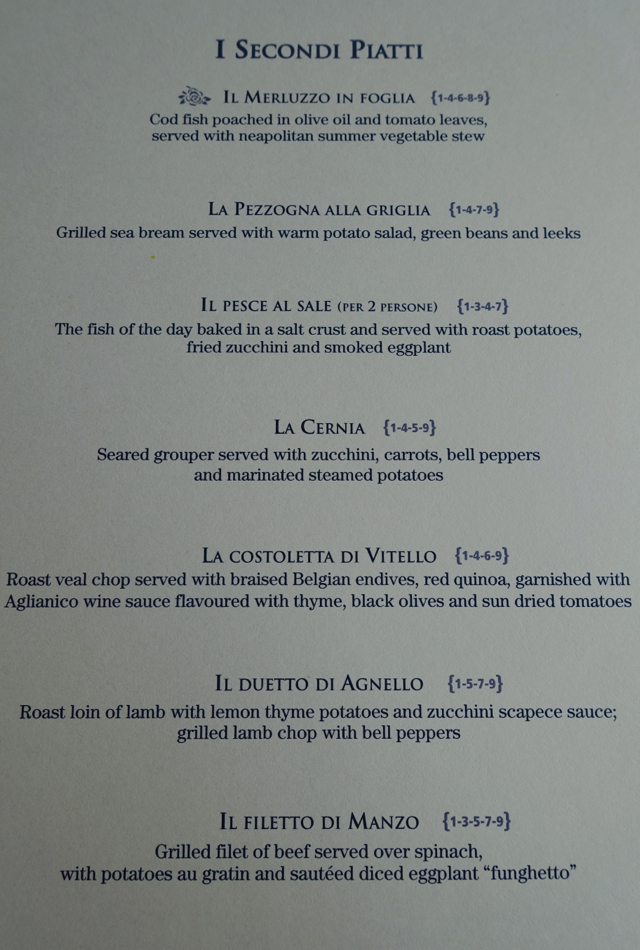 After we made our selections, fresh bread was brought; as usual our son attempted to try as many types as he could, while I tried to save room for the dishes to come. The olive oil that the bread is served with is produced exclusively for Monastero Santa Rosa and is called Il Mulino della Signora.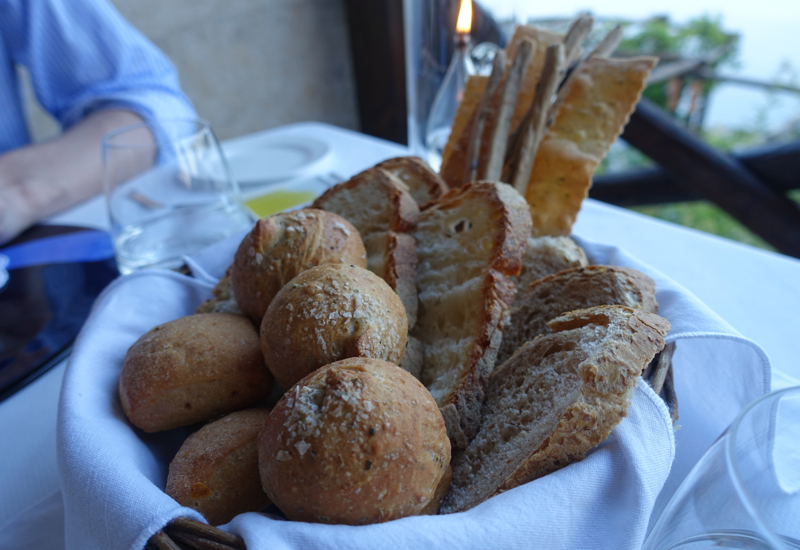 As an amuse bouche, we were brought some fresh scallop crudo, which was exactly how you'd want to begin a meal on a warm Amalfi Coast evening.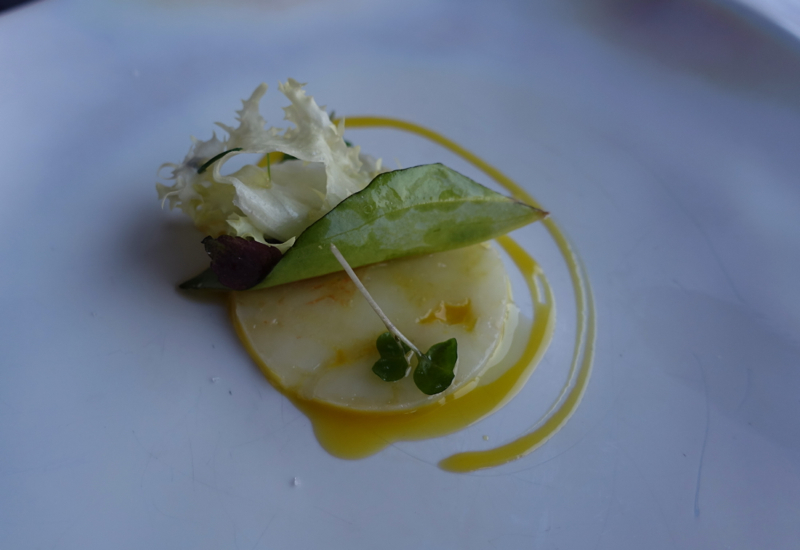 We put ourselves in the able hands of Il Refettorio's sommelier, who suggested a local white (Marisa Cuomo Costa d'Amalfi Ravello) that was nicely chilled and perfectly complemented our dishes: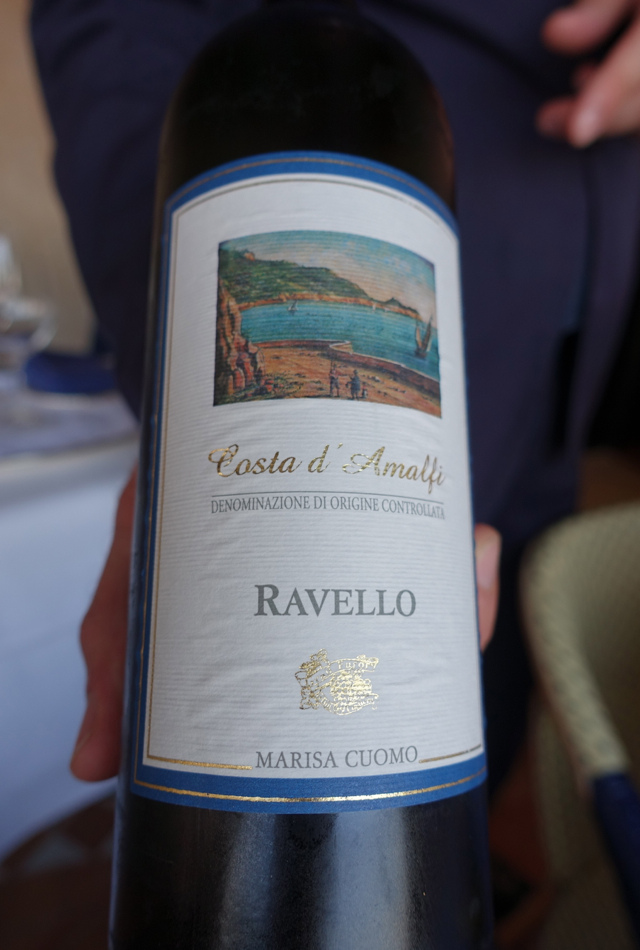 We decided to share a couple of appetizers; a Crudo of Amberjack tartar with pineapple served with a coriander and bufala yogurt sauce, which again was fresh, flavorful and fragrant: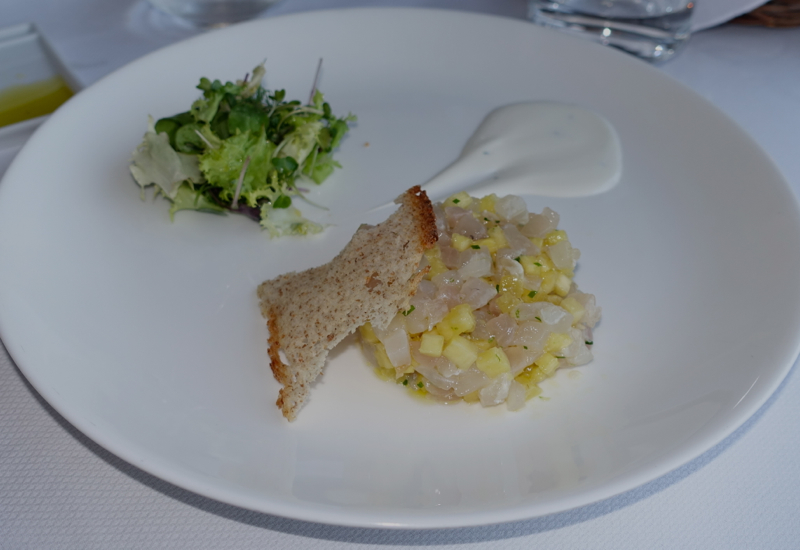 And a cous cous with red bell pepper and herb pesto, accompanied by red mullet and squid tempura. I enjoyed the contrast in flavors and textures, with the herbal and piquant flavors of the pesto a nice foil to the crisp red tempura.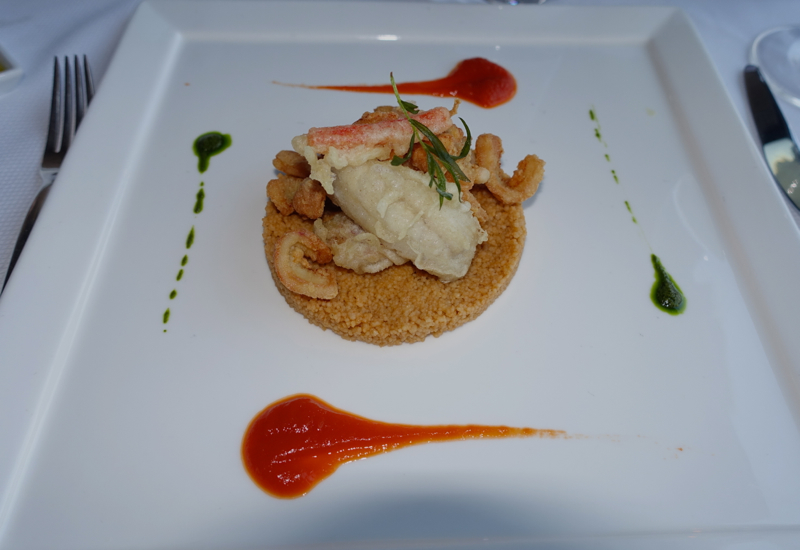 Our server had recommended the Linguine di Gragnano Al Ricci Di Mare (pasta with sea snails and purple potatoes in sea urchin sauce, with sfusato amalfitano lemon zest), and this was delicious and unique–you don't often see this combination of flavors, of sea urchin with artisanal pasta and lemon zest.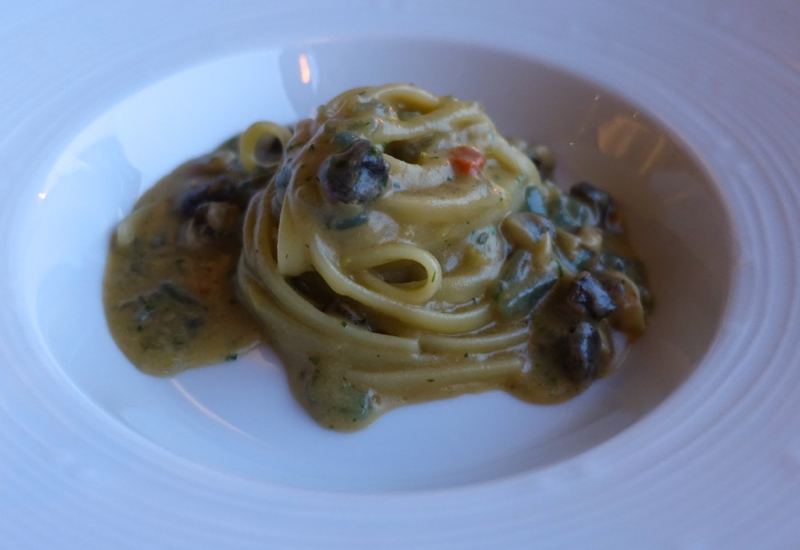 The favorite dish of the night, however, was ordered by our son: a hearty potato gnocchi with guinea fowl ragu and mushrooms. This description belies just how amazing this dish was–it's one I *need* the recipe for, because I'm not going to be able to wait until the next time I make it back to Monastero Santa Rosa to have this dish again. We really should have ordered two of these, given how good it was and how we soaked up every last drop of the sauce with bread.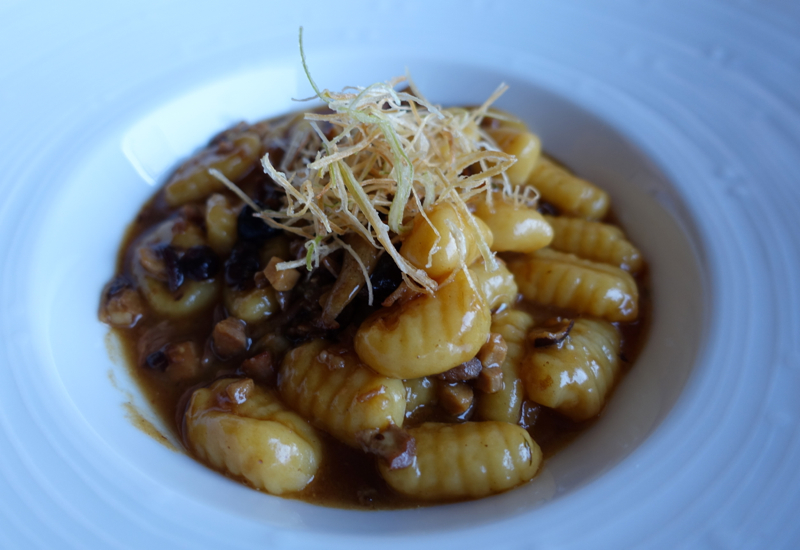 Our main course of Grilled Sea Bream was expertly prepared and cooked to perfection (no overcooked fish here), accompanied by potatoes, and crisp tender green beans as well as a zesty red pepper sauce. But I'm afraid it was outshone by that gnocchi with guinea fowl ragu and mushrooms dish.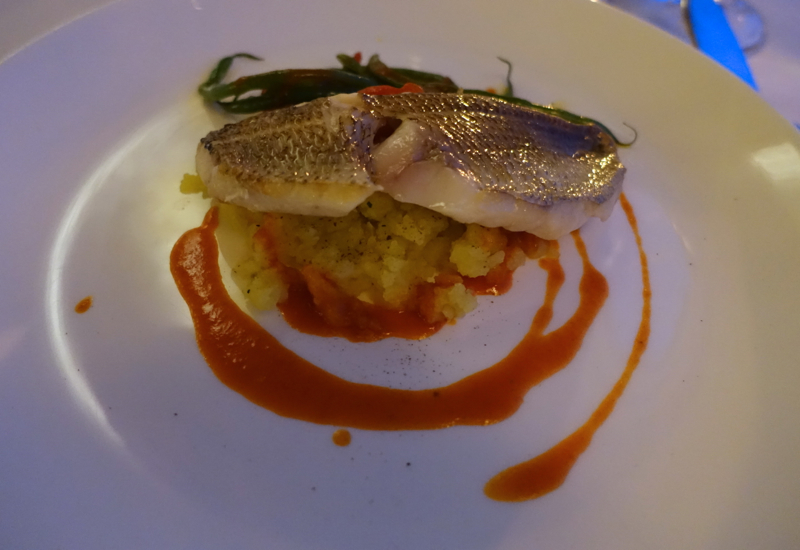 I was very sorry to forego dessert, but we needed to get our son to sleep given the intense travel days we were having. That said, I've heard great things about Sfogliatella Santa Rosa dessert with almond ricotta and cherry sorbet.
The Verdict
After a busy and hot day at Paestum, my husband and I sighed with contentment over dinner at Ristorante Il Refettorio, with its beautiful sea views, fresh and delicous food and wine, and excellent service. The light, fresh and fragrant preparations were exactly what we wanted with the warm weather, and yet the gnocchi with guinea fowl and mushrooms, the heartiest dish, also turned out to be our favorite, so I wouldn't hestitate to pick any of the dishes or make a special request. Truly a romantic dinner out, even with our son, and a restaurant and hotel we hope to return to.
If you've dined at Ristorante Il Refettorio at Monastero Santa Rosa, what was your experience?
Related Posts
Review: Monastero Santa Rosa Hotel and Spa, Amalfi Coast
Review: Pompeii with Private Tours of Pompeii
Artistic Travel along Italy's Amalfi Coast
Virtuoso Hotels: Bookings with Upgrades, Complimentary Breakfast and VIP Perks
Disclosure: I received a complimentary meal at Ristorante Il Refettorio at Monastero Santa Rosa and paid a travel industry rate for my stay there. The views expressed in this post are my own.
Need Award Booking Help? Our fee is as low as $75 per ticket if you book your hotel through us.
If you enjoyed this, join 200,000+ readers: please follow TravelSort on Twitter or like us on Facebook to be alerted to new posts.
Become a TravelSort Client and Book 5-star hotels with Virtuoso Perks and Four Seasons Preferred Partner Benefits