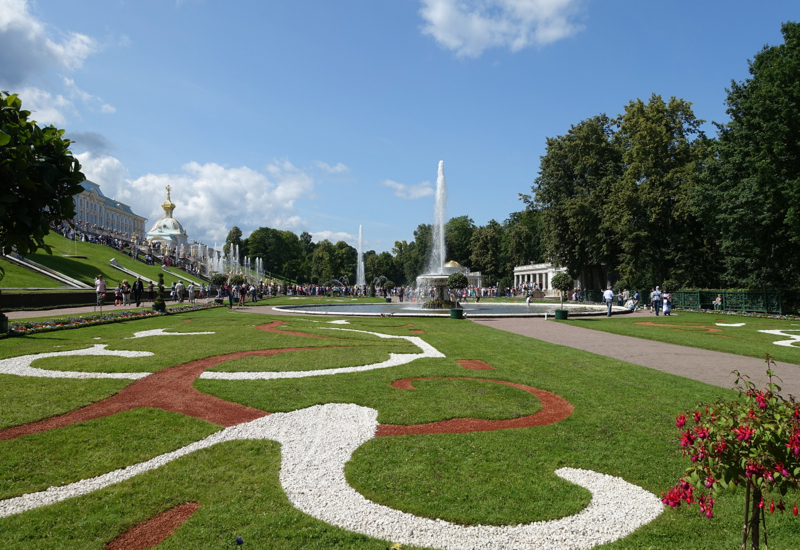 This Review of Peterhof's Fountains and Gardens (also known as Petrodvorets) is part of a trip report including Vienna and luxury hotels and dining in Moscow and St. Petersburg, Russia. Visiting Russia? See all our posts tagged Russia. For the previous posts please see:
Review: Sofitel Vienna Stephansdom
Labstelle Wien Vienna Restaurant Review
Review: Ararat Park Hyatt Moscow
Moscow Metro Tour with Happy Moscow Tours
Getting to Peterhof
If you're not taking an organized tour to Peterhof, which generally is via bus for larger groups or a private car for private tours, the best way to get to Peterhof is by hydrofoil. The Peterhof Express hydrofoil departs from the central pier near Dvortsoviy bridge (closest metro station Admiralteyskaya) every 30 minutes 10am to 6pm, and the return departs Peterhof for St. Petersburg every 30 minutes from 10:30am to 7pm. The trip takes about 30 minutes. Adults are RUR 1200 roundtrip, and kids 3-12 are half price, RUR 600 roundtrip. Note that you'll still need to buy tickets for Peterhof; the price is just for the hydrofoil journey. Also note that the hydrofoil does not run all year round, but only during the main tourist season, generally May-September.
Peterhof Hours and Tickets
Peterhof's gardens are open daily 9am-8pm, with the last admission at 7:30pm. Tickets are RUR 450 per adult, and RUB 250 per student or child.
Highlights
1. Mushroom Fountain
The mushroom fountain was the kids' favorite fountain during our visit: periodically the fountain would stop for a few seconds, and there were squeals of excitement as those under the "mushroom" ran out and new kids (and kids at heart) ran in to take their place. Here's my son and his friend having fun under the mushroom fountain's watery canopy: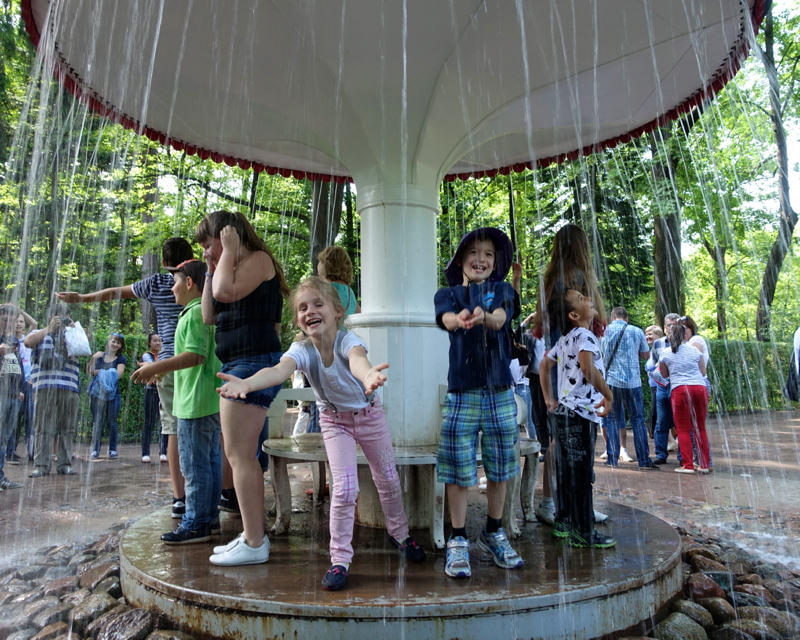 2. Peterhof Palace, Grand Cascade and Samson Fountain 
The quintessential images of Peterhof are those with Peterhof Palace, the Grand Cascade and the Samson fountain. It's no wonder Peterhof is known as Peter the Great's Versailles.
If you're wondering why Samson figures so prominently as a fountain, it is meant to symbolize Sweden; Samson is tearing open the lion's jaws, symbolizing Russia's victory over Sweden during the Great Northern War, since the lion is part of Sweden's coat of arms.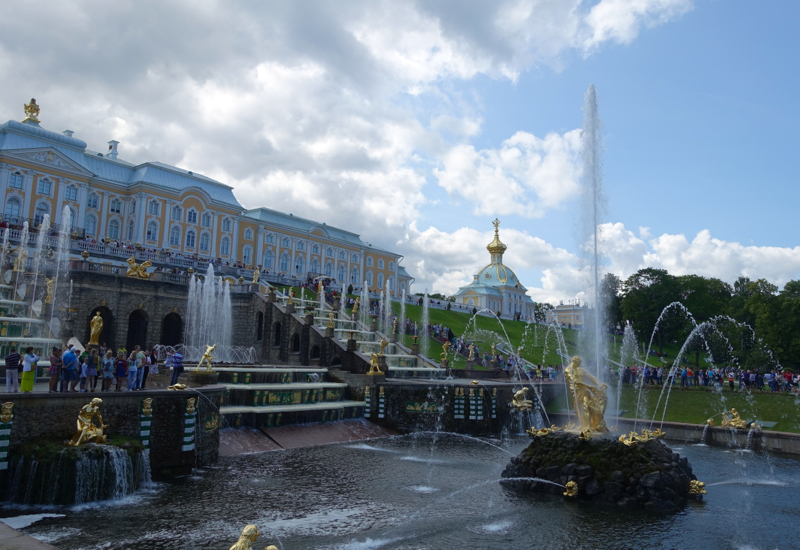 3. Feeding a Squirrel
Kids often love the simplest things, and my son and his friend, as soon as they spied a brown squirrel, wanted nothing more than to feed the squirrel some of the walnuts I'd brought with us as a snack. Amazingly the squirrel did consent to be hand fed: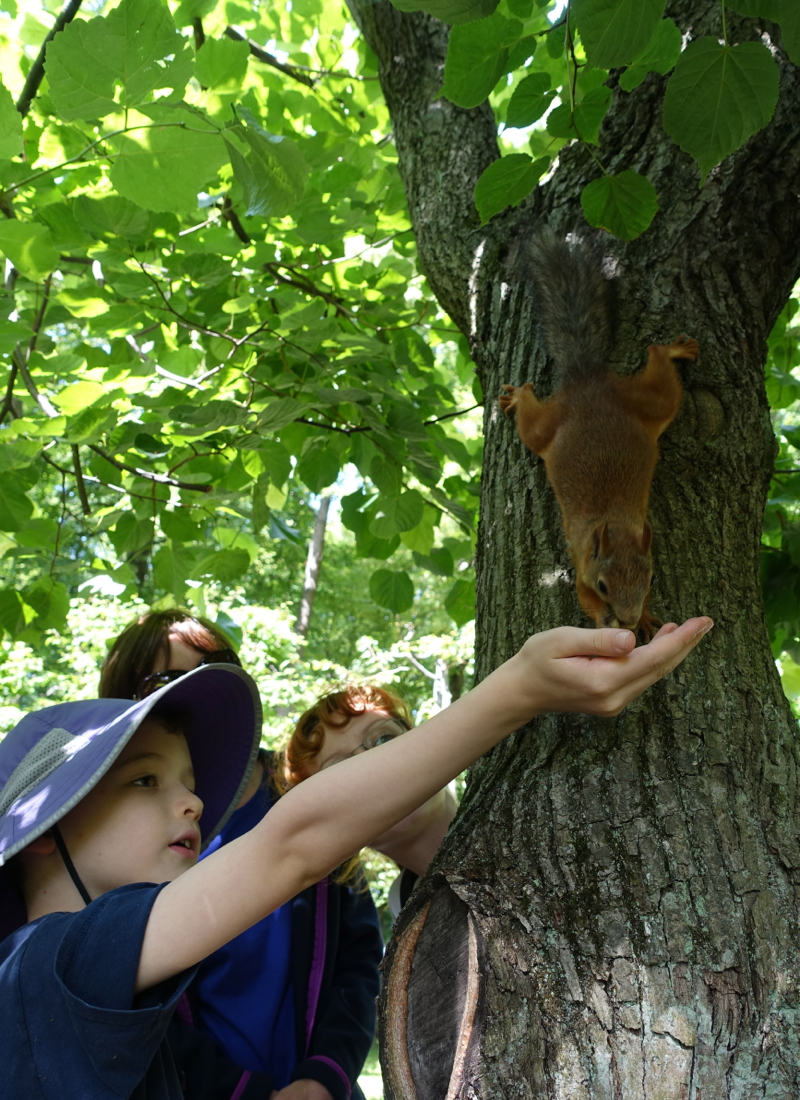 4. Dodging a Fountain and Getting Soaked
Note to parents of young kids: be sure to bring a set of dry clothes with you! The munchkin got completely soaked while having fun trying to dodge a cascade from one of the fountains, so it was a good thing that at least I had a warm fleece with me for afterwards.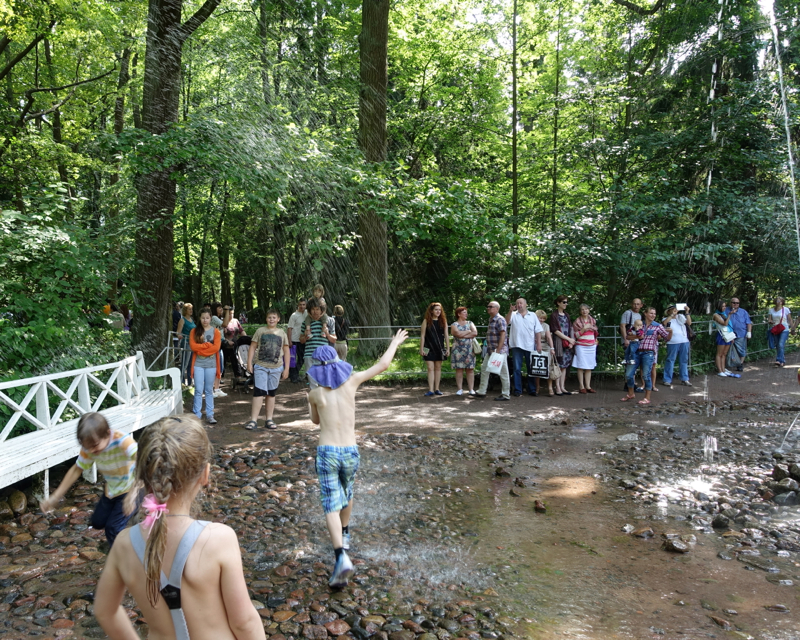 5. Marimba Music
While the kids couldn't stay still long enough to listen to much of it, I really enjoyed the live marimba music played at Peterhof:
6. Skipping Stones by the Bank
Again, simple pleasures: finding flat stones by the river bank and skipping them.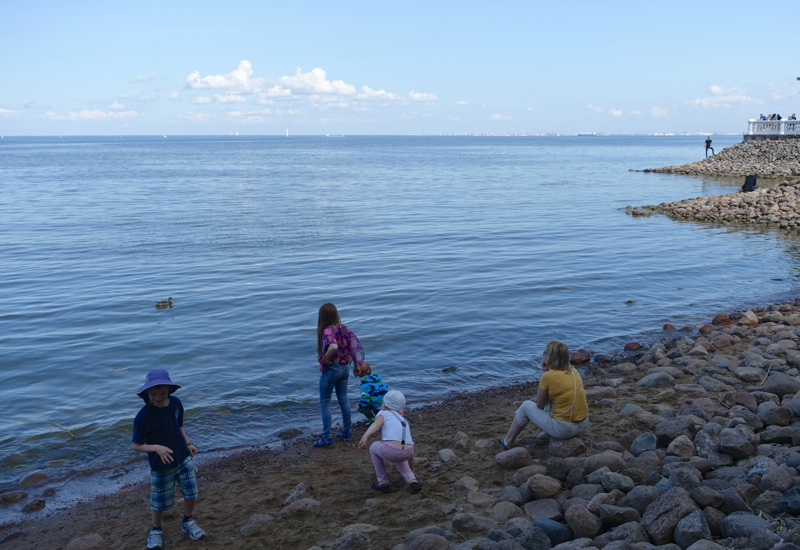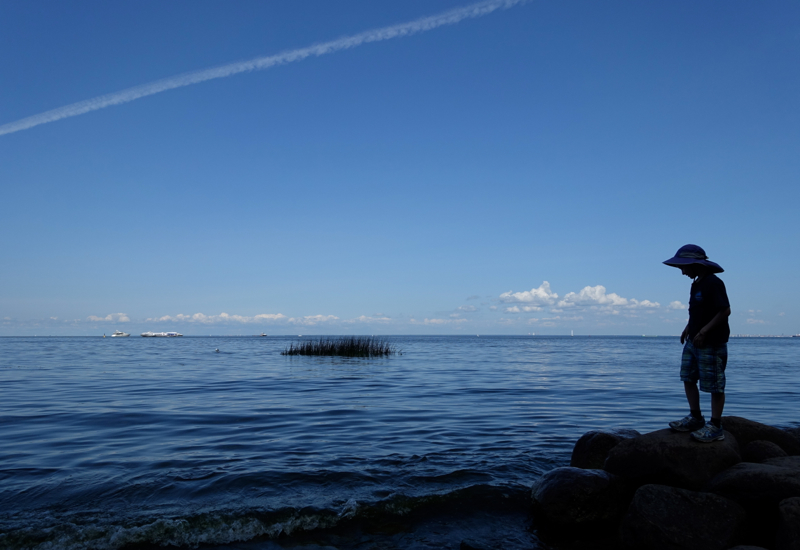 If you've visited Peterhof, what did you enjoy most?
Related Posts
St. Petersburg, Russia with Kids
A Romantic Trip to St. Petersburg, the Venice of the North
Sapsan Train Moscow to St. Petersburg Review and Booking Tips
Need Award Booking Help? Our fee is as low as $75 per ticket if you book your hotel or cruise with us.
If you enjoyed this, join 200,000+ readers: please follow TravelSort on Twitter or  like us on Facebook to be alerted to new posts. 
Become a TravelSort Client and Book 5-star hotels with Virtuoso Perks and Four Seasons Preferred Partner Benefits