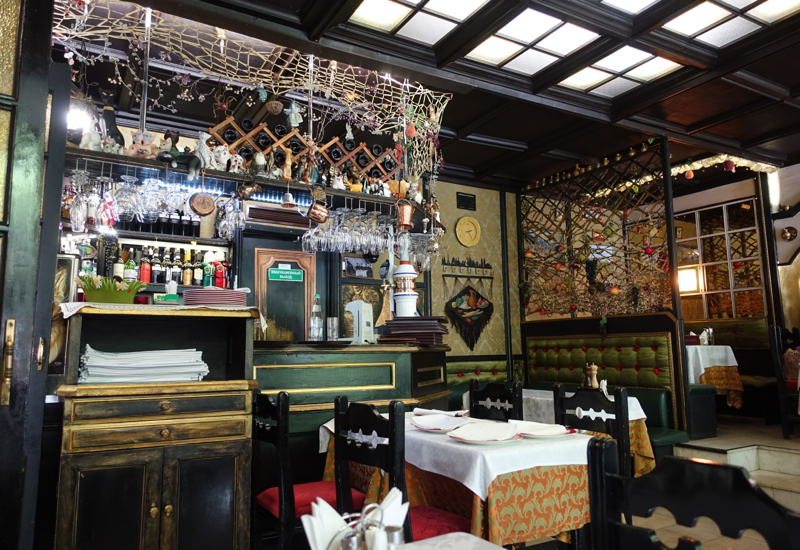 This Review of Cat Cafe in St. Petersburg, Russia is part of a trip report including Vienna and luxury hotels and dining in Moscow and St. Petersburg, Russia. Cat Cafe serves delicious Georgian cuisine in the center of St. Petersburg, close to Nevsky Prospect.
Visiting Russia? See all our posts tagged Russia. For the previous posts please see:
Review: Sofitel Vienna Stephansdom
Labstelle Wien Vienna Restaurant Review
Review: Ararat Park Hyatt Moscow
Moscow Metro Tour with Happy Moscow Tours
Review: Peterhof Fountains and Gardens Near St. Petersburg, Russia
Review: L'Europe Restaurant and Dining at Grand Hotel Europe, St. Petersburg, Russia
Review: Four Seasons St Petersburg, Russia
Review: Four Seasons St. Petersburg Breakfast and Dining
Cat Cafe St. Petersburg Location
Cat Cafe is located at Stemyannaya ulitsa 22, a street south of Nevsky Prospect, just a 3 minute walk from Mayakovskaya Metro Station. Or if driving from Four Seasons St. Petersburg, it's about a 20 minute drive.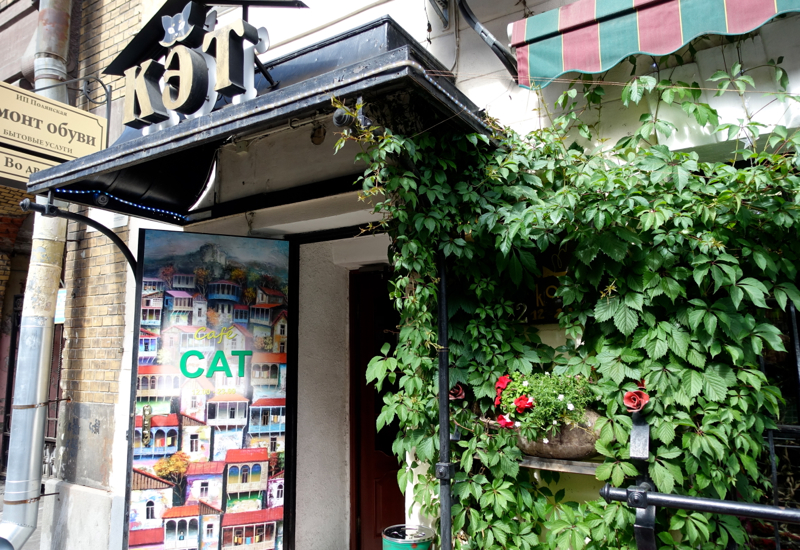 The Scene
Cat Cafe is small, so I would highly recommend making reservations for dinner, particularly on the weekend. We visited for lunch both times, so there were only a couple of other tables, in one case a business lunch, and in the other cases, a couple and two friends enjoying a leisurely lunch.
The atmosphere is eclectic and cozy, with Georgian decor and also, of course, a cat motif.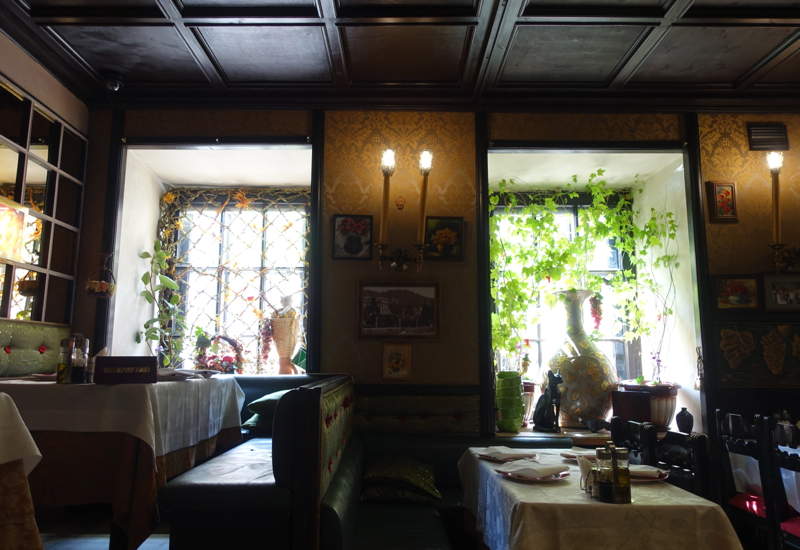 Cat Cafe Menu and Food
Non-Russian speakers will be happy to know that the menu is bilingual, in both Russian and English. As with Cafe Khachapuri, the specialty is Georgian cuisine. A full page is devoted to different khachapuri, bread and savory baked items: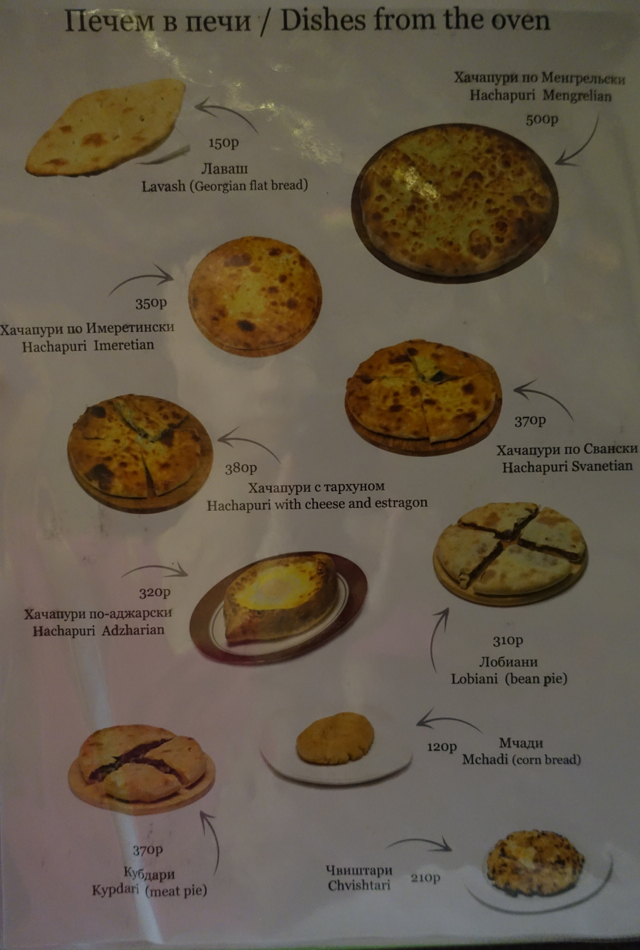 And there are pkhali (vegetable-walnut pates) and cold appetizers, as well as hot appetizers:
Entrees include shashlik (shish kebabs) and other hot meat dishes: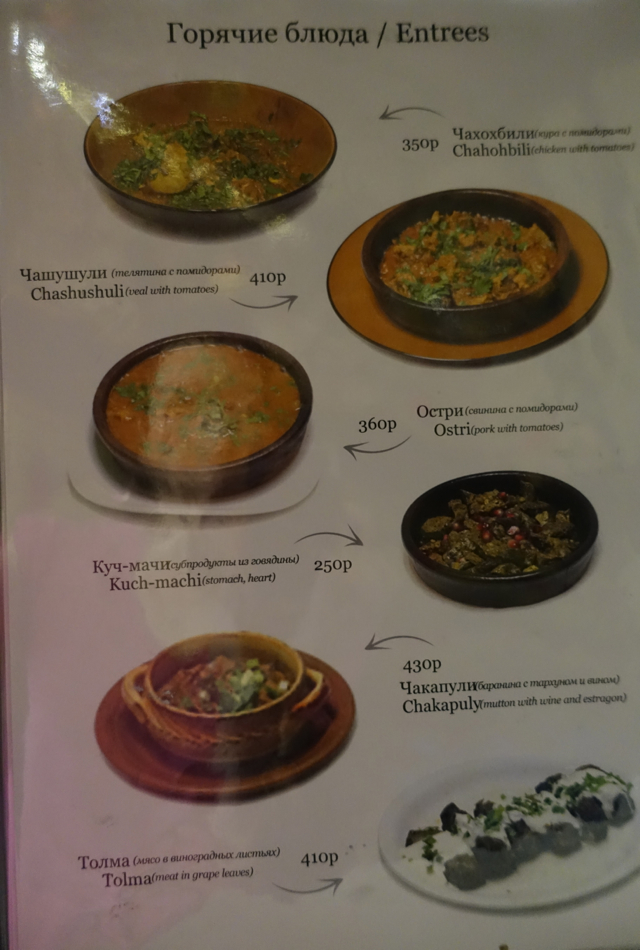 The first time I started with an order of spinach pkhali, which was beautifully plated to appear as leafs, adorned with fresh pomegranate seeds: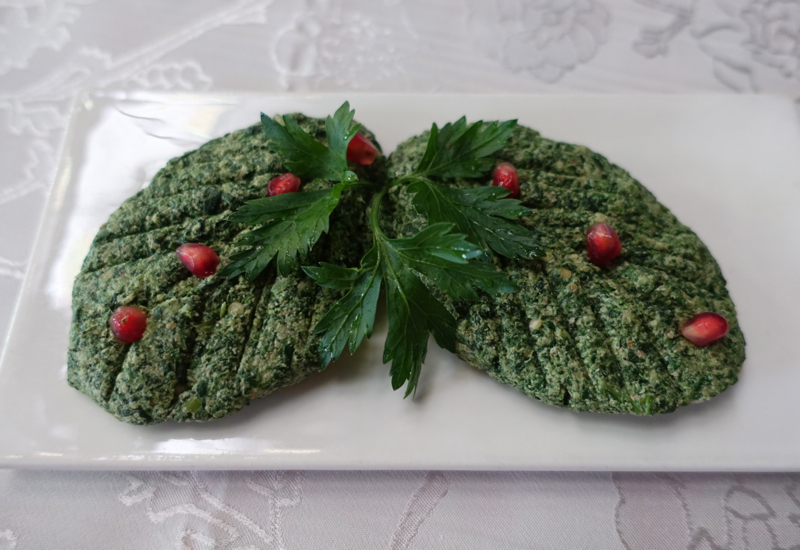 I next tried the Adjarian Khachapuri, which was piping hot and fantastic, with the melting sulguni cheese quickly cooking the egg. As usual I took out the extra butter–the cheese and egg center is rich and creamy enough, without the butter, and the perfect dip for the freshly baked bread.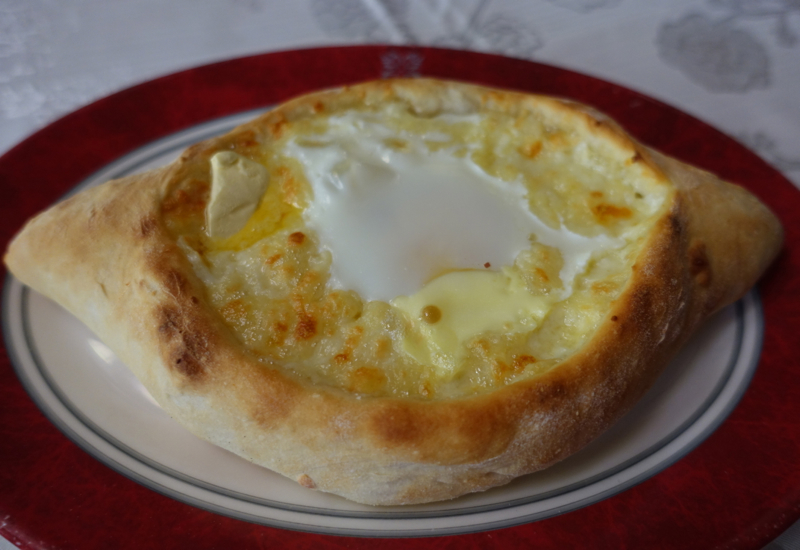 My son accompanied me for my second visit, so we ordered the Khachapuri with Cheese and Tarragon. I haven't normally seen tarragon baked into khachapuri, but it was a delicious and fragrant addition.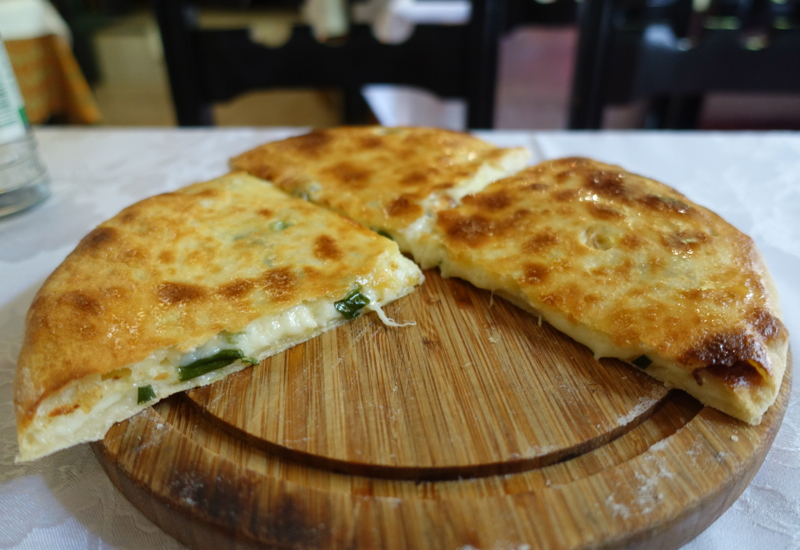 We also ordered the Dolma / Tolma: grape leaves stuffed with rice and ground meat, with a tangy yogurt sauce. While versions of this dish are found all over Greece and the Middle East, this was an especially satisfying hot version.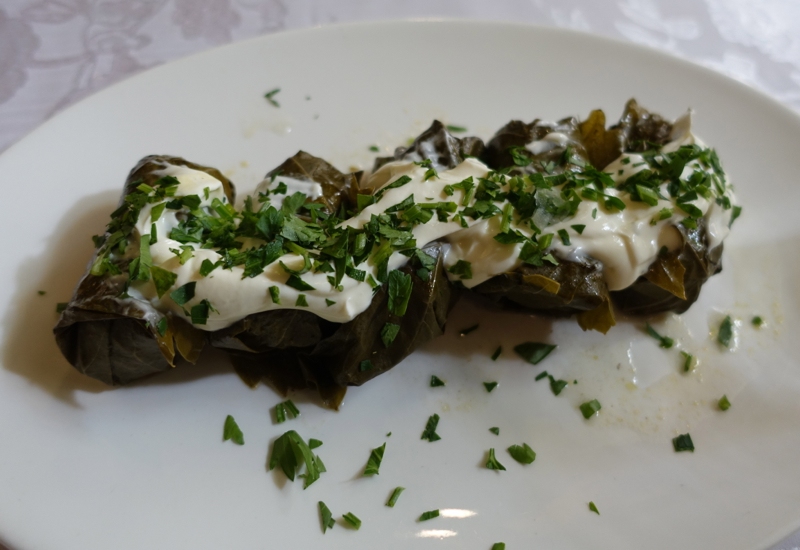 Our final dish was Khinkali: Georgian meat and broth filled steamed dumplings. Normally I don't care for these, due to the thick wrapper used, but these were the best I've ever had, with tender dumpling skins encasing a juicy meat filling.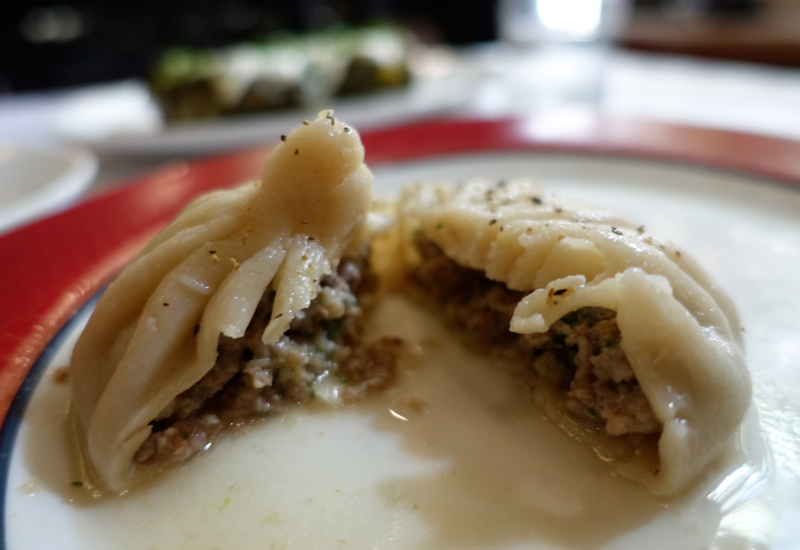 The Verdict
Georgian cuisine isn't widely available outside of Georgia, Russia and the former Soviet Union, and even in NYC there are only a few Georgian restaurants. Cat Cafe is small, but a great place to enjoy Georgian cuisine right in central St. Petersburg. I highly recommend any of the khachapuris, the spinach pkhali, dolma and khinkali.
Have you dined at Cat Cafe in St. Petersburg, Russia?
Related Posts
Review: Four Seasons St. Petersburg Breakfast and Dining
Review: Four Seasons St Petersburg, Russia
Review: Peterhof Fountains and Gardens Near St. Petersburg, Russia
Devil's Advocate: Russia Travel Deals as Ruble Falls?
Need Award Booking Help? Our fee is as low as $75 per ticket if you book your hotel or cruise with us.
If you enjoyed this, join 200,000+ readers: please follow TravelSort on Twitter or like us on Facebook to be alerted to new posts.
Become a TravelSort Client and Book 5-star hotels with Virtuoso Perks and Four Seasons Preferred Partner Benefits