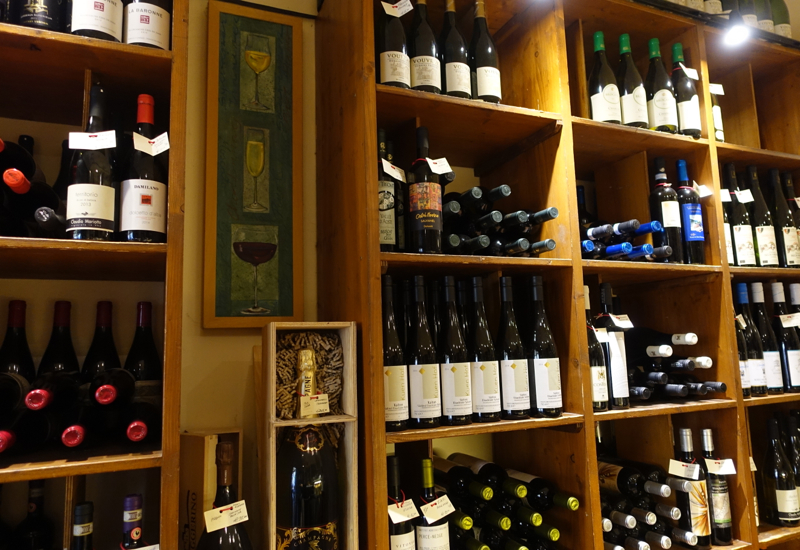 This Review of Le Volpi e L'Uva Wine Bar in Florence, Italy is part of a trip report featuring Florence, Rome, Amalfi Coast, Tuscany, Singapore Suites, Air Berlin Business Class, and luxury hotel stays, dining and activities in Berlin and Italy.
For the prior posts, please see:
Review: Air Berlin Business Class A330 JFK to Berlin
One of Europe's Best Hidden Secrets: Guess the Place
Review: Virgin Atlantic Clubhouse, New York JFK Airport
Review: Singapore Suites A380 New York JFK to Frankfurt with a Kid
Katz Orange Berlin Restaurant Review
Marzapane Rome Restaurant Review
Emma Pizzeria Rome Review: Great Pizza in Rome
Review: Pompeii with Private Tours of Pompeii
Review: Monastero Santa Rosa Hotel and Spa, Amalfi Coast
Paestum's Greek Temples: A Must See While Staying on the Amalfi Coast
Review: Ristorante Il Refettorio at Monastero Santa Rosa
Herculaneum Photo Tour: Better Preserved Than Pompeii
Review: Castello Banfi Il Borgo in Tuscany, Italy
Review: La Sala dei Grappoli and Dining at Castello Banfi Il Borgo, Tuscany
Castello Banfi Winery Tour and Wine Tasting at L'Enoteca
Review: Portrait Firenze Hotel, Florence Italy
Review: Walks Inside Florence Private Guided Tour of Florence
Le Volpi e L'Uva Wine Bar Location
Le Volpi e l'Uva (which means "the fox and the grape" in Italian) is located at Piazza dei Rossi, which was wonderfully convenient for us as it was an easy 5 minute walk from the Portrait Firenze, across the Ponte Vecchio.
I chose Le Volpi e L'Uva for a low key last dinner in Florence together as a family, since my husband had to return to NYC for work the next day. It might seem an odd choice, given we had our 7 year old with us, but I'd seen that they offer crostone (hot open faced sandwiches) and cheese plates, so I knew our son would enjoy it too, even sans wine.
The other advantage of choosing a wine bar over a regular restaurant was that it was open all afternoon, hence we could have an early dinner and didn't have to wait for the later dinner time of 7:30pm or 8pm, which is typical for most Italian restaurants and would have meant a late bedtime for our son.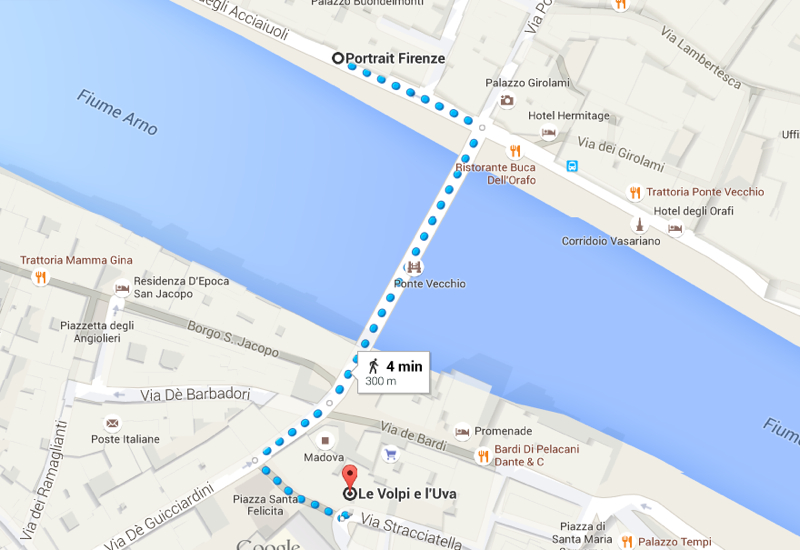 The Scene
Even though it turned out to be unnecessary given our early dining time of 6pm, I'd made a reservation for the outdoor terrace. As it turned out, it was so warm that we decided to dine indoors instead, right at the bar. We were the only guests at the bar when we arrived, but during the time we were there we saw a few couples and friends arrive. There may have been another tourist or two outside on the patio, but inside at least, we were the only non-Italians (and certainly the only ones with a kid).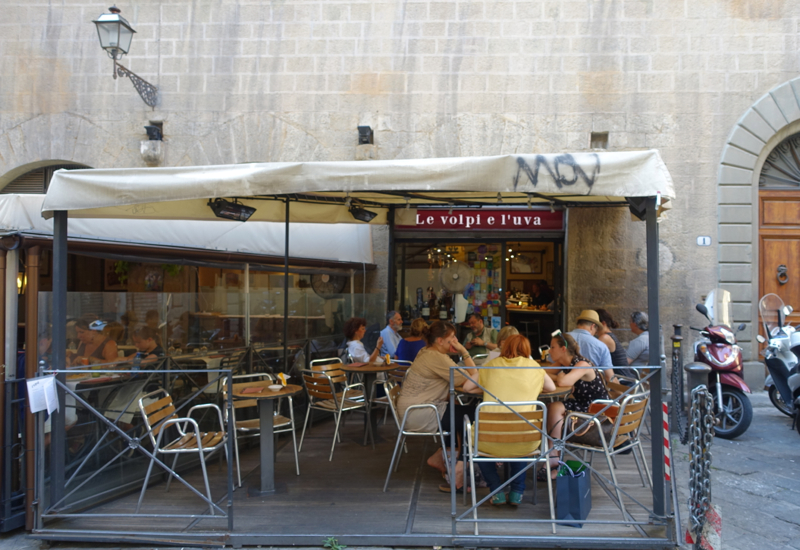 Le Volpi e L'Uva Wine Bar Menu and Food
Le Volpi e L'Uva offers simple but satisfying crostone, cheese plates, salads and other small plates to go with its wines. Here are the menu options (in Italian only–another indicator of its popularity mainly with locals):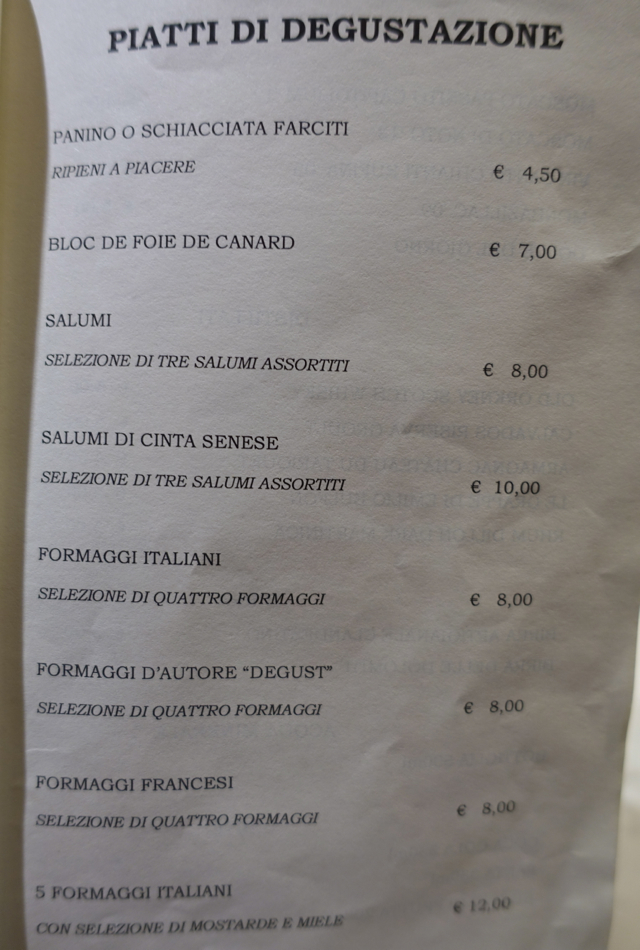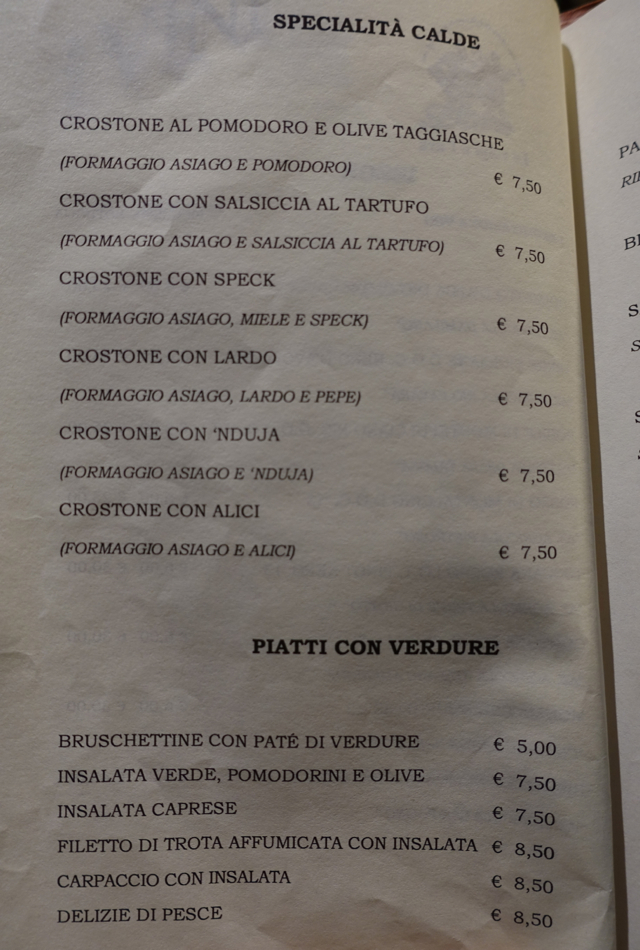 We focused on white wines, given the warm day. There's a printed wine list of wines by the glass as well as whole bottles, and we found the prices very reasonable (especially with the Euro exchange rate during our visit):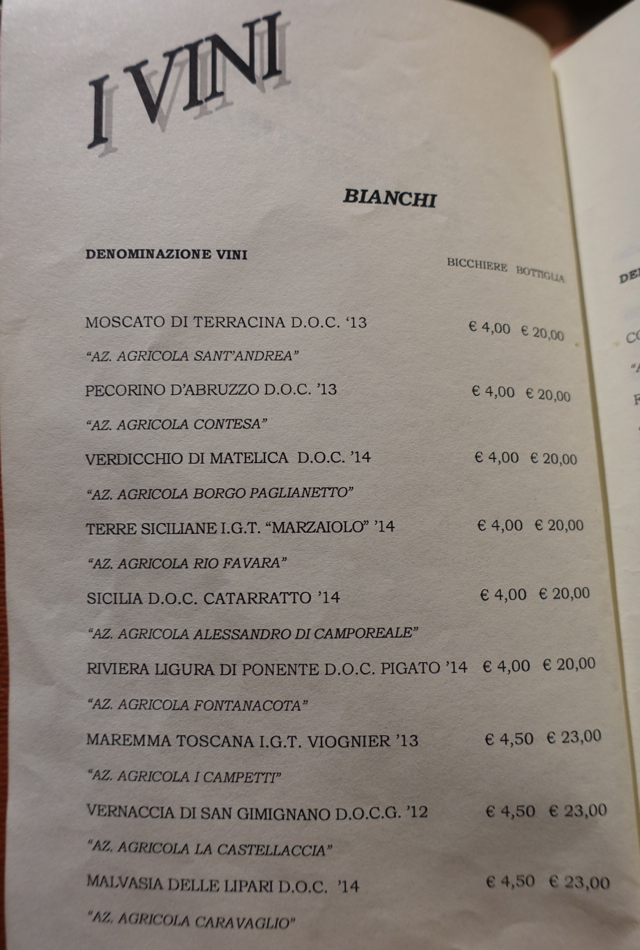 But the menu is also augmented by a chalkboard wine list: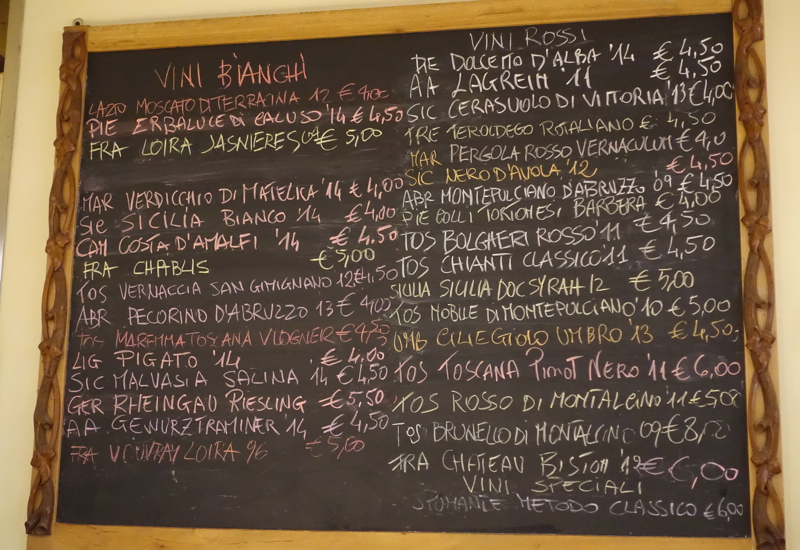 We started off with a perfect German Riesling, which I realize is ironic given we were in Italy, but it came recommended by the staff. While I won't bore readers with the other wines we tried, including a French Viognier and a Sicilian white, we loved all of them–I think it would be hard to go wrong, especially if you ask for recommendations from the staff.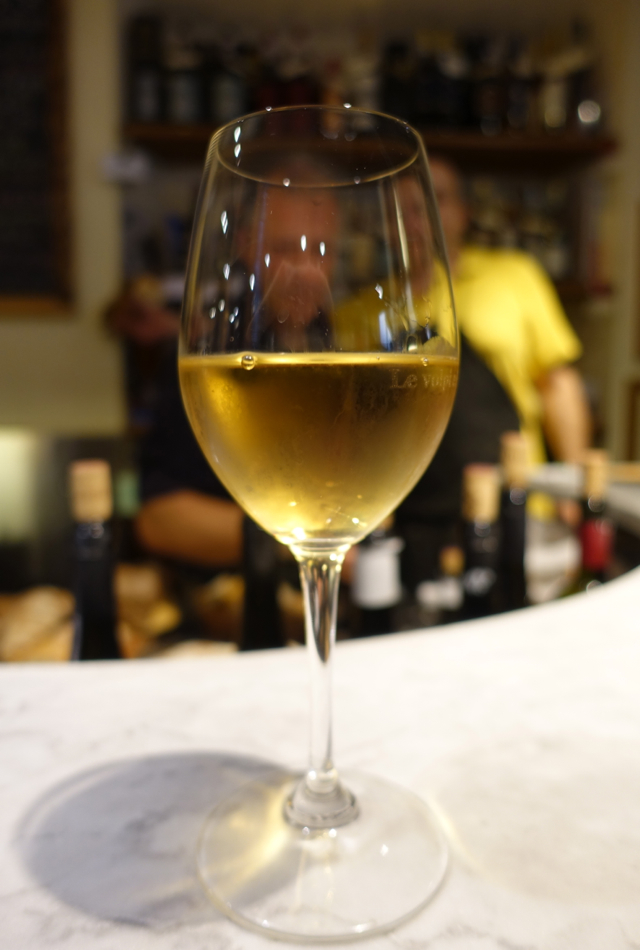 We tried 3 types of crostone. I loved the abundance of perfectly ripe, sweet cherry tomatoes that came on our son's simple Crostone al Pomodoro e Olive, which came with asiago cheese, tomatoes, olives and capers. Even though he doesn't normally like fresh tomatoes due to the acidity, he ate quite a few of these–they were that good.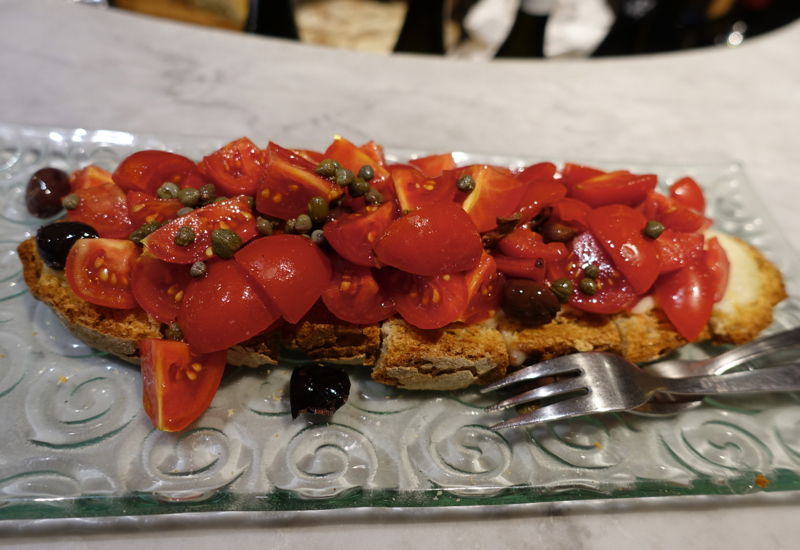 I got a similar Crostone Con Alici, which had fewer tomatoes but came with anchovies–a nice briny saltiness that contrasted well with the richness of the cheese and sweet tomatoes.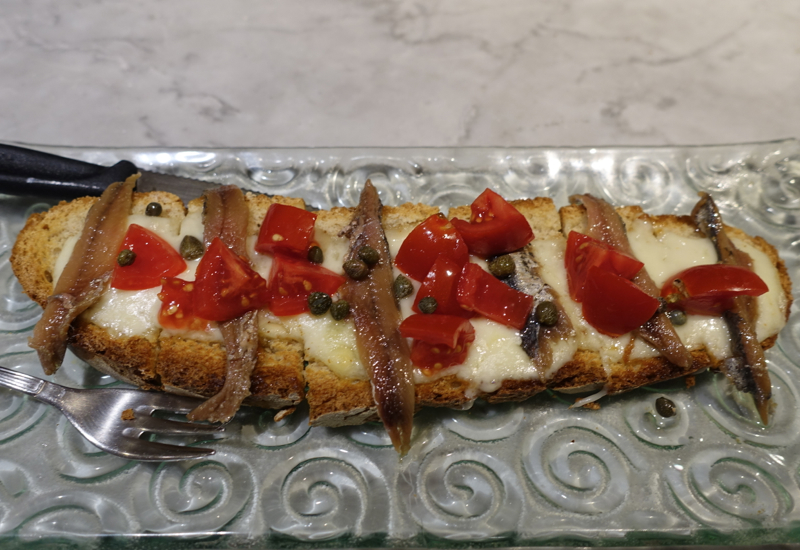 As wonderful as the tomatoes were, my favorite crostone was my husband's Crostone con Speck, a fantastic marriage of Asiago cheese, honey and prosciutto–yum!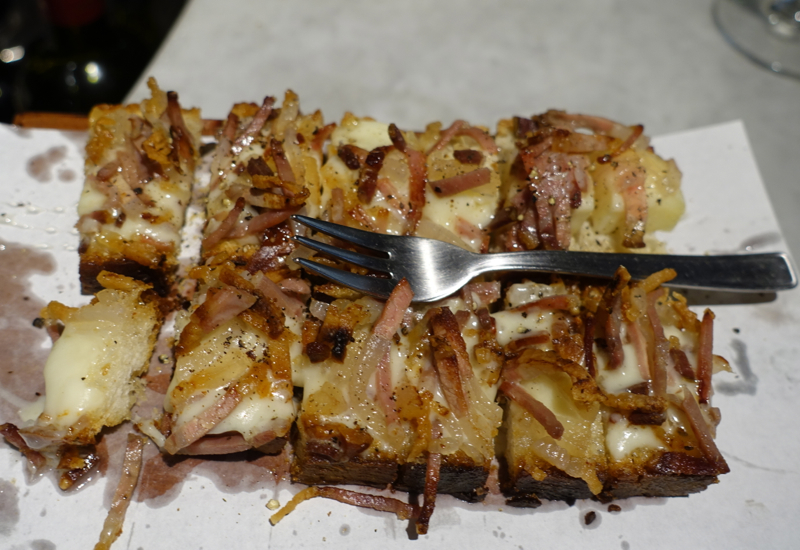 Since our son was still hungry and we wanted to nibble a bit more while sharing another glass of wine, we ordered a plate of 4 French cheeses. This was a bargain, for 8 EUR, especially as it came with more of those incredible tomatoes: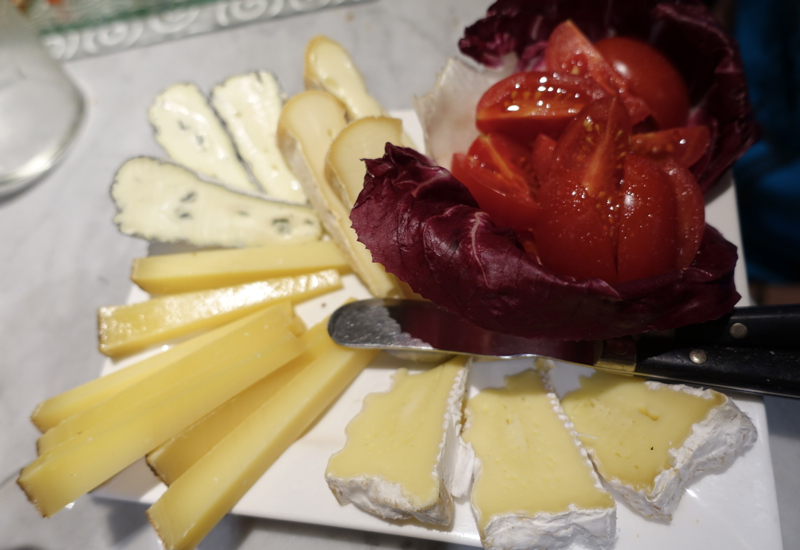 A Sweet Finale: Wander Down the Arno for Gelato
While we could have gone straight back to the hotel, we decided to indulge in a little gelato for dessert. We'd heard good things about Gelateria La Carraia at Piazza Nazario Sauro, about a 10 min. walk away, near the Ponte alla Carraia, so we went there. The gelato was refreshing, but honestly, I've had much better gelato at GROM gelato, even in NYC (although GROM is an Italian chain, founded in Turin).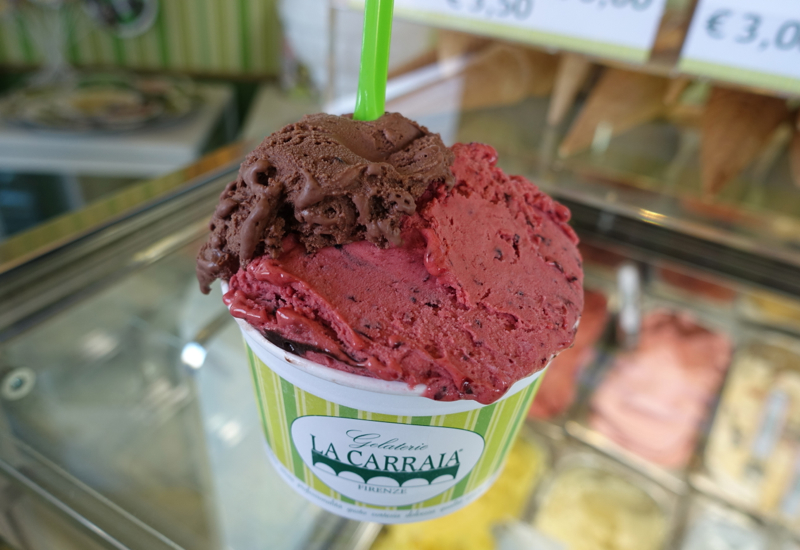 No matter, we'd still had a great wine bar dinner and the munchkin was looking very satisfied with his gelato cone as I snapped this picture on the Ponte alla Carraia, on our way back to the Portrait Firenze.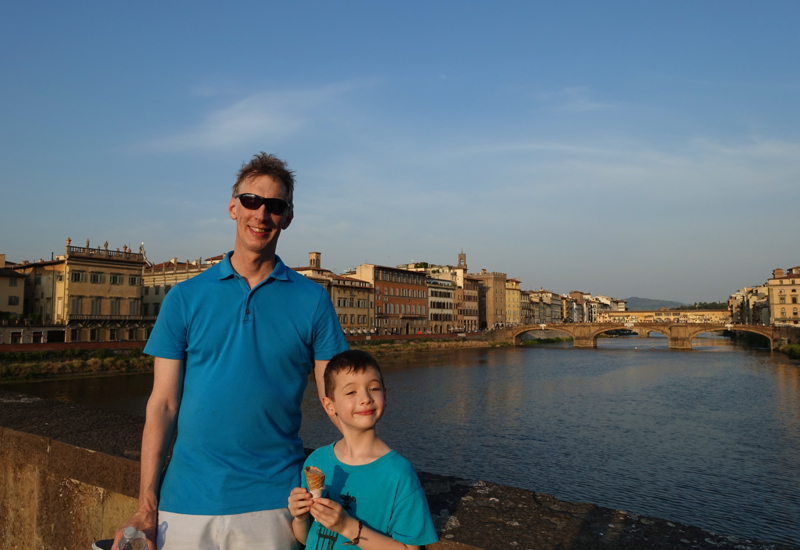 The Verdict
We all really enjoyed Le Volpi e L'Uva wine bar for a casual dinner, with its simple, unpretentious toasted sandwiches and cheese plates and very reasonably priced wines by the glass. Sitting at the bar, we were right by the staff, so it was easy to ask for their recommendations, and service was also very attentive, especially for such a low key venue. Highly recommended whether you're in the mood for just a glass of wine or a full (but simple) dinner, as we were.
Related Posts
Florence: Gourmet Dining and Foodie Delights
Review: Portrait Firenze Hotel, Florence Italy
Review: Walks Inside Florence Private Guided Tour of Florence
Disclosure: We paid for our own meal and wine at Le Volpi e L'Uva
Need Award Booking Help? Our fee is as low as $75 per ticket if you book your hotel or cruise with us.
If you enjoyed this, join 200,000+ readers: please follow TravelSort on Twitter or like us on Facebook to be alerted to new posts.
Become a TravelSort Client and Book 5-star hotels with Virtuoso Perks and Four Seasons Preferred Partner Benefits