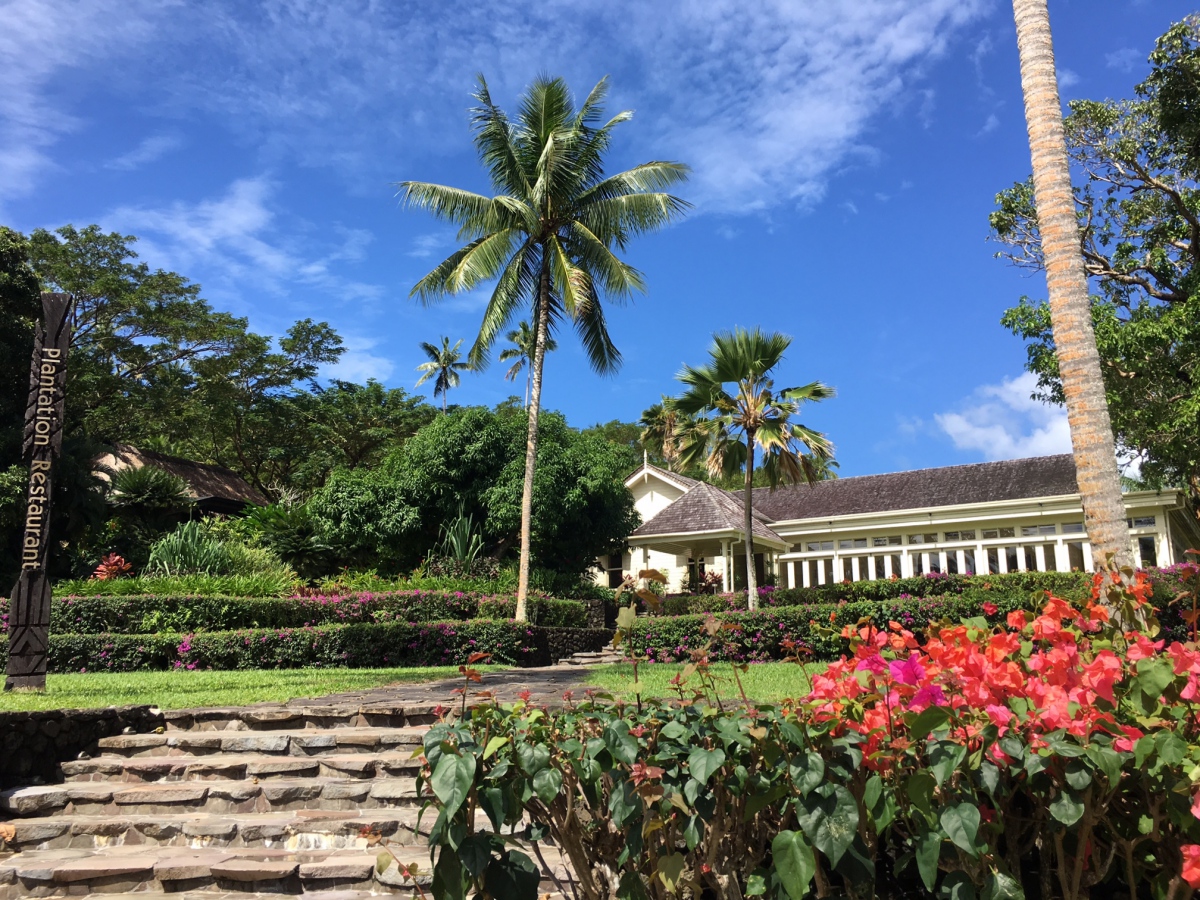 This Laucala Island Dining Review is part of a trip report on Laucala Island, the exclusive private island of Red Bull founder Dietrich Mateschitz which is also a Virtuoso property. Rates include all meals and most drinks, from wines to cocktails and spirits, so all you have to do is decide where you want to dine and what you're in the mood for.
Laucala Island Restaurants and Bars
Laucala's 5 main restaurants and bars include:
Plantation House: Serves breakfast (if you don't want to order breakfast in your villa) and a nightly tasting menu
Seagrass Lounge and Restaurant: Serves Thai and Asian specialties for lunch and dinner
Pool Bar: Serves lunch, snacks and drinks beside Laucala's lagoon pool
Beach Bar: This was being repaired while we were there, but it normally serves drinks and snacks right on the beach
Rock Lounge: Serves finger food and cocktails above Seagrass Bay
There's also "Dining by Design," where you can enjoy a special meal in a location of your choice–I'll describe our experience of this below.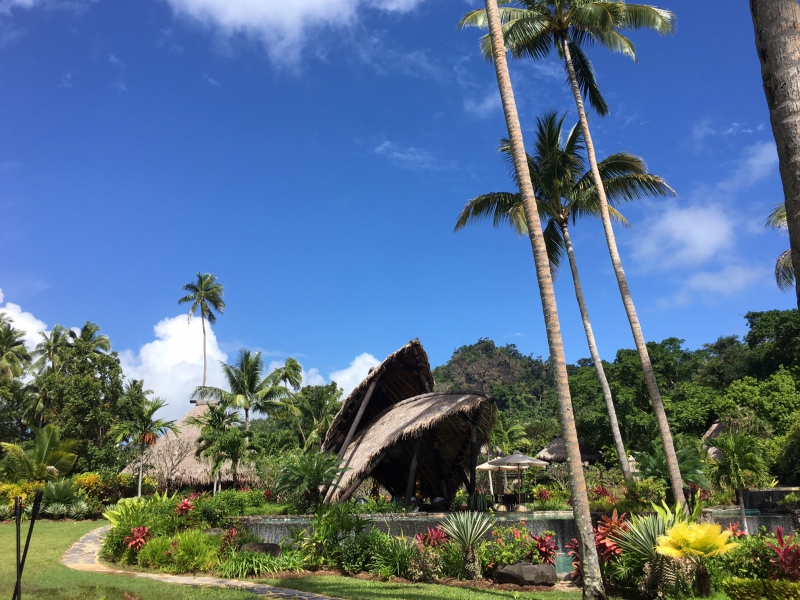 Breakfast at Our Villa
While we did have breakfast at Plantation House most days, one morning we ordered in, and the food was just as fresh and tasty delivered. We started off with two generous carafes of freshly squeezed juices. We chose a mixture of orange and pineapple for one of them, and watermelon pineapple for the other.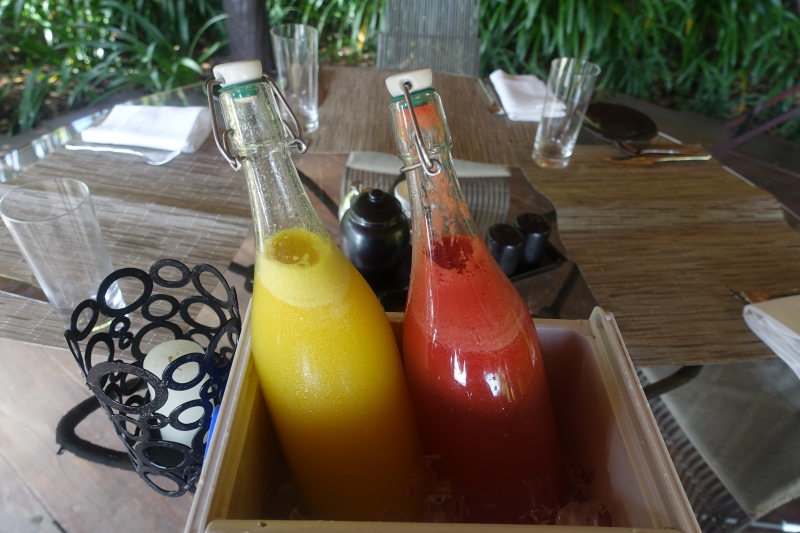 On another occasion we asked for passion fruit juice to be added, and that was no problem either–and very delicious.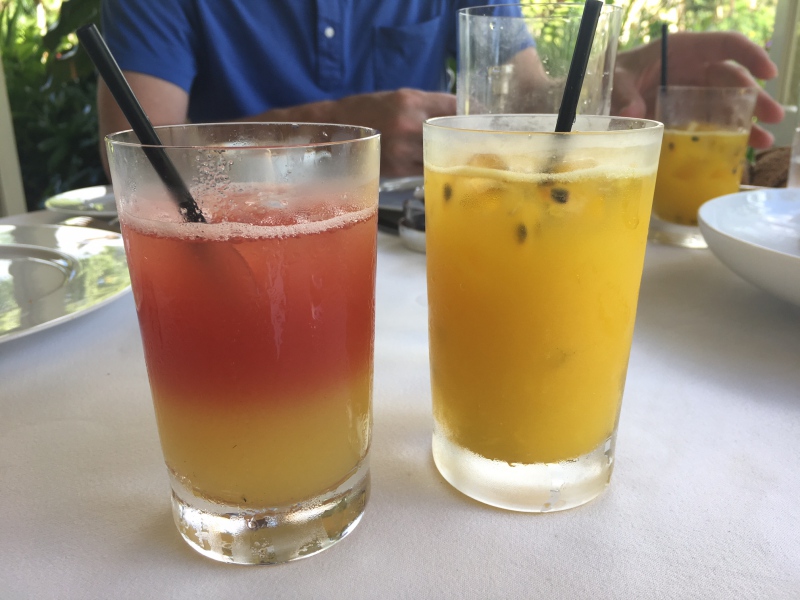 Favorites of ours for breakfast were omelets made with our choice of fillings, blueberry pancakes, bircher muesli, yogurt, and pastries.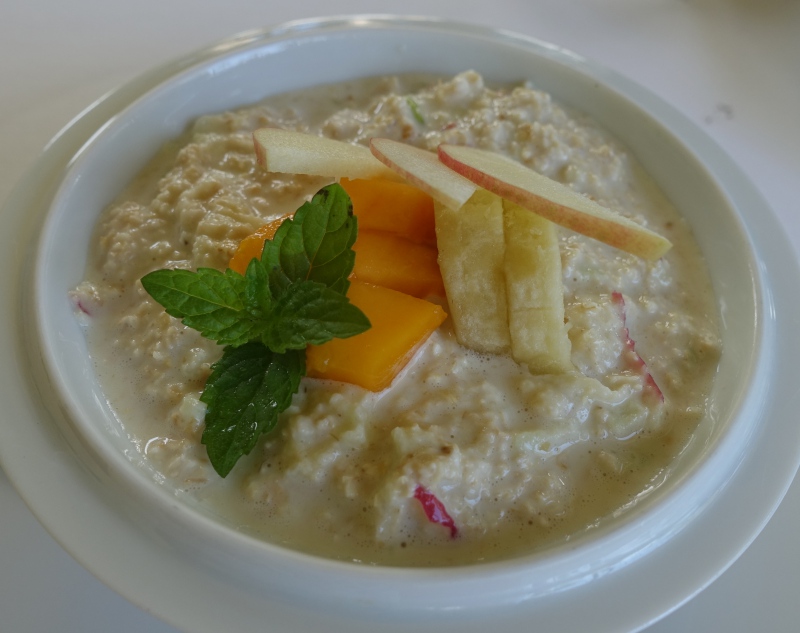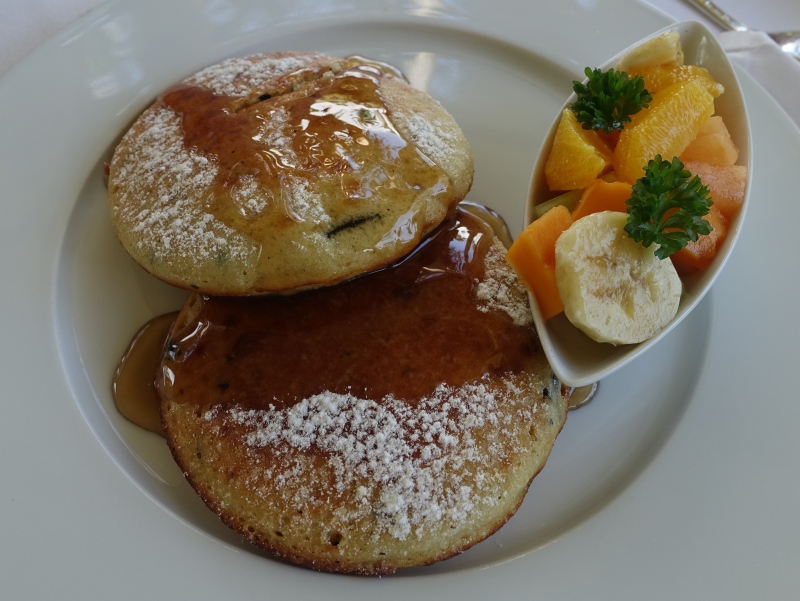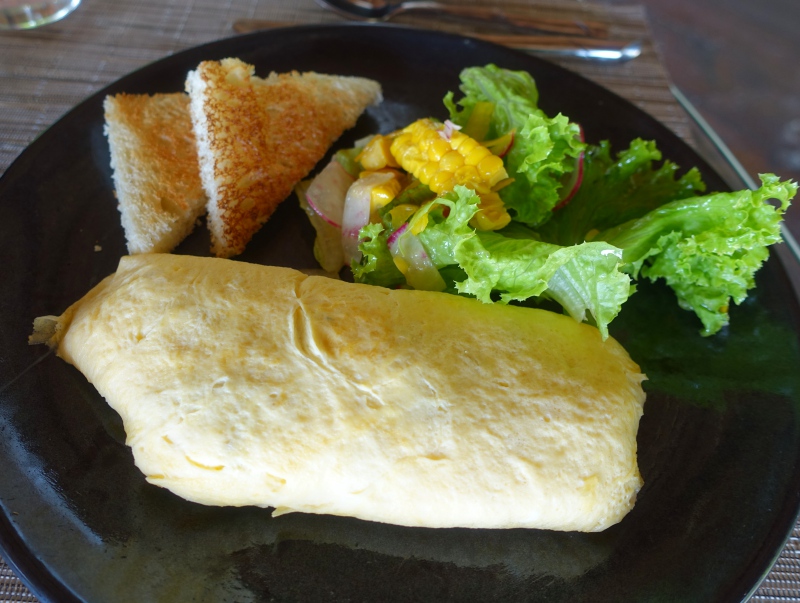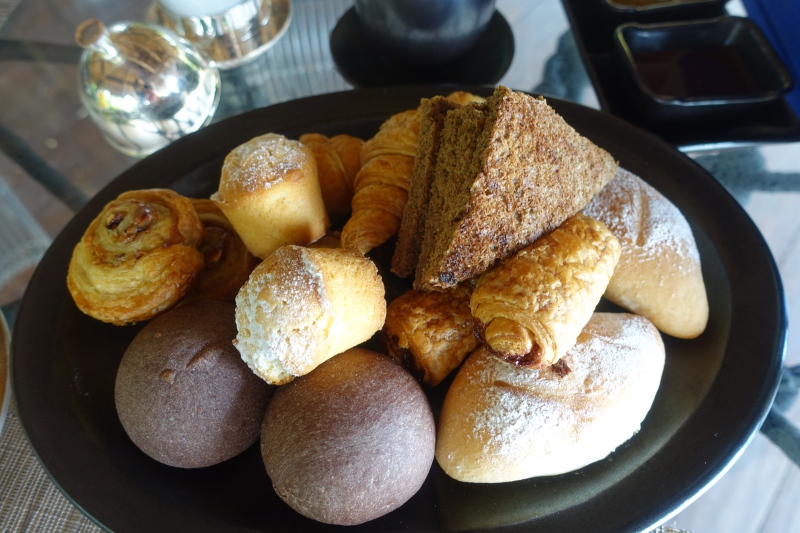 Seagrass Restaurant
Seagrass was our favorite place for lunch and dinner, thanks to its excellent Thai chef. We dined once for dinner, and another time for lunch, and all the Thai dishes we ordered were fantastic, particularly the salads. The view is beautiful, both during the day and at sunset.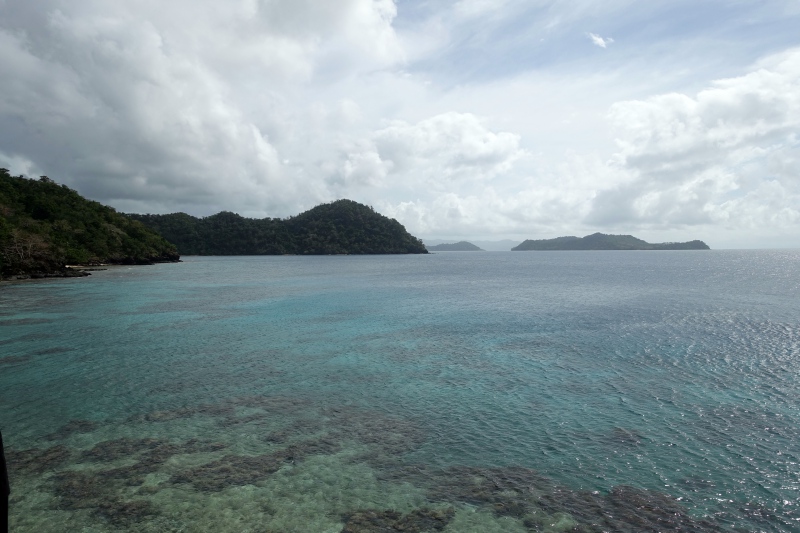 Here's the menu; it's not long, but it was ample choice for us for the two meals we had there.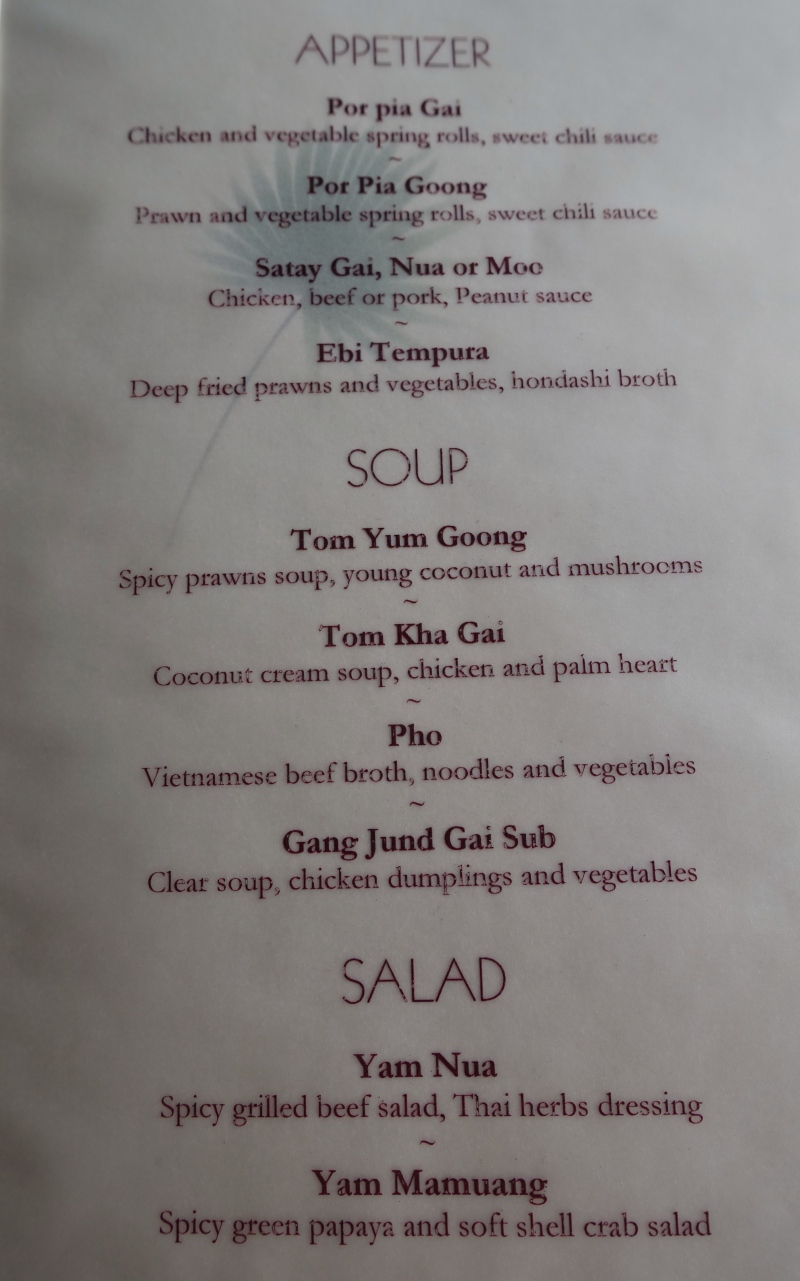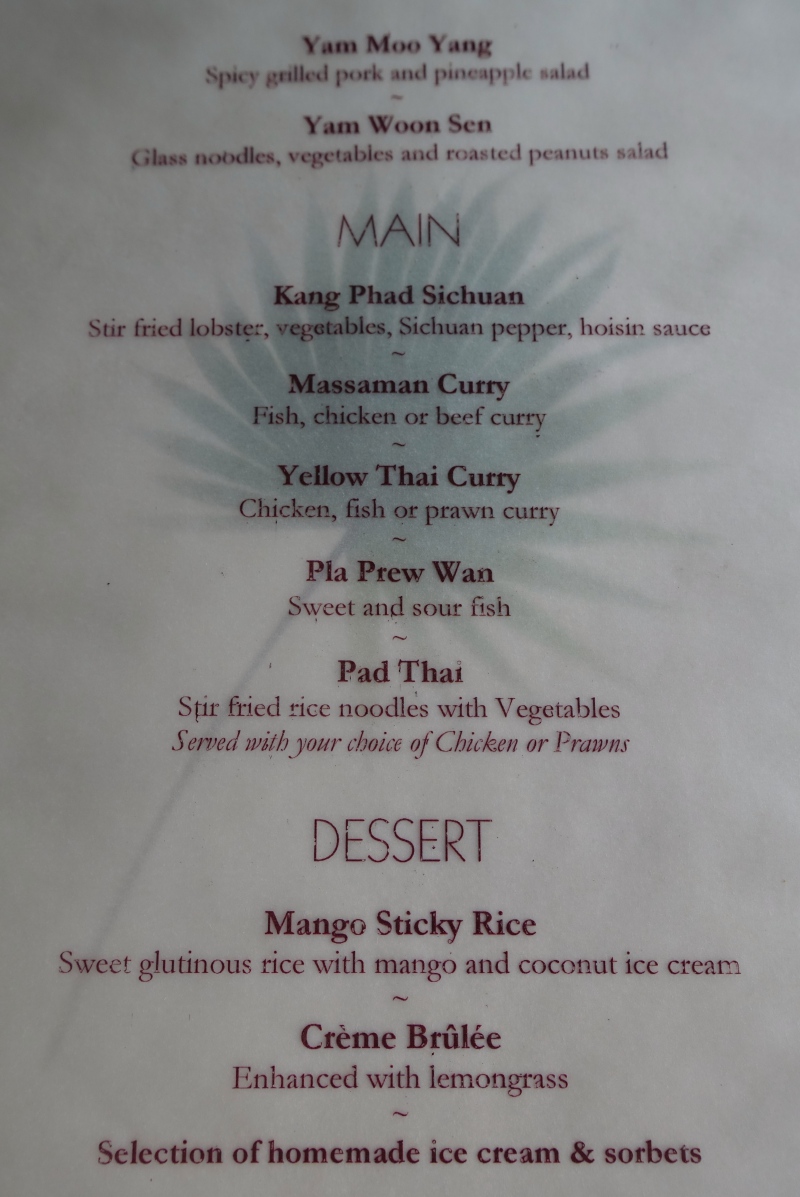 Here were our favorites: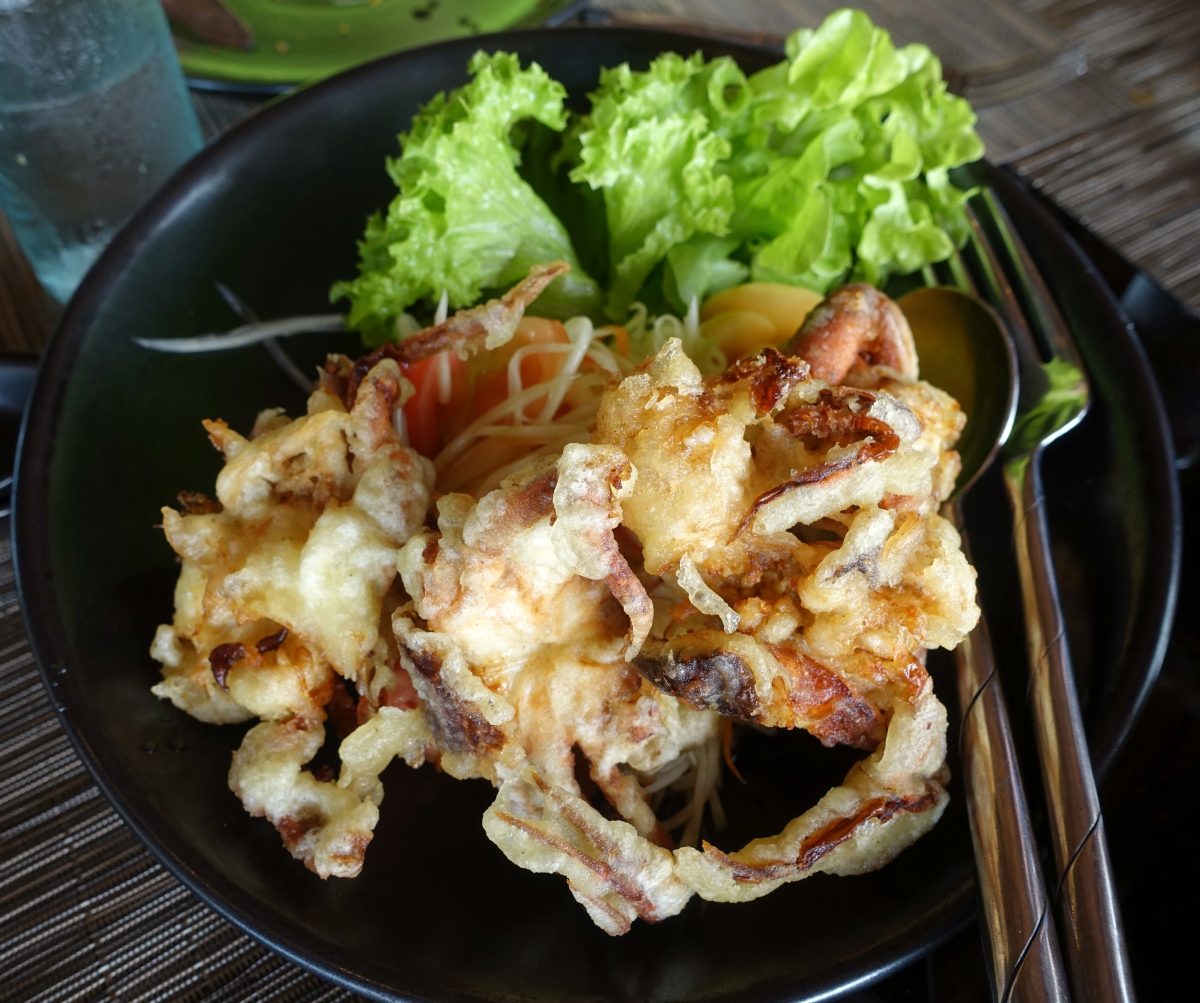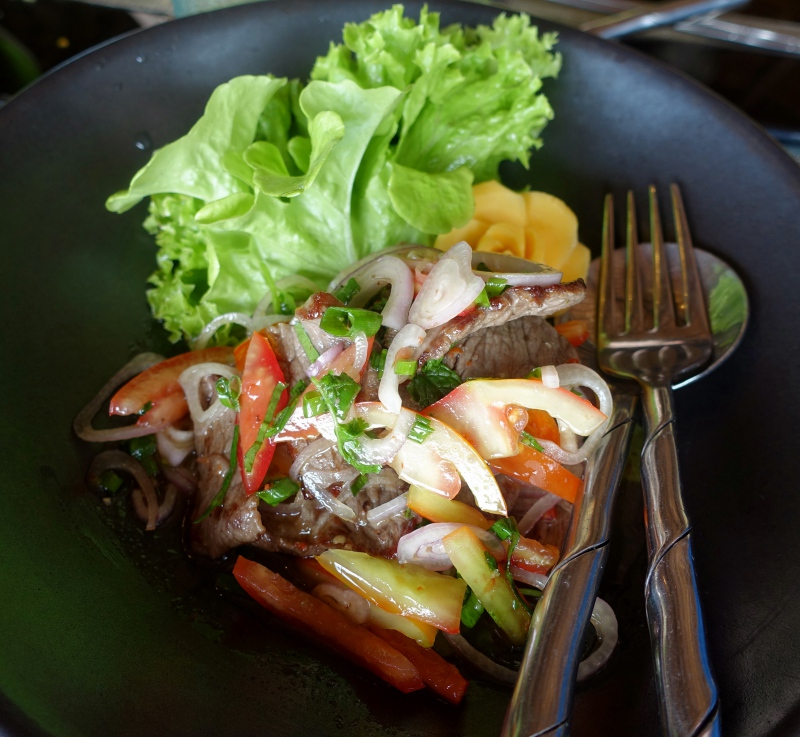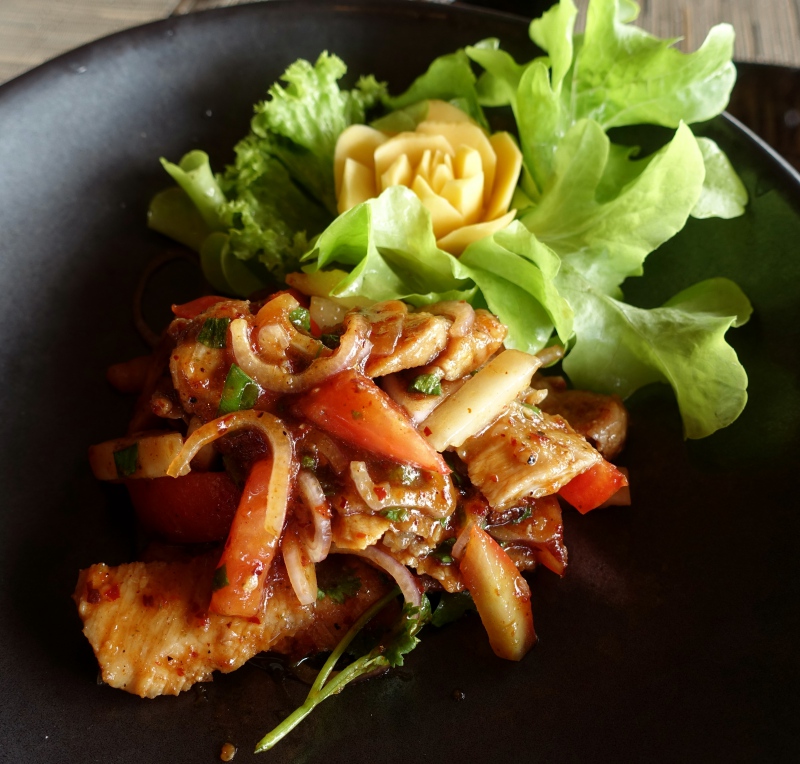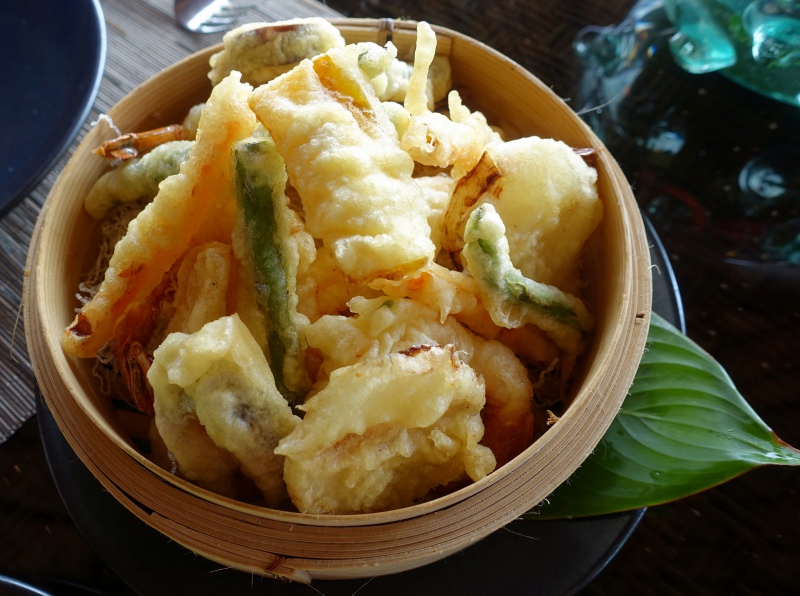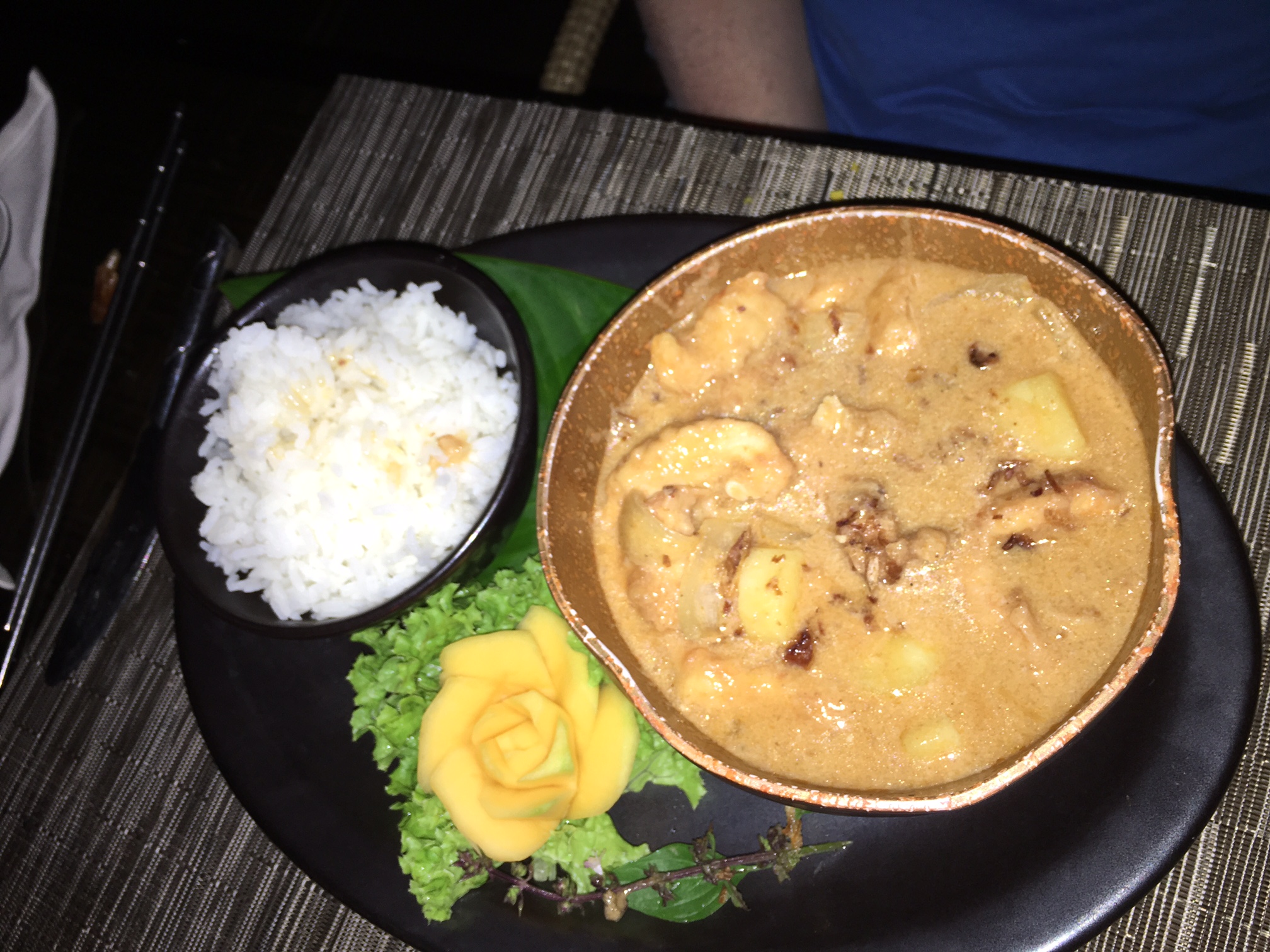 Plantation House
We liked the airy verandas of Plantation House, but I wasn't blown away by the tasting dinner we had there. To be fair, I'm not really a fan of cod fish, and that was the main dish that evening. I did really like the kokoda amuse bouche and the guava sorbet palate cleanser, however.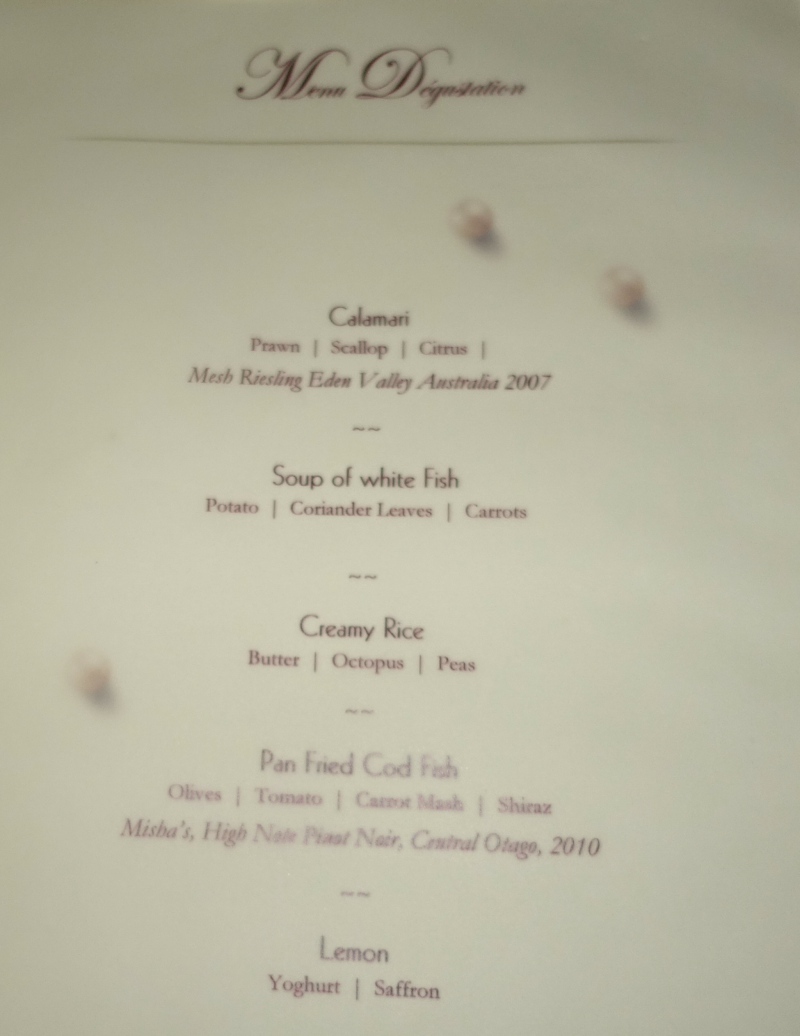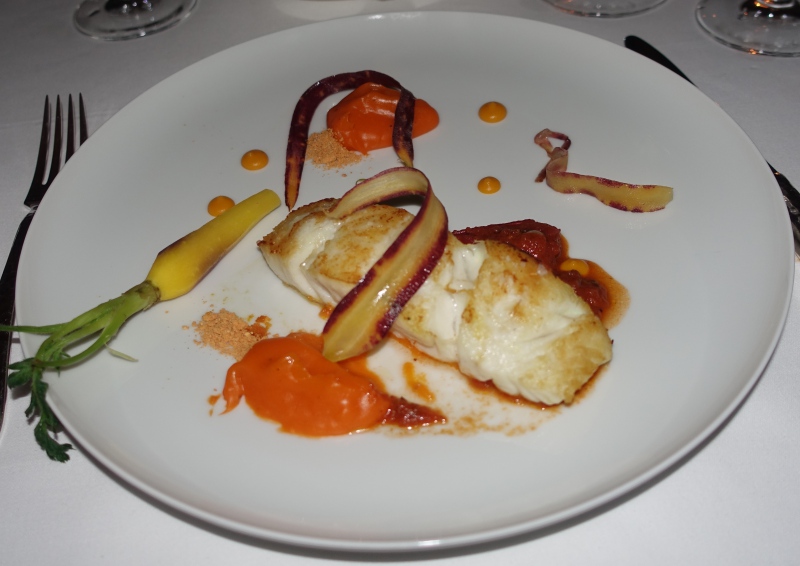 I did really enjoy a tomato gazpacho I had for lunch at Plantation House, and our son really loved his burger for lunch one day, and four cheese pizza for dinner the night we had Thai food at Seagrass. I also really enjoyed a Passion Fruit Strawberry Tiramisu that I tried at Plantation House for lunch.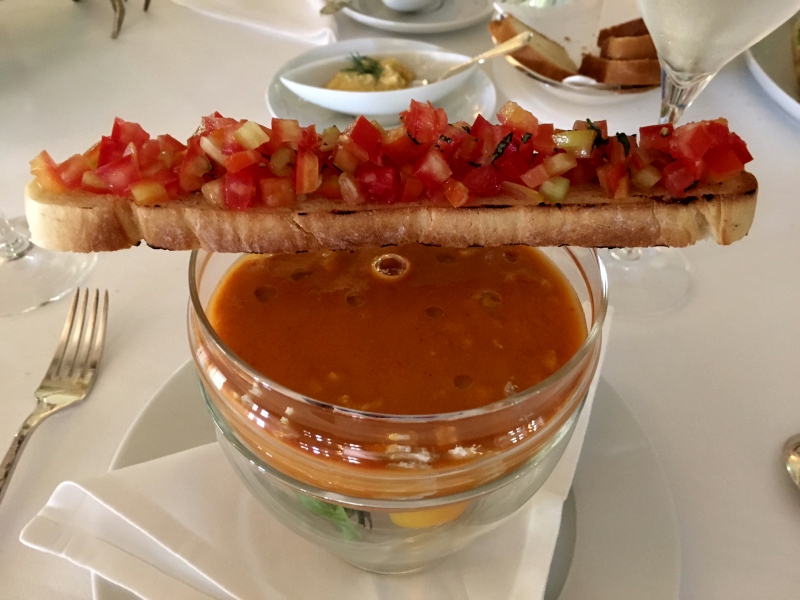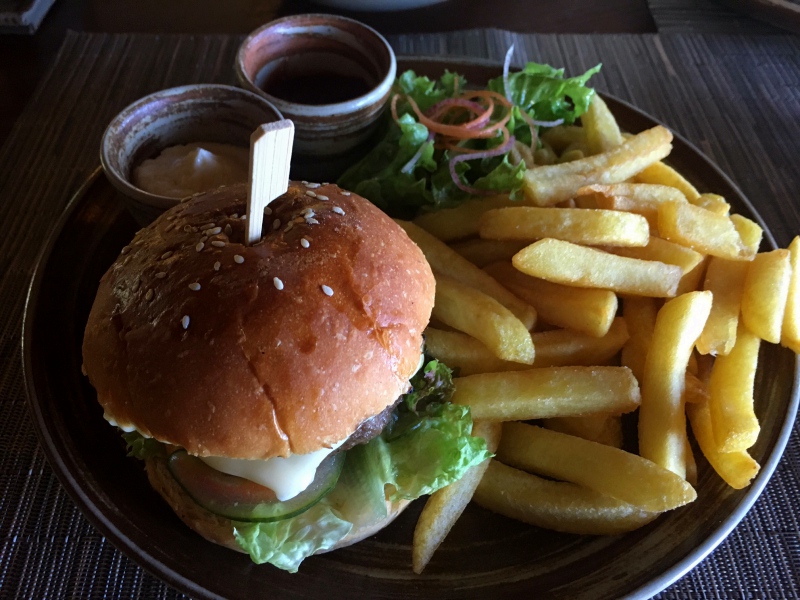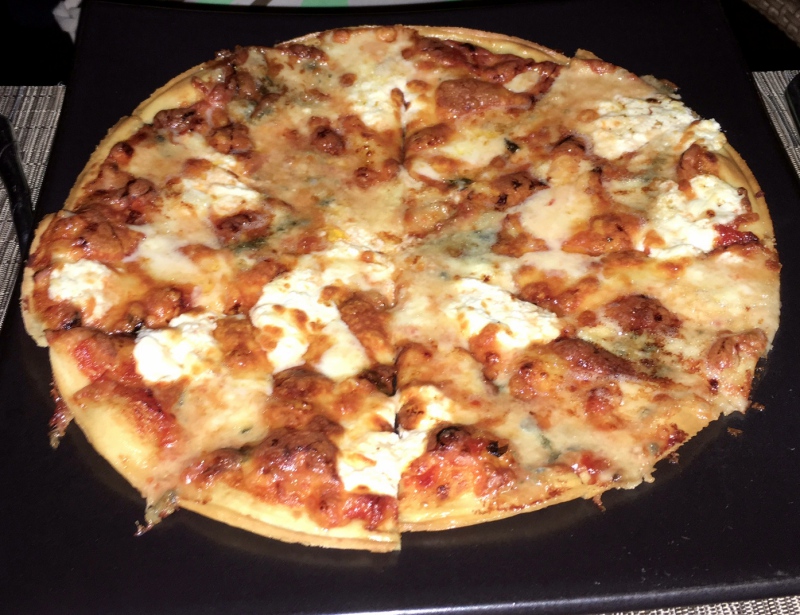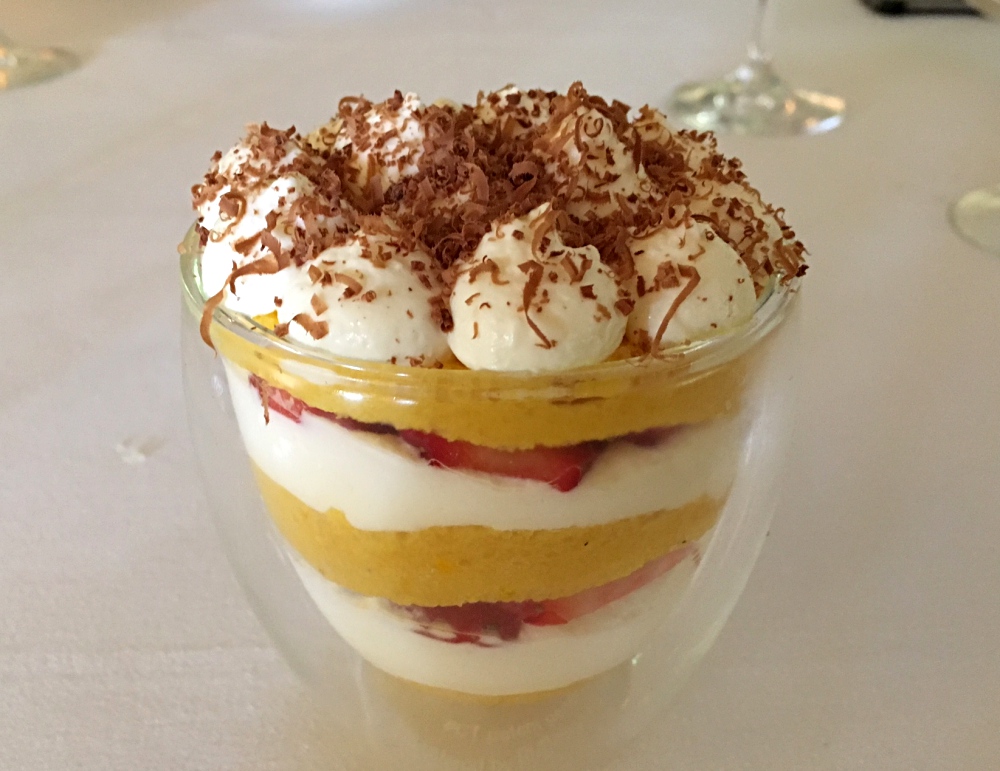 Dining by Design: Fijian Dinner at Sunset in a Private Loft Area Above Seagrass Restaurant
This was a memorable last dinner for us. The table had been beautifully decorated with a Fijian tablecloth and bougainvillea blooms, and the sun was just setting as we enjoyed our drinks.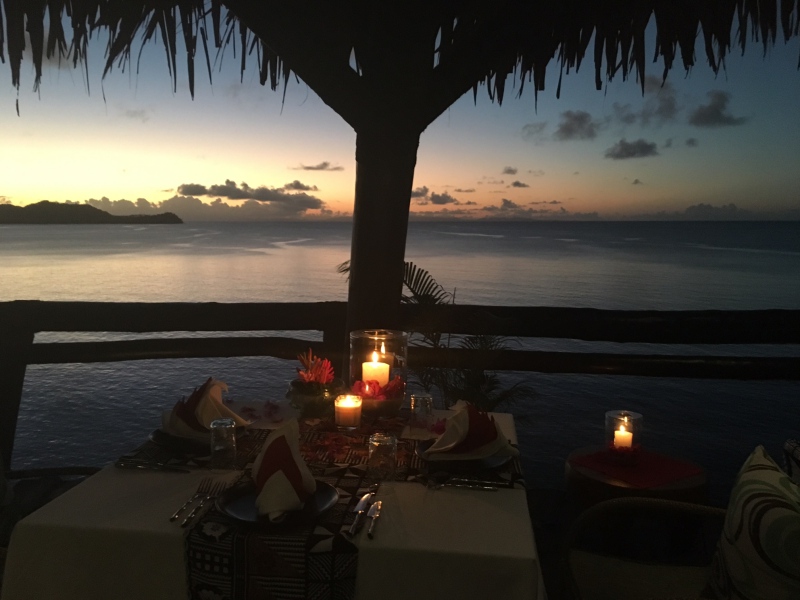 We were served a number of dishes, and enjoyed all of them. Particular favorites were the octopus in coconut milk, the kokoda (Fijian seafood ceviche in lime and coconut milk), fish cooked in banana leaf, and an eggplant dish.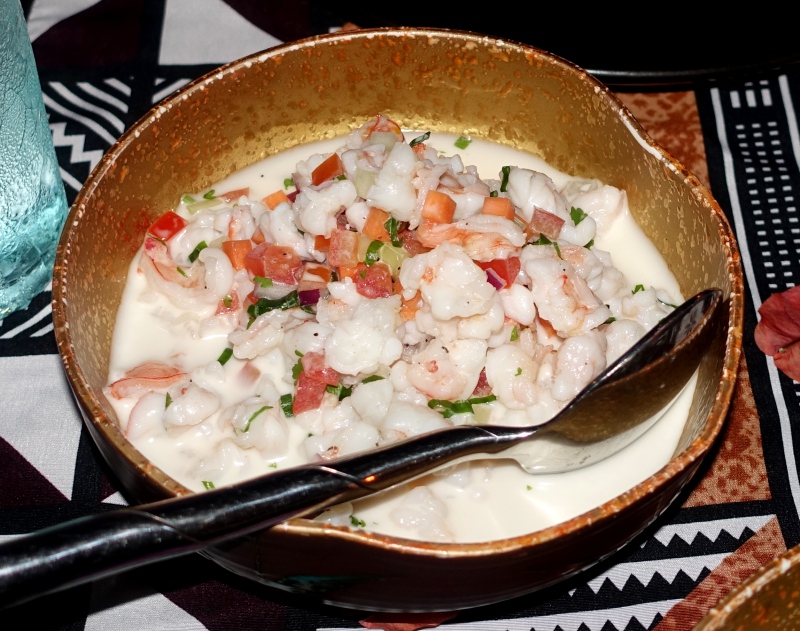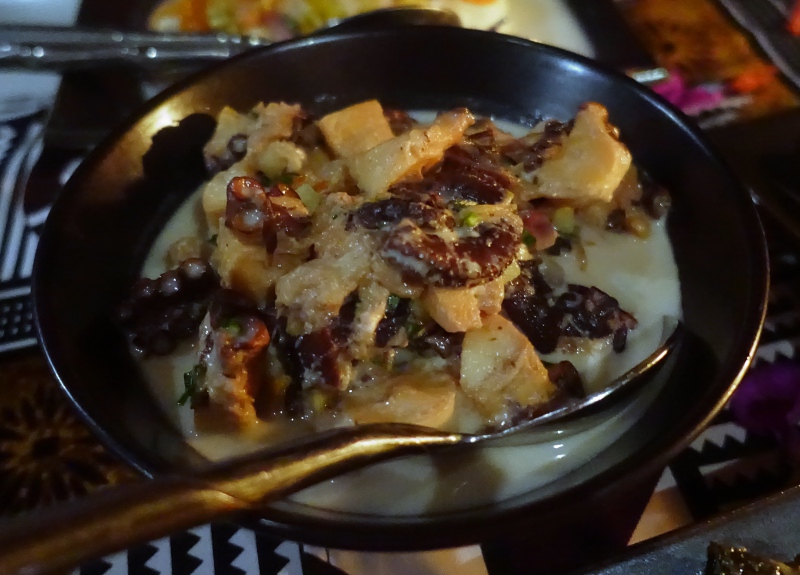 Daily Cakes
I'd be remiss if I didn't give special thanks to the Pastry Chef and his team for the fantastic cakes that were delivered daily to our villa. My absolute favorites were this banana tart, and orange layer cake. They were so good that we carefully saved the remainder in our fridge for the next day.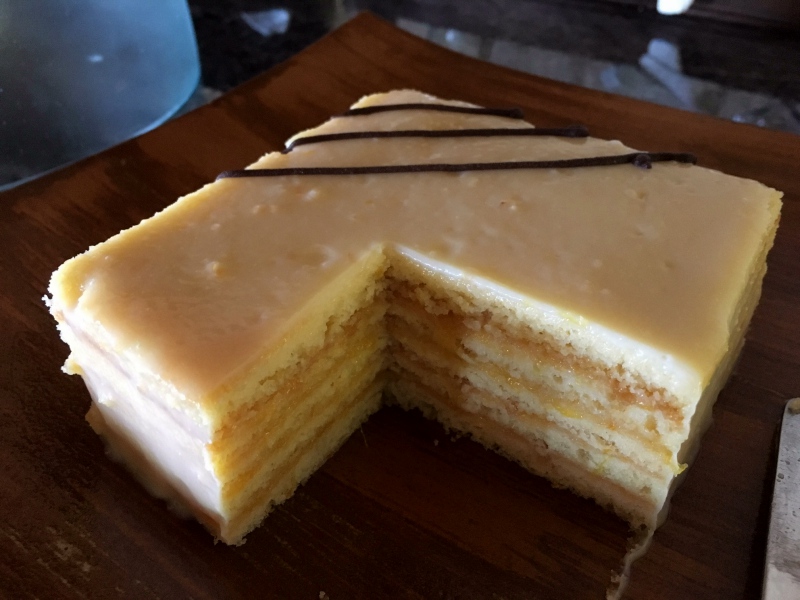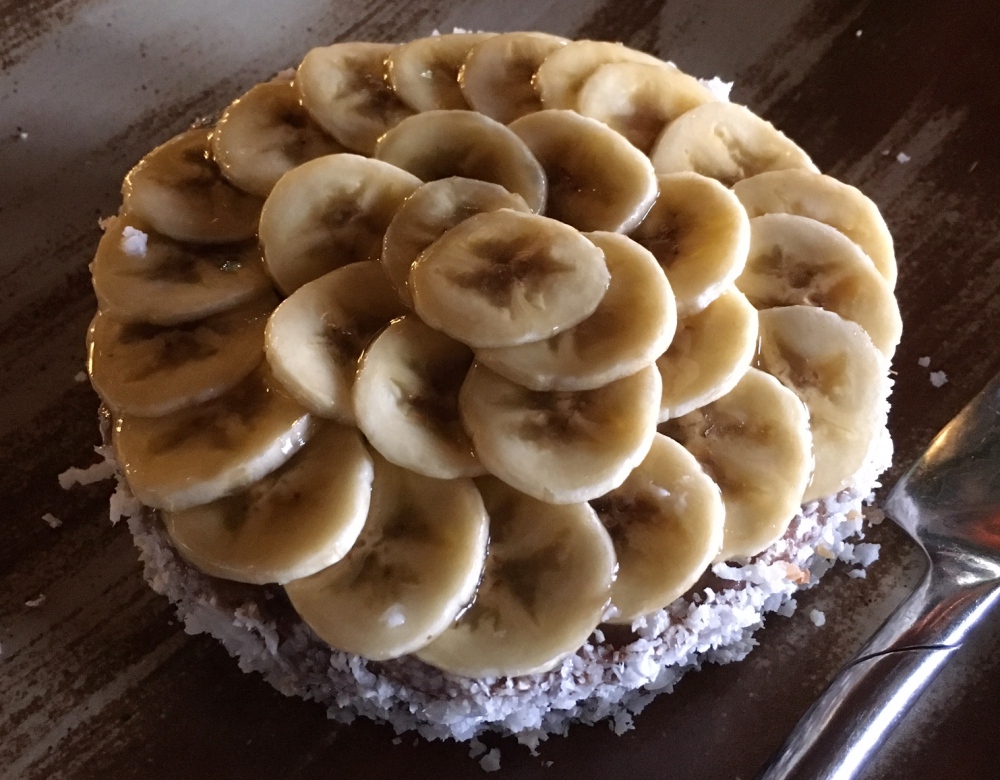 The Verdict
Laucala Island Resort is helped by the fact that although it's remote, it has extensive organic gardens that grow nearly all the fruits, vegetables and fresh herbs used in the resort's dishes, and most of the seafood is locally caught as well. Even the eggs are laid by Laucala chickens, and beef is from Laucala's own cattle.
We always enjoyed breakfast, with tasty fresh egg omelettes and pancakes, fresh squeezed juices, yogurt and muesli. For lunch, I enjoyed vegetable-driven dishes such as the tomato gazpacho and pumpkin soup, while our son really enjoyed his burger. For dinner, I found our one tasting dinner experience disappointing, particularly compared to the amazing tasting dinner we had at Cheval Blanc Randheli in the Maldives, which was a true Michelin star experience. But it's just one data point–perhaps another night it would have been better.
But by far our favorite savory food at Laucala was at Seagrass, thanks to the Thai chef, from Thailand. The crispy soft shell crab and green papaya salad was better than any I've had in NYC and Thailand, and the other spicy Thai salads were very good as well.
And the entire pastry team at Laucala deserves kudos for the delicious cake they provide each villa daily, in the afternoon, which we always looked forward to, plus other delectable creations such as the passion fruit strawberry tiramisu.
Recommended Posts
Laucala Island Resort Review of Plantation Villa
Review: Laucala Lounge, Nadi Airport, Fiji
Review: Fiji Airways Business Class A330
Best Luxury Private Island Resorts in the World
Where to Go in August: Best Luxury Travel Destinations and Where to Stay
Need Award Booking Help? Our fee is as low as $75 per ticket if you book your hotel through us.
If you enjoyed this, join 200,000+ readers: please follow TravelSort on Twitter or like us on Facebook to be alerted to new posts.
Become a TravelSort Client and Book Laucala with Virtuoso Benefits and TravelSort Perks!