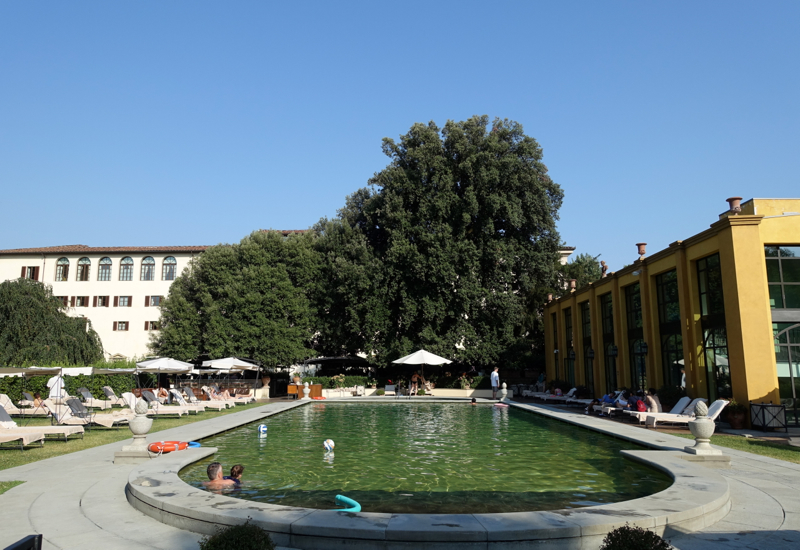 This Review of Four Seasons Firenze Hotel in Florence, Italy is part of a trip report featuring Florence, Rome, Amalfi Coast, Tuscany, Singapore Suites, Air Berlin Business Class, and luxury hotel stays, dining and activities in Berlin and Italy.
For the prior posts, please see:
Review: Air Berlin Business Class A330 JFK to Berlin
One of Europe's Best Hidden Secrets: Guess the Place
Review: Virgin Atlantic Clubhouse, New York JFK Airport
Review: Singapore Suites A380 New York JFK to Frankfurt with a Kid
Katz Orange Berlin Restaurant Review
Marzapane Rome Restaurant Review
Emma Pizzeria Rome Review: Great Pizza in Rome
Review: Pompeii with Private Tours of Pompeii
Review: Monastero Santa Rosa Hotel and Spa, Amalfi Coast
Paestum's Greek Temples: A Must See While Staying on the Amalfi Coast
Review: Ristorante Il Refettorio at Monastero Santa Rosa
Herculaneum Photo Tour: Better Preserved Than Pompeii
Review: Castello Banfi Il Borgo in Tuscany, Italy
Review: La Sala dei Grappoli and Dining at Castello Banfi Il Borgo, Tuscany
Castello Banfi Winery Tour and Wine Tasting at L'Enoteca
Review: Portrait Firenze Hotel, Florence Italy
Review: Walks Inside Florence Private Guided Tour of Florence
Review: Le Volpi e L'Uva Wine Bar, Florence Italy
Review: Irene Restaurant at Hotel Savoy, Florence Italy
TravelSort Clients enjoy Four Seasons Preferred Partner benefits at Four Seasons Firenze in Florence:
Daily full American breakfast for two people per bedroom, served through In-Room Dining or in the hotel restaurant (including buffets)
Spa credit of USD100 once during stay (not applicable to products)
Upgrade of one category, based on availability at time of check-in (excluding signature suites and villas)
Complimentary basic Internet in all guest rooms, complimentary premium Internet in all suites.
Four Seasons Firenze Location, Architecture and Check-In
Four Seasons Firenze in Florence is located off a quiet street, Borgo Pinti 99, about a 20 minute drive from Florence Airport (FLR) and a 10-20 minute walk from sights. Santa Croce is a 10-15 minute walk away, and the Uffizi Gallery a 20 minute walk from the hotel.
Despite its unassuming entrance, Four Seasons Firenze includes extensive grounds and gardens over its 11 acres, and is housed in the spectacular former Palazzo della Gherardesca, built in 1473 for Bartolomeo Scala, chancellor to the powerful Medici family, and later the residence of Cardinal Alessandro de' Medici, who eventually became Pope Leo XI.
The painstaking renovation of the Palazzo took 7 years, and the results are stunning. You enter into a beautiful courtyard atrium, anchored by a central sculpture and floral displays, with natural light streaming in and plenty of comfortable seating.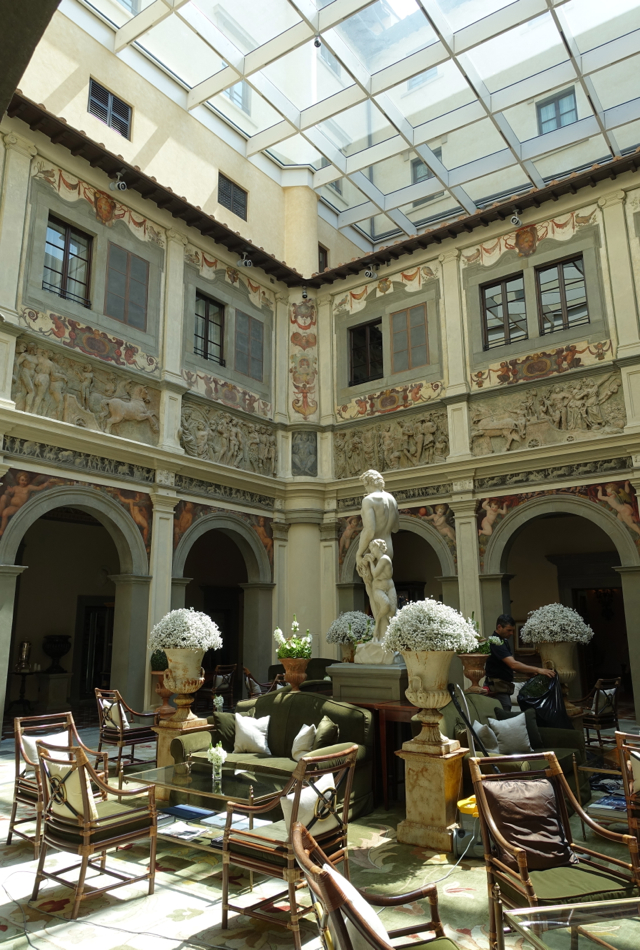 The walkways around the courtyard are in graceful arches, with ceiling decoration: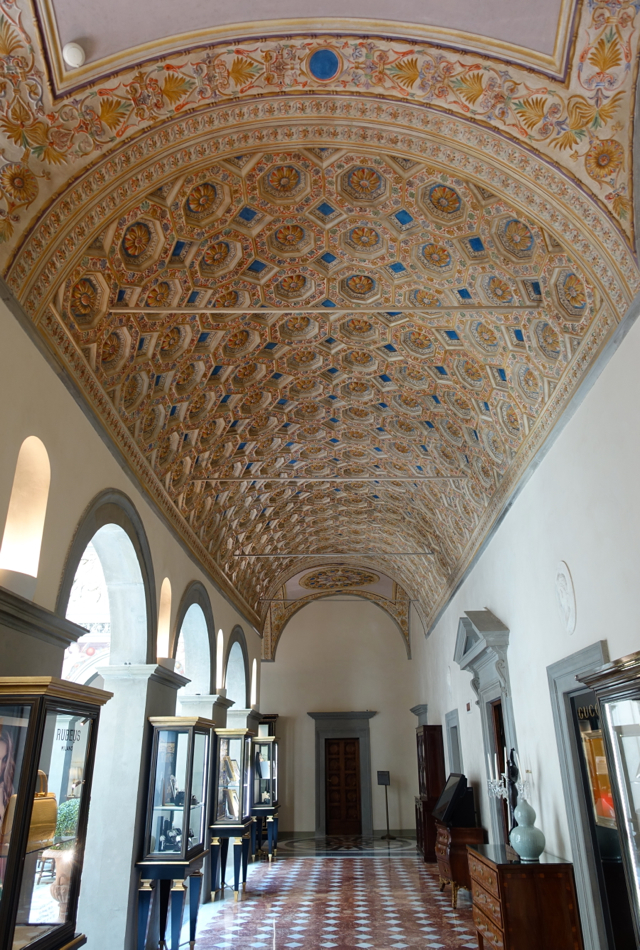 And the piece de resistance is the Palazzo Chapel, with frescos by Giovanni Stradano: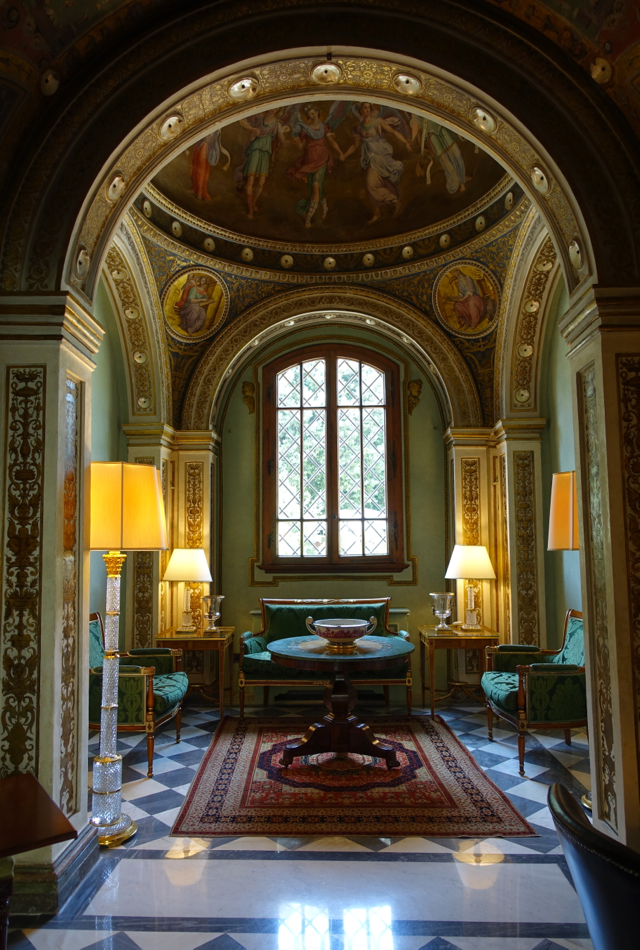 There was no wait to check in, and we were welcomed by the friendly front desk associates, who presented my son with the hotel's kids' mascot: Pinocchio, who was born in Florence. My mischievous munchkin was delighted by the gift, probably recognizing a kindred soul, given Pinocchio's many misadventures 🙂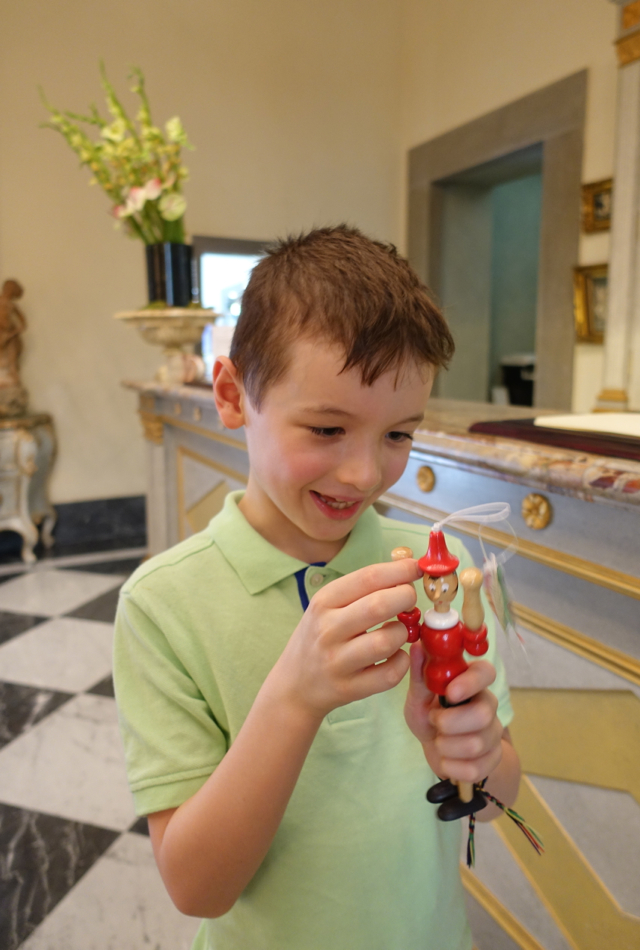 Four Seasons Firenze Junior Suite
We were generously upgraded to a Four Seasons Junior Suite, which I greatly appreciated. The layout for the twin bedded Four Seasons Junior Suite includes a bedroom separated by a door from the living room, and this allowed me to comfortably get work done in the living room after putting my son to bed, without his being disturbed by light or the sound of my typing.
Note that the King bedded Four Seasons Junior Suites have a more open plan, with the living area part of the spacious bedroom, as is more typical for Junior Suites.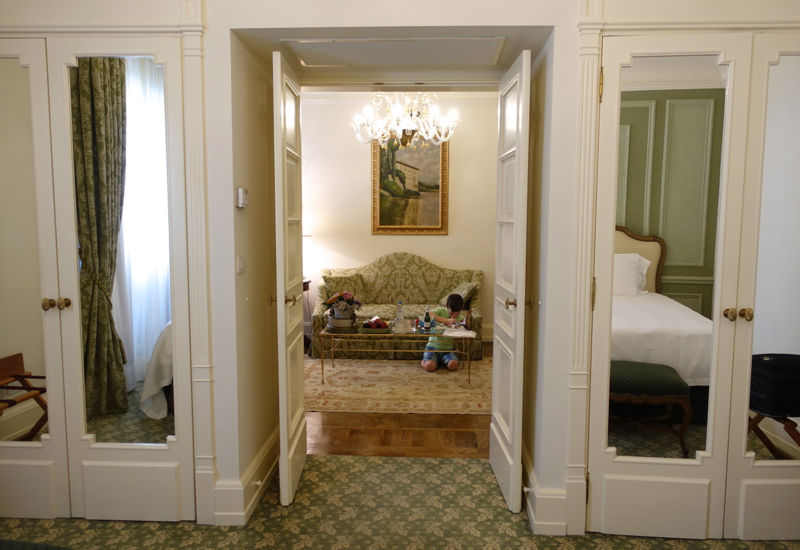 There were lovely welcome amenities waiting for us in the Junior Suite: fresh flowers and delicious fresh fruits that included cherries, nectarines and apricots–yum!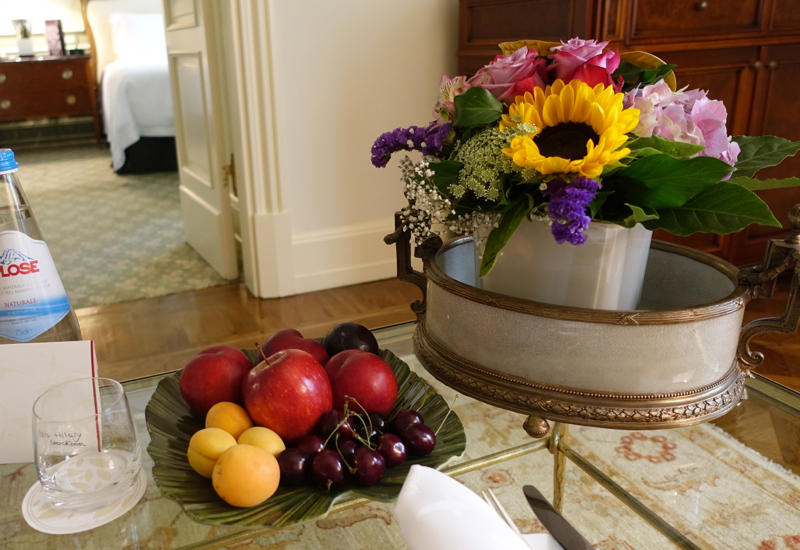 On a separate table there were even some macarons, treats from the hotel's excellent pastry team: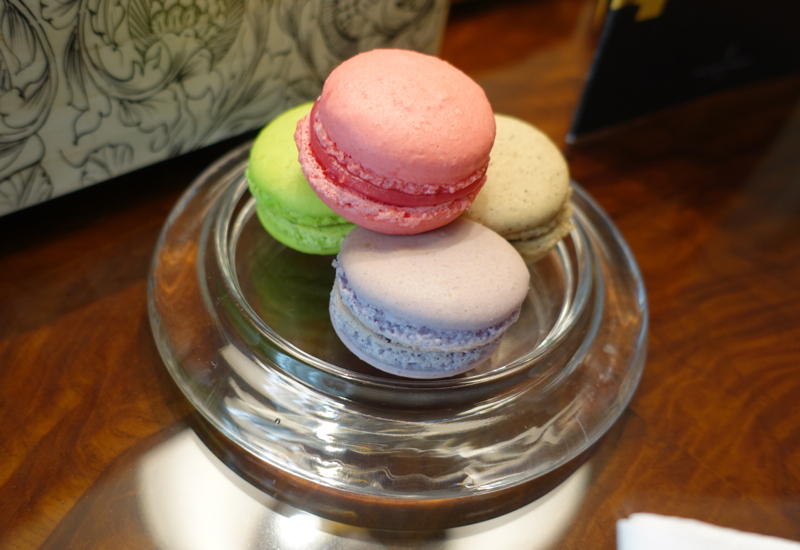 And my son was spoiled by additional kids' welcome amenities of a Four Seasons Firenze t-shirt (which got put to immediate use, since we were traveling lightly, with very few shirts for him), various candies in mini glass canisters, and a coloring book as well as mini colored pencil set with built-in sharpener.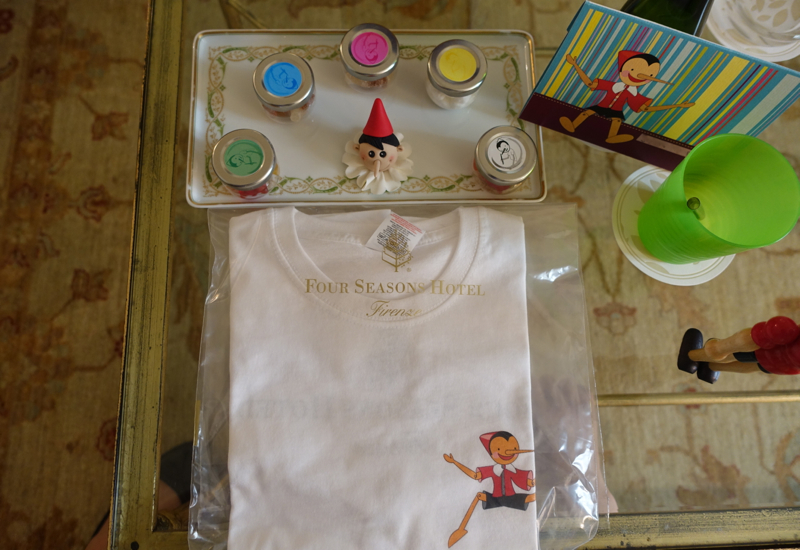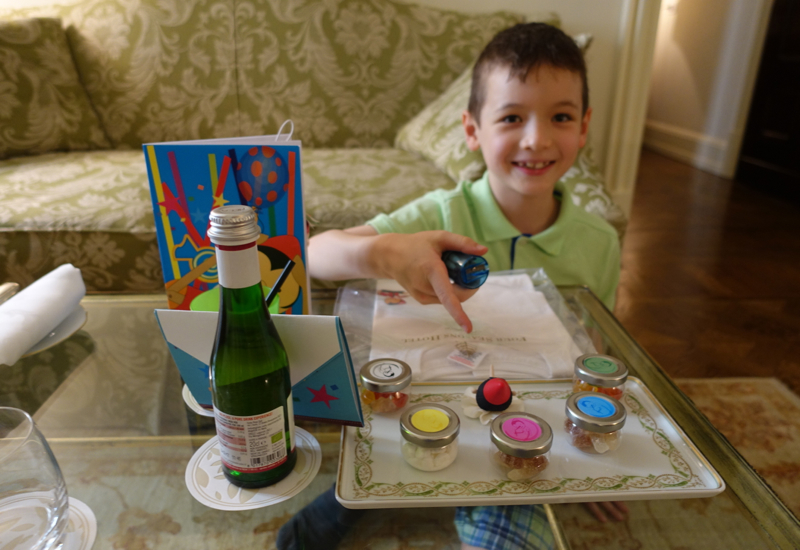 The bedroom featured two twin beds, which I'd requested for us, although as noted above, the Four Seasons Junior Suite is also available with one King bed. As always with Four Seasons beds, we slept wonderfully–as well or better than we sleep at home.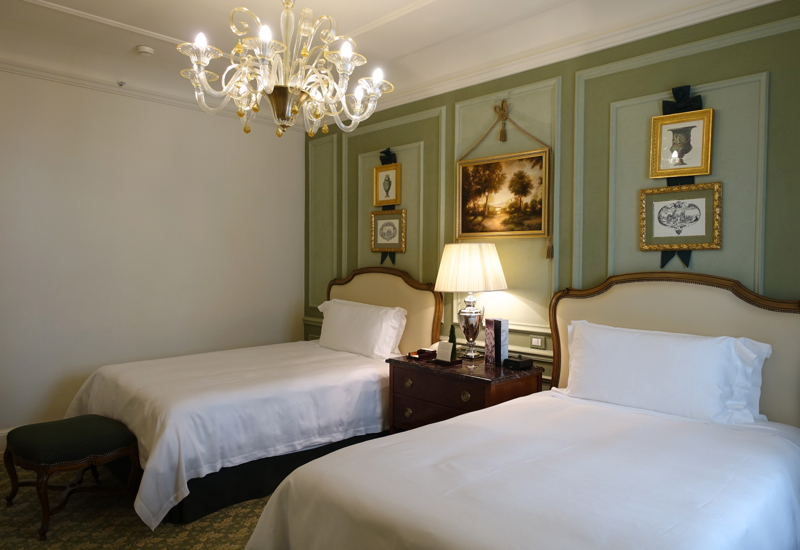 The marble bathroom was well appointed, with double sinks, something I always prefer.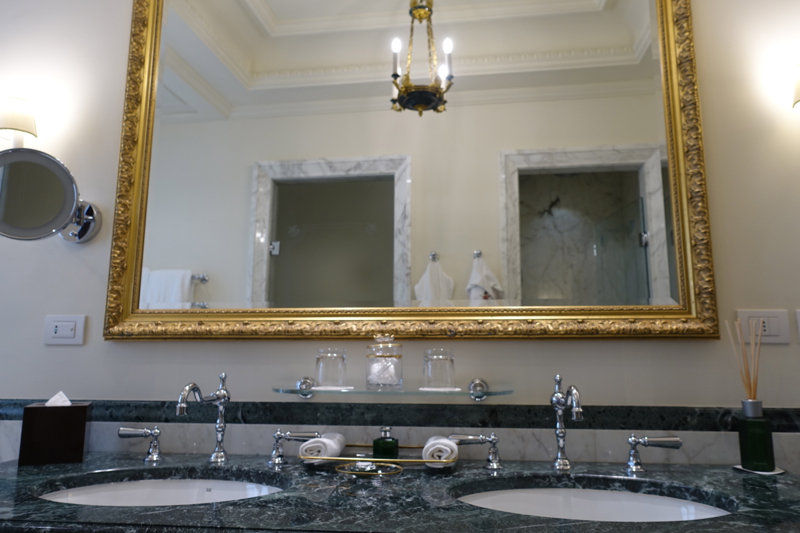 There was a deep soaking tub: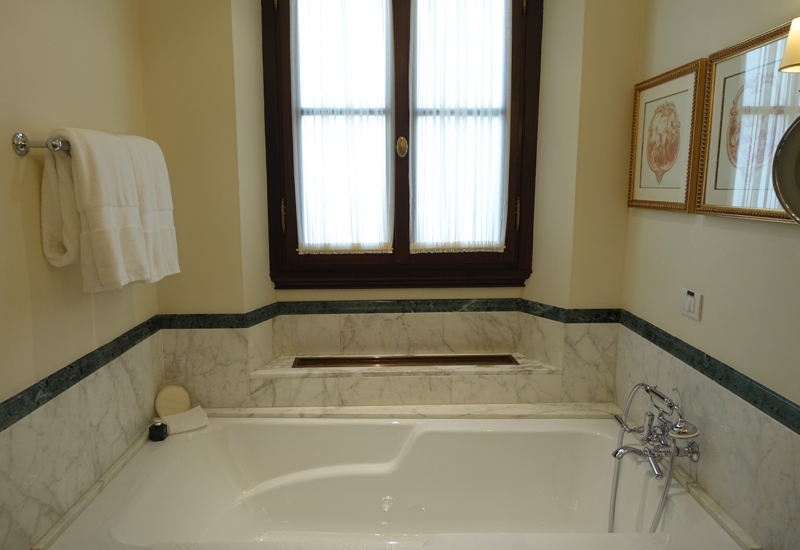 The separate glass enclosed rain shower featured Lorenzo Villoresi bath products, a great local choice since Lorenzo Villoresi is a Florence perfume master. On the right of my photo you can even see the child-size bathrobe (with Pinocchio!)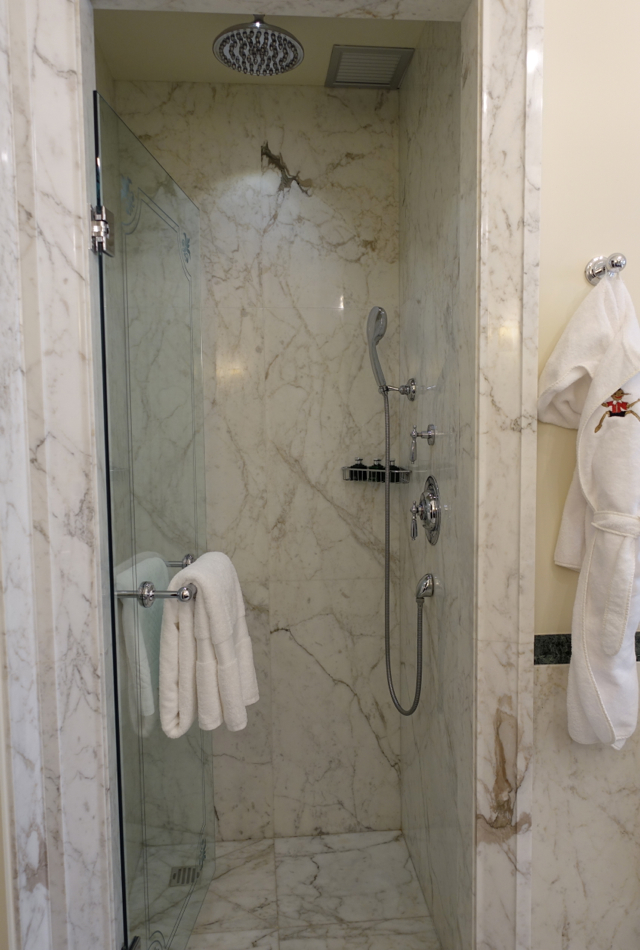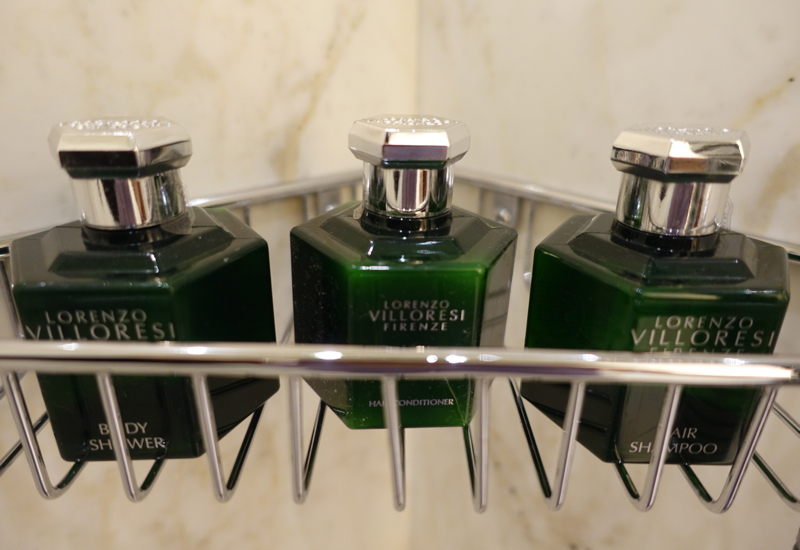 Fitness Center and Outdoor Swimming Pool
There's a well-equipped fitness center, but if you're walking around Florence as we were you'll probably feel that you're already getting plenty of exercise.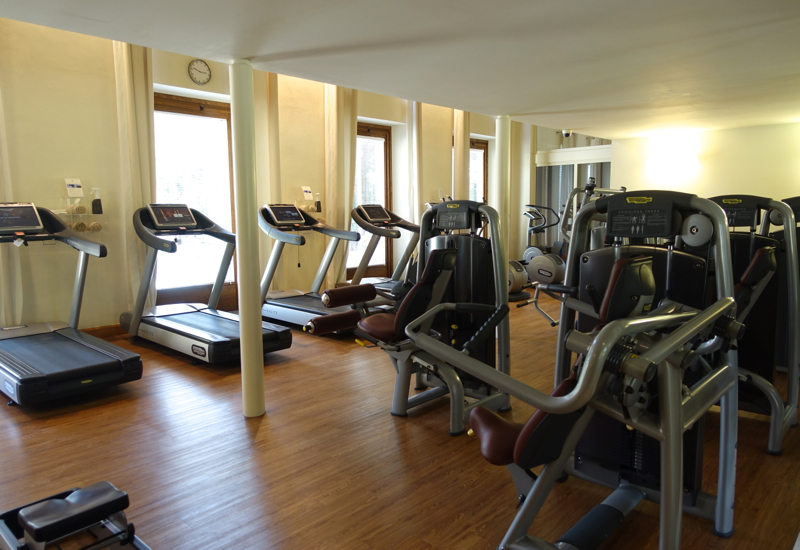 A highlight for us was the swimming pool. Florence was very warm while we were there, so it was a welcome way to cool off. There are plenty of lounge chairs and umbrellas as well, if you simply want to relax with a good drink or a good book.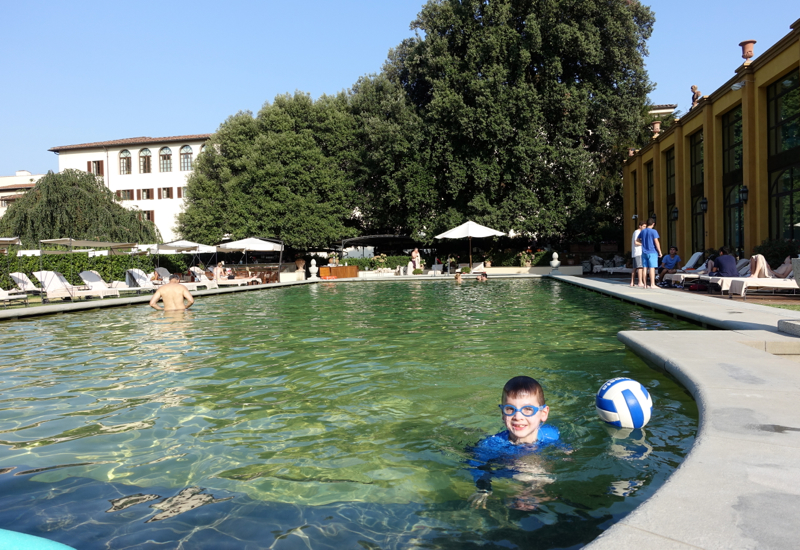 Four Seasons Firenze Complimentary Kids' Activities
Most city hotels don't offer a kids' club or kids' activities, so it was a nice surprise to find out that each day, there was some kind of complimentary activity for kids. The activities are held in the Conventino, which is often chosen by repeat guests seeking a room or suite in a smaller, more intimate setting.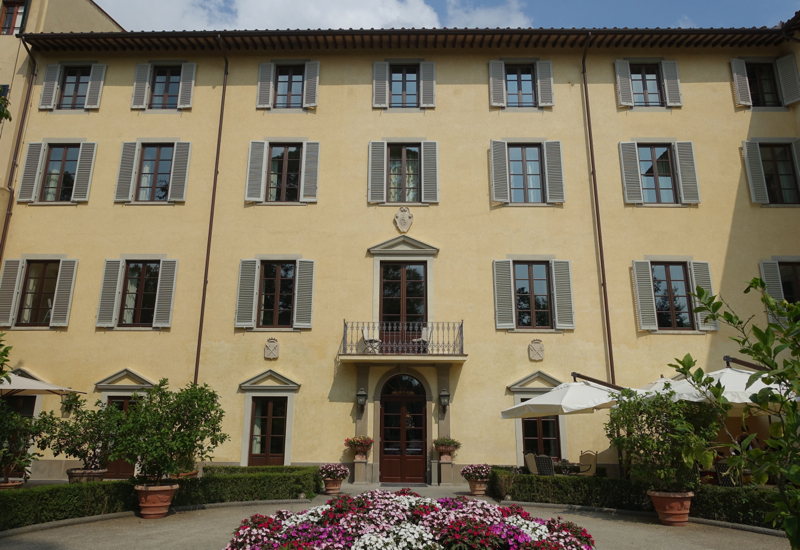 On the way there, we had a lovely view of the Duomo (cathedral):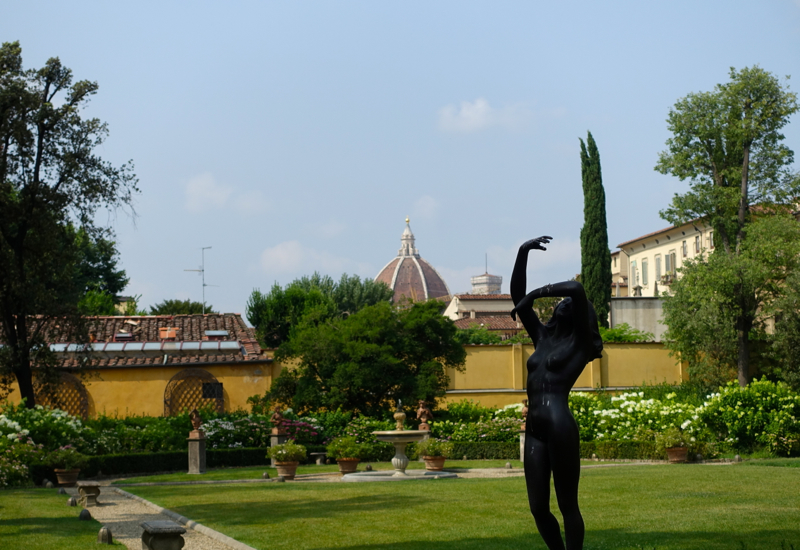 On the day we were there, it was sculpting and painting, and it turned out to be just my son and a younger boy, so plenty of individual attention.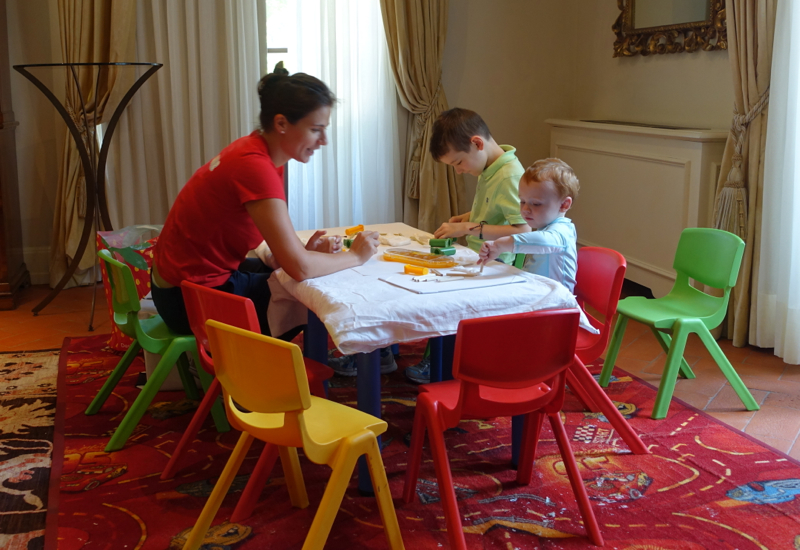 Four Seasons Firenze Breakfast and Dining
I'll cover our Four Seasons Firenze breakfast and dinner in a separate post.
The Verdict
We enjoyed the distinctly Florentine sense of place at Four Seasons Firenze, while still savoring all the creature comforts Four Seasons is known for, from the luxurious and comfortable bedding to superb yet friendly service. The extensive grounds and gardens are a lovely green oasis to return to after sightseeing, and the pool is an especially sought after amenity if visiting during the warm summer months.
I was especially impressed by how kid-friendly the hotel is, with delightful Pinocchio-themed kids' welcome amenities, bathrobes, coloring books and kids' menus, as well as complimentary kids' activities run by a warm and nurturing staff.
If you've stayed at Four Seasons Firenze, what was your experience?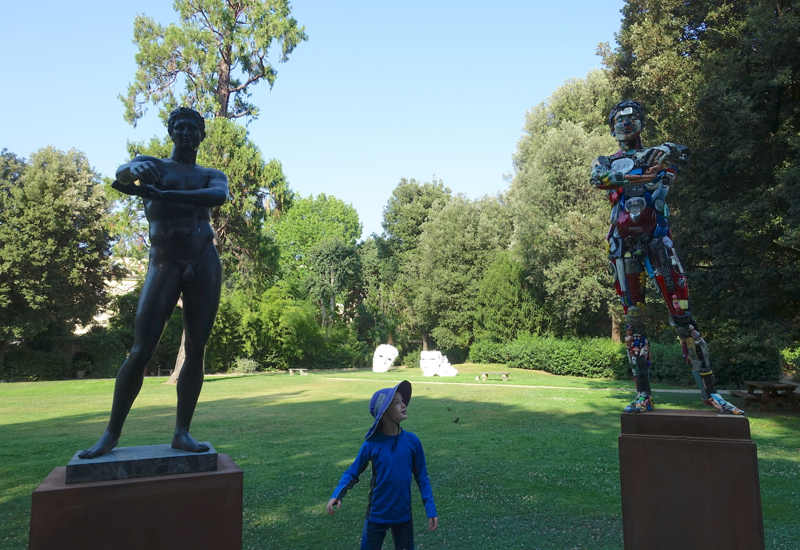 Related Posts
Review: Le Volpi e L'Uva Wine Bar, Florence Italy
Florence: Gourmet Dining and Foodie Delights
Review: Portrait Firenze Hotel, Florence Italy
Review: Walks Inside Florence Private Guided Tour of Florence
Disclosure: I enjoyed a complimentary stay at Four Seasons Firenze. The views expressed in this post are mine.
Need Award Booking Help? Our fee is as low as $75 per ticket if you book your hotel or cruise with us.
If you enjoyed this, join 200,000+ readers: please follow TravelSort on Twitter or like us on Facebook to be alerted to new posts.
Become a TravelSort Client and Book 5-star hotels with Virtuoso Perks and Four Seasons Preferred Partner Benefits