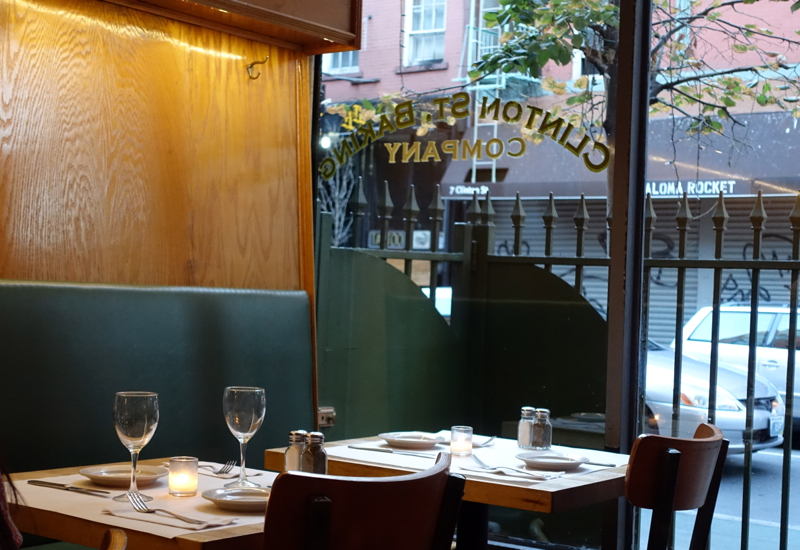 This Clinton St. Baking Company Restaurant Review is one of our many NYC Restaurant Reviews. Visiting New York? See all of our posts tagged NYC.
I've avoided Clinton St. Baking Company for years, after waiting way too long for brunch one weekend. But when a Blackboard Eats offer came along for a free order of pancakes for dinner, along with a Citi card benefit of a free beer or lemonade per person, my family and I couldn't resist.
Some people might think it weird to have pancakes for dinner–not us. Everyone in my family will happily eat pancakes at any meal–or even at 4am in the morning one time, when we all were jetlagged after returning from the Maldives.
Getting to Clinton St. Baking Company
Clinton St. Baking Company handily has part of its address in its name–it's located at 4 Clinton Street, just south of East Houston. The closest Metro stop is Delancey (J, Z, F and M trains). Otherwise, consider the M15 bus that runs uptown on 1st Ave., and downtown on 2nd Ave.
We walked over from the Delancey stop, passing Pig and Khao which is also on Clinton Street.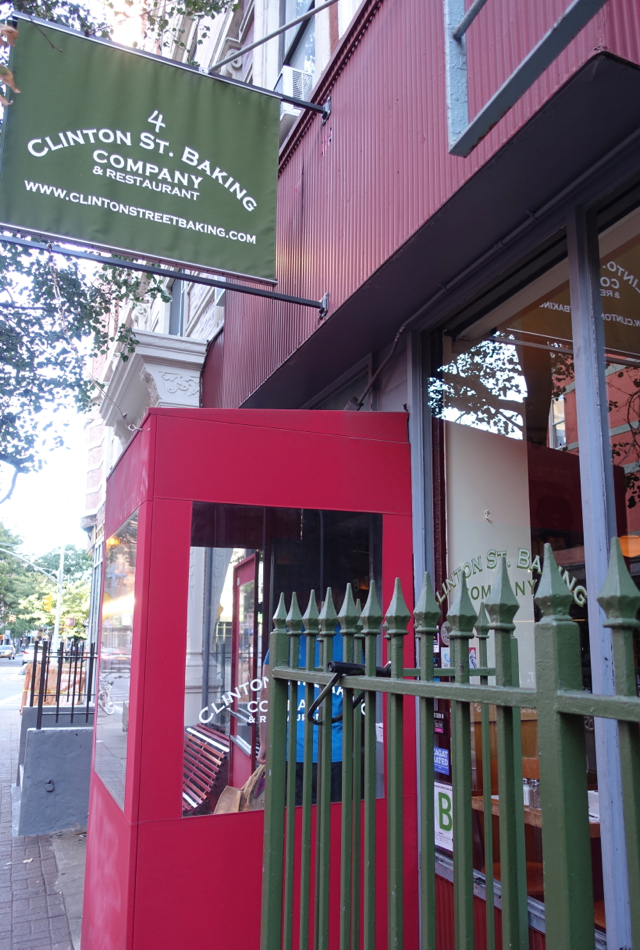 The Scene
We arrived early for dinner, around 5:45pm, but unlike most other places where we would have been the only diners at that time, there were several other tables seated–a testament to just how popular the restaurant is. Thankfully, unlike brunch, where the line can be well over an hour, there was no wait and we were seated immediately in a comfortable booth.
Other tables were mostly younger couples, with a table of friends. Ours was the only one with a kid, but the hostess and our server were both very friendly and welcoming of our son.
Clinton St. Baking Company Menu and Food
Clinton St. Baking Co. is known for its pancakes, egg dishes, and other comfort food. My son insisted on a cheeseburger as soon as he spied it on the menu, and my husband was happy to see fried chicken, so ordering was easy. Since we'd be enjoying free pancakes, I decided to share their dishes so as to not over order.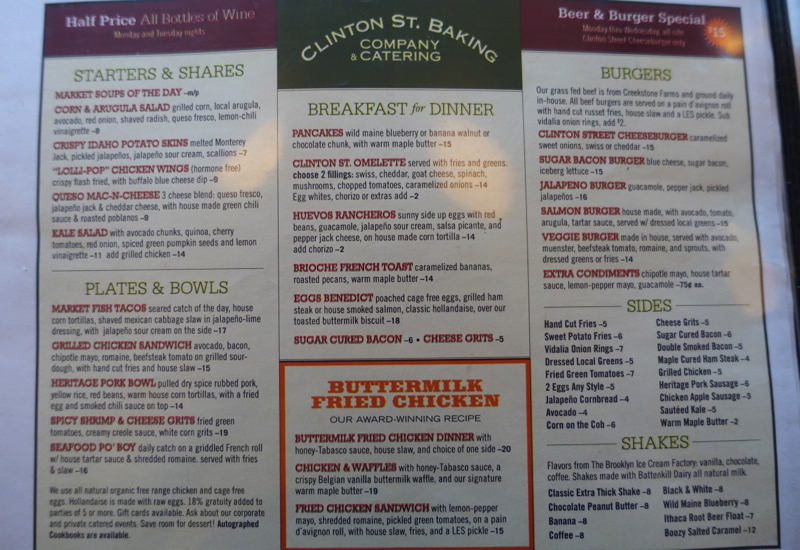 Soon after we ordered, our server brought us a plate of warm biscuits. They were delicious, and so buttery that the packets of butter were superfluous. Even some high end restaurants don't warm their bread, yet I find it makes such a difference, and is pretty much a must for biscuits.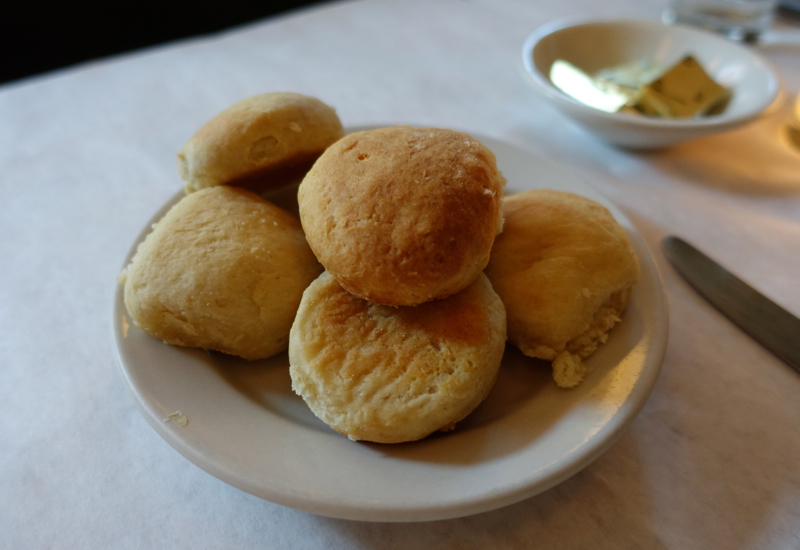 Thanks to our Citi cards we received a complimentary beer or lemonade each. Supposedly my son doesn't like lemonade, but since the seasonal flavor was watermelon lemonade and watermelon is one of his favorite fruits, he loved his.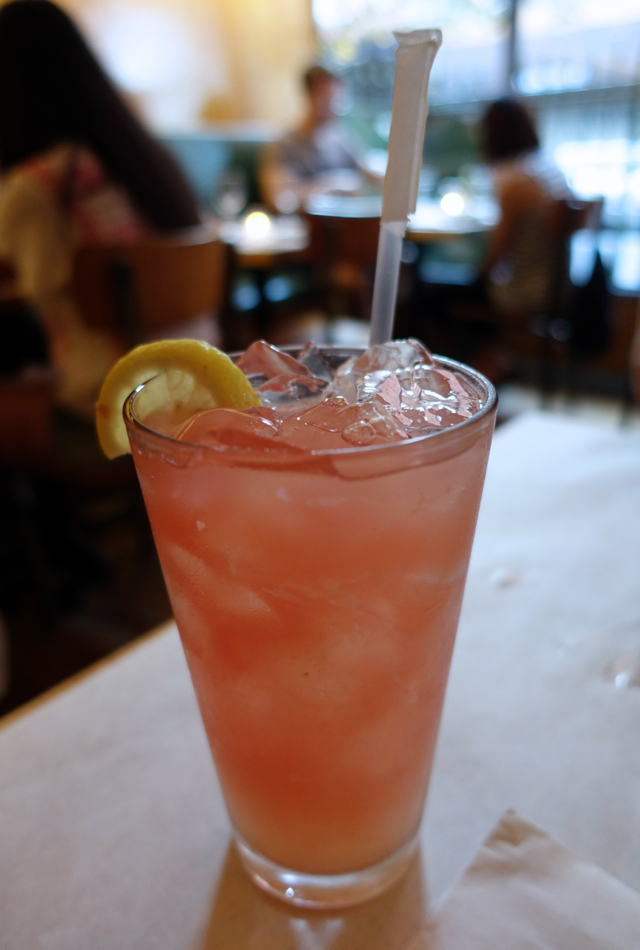 It took a bit longer than expected for our meals, but the wait was worth it. The cheeseburger, made from grass fed beef, had great flavor to it, and was cooked medium, exactly as requested. We'd asked to substitute a green salad for the fries, which was no problem, and it came without dressing (which our son doesn't care for), just as we'd asked for.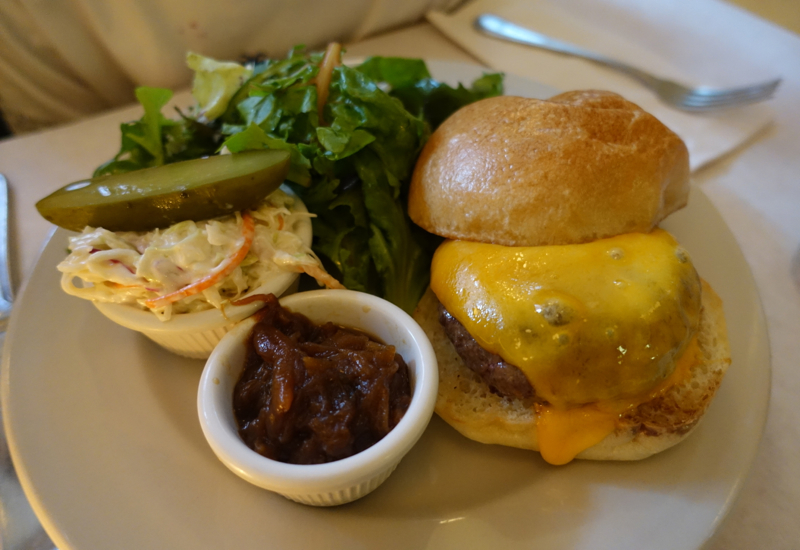 My husband's fried chicken was fantastic–I highly recommend ordering this. The honey-tabasco dipping sauce gave it a nice kick, and the side dishes of corn bread and sauteed kale were excellent as well. I'm not a coleslaw fan, but my husband seemed to enjoy the slaw.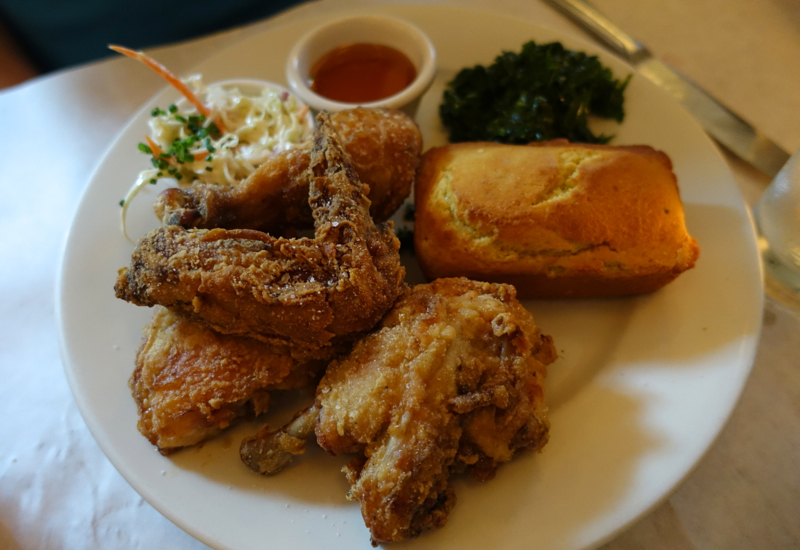 For our free pancakes, we chose the wild Maine blueberry. Years ago I remember not being that impressed with the pancakes, but the incredibly long wait may have had something to do with that. The stack of three pancakes had plenty of blueberries in the pancakes themselves, along with a topping of blueberry compote and a side of maple butter to pour over them. I won't say they're the absolute best blueberry pancakes I've ever had, but they were very good.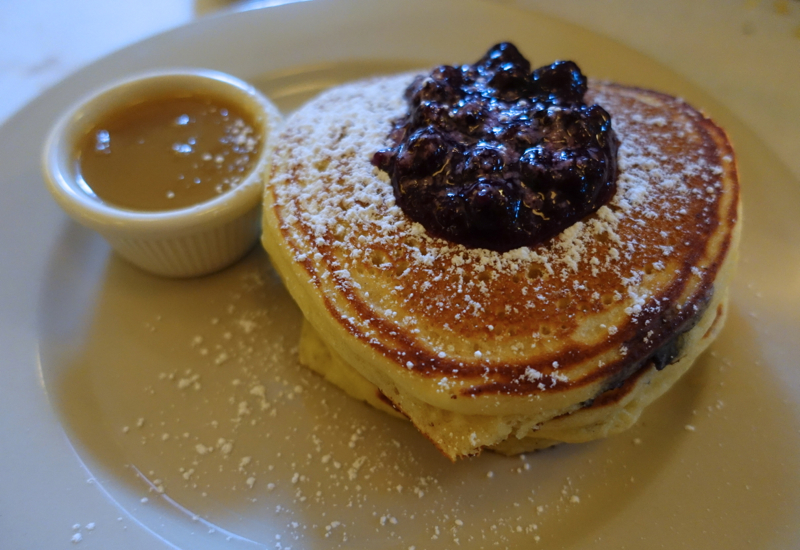 The Verdict
The Lower East Side is a bit of a pain to get to unless you're already in the area, but Clinton Street Bakery, along with Somtum Der, are convincing us to make the trek more often, at least for dinner. While in general I dislike restaurants that don't take reservations, there was no wait for our early dinner at Clinton Street Baking Co. so that seems a good way to visit. The comfort food was high quality and freshly made, service was friendly, and the price for the quality (even without a free pancakes deal) is reasonable.
If you've been to Clinton St. Baking Company, what was your experience?
Related Posts
Pig and Khao NYC Restaurant Review
Cafe Katja NYC Restaurant Review
Somtum Der NYC Review and Menu
Need Award Booking Help? Our fee is as low as $75 per ticket if you book your hotel through us.
If you enjoyed this, join 200,000+ readers: please follow TravelSort on Twitter or like us on Facebook to be alerted to new posts.
Become a TravelSort Client and Book 5-Star Hotels with Virtuoso or Four Seasons Preferred VIP Amenities!