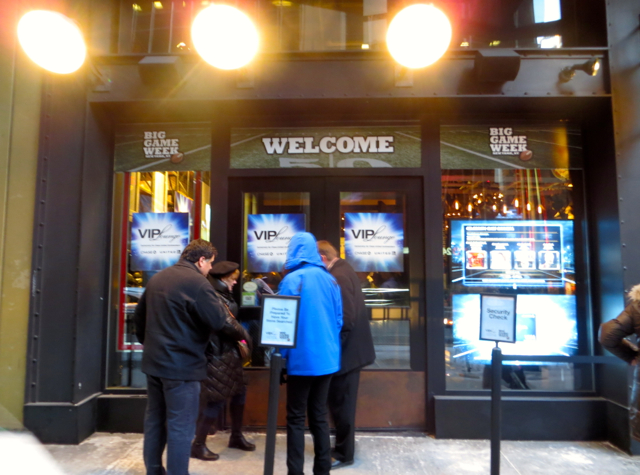 Chase's VIP Lounge in NYC for United credit card holders is open now for Super Bowl Week at Guy's American Kitchen, 220 44th Street between 7th and 8th Avenues.
I recently had a chance to check it out, with the munchkin in tow, and was pleasantly surprised. Perhaps it helps to have low expectations–I avoid the Times Square area and Theater District for any kind of dining (most of the dining venues are at best mediocre, and overpriced for what they offer), and Guy's American Kitchen gets pretty abysmal reviews on Yelp. So let's just say, far from expecting any culinary delights, I was just hoping there would be something edible that wouldn't give me food poisoning.
We took the subway to Times Square 42nd Street and exited on 44th Street, then walked less than a block to the Chase VIP Lounge. There was no chance of missing it, with folks decked out in Chase blue checking IDs and United credit cards. Fortunately, there was no wait at all.
Once inside, we were presented with guest badges, a green wrist band, and 3 drink tickets for alcoholic drinks (juices and soft drinks are unlimited and complimentary). We were also given a very weather appropriate gift, a black plush bag containing black gloves, hat and scarf. I think these will come in handy, given where the munchkin and I just flew to, not to mention back home in wintery NYC.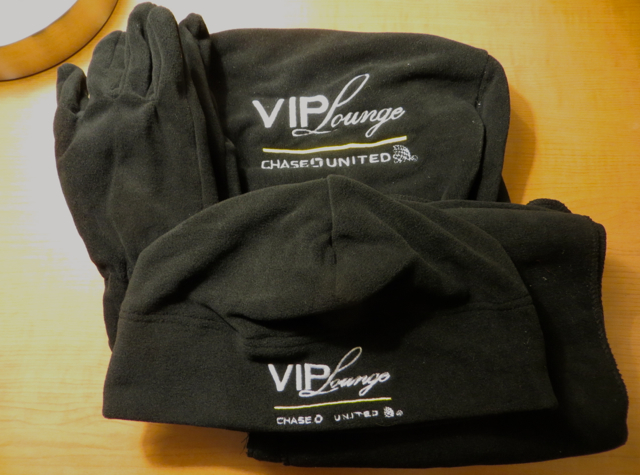 Given that it was 4pm in the afternoon on a weekday, I was surprised at just how crowded the Chase VIP Lounge was–I found a bar seat, then quickly realized that I couldn't seat the munchkin there. Instead, we were lucky enough to find an open table, but in general there were very few open seats when we went. And the munchkin was far from the only kid–there were several other family groups with kids. The decor is better than your typical sports bar, which makes sense since it is supposed to be the signature restaurant for celebrity chef Guy Fieri.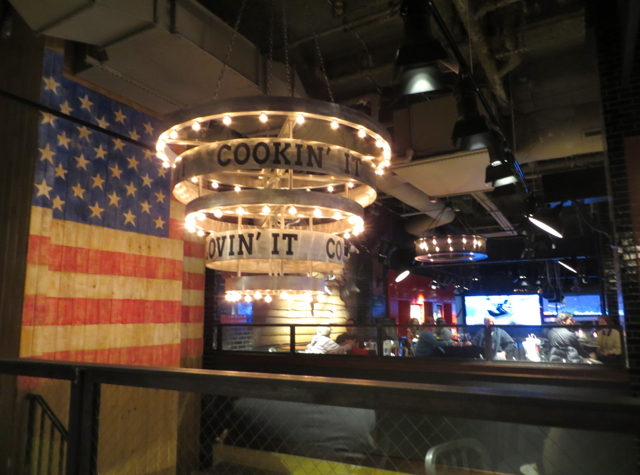 Near us was a large table with fresh fruit (apples, oranges and bananas):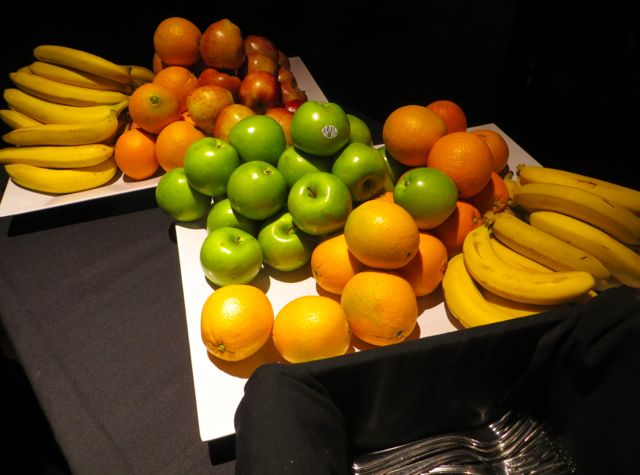 And also some little desserts, although they didn't look like anything special.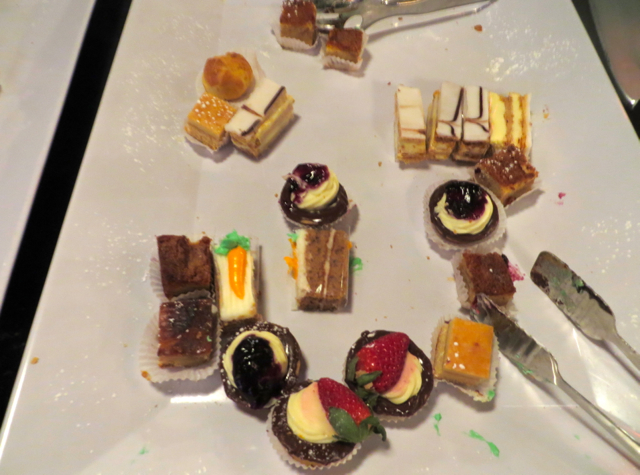 At first I thought this was all there was, but then one of the servers stopped by some nearby tables and ours, offering chicken sundried tomato sandwiches, which the munchkin and I both tried. Simple but good (it helped that we were hungry). I was also able to exchange one of my drink tickets for a glass of red wine, and it was a very generous pour, and drinkable.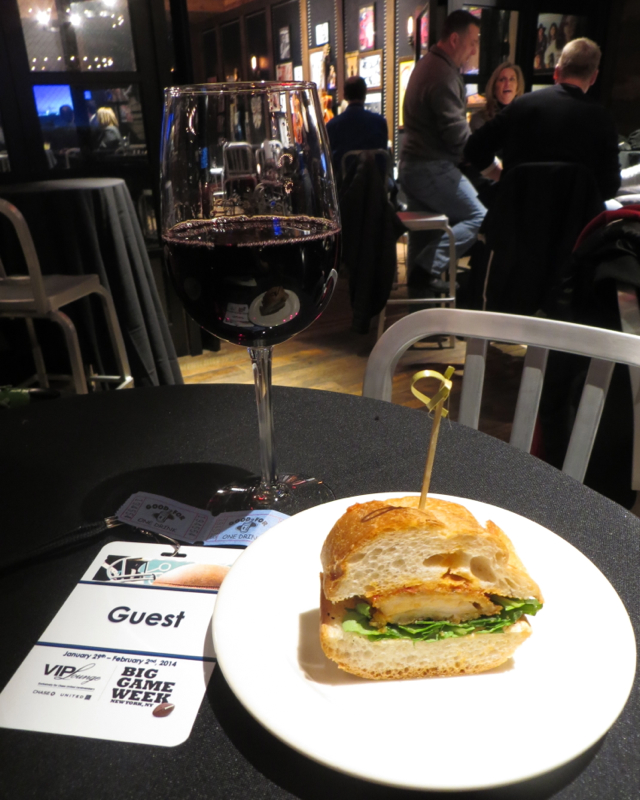 It did take quite awhile to get the two pineapple juices we ordered, and I was beginning to think the server had forgotten about them, but they were generously sized when they did appear:
A neighboring table appeared to have macaroni and cheese, so I walked around until I finally found the food buffet on the other side of the bar.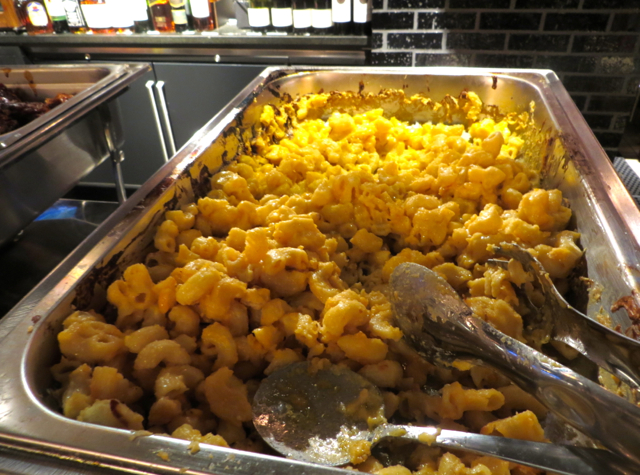 In addition to the macaroni and cheese, there were some spicy chicken wings that made the munchkin wince, but which I thought were quite tasty.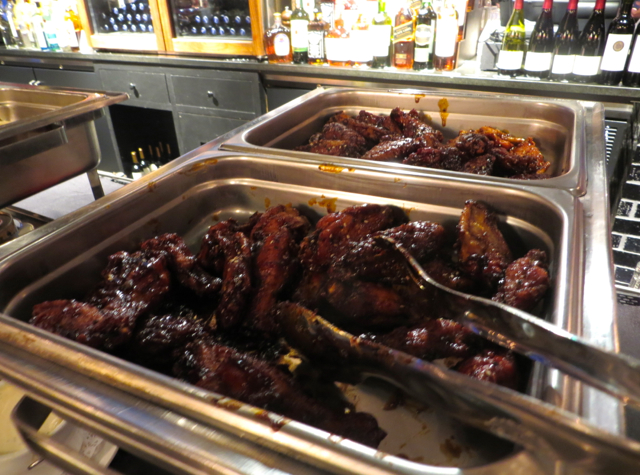 There were also some average looking spring rolls and snacks, as well as some salad and mixed nuts.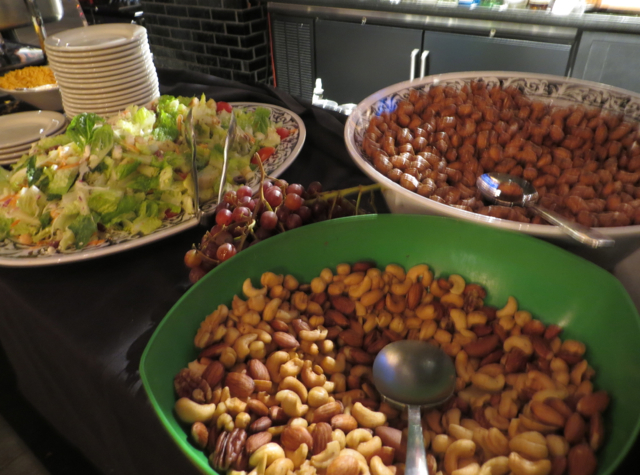 Given how chilly NYC still is, it was a good idea to offer tea, coffee and hot chocolate. We tried the hot chocolate on our way out, and while of course not hot chocolate the way City Bakery makes it, it was pretty decent.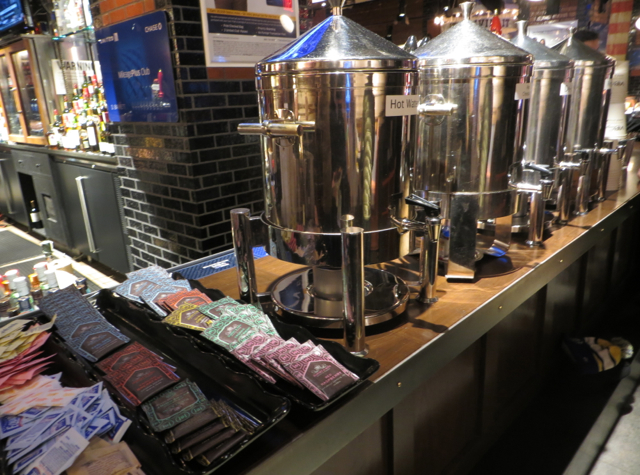 A cheery Chase employee came by with a survey, with questions about our lounge experience, including what we'd like to see in the future.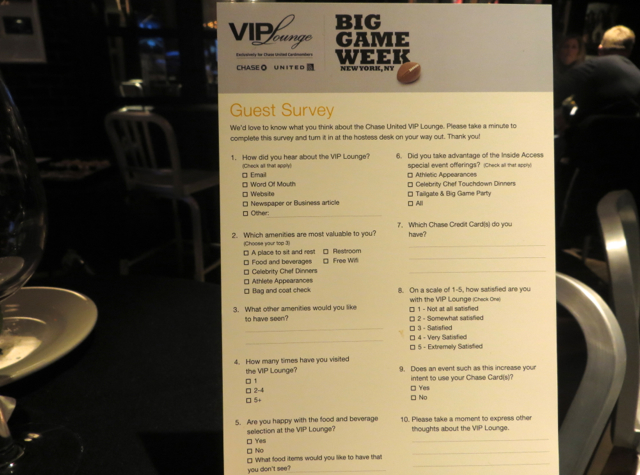 The Verdict: The Chase VIP Lounge for United credit card holders, open through this Saturday (Sunday is only for those with paid tickets), was better than I though it would be, given my low expectations. It was better than pretty much all of the U.S. domestic lounges I've visited in terms of the food offerings, as well as service quality, which I didn't necessarily expect from the restaurant's reviews and Times Square location. And if you're in NYC with a United credit card and need a hat, gloves or scarf–the Chase VIP Lounge can help with that too 🙂
Has anyone else checked out the Chase VIP Lounge for Super Bowl Week?
Related Posts
Chase VIP Lounge in NYC for United credit card holders for Super Bowl Week
How to Get Access to United Club Airport Lounges
United MileagePlus Business card 50,000 bonus offer
United Award Chart Devaluation
How to Fly Lufthansa First Class with Pre-Devaluation United Miles
Need Award Booking Help? Our fee is as low as $75 per ticket if you book your hotel through us.
If you enjoyed this, join 90,000+ readers: please follow TravelSort on Twitter or like us on Facebook to be alerted to new posts.
Become a TravelSort Client and Book Your Hotel with Virtuoso or Four Seasons Preferred VIP Amenities!