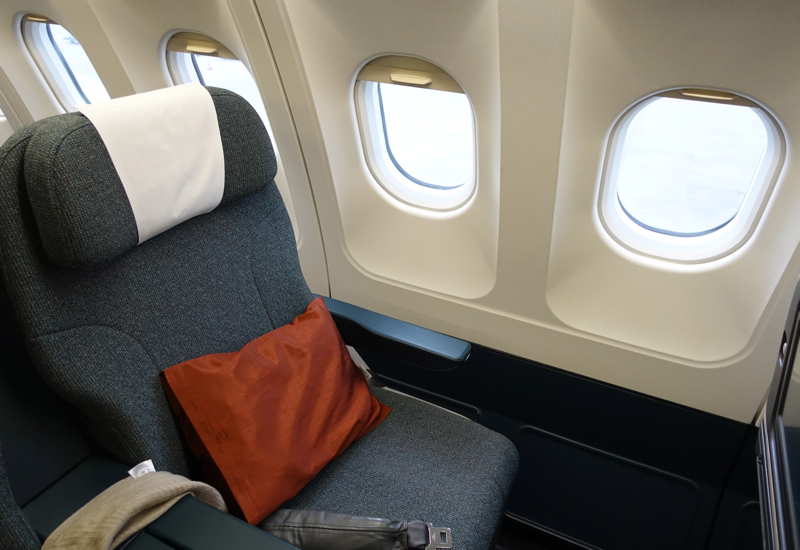 This Cathay Pacific New Regional Business Class Review is part of a trip report including Qantas First Class, British Airways Business Class, Japan Airlines Business Class, and luxury hotels and dining in London, Dubai, and Hong Kong.
For the previous posts, please see:
Review: British Airways Concorde Room Lounge NYC JFK Terminal 7
Review: British Airways Business Class on the 747-400 JFK-LHR
Best Seats in British Airways New First Class 747-400
Review: British Airways Arrivals Lounge in LHR and Heathrow Express to London
Launceston Place London Restaurant Review
London Tips: British Museum with Kids
Review: Rivea at Bulgari London Hotel
Review: British Airways First Class Lounge London Heathrow Terminal 3
Qantas First Class A380 Review London to Dubai
Review: Atmosphere Lounge at the Burj Khalifa Dubai
Armani Hotel Dubai Photos and Virtuoso Client Review
Dubai Fountain by Burj Khalifa Photos and Video
Review: British Airways Galleries Lounge in Dubai (DXB)
Cathay Pacific Business Class Review A330-300
Review: Lung King Heen at Four Seasons Hong Kong
Review: The Upper House Hong Kong
Review: Cafe Gray Deluxe at The Upper House
Amanpulo Menus and Restaurant Review
Amanpulo Activities: Top 7 Things to Do
We were both pretty tired and groggy by the time we boarded our late night Cathay Pacific flight from Hong Kong to Tokyo. Fortunately we'd gotten a little nap in the Plaza Premium Lounge Sleeping Room I'd reserved, which is one of the few true sleep rooms in Hong Kong Airport. I knew that the flight would be Cathay's New Regional Business Class, which has angled seats, but I certainly wished we could have had instead Cathay Pacific New Business Class on the 777-300ER, which we'd flown from Dubai to Hong Kong, with its fully flat bed seats. It's even on the much shorter Hong Kong – Manila flight, but unfortunately not the twice as long Hong Kong-Tokyo route we were on.
Cathay Pacific New Regional Business Class Seat Selection on the Boeing 777-300
The Cathay Pacific New Regional Business Class cabin on the 777-300 has 42 seats in a 2 -3 -2 configuration. As a couple, you'll probably want window and aisle seats on either side of the aircraft, for example 15A / 15C or 15H / 15K. That said, if you both want direct aisle access, you'd need to take aisle seats across from each other, for example 14C and 14D.
While the seats in the front of the cabin, 12A / 12C, 11D / 11E / 11G, and 12H / 12K do have more legroom, they are also close to the lavatory (directly in front of 12A / 12C) and the galley, so I'd personally avoid the first couple rows for that reason. We were in 16A and 16C, which suited us fine.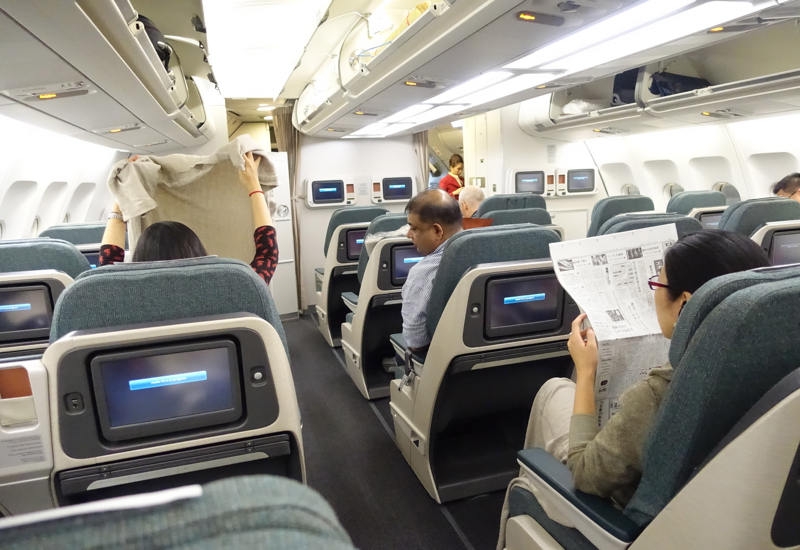 Cathay Pacific New Regional Business Class Seat
Unlike Singapore Airlines' Regional Business Class on the A330-300, with angle flat seats that offers seat pitch of 60 inches and 172 degrees of recline, Cathay Pacific's New Regional Business Class marginally improves on its older regional business class recliner seat, with seat pitch of 47 inches, up from 45 inches on the old product. Seat width is 21 inches vs. 20 inches on the old regional product, but still far short of Singapore's 24.5 inches on the A330-300.
While Cathay in its original 2012 press release touted the "ergonomically designed seat" with "passenger comfort…further enhanced by a six-way movement headrest and an extended legrest" I certainly would have preferred if we could have kept sleeping on the simple (but completely flat) beds in the Plaza Premium Lounge in Hong Kong Airport…although of course that wouldn't have gotten us to Tokyo. On day flights under 5 hours, these seats should be no problem. But in my view, any late night flight such as this one really ought to have Cathay's longhaul reverse herringbone business class with flat bed seats.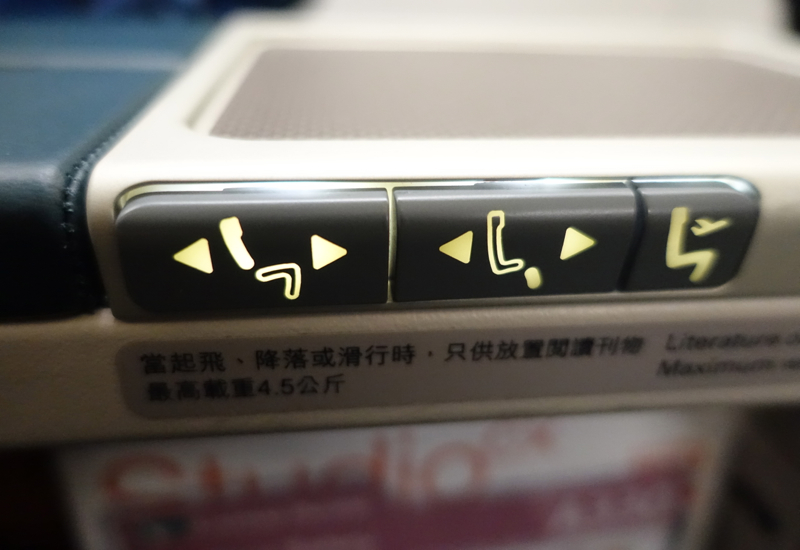 Apart from the shortfalls of the recliner seat, limited width and lack of direct aisle access, storage above the seat in the overhead bins is fine, and during the flight there's space by your feet to keep a bag. There's also in-seat power to keep your devices charged. I personally didn't see anyone actually using the little storage space for mobile phone, but it is more prominent at least, so you're less likely to forget a device using that space, than other enclosed ones.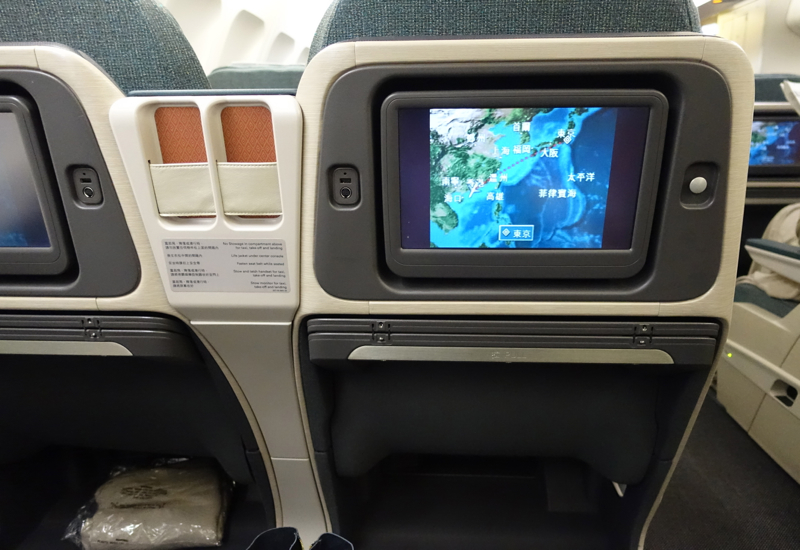 Cathay Pacific New Regional Business Class Menu and Food
Prior to take-off, we were offered a pre-flight drink choice of champagne, juice or water: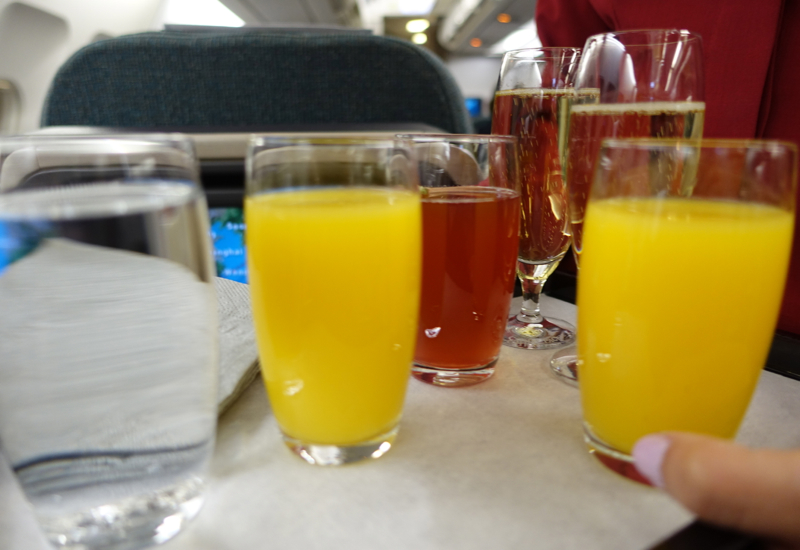 And also a hot towel:
Since the seat just wasn't comfortable for sleeping, I figured I might as well have the meal, even though in my view Cathay Pacific doesn't have very good catering. If anything, Western options are usually better than the Chinese ones, although on this flight the dinner menu only offered Asian options for the main course: Chinese or Japanese.
The salad was probably the best part of the meal, since the seared tuna, while cold, seemed nice and fresh: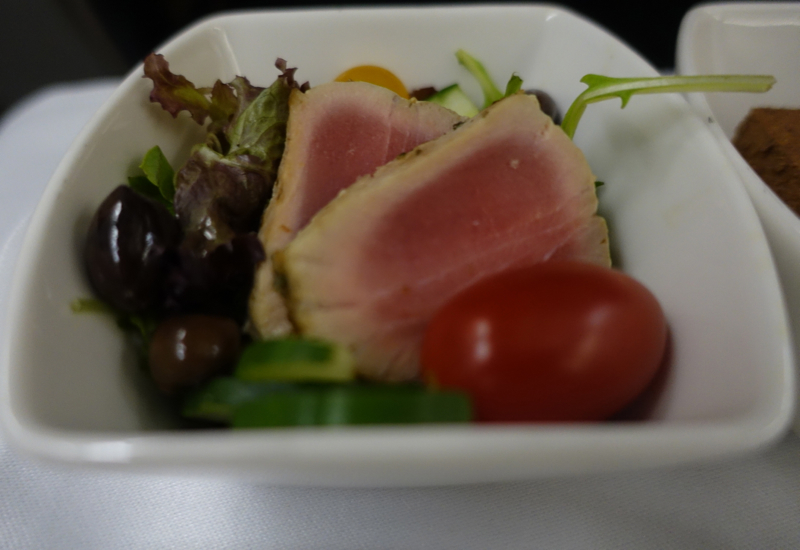 The wok fried prawns were a bit mushy, to be expected with reheated airplane food, but the kailan (a Chinese green vegetable) was cooked perfectly, and retained some nice crispness.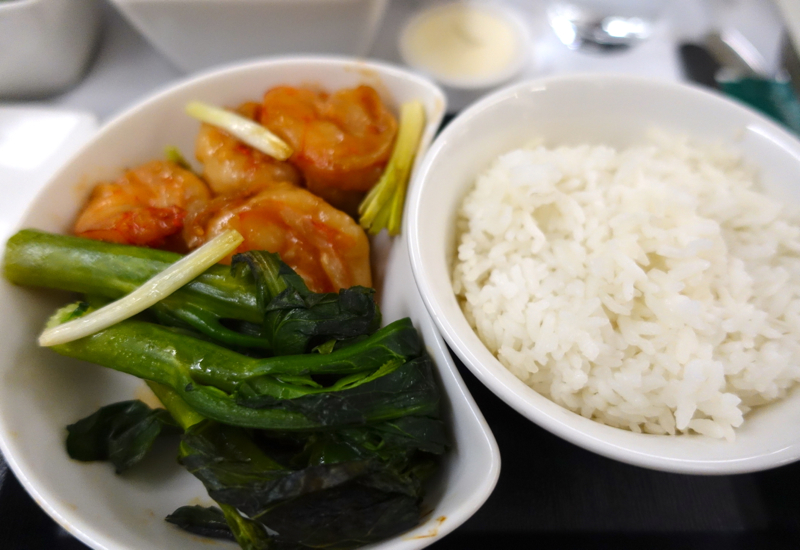 As usual, the dessert of chocolate caramel mousse cake wasn't memorable, and until I looked at my photos I couldn't even remember what it was (whereas given my sweet tooth, I can easily remember memorable desserts from 20 years ago).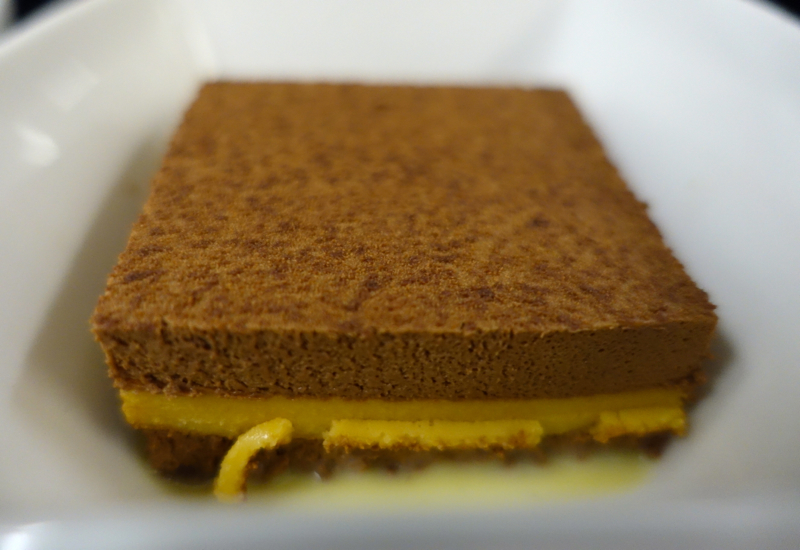 Pralines were offered from a candy box, but I gave them a miss–it's not like these were Amedei chocolates, as were served on our Qantas First Class flight.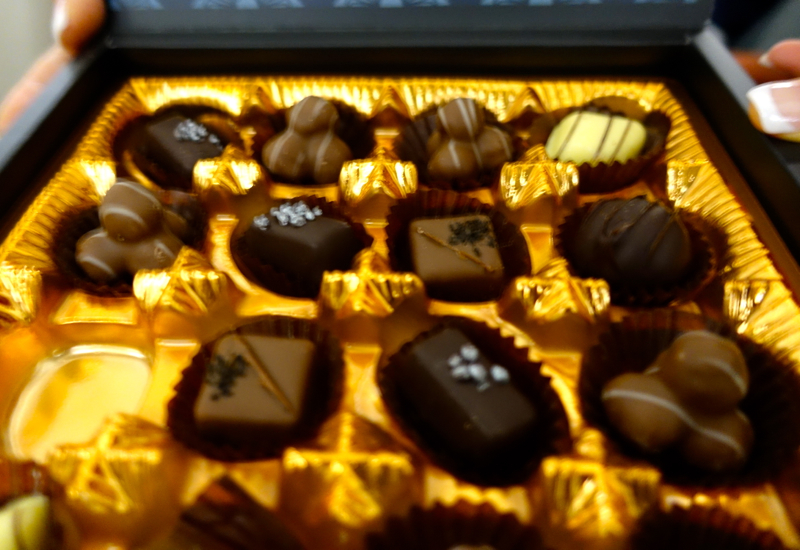 Cathay Pacific New Regional Business Class Angled Seat and Sleep Quality
As I've noted above, these cradle sleeps are really not good for sleeping, unless you're the type of person who can sleep anywhere (which is enviable). The fully reclined position is nowhere near the recline, of, say, the old Continental seats on the 767-400 EWR-HNL flight (now replaced by United First fully flat bed seats–see United First Class Review Hawaii to NYC).
I will say that my son managed to sleep on this flight in spite of the seats, but he was tired enough at that point to sleep pretty much anywhere.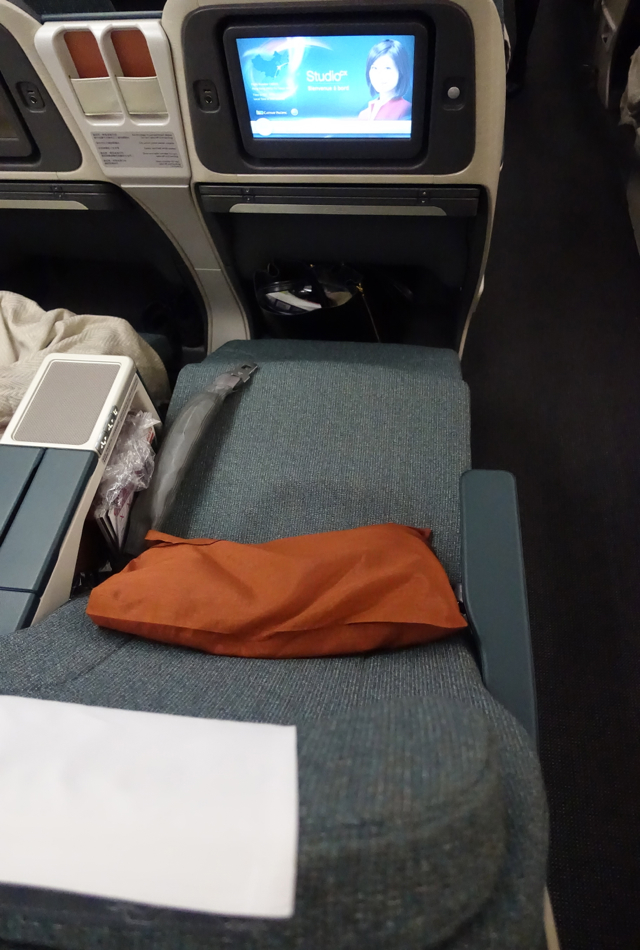 The Verdict
Avoid Cathay Pacific New Regional Business Class (and even more so its old Regional Business Class) if you want to sleep. For daytime flights, it's fine, although not competitive with the space, food and service offered by Singapore Airlines' regional business class seats.
Related Posts
Cathay Pacific Business Class Review 777-300ER NYC to Hong Kong
Review: Cathay Pacific The Wing Business Class Lounge
Sleeping at Hong Kong Airport: Which Lounges?
Best Business Class Airline Seats for Couples
Need Award Booking Help? Our fee is as low as $75 per ticket if you book your hotel through us.
If you enjoyed this, join 150,000+ readers: please follow TravelSort on Twitter or like us on Facebook to be alerted to new posts.
Become a TravelSort Client and Book Luxury Hotels with Virtuoso Amenities and Preferred Partner Amenities!