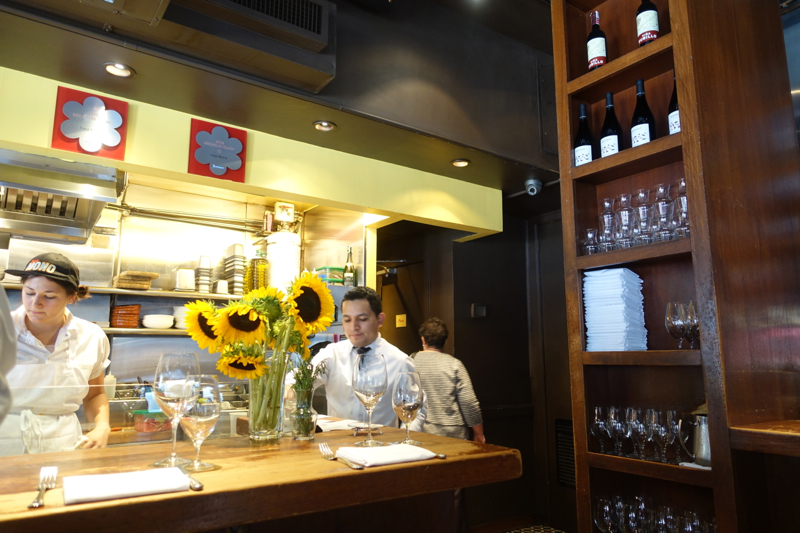 This Casa Mono New York Review is from our recent NYC Restaurant Week visit, although we also ordered items from Casa Mono's regular tapas menu. I've been wanting to try Casa Mono ever since tasting Head Chef Anthony Sasso's cuisine at a special Costa Brava lunch honoring Joan Roca of 3 Michelin Star El Celler de Can Roca. Casa Mono was opened by Mario Batali, Joe Bastianich and Andy Nusser in 2003, but has been Chef de Cuisine at Casa Mono since 2008, and guided the restaurant to 1 Michelin star in 2009 and every year since then.
Visiting New York? See all of our posts tagged NYC.
Getting to Casa Mono, NYC
Casa Mono is located at 52 Irving Place in Gramercy, just northeast of Union Square. If coming by subway, the closest stop is 14th Street / Union Square (4, 5, 6, L, N, Q, R trains).
The Scene
Casa Mono is compact, and all the actual tables were full during our lunch with couples and friends. Given the intimate seating space, I didn't feel comfortable taking photos of the other diners, who were facing me. There were also several diners at the bar: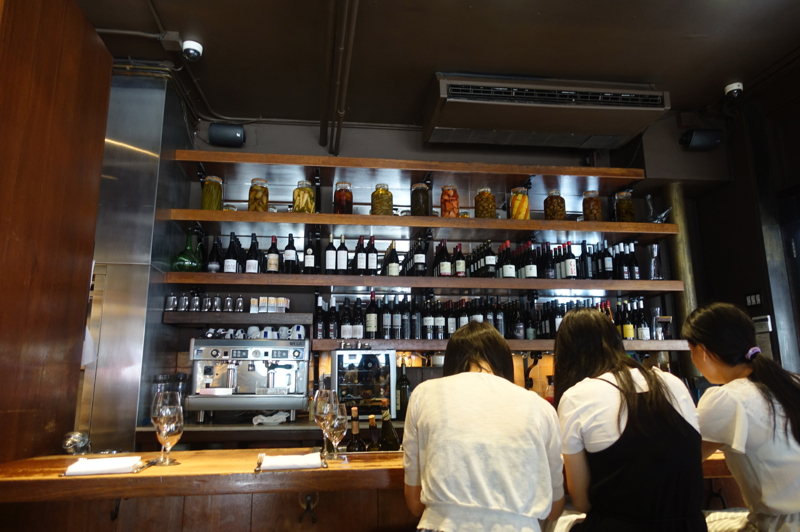 Since I originally made our reservation for two (forgetting that my son was not in summer camp that day) we appreciated that the restaurant was able to add a third chair to our table for him.
Needless to say, reservations are highly recommended during Restaurant Week and for dinner, especially on weekends and at peak dining times.
Casa Mono Menu and Restaurant Week Menu
Here is Casa Mono's Restaurant Week lunch menu, offering an appetizer, main course and dessert for $29 per person: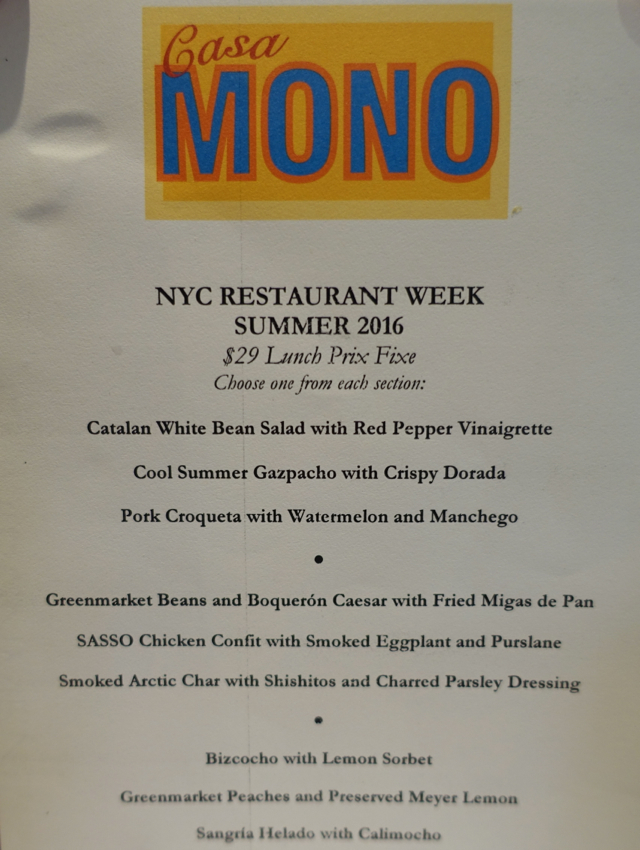 I did wish the Restaurant Week menu included items from the regular menu, so that was a bit disappointing. Because of this, we decided to also order some regular menu items, even though it did significantly increase the cost of our lunch. Here's Casa Mono's regular menu: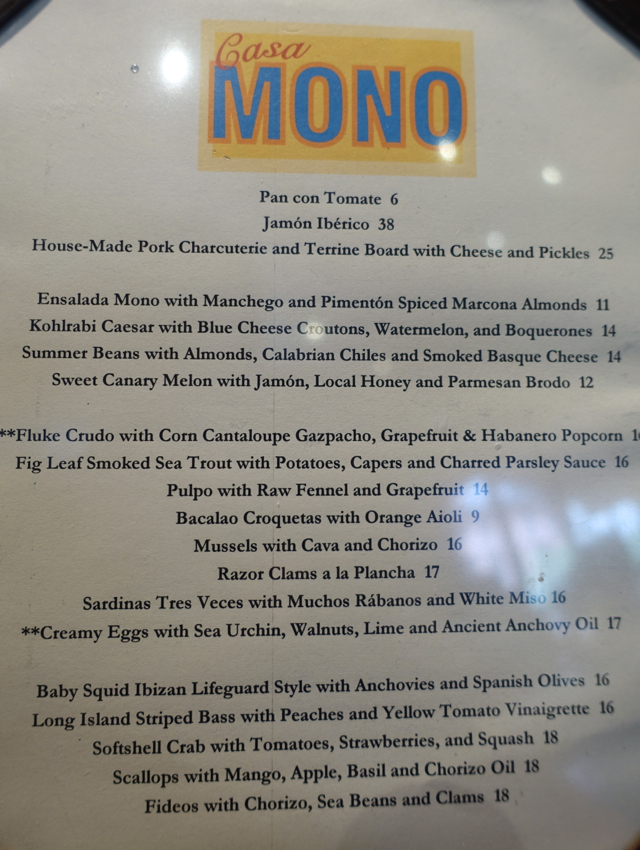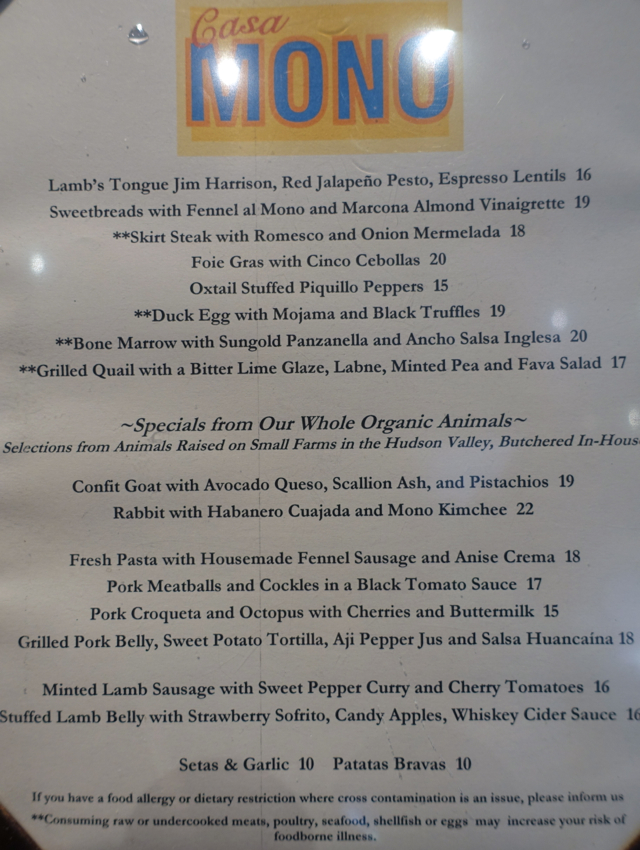 Soon after ordering, we were brought bread (French baguette) and olive oil, with an olive for each of us in it. My son was so hungry that he insisted on eating his own olive, even though he never eats olives.
One of the first dishes to come out was the Restaurant Week appetizer, for which we chose the Pork Croqueta with Watermelon and Manchego. This was delicious, and to me, the highlight of the Restaurant Week menu. The croqueta was perfectly crispy on the outside, with an interior of pulled pork. I'm still not convinced the watermelon and manchego cheese were great pairings with the pork, but the components were each certainly delicious, especially to my son. His favorite fruit is currently watermelon and he adores cheese and crispy things, so this was a winner.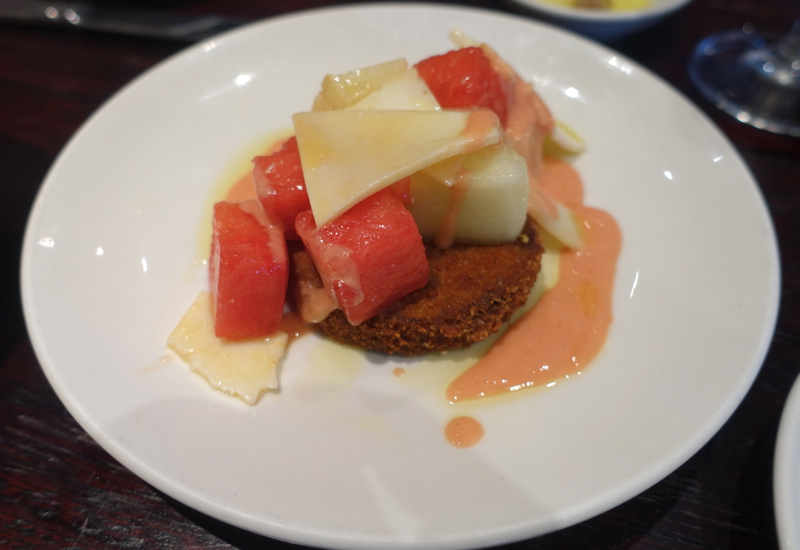 We also enjoyed the Summer Beans with Almonds, Calabrian Chiles and Smoked Basque Cheese, which we ordered in a bid to eat some vegetables alongside all the meat dishes we ordered. It was indeed very summery, with the Calabrian chile sauce lending a great piquant point of interest.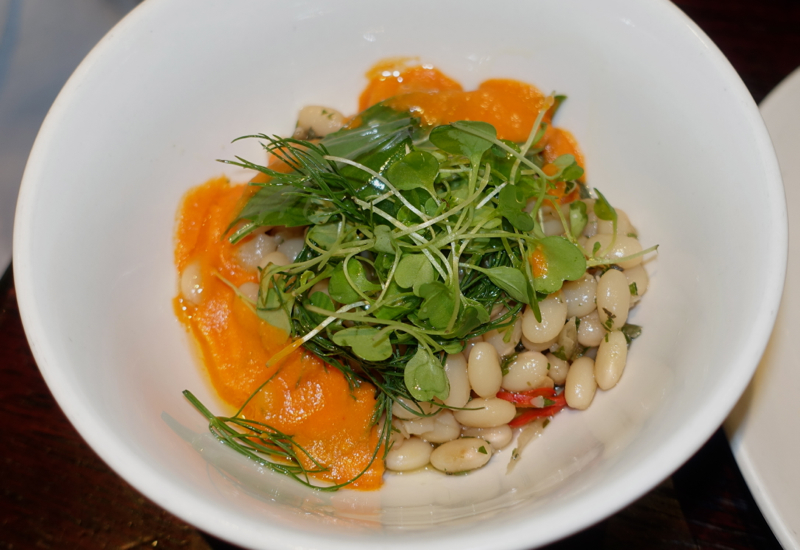 My second favorite dish of our lunch was the Softshell Crab, which is seasonal and not always available. I can safely say I've never had softshell crab paired with strawberries, but this was delicious. The crab was super fresh and wonderfully crispy, and it ranks up there with the Soft-Shell Crab Special at The Clam NYC for my favorites in the city that I've tasted to date.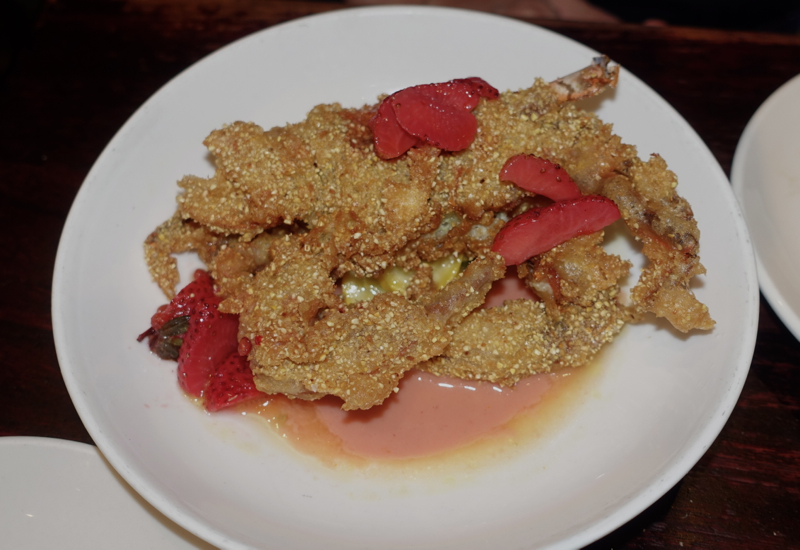 There was a hiatus of about 20 minutes for the rest of our dishes, probably because of how busy the restaurant was. The Restaurant Week entree, SASSO Chicken Confit with Smoked Eggplant and Purslane, was fine, but didn't wow me. The chicken seemed quite ordinary, not confit style, but perhaps it's because I'm used to the richness of duck confit, which I order from d'Artagnan. The best thing about the dish was the smoked eggplant puree.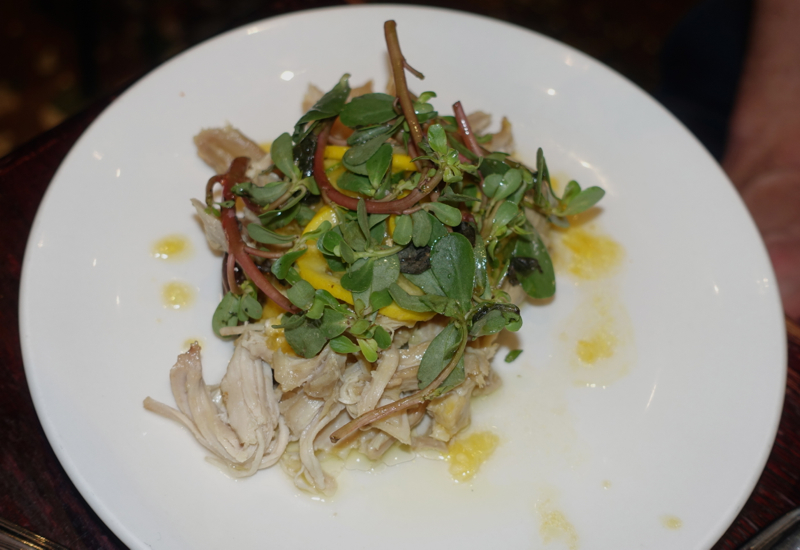 I was also a bit disappointed with the Duck Egg with Mojama, Potatoes and Black Truffles. Don't get me wrong, it was tasty, and the Mojama could have been prosciutto (it's actually salted tuna), but somehow the black truffle flavor wasn't very pronounced, even though it was clearly visible in the dish itself; and there was a bit too much of a vinegar flavor to the dish. I wished that the vinegar or acidity could have been omitted and that the black truffle flavor could have been amped up, say with a bit of black truffle salt, although it's true some of the salty Mojama might need to be reduced to avoid an overly salty dish.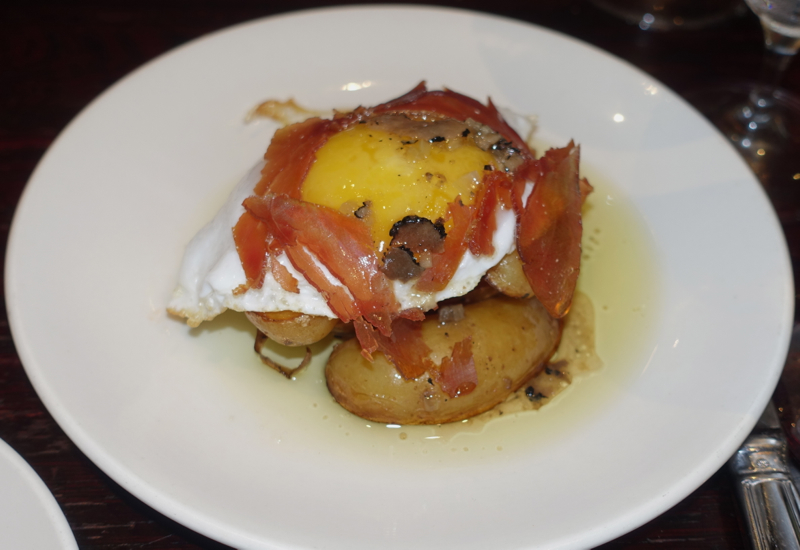 What we all did really enjoy, and was our favorite dish of the lunch, was the Skirt Steak with Romesco and Onion Mermelada. The meat had a nice char to it, the garlicky romesco sauce was addictive, and the onion mermelada added just the right touch of sweetness and textural contrast. Given that these are tapas portions and smaller than a normal entree size, I'd probably order two of these next time.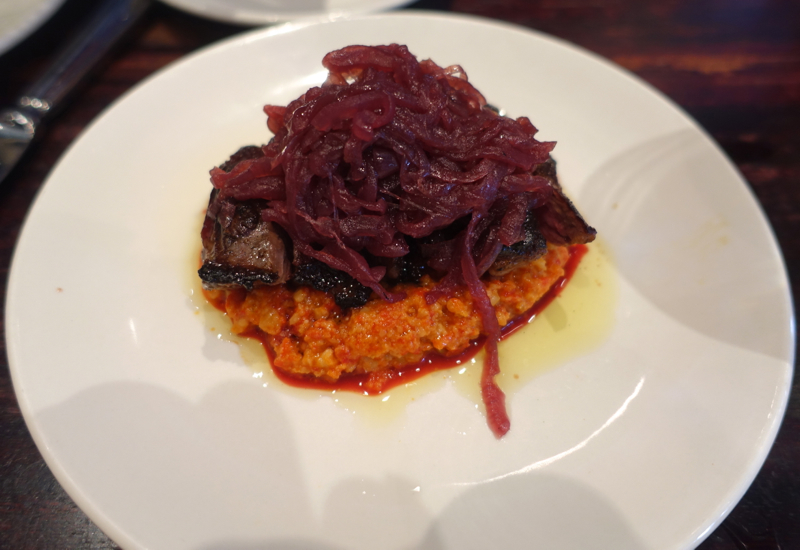 While we didn't order the Confit Goat with Avocado Queso and Scallion Ash, it was one of the dishes at the lunch honoring Joan Roca, and I really enjoyed it. Keep in mind the presentation may be different at Casa Mono.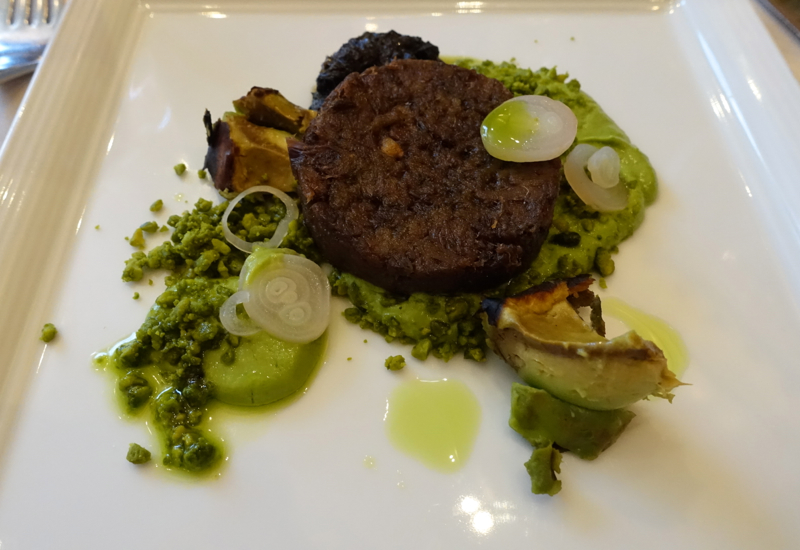 For the Restaurant Week dessert, we chose the Bizcocho with Lemon Sorbet, which was very refreshing. Our son surprised us by enjoying the lemon sorbet so much, as he claims not to like lemonade or other lemony things.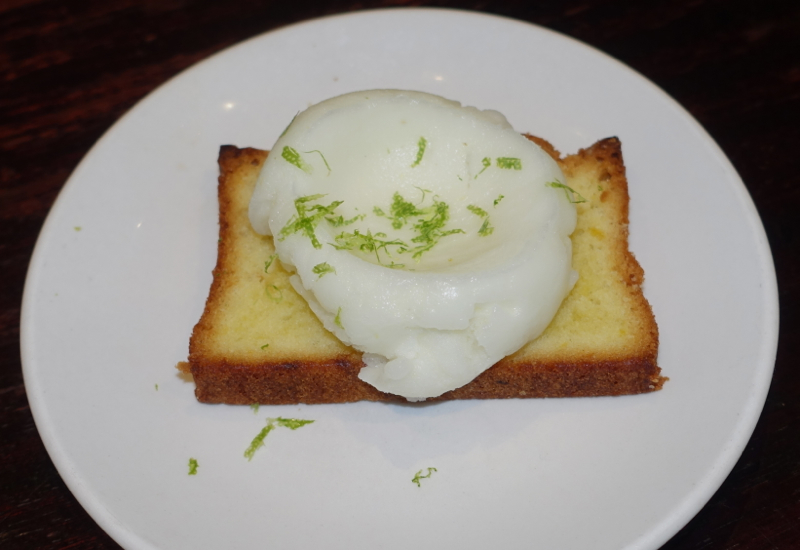 We also ordered one of the regular desserts, Bread Pudding with Caramel Ice Cream and Berries. The servers commented that it's one of the favorite desserts, and we all very much enjoyed it, although as a bit of a dessert snob I'm not sure I'd order it again or save room for desserts at Casa Mono, given the many tempting savory tapa choices.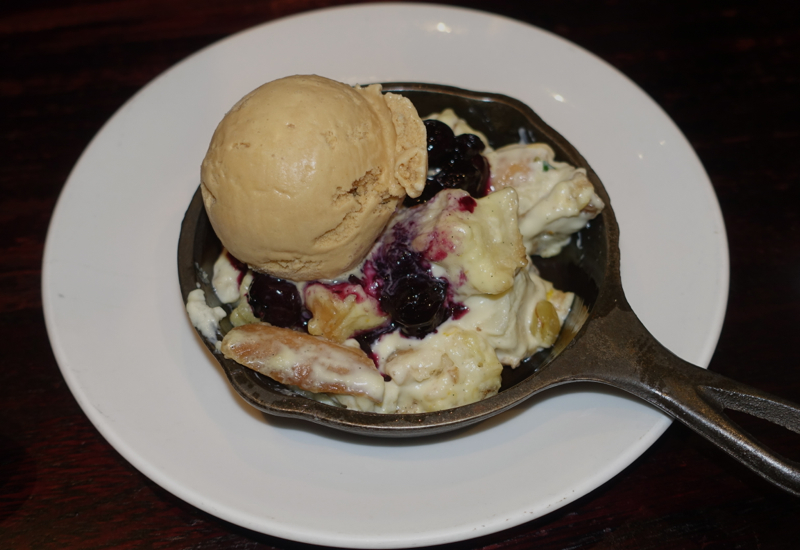 The Verdict
We enjoyed our lunch at Casa Mono, with particular stand out dishes being the Pork Croqueta, Skirt Steak with Romesco Sauce and Onion Marmelada and the Softshell Crab with Strawberries. Previously, I also tried the Confit Goat with Avocado Queso and highly recommend that dish as well. The Restaurant Week menu unfortunately was a little lackluster apart from the Pork Croqueta, in my opinion, so I'd go here for the regular menu, not necessarily Restaurant Week.
If you've been to Casa Mono, what was your experience?
Related Posts
NYC Restaurant Week Summer 2016: Where to Go and AMEX Statement Credit
7 Reasons to Visit Spain's Costa Brava
Top 5 Best Value NYC Michelin Star Restaurants
Review: Nobu New York Restaurant Week Menu
Disclosure: We paid for our own meal at Casa Mono, using an AMEX Business Platinum with the Restaurant Week promo of $5 off $35 or more, and a Chase Freedom on which we earn 5X on restaurants for Q3 2016.
Need Award Booking Help? Our fee is as low as $75 per ticket if you book your hotel through us.
If you enjoyed this, join 200,000+ readers: please follow TravelSort on Twitter or  like us on Facebook to be alerted to new posts. 
Become a TravelSort Client and Book Your Hotel with Virtuoso or Four Seasons Preferred Partner Benefits!