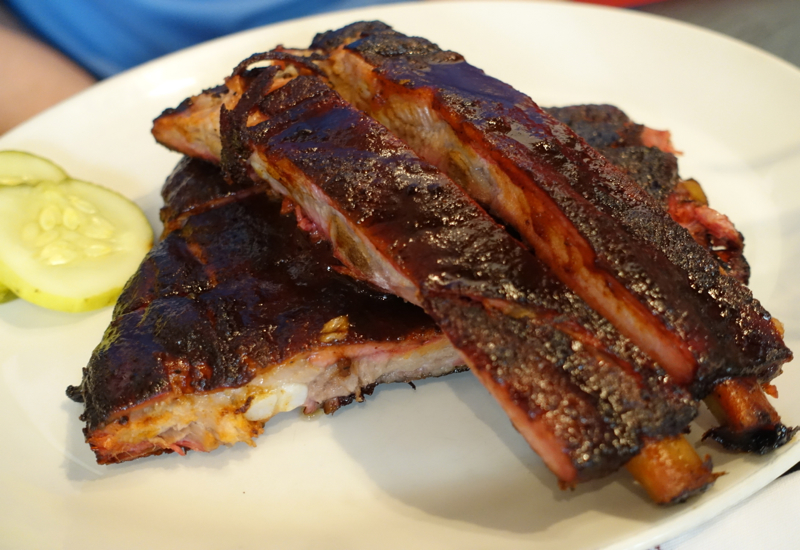 This Blue Smoke NYC Brunch Review is one of our many NYC Restaurant Reviews. Visiting New York? See all of our posts tagged NYC.
Getting to Blue Smoke in Flatiron
Blue Smoke's original Flatiron location is located at 116 East 27th Street, just a block away from the 6 train's 28th Street stop.
The Scene
Blue Smoke is popular with couples, families, and groups of friends. What with the music and buzz of conversation around you, no one will bat an eye if your kid starts singing, chortles with delight or even has a mini melt down. By the same token, this is not really a date place, unless both you and your date are both craving bbq and don't mind a very casual vibe.
Weekend brunch is popular, so I do recommend making reservations in advance.
Blue Smoke Brunch Menu and Food
We've been to Blue Smoke many times for dinner, but this was our first time for weekend brunch. On this occasion we couldn't tear ourselves away from our savory favorites, but we'll have to go back to try some of the more traditional sweet brunch offerings.
The menu offerings the bbq favorites you'd expect, from pulled pork and ribs to macaroni & cheese, grits, deviled eggs and fried chicken and biscuits. A glaring omission seemed to be the lack of collard greens, although we've seen them on the menu in the past.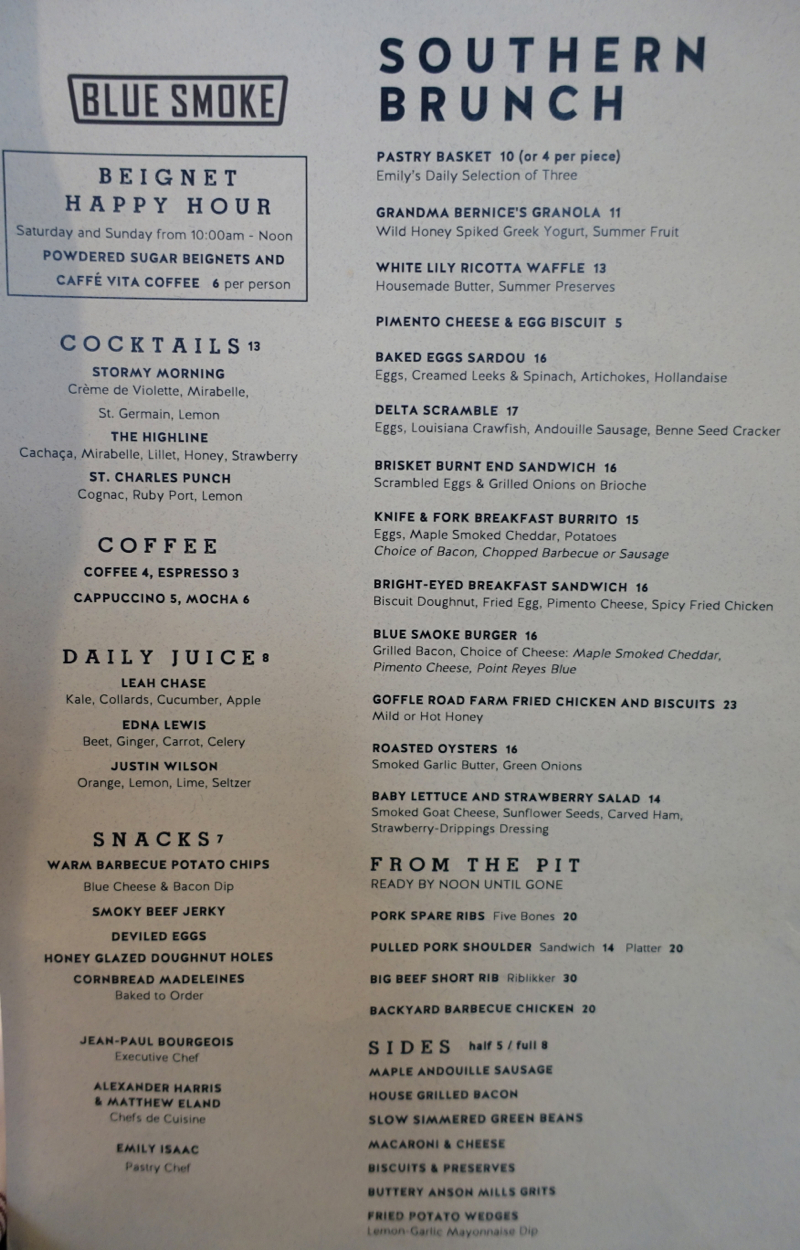 Blue Smoke's kids' menu is a great deal, at just $11, which includes a choice of smoked chicken breast, baby back ribs, mac & cheese or grilled cheese sandwich; mixed green salad or potato wedges or vegetable of the day (asparagus on our visit); choice of juice or milk; and a scoop of ice cream or double chocolate brownie.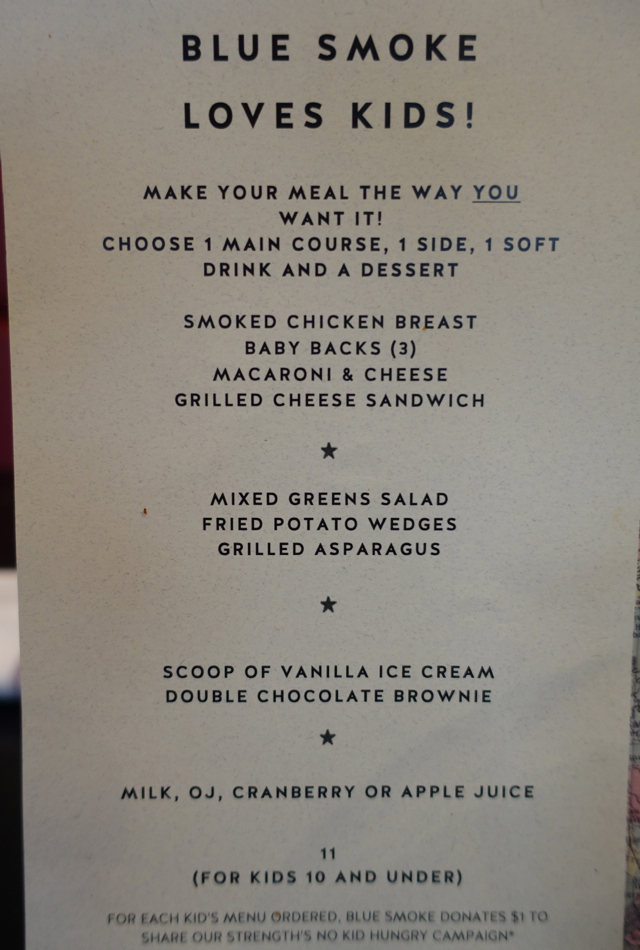 There's also a cocktail menu, with some unique selections:
While we don't normally have cocktails for brunch, this being Father's Day, my husband indulged in a Fast Eddie, with Ruby Red Grapefruit Vodka, Lillet, Lemon, Ginger Beer and Angostura Bitters. I tried a sip, and enjoyed the citrus notes and the fact that it had just a touch of sweetness.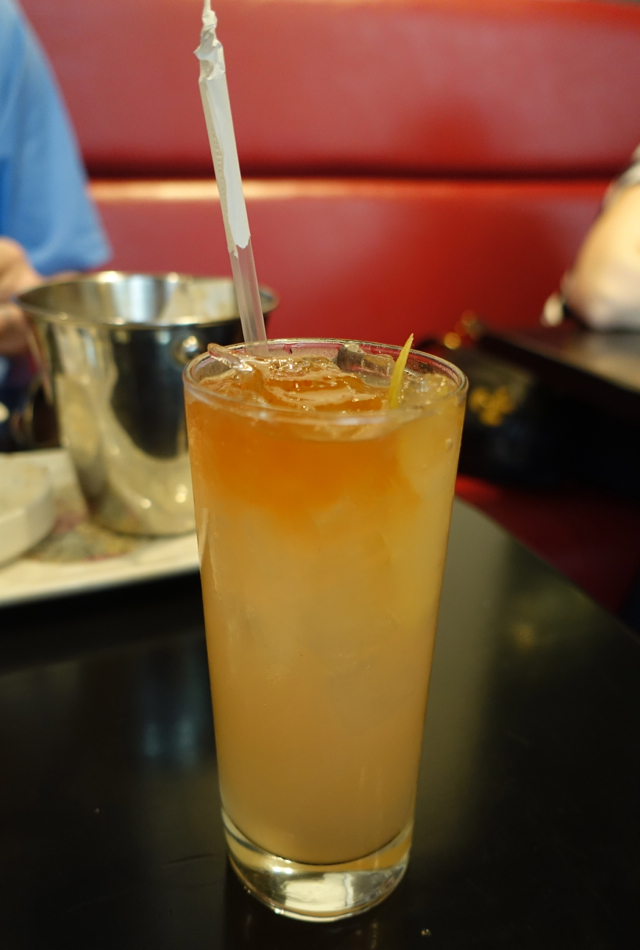 We started off as we often do, with barbecue potato chips accompanied by blue cheese & bacon dip. It's so good that even the munchkin forgets his dislike of blue cheese and devours these.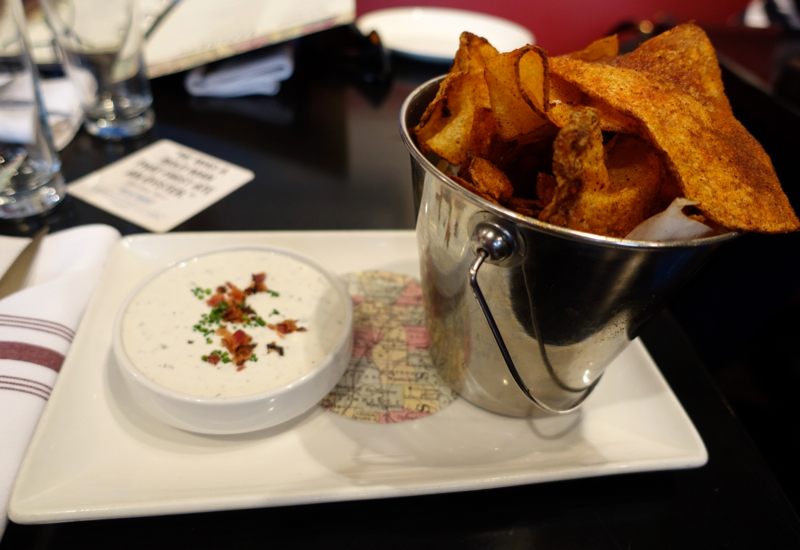 While we were waiting, a sugar cookie pig was brought over along with sprinkles, and our son had fun decorating it. The pig is then taken away to be baked and provided as a take away gift–a big hit with kids, and smart move on the part of Blue Smoke since it gives kids something to do while waiting.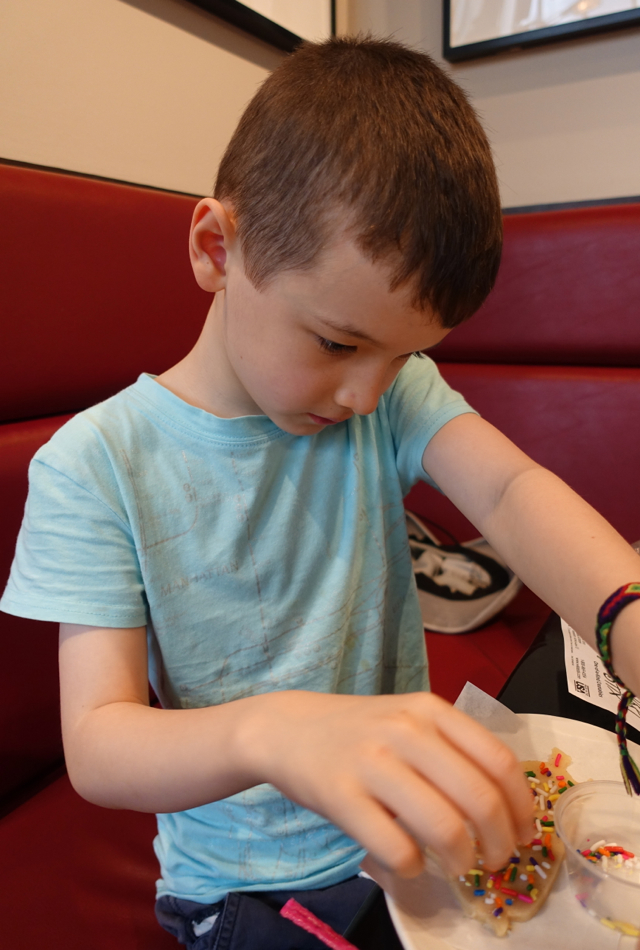 As we'd put in our son's order from the Kids' Menu early on, his meal came out quickly. It would have been a hard call if he had to decide between the Baby Back Ribs and Mac & Cheese, but since we normally get a side of Mac & Cheese for the table, he chose the ribs. As his vegetable, I chose the grilled asparagus, knowing that he might not eat much of it (I was right about that) but that my husband and I would like it. The Baby Back Ribs were fantastic, as usual: deliciously tender and smoky, with no need for bbq sauce or further adornment.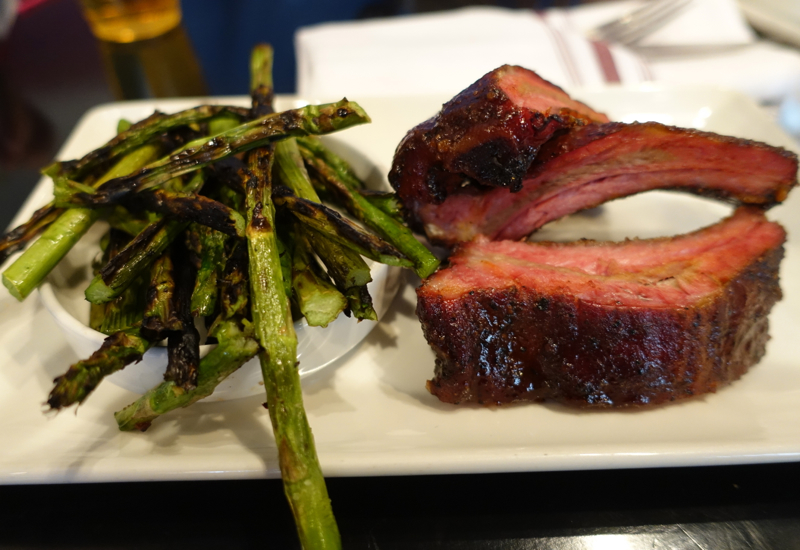 Our side of Mac & Cheese came as usual in its own cast iron pan, piping hot. My son loves Blue Smoke's version, which is very creamy, although I'll admit to preferring versions that have more "bite" to them in the form of sharper cheddar. It's a matter of taste.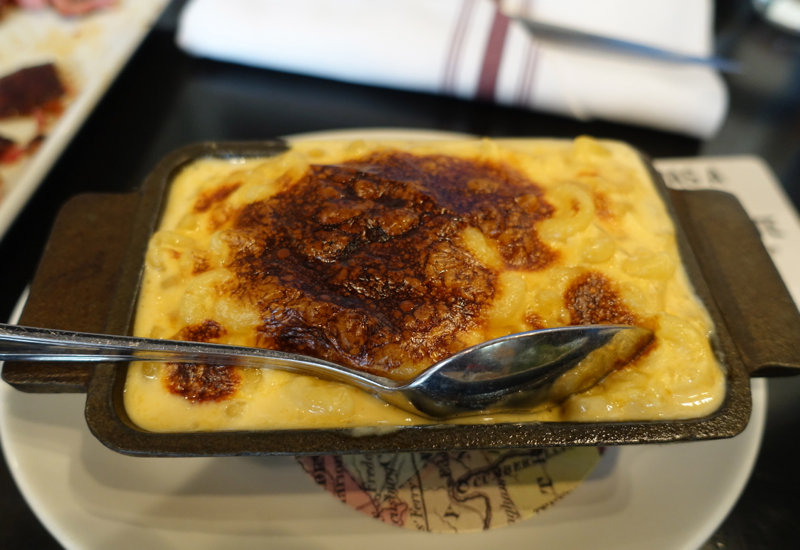 The special of the day was a Soft Shell Crab Po' Boy Sandwich with fennel salad, which I'd never had at Blue Smoke. It was the best Soft Shell Crab sandwich I've had to date, with a perfect fried soft shell crab, crisp bacon, and ripe tomato on crusty French bread. The fennel salad with buttermilk dressing was a lovely accompaniment.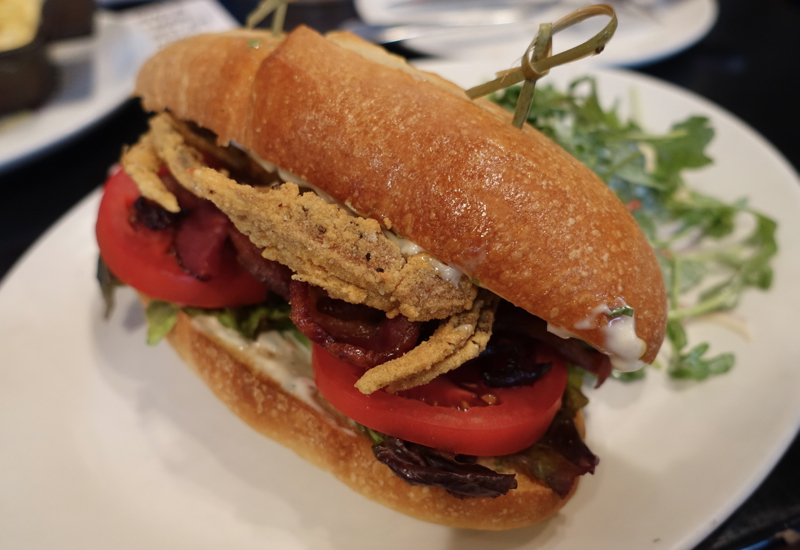 My husband chose the Pork Spareribs, which were meatier than the Baby Back Ribs, yet also very tender, moist and smoky. They're rich, so my husband, having had some of my Po'Boy, ended up taking some of the ribs home.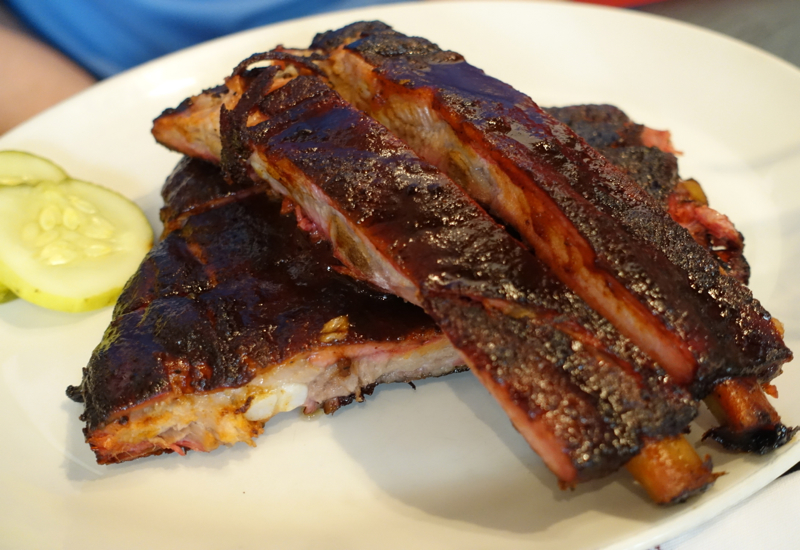 The Verdict
Blue Smoke remains one of our favorite casual family-friendly places in NYC, which we go to several times a year. The food has always been great, all of the many times save one that we've gone we've had great service (and the one time we didn't, the restaurant made it up to us with a great service recovery), and it's also a place we've picked up catering-size quantities of pulled pork from, for entertaining purposes. Now, if only collard greens would be put back on the menu…
If you've been to Blue Smoke, what was your experience?
Related Posts
Best NYC Restaurants for Families with Kids
Shake Shack NYC Review and Menu
Pizzetteria Brunetti NYC Restaurant Review
5X for Restaurants and Dining with Chase Freedom Q2 2015 Bonus
Best NYC Luxury Hotel Rooms for Families
Need Award Booking Help? Our fee is as low as $75 per ticket if you book your hotel through us.
If you enjoyed this, join 200,000+ readers: please follow TravelSort on Twitter or like us on Facebook to be alerted to new posts.
Become a TravelSort Client and Book 5-Star Hotels with Virtuoso or Four Seasons Preferred VIP Amenities!