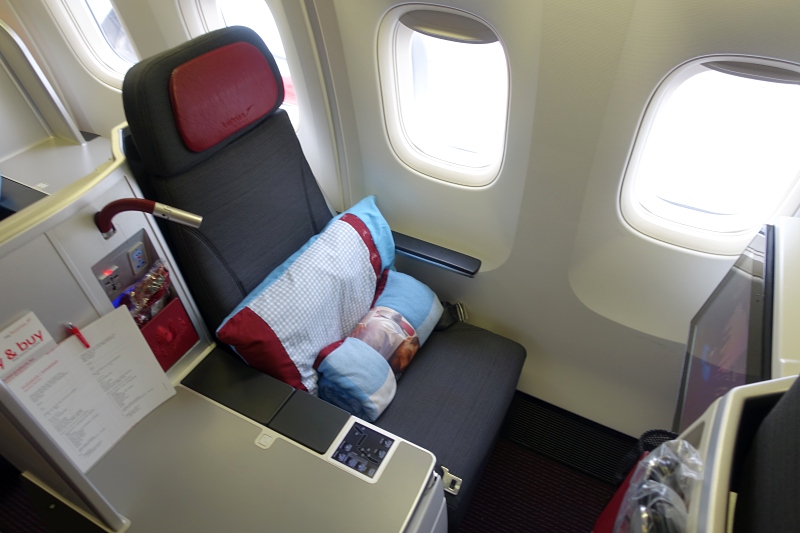 This Austrian 767-300 Business Class Review is from our recent flight from New York JFK to Vienna, Austria, which we reserved using 70,000 United MileagePlus miles per ticket. We had United miles to use up, but otherwise, Aeroplan charges just 55,000 miles albeit with fuel surcharges. Prior to our flight we had access to the JFK Lufthansa Business Class Lounge, which was underwhelming.
Even though we boarded during the first call for business class, the jetway backed up pretty quickly, as it's quite a large business class cabin.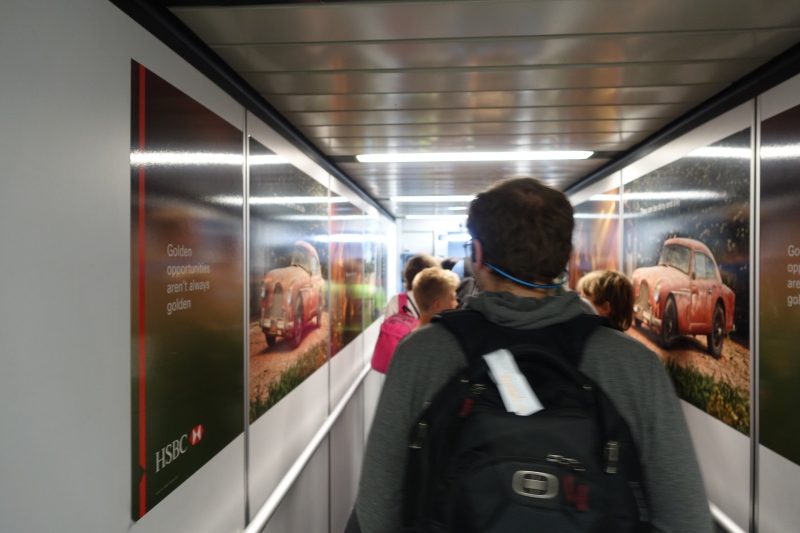 Austrian 767-300 Business Class and Seat Selection
Austrian Airlines Business Class on the 767-300ER is in a 1-2-1 configuration, where each flat bed seat has direct aisle access. There are two 767-300 layouts, one with 7 rows, for a total of 26 seats (since the 7th row does not have middle seats) and one with 9 rows, for a total of 36 seats. Ours was the one with 9 rows, and it was a completely full cabin.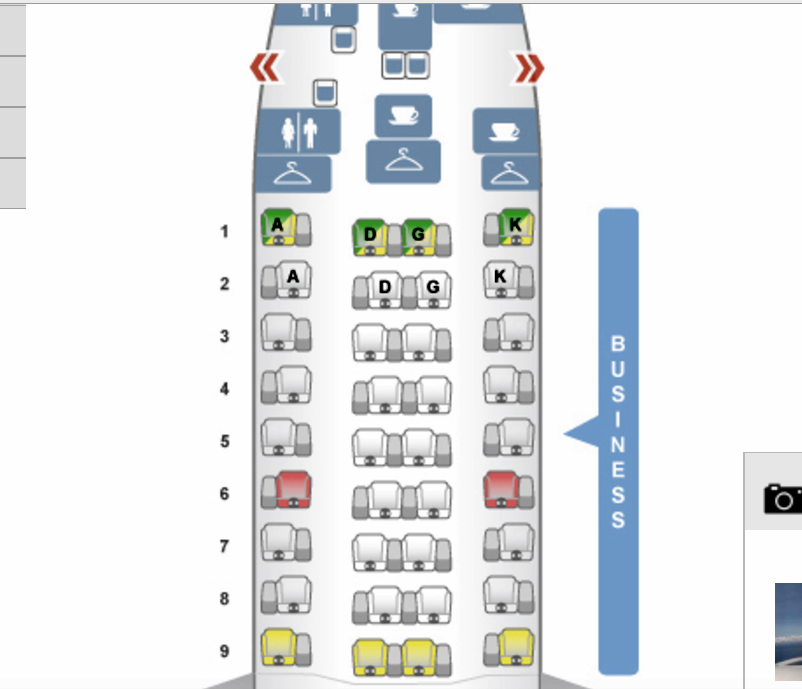 Austrian 767-300 Business Class Seat Map, Courtesy SeatGuru
The seats are staggered, alternating between a seat close to the window with a side table by the aisle, and then a seat with the side table by the window and the seat next to the aisle. The seats closest to the window are more private, so I recommend that solo travelers pick these, particularly 3A, 5A, 3K and 5K for both configurations, and in the larger business class cabin, 7A and 7K as well, since they aren't the last row. Generally I'd avoid the first and last rows if possible.
The middle seats are good for couples traveling together, but since my son likes having a window seat (and so do I) we opted for 5A and 7A.
Austrian 767-300 Business Class Seat and Amenity Kit
The Austrian Business Class seat is fairly narrow, at just 19 inches, although that's 2 inches better than Economy, which is just 17 inches. The chairs themselves are grey, but with the red headrest and gingham pillows with light blue, and matching duvets, there was a cozier feeling about these seats than you normally have with business class seats.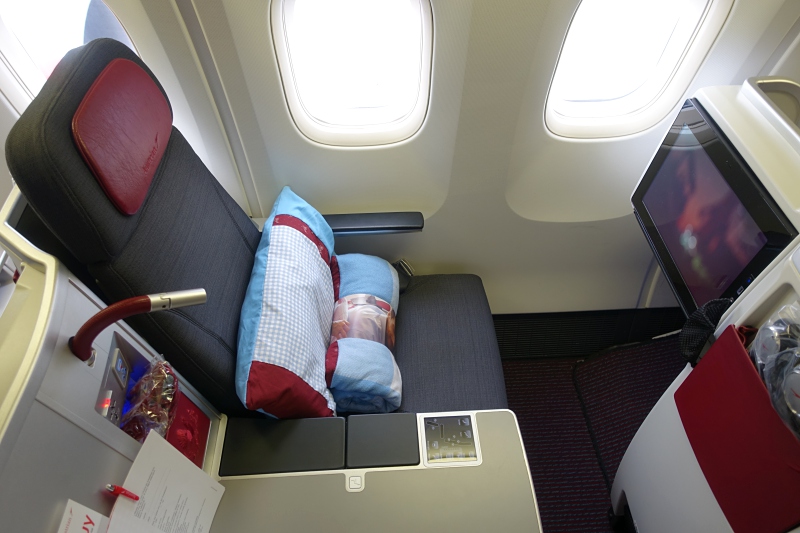 Next to the seat, as you can see to the left in the above photo, is a reading light, along with a small storage pouch where there was already an amenity kit. It was in a red fabric bag, not a traditional cosmetic case, and just had the essentials: dental kit, lip balm, moisturizer, socks and sleep mask.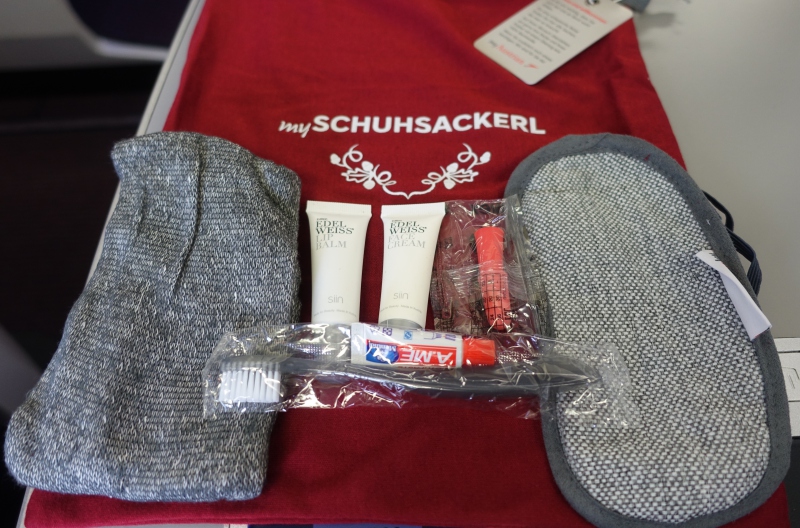 Just below the readling light is a power outlet, handy for charging electronic devices on the table, and the headset jack.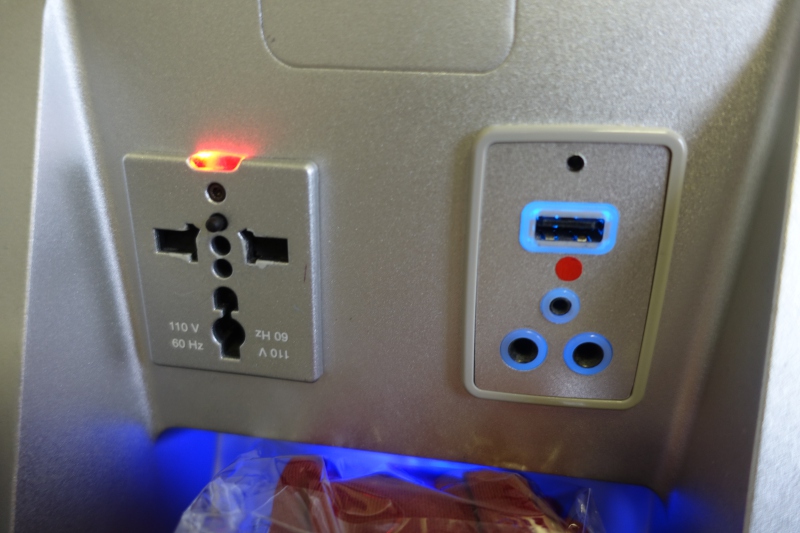 Here's my view from seat 7A: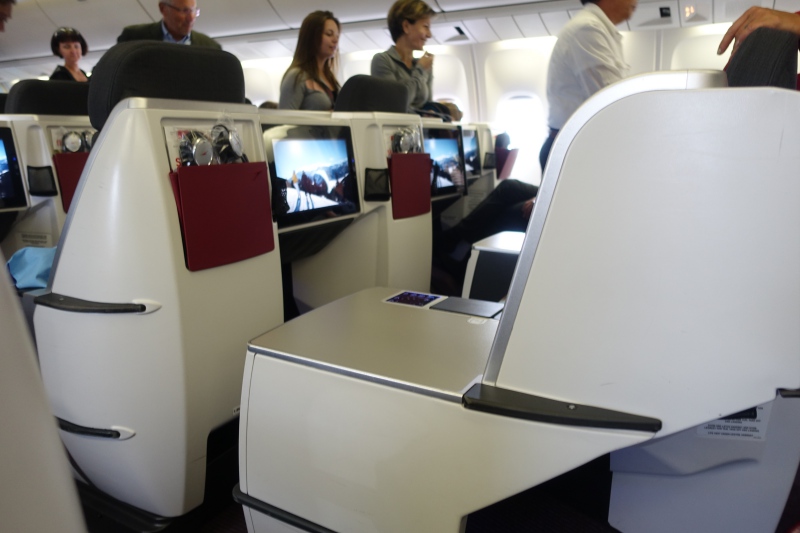 My son happily settled right into his seat 5A: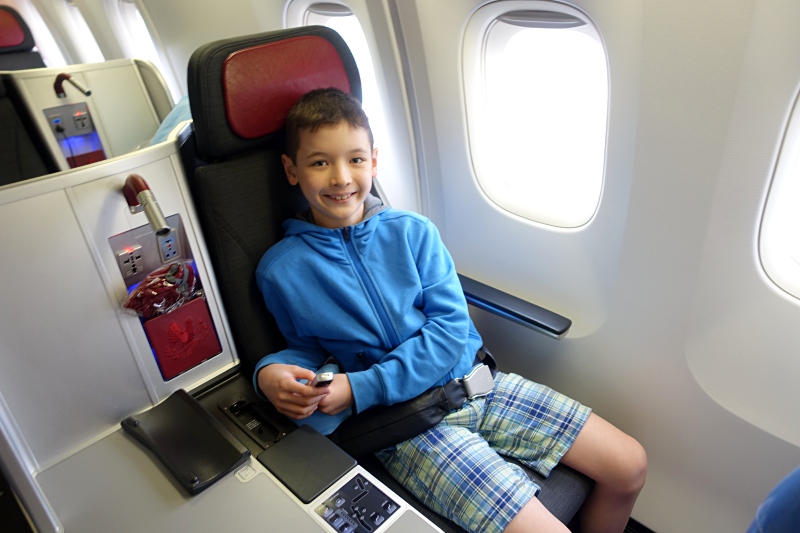 The seat controls were easy to use to recline the seat and later make it into the bed. Don't get too excited about the massage function, however–it wasn't that powerful, and had to keep being pressed since it didn't last long.
Austrian Business Class Menu and Food, JFK to Vienna
Already at our seats was a breakfast card for us to complete, if we wanted to be woken for breakfast; I didn't, but here were the choices: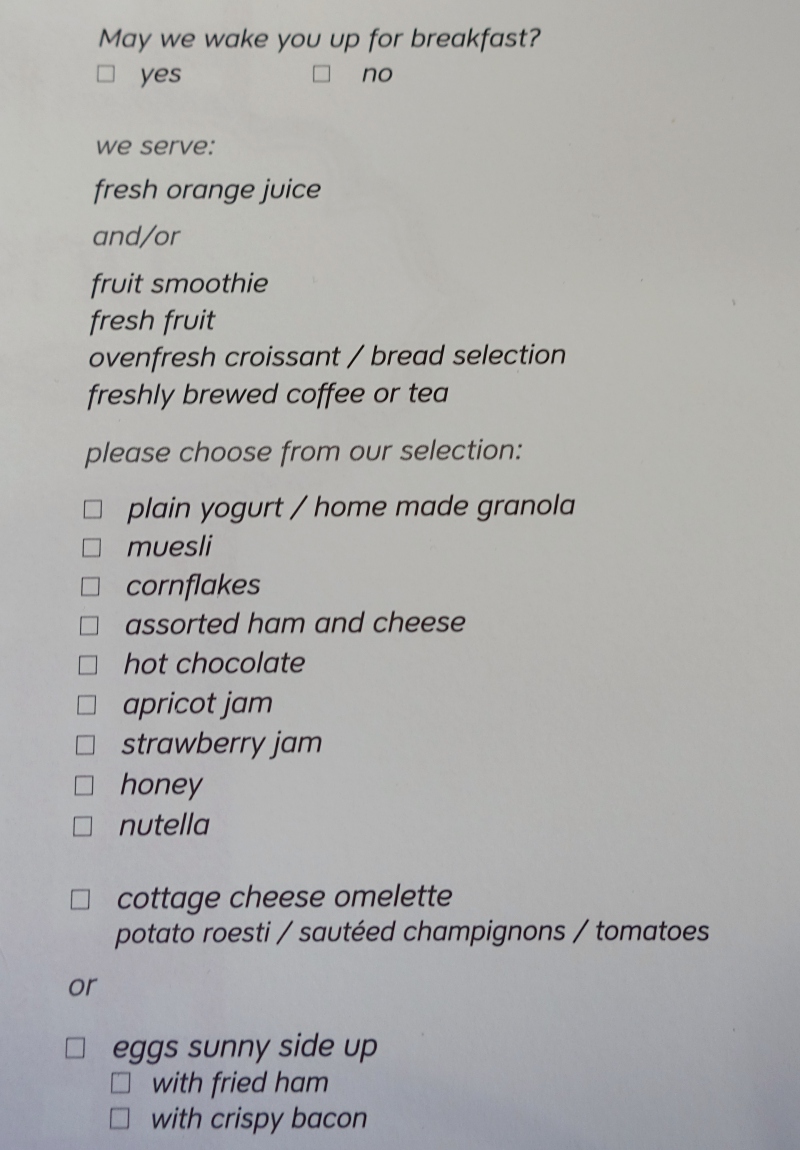 One of the 60 or so Do & Co Flying Chefs was aboard our flight, and cheerily handed out menus.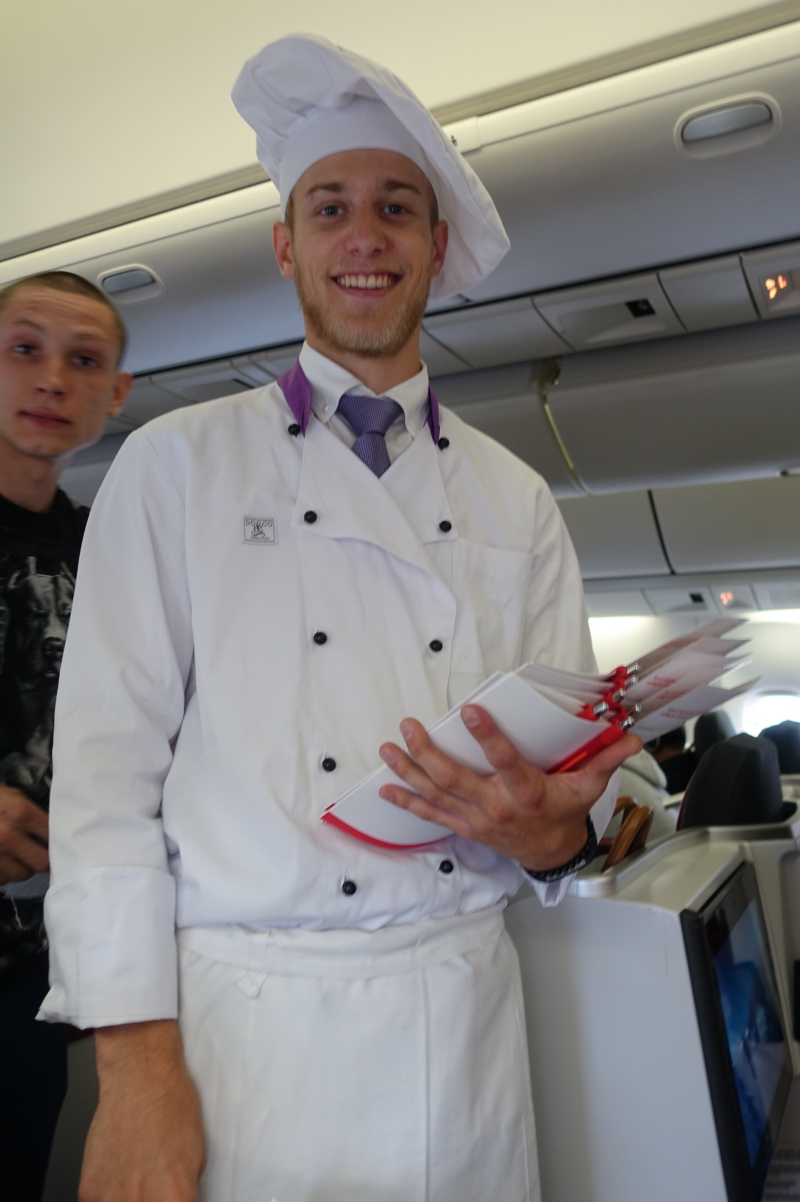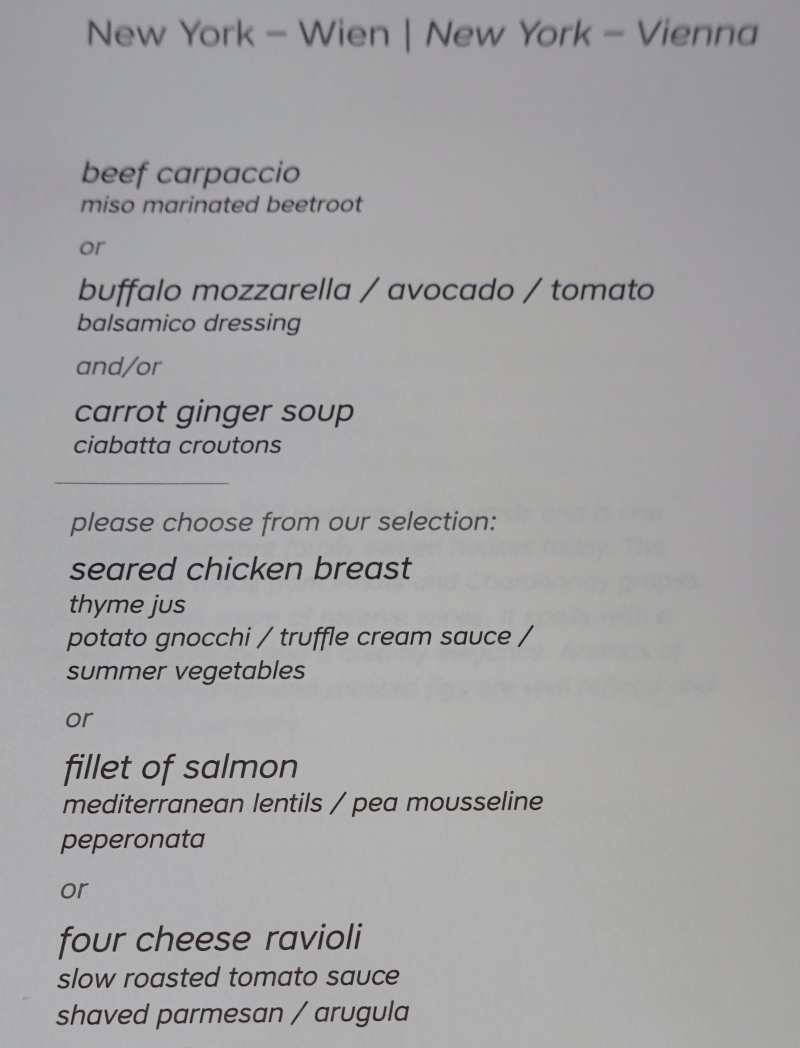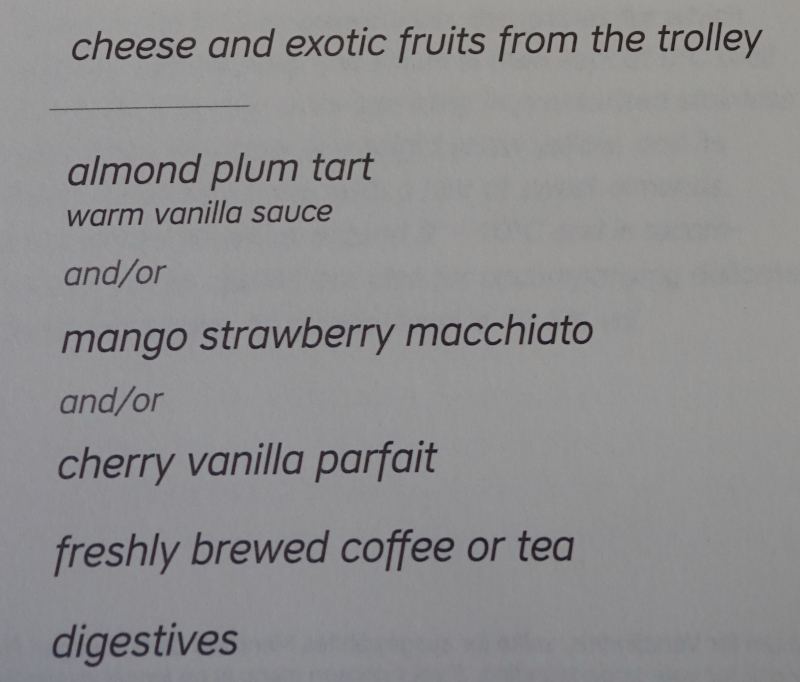 After we were airborne, one of the flight attendants working the business class cabin provided hot towels, using tongs to offer each of us one.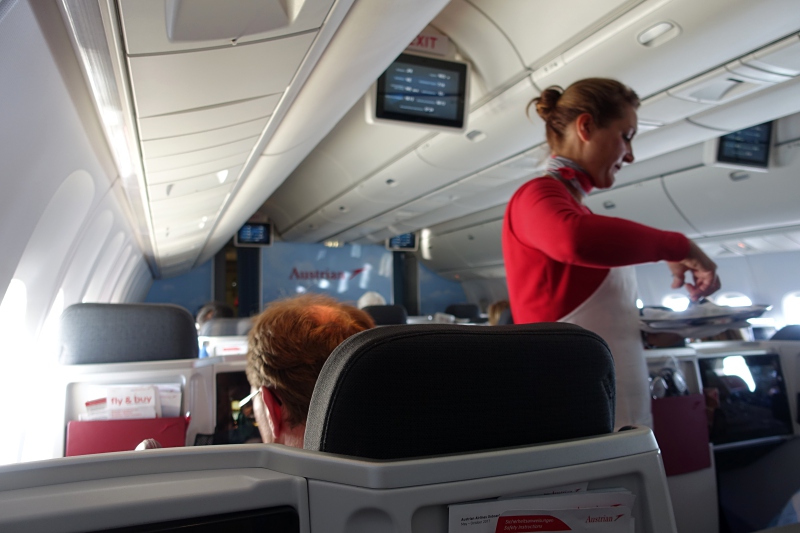 Prior to meal service, we were given some room temperature mixed nuts along with a drink of our choice. I decided to have the Riesling, as I planned to nurse it through my meal and have it with my salmon main course.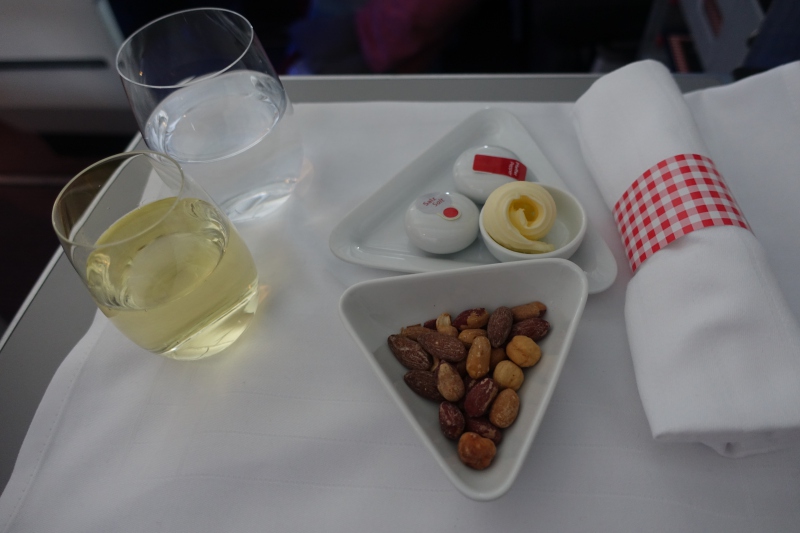 The salad of buffalo mozzarella with avocado and tomato was fresh and delicious.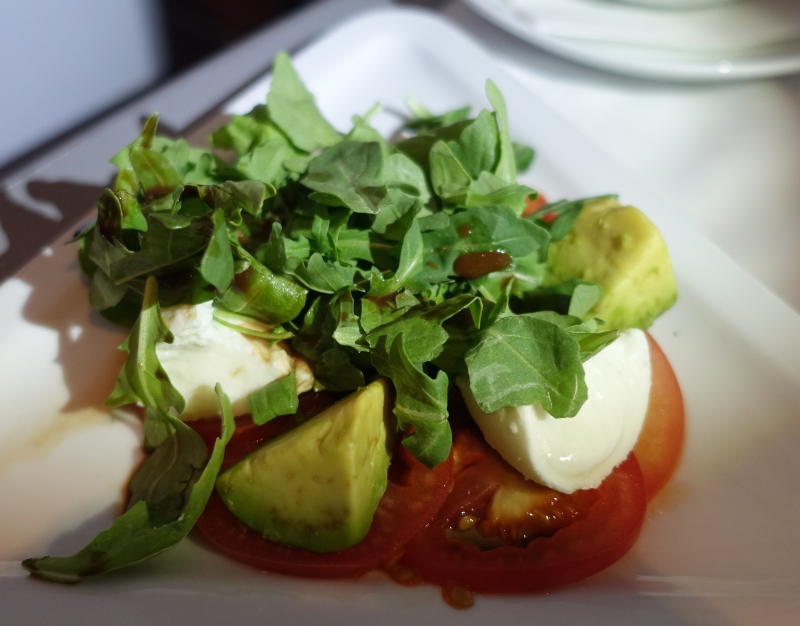 The carrot ginger soup was fine, although not memorable.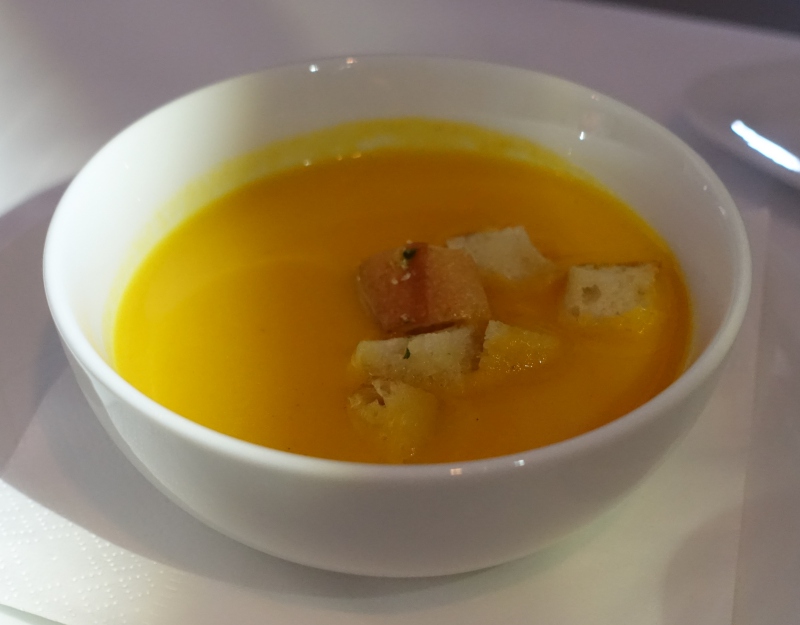 As expected, the salmon in the main course was somewhat overcooked, but otherwise excellent paired with the pea mousseline and the lentils. It was also plated more beautifully than most business class meals I see, at least on Western carriers.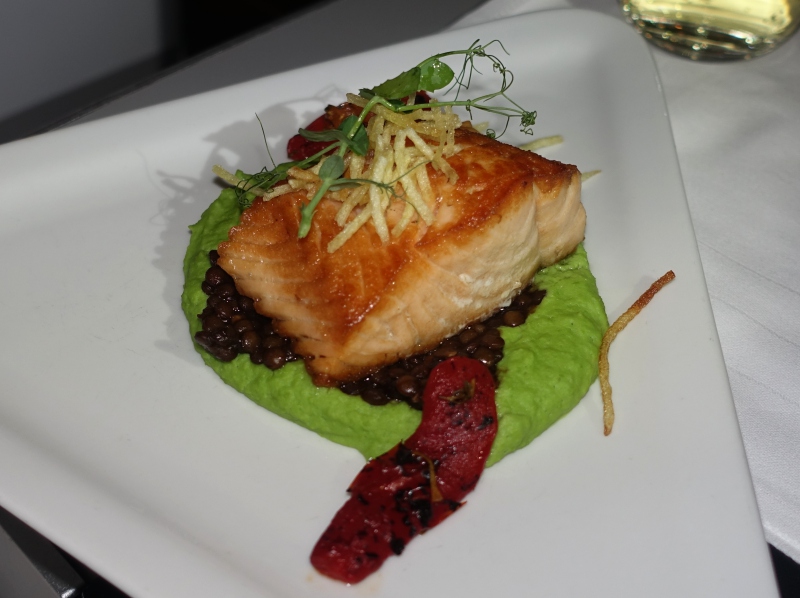 In the course of helping get my son to bed I missed the dessert service and wasn't offered any. But I was given a coffee menu.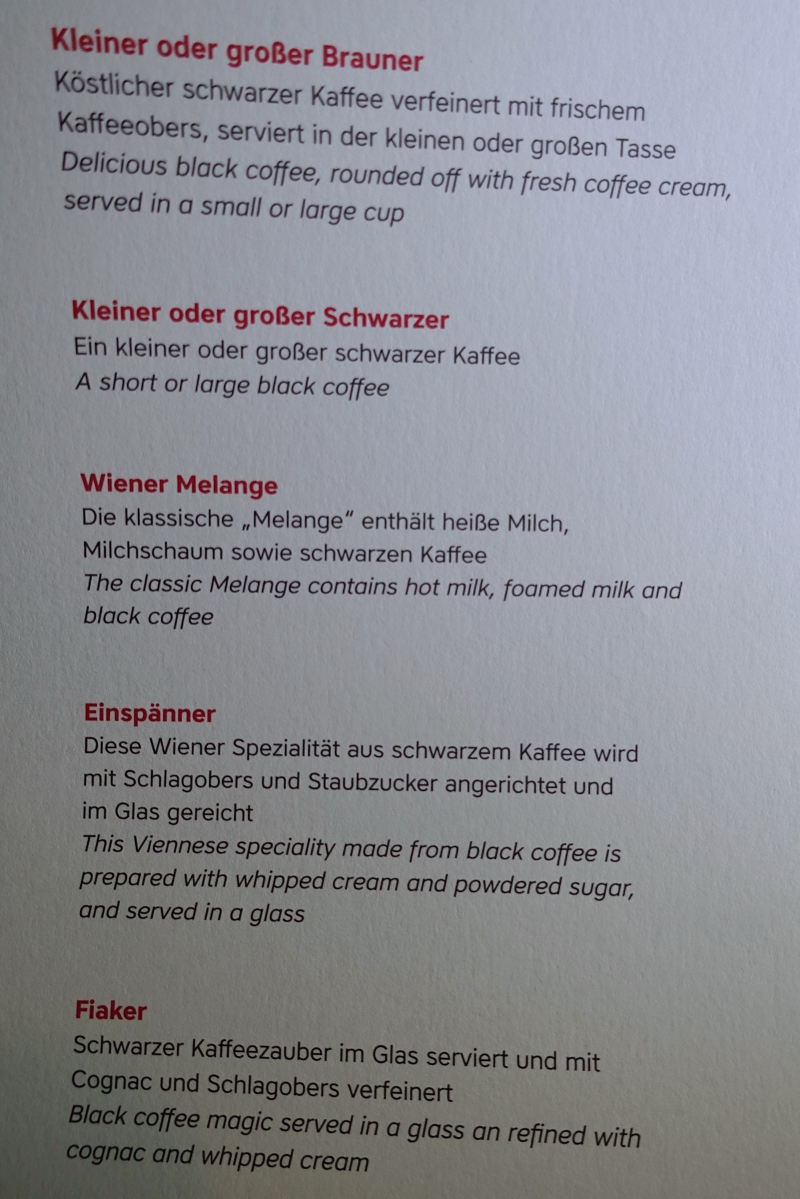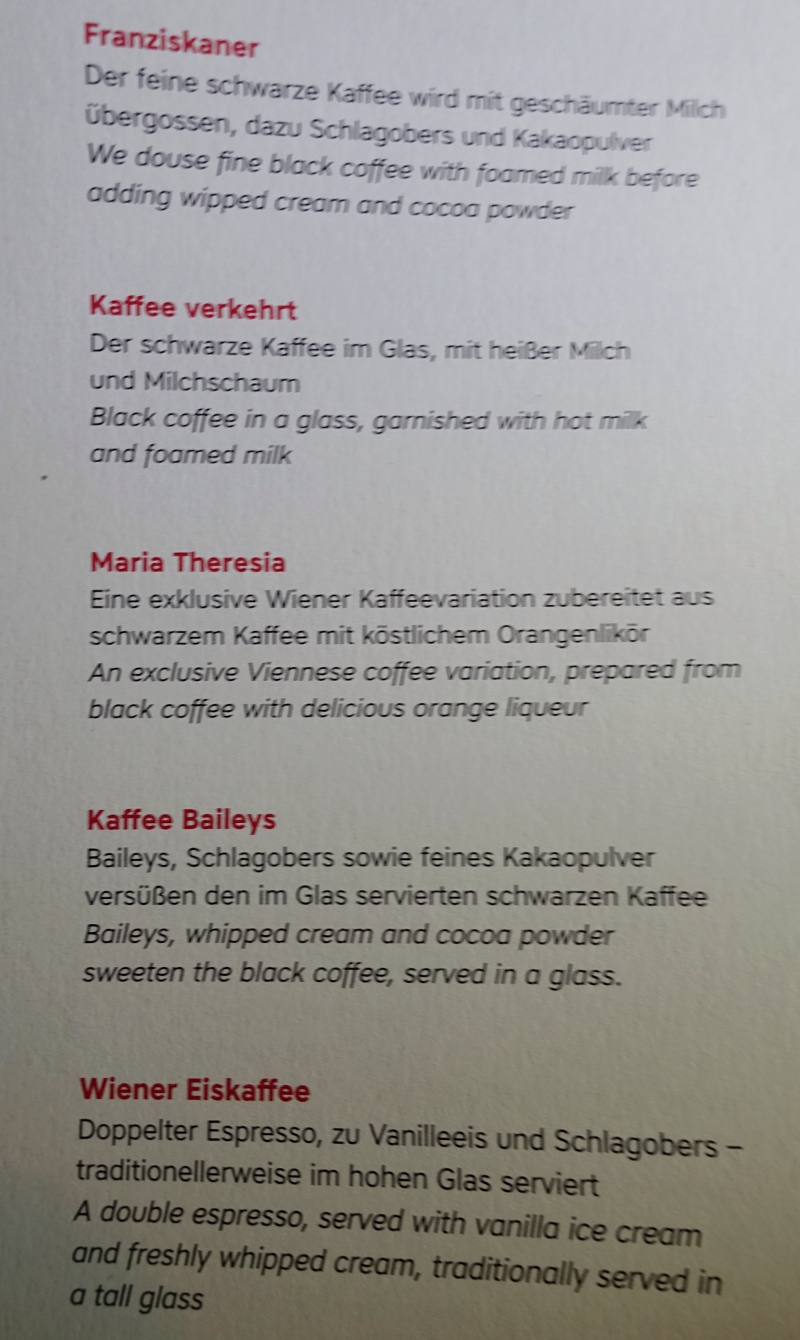 Fortunately all the coffee concoctions can be made with decaf coffee, so I chose the Wiener Eiskaffee, with its ice cream and generous whipped cream topping. Delicious! There was even a little milk chocolate served alongside, but I prefer dark chocolate so didn't partake.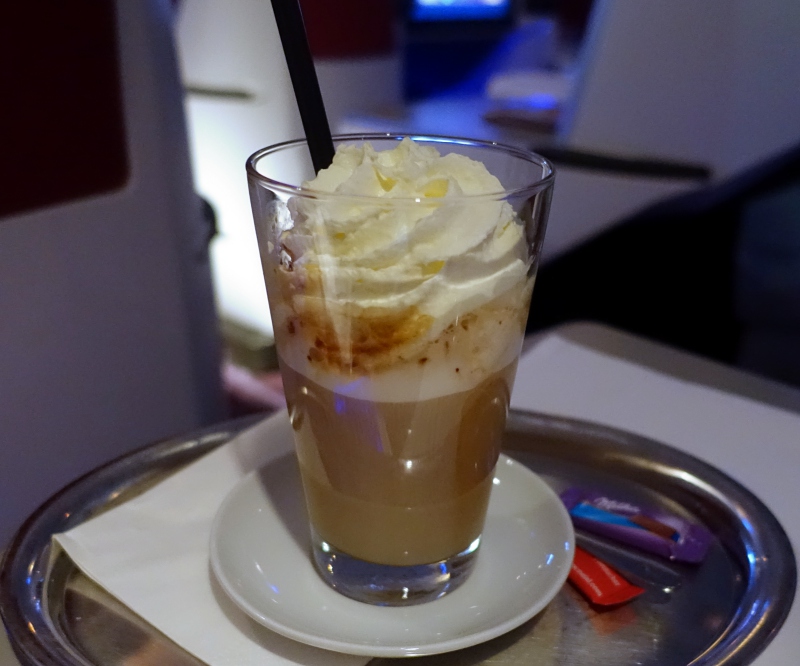 Austrian Business Class Flat Bed and Comfort
While the Austrian business class seat does recline to a flat bed position, as with most airline beds I found the seat too firm to sleep comfortably on, even when using part of the blanket as a mattress pad. Fortunately I had my new Therm-a-Rest mattress, and once I inflated it I was far more comfortable.
Austrian Airlines says its bed is nearly 2 meters long, or about 6'4″ in length, so very tall passengers probably won't be able to stretch out completely.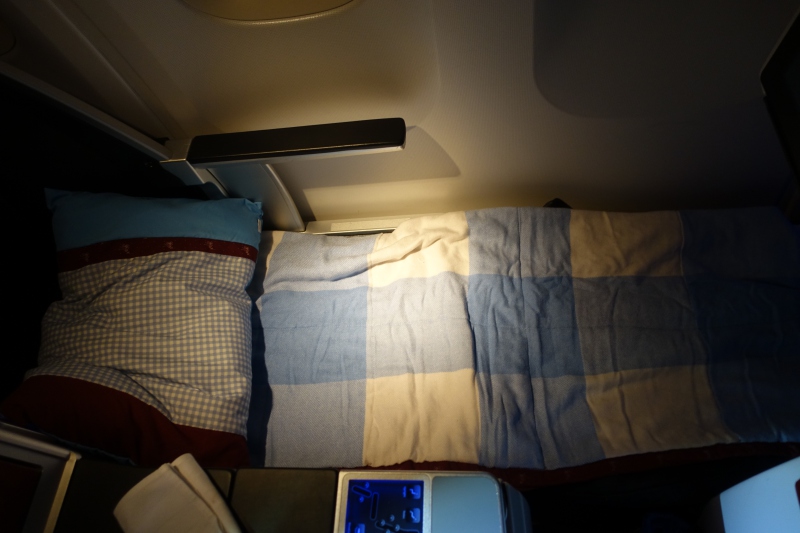 The sleep mask included in the amenity kit had an elastic band and was the right size for my son, but was uncomfortably tight for me, so I suggest bringing your own sleep mask with two straps that can be adjusted and attach with velcro (such as the Lufthansa First Class sleep mask or similar).
In Flight Entertainment and Movie Selection
Austrian Airlines isn't Singapore or Cathay, so the movie selection wasn't exhaustive, but there was a better selection of kids' and family movies than I sometimes see. Both my son and I watched Boss Baby, which was entertaining if not exactly high art. Alec Baldwin's voice was apt in the role, although it was still strange to hear his same voice, given recent viewing of him as Trump on Saturday Night Live, and also in The Hunt for Red October, which we rewatched recently.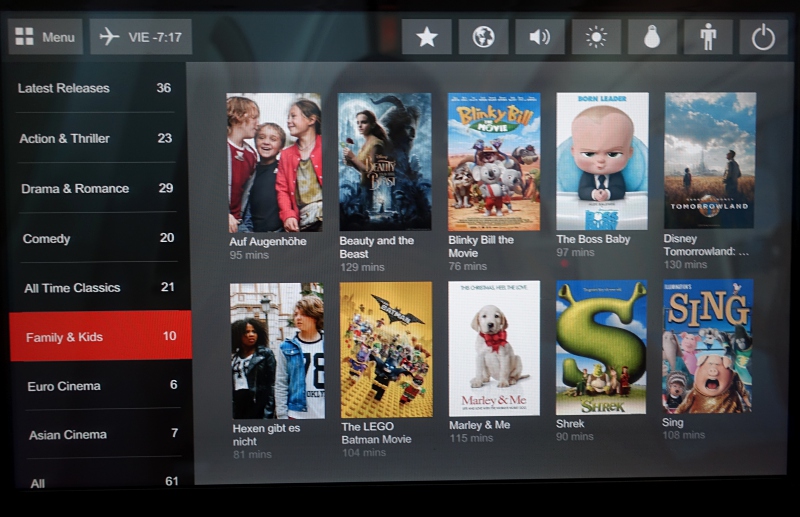 The Verdict
For the relatively short overnight from the East Coast to Europe, Austrian Business Class is a very solid choice if you fit in the seats, which are fairly narrow and won't accommodate the tallest passengers. It's a large business class cabin, so there's no possibility of the "mini cabin" that you find in Swiss Business Class. I appreciated the onboard chef, who was the most cheerful and friendly of the crew serving business class; the other flight attendants were efficient and professional but not hospitable. This is likely also a function of the very large business class cabin.
The food was good, especially the salad and main dish, although it would be nice if the nuts were warm or an amuse bouche was served. The coffee menu was a distinctive touch, as I've never had these kind of coffee drinks with fresh whipped cream even in other airlines' first class.
If you've flown recently in Austrian Business Class, what was your experience?
Recommended Posts
Review: Sofitel Vienna Stephansdom
Labstelle Wien Vienna Restaurant Review
LOT Polish Adds Nonstop Flights to Budapest from NYC and Chicago
United MileagePlus Award Chart Devaluation 2017 and Everyday Awards
Client Tip: How to Make Airline Business Class Beds More Comfortable
Need Award Booking Help? Our fee is as low as $75 per ticket if you book your hotel through us.