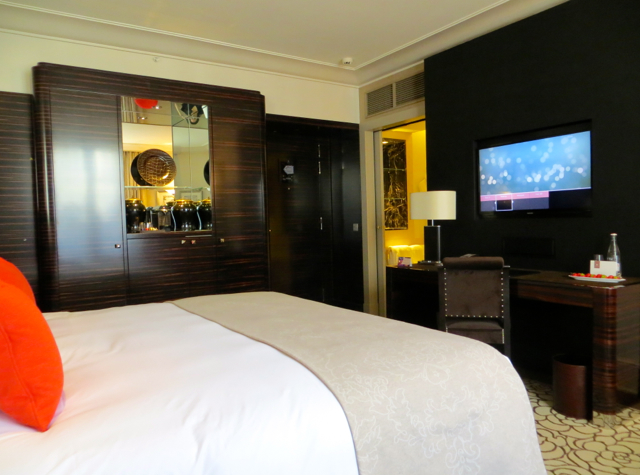 This Prince de Galles A Luxury Collection Hotel Review is part of a UK and France trip report including flights in British Airways in New First Class, Singapore Business Class and Singapore Suites, stays in a Scottish castle and 5-star hotels in London and Paris, and Michelin Star Dining in Paris. For the prior posts, please see:
British Airways Galleries Lounge in Newark and First Class Dining Review
British Airways New First Class 777 Review
British Airways Galleries Arrivals Lounge London and Concorde Room
Singapore Business Class Review NYC (JFK) to Frankfurt
Petrus London Restaurant Review
Dalhousie Castle Hotel Review, Scotland
Dalhousie Castle Falconry Review, Scotland
Epicure at Le Bristol Paris Restaurant Review
Four Seasons Paris Hotel Review
Paris Plages (Paris Beaches) Review
Le Cinq at Four Seasons Paris Restaurant Review
Park Hyatt Paris-Vendome Review
Park Hyatt Paris Breakfast Buffet Review
The Prince de Galles reopened earlier this year, after a two year renovation, so I was keen to see it still fairly fresh off its renovation. I hadn't stayed in it prior to the renovation (perhaps some readers can chime in if they have, and have also stayed in the renovated property) but reports prior to when it closed for renovations was that it was getting quite run down and the renovation was very much needed.
The Prince de Galles is a Virtuoso property, so TravelSort clients may book it with the following benefits.
8/14 Update: Currently the hotel is offering 4th night free + upgrade at time of booking until end of Feb. 2015 (excluding Paris Fashion Week dates) See Top Virtuoso 4th Night Free Offers
Upgrade on arrival, subject to availability
Daily full breakfast, for up to two in room guests (served in Destination Lounge Les Heures)
$100 USD Food & Beverage credit, to be utilized during stay
Early check-in/late check-out, subject to availability
Pre-Arrival: Concierge
Prior to our arrival I wrote to the Concierge about playgrounds and kid-friendly attractions, and the Prince de Galles Concierge got back to me less than 12 hours later with a fairly comprehensive list and descriptions. A request for restaurant recommendations similar to one that was closed for its annual vacation was also answered promptly, although I was not impressed with the suggestions, which in my view were not the level of food quality I was looking for. I instead did my own research (see Top Paris Restaurants Open in August) and asked them to book a table for La Regalade Conservatoire for a future date when we'd be back in Paris (not the date we were actually staying at the hotel)–no problem. Mathieu at the Concierge Desk booked it very quickly, and the date and time were correct and the restaurant was indeed open and expecting us (unlike the snafu we experienced at the Park Hyatt Paris-Vendome).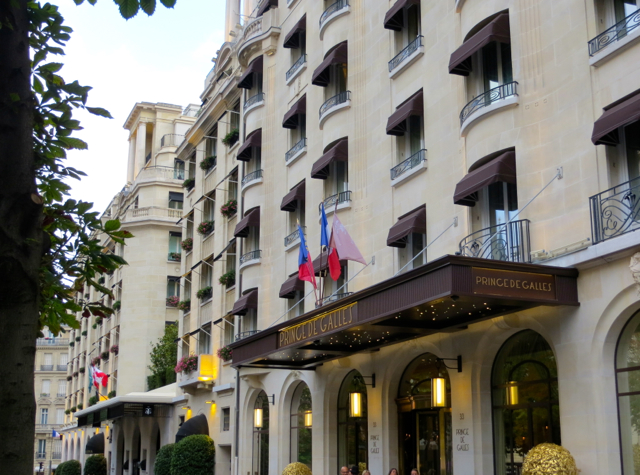 Prince de Galles Location and Check-In
The Prince de Galles is located on 33 Avenue George V, next door to its more prestigious neighbor, the Four Seasons George V, Paris. The closest metro station is the George V stop, and of course the Champs-Elysees, Arc de Triomphe, Eiffel Tower and other sights are within walking distance.
We arrived in the mid-afternoon, the bellmen welcomed us and were ready to help with our bags, but we declined as we were traveling so light (no checked bags). The lobby isn't overly large, but it's gleaming and fits well with the hotel's black, white and neutral Art Deco tones.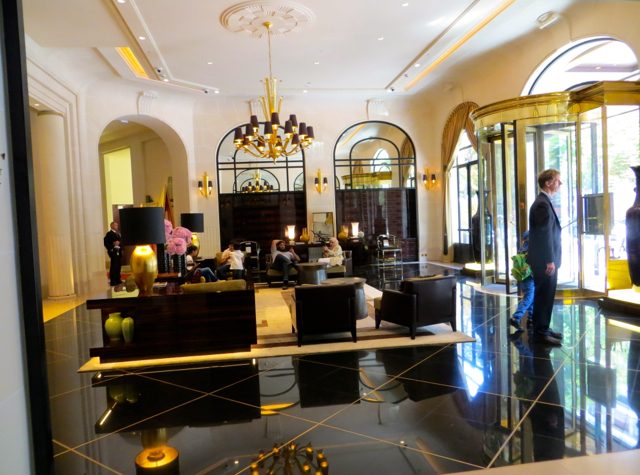 The associates at the front desk, both young women, were friendly (one of them was a trainee, and the other associate explained this) as they checked us in. Since this was explained at the outset, I didn't mind that it took a bit longer than one would expect to check us in. In point of fact, it took a bit longer at the Park Hyatt Paris-Vendome, even though it was just one associate there and no trainee.
Since I'm SPG Gold, I was also asked whether I preferred 250 bonus Starpoints or a complimentary beverage (up to 15 Euros). Normally complimentary Internet is also a possible amenity, but as Internet and WiFi is complimentary at the Prince de Galles, I chose the complimentary beverage and was presented with a voucher.
Art Deco Deluxe Room
I'd booked an Art Deco Room using Cash & Points, but thanks to SPG Gold we were upgraded to an Art Deco Deluxe Room. I was glad about this, since the regular Art Deco room ranges from a tiny 237 sq ft to still very compact 323 sq ft and is for just 2 people, while the Art Deco Deluxe Room is 323-409 sq ft and can sleep 3.
I liked the touch of red, adding welcome color interest to the neutral Art Deco tones: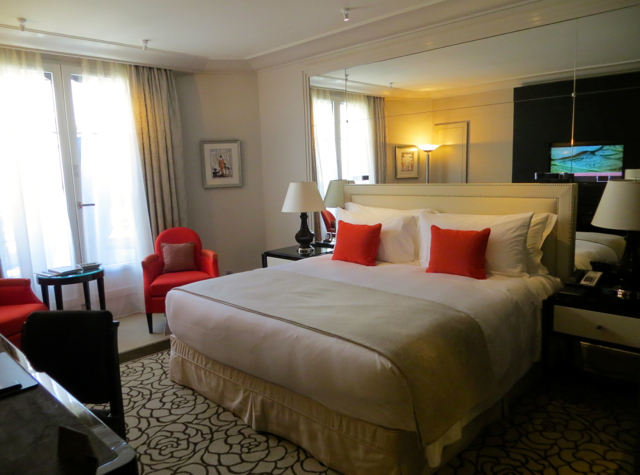 There was a pretty and tasty welcome amenity of fresh strawberries and red currants waiting for us, which the munchkin happily claimed most of: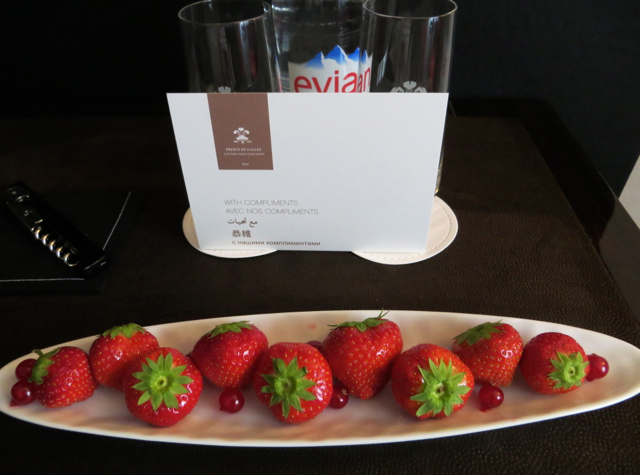 So as not to risk getting strawberry or red currant juice on any of the nice new fabrics, I had him eat it outside on the terrace overlooking the interior courtyard. Again, while I understand many readers may prefer a view to the Avenue George V, we specifically requested a quiet room, which I figured would face the interior courtyard, so that we could get a quiet night's sleep.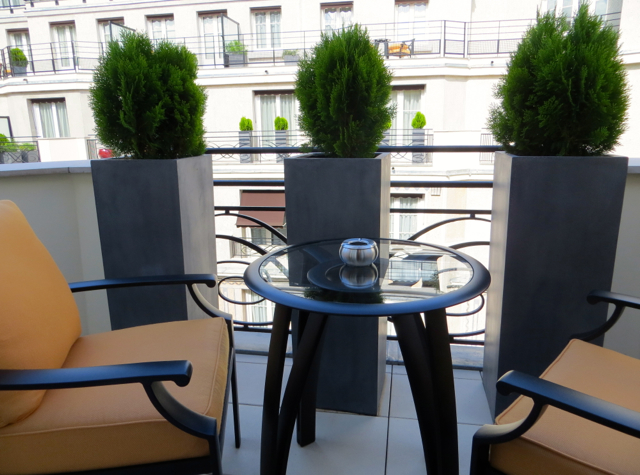 The King Bed was much more comfortable than the harder bed we had at the Park Hyatt Paris-Vendome, and my husband slept better this time round.
The bathroom had both a soaking tub and a glass enclosed shower, and I liked that it was the fully enclosed type rather than the weird shower open to the bath hybrid at the Park Hyatt Paris.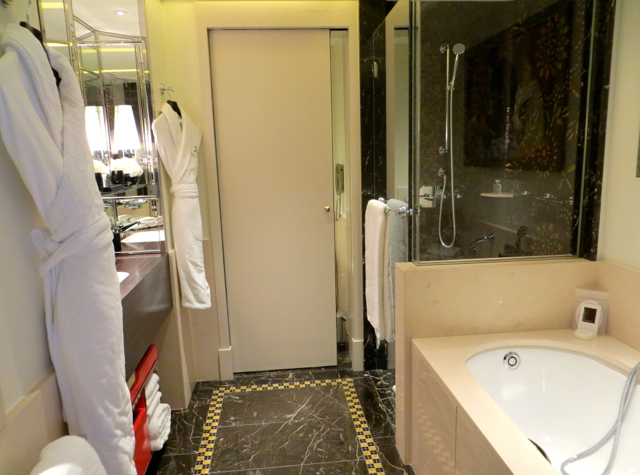 Bath amenities are Bulgari's White Tea (The Blanc), which are very nice, and which I preferred to the Blaise Mautin amenities at the Park Hyatt Paris, although not as nice, in my view, as the Bulgari Green Tea bath amenities at the Four Seasons Paris. Of course, scents are a matter of personal taste.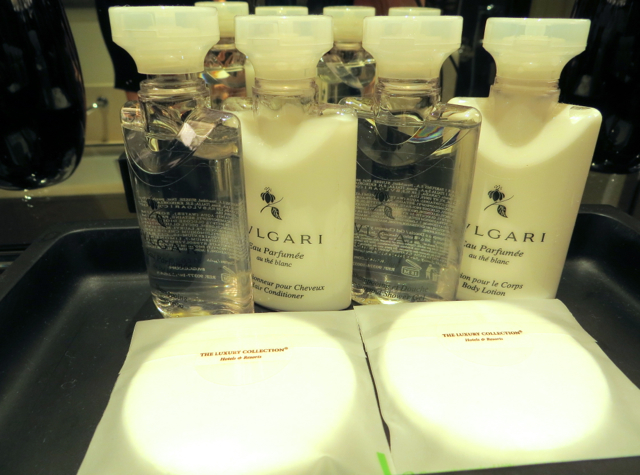 I also enjoyed that there were white flowers in the bathroom; these are also used at the Four Seasons Paris, but as part of more elaborate bouquets with white roses.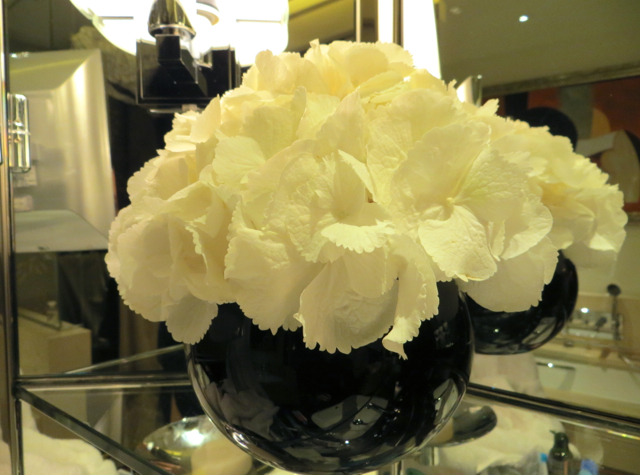 There was an in-room Nespresso machine and pods at the in-room bar, and a well-stocked mini bar, which as usual we didn't use.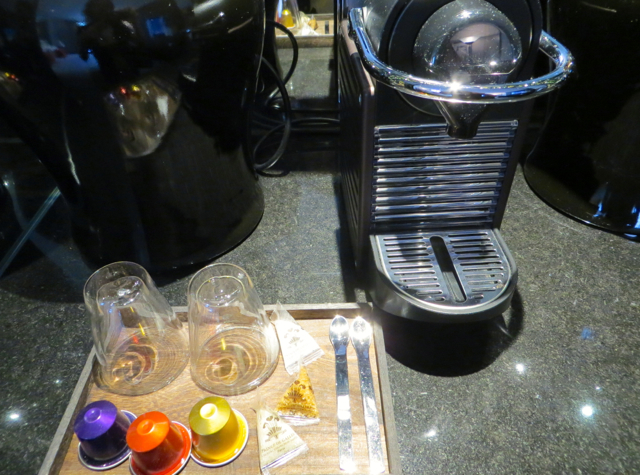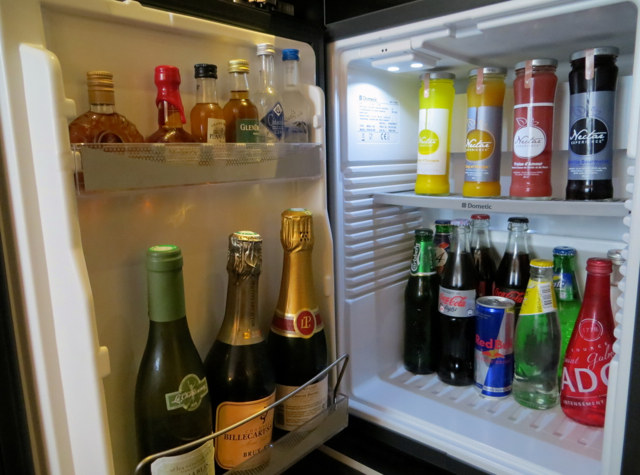 Le Patio
Since we'd had a decadent lunch at Epicure at Le Bristol earlier that day, and the munchkin and I had also enjoyed some delicious ice cream at Paris Plages that afternoon, we just had a few snacks (including the delicious savory kugelhopf with cheese and lardons that Epicure had given us) then went for drinks and bar snacks at Le Patio, courtesy of my free drink voucher plus a $25 credit I'd received a few months earlier as an SPG Gold.
The courtyard itself wasn't open for seating due to some earlier rain, but it was pleasant just to look at from our seat. You definitely pay for the address, however–a simple coffee would have been 10 Euros, and a hot chocolate 13 Euros:
Our server provided some bar snacks, which included potato chips, olives and salted nuts: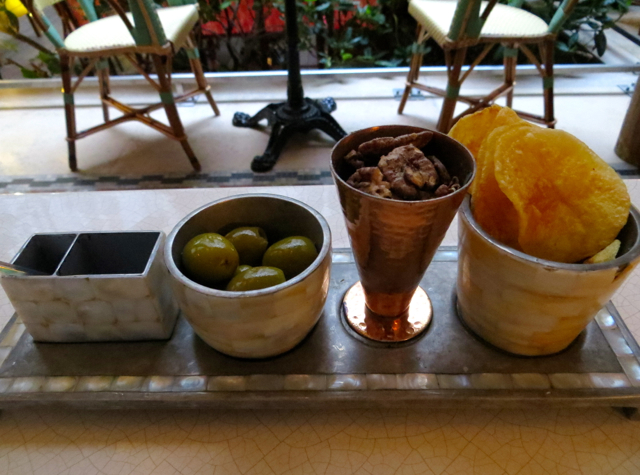 We got the munchkin some fresh squeezed orange juice, and mulled our choices for a cocktail to share.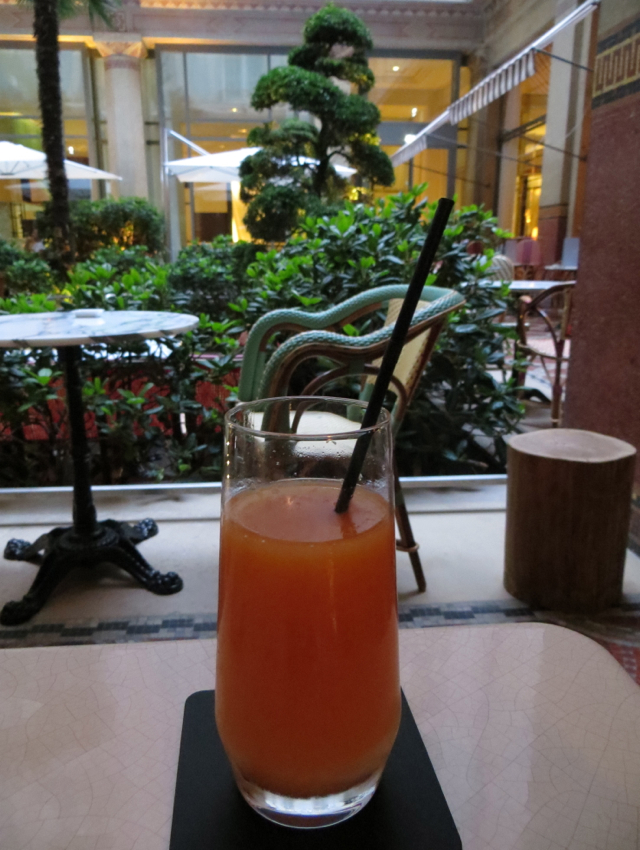 We'd asked our server to return later for our order, but she never did, so we eventually went to the bar and placed our order there for a Princesse de Galles. It took awhile, and when it arrived, the garnish was pretty, but it was mostly ice. Extremely expensive for what it was, so I'd recommend just going with a fresh squeezed juice if you must have a drink.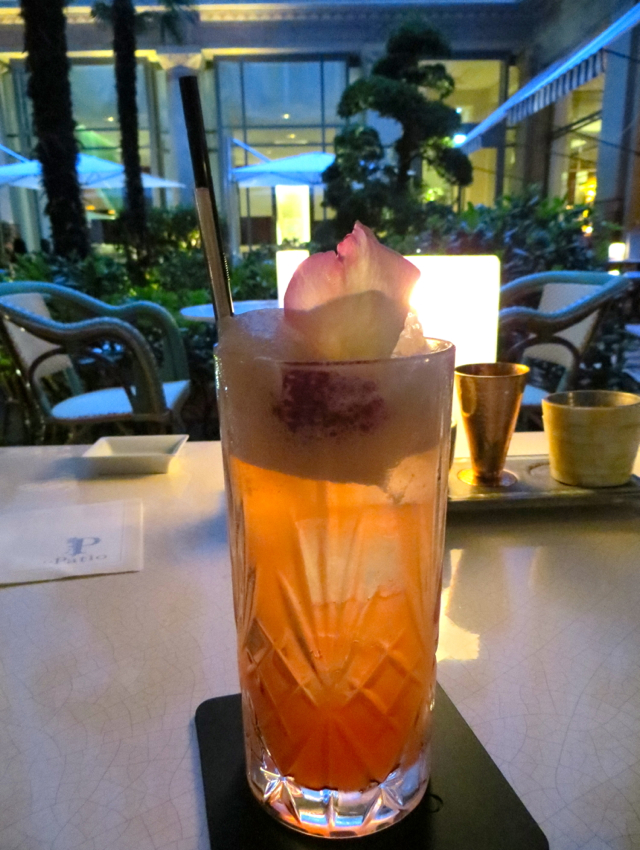 Upon returning to the room, we found that the bed for our 5-year old was only a crib, so we called housekeeping for a proper extra bed that would actually fit him, and it was brought within 20 minutes.
As there were no adapters in the room (unlike at the Four Seasons Paris) I asked for one from reception, but was told only housekeeping could provide them, so had to wait for it to arrive. Of course, it would have been better if I hadn't forgotten to bring one in the first place, but it would also be so nice if all luxury hotels actually provided them in-room as a convenience, instead of having to request and wait for them from Housekeeping.
The Verdict: The Prince de Galles has been tastefully renovated and rooms and suites are fresh and for the most part offer good light, some with outdoor terraces. Front desk staff is very friendly and helpful, although bar and restaurant staff less so. The Concierge was extremly responsive even prior to our stay, providing helpful advice and made a requested restaurant reservation accurately. There was a misunderstanding with housekeeping that was quite quickly corrected.
A great current offer is the 4th Night Free + upgrade at time of booking, with all Virtuoso benefits. In terms of SPG points, the Prince de Galles is a Category 7 property, so it requires 30,000-35,000 points for a free night, or for Cash & Points, 15,000 points + $275. Assuming you value an SPG point somewhere between 2.2-2.5 cents per point, you'll do better with Cash & Points, although either way you're looking at an effective cost of over $600. While Cash & Points is good if your SPG Platinum, if you have no SPG status, I recommend booking with TravelSort for a Virtuoso upgrade and benefits.
Related Posts
Four Seasons Paris Hotel Review
Le Cinq at Four Seasons Paris Restaurant Review
Starwood Cash & Points Devaluation & FAQ
Park Hyatt Paris-Vendome Review
Need Award Booking Help? Our fee is as low as $75 per ticket if you book your hotel through us.
If you enjoyed this, join 150,000+ readers: please follow TravelSort on Twitter or like us on Facebook to be alerted to new posts.
Become a TravelSort Client and Book 5-Star Hotels with Virtuoso or Four Seasons Preferred Partner Amenities!