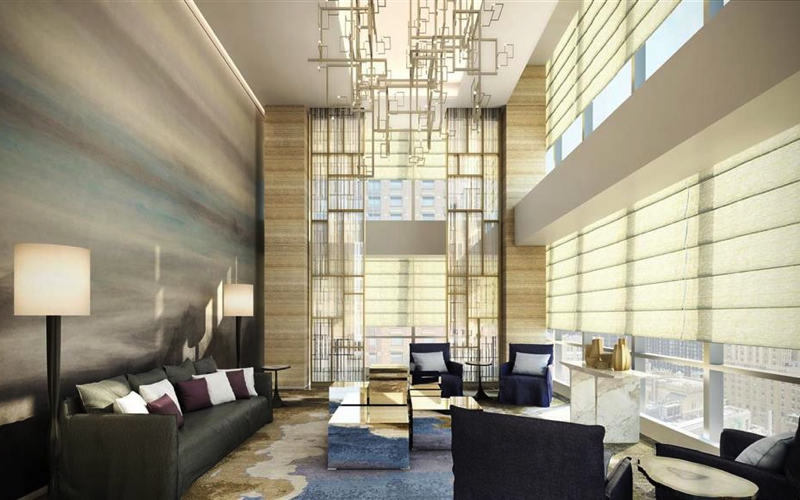 Can you book the Park Hyatt New York with a free night awards or your two free nights from the Hyatt Visa?
7/22/14 Update: Per Hyatt, this is NOT a bug:
"As you can imagine with our new opening there is very high demand, in particular from our most loyal Gold Passport members redeeming both awards and points. We have a limited inventory of the standard king and double room types and they have been booking very quickly and into the future since we began accepting reservations in February. I have looked into the availability for the remainder of 2014 and unfortunately this is not a glitch we are fully committed on all of the standard Park rooms."
I then spoke with the Park Hyatt Rooms Manager by phone, and he mentioned that while there have been a number of 2015 reservations taken for standard rooms, both paid and free award nights, they have currently closed off 2015 standard room reservations until more standard rooms are completed. This is why there are NO standard rooms available, paid or awards, for 2015.
Given this, currently the only way to book the hotel is with a paid reservation. And if making a paid reservation as a TravelSort Client to receive Virtuoso benefits you would still earn Hyatt Gold Passport points and elite credit:
Upgrade on arrival, subject to availability
Continental breakfast for two daily
$100 hotel credit for use during stay
Early check-in and late check-out subject to availability
——-
Park Hyatt NYC: Free Night Awards Currently Not Available
Apparently no, at least not right now. Previously, in Park Hyatt New York Available for Virtuoso and Points Award Bookings, I wrote that it was possible to make Virtuoso paid bookings as well as award bookings at the Park Hyatt New York, which is to be Hyatt's new flagship property in NYC.
But today, when I plugged in about 50 random dates throughout the rest of 2014 and up through July 2015, I couldn't find a single night when a standard Park King Room was available for sale or for a free award night. It's hard to imagine that all Park King Rooms have been booked out for all future dates, so this is most likely a bug.
Nor was I the only one to notice this. Flyertalk member lsed wrote today:
"Has anyone made points reservationis at the Park Hyatt New York? A friend told me they were available for booking at 30K [Hyatt Gold Passport points] but today I see points [free night award reservations] are not available for any date, even in 2015."
At least Hyatt Concierge on Twitter promised to check with the hotel and see what's going on, and Mommy Points agreed with me that it's likely a bug: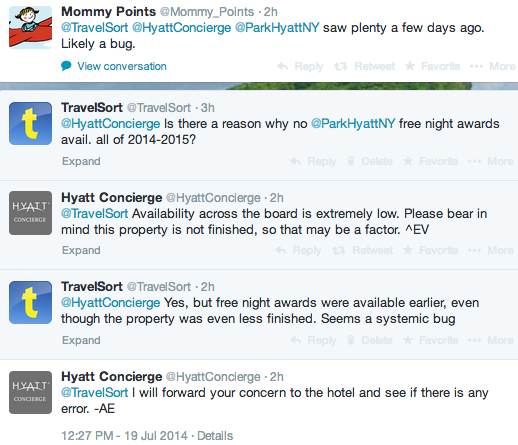 The lack of award availability is the latest snafu among a few that are frustrating even some Hyatt fans.
Delayed Opening with Early Bookings Canceled and No Alternative Comparable Accommodation Offered
Originally the Park Hyatt New York was slated to open June 16, 2014, per an email sent to Flyertalker 777 global mile hound (bold emphasis mine in all quotes):
"Good morning and greetings from Park Hyatt New York.
Our reservation system will be open to take reservations within the next couple of days.
Hotel is slated to open June 16, 2014
We welcome you and all your guests to our hotel."
Then the opening was pushed back towards end of July to early August, per Flyertalker luxury and other flyertalkers who had booked late July reservations reported that their reservations had been summarily cancelled, without compensation of any kind:
"Your source was correct. Hyatt Corporate just called to tell me that they've cancelled our July reservation." —tjbrooks
"Had booked 3 nights. Was informed as well that we will not be able to visit in July. So disappointed! @tjbrooks: what they did offer you as alternatives/compenstaion ? —talula001
"Nothing, other than what I can book myself on the website." —tjbrooks
To which RTW1 replied:
"…Generally when a hotel cannot fulfill it's obligations they find a COMPARABLE alternative and might even offer some compensation. Not simply tell someone, go book at the GH or HP and be glad you saved some money. Even if that's all that they are legally obliged to do…"
I have to say, I agree with RTW1 that when a hotel accepts reservations that it can't accommodate due to a later than anticipated opening, it should do more than just unilaterally cancel those reservations and instruct guests to incur the expense and time of finding other accommodation on their own. It really should be treated more similarly to a walked guest situation, where the hotel at its expense finds comparable accommodation for the guest or offers some kind of compensation to the guest, beyond just telling them they can rebook for later dates.
Now, agreed that there was notice, since this was back in May for a July reservation. But the other wrinkle is that there are no other Category 7 Hyatts in NYC; if these guests who redeemed for award nights at the Park Hyatt New York had wanted to redeem fewer points for one of the Hyatt Category 6 properties, such as the Andaz 5th Avenue, presumably they would have booked a lesser property in the first place. In my view, the right thing to do would have been to either provide these guests accommodation at a comparable NYC hotel, such as the Mandarin Oriental New York, Trump Central Park or the like, or provided the guests with enough Hyatt points to enjoy a complimentary award stay later, after the hotel opens.
No Liquor License Yet for the Park Hyatt New York
Another challenge for the hotel is its liquor license, which in March a community board recommended that the State Liquor Authority deny, based on the second floor open air terrace attached to the Executive Boardroom, which could be rented for private parties. Although the terrace is only for 18 people, the issue is that it is only 30 feet away from the nine story building behind the Park Hyatt NYC, and the enclosed courtyard makes it function as an echo chamber that amplifies the sound.
The residents have asked the Park Hyatt New York developers to do away with the outdoor terrace, since they have no problem with a liquor license used to serve alcohol in the hotel's interior restaurants and bars, but the Park Hyatt New York has refused, prompting Community Board 5 to unanimously recommend that the State Liquor Authority deny a liquor license to the Park Hyatt New York: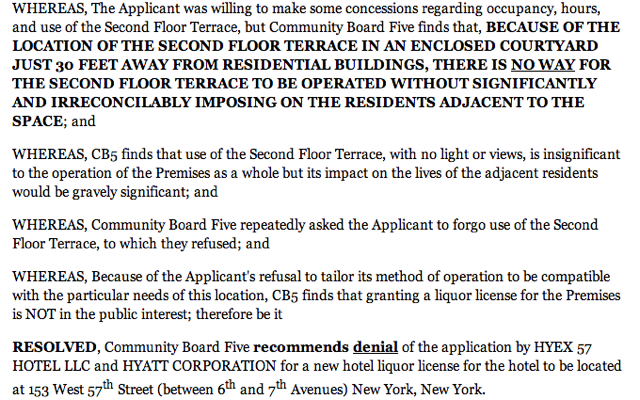 I'm sure the liquor license issue will be resolved somehow, since a hotel is not going to be open or survive for long without a liquor license. NYC is a pretty challenging luxury hotel market, however, particularly since so many luxury clients want great views from high floors, which the Park Hyatt NYC cannot offer as it is on the lower floors of the skyscraper, with luxury condos at the top. So it will be imperative to get everything else right and create great first impressions with guests. The Park Hyatt NYC does offer a spare, modern, residential feel similar in style to the Langham Place Fifth Avenue (formerly The Setai Fifth Avenue) and a more convenient midtown location than the latter.
Have you booked or tried to book Virtuoso or award nights at the Park Hyatt New York?
Related Posts
Park Hyatt New York Available for Virtuoso and Points Award Bookings