This Park Hyatt Maldives Hadahaa Review is from our 2016 return visit to the resort, 3 years after our original visit in 2013. This was our third visit to the Maldives, which we love returning to for its great snorkeling and scuba diving. Our visit is November, which is the tail end of the monsoon period; we were very lucky with our timing, since apparently for the weeks prior to our visit it had been cloudy and rainy most days.
For prior posts in this trip report, please see:
Review: Emirates Lounge, JFK Airport, NYC
Review: Emirates First Class A380 New York to Dubai
Review: Emirates Economy Class 777-300
Review: Moonimaa Lounge, Male and Transfer to Park Hyatt Maldives
TravelSort clients may book the Park Hyatt Maldives with these Virtuoso benefits:
Upgrade on arrival, subject to availability
Daily full breakfast, for up to two in room guests
$100 USD Equivalent Spa Services credit, to be utilized during stay (not combinable, no cash value if not redeemed in full)
Early check-in/late check-out, subject to availability
Park Hyatt Maldives Location and Check-In
The Park Hyatt Maldives is located on Hadahaa Island, in the southern part of the Maldives. Because of this, it requires both a one hour domestic flight and a 30 minute speedboat ride to get to, and with the waiting time in Male and transfers, this can easily add 4-5 hours to your trip after you arrive in Male. See my prior post, Review: Moonimaa Lounge, Male and Transfer to Park Hyatt Maldives for more on the transfer.
Once you arrive at the Park Hyatt Maldives, you're greeted by several resort staff, brought to the Dhoni to complete check-in formalities, and then taken by buggy to your villa.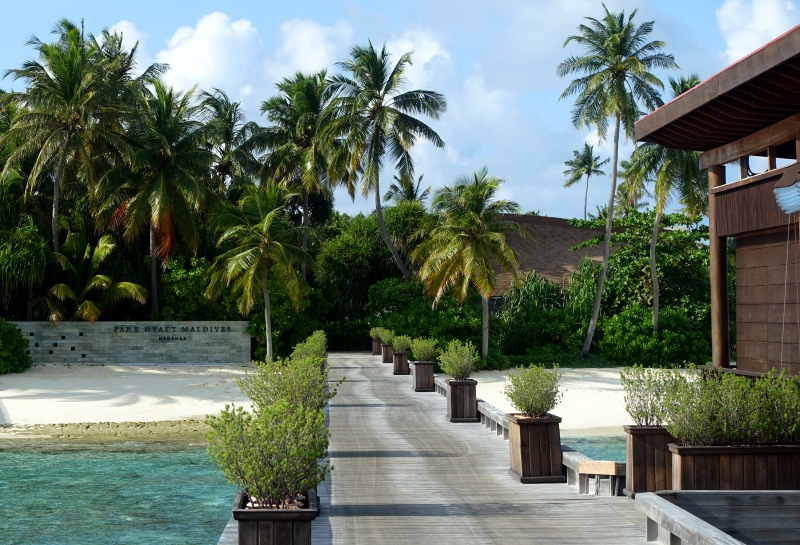 Park Hyatt Maldives Villa Types and Park Pool Villa
There are 3 main villa types: the entry level Park Villa, the Park Pool Villa with private pool, and the Water Villa. Since our previous visit, because of the high demand for the Water Villas furthest out on the pier, there is a new category, the Park Sunset Water Villas. I've toured the Water Villas, but we never had the desire to stay in one, as these get even hotter during the day than the Park Pool Villas, and there's no shade walking along the pier to and from the restaurants, beach, etc. You can see more photos from my last trip: Park Hyatt Maldives Water Villa Review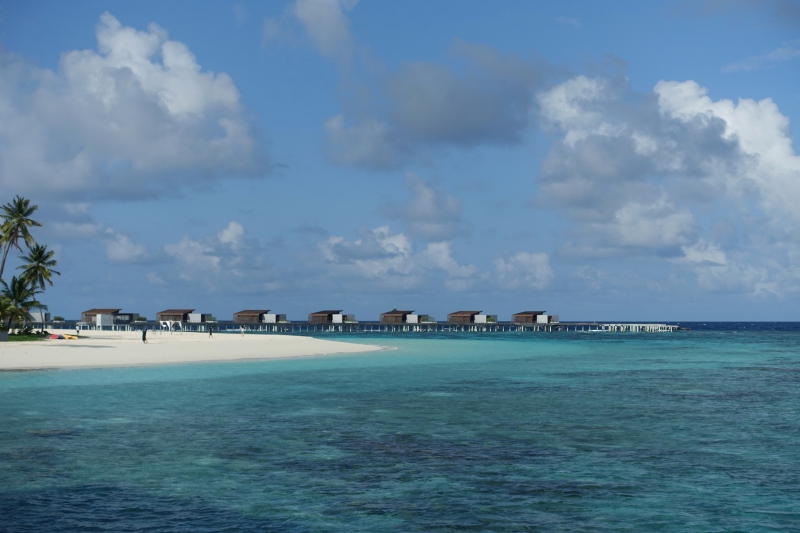 Since we'd so enjoyed our Park Pool Villa last time, we decided to stay in one again for the first two nights, and then the subsequent two nights in a regular Park Villa, which is exactly the same except it only has a deck, without a pool. The villas have high ceilings, so they aren't the easiest to air condition effectively during the daytime (ours was usually 24 degrees Celsius / 75 degrees Farenheit) but are able to be kept at 22-23 degrees (~72-73 degrees Farenheit) during the evening.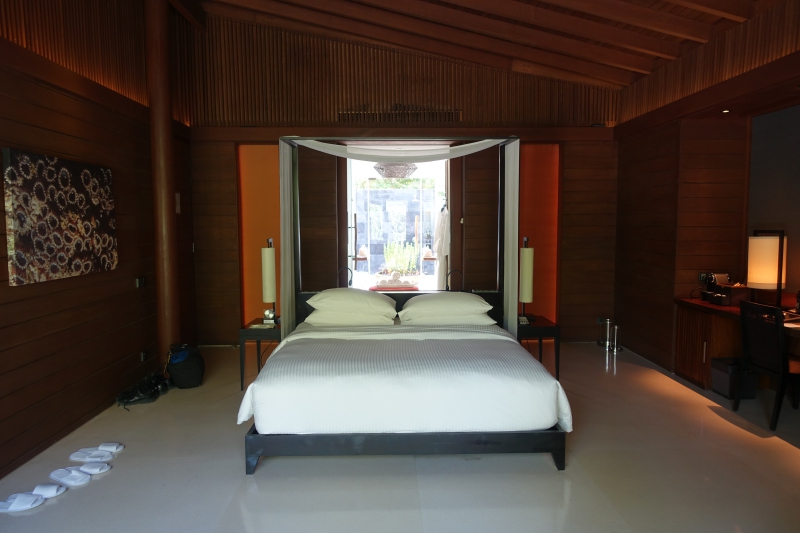 Because Park Hyatt beds are so firm (see Dear Park Hyatt: Please Make Your Beds More Comfortable) I'd asked for an extra mattress topper to make the mattress more comfortable for us. We definitely appreciated the mattress topper, and it was certainly better than our last stay, although even with it the bed was still too firm for both of us.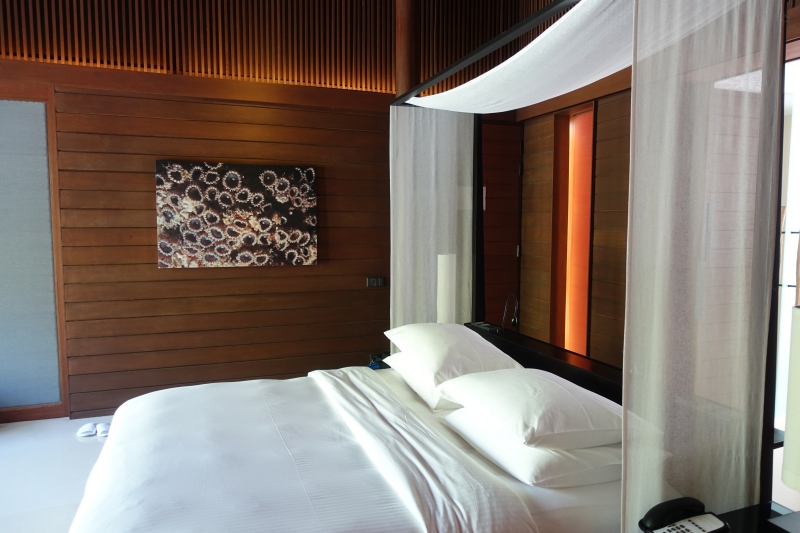 On the desk there was a welcome amenity of kiwi, some milk and white chocolates, and marshmallows. None of it was appetizing (unlike other Maldivian luxury resorts, we were not asked for our fruit and other preferences) and it's probably the first hotel we've stayed at where none of us wanted to try the welcome amenity.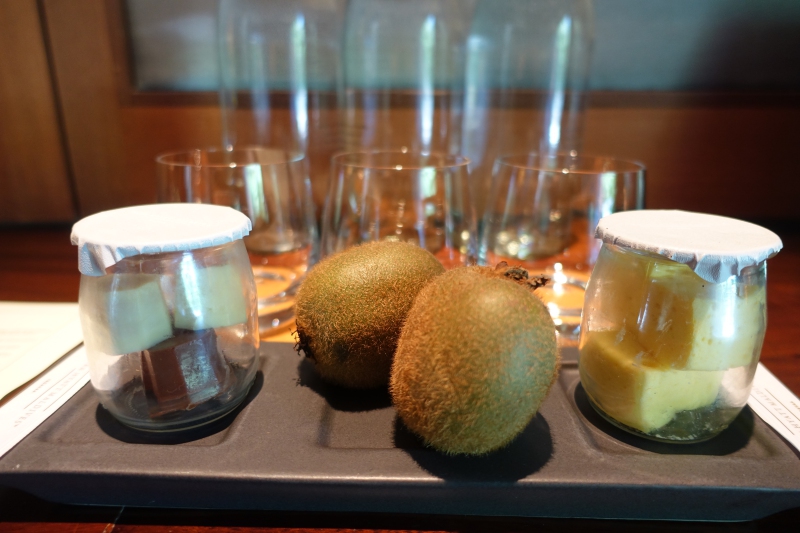 By contrast, two of our four nights there was a turndown food amenity left, and the coconut crepe one was really good.
Also on the desk was a Nespresso machine, and under the desk was a pull-out mini-bar. It was cool, not cold, but a good way to have chilled water instead of room temperature water (desalinated Park Hyatt Maldives water is complimentary in your villa, and available for a few dollars when dining at the restaurants).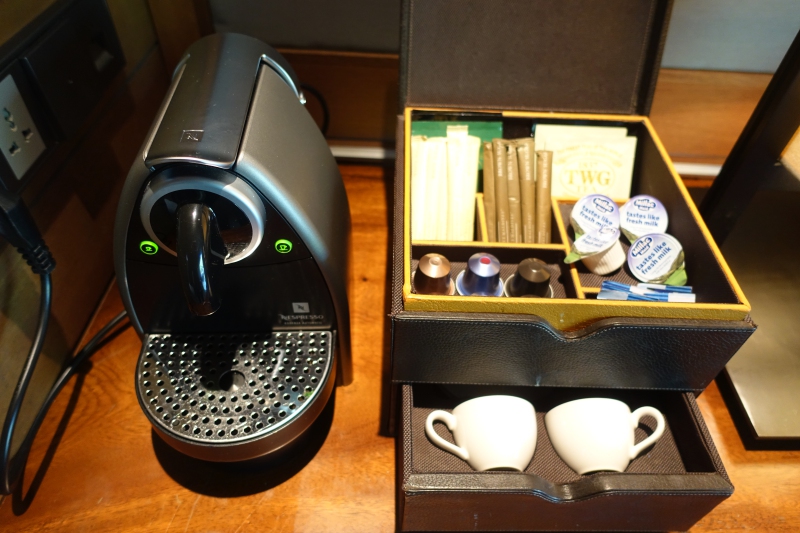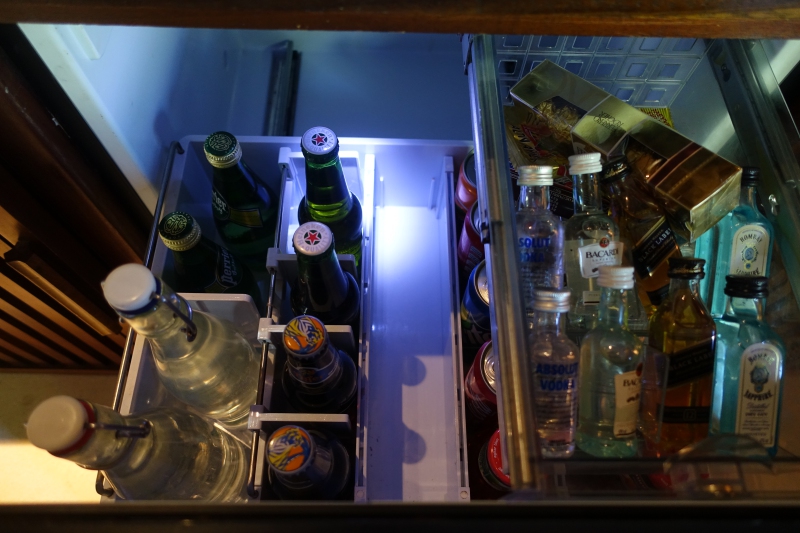 The private pool is a big draw (only the Park Hyatt Pool Villas have these; unlike the Four Seasons Maldives at Landaa Giraavaru or Cheval Blanc, there are no Water Villas with private pools) and my son loved having water battles with his dad: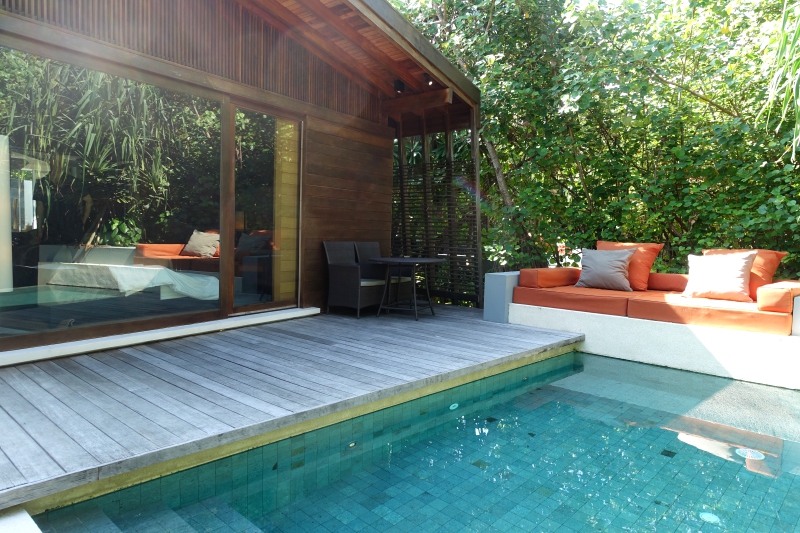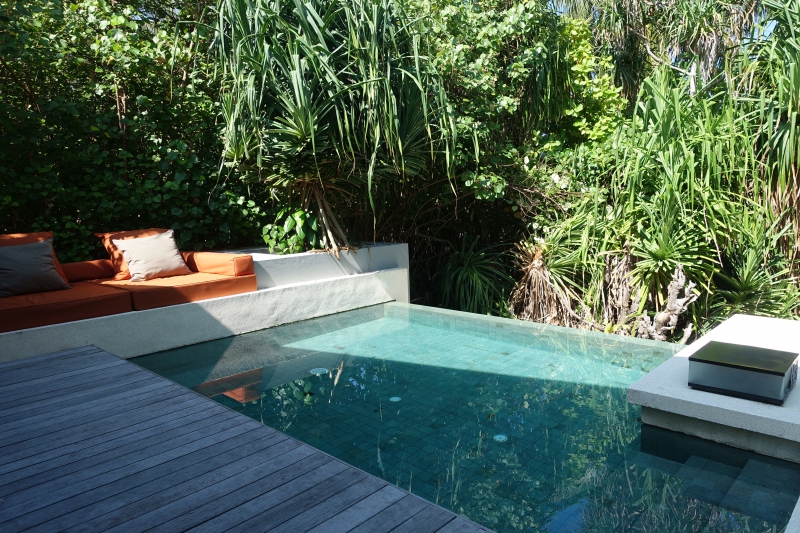 The bathrooms are indoor / outdoor; the indoor section includes dual vanities with his and hers sinks, a large ottoman, and his and hers closet space: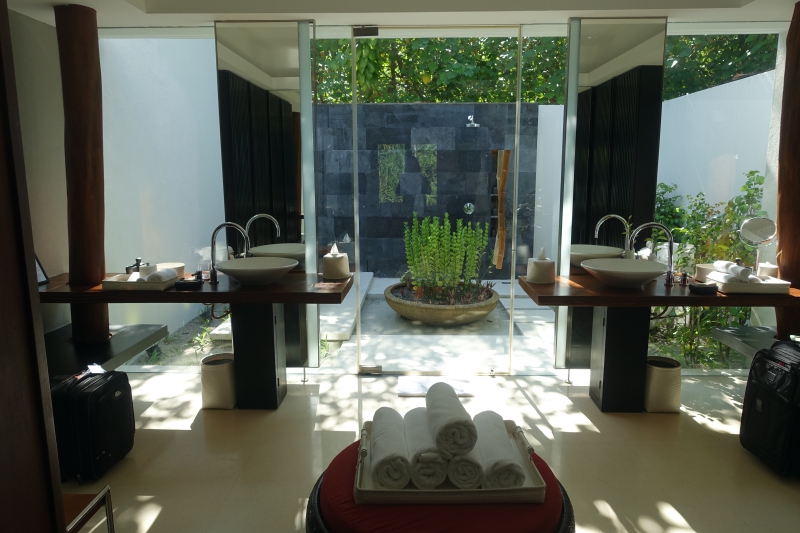 There's also a separate toilet chamber and indoor rain shower: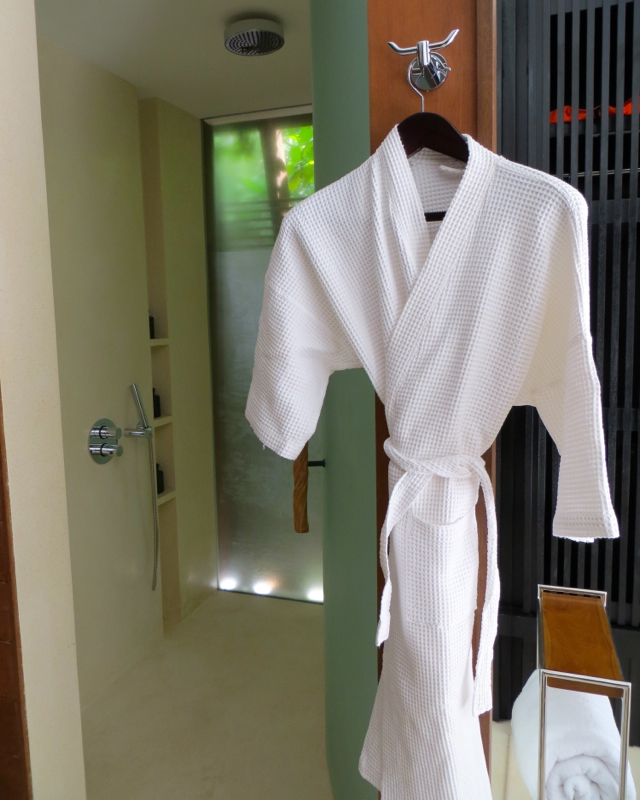 Bath products are locally made and in ceramic containers–careful not to drop them!
Glass doors open to the private courtyard area, with an outdoor soaking tub (which we also used to hand wash some clothes in) and an outdoor rain shower. I do wish the resort would provide a large outdoor drying rack, although we made do with some hangers hung over the outdoor shower.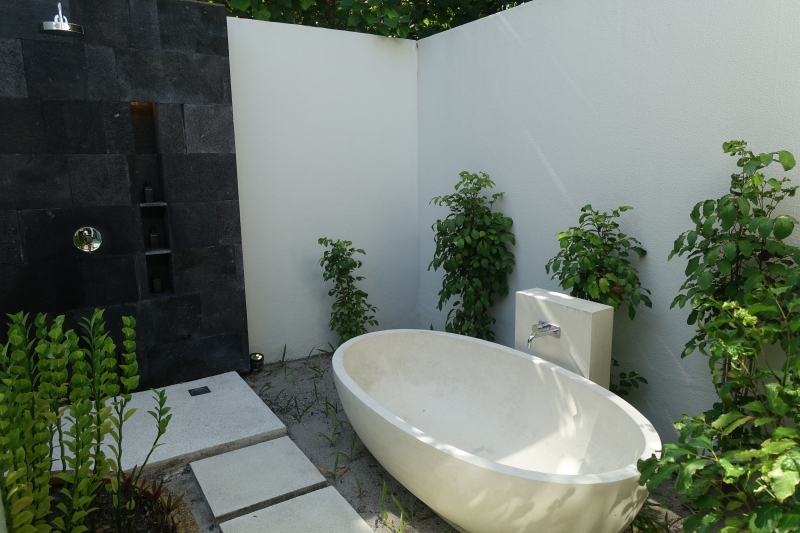 Park Hyatt Maldives Beach and Pools
There are great beach views to be had on any nice day just outside your villa, if you take a few steps from your Park Villa or Park Pool Villa to the beach, or if you're outside your Park Water Villa and look back at the island. The sand does get hot during the day (this isn't Amanpulo's fine sand, which never gets hot) so bring your slippers.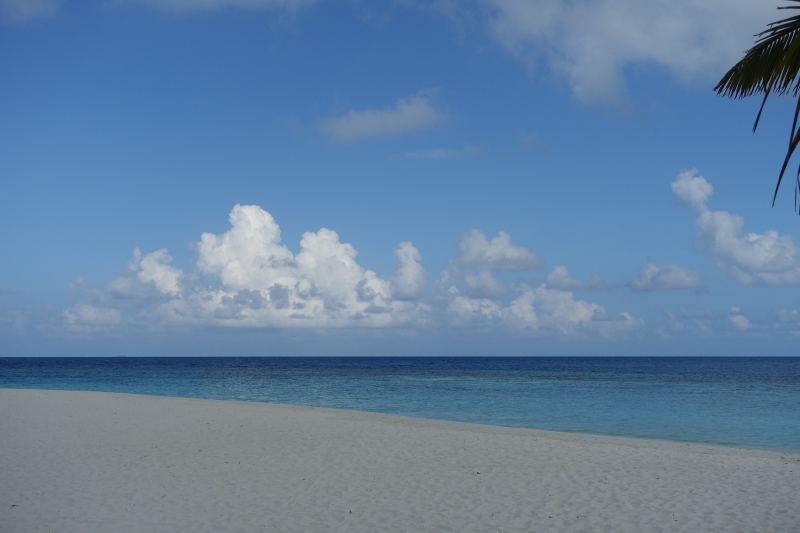 The Park Hyatt's main pool is across from The Dining Room, the main restaurant, where breakfast is served, as well as lunch and dinner. During our stay I never saw anyone swimming in it. Don't be surprised if you see bats overhead, especially in the twilight and dusk hours when they're catching insects to eat.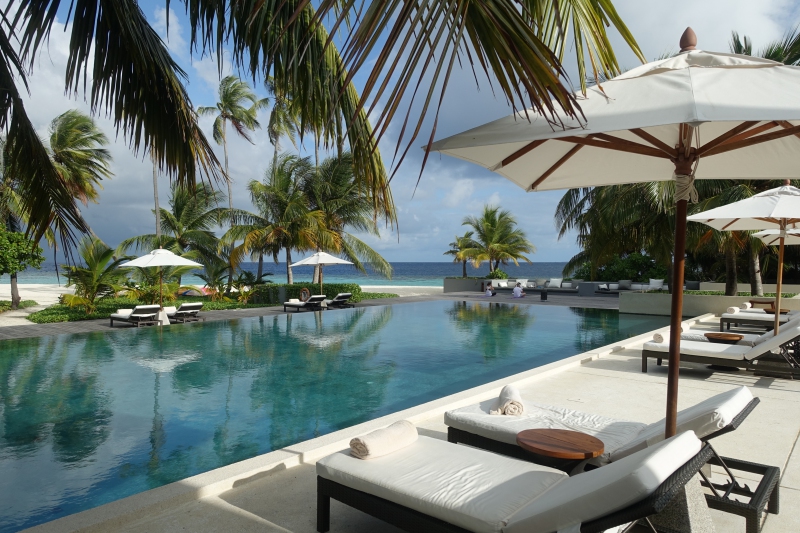 The other pool, which we enjoyed on our last full day, is the Spa Pool, located right by the spa. There are several lounge chairs and open cabanas near here, making it a good place to relax and chat, read a book, or take a nap.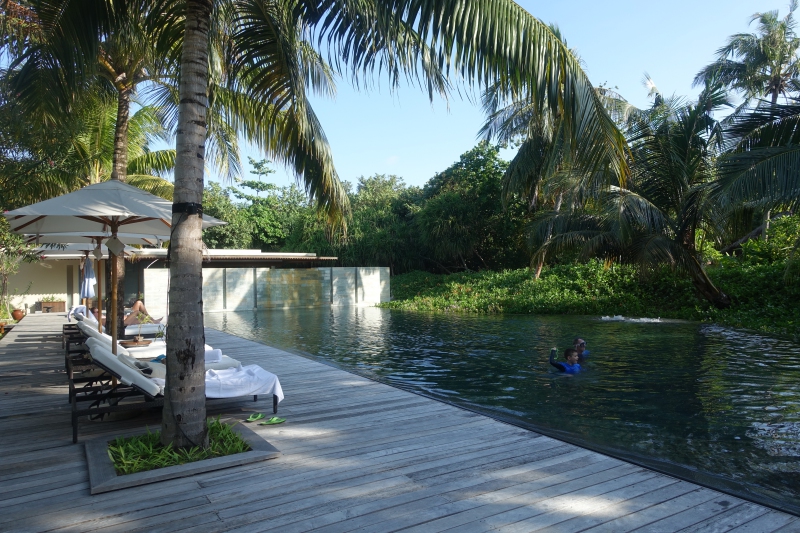 Park Hyatt Maldives Restaurants and Dining
I'll cover the Park Hyatt Maldives breakfast, restaurants and dining in a future post.
The Verdict
We enjoyed our return to the Park Hyatt Maldives, although the transfer is a pain, adding an additional 4-5 hours after arrival in Male. This is a solid 4.5 star property in the Maldives, where competition among luxury resorts is high. The star, of course, is the ocean and house reef with great snorkeling, even though the coral (as in the Maldives, Great Barrier Reef and elsewhere) has suffered significantly from bleaching.
The Park Pool Villa and Park Villa we stayed in had been maintained quite well, and the extra mattress pad helped us sleep better than on our prior visit, although even with it the bed was still firmer than Four Seasons beds, and firmer than we prefer.
Breakfast, which was already good, had improved since our last visit, with a number of good hot a la carte selections in addition to the cold buffet. Dinners, however, were underwhelming, and I was especially disappointed that the fish my husband and son caught was overcooked.
Service was in line with a 4.5 star property, but didn't rise to 5 stars. The welcome amenity of 2 kiwis and some unappetizing chocolates and marshmallows was one of the only hotel welcome amenities none of us wanted. There was a food amenity left with turndown service two of the nights, but not the other two. Housekeeping failed to replace used amenities three of the four nights, and our water glasses were merely rinsed in the sink, not replaced with actual clean glasses. Although we made the resort aware of an allergy one of us has and that we carry an epi-pen for, and the resort assured us there was nothing with that allergen present anywhere, we later discovered that one of the breakfast items did have that allergen–fortunately before the allergic person consumed it. My husband's dinner order the last night was messed up. These things happen of course, but all of them taken together for a short 4 night stay mean that I can't put the resort in the same category as the Four Seasons Maldives at Landaa Giraavaru which is truly 5 stars, let alone Cheval Blanc Randheli, which should get at least 6 stars.
If you've stayed recently at the Park Hyatt Maldives, what was your experience?
Related Posts
Park Hyatt Maldives Water Villa Review
Park Hyatt Maldives Diving and Snorkeling: What to See
Park Hyatt Maldives Back of the House Tour
Honeymoon: Maldives or Bora Bora?
Need Award Booking Help? Our fee is as low as $75 per ticket if you book your hotel through us.
If you enjoyed this, join 200,000+ readers: please follow TravelSort on Twitter or like us on Facebook to be alerted to new posts.
Become a TravelSort Client and Book the Park Hyatt Maldives with Virtuoso Benefits!