TravelSort Reader Amy writes "You seem to have traveled all over the world with your family. What do you consider the best family vacation destinations, and why? I'm looking for inspiration for future trips and want to try something different, not just Disney World or the Caribbean."
Thanks for the question Amy. A lot of times lists of top family vacation destinations seem to be picked with only the kids in mind, without considering if parents also will really enjoy it–and after all, it's their vacation too. At least for my family, we enjoy places that offer:
Something very unique and compelling, whether it's cultural, natural beauty, or rare wildlife
Offers outdoor and indoor activities we and our child will enjoy
Delicious food
Able to get there business class or first class using miles and points
We've been fortunate enough to have been on some very memorable family vacations that we've all enjoyed, and while there are many more places we look forward to traveling to, these are my current favorites:
1. Bali / Nusa Lembongan
Why it's great for kids:
Bali is definitely a long way from the U.S., but it was worth it when we saw the wonder in our son's eyes from seeing manta rays in the water beneath him, and how enchanted he was by traditional Balinese dancing performed by children just a few years older than he is. He had a great time at the Four Seasons Jimbaran Bay at the kids' club and the kids' tennis clinic. gHe also loved many of the local foods we tried, from freshly grilled jacket fish in Nusa Lembongan to fresh squeezed watermelon juice and banana fritters with palm sugar syrup. The Balinese are very family-focused and love kids, and hardly a week goes by before my son asks in a hopeful voice "When can we go back to Bali?"
Why it's great for parents:
Bali and Nusa Lembongan are great picks if you enjoy a balance of relaxing at a beautiful resort and also getting out on some adventures around the island. Particularly around Nusa Lembongan and Nusa Penida, there's great snorkeling and scuba diving, and on Bali there are bicycling trips past verdant rice fields, whitewater rafting, Balinese cooking classes and more.
Getting There with Miles and Points
Cathay Pacific First Class via Hong Kong (using American miles) and Singapore First Class or even Singapore Airlines Suites via Singapore (using AMEX Membership Rewards points transferred to KrisFlyer miles) are great ways to get to Bali. Also see Tips for Booking Award Travel to Bali
Where to Stay
Our two favorite resorts that we stayed at on Bali were the Four Seasons Bali at Jimbaran Bay and Amankila. These are pricey, but worth it for a splurge, even if you can only afford one night at each. In Ubud, we liked Komaneka at Bisma, although try to stay in one of the Pool Villas rather than the main building, since we had some issues with noise from an upstairs room.
On Nusa Lembongan, we stayed at Batu Karang and enjoyed our stay. It's of course not as fancy as the high end resorts on Bali, but was lovely nonetheless, and we do highly recommend Nusa Lembongan if you've any interest in snorkeling or diving.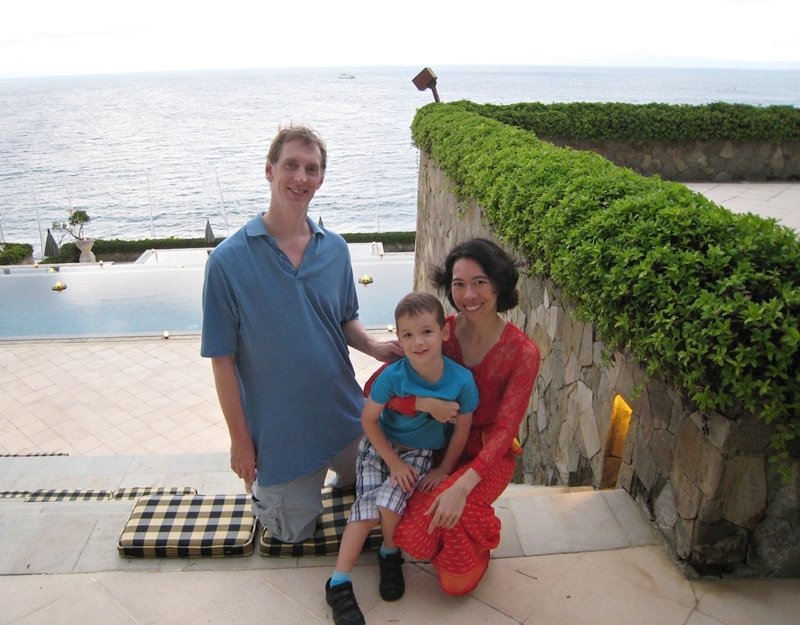 2. Galapagos
Why it's great for kids:
While our son was very young on this trip (just under two), he still was fascinated by some of the animals he saw close up, such as the baby Galapagos tortoises, the marine iguanas, and the sea lions. Some of the older kids on our boat, as young as 6, really enjoyed the snorkeling, as well as the hikes over volcanic terrain. They all enjoyed exploring the National Endeavor, the boat that we were on. Also see Traveling with Kids to the Galapagos
Why it's great for parents:
Prior to booking our trip, I'd asked some of my relatives, who if anything are more travelled than I am, what their top 3 travel destinations were, and the Galapagos was one of them, for its utterly unique animals that are found nowhere else in the world and have no fear of humans. It really was incredible to be able to be literally right next to a nesting blue footed booby or side by side with a frolicking sea lion.
A big part of our trip enjoyment was having superb naturalist guides, thanks to the Lindblad Expedition we were on. I would strongly recommend that if you go to the Galapagos, you go with Lindblad/National Geographic and not one of the cheaper operators, both in order to have very knowledgeable guides and helpful photography experts, and to go with an operator that has high standards when it comes to sustainability. And no, I don't book Lindblad trips or have any relationship with the company other than having had a great experience with them.
Getting There with Miles and Points
While there currently is a good LAN fare sale on with paid business class in the ~$1300 range via Guayaquil, you can use American miles to book LAN awards instead of revenue tickets.
Where to Stay
While you could stay on different islands, accommodation choices are limited, and you can see much more if you go on a cruise that will take you between islands while you're sleeping. See above.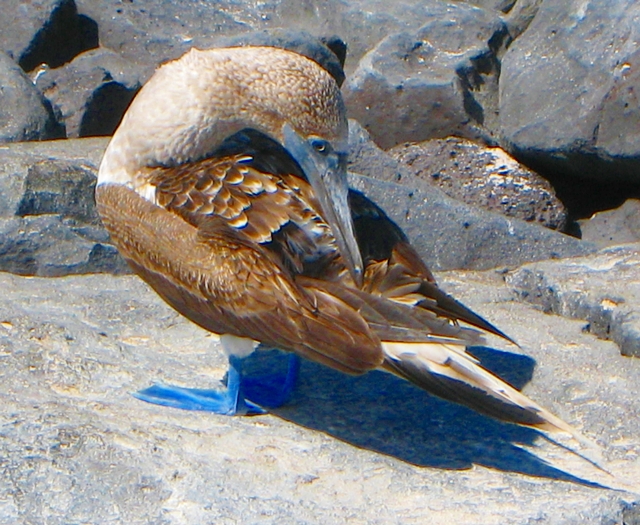 3. Big Island of Hawaii
Why it's great for kids:
The Big Island is the most exciting Hawaiian island for adventurous and curious kids, with its Volcanoes National Park, best preserved Hawaiian petroglyphs, and snow-capped Mauna Kea with its astronomical observatories. There's great hiking to some beautiful waterfalls, and snorkeling with manta rays off Kona, for older kids.
Why it's great for parents:
If you're a bit jaded from past vacations to Hawaii and want more outdoor adventures than lying on a crowded beach or jostling for poolside lounge chairs, the Big Island is a great pick. Beyond the sunny Kona resorts is more of real Hawaii than you'll find on most of the other islands, apart from Molokai. Don't miss some time in Hilo, with its colorful farmer's market and local artist galleries. And if you plan to trek all the way up to the top of Mauna Kea, make sure you rent a 4×4, since your average rental car won't make it.
Getting There with Miles and Points
See Tips for Booking Award Flights to Hawaii, although note that unless you're already sitting on an Alaska companion certificated issued prior to August 1, 2012, it's no longer possible to use a First Class Companion Ticket to Hawaii on Alaska Airlines. Also see Flat Bed Seats to Hawaii
Where to Stay
Want to relax at one of the very best Four Seasons in the world? Stay at the Four Seasons Hualalai, on the Big Island, which also gets top marks from the lucky kids whose families stay there. For a less exalted but more local feel, try the Mauna Lani Bay Hotel. See Best Luxury Hotels on the Big Island of Hawaii.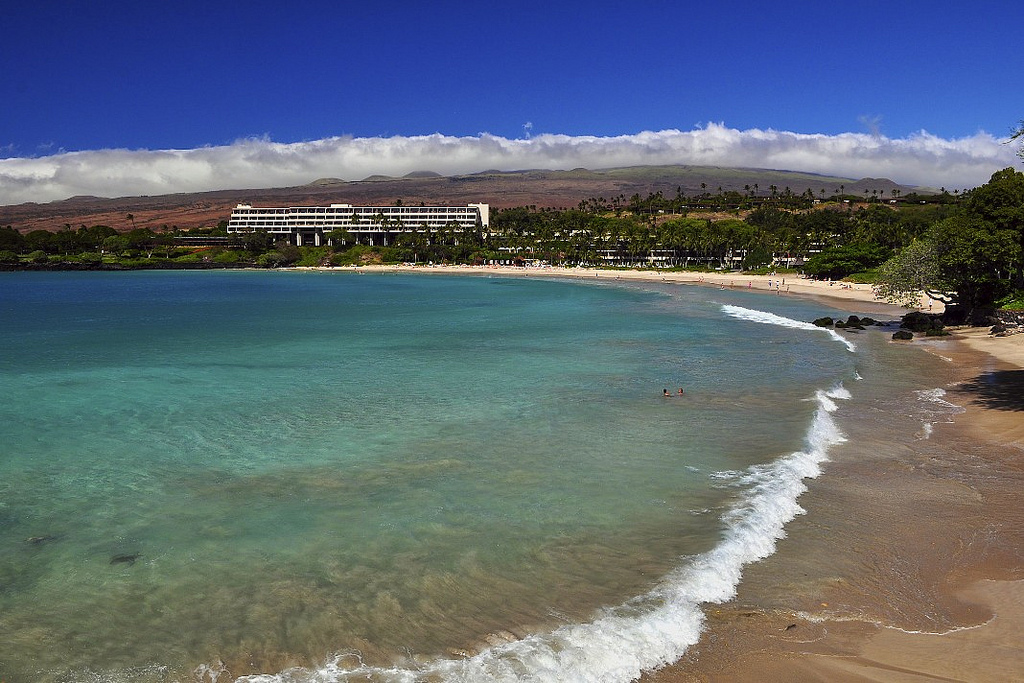 4. Honolulu, Hawaii
Why it's great for kids:
Honolulu offers more than meets the eye. Sure, Waikiki and downtown Honolulu are busy and bustling, but if you rent a car, there's plenty to see around the island that kids will enjoy. Get up early and hike Diamond Head Crater, where kids 4 or older will love the tunnels, bunkers and lookout points used during World War II. And while the Polynesian Cultural Center is of course touristy, it's also pretty unique for kids to be able to "visit" the different Polynesian islands and try traditional crafts, games, and foods. Rainy day? No problem, head to the Bishop Museum, which in addition to its Hawaiian cultural artifacts usually hosts a kid-friendly exhibit and also has a planetarium (check times on the Web site).
And of course, for a lovely peaceful beach, check out Lanikai Beach. I promise it will be a lot more enjoyable than fighting for your several feet of space at Waikiki Beach.
Why it's great for parents:
If you want more than beaches and hiking, with plenty of restaurant and cultural options, Honolulu is definitely your best bet. None of the other islands will offer the variety of ethnic foods, fine dining restaurants, live music choices, shopping, and museums that Honolulu does.
Getting There with Miles and Points
See above section for the Big Island.
Where to Stay
Most of the hotel choices are in Waikiki. We enjoyed the peaceful oasis of The Royal Hawaiian and its feel of a bygone era (it's the iconic "Pink Palace" and one of the very first hotels on Waikiki Beach). If you prefer being on the Diamond Head side of Waikiki, close to the Honolulu Zoo and Waikiki Aquarium, a good bet is the Aqua Lotus, which formerly was a W Hotel. It's decidedly low key, but has quite spacious rooms and a complimentary wine hour nightly, as well as complimentary bicycle rental.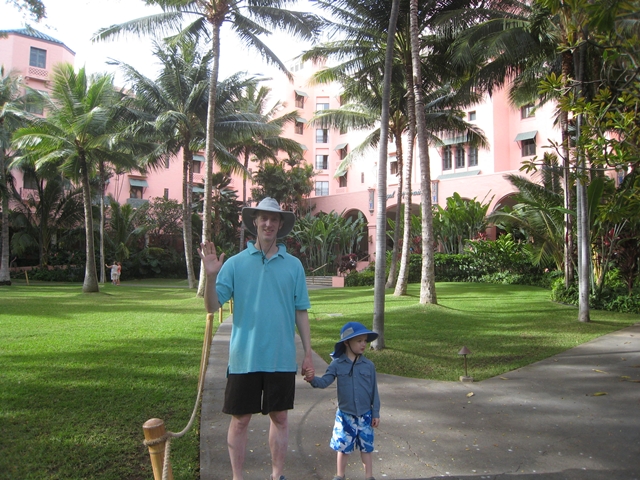 5. New York City
Why it's great for kids:
I live here with my family, so I'm biased, but NYC really is a great place for kids if you want a city break rather than a beach vacation. Younger kids will love the Bryant Park Carousel, feeding letters to Alfie the Dragon or "driving" the Fire Engine at the Children's Museum of Manhattan (CMOM), and outdoor music in Central Park with Music for Aardvarks during the summer. Slightly older kids will marvel at the enormous dinosaur collection at the Museum of Natural History, performances at the Swedish Marionette Theater in Central Park, and of course toy heaven at iconic toy store FAO Schwarz. Don't forget the Sony Wonder Technology Lab, Broadway shows for theater loving kids, ice skating in Central Park or Rockefeller Center in the winter, the list goes on. Here's a pic of MommyPoints and Little C enjoying the Dora the Explorer exhibit at the Children's Museum of Manhattan (CMOM):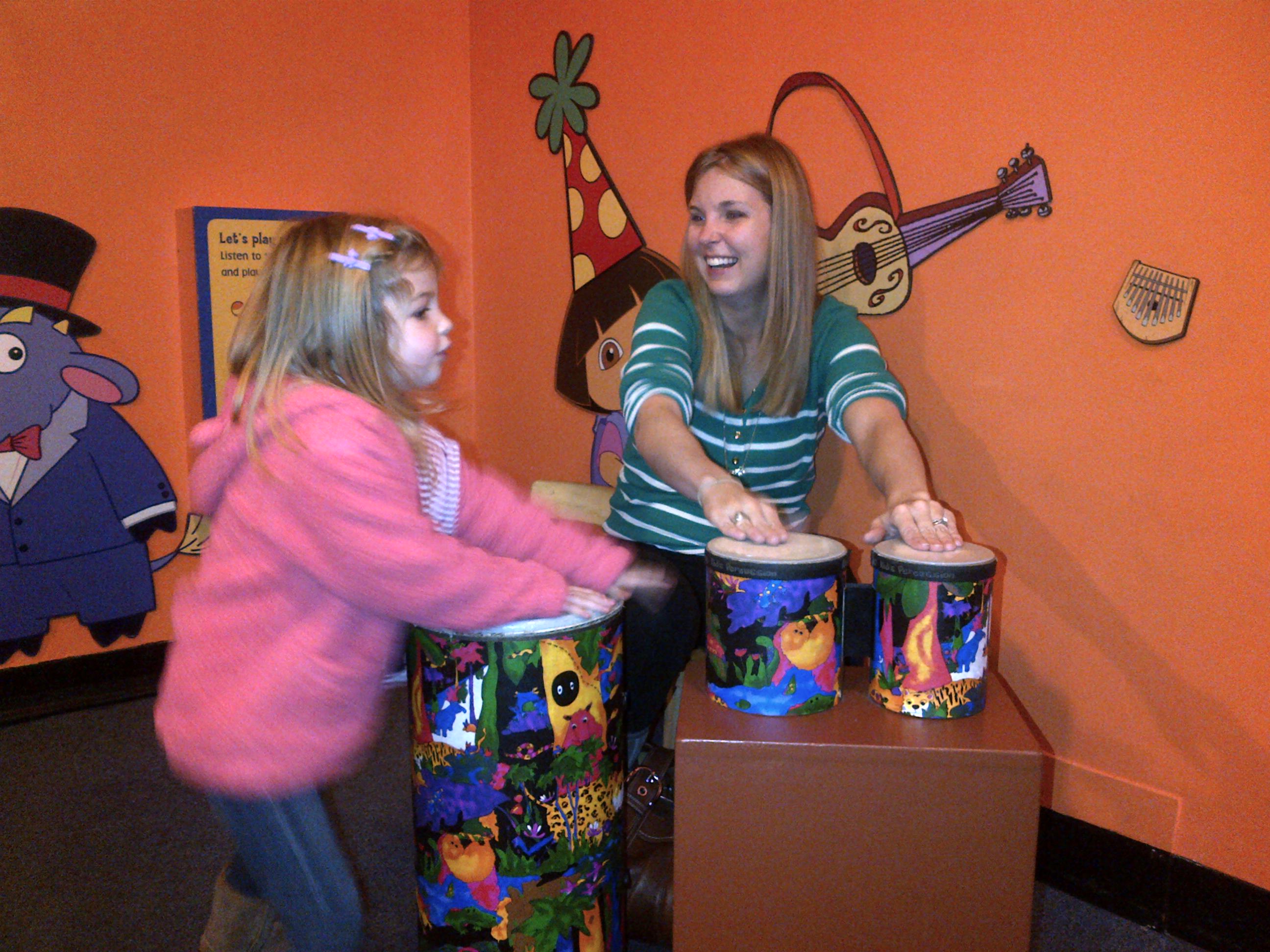 Why it's great for parents:
NYC may not be the most relaxing vacation (unless you spend time at one of the many great day spas) but it's packed with great restaurants, from hole in the wall ethnic eateries to Michelin star dining; great theater, Broadway musicals, opera, dance and live comedy shows; a regular stream of parades and unique festivals; and incredible nightlife, if you can find a trusted babysitter. If you're bored…it's your own fault.
Getting There with Miles and Points
There are plenty of Star Alliance, oneworld and Skyteam options, depending on where you're coming from.
Where to Stay
See our picks in New York City with Kids and Best Kid-Friendly Hotels in NYC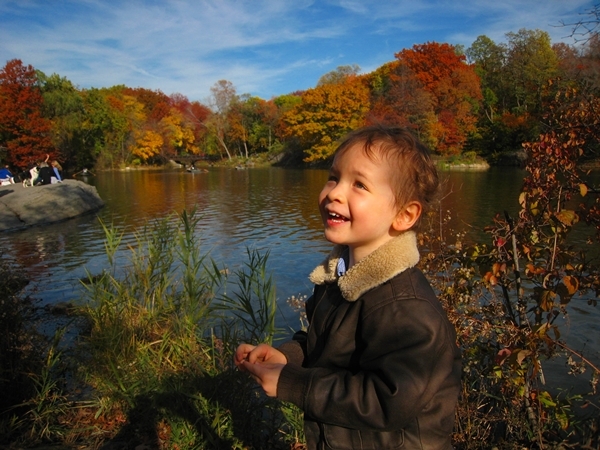 6. Paris
Why it's great for kids:
Paris may be most known for romance, but it's also a fun city for kids. Sail your own boat at the Jardin du Luxembourg, or set your kid loose at the fantastic playground also in the Luxembourg Gardens. There's a nominal fee, but the rope climbing equipment, wooden bridges, zipline and more make it completely worth it. Also see Paris with Kids. Young kids will be entranced by the carousel and maze at Jardin d'Acclimatation, as well as the "petit train" from Porte Maillot that will take them there. For older science minded kids, don't miss the Paris Air & Space Museum and extensive hands-on exhibits at Cite des Sciences & de l'Industrie. Plus, plenty of French food is kid-friendly, from delicious crepes to wonderfully creamy yogurts and cheeses to pastries and the Best Paris Desserts that will have your kid wishing they could stay in Paris.
Why it's great for parents:
Paris' reputation precedes it, and the incredible museums and cathedrals, including the Louvre, Notre Dame, Sainte Chapelle, Musee d'Orsay and Rodin Museum need no introduction. For parents who are foodies or enjoy great wine, there's of course no shortage of cozy bistros, cafes and Michelin Star restaurants. Tip: if your kids enjoy food and you're willing to let them watch an hour of an educational program or film, you *can* enjoy a decadent lunch at a Michelin star restaurant. See 3 Hour Lunch + 3 Year Old + Paris? Mais Oui!
Getting There with Miles and Points
See Tips for Booking Award Flights to Paris
Where to Stay
If your kids are like mine, a pool is a big plus. That's a relative rarity in central Paris, but Le Burgundy has one, with cool mood lighting at that. We liked how spacious our Junior Suite at the Champs Elysees Plaza was, and the elegant included breakfast with superb hot chocolate. Do be aware that many standard rooms at Paris hotels only accommodate 2 guests (even if you are 2 adults and a baby) so make sure to double check that your kids will be able to fit in your room before booking. Paris fire code regulations are very strict and hotels do abide by them.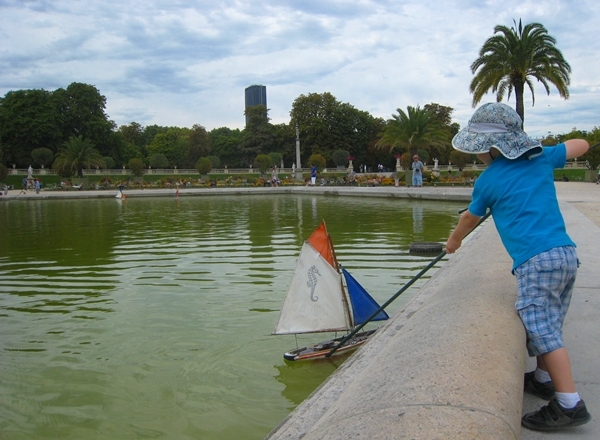 Related Posts
Best Airlines for Kids and Families
Flying with Kids: Tips for Taking Toddlers on Long Plane Flights
Need Award Booking Help? Our fee is as low as $75 per ticket if you book your hotel through us.
If you enjoyed this, please follow TravelSort on Twitter or like us on Facebook to be alerted to new posts.
Become a Member to find your perfect luxury or boutique hotel at up to 50% off: TravelSort Hotels
Photo credits: Hilary Stockton, SteveD