While in Scottsdale, Arizona visiting a friend, we got the chance to try Joya Spa at Montelucia Resort & Spa. I wasn't familiar with the best spas in Phoenix and Scottsdale, but my friend confided that it was the best of all the Phoenix area spas she had tried over the course of several Spa Week promotions.
I don't go to spas or have massages that frequently–my last one was an aromatherapy massage included in our rate at Batu Karang in Nusa Lembongan, off Bali–but was definitely up for a spa visit and catching up with my friend.
Montelucia Resort was a short drive from my friend's house, and there was plenty of space in the underground parking. We approached the entrance, which might as well have been a Disney interpretation of a Morocco fortress. I neglected to take a photo, so here's one from the Montelucia site: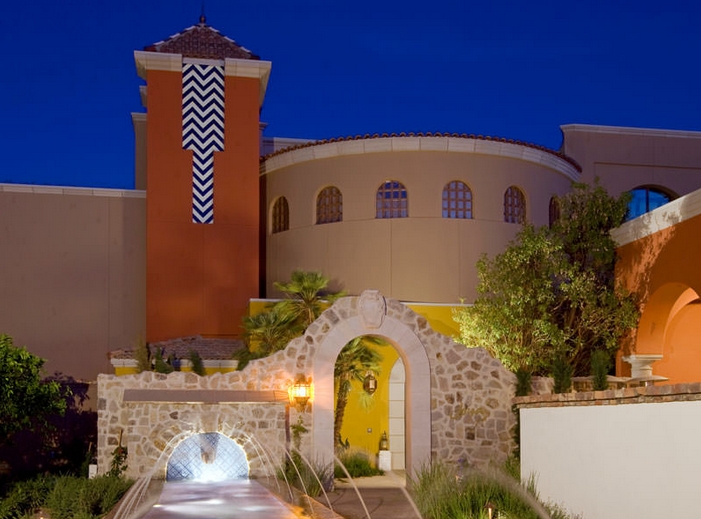 I wondered if the staff costumes and treatments would be as cheesy as the building, but fortunately bit my tongue. We were greeted by the very friendly receptionist, who not only checked us in but also escorted us upstairs, giving us a tour of the facilities. There was a giant crystal in one foyer, and in another, a place where you chose an "intention stone" that you left by some candles. I've already forgotten what mine was, which tells you how much I believe in fortunes or superstitions, but I'll bet some folks (cue new age music) like it.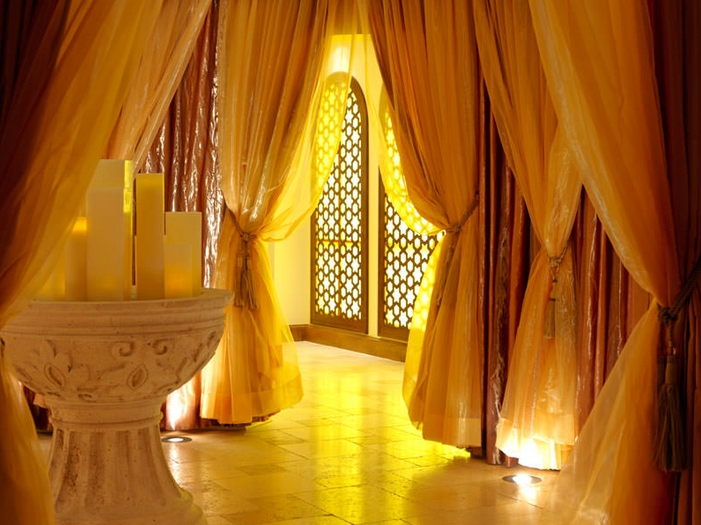 We had arrived early to take advantage of lunch that was included in our package, so we went out to the bright and sunny pool deck, where there were lovely views and a choice of seating: "egg" chairs, sun loungers, regular chairs around tables, and loungers underneath a shaded cabana, which is what we chose.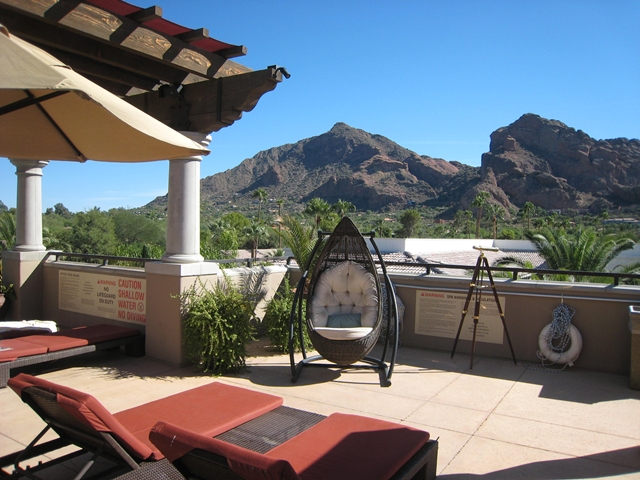 There was a nice outdoor pool, although we didn't have time to use it: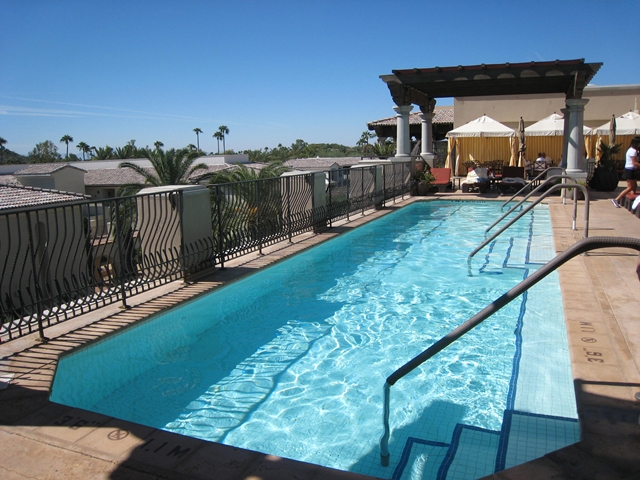 The lunch was surprisingly good. I was expecting it to only have "rabbit food", smoothies and the like, but they also had sliders, which I opted for in spite of the calorie count, since I was famished. They were of grass-fed beef and very satisfying: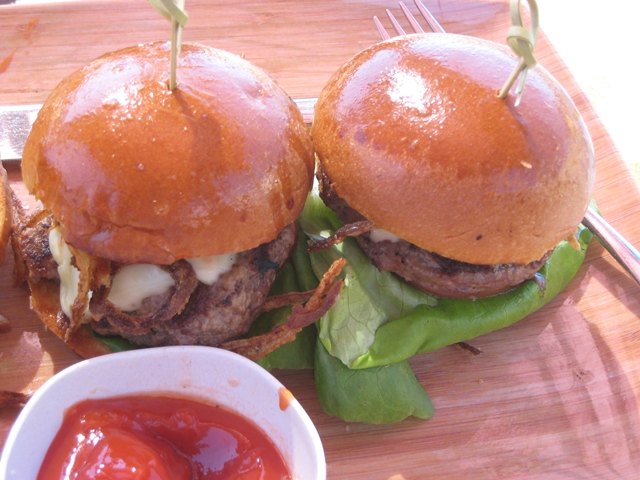 My friend chose the pesto pizza, which I tried a bit of and was also delicious–plenty of both pesto and cheese.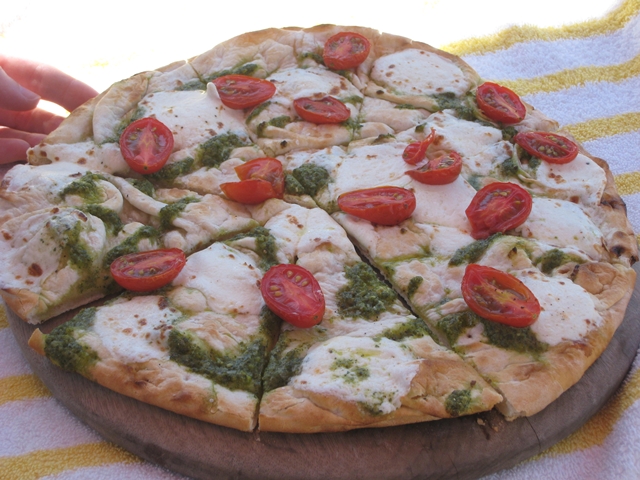 Since we had a lunch credit to use up, we also ordered a cheese plate, but ended up bringing most of it home, since our individual lunches were more than enough. Again, a better than average selection of cheeses, together with Marcona almonds: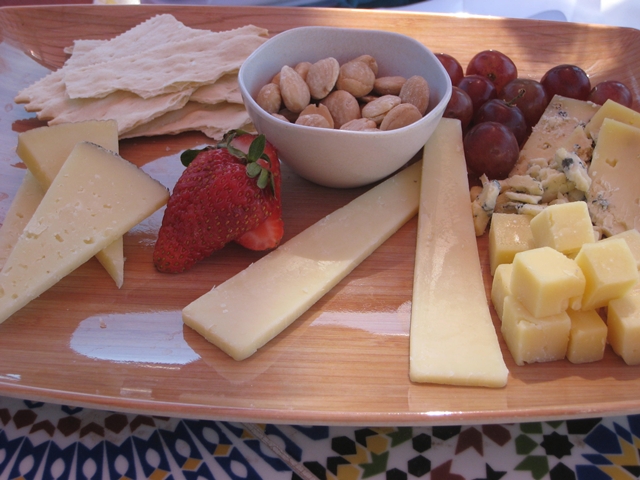 The only thing that slightly marred the lunch experience was the incredibly slow service, from a lone, rather harried server. We later found out, speaking with her, that she normally has a colleague working with her, but that person was out without a replacement, so it was just her. So you might want to try to allow extra time if you are planning to lunch at the spa, so you don't run out of time.
Afterwards, we went inside to the Women's Changing Room, where our lockers included a spa robe and slippers. We then waited in the Women's Relaxation Lounge for our therapist to invite us to our treatment. The Lounge offers whole fruit (some of the largest apples I've ever seen), ice tea, and also hot tea made with Tea Forte. The blend on offer was Cherry Marzipan, a base of green tea with notes of acerola cherries and toasted almond. Unusual and rather addictive, I had 3 small cups.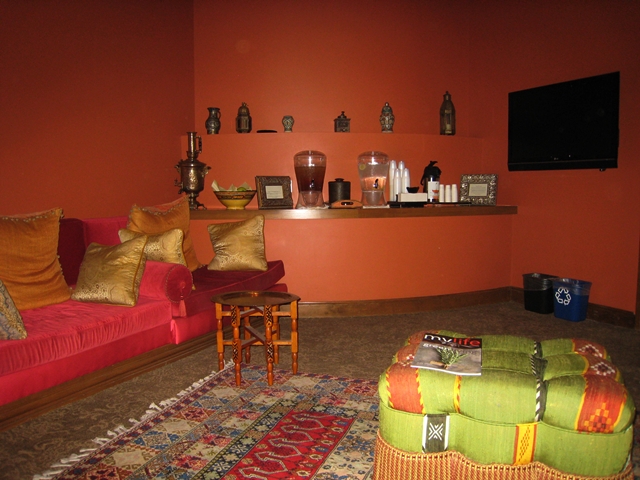 My therapist soon arrived, introduced herself, and led me to the massage room, which to my surprise turned out to be an entire couples suite (later I found it was called the Grand Palace Suite) even though I was alone. There was a four poster canopy bed, a fireplace, and two massage tables. While I hadn't filled out any detailed forms specifying what I'd like the massage to focus on, my therapist asked me which areas I wanted to focus on and any I wished to avoid, before leaving me to change. The massage was very professionally done, including a little accupressure but mostly Swedish massage techniques. I especially appreciated the use of warm towels on areas that had just been massaged, to further relax them. Afterwards, a cup of water was waiting, and on the way back to the Lounge, my therapist advised me to drink plenty of water, to help flush out any released toxins.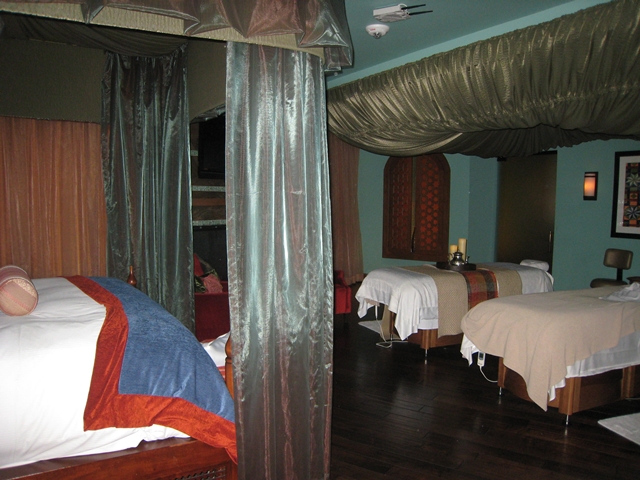 After her facial, my friend, who is a new mother, enjoyed a 30 minute power nap in the relaxation room, where she was the only one napping. I well remember the sleeplessness of being a new mom, so I'll bet Montelucia Spa could be a favorite with other new moms for its nap room alone!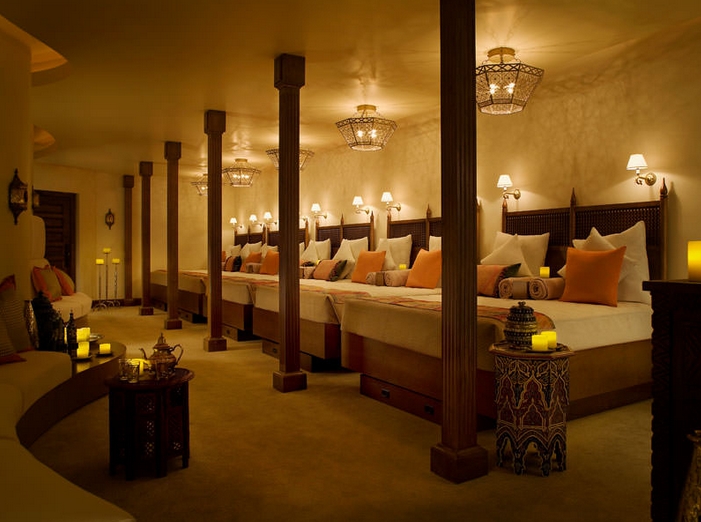 Meanwhile I checked out the water circuit area, which includes a shower (freezing, my friend told me, so I skipped that), Turkish hammam, and the jacuzzi, which I enjoyed.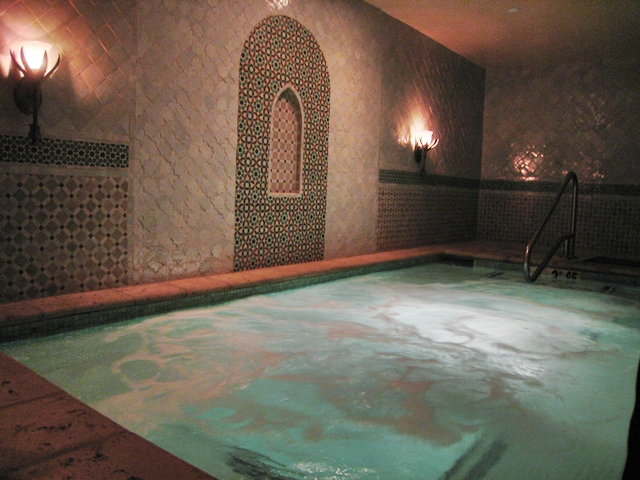 Verdict: Montelucia Spa may look a bit cheesy from the outside and even inside, but once you get used to it, the Moroccan theme is very conducive to relaxing and removing yourself from whatever your current stresses may be. I'd give my massage 8/10: great, and better than many massages I've had, although not the best I've had. Pricing is what you would expect for spas in major urban centers, although check out their changing special offers. As you'd expect, weekends tend to be busier and the special offers, if they apply, are more expensive. My friend insisted on treating me because I was visiting, but if I'd paid, I would have put it on the Chase Freedom, since it gets 5X for all hotel spend (also airlines, Best Buy and Kohl's) for October, November and December 2012, up to a $1500 maximum (7500 Ultimate Rewards points).
Related Posts
Sanctuary Camelback Mountain Resort Review
Tips for Staying Healthy on Long Plane Flights
What Are the Best Thermal Baths in Budapest That Also Offer Great Massages?
Choosing the Frequent Flyer Program That's Right for You
Need Award Booking Help? Our fee is as low as $75 per ticket if you book your hotel through us.
If you enjoyed this, join 200,000+ readers: please follow TravelSort on Twitter or like us on Facebook to be alerted to new posts.
Become a TravelSort Client and Book 5-Star Hotels with Virtuoso or Four Seasons Preferred Partner Amenities!