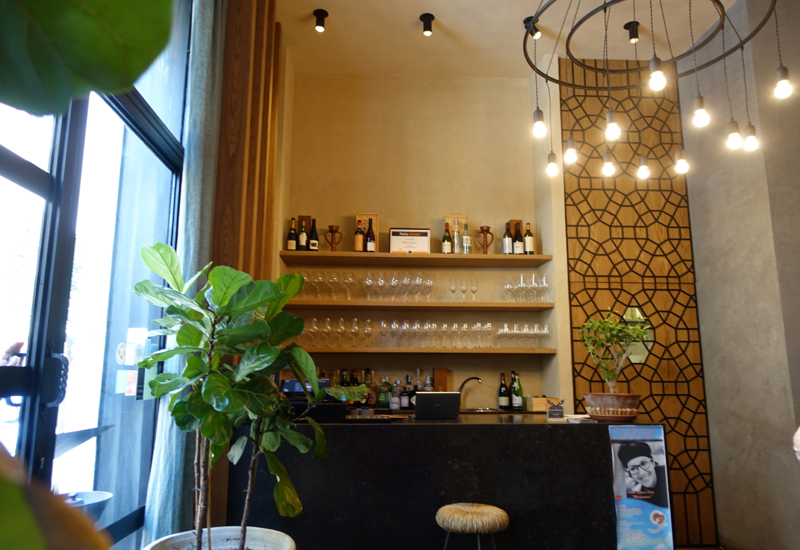 This Review of Marzapane Roma restaurant in Rome, Italy is part of a trip report featuring Singapore Suites, Air Berlin Business Class, and luxury hotel stays, dining and activities in Berlin and Italy.
For the prior posts, please see:
Review: Air Berlin Business Class A330 JFK to Berlin
One of Europe's Best Hidden Secrets: Guess the Place
Review: Virgin Atlantic Clubhouse, New York JFK Airport
Review: Singapore Suites A380 New York JFK to Frankfurt with a Kid
Katz Orange Berlin Restaurant Review
Marzapane Roma Location, Hours and Reservations
Marzapane Roma is located at Via Velletri 39, which for us was a 15 minute drive from the Portrait Roma; or if you're at the Colosseum, it's also about a 15 minute taxi ride. If you happen to be visiting the Villa Borghese Gallery Art Museum, however, it's only a 10 minute walk.
Marzapane Roma is open for lunch 1-3pm and for dinner 8-11pm, daily, except Wednesday, when the restaurant is closed. Since it's a small place, we took the precaution of making a lunch reservation a couple months ahead of time, via the Web site, and received an email confirmation. And we were glad we did, since at one point every table was occupied during our lunch visit.
The Scene
Of all the seated tables, ours was initially the only one with a child at it, so I was glad we were visiting for lunch, when other tables were primarily people on business lunches and a few couples. That said, midway through our lunch there was a family with a baby, so I didn't feel so badly then. Plus, the general atmosphere is laid back, and not overly formal.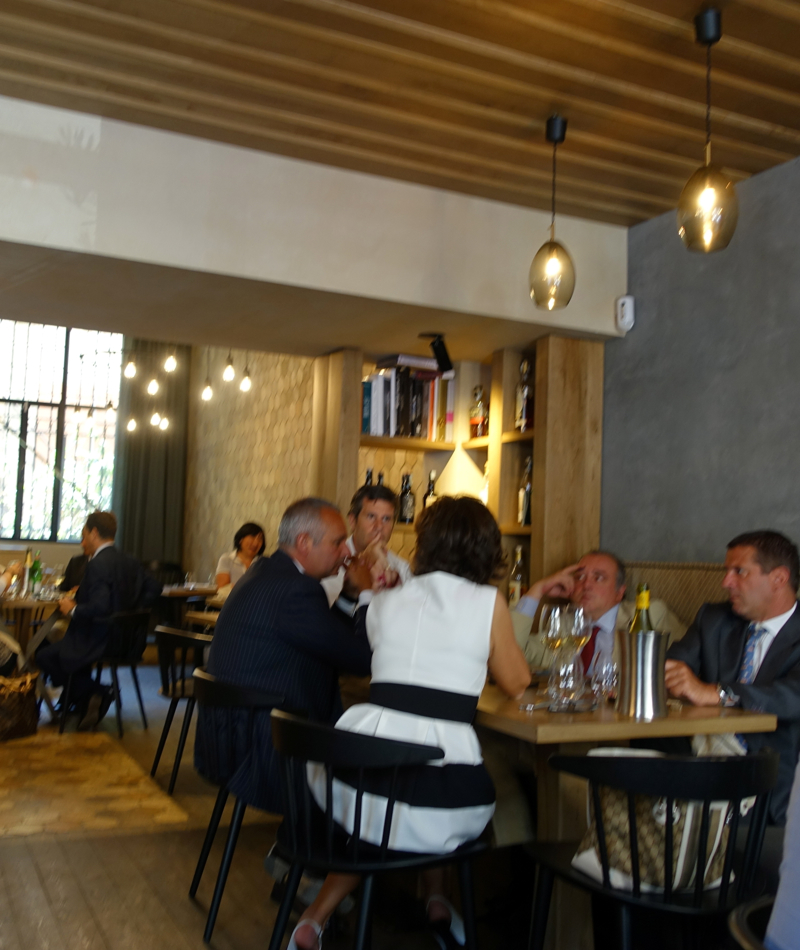 Marzapane Roma Menu and Food
Marzapane Roma is led by the young, talented Spanish Chef Alba Ruiz Esteve, who provides a Spanish inflection to meticulously prepared Italian and French dishes. Here is the menu from our visit: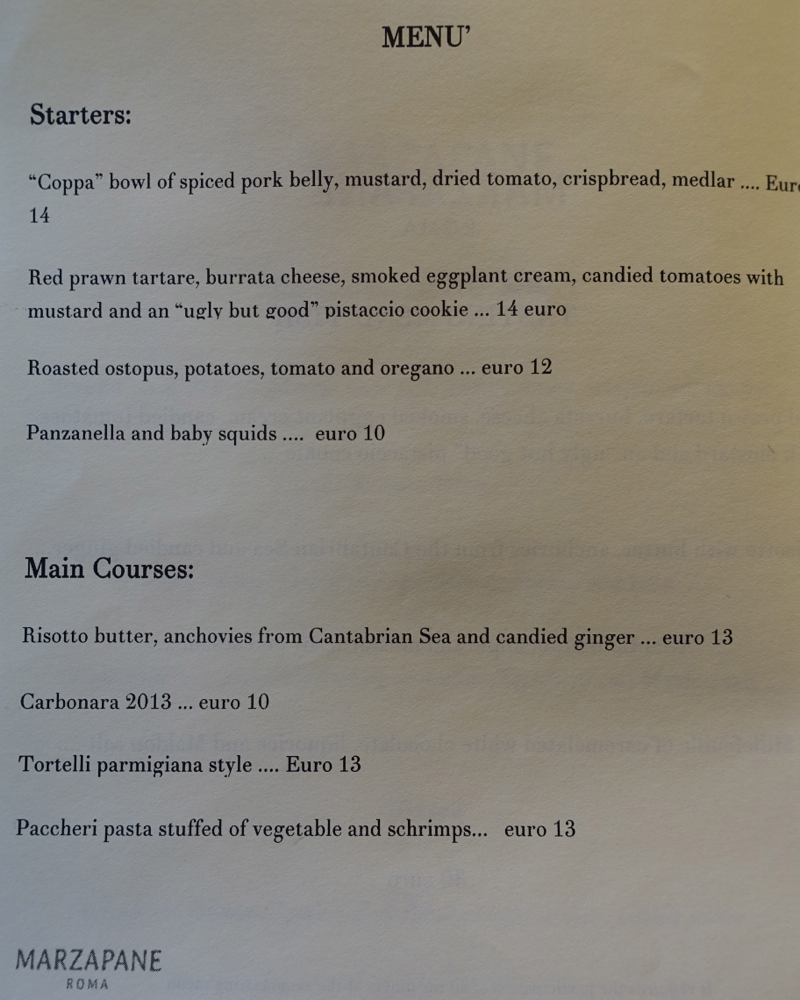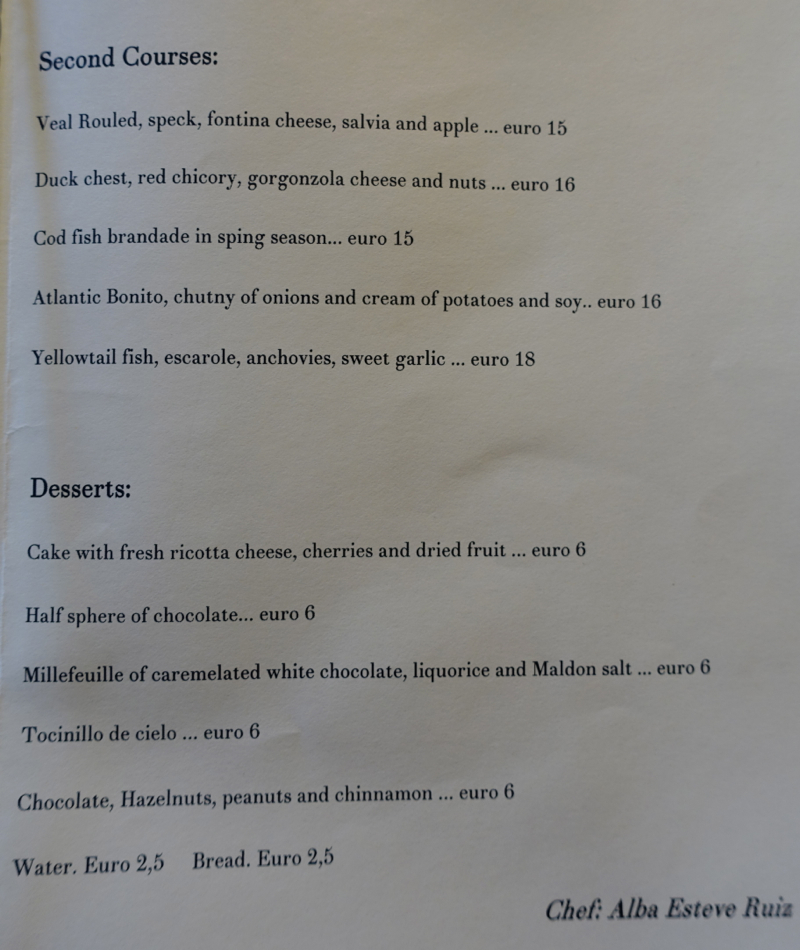 Since we were a bit late in arriving and very time limited, due to our needing to meet a guide that afternoon, we didn't have time to sample any of the tasting menus, but they looked excellent. Here's the 39 EUR one, which looks like a bargain:
Amuse bouche
Carciofi con paté di fegatini, ricotta, pecorino e uva (Artichokes with liver pate, ricotta, sheep cheese and grape)
Cappelletti alla Gallega (Tortellini in a potatoes and paprika broth with roasted octopus)
Carbonara 2013
"Churrasco y Chimichurri" lamb with chimichurri sauce, chicory and hot pepper
Pre dessert
Tocinillo de cielo with vanilla cream and crispy almonds and cocoa
39 euro
Instead, we asked our friendly server what would be fast to prepare, and ordered based on his recommendations. We were first asked for our choice of water, and also brought some fresh bread. My favorite were the rolls on the right, but all of them tasted freshly baked.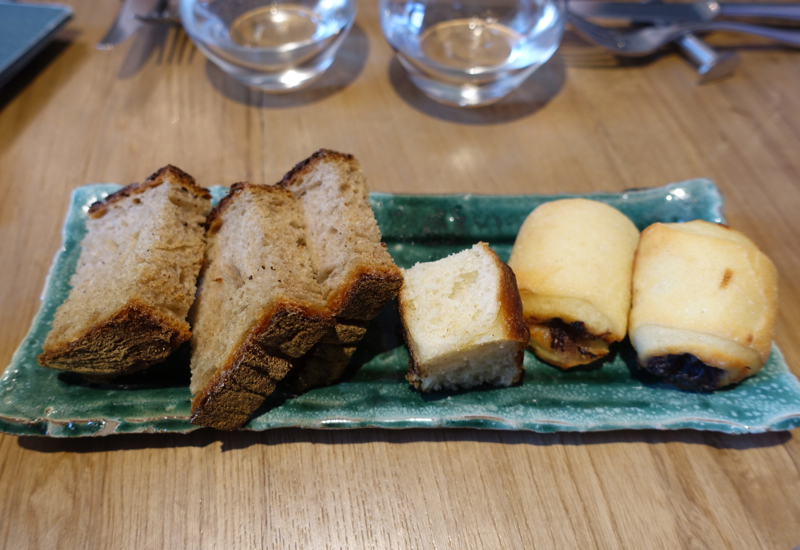 From the starters, we tried the Coppa Pork Belly, which turned out to be a pate-like offering, with two types of mustard. While it was quick to come out and we finished it, I didn't feel it was remarkable and wouldn't order it again.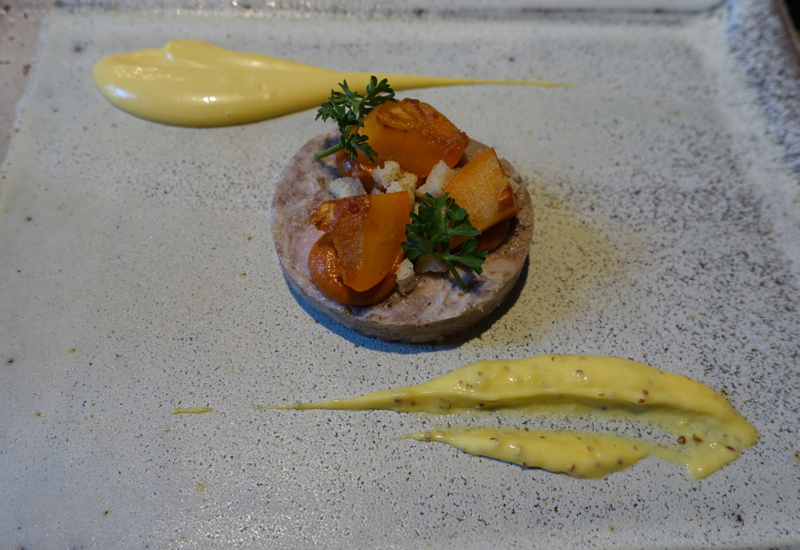 Much, much better was the Roasted Octopus–best I've had in some time, and a must-order if you like octopus. It was brushed with olive oil and perfectly roasted so that it was still very tender and moist. It was served simply, with roasted potatoes and a tomato sauce that had a bit of a kick to it.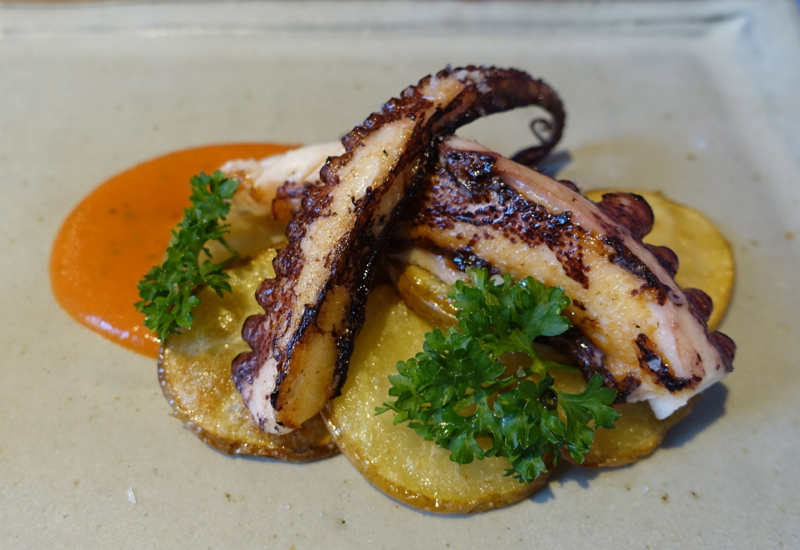 Our collective favorite was the Carbonara 13, which the restaurant is justly known for. Its eggy richness may not appeal to carbonara purists or to everyone, but all of loved it and, had we had more time, we likely would have ordered another one. The munchkin was a bit loathe to share this treasure!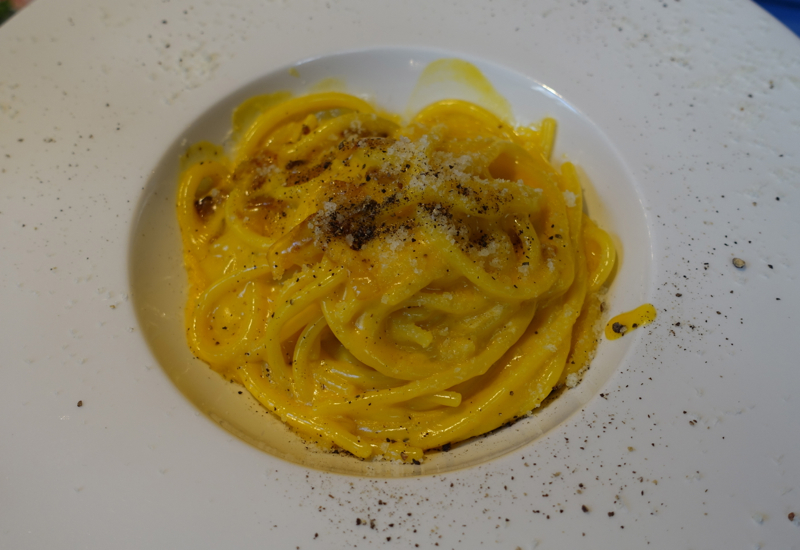 We ordered just one of the "Second Courses," the Duck Breast with Red Chicory. I loved this unusual pairing, even though I was surprised to see chicory on the menu in July, when I associate it with late fall and winter. The duck was a small portion, so keep that in mind when ordering–you will in all likelihood want a starter and/or pasta in addition–such as that aforementioned Carbonara 13 🙂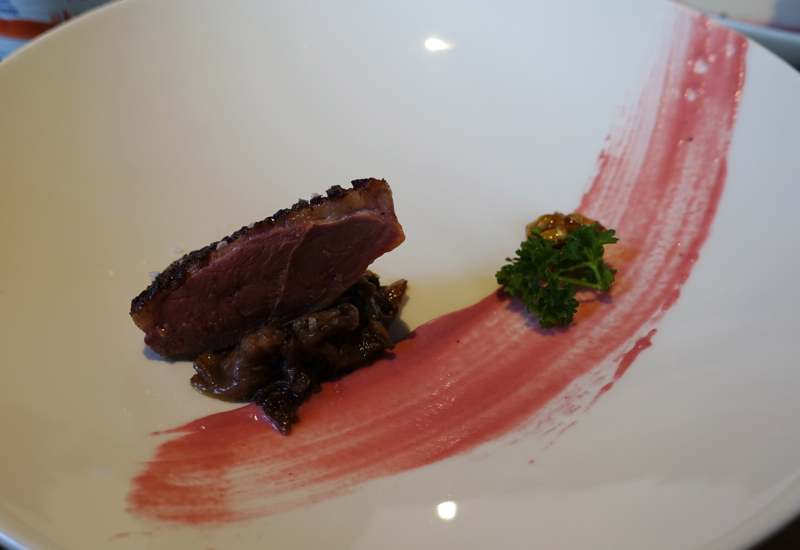 To round things out while keeping to our time crunch, we tried a couple desserts. Our favorite was this simple tart with fresh ricotta and cherries–quintessentially Italian and a perfect finale.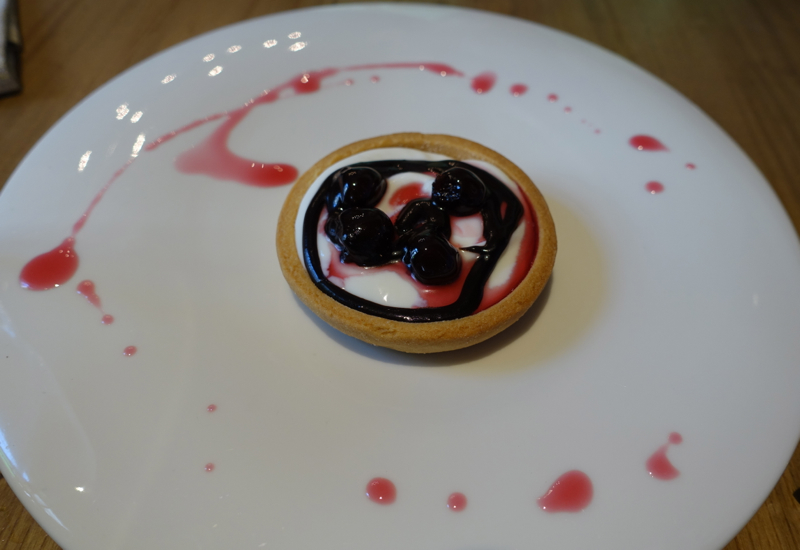 At our server's urging, we also ordered the Tocinillo de Cielo (literally, "pig of heaven") which is a type of flan, although not quite as rich as traditional Spanish flan, since Tocinillo de Cielo is made of both egg yolks and whole eggs. None of us are huge flan fans, so this was a distant second for us in the desserts category, although perhaps flan lovers would find more to enjoy than we did.
The Verdict
Marzapane Roma is a restaurant I'd love to return to, since we just scratched the surface with our lunch. While I didn't love everything, the octopus and carbonara dishes, which were my favorites, were stellar and worth seeking the restaurant out for these alone. And I've heard praise for the tasting menus, so if you have more time than we did, I highly recommend trying one of them. Value is excellent, and with just a few tables, Marzapane is understandably popular, so make advance reservations for both lunch and dinner.
If you've dined at Marzapane Roma, what was your experience?
Related Posts
Rome: A Romantic Journey Through Time
Disclosure: We paid for our own lunch at Marzapane Roma
Need Award Booking Help? Our fee is as low as $75 per ticket if you book your hotel through us.
If you enjoyed this, join 200,000+ readers: please follow TravelSort on Twitter or like us on Facebook to be alerted to new posts.
Become a TravelSort Client and Book 5-star hotels with Virtuoso Perks and Four Seasons Preferred Partner Benefits