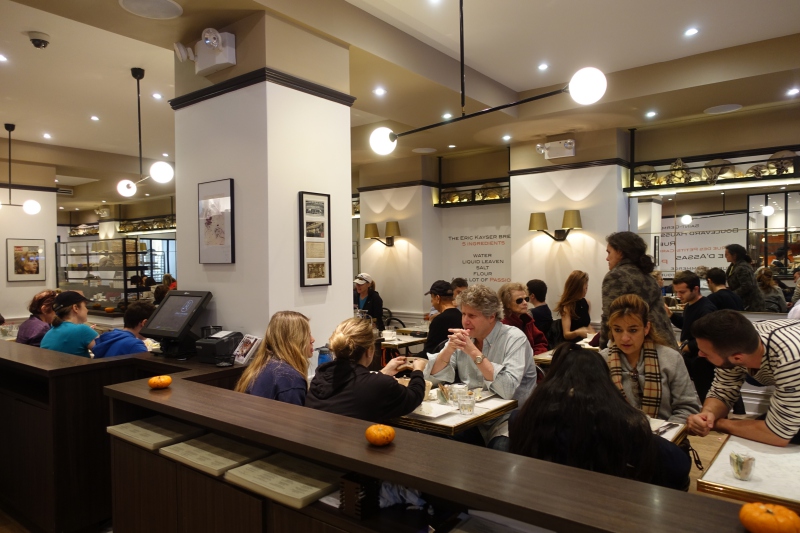 This Maison Kayser NYC Brunch Review is one of our many NYC Restaurant Reviews. Visiting New York? See all of our posts tagged NYC. I've written about Maison Kayser before, for their great breads and to a lesser extent pastries (see Maison Kayser NYC Review: Eric Kayser Opens New York's Best Bakery).
Maison Kayser NYC Locations and Hours
Maison Kayser has several NYC locations, making it convenient whether you're in Tribeca, the West Village, by Central Park, the Upper East Side, etc.:
Columbus Circle (at 58th Street): 1800 Broadway
Tribeca (at Harrison Street): 355 Greenwich Street
West Village: 326 Bleecker Street
Union Square: 841 Broadway
Flatiron: 921 Broadway
Bryant Park (at 5th Avenue): 8 West 40th Street
Upper East Side (at 74th Street): 1294 Third Ave.
Upper East Side (at 87th Street): 1535 Third Ave.
Upper West Side (at 76th Street): 2161 Broadway
Most locations are open daily 7am – 10pm.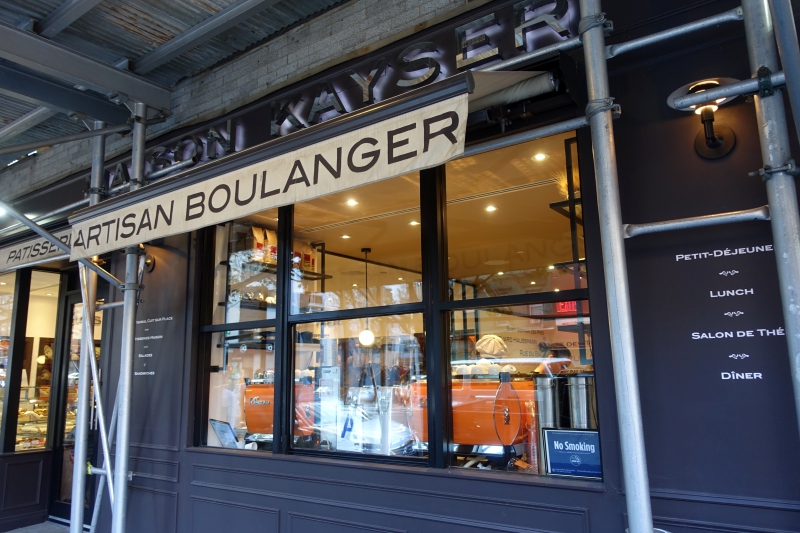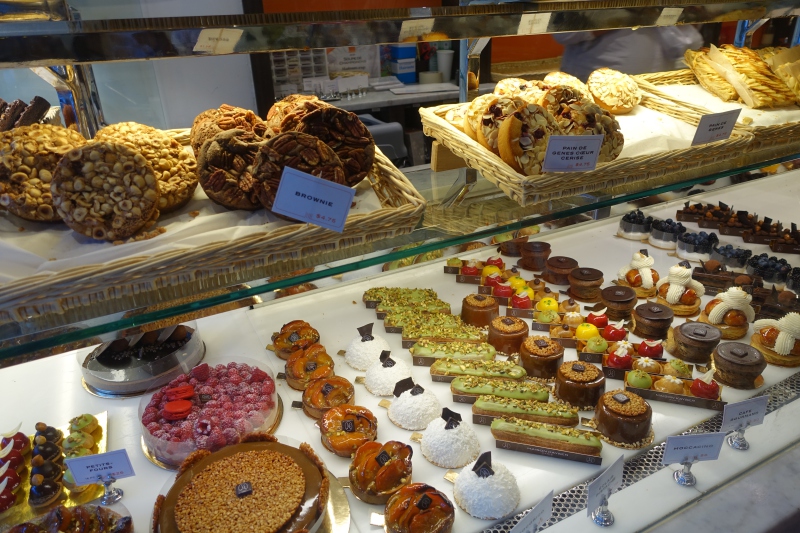 The Scene
The cafe side of most Maison Kayser locations is very busy at peak brunch hours on the weekends, filled with a mixture of local and visiting couples, friends and families. They are bustling and not quiet, so if you're looking for a quiet brunch spot or nursing a hangover, look elsewhere.
Maison Kayser Brunch Menu and Food
Maison Kayser's brunch menu offers a number of savory egg dishes, and I love that it's one of the few NYC brunch places to actually use organic eggs. The egg dishes are simple, where you can decide how you want your eggs cooked, and accompany them with smoked salmon or ham, but there are also tartines (toast topped with egg) dishes offered.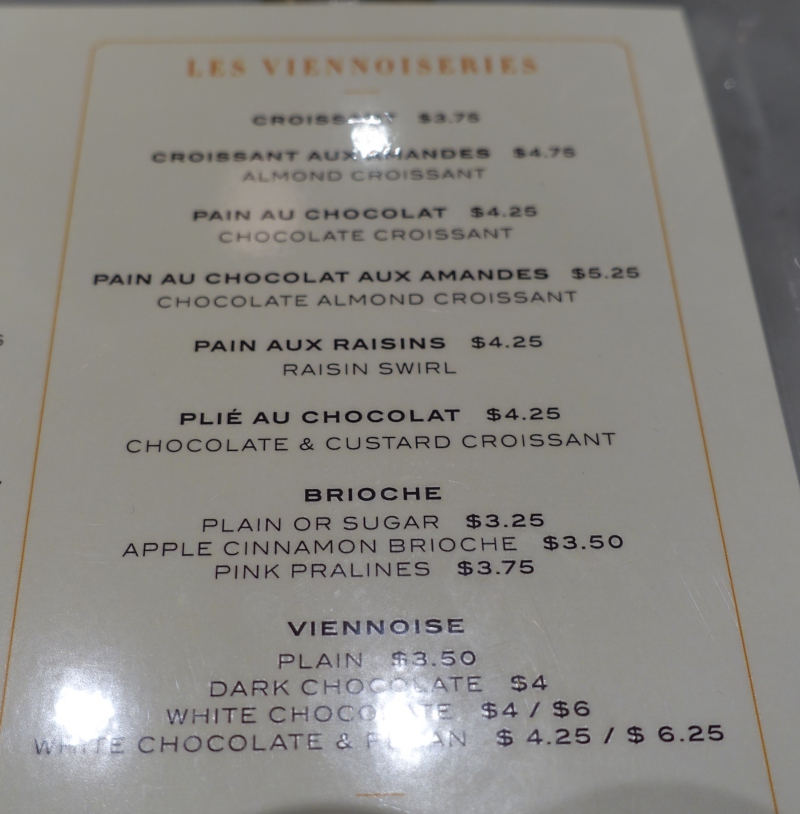 From the eggs cooked to order, my son tried the smoked salmon and eggs, opting for scrambled eggs, and my husband on another occasion tried the smoked ham and eggs, also with scrambled eggs. On both occasions the scrambled eggs were perfectly cooked, slightly moist but not runny, and not too dry. The smoked salmon and smoked ham were very good quality.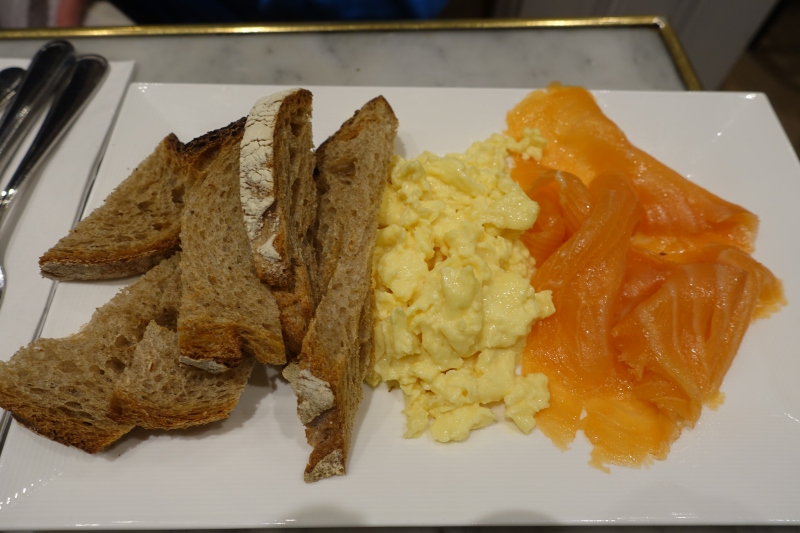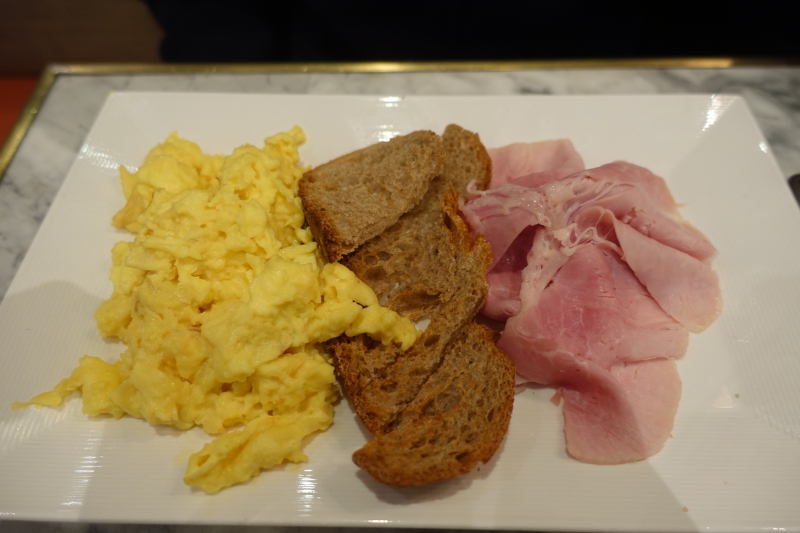 Our favorite dishes, however, were the tartines. Our slight favorite was the Saucisses & Oeufs Brouilles Tartine with sweet sausage, caramelized onions, roasted red peppers and gruyere cheese.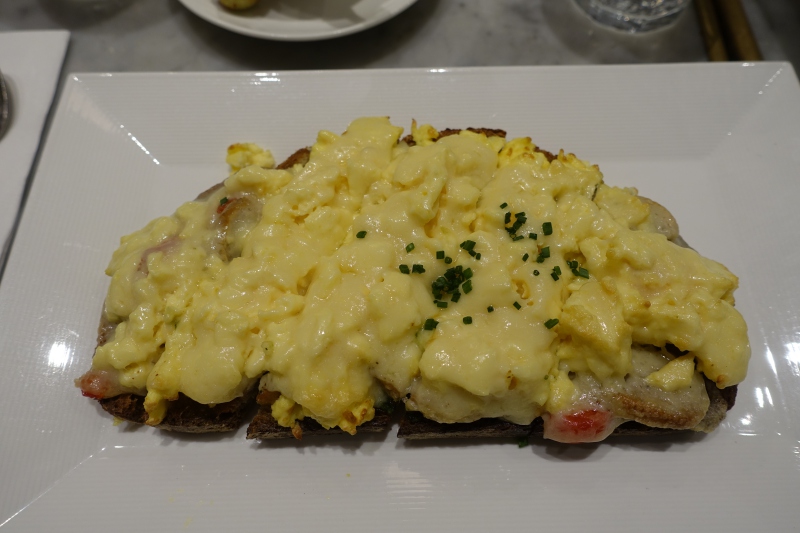 A close second, however, was the Asperges & Oeufs Brouilles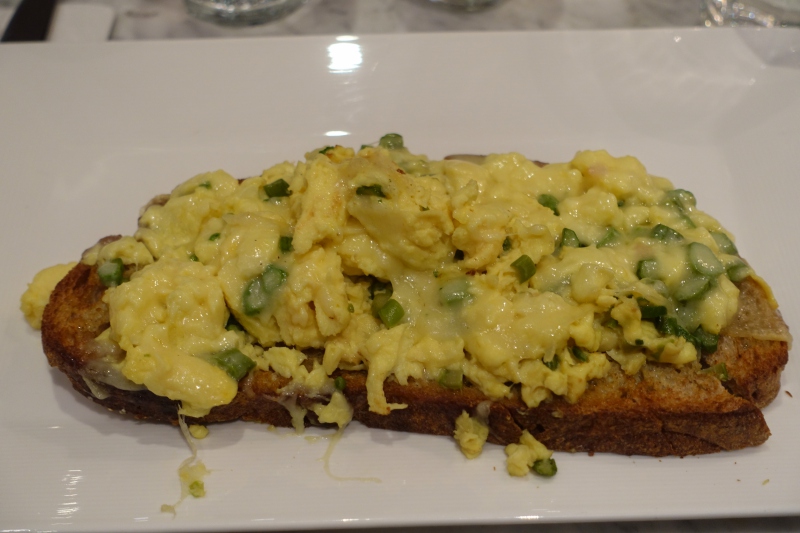 We also got a side salad with dressing on the side, which was very fresh: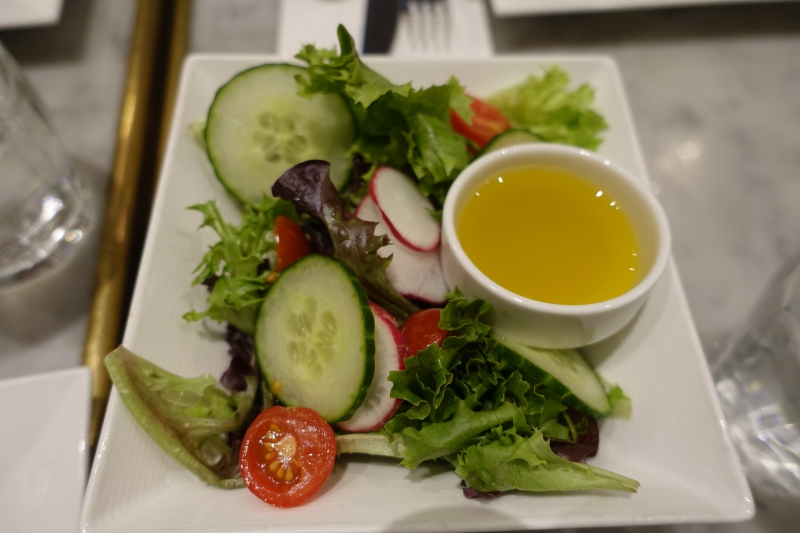 On one occasion we finished by splitting a chocolate almond croissant. These are much better warm, and it was just served room temperature. If we order this again, I'll ask if it can be heated up.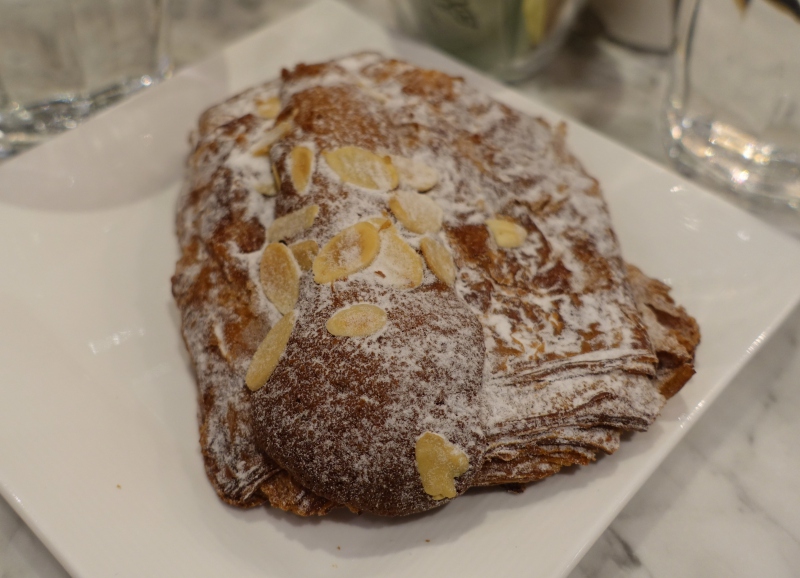 My husband got a regular coffee, and as with all coffee drinks, it was accompanied by a small, buttery mini almond cake, a nice touch. The coffee itself, however, he thought wasn't as good as Starbucks, let alone coffee from a better coffee specialist such as Brooklyn Roasting Company.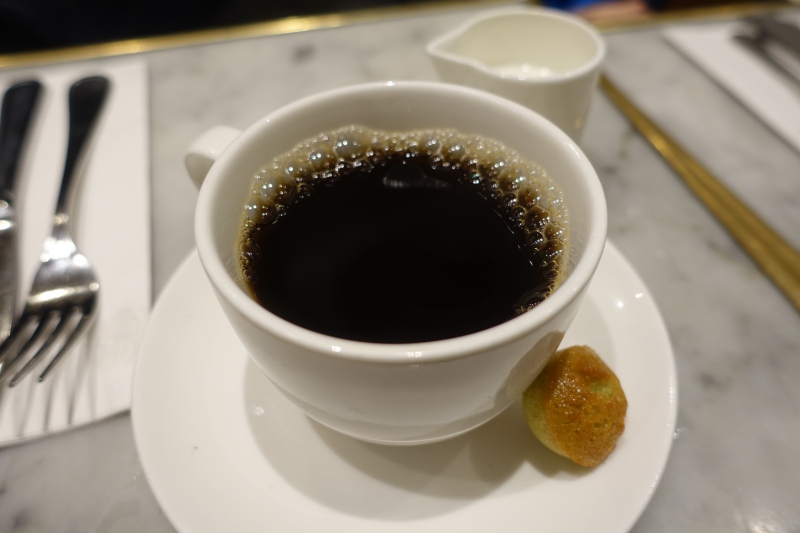 I got a decaf latte, and it took so long to arrive (15-20 minutes) that I assumed they'd forgotten about it. It finally did arrive, after I'd already finished most of the pastry it was meant to accompany, so I asked for it to be removed from the bill. The latte wasn't as hot as I would have liked, and on a more superficial level, there was no latte art.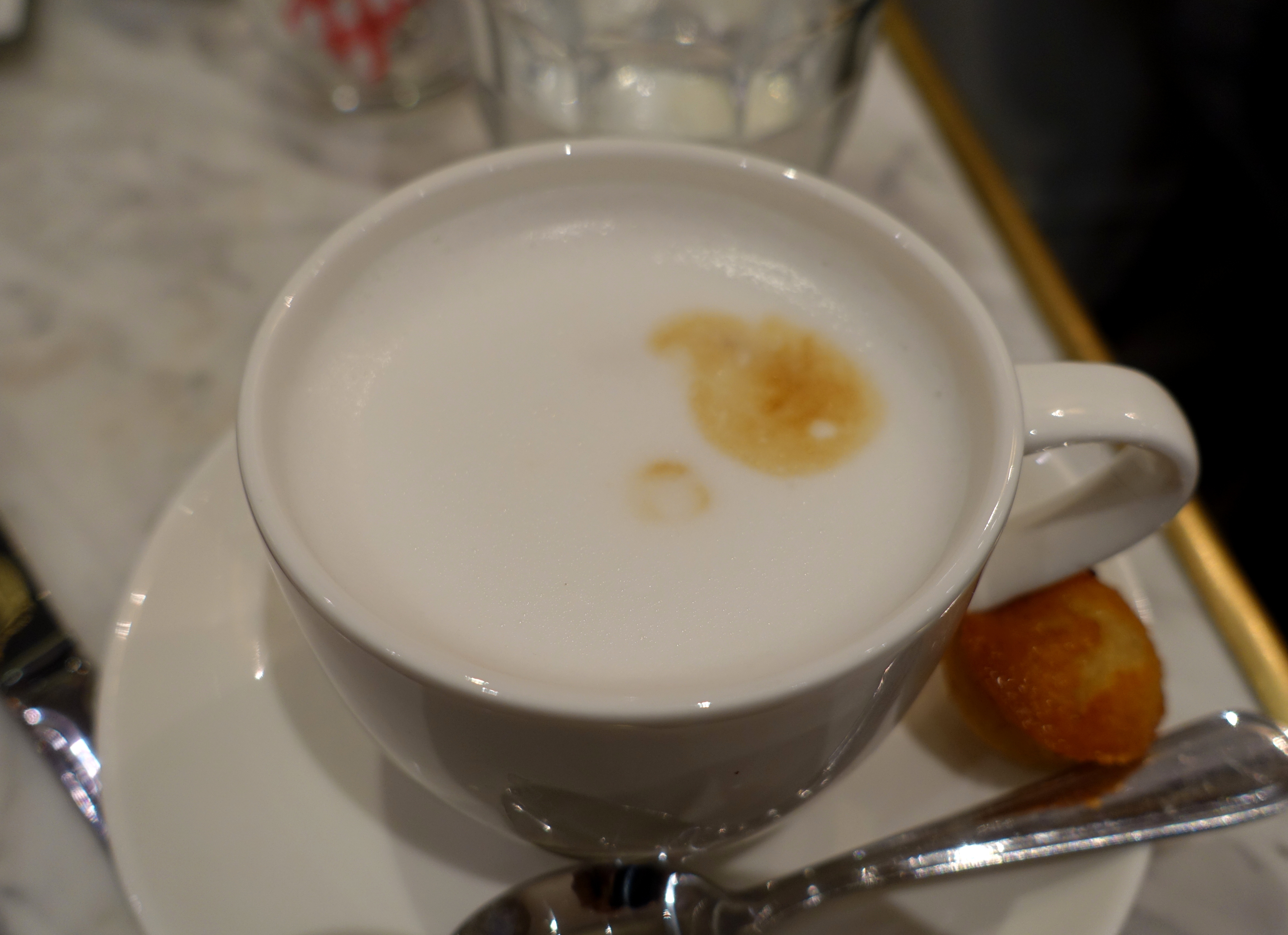 The Verdict
Maison Kayser's bakery side remain our go-to for great bread in NYC and the occasional pastry treat, such as its chocolate almond croissant. The cafe side is decent for brunch, with a highlight being the egg tartines with melted gruyere cheese, and the fact that organic eggs are used. The regular egg dishes are ok, but nothing to write home about, and the coffee could be stronger and richer. Service can be hit and miss, especially during peak hours given how busy the cafes are, and tables are tightly packed, so it's a bustling rather than relaxing environment. Still, it's a quite convenient option given the number of Maison Kayser locations around the city, and the fact that the line usually moves quite quickly. Don't forget to pick up a loaf of bread on your way out (currently I recommend the fig bread)–Eric Kayser is first and foremost a baker, so breads are the star.
If you've been to Maison Kayser for brunch, what was your experience?
Related Posts