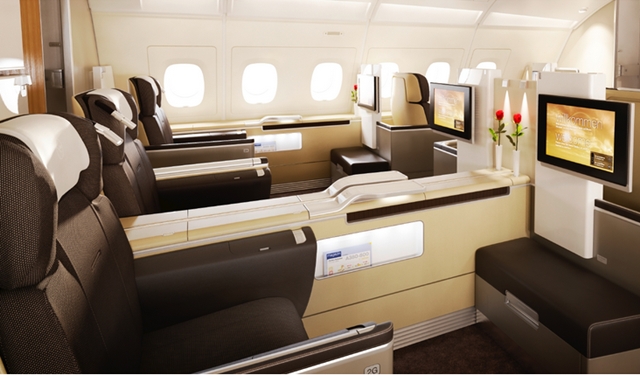 Lufthansa usually releases first class award space no more than 14 days in advance, so I was pretty excited to book first class yesterday, November 1, for 15 days in advance, November 16.

Now, I realize that one day more probably doesn't make a difference to most people, but then again, it's good to know when to seriously start looking, since in this case, if I'd only started looking at this flight at the 14 day mark, the space might have already been gone.
Since I often get questions about Lufthansa First Class, here's a FAQ that will hopefully answer some questions.
Lufthansa First Class Award FAQ
Which Miles Should I Use to Book Lufthansa First Class?
I'd recommend using United miles to book Lufthansa first class–you avoid the higher surcharges that are now charged with Aeroplan awards, you don't face Starnet blocking as you do with US Airways (more about that below) and you use a lot fewer miles than you would with Miles & More miles, although it's true that only Lufthansa's Miles & More members get advance access to first class award space. Plus, if you're booking a roundtrip award using United miles, you can tack on a free United one-way.
When Does Lufthansa Open Up First Class Award Space to Partners?
I used to tell TravelSort readers and clients 14 days, but I now know that it can be up to 15 days in advance, given the award I just booked yesterday for a flight 15 days away. I would advise checking at the 16-17 day mark, just in case. Note that first class award space may continue to be released as it gets closer to the flight, so don't give up after you've checked 14-17 days out.
How Do I Search for Lufthansa First Class Award Space?
While it's easiest to search using United.com given the user-friendly calendar view, the problem is that there's quite a bit of phantom availability. So don't get too excited when you see an EWR-DUS first class flight a couple months out, it's pretty much guaranteed to be phantom. You can double check the availability by searching on ANA. See How to Use ANA to Search for Star Alliance Award Space.
I'm Getting an Error When I Try to Book a Lufthansa First Class Award–Help!
Most likely it's phantom availability as described above, and not actually available to book. Check ANA, and if the space seems to be there and you're still unable to book, you can try calling United, but….
Why Can't the United Phone Representative See the Availability I See?
I tried calling United in order to tack on a segment that I wasn't able to add on United.com, even using the Multiple Destinations option. It turned out to be a waste of time, however, because both agents I spoke with weren't able to even see the particular Lufthansa flight that I was looking at on United.com–it just wasn't in their database at all. Is it possible that I just got two clueless agents back to back? Perhaps. But it definitely wasn't due to a phantom award space issue, since I not only verified it on ANA, but subsequently was able to book it on United.com. So unfortunately, don't count on United phone reps seeing the exact same flights you see on United.com. You may want to just bite the bullet and snag the key transatlantic flights, and pay any necessary fees to amend the itinerary (or if you're booking with miles from a United elite's account, you can avoid the fees entirely).
Why Can't I Book Lufthansa First Class with US Airways Miles?
This is one of the reasons I almost never can get excited about the various US Airways promotions–they block Lufthansa first class award space. Now, I have heard of people managing, after many calls, to actually get a Lufthansa first class award ticketed, but why bang your head against a wall when you can use United miles instead? And especially if you can earn a slew of Ultimate Rewards points with great bonuses using AMEX Bluebird + the Ink Bold or Ink Plus for 5X, Chase Freedom 5X category bonuses, Amazon 5X, etc. This month there's 15X available for Kohl's spend via the Ultimate Rewards Mall and Freedom.
What Should I Do If I Want To Fly Lufthansa First Class But Need to Plan Ahead?
This is where having plenty of miles and points can really help. You'll want to book back-up flights, either using United but booking on United or other Star Alliance partners that do offer advance availability (or even Lufthansa Business class awards for the flights you hope to get first class on) OR use American AAdvantage or other miles to book backup flights. Then monitor Lufthansa availability starting 16-17 days out to try to snag Lufthansa first class. United non-elites, make sure to note the United Award Fees or see if a family member or close friend with elite status would be willing to book so you can avoid these fees.
Related posts
How to Deal with No More Lufthansa Advance First Class Availability
Top 5 Ways to Get First Class Award Tickets to Europe
Lufthansa's New Business Class Rollout and Routes
Airlines and Routes with First and Business Class Award Availability for Europe
10 Best International First Class Seats for Award Travel