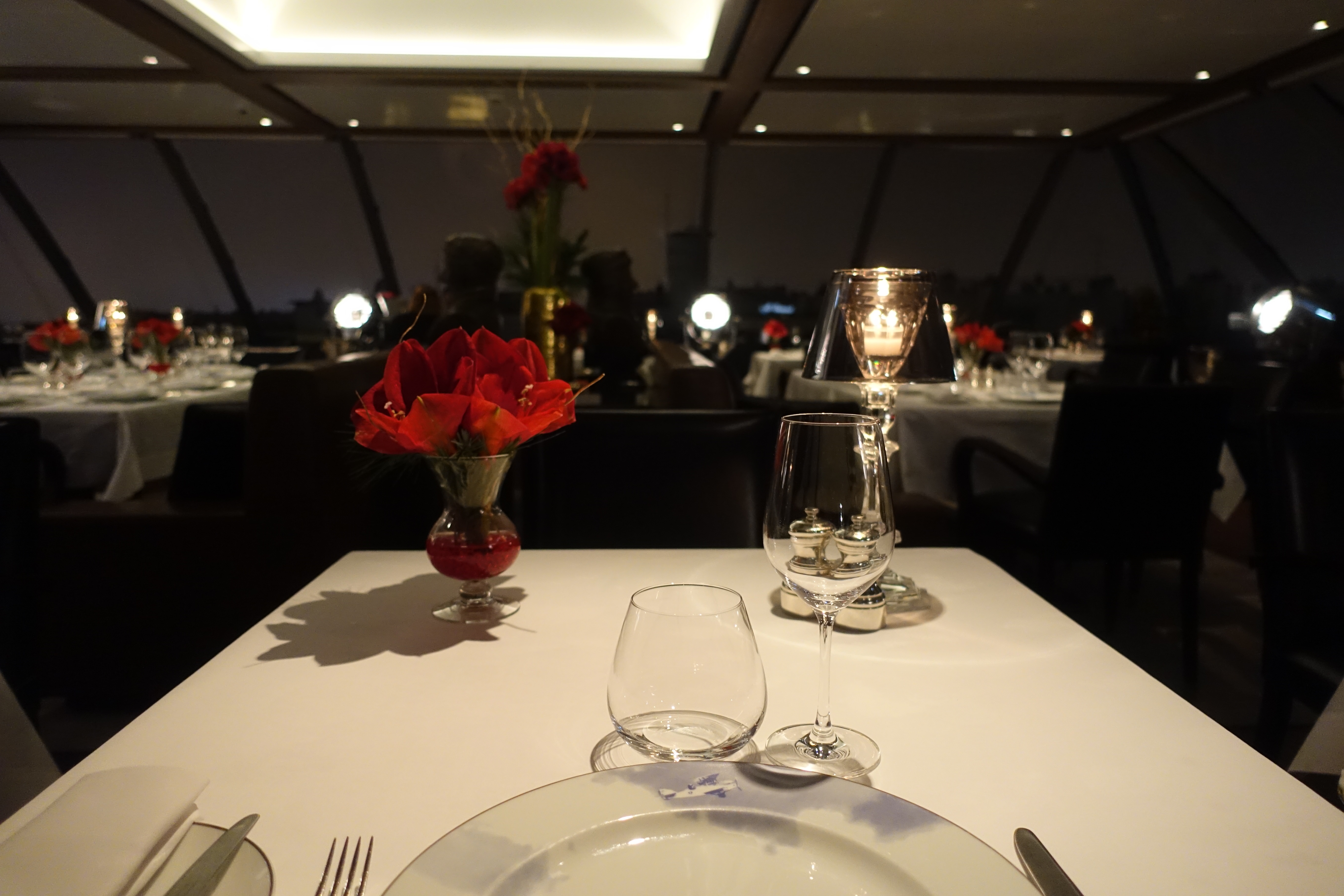 L'Oiseau Blanc is one of The Peninsula Paris Hotel's 3 main restaurants, along with LiLi and Le Lobby. It has the most spectacular setting of the three, on the hotel's glass atrium enclosed rooftop, with a view of the Eiffel Tower. The restaurant has an aviation theme, and is named for the biplane flown by World War I aviators Charles Nungesser and Francois Coli, who attempted to cross the Atlantic after departing Paris on May 8, 1927. The plane and crew disappeared, and two weeks afterwards, Charles Lindbergh successfully made the opposite journey, from New York to Paris, in the Spirit of St. Louis.
L'Oisau Blanc's chef is Sidney Redel, who hails from Alsace and previously worked for Pierre Gagnaire.
Keep in mind that if you are staying at The Peninsula Paris as a TravelSort Client you'll enjoy a $100 hotel credit that can be used towards dining at L'Oiseau Blanc, or for other dining or spa services at the hotel, in addition to other great Virtuoso and PenClub perks.
Getting to L'Oiseau Blanc, Paris and Hours
Restaurant L'Oiseau Blanc is located on the 6th floor (rooftop) of The Peninsula Paris, at 19 Avenue Kleber, just a minute's walk from Kleber metro station (line 6) or a 5-8 min. walk from Charles de Gaulle Etoile (RER A and metro lines 1, 2, 6). After entering the hotel through the main entrance on Kleber, turn right and go down the hallway to the elevator that will take you to L'Oiseau Blanc. Note that this is NOT the same elevator that goes to the hotel rooms.
L'Oiseau Blanc is open daily for lunch 12noon-2:30pm and for dinner 7-10:30pm. The bar and terrace is open from noon to just after midnight.
The Scene
I had a reservation for 7pm, a bit early since Parisians tend to dine out at 8pm or later, so I was among the first diners. Primarily couples were dining the evening of my visit, although there was one group of 6 who appeared to be an extended family.
L'Oiseau Blanc is relatively small, with a handful of tables for two and a couple tables for small groups of up to 8 diners. There were red flowers and a candle at each table, lending a romantic ambience. The night I dined was unfortunately cloudy, so the Eiffel Tower was only partially visible.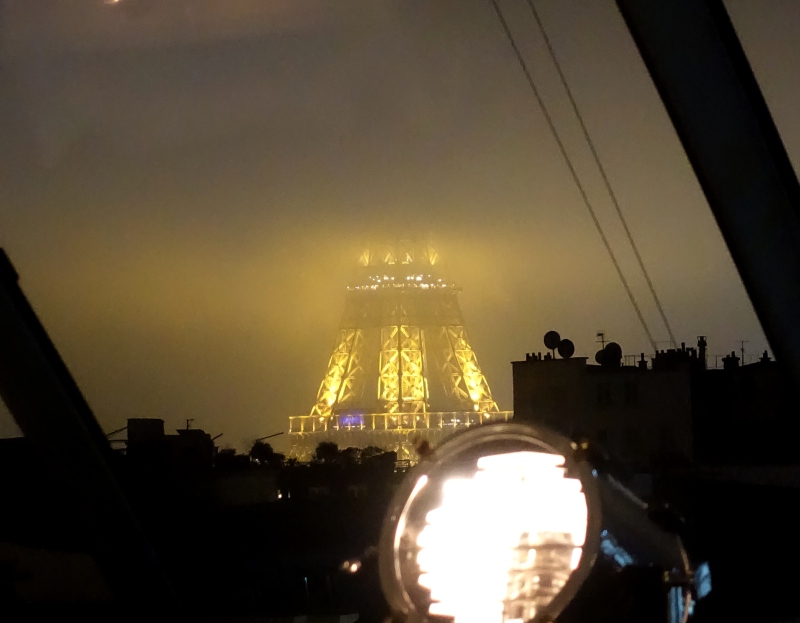 L'Oiseau Blanc Paris Menu and Food
After being welcomed and escorted to my table, my server asked if I'd prefer a French or English menu, a nice touch, since even though we were speaking French, clearly it wasn't my native language. For purposes of photos I took the English menu. There's no a la carte menu; instead the prix fixe price is EUR 109 for a starter, main course and dessert, or EUR 129 if you wish to have a starter, fish course, meat course and dessert. While the menu changes daily, here's the menu for my visit: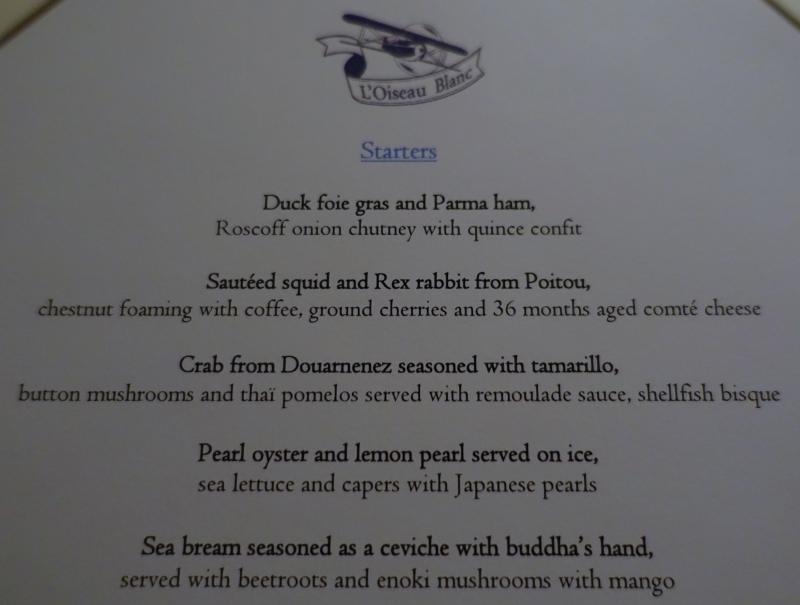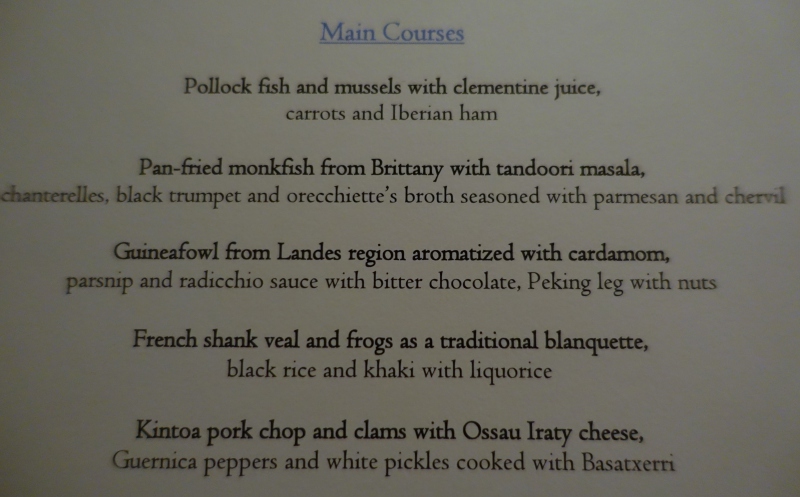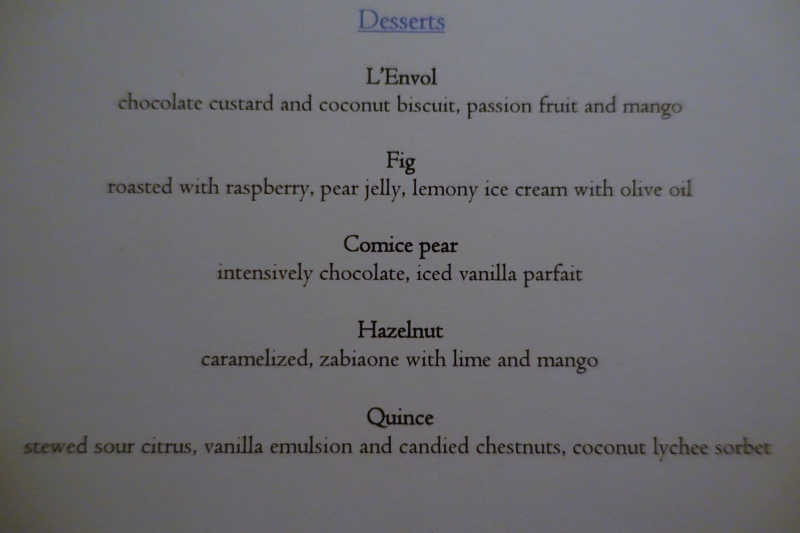 After ordering, I was brought some fresh pain de campagne bread and butter.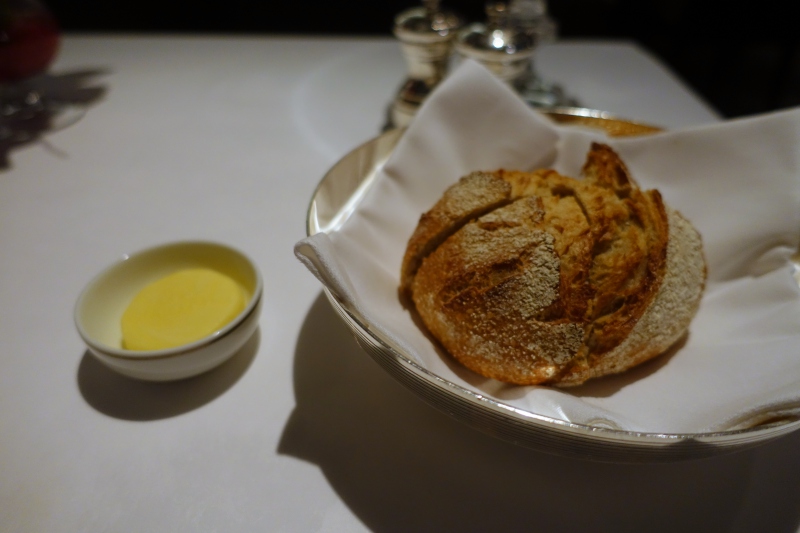 The amuse bouche consisted of three tastes, the highlight of which were the two mini gougeres (although I still prefer the taste of the gougeres at Tartine Bakery in San Francisco). There was a fish amuse bouche prettily adorned with an edible flower, although not memorable taste-wise.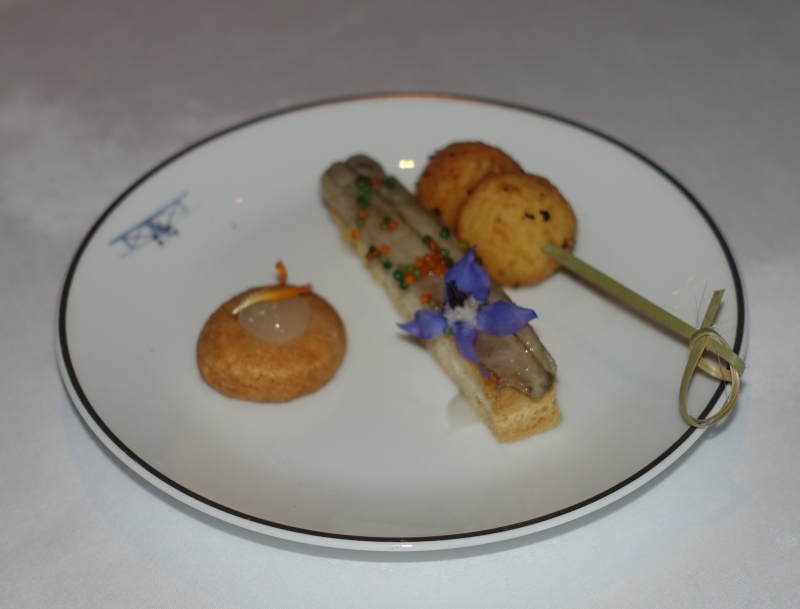 The highlight of the meal was the appetizer. I was intrigued by a dish that included rabbit, squid, chestnut-coffee foam, and even ground cherries and aged comte cheese. And while in general I dislike foam and molecular gastronomy, this dish was fantastic and a perfect fall dish. The squid pieces were tender and not overcooked, and the foamy sauce struck the right balance between earthy and delicate, complementing and not overpowering the squid and rabbit. After this dish, I had high expectations for the rest of the meal.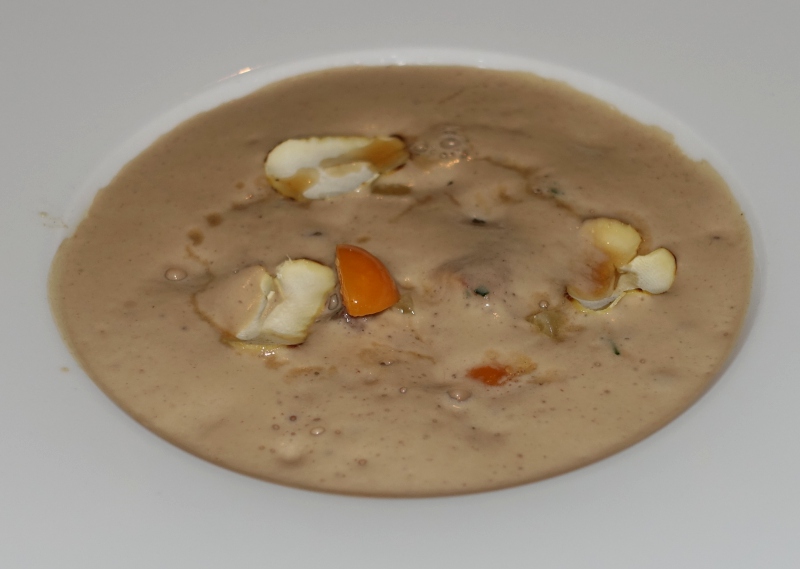 Unfortunately, the main was rather disappointing. I ordered it, intrigued by the use of bitter chocolate in the dish, yet the chocolate was barely present in the dish, just a few shavings over it and undetectable in the sauce itself. I also found the radicchio far too bitter and jarring, and believe another flavor should have been used given that guineafowl is not that strong in flavor and calls for something more subtle to enhance it. The best part was the Peking leg, although again it was accompanied by too much radicchio, which detracted from the dish.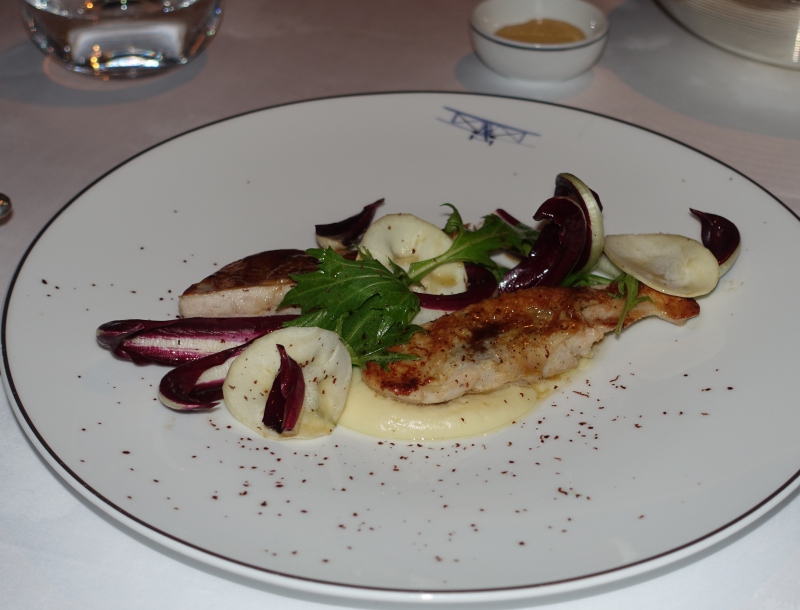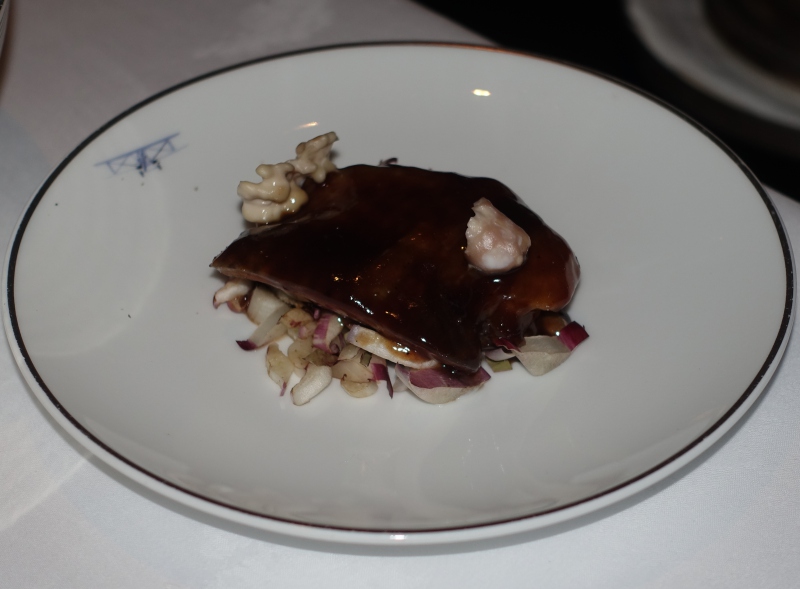 For dessert, I considered trying the Comice Pear with Chocolate, but am glad that instead I ordered the L'Envol dessert, which is in the shape of the nose of an airplane, with a propeller. Inside, there are layers of chocolate custard and coconut cake as well as passion fruit and mango sorbet. I've always enjoyed the combination of passion fruit with chocolate, so while this can't compare to the best Pierre Herme pastries, it was still very good.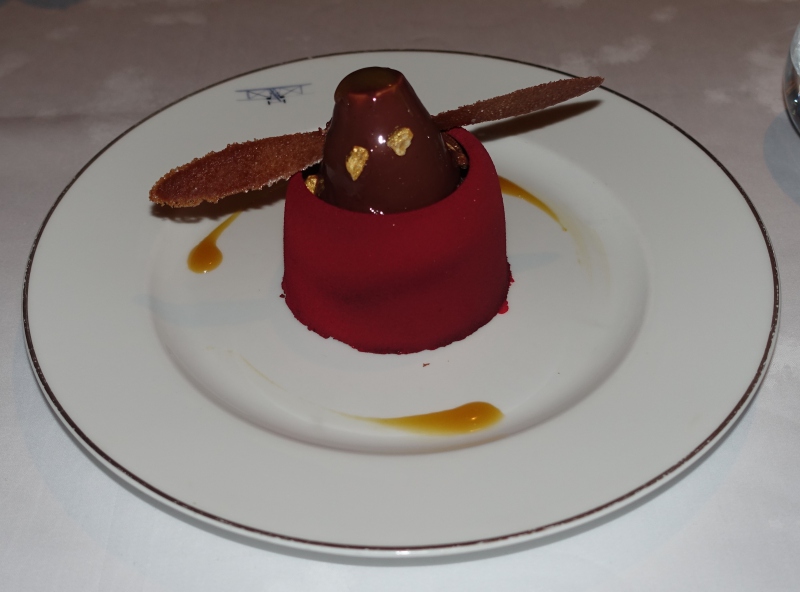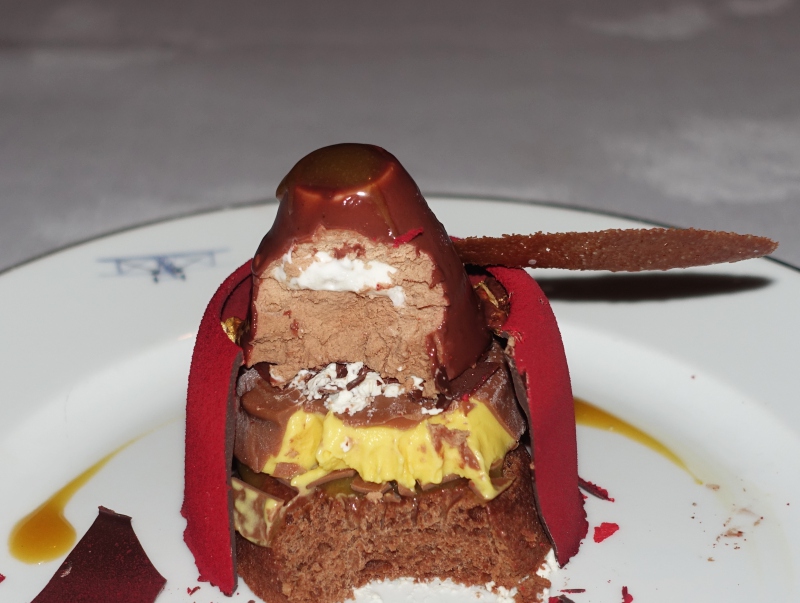 Surprisingly, given an over 100 EUR menu, there were no mignardises at all, which struck me as very stingy and not in keeping with fine dining in Paris. The restaurant really should make more of an effort here. I even noticed a TripAdvisor review in French complaining of the exact same thing back in 2015, with a reply by the restaurant that they were taking good note of the reviewers suggestions ("Je prends également bonne note de vos suggestions concernant les portions et les bonbons que nous pensions assez élaborés….") but clearly nothing has actually changed.
The lack of any kind of mignardises was in stark contrast to the generous welcome amenities in my guest room–heck, if L'Oiseau Blanc offered some of the delicious dark chocolate that was part of my welcome amenity as its mignardises, that would be a nice conclusion to the meal, until the pastry chef can come up with other petits fours.
The Verdict
L'Oiseau Blanc is a unique looking Paris restaurant, with its aviation theme and views of the Eiffel Tower, and I did enjoy my appetizer, which as a creative and delicious combination of squid and rabbit in a chestnut-coffee sauce. The dessert was beautifully plated and also quite tasty.
Unfortunately, the name of the restaurant, after a would-be historic flight that failed, is apt for a restaurant that aspires to be more than it is. I found the amuse bouche and main dish very ordinary, and was surprised that there were no mignardises to close the meal, particularly given the price. Also, at this price, I'd expect the option of a cheese course. The service was attentive and friendly, but it couldn't quite compensate for the lackluster main.
Overall, if visiting L'Oiseau Blanc, I'd recommend a lunch visit on a clear day to maximize the ambience and views of the Eiffel Tower, and also save a bit on the bill, since I found the fare overpriced. For a better meal in a similar price range (although without the view or ambience) I'd visit David Toutain, with 1 Michelin star, and for one really great splurge meal I'd go with Le Cinq (3 Michelin Stars) at Four Seasons Paris.
If you've dined at L'Oiseau Blanc, what was your experience?
Recommended Posts
Le Cinq Paris Restaurant Review, 3 Michelin Stars
Review: Mathieu Pacaud Histoires, 2 Michelin Stars
David Toutain Paris Review, 1 Michelin Star
Review: Hidden Paris Gourmet Walking Tour
Need Award Booking Help? Our fee is as low as $75 per ticket if you book your hotel through us.
If you enjoyed this, join 200,000+ readers: please follow TravelSort on Twitter or like us on Facebook to be alerted to new posts.
Become a TravelSort Client and Book your Paris Luxury Hotel with Virtuoso or Preferred Partner Benefits