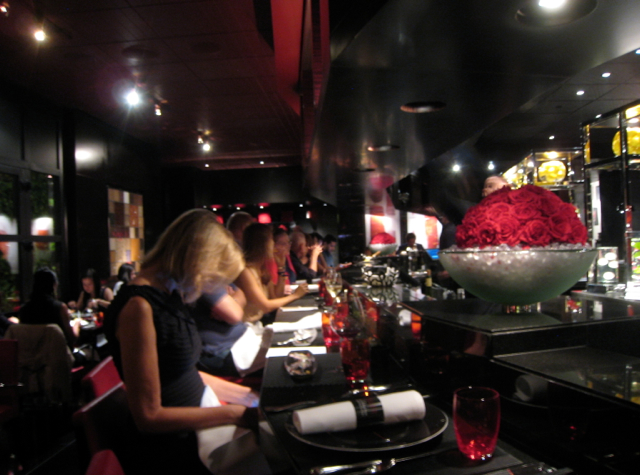 This L'Atelier de Joel Robuchon Las Vegas review is one of several Las Vegas restaurant and hotel reviews. As I mentioned in Las Vegas Virtuoso Deal That May Not Last, if you book either The Signature at MGM Grand or Skylofts by MGM Grand as a TravelSort Client, you'll receive Virtuoso benefits, which include a $100 food and beverage credit that can be used at L'Atelier de Joel Robuchon during your stay.
Getting to L'Atelier de Joel Robuchon Las Vegas
L'Atelier de Joel Robuchon is located in the MGM Grand Hotel and Casino, at 3799 Las Vegas Blvd. South. If you're walking over from The Signature at MGM Grand, as I was, it's a brisk 10 minute walk all indoors, via the connecting hallway and people mover. You'll need to walk past the food court and make your way to where KA Theatre is, which will be on your right. Joel Robuchon Fine Dining is right next to KA Theatre, and L'Atelier de Joel Robuchon is the the left of Joel Robuchon.
The Scene
I had a fairly late reservation, for 9pm, so it was past peak dining hour but still with several couples at the bar (which is the main seating area) and a couple tables of friends. Most couples and friends dining seemed to be in their thirties or forties, and I appreciated that it was a comfortable environment to talk in–not the hushed formality of Le Cirque, but no need to speak louder than normal to make yourself heard, either.
L'Atelier de Joel Robuchon Tasting Menu and Food
There are several menus at L'Atelier de Joel Robuchon, including the Menu Degustation (a la carte menu of small tasting portions), several prix fixe options ranging from a Pre-Theatre Menu for $45 (served 5pm-6:30pm) to "Menu B" including an amuse bouche, 2 appetizers, 2 entrees and a dessert for $105, to a Seasonal Discovery Menu for $159. I opted for the Seasonal Discovery Menu, to get a more robust sense of what L'Atelier de Joel Robuchon in Vegas was capable of.
Here's the Seasonal Discovery Menu during my visit (note that the current Seasonal Discovery Menu has already changed a bit, although signature dishes such as the foie gras stuffed quail remain on the menu):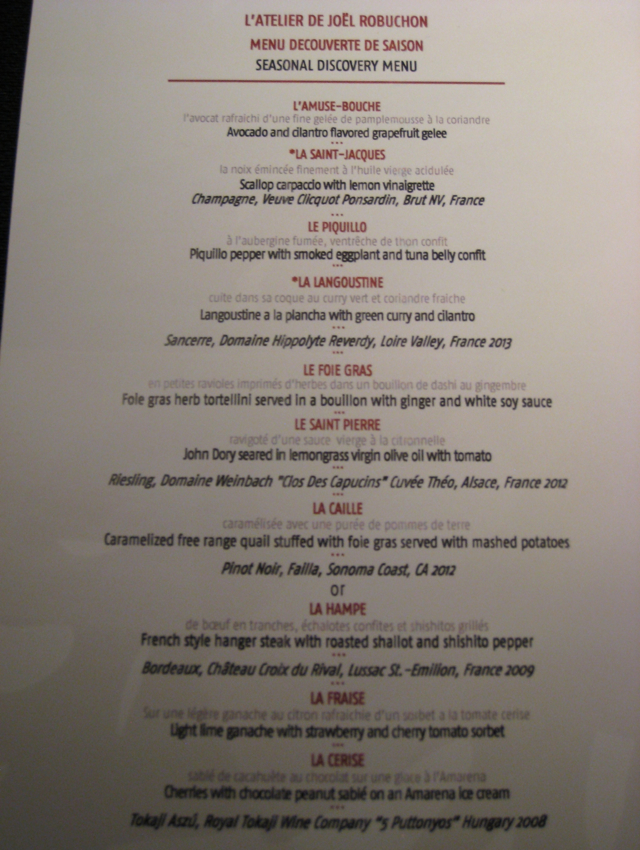 The amuse bouche of avocado and cilantro flavored grapefruit gelee was very refreshing and unique, although not my favorite part of the menu. I'd much rather try the amuse bouche currently on the menu, a Foie gras parfait with port wine and parmesan foam.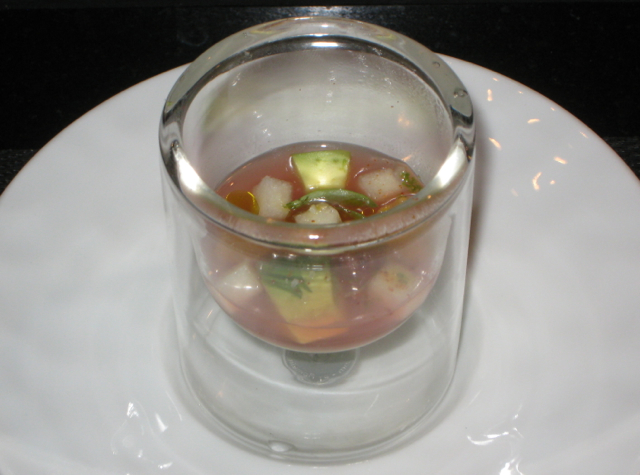 La Saint-Jacques (scallop carpaccio with lemon vinaigrette) however, was a standout. Deceptively simple, transluscent slices of scallop were deftly arranged on the plate with a light brush of the vinaigrette and a sprinkling of piment d'Espelette, a special type of dried chili powder from the south of France and Basque region. Don't worry if you can't tolerate too much heat–it gives the perfect zing and bit of texture, but in the quantity L'Atelier uses it in, it's not spicy.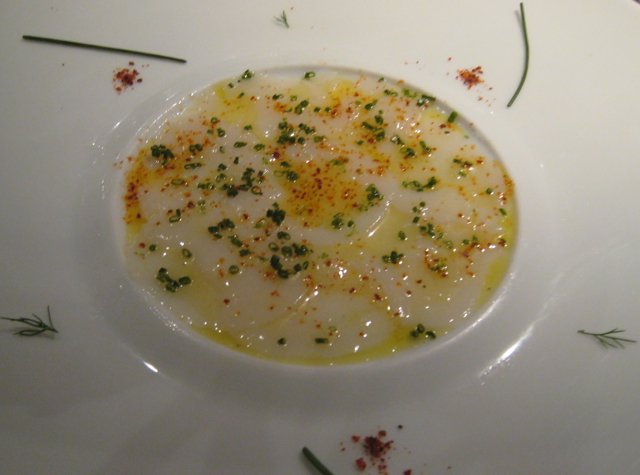 Le Piquillo (Piquillo pepper stuffed with smoked eggplant puree with tuna bella confit) was a strong course as well. The smoky eggplant puree recalled some of the better Turkish food I've tried, and this dish would have been at home at an upscale tapas place.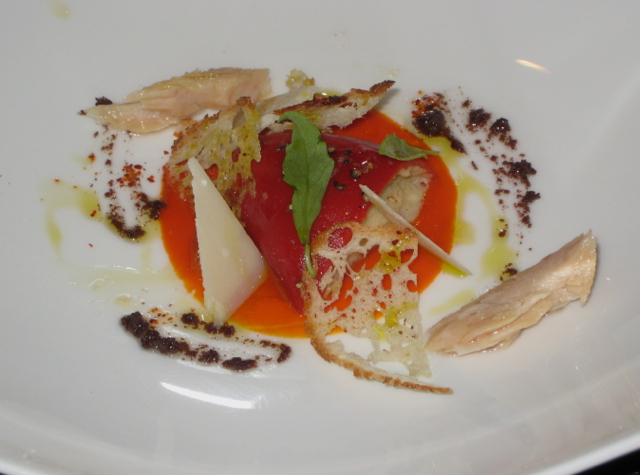 La Langoustine (langoustines cooked in their shell, with green curry and cilantro) was one of those dishes you wish there was more of, at least if you enjoy seafood. So fresh they could have been just plucked from the sea, and plated alongside a brushstroke of green curry sauce, I would happily have had more of this single dish for my dinner. Nor was this the only course I felt this way about.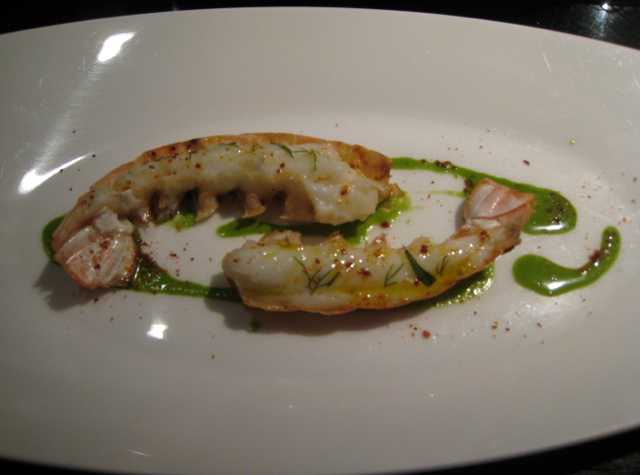 Le Foie Gras (foie gras herb tortellini in bouillon with ginger and white soy sauce) was my least favorite of the dishes. The foie gras tortellini themselves were good, but I would have served them on their own, without the bouillon, which I didn't feel added much. In general, with foie gras, I think the simplest preparations work best for this delicate ingredient.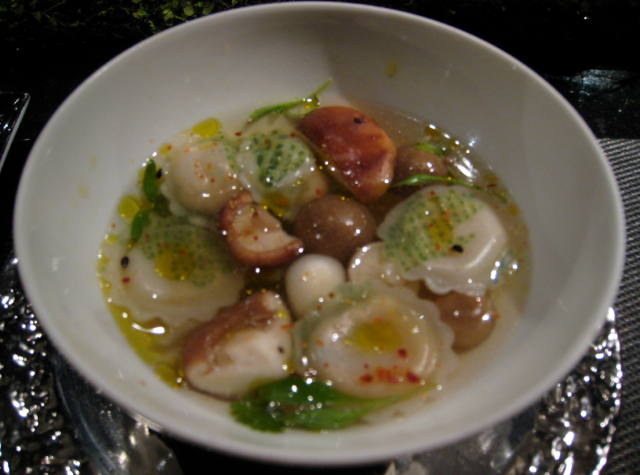 The next course would have been Le Saint Pierre (John Dory) but since I'm not a big fan of this fish, I asked if something else could be substituted. That something else turned out to be one of my favorite courses: perfectly seared salmon with a dijon honey sauce. Sounds incredibly simple, right? But it was better than any similar rendition of salmon with honey mustard sauce I've ever had.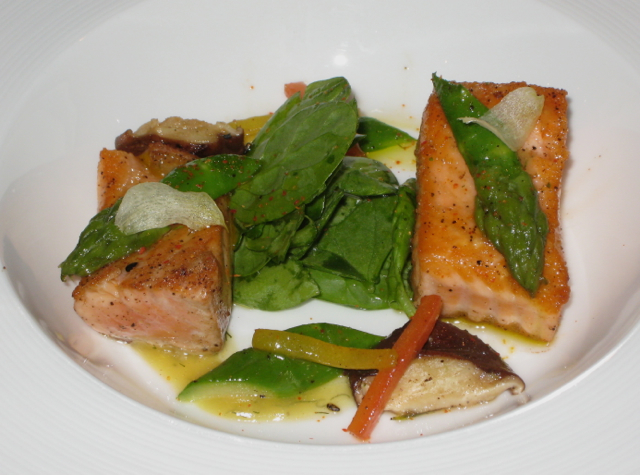 For the next course, there's a choice of La Caille (caramelized free range quail stuffed with foie gras served with mashed potatoes) or La Hampe (French style hanger steak). The exact cut of beef changes regularly, but La Caille is a signature dish (and for me, quail is a special treat) so I picked that. I wasn't disappointed, at least in terms of taste–the quail was so flavorful, even the part not stuffed with foie gras, that next time I return, this will be a must order.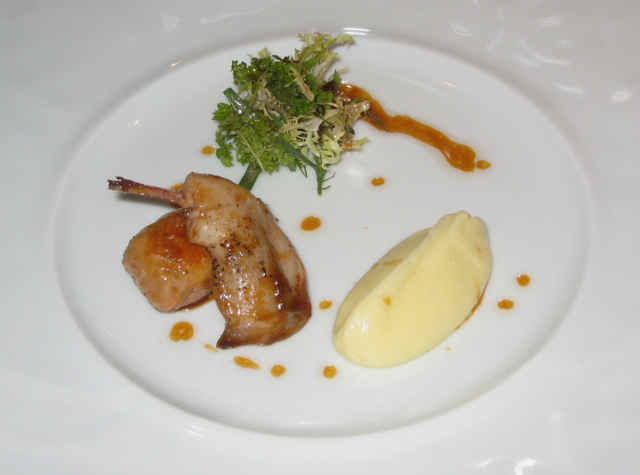 Next up was something akin to a pre-dessert: La Fraise (lime ganache with strawberries and cherry tomato sorbet). All the flavors were refreshing, but I especially enjoyed the strawberries with lime ganache, and the pretty plating: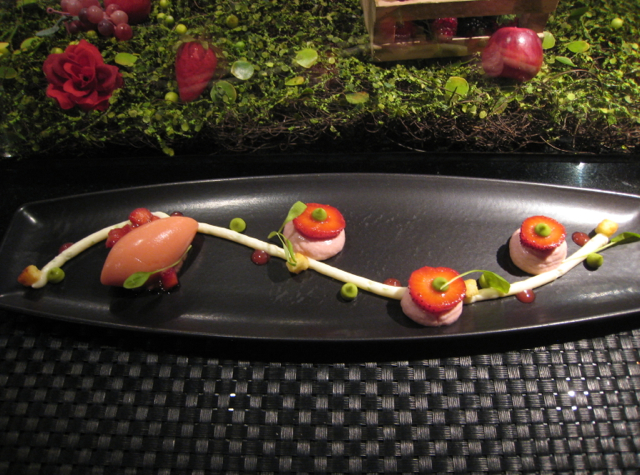 The final dessert course, La Cerise, was better than expected. I've never gone to a Robuchon restaurant for dessert, and will take Pierre Herme desserts over Robuchon desserts any day, but the chocolate peanut sable was rich and satisfying, even if I'm not entirely convinced that it goes all that well with amarena ice cream. And the gold leaf on the cherry? The perfect glitzy nod to Vegas.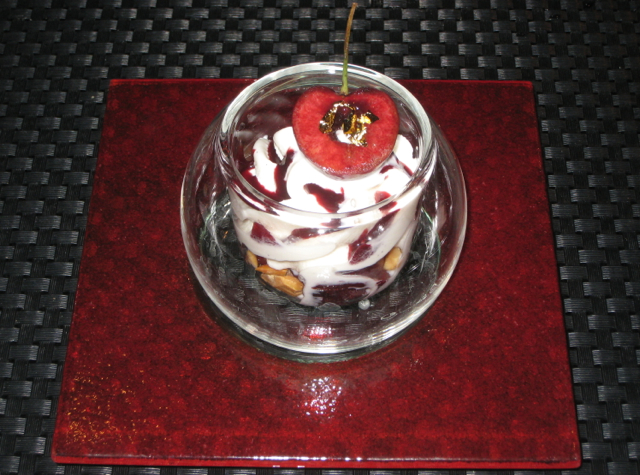 The Service
Most seating at L'Atelier de Joel Robuchon is at the bar, and my overall experience was excellent. I didn't particularly want one of the courses, so my server was happy to check with the chefs and substitute a different kind of fish. He knew the components of each dish perfectly, and was easily able to answer questions I had about various sauces and spices.
My tasting menu got off to a slightly slow start, I assume because of the backlog of other dishes ordered by diners already seated. As a result, I would recommend trying to get there early or late, and not during a peak dining time, when there may well be pacing issues with your meal, especially if you order the seasonal discovery tasting menu, as I did.
The Verdict
L'Atelier de Joel Robuchon is currently my favorite place for dinner in Las Vegas. It's not overly formal or precious–it's simply delicious food. It won't be the right fit for anyone looking for an all you can eat buffet, but for foodies looking for a nice date place or friends seeking a convivial meal of excellent food and wine, it's perfect. And currently, if you're staying at either The Signature at MGM Grand or SKYLOFTS at MGM Grand with a Virtuoso booking, a Virtuoso benefit is a $100 food and beverage credit that can be used at L'Atelier de Joel Robuchon, as well as Joel Robuchon Fine Dining.
If you've dining at L'Atelier de Joel Robuchon in Vegas, what was your experience?
Related Posts
Las Vegas Virtuoso Deal That May Not Last
The Signature at MGM Grand Las Vegas Review
MOzen Bistro Vegas Sunday Brunch Review
Le Cirque at The Bellagio Las Vegas Restaurant Review
Todd English's Olives at The Bellagio Las Vegas Restaurant Review
Need Award Booking Help? Our fee is as low as $75 per ticket if you book your hotel through us.
If you enjoyed this, join 150,000+ readers: please follow TravelSort on Twitter or like us on Facebook to be alerted to new posts.
Become a TravelSort Client and Book Encore at Wynn Las Vegas with Virtuoso Amenities!