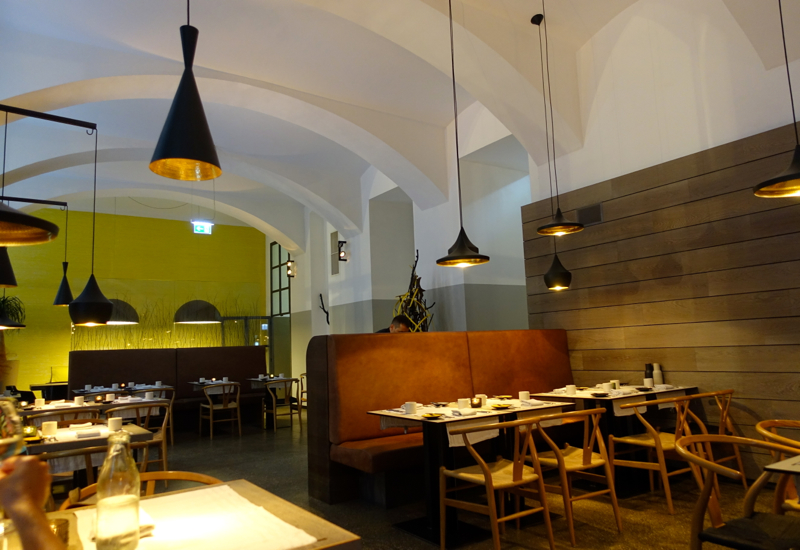 This Labstelle Wien Vienna Restaurant Review is part of a trip report including Vienna and luxury hotels and dining in Moscow and St. Petersburg, Russia. For the previous post, please see Review: Sofitel Vienna Stephansdom.
Labstelle Wien Location
Labstelle Wien is located at Lugeck 6 in Vienna, Austria. It was a pleasant 10 minute walk for us, coming from the Sofitel Vienna Stephansdom, and is about an 8 minute walk from the Park Hyatt Vienna or an 11 minute walk from the Hotel Sachr Wien, the two Vienna Virtuoso hotels I reserve most frequently for TravelSort clients.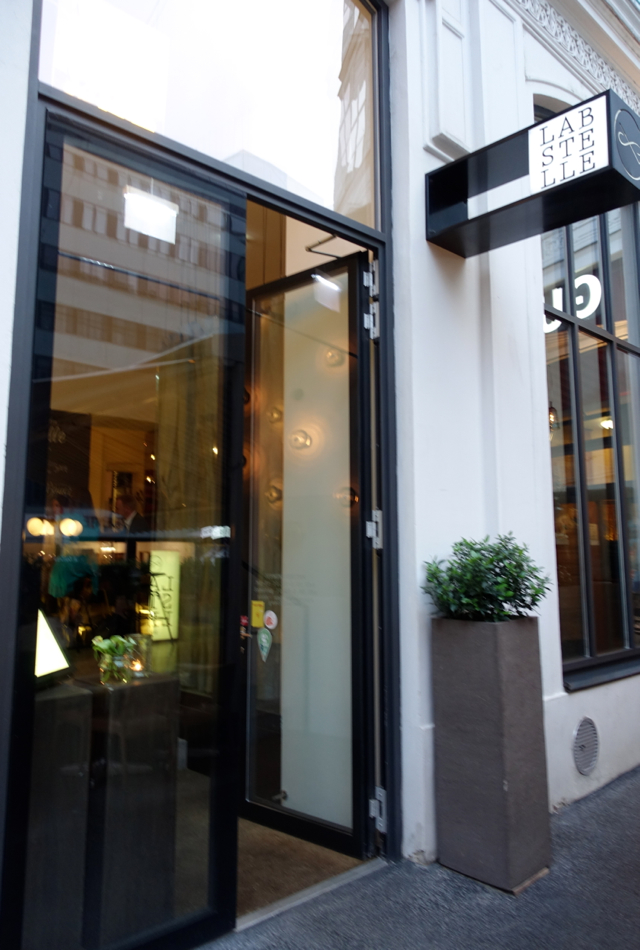 The Scene
We had an early dinner reservation at Labstelle Wien, so there was only one other table seated when we arrived, although a few folks were enjoying drinks at the bar. During our dinner, the other diners were all couples, but our server was very welcoming even though my son was the only youngster.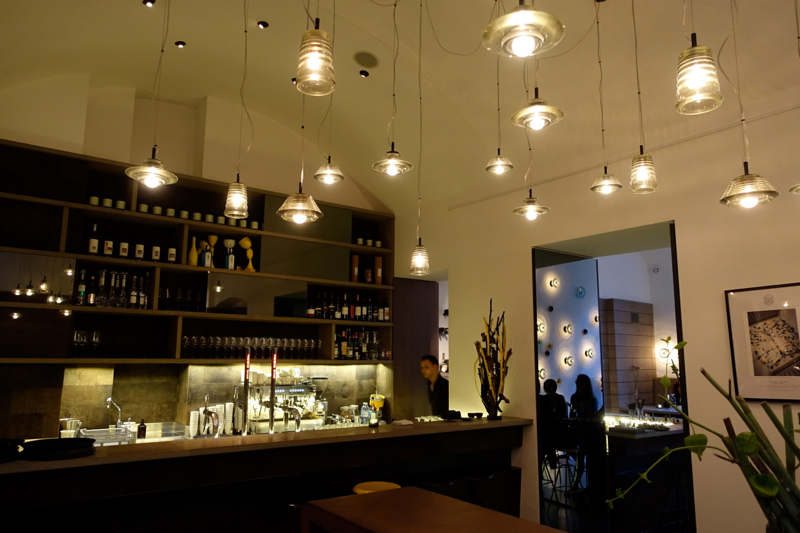 Labstelle Wien Menu and Food
Labstelle Vienna takes Slow Food and farm to table seriously–its Web site even lists its local suppliers of vegetables, fruits, fish, meat, cheese and eggs, and flour. Its seasonal menu included these appetizer and main course options for our early July visit: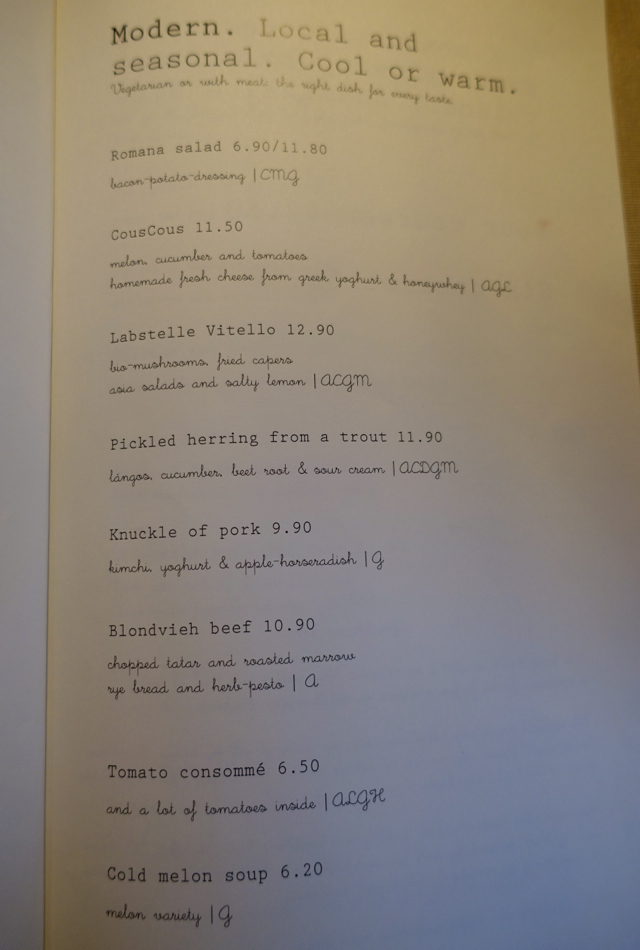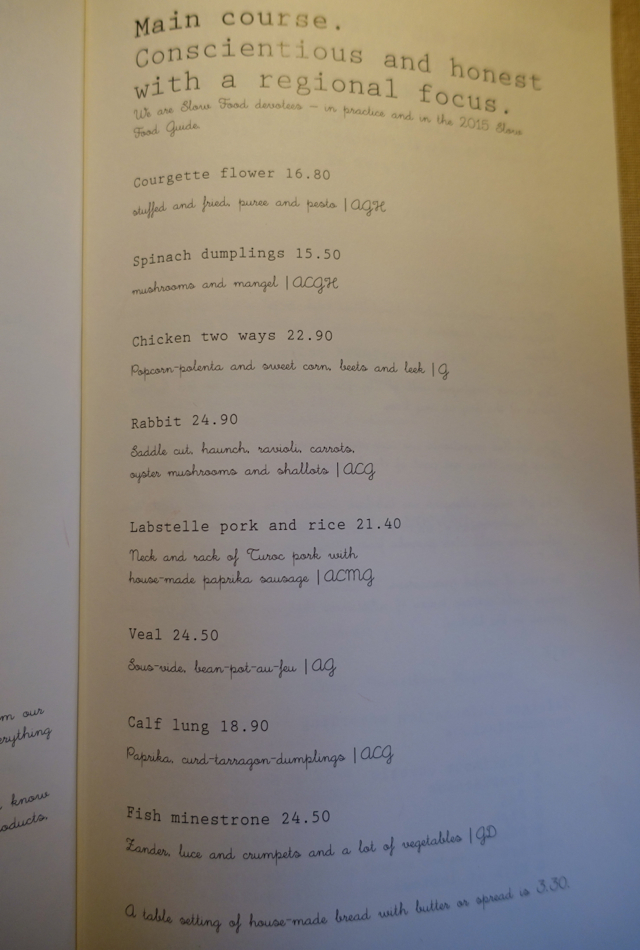 There was also a note about the restaurant's commitment to fresh food–it doesn't even own a microwave oven: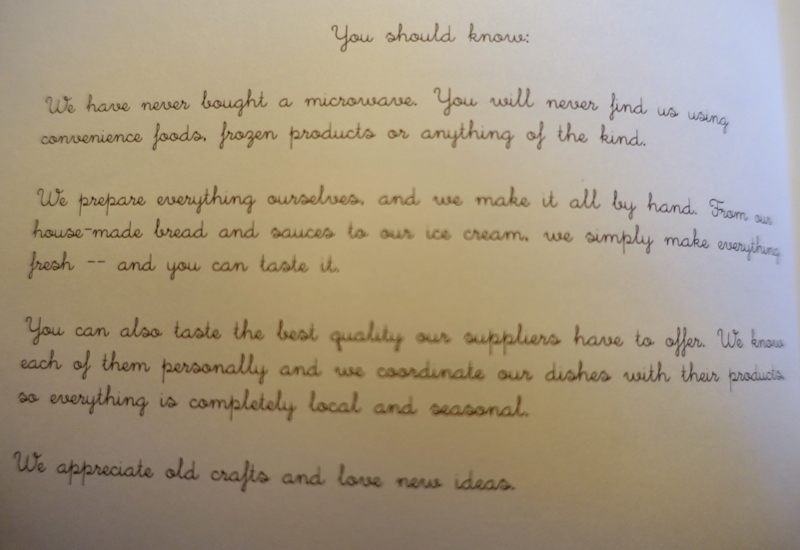 We were ravenous and Labstelle makes its own bread, so it was a no-brainer to order a basket of homemade bread, which came with herbed butter. I enjoyed trying all the different types of bread, while my son like the white bread varieties best.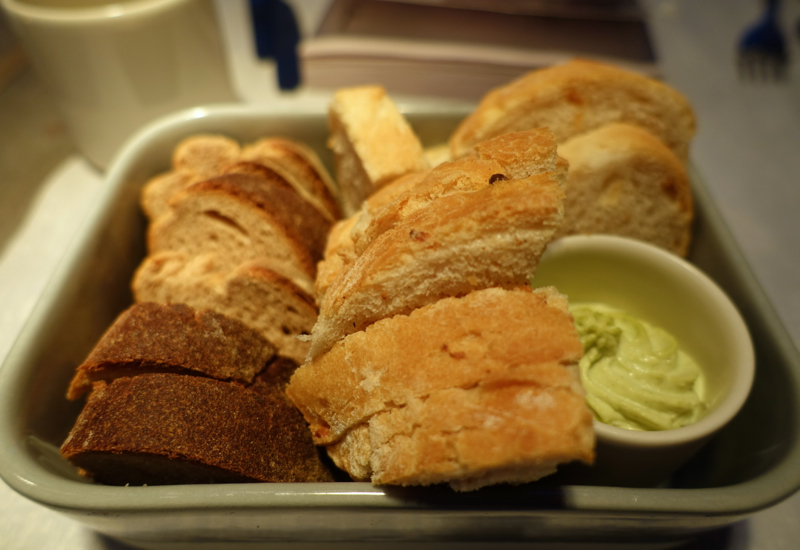 In the interest of having some food to eat quickly, we ordered the Romana Salad with bacon and potato dressing; I asked for the dressing on the side so we could decide how much to add. It was simple and fresh, though the bacon was a tad too salty for my son, who preferred the greens by themselves. To me, the salad dressing made it, but I was still glad we ordered it on the side as I prefer a lightly dressed salad.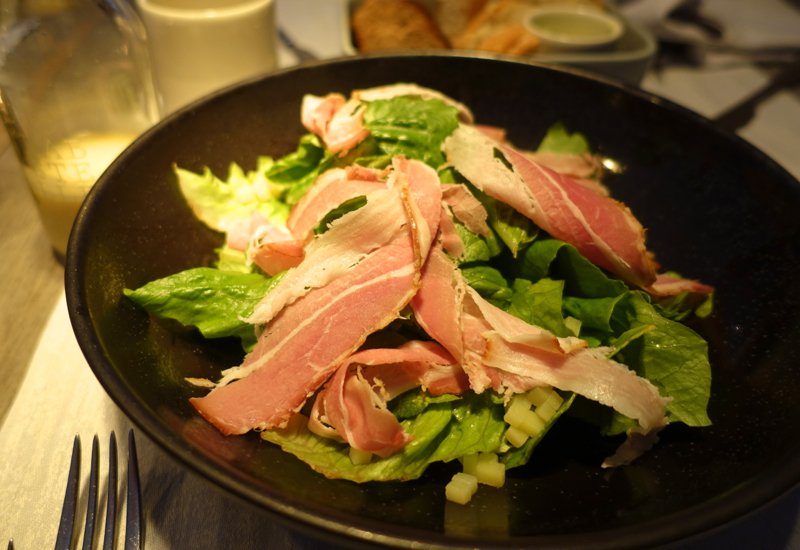 The real star of the evening, in my view, was my son's Courgette Flower main dish, although contrary to our server's insistence that it was a good sized main dish, I was disappointed to see only 2 (!) stuffed zucchini flowers on the plate. The vegetables and pesto sauce were delicious, but come on, just 2 stuffed zucchini flowers is stingy when it's the name of the dish. It should more accurately have been called Vegetables with Courgette Flower garnish. But my gripes about the portion size of the namesake ingredient aside, the taste and composition was delicious.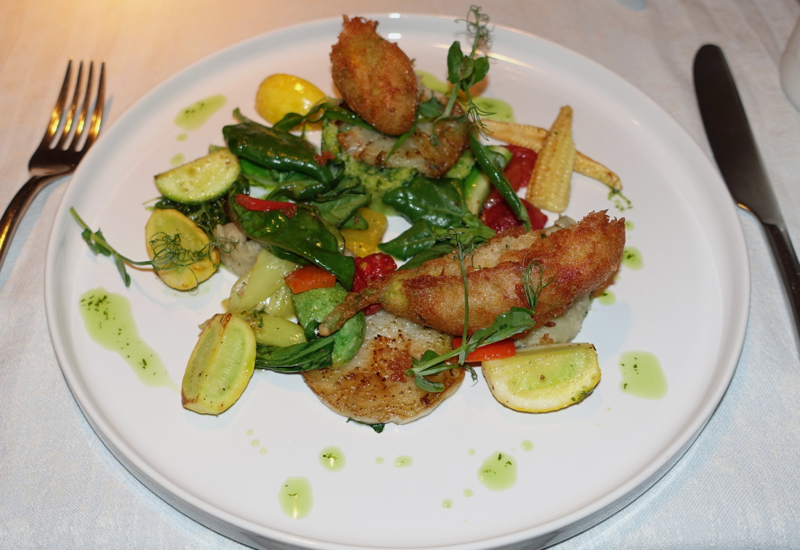 Fortunately, the Labstelle Pork and Rice that I ordered as my main helped make up for my son's small main dish, as the pork and paprika sausage were more filling. It was good and I especially enjoyed the housemade paprika sausage, but overall the dish was not as memorable as the Courgette Flower main.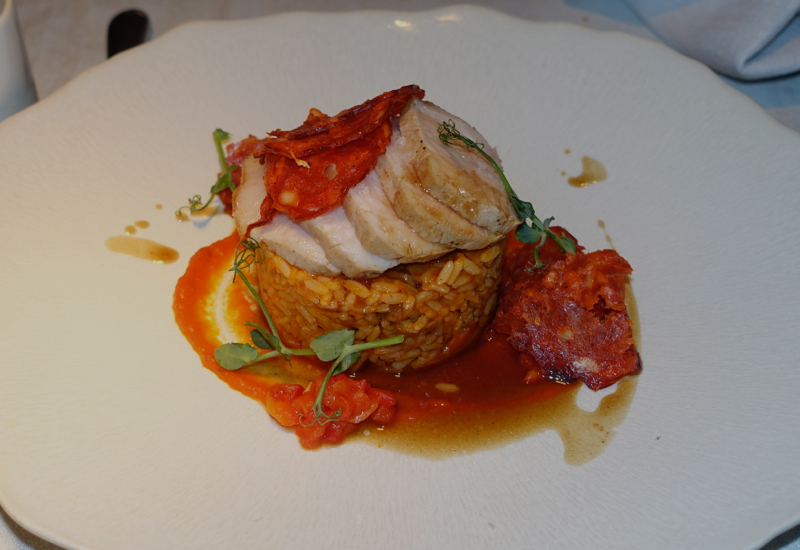 Given how hungry we both were, we easily had room to share a dessert. Here's the dessert menu: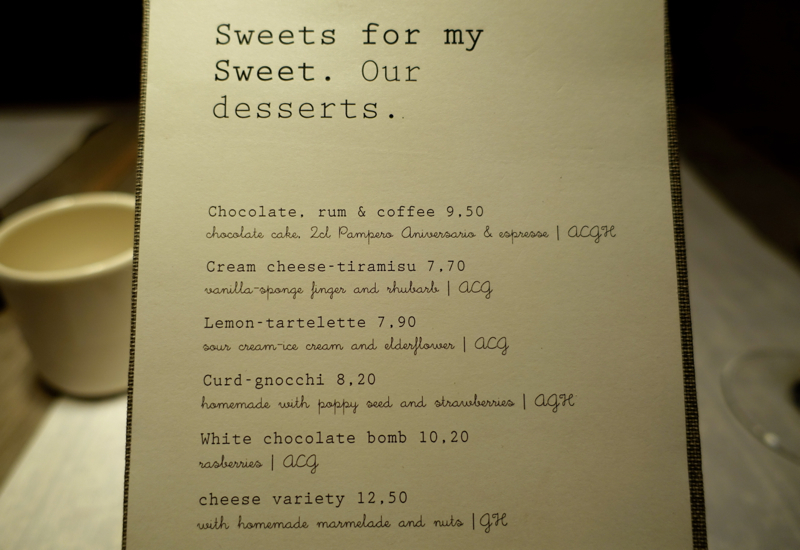 While I would have liked to have tried the chocolate dessert, rum didn't seem like such a good idea for my 7 year old, so we opted instead to try Curd Gnocchi with strawberries. This proved a great choice, with its sweet farmer's cheese homemade dumplings well matched with fresh strawberries and housemade strawberry sorbet. Yum!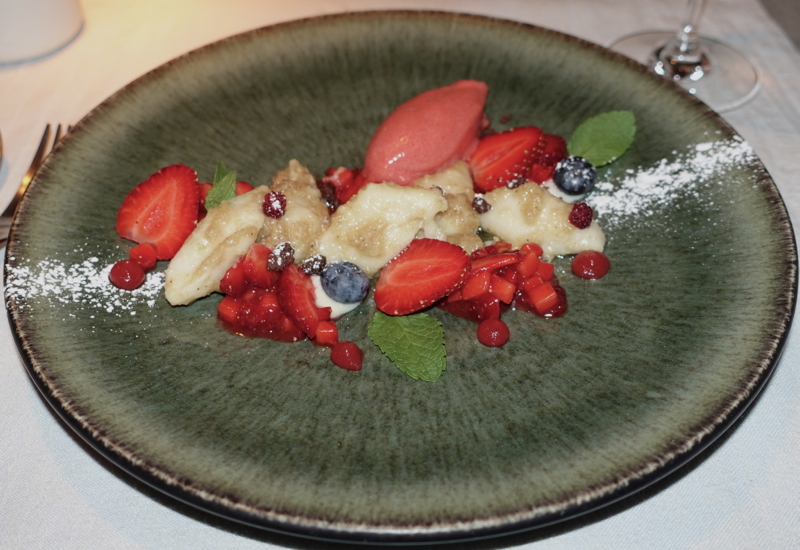 The Verdict
We were very happy to have had our only dinner in Vienna at Labstelle Wien. Service was very friendly and we loved the homemade bread, both our main dishes and the dessert. The only criticism is the aforementioned small size of the Courgette Flowers dish, so if you're as hungry as we are, you may want to get the server to be very specific about the size of the dish, especially the dish's named ingredients.
Related Posts
Review: Sofitel Vienna Stephansdom
Where to eat in Vienna, Austria
Need Award Booking Help? Our fee is as low as $75 per ticket if you book your hotel or cruise with us.
If you enjoyed this, join 200,000+ readers: please follow TravelSort on Twitter or like us on Facebook to be alerted to new posts.
Become a TravelSort Client and Book 5-star hotels with Virtuoso Perks and Four Seasons Preferred Partner Benefits