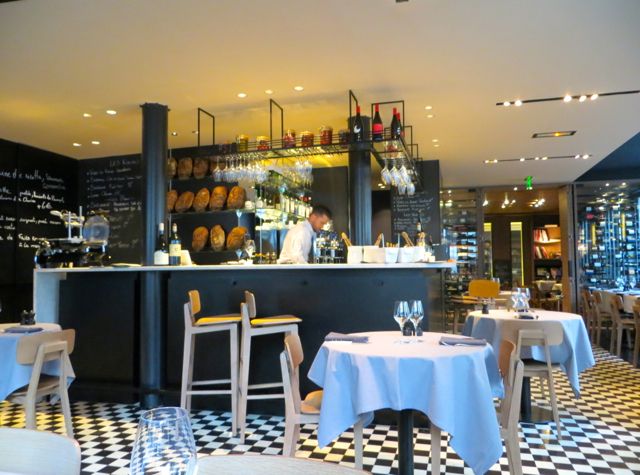 This La Regalade Conservatoire Paris Restaurant Review is part of a UK and France trip report including flights in British Airways in New First Class, Singapore Business Class and Singapore Suites, stays in a Scottish castle and 5-star hotels in London and Paris, and Michelin Star Dining in Paris. For the prior posts, please see:
British Airways Galleries Lounge in Newark and First Class Dining Review
British Airways New First Class 777 Review
British Airways Galleries Arrivals Lounge London and Concorde Room
Singapore Business Class Review NYC (JFK) to Frankfurt
Petrus London Restaurant Review
Dalhousie Castle Hotel Review, Scotland
Dalhousie Castle Falconry Review, Scotland
Epicure at Le Bristol Paris Restaurant Review
Four Seasons Paris Hotel Review
Paris Plages (Paris Beaches) Review
Le Cinq at Four Seasons Paris Restaurant Review
Park Hyatt Paris-Vendome Review
Park Hyatt Paris Breakfast Buffet Review
Prince de Galles Paris Hotel Review
La Grande Eperviere Barcelonnette Hotel Review
Things to Do in Barcelonnette, France with Kids
InterContinental Marseille Hotel Review
Vinoneo Bistro Marseille Restaurant Review
Westin Grand Frankfurt Hotel Review
La Maison Stella Cadente Review (Provins, France)
Provins France Fete de la Moisson (Harvest Festival)
Hotel Fouquet's Barriere Paris Hotel Review
La Régalade Conservatoire was started by Chef-owner Yves Camdeborde in 1992, and the original restaurant was on Ave. Jean Moulin in the 11th Arrondissement. At the time, it was a refreshing, more down to earth counterpoint to the formality of haute cuisine, while still providing top-notch ingredients and preparation. I very much enjoyed the original, which I tried while still being run by Yves Camdeborde, even if it was a bit of a trek by metro from central Paris.
Fast forward over 20 years, and while Yves Camdeborde has moved on to other ventures, such as own hotel, Relais Saint-Germain and its Le Comptoir du Relais, Bruno Doucet, who took over in 2004, not only continues the tradition of La Regalade but has also opened La Régalade St. Honore and more recently, La Régalade Conservatoire in the Hotel Nell, which the munchkin and I tried as it was conveniently open during our August stay, when many Paris restaurants are closed for their annual vacation (see Top Paris Restaurants Open in August).
Getting to La Regalade Conservatoire
As we were staying on the Champs-Elysees at Hotel Fouquet's Barriere, we had just a few steps to go to the George V metro station, where we took the M1 3 stops to Concorde, then transferred to M8, which we took 4 stops to Grands Boulevards. From there, it was just a 5 minute walk to the restaurant. Door to door, it took about 25 minutes, which was fine since the munchkin loves everything train and subway related. You could of course take a taxi instead, which would take about half that time from where we were.
We had an early reservation, so there was only one other table seated when we arrived and gave our name to the host. He furrowed his brow initially when he couldn't find the reservation under my last name, then beamed when I gave him my first name, since it was simply under "Hilary," and led us to our table, a cozy banquette.
La Regalade Conservatoire Menu and Food
The menu ast La Regalade Conservatoire is seasonal and market-driven changes regularly, so if you go don't expect to find the same dishes that were on our menu, but do expect to find both French classics and some more innovative dishes as well.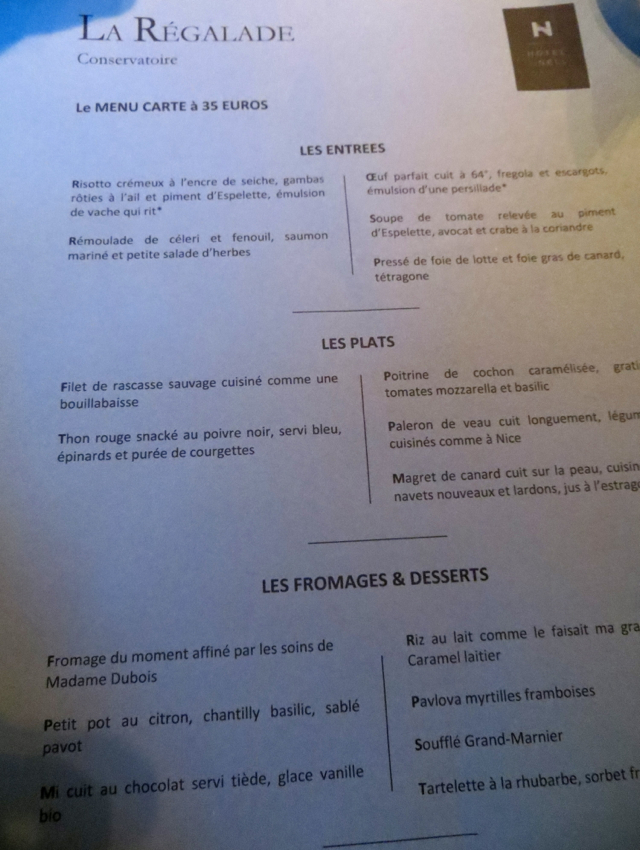 I love that as with the original La Regalade, meals have a hearty beginning, with fresh country bread, country-style pork terrine, and cornichons. It's very much family style, since they bring over an entire dish of the terrine. It was perhaps a little messy since there weren't bread plates, but no matter–the munchkin and I enjoyed this starter. I just had to make sure we didn't eat too much, given the meal ahead of us.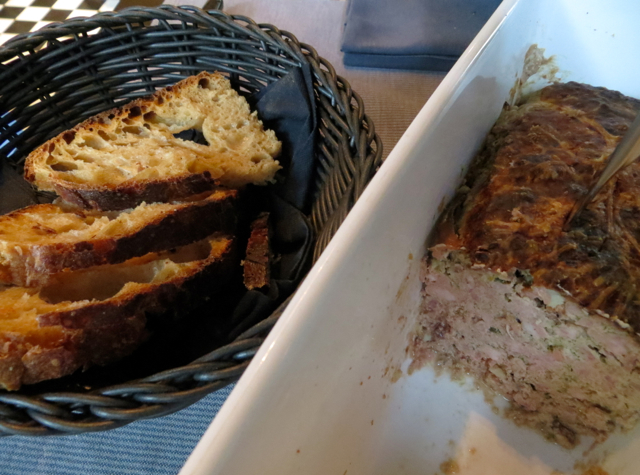 For the munchkin's appetizer, I ordered the squid ink risotto with roasted shrimp and a creamy sauce. He did eat a few bites, but I appreciated his dish much more. This was in fact my favorite dish of the evening, so if you see it on the menu, I highly recommend ordering it.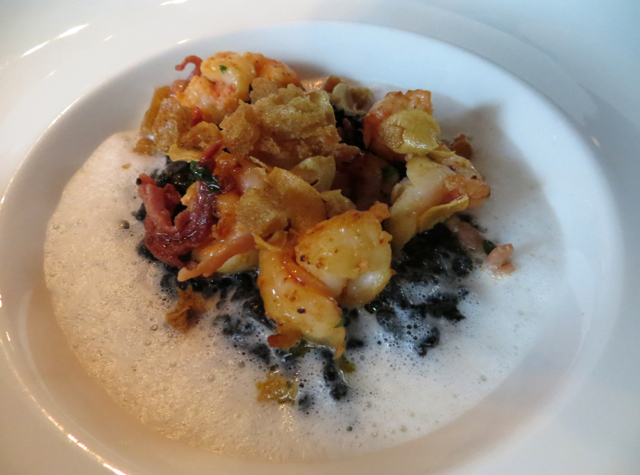 To my surprise, the munchkin preferred my dish, which was a perfectly poached egg with escargots. Of course, I didn't tell him what escargots are 🙂 I enjoyed this dish too, and recommend it, but to me the squid ink risotto was still the clear winner.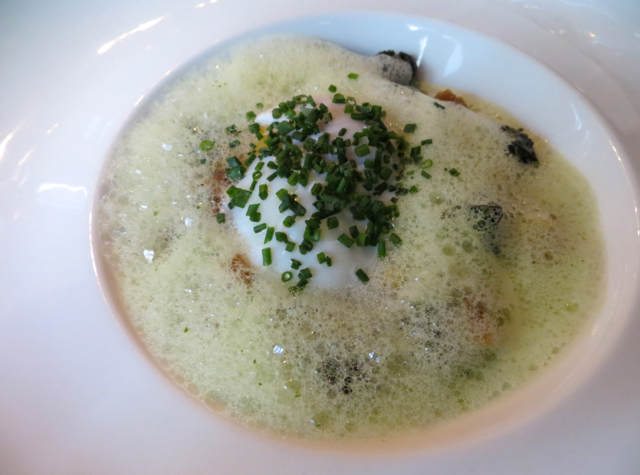 Our entrees were good, but not as memorable as the appetizers. The munchkin ordered the duck breast with lardons (pork belly bacon), and ate most of it, a testament to how apt his moniker is.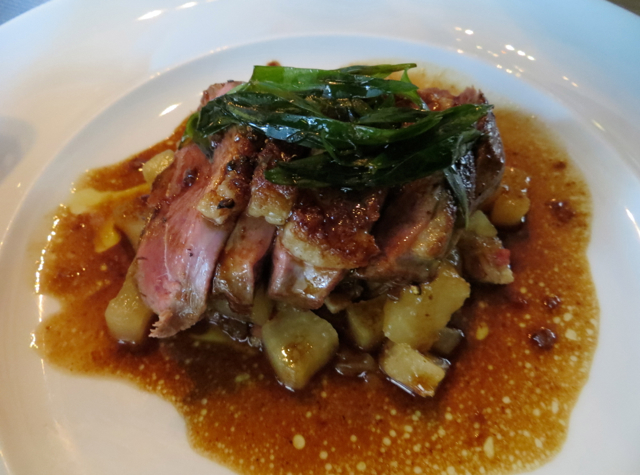 I had the caramelized pork breast with gratineed tomatoes, and while the meat was good, I found the skin to be a bit too tough and a bit more fat between the skin and meat. I much prefer the roasted suckling pig at ABC Kitchen in NYC, although service and noise level at La Regalade Conservatoire are *much* better than at ABC Kitchen, I have to say.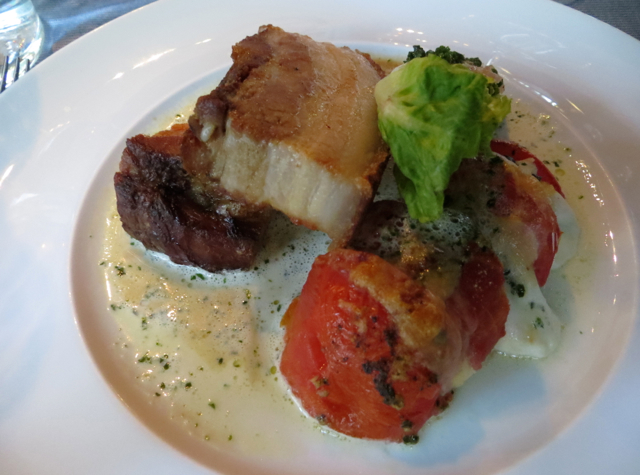 Since the munchkin had already had some sweets as his welcome amenity at Hotel Fouquet's Barriere, I ordered the cheese plate for him, which he was happy with, since he loves cheese almost as much as any dessert. It was very simple, with only two types of cheese, but given how ample the rest of the meal was, it was fine.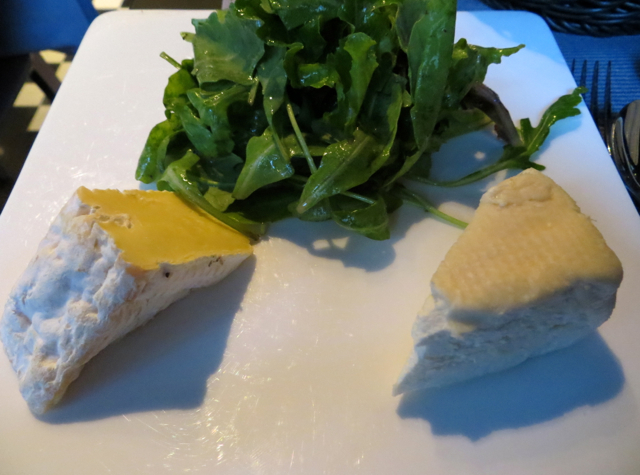 One of the specialties at La Regalade is the Grand Marnier Souffle, so in spite of not being a huge fan of Grand Marnier, I ordered it. It was textbook perfect, ethereally light with a nice lightly crusted top dusted with powdered sugar. I only wished that it could have been another flavor, but the citrus note was nonetheless a refreshing finish to the meal.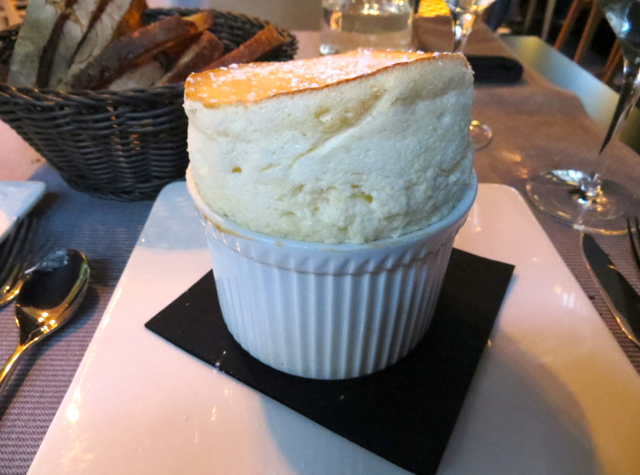 The Verdict: La Regalade Conservatoire is a great choice when you want to eat well, but aren't up for a formal dining experience at a Paris Michelin star restaurant. The 35 Euros prix fixe menu at dinner is a great deal for the quality and quantity of food, in a comfortable setting with good service. Just remember to book in advance–we saw several couples turned away that didn't have reservations.
Related Posts
Top Paris Restaurants Open in August
Spring Restaurant, Paris Restaurant Review
Le Cinq at Four Seasons Paris Restaurant Review
Paris for Foodies: Where to Eat
Need Award Booking Help? Our fee is as low as $75 per ticket if you book your hotel through us.
If you enjoyed this, join 90,000+ readers: please follow TravelSort on Twitter or like us on Facebook to be alerted to new posts.
Become a TravelSort Client and Book 5-Star Hotels with Virtuoso or Four Seasons Preferred Partner Amenities!