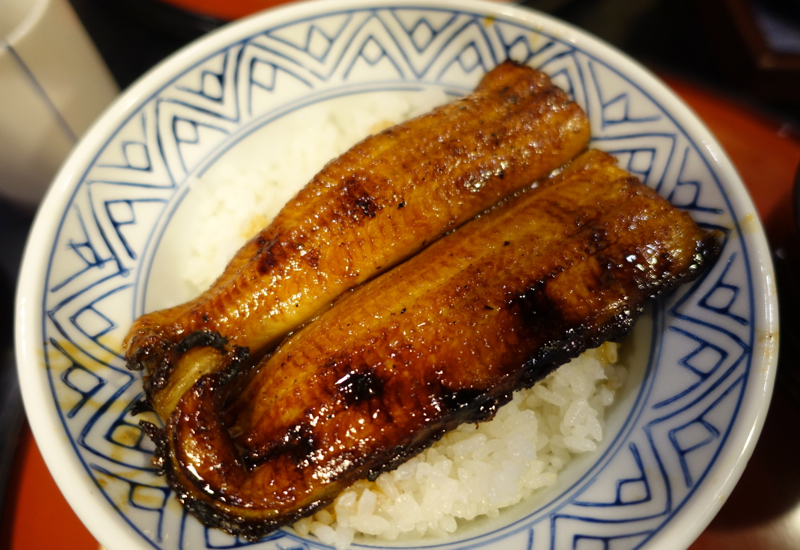 This Kikuya Chrysanthemum House Review is part of a trip report including luxury resorts and dining in Asia and the Maldives and Laos, such as Four Seasons Landaa Giraavaru and Amantaka, as well as Etihad First Class and Emirates First Class.
For the prior posts, please see:
Review of Etihad's Lounge at Washington Dulles Airport (IAD)
Etihad First Class 787-9 Dreamliner Review
Review: Wingtips Lounge JFK for Etihad First Class Passengers
Review: Etihad First Class 777-300ER NYC to Abu Dhabi
Review: Etihad Business Class Lounge Abu Dhabi AUH Terminal 1
Four Seasons Maldives at Landaa Giraavaru Review
Four Seasons Maldives at Landaa Giraavaru Restaurant Reviews and Menus
Four Seasons Maldives at Landaa Giraavaru Activities: Top 10 Things to Do
Interview with Armando Kraenzlin, General Manager of Four Seasons Maldives at Landaa Giraavaru
Review: Four Seasons Maldives at Kuda Huraa
Surfing in the Maldives at Four Seasons Kuda Huraa
Review: Four Seasons Maldives at Kuda Huraa Sunset Water Bungalow
Four Seasons Maldives at Kuda Huraa Restaurant Reviews and Menus
Four Seasons Maldives at Kuda Huraa Activities and Top Things to Do
Soneva Fushi Maldives Activities and Things to Do
Soneva Fushi Breakfast, Ice Cream Room, Chocolate Room and Cheese Room
Fresh in the Garden, Soneva Fushi Restaurant Review
Trans Maldivian Airways Seaplane Review
Conrad Maldives Rangali Review: Beach Villa
Conrad Maldives Restaurant Menus and Review
Review: Conrad Maldives Superior Water Villa
Conrad Maldives Activities and Top Things to Do
Emirates First Class Lounge Dubai Review
Emirates A380 First Class Review
Amantaka Luang Prabang, Laos Review
Amantaka Restaurant Review and Menus
Amantaka Activities and Top Things to Do in Luang Prabang
Sofitel Legend Metropole Hanoi Review
Review: Crowne Plaza Singapore Changi Airport
Review: Japan Airlines JAL 767-300ER Business Class
Review: Hilton Tokyo Narita Airport Hotel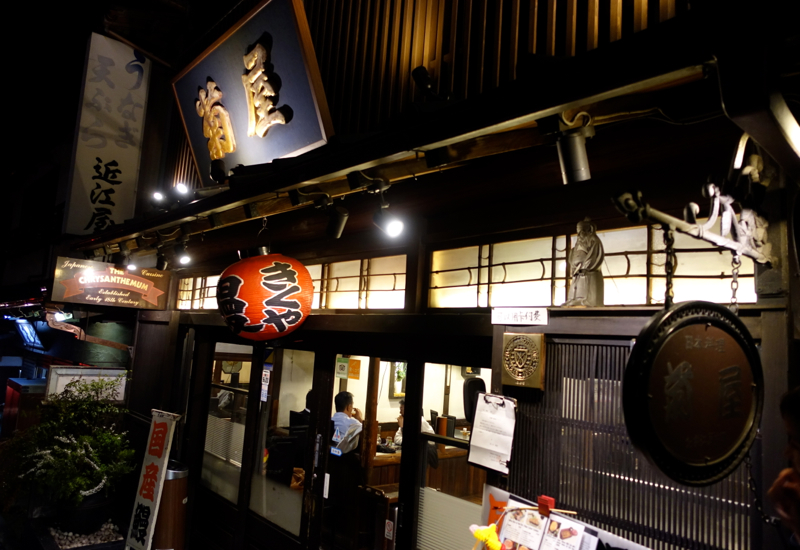 Getting to Kikuya Chrysanthemum House
One nice thing about the Hilton Tokyo Narita Airport and some of the other Narita Airport hotels is that, in addition to the free airport shuttle, they offer a free shuttle to Narita train station. And that opens up the opportunity to visit Narita Shinsho-ji Temple, if you have a layover during the day, and to try one of the many unagi (barbecued eel) specialists in Narita.
We only had time for a quick dinner out, and in fact due to traffic, the shuttle ride proved to be anything but quick. What would have been a 12-15 minute trip with no traffic turned into more like 40 minutes. Fortunately, my son was surprisingly patient, and we at last got to the station and set out to try to find Kikuya Chrysanthemum House, where I'd made a dinner reservation.
Here's a map showing a couple walking options to Kikuya from Narita Station.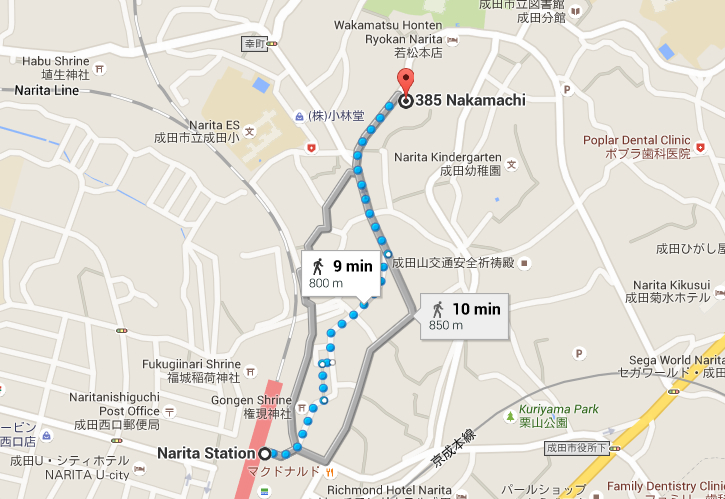 Just make sure that at the last fork in the road, you take the right path (sloping downward) toward Kikuya, which is at 385 Nakamachi.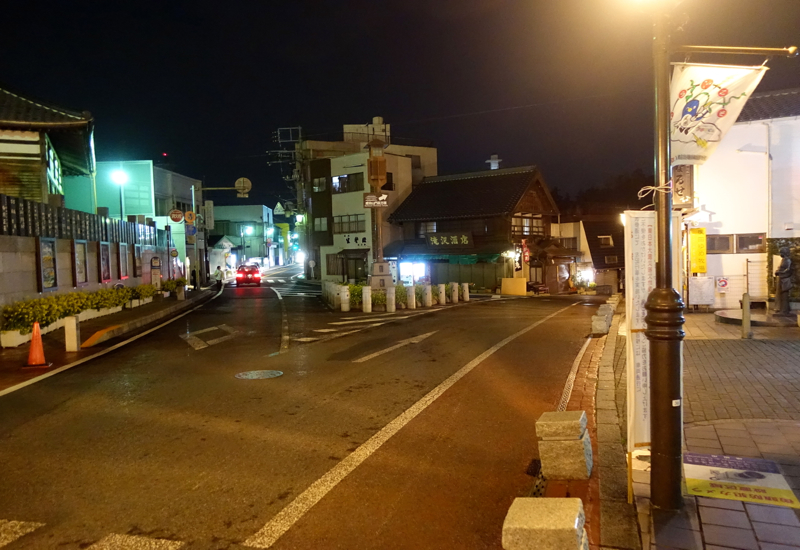 The Scene
It turned out that because we were there for dinner, there were several open tables and we needn't have worried about a reservation. When we were there, there were some businessmen dining, a solo Westerner, a family of Chinese, and somewhere above us on the 2nd floor a group dinner was being held. But lunch time can be very busy, and the restaurant apparently sees many staff from Narita Airport during the day. The restaurant is cozy and homely inside, not fancy.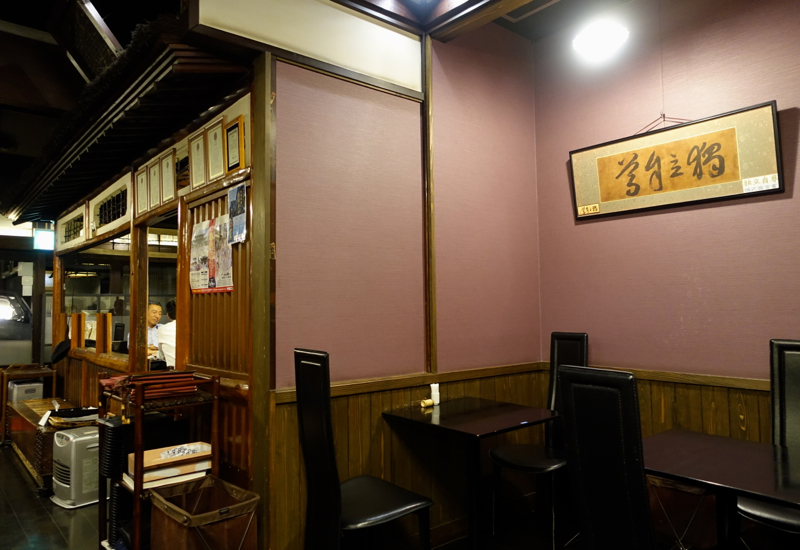 Kikuya Chrysanthemum House Menu and Food
We were there primarily for the house specialty, eel, which is also featured in the plastic food display outside the restaurant: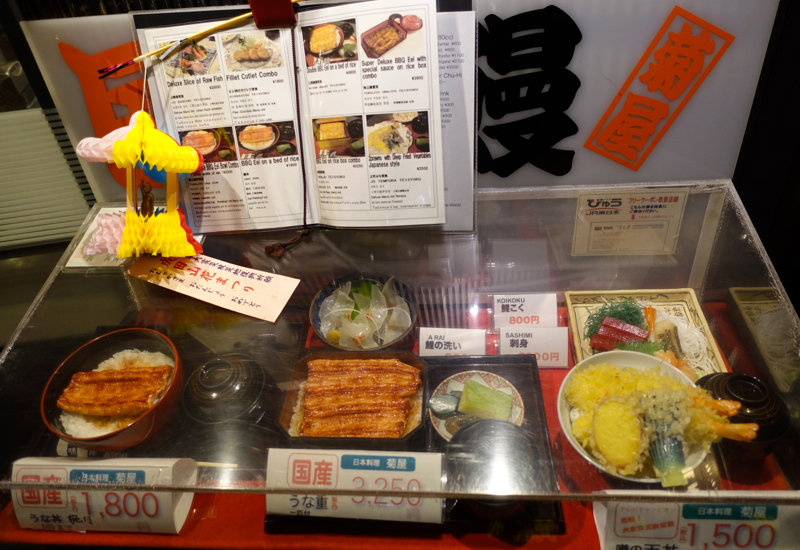 The menu features it prominently as well, both in the more casual "Una Don" meals that we ordered, and the more expensive and formal Teishoku meal sets featuring unagi in lacquer boxes.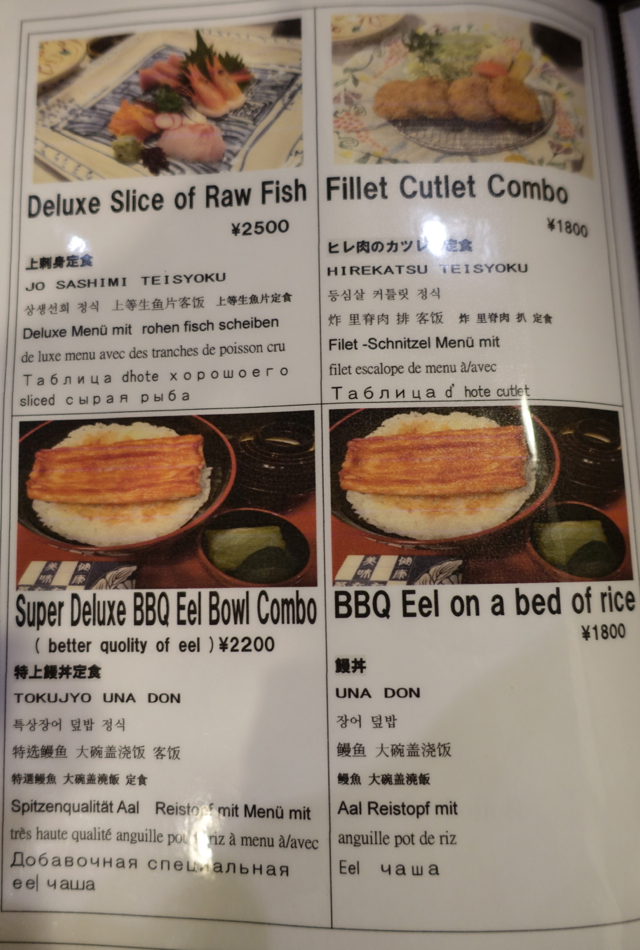 Sashimi and tempura are also offered, although we didn't try them, and salads are also offered on the menu's first page.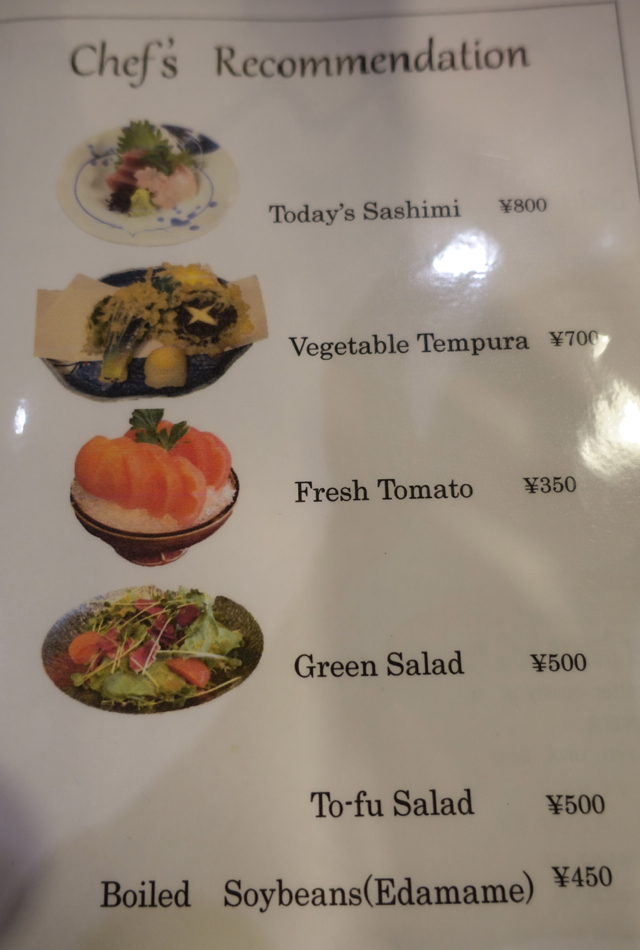 After we were seated, hot towels were brought along with the menu. I was also poured hot tea, which I gratefully accepted, since it was a bit chilly outside and I'd hadn't dressed quite warmly enough for the weather.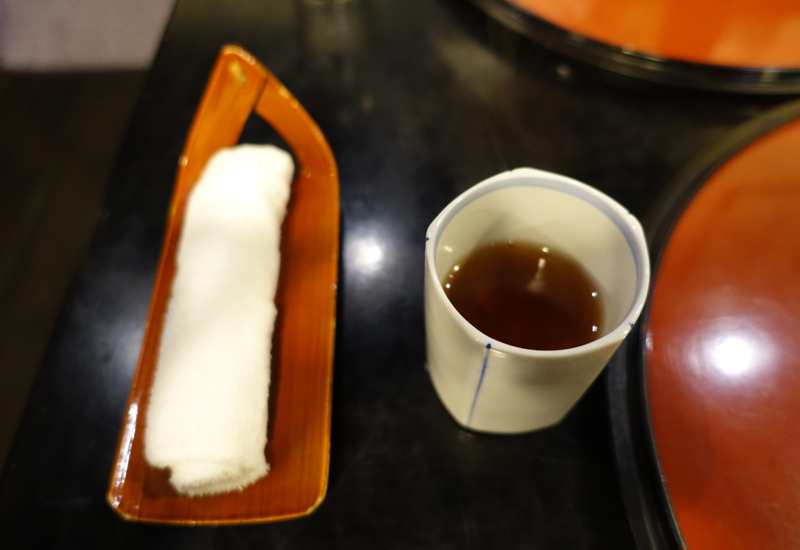 The salad came out quickly and was tasty, with a light miso dressing.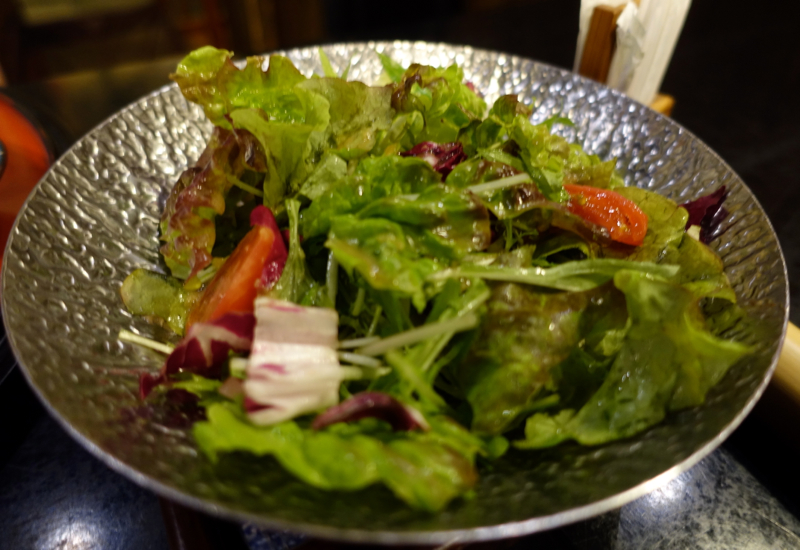 Some Japanese pickles were also served, which I enjoyed, but my son wrinkled his nose at due to the acidity, so I ate his.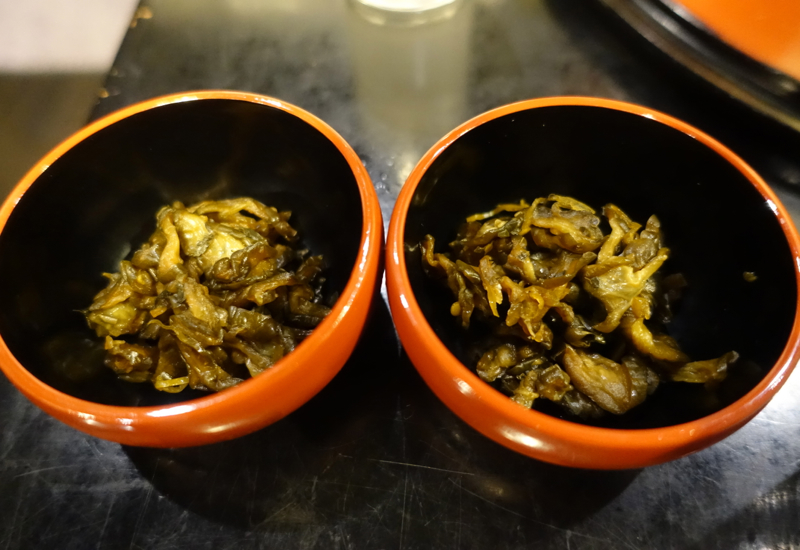 Since we were both hungry, I ordered an Una Don for each of us; the regular Una Don, which was very good, even though we would have loved some more unagi sauce on the side to flavor the rice, since there was a modest amount of unagi and a huge amount of rice.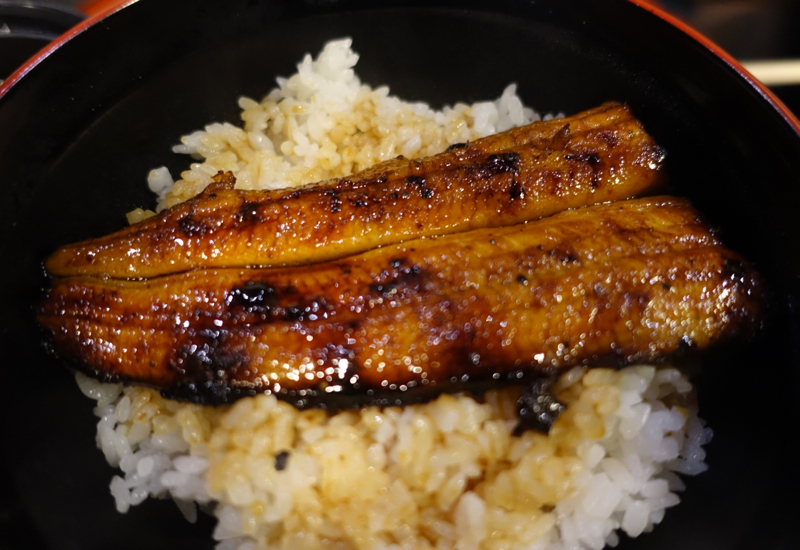 And also, for the sake of comparison, the Super Deluxe BBQ EEl (Tokujyo Una Don). I wanted to see what difference there was. After comparing them side by side, we noticed that the super deluxe one was thicker and had a slightly firmer texture, but the taste, to us at least, was virtually the same.
My husband had been doubtful when I told him we had reservations at an eel restaurant, but I was confident the munchkin would enjoy unagi, and he ate his entire portion plus some of mine, along with most of his rice.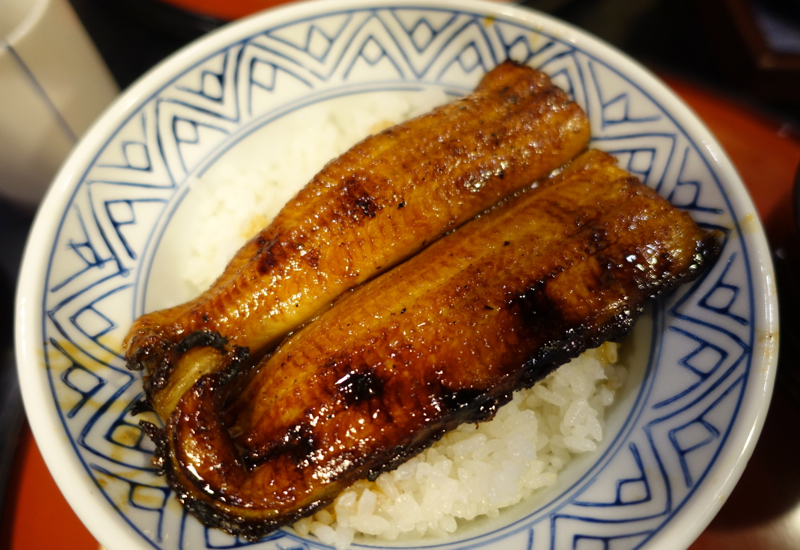 Miso soup came with both orders of una don, and was an excellent version, with mushrooms in the broth.
The Service
Kikuya, due to its location in Narita, sees many international visitors, so everyone we interacted with spoke some English. Our server was very friendly, and kept my son's water glass and my tea cup refilled. They were also happy to provide a fork, since my son isn't yet skilled with chopsticks.
It took some time for our Una Dons to be prepared, but that's to be expected because they grill them to order.
The Verdict
While I might not have taken us to Kikuya if I'd known how terrible the traffic would be, I'm glad we got out of our hotel and tried Kikuya, which is one of the best unagi specialists in Narita. I will say that I personally preferred the unagi I've had when living in Nagoya, perhaps because it is only charcoal grilled, with no steaming beforehand. Tokyo unagi is more subtle–it comes down to personal preference. But regardless, we enjoyed our dinner, and it was a new dish for my son, who thoroughly enjoyed it.
If you've dined at Kikuya, what was your experience?
Related Posts
Review: Hilton Tokyo Narita Airport Hotel
Review: Japan Airlines JAL Sky Suite 777 Business Class
Lounge Review: Japan Airlines (JAL) Business Class Lounge Tokyo Narita
ANA All Nippon Airways Business Class Review, LA-Tokyo
Review: Japan Airlines JAL 767-300ER Business Class
Need Award Booking Help? Our fee is as low as $75 per ticket if you book your hotel through us.
If you enjoyed this, join 200,000+ readers: please follow TravelSort on Twitter or like us on Facebook to be alerted to new posts.
Become a TravelSort Client and Book 5-star hotels with Virtuoso Perks and Preferred Partner Benefits!