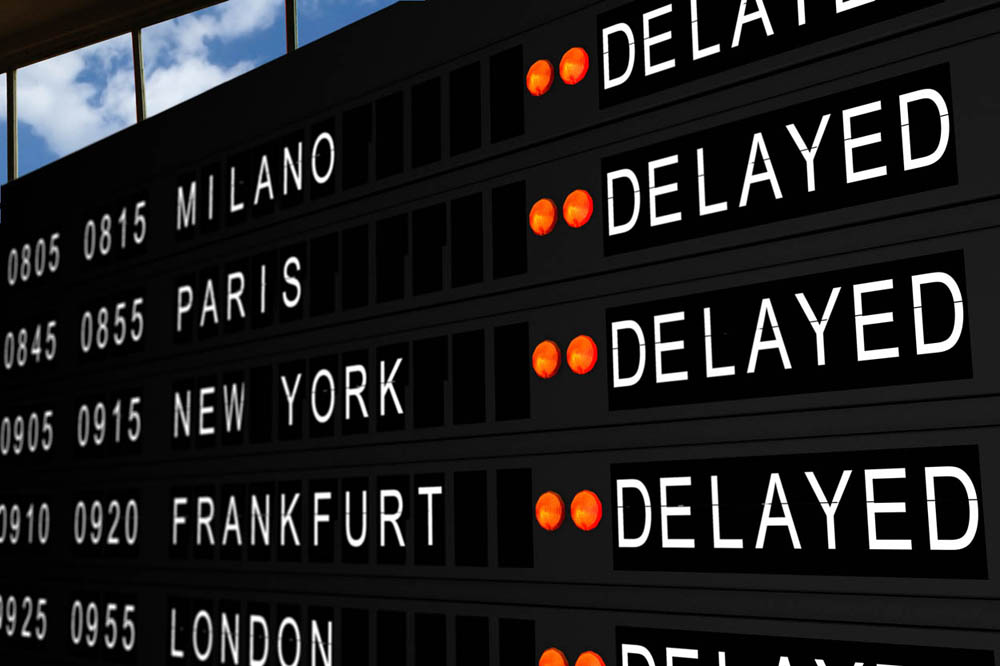 JFK's Runway Reconstruction means a number of delayed flights and cancelled flights this year. We were just subject to one of them today, with the JetBlue flight we'd checked into last night cancelled just a few hours before we were to head to the airport. It's had us scrambling, since we're connecting to an international flight and there were no other flights that would get us to our departure airport in time.
So what is this JFK runway construction, what is the impact, and what should you do?
How Long is JFK Runway Reconstruction Ongoing?
Construction on Runway 4L22R started in July 2014, and is planned to last until December 2015. The construction is supposed to actually reduce delays in the long-term, by installing high speed taxiways that enable aircraft to exit the runway faster, and by widening the runway to allow larger "Group VI Aircraft" to land on it. Also see the Port Authority of NY and NJ Runway Reconstruction page for more details.
Is the Runway Actually Closed?
Runway 4L-22R will be closed June 1,2015 to December 2015.
How Are Flights Impacted?
Even prior to June 1, 2015, there are times when JFK is down to one runway, due to the prevailing winds. Normally, including Runway 4L-22R, there are 3 runways. That goes down to 2 runways June-December 2015, including the busy summer and fall travel season.
What to Do
All of the NYC area airports are subject to delays, and many international flights only depart from and arrive to JFK, so there may not be a lot you can do if you have a specific destination that is only served by flights from JFK. Otherwise, consider:
1. Fly from or to LGA or EWR
If you have a choice, I'd recommend avoiding JFK Airport from June to December 2015, especially for domestic flights, due to Runway 4L-22R being closed, reducing JFK's runways to two runways, and sometimes just one runway, depending on weather and wind.
2. Fly a Carrier That Also Flies from or to Another NYC Airport
Even if you prefer a flight from or to JFK, it can be helpful to fly a carrier that also departs from or flies into another NYC airport, such as United, which flies from Newark EWR, or Delta, from LGA.
3. For East Coast Travel, Take the Acela / Amtrak
Since short haul flights are often some of the first to be cancelled or delayed, consider taking the Acela or an Amtrak train if your destination is Boston, Baltimore, or Washington, DC.
4. Take a Train to Another East Coast Airport
Another option is to take the train to a nearby East Coast city, such as nearby Philadelphia, although of course there are no guarantees you'll avoid all delays, and this option is a hassle if you intended origin or destination is NYC.
5. Get Travel Insurance
If you plan to fly from JFK anyway and have major non-refundable hotel, cruise or tour bookings, be sure to get travel insurance to cover these expenses in case a JFK delay or cancellation throws a wrench into your travel plans.
Has the JFK runway reconstruction project derailed any of your travel plans recently?
Related Posts
Airline Cancelled My Flight, What Should I Do?
Airline Passenger Bill of Rights-What Are Flyers' Rights?
American Airlines Compensation for Cancelled Flight or Delayed Flight?
Getting United to Pay EU Compensation for a Flight Delay
Trip Delay and Trip Interruption Insurance: Which Credit Cards?
Need Award Booking Help? Our fee is as low as $75 per ticket if you book your hotel through us.
If you enjoyed this, join 150,000+ readers: please follow TravelSort on Twitter or like us on Facebook to be alerted to new posts.
Become a TravelSort Client and Book 5-Star Hotels with Virtuoso or Four Seasons Preferred Partner Amenities!