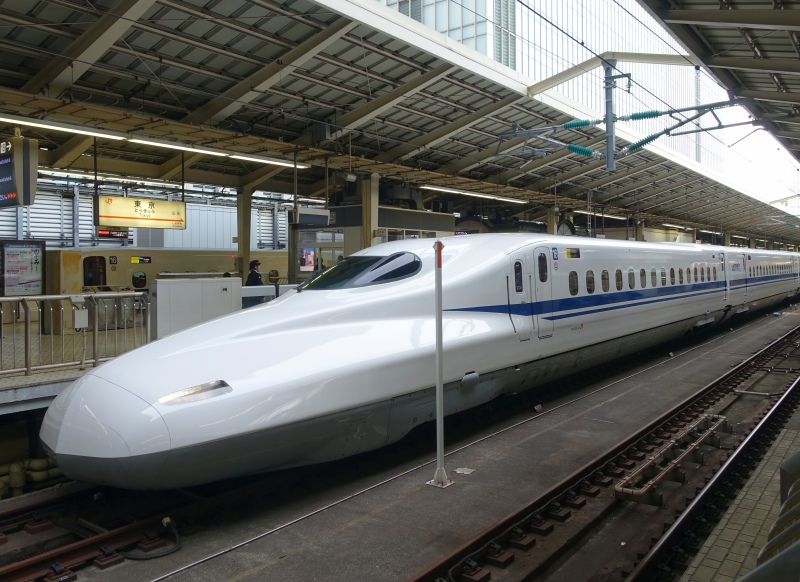 The Japan Rail Pass is useful if you'll be taking the shinkansen and other JR trains in Japan. We used our Japan Rail Pass on 5 different trains while in Japan, including 2 shinkansen journeys, 2 limited express journeys, and the Narita Express back to Tokyo Narita Airport. Based on our experience, here are tips for purchasing and using your Japan Rail Pass.
1. Is the Japan Rail Pass Worth It?
Most people know about the high speed shinkansen trains in Japan. What many first time visitors to Japan don't realize is how expensive shinkansen travel is–about JPY 14,000 each way between Tokyo and Kyoto, or ~$130 each way, $260 round trip. Since you can currently buy a regular 7 day Japan Rail Pass for $252, even one roundtrip between Tokyo and Kyoto plus a one way on the Narita Express makes getting the pass worth it, and of course if you'll have an additional train ride or two as we did, it's a no brainer to get the pass.
2. But Keep in Mind Nozomi Shinkansen Are NOT Covered by the Japan Rail Pass
The Nozomi Shinkansen is the fastest bullet train, getting you from Tokyo to Kyoto in just 140 minutes, and also the most frequent, with departures as frequent as every 10 minutes or so, but it is NOT covered by the Japan Rail Pass. So if you're only interested in taking the Nozomi Shinkansen, just get your tickets there at the station after arriving in Japan.
That said, the Japan Rail Pass does cover the Hikari Shinkansen, which, in the case of Tokyo to Kyoto, takes about 160 minutes, so just 20 minutes more. The rub? It doesn't depart as often–typically just once an hour.
3. Eligibility for the Japan Rail Pass
Most people reading this post should be eligible, but for the sake of completeness, here's who can and cannot use the Japan Rail Pass.
Eligible: You must be a foreign tourist visiting Japan for tourism, with a stamp in your passport of "temporary visitor."
Eligible: Japanese citizens that are residing abroad and have the right of permanent residence in the country in which they are residing
Eligible: Japanese citizens that are residing abroad, married to a foreign national also residing abroad
In other words, you can't purchase the pass as a Japanese citizen (unless residing abroad and meeting the conditions of the 2nd or 3rd bullet point), and you also must be visiting Japan as a temporary visitor, not under any other entry category such as trainee, entertainer, etc.
4. Is the Green Car Worth the Cost?
When I mentioned the $252 cost, that's for a 1 week regular Japan Rail Pass. The Green Car First Class Japan Rail Pass is $336 for an adult, so $80 more. A child's regular 1 week Japan Rail Pass is $126, while a Green Car 1 week child pass is $168, $42 more.
The Green Car seats are wider, and on the Hikari Shinkansen the Green Car seats are in a 2-2 configuration, vs. 2-3 configuration in the ordinary cars. The Green Cars are generally not crowded, giving you plenty of space to put your luggage, whereas ordinary cars can become crowded, with less space around your seat for luggage.
Finally, Green Car seats, at least on the Hikari Shinkansen, each have a power port. This was important for us, as both my husband and I had to get work done.
Overall, we found the extra $80 for each of us and extra $42 for our son more than worth it for the ~10 hours we spent on trains. Here's a quick video of a shinkansen pulling into the station, followed by our Green Car between Kyoto and Tokyo:
5. Where to Buy the Japan Rail Pass?
There are many travel agencies selling the Japan Rail Pass, for roughly the same price. I didn't do an exhaustive search, but did find the passes a few dollars cheaper at My JR Pass, so I bought ours there. Our passes were shipped by FedEx for a $5 shipping cost 2 days after I ordered them, and arrived 2 days after that, so 4 days after the order I had our passes.
6. Planning Which Trains to Take
An invaluable site for viewing the train schedules and figuring out which train to take is HyperDia. Just make sure to uncheck the box for "private trains" since your Japan Rail Pass doesn't cover these, and also ignore any Nozomi trains, since the pass isn't valid on these, as discussed above.
I recommend writing down the exact trains you want with the days, times, and train number.
7. Activating Your Pass and Making Train Reservations
If you have a Green Car pass as we did, you'll need to make train reservations for each train you take, as seating is assigned. During busier periods such as cherry blossom season, around New Year's, and during Golden Week you'll also want to make reservations, even if you have a regular pass, since trains are very crowded during these peak travel times.
You can make the reservations at any JR office once you arrive in Japan. If you have the time and energy after arriving, you can sort it out at the Tokyo Narita Airport JR Office, at the same time you activate your pass.
Note that you can pick a date in the future to activate your Japan Rail Pass. This is what we did, since we were spending 3 nights in Tokyo first, so we picked the day we departed Tokyo to activate our pass. That meant that we paid for the Narita Express into Tokyo on arrival, but the pass covered it on our return day.
8. Using Your Japan Rail Pass
Note that since you have a physical pass, you can't use the automated entry gates at stations; you need to show your pass to the official and pass through the gate by him/her. In our experience, because this person was often so busy fielding others' questions, we simply flashed our passes and were waved through, without anyone looking at them closely.
Interestingly, no one checked our passes or reservations either on the trains–presumably, after we'd reserved our seats, the information was transmitted to the train conductors, who only check reservations when there's someone sitting in a seat that wasn't marked as reserved.
9. Train Etiquette
It should go without saying that you can't smoke in your seat on any train in Japan, but we did notice that there are sometimes smoking rooms on trains, so smokers can go to these designated areas to smoke.
What is perhaps not as known to first-time visitors to Japan is that it is unacceptable to be talking on the phone in the train or subway or other public transport. In fact, it's unacceptable to talk loudly at all, for that matter. It's considered rude and being inconsiderate of others, so at most, if you have to answer the phone, tell the caller that you'll call them back once you reach your destination.
If you've used the Japan Rail Pass recently, what are your tips?
Recommended Posts
Review: Four Seasons Tokyo at Marunouchi
Japan Airlines 777-300ER Business Class Sky Suite Review