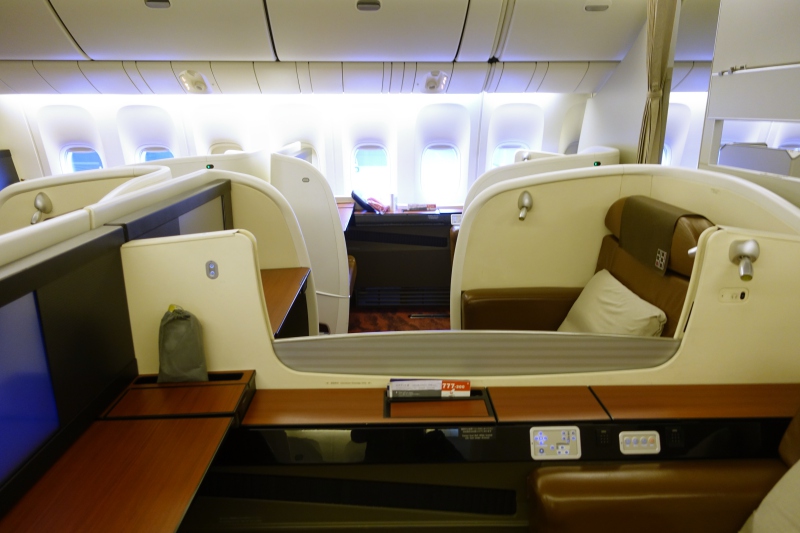 This Review of Japan Airlines First Class, 777-300ER is from my recent 2017 flight from Tokyo to Los Angeles LAX. I had never flown JAL First Class, and I had pretty high expectations of the service and accommodations.  But even so I was surprised at the high quality of this product.  My son was also in JAL First Class, and my wife was in Business Class; see her JAL SkySuite Business Class Review.
Visiting Japan? See some of our previous posts from this trip report:
Review: ANA First Class 777 New York JFK to Tokyo Narita
Hotel Review: The Peninsula Tokyo
Hotel Review: Mandarin Oriental Tokyo
Japan Rail Pass and Shinkansen Tips
Amanemu Virtuoso Review, Ise-Shima
Review: Four Seasons Tokyo at Marunouchi
JAL Cabin and Seat Selection
The First Class cabin was empty except for me, my son, and one other passenger, so the flight attendants allowed us to sit wherever we wanted, and to even use extra seats (I could sit next to my son when needed, but used a different seat for relaxing!).  The cabin consisted of 8 seats in 2 rows, in a 1-2-1 seat configuration, and overall the cabin had a very spacious and airy feeling.
While couples who want to talk with each other will likely want the two middle seats, my son wanted a window seat, so I also had a window seat. If you're in one of the middle "couples seats" but not traveling with a companion, there is a privacy divider that can be raised between the two seats.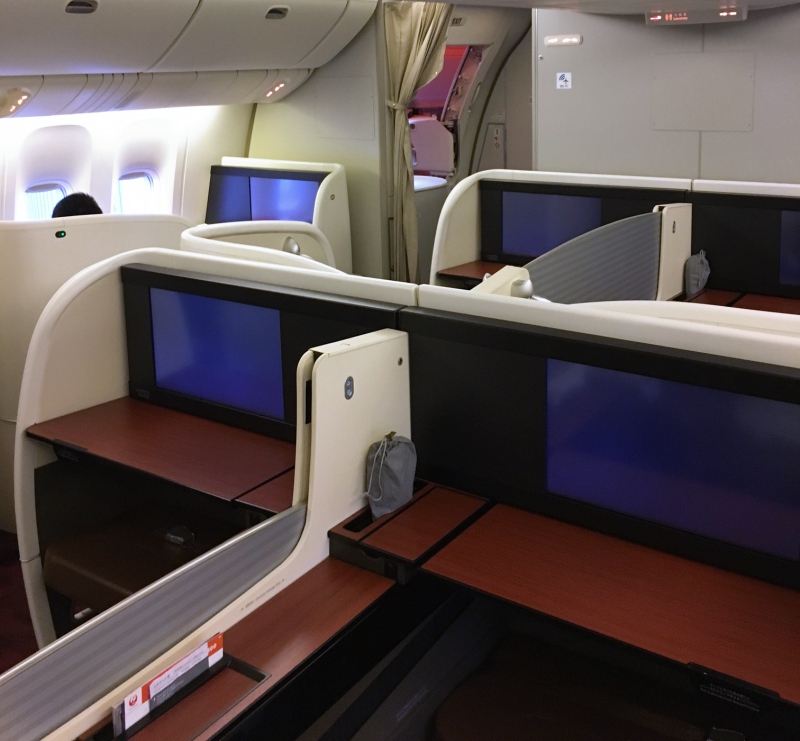 JAL First Class Service
As soon as I reached my seat I was offered a hand towel, along with a choice of OJ and champagne, and opted for the latter.  I was soon offered a hot towel, and a choice of magazines.  Throughout the entire flight, the flight attendants were very incredibly helpful and accommodating.  The flight attendant who greeted me was exceptionally perky and even laughed at my dumb jokes.  She was later perfectly helpful in transitioning the seat to a flatbed, and vice versa, when needed, upon very short notice.  Excellent service!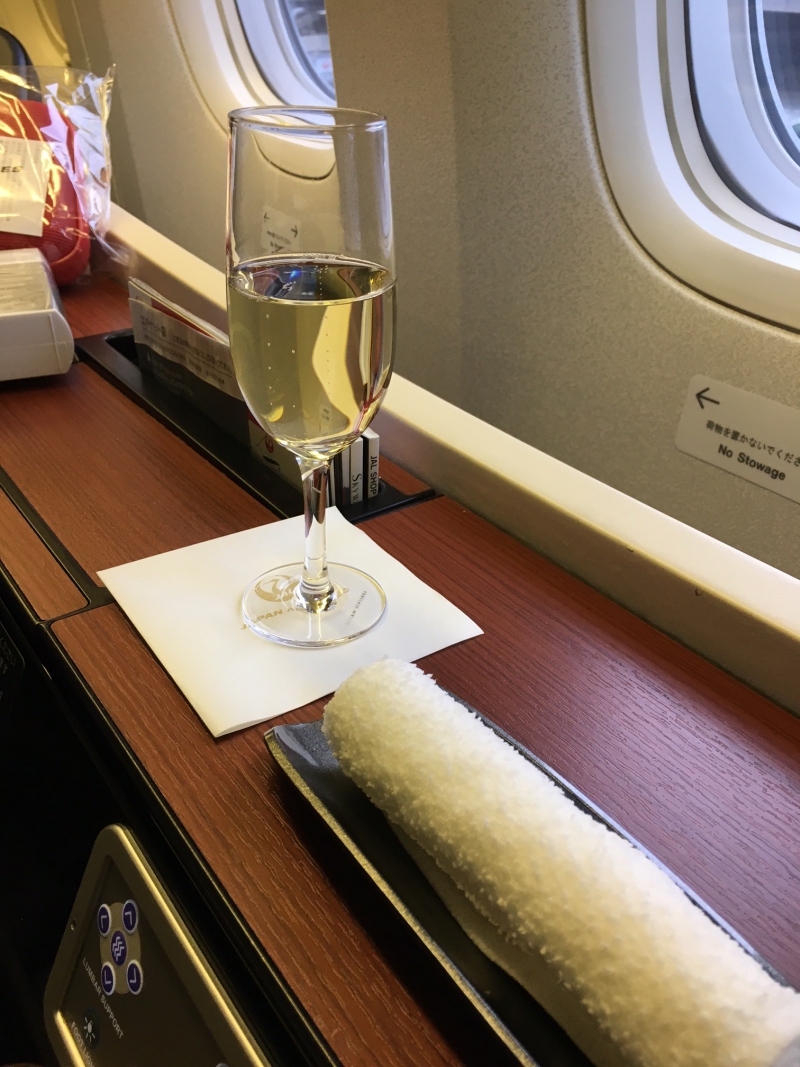 JAL First Class Seat
The seat was the most comfortable airline seat I have ever sat in.  My 6'4" frame often does not fit very well within the contour of many airline seats, but this seat was not molded.  It was just a very wide, deep and very comfortable seat. While there is certainly not as much privacy as on Singapore Suites, nevertheless I never felt any intrusion or unwanted attention within my seat area, perhaps because the cabin had such few passengers.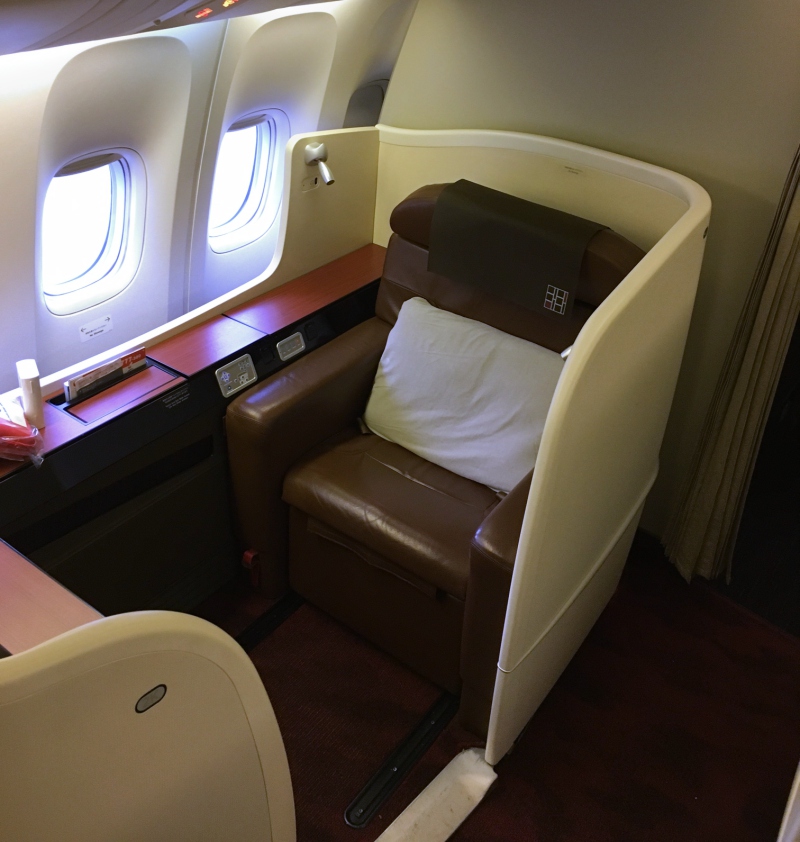 The seat controls were very intuitive and simple, which is a relief if you are not skilled in using complex gadgets.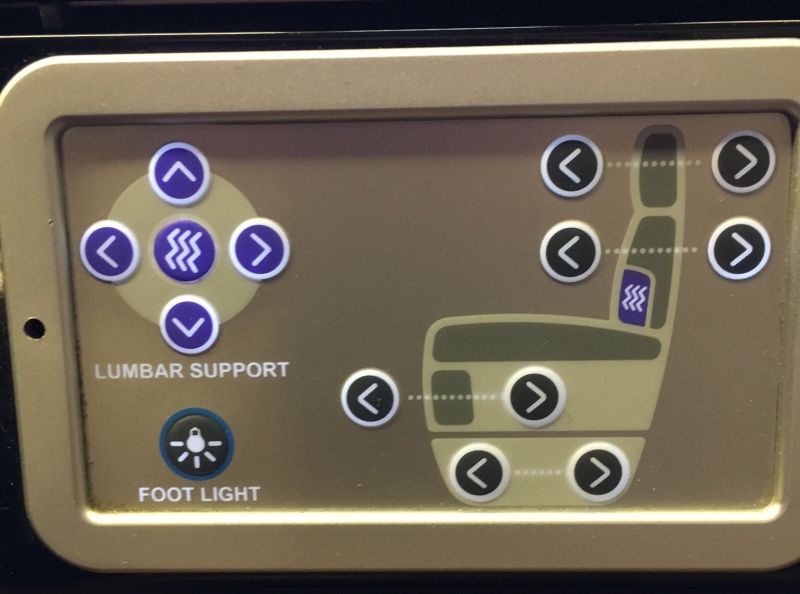 There is a very handy storage compartment, and the compartment, when closed, also serves as a perfect little shelf for a glass of wine or personal devices.  There is also of course the dining table which easily slides close to the seat for dining, or can be pushed farther away if one needs to get up in the middle of a meal.  It's so much more convenient than having to levitate above a table, or ask the attendant to take away a meal just to be able to leave one's seat.  There is also perfect storage space for carry-ons beneath the entertainment console.  Excellent engineering!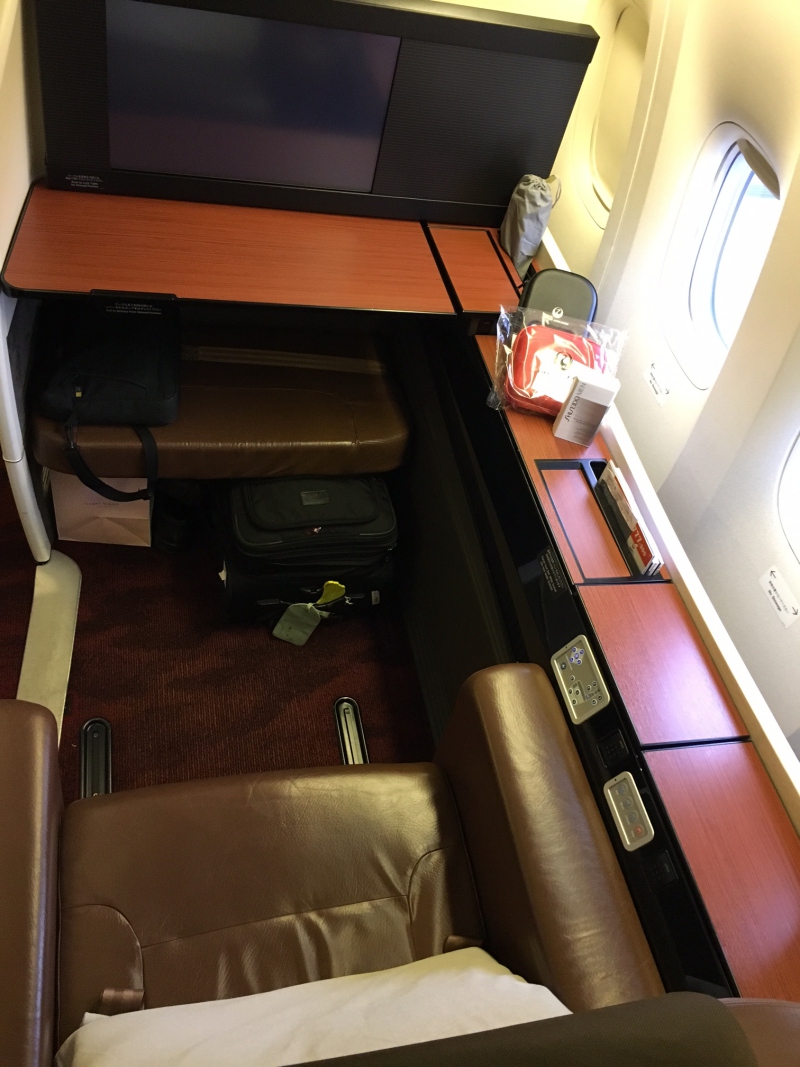 Here's a quick video of the JAL First Class cabin and seats:
JAL First Class Amenity Kit and Pajamas
Waiting at our seats were JAL First Class amenity kits in a red square case, along with Shiseido Men Skincare Essentials, not that I used any of the items. The black Porsche pajamas were available in an XL that fit me on the flight and are very stylish, although as with most airline pajamas they've shrunk after some washes at home.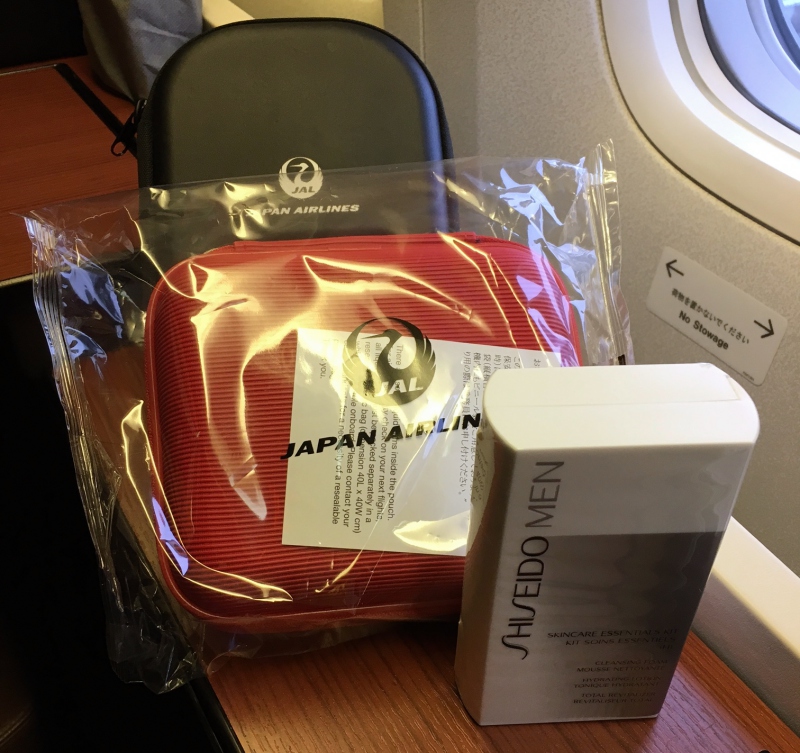 JAL First Class IFE
The in-flight entertainment system was on a large touchscreen as well as accessible by means of an easy-to-use handheld device next to the seat.  The Bose noise cancelling headphones worked to perfection.  Like most good flatbeds, you can lie down and watch a really good film on a large screen rising above your feet.  I needed to get my sleep on this flight so I only had time for one film.  I chose Avatar and enjoyed the big blue aliens.  Overall, the English-language film selection is not that great, but there is a robust selection of international and, of course, Japanese films, with English subtitles.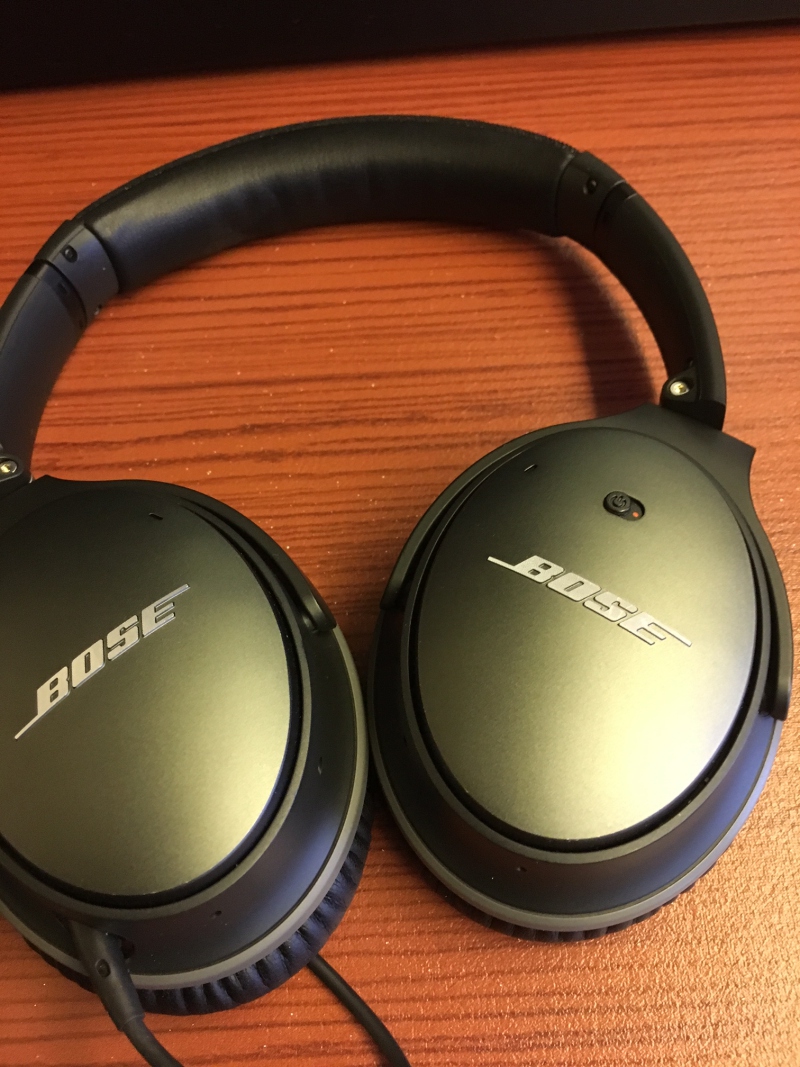 JAL First Class Bed and Sleep Quality
The extra futon layer really helps.  The flat bed area is very large, both long enough for a tall man, and wide enough for a wide man.  The sleeping compartment is not totally enclosed, with an open access to the aisle, which initially I did not mind.  But I later found it more difficult to fall asleep without the comfort of greater privacy.  But once I fell asleep, I slept much better than on comparable flat bed products.  There were extra pillows, and the soft layer made my sleep much deeper than on other flights.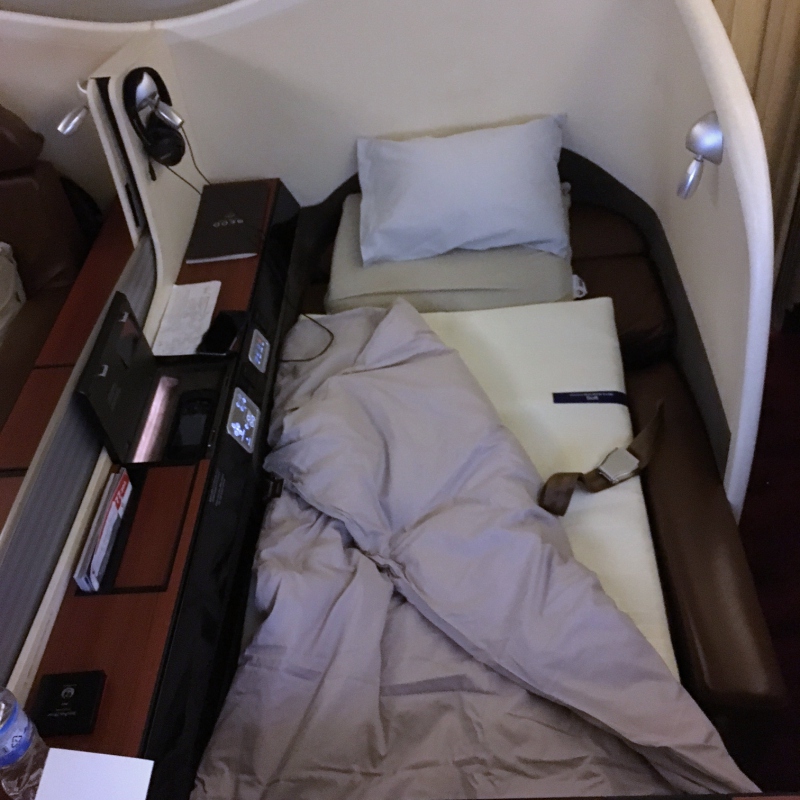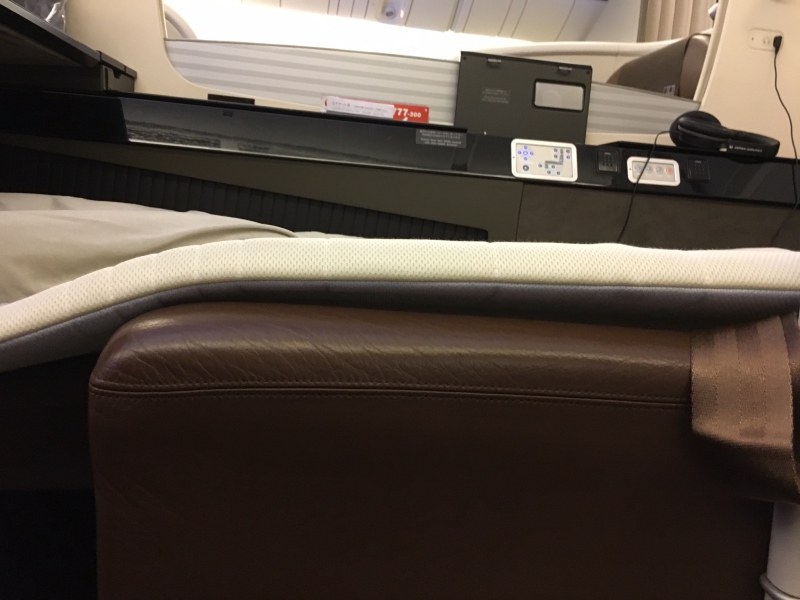 JAL First Class Menu and Food
Here is the JAL First Class Japanese Menu and Western Menu for our flight: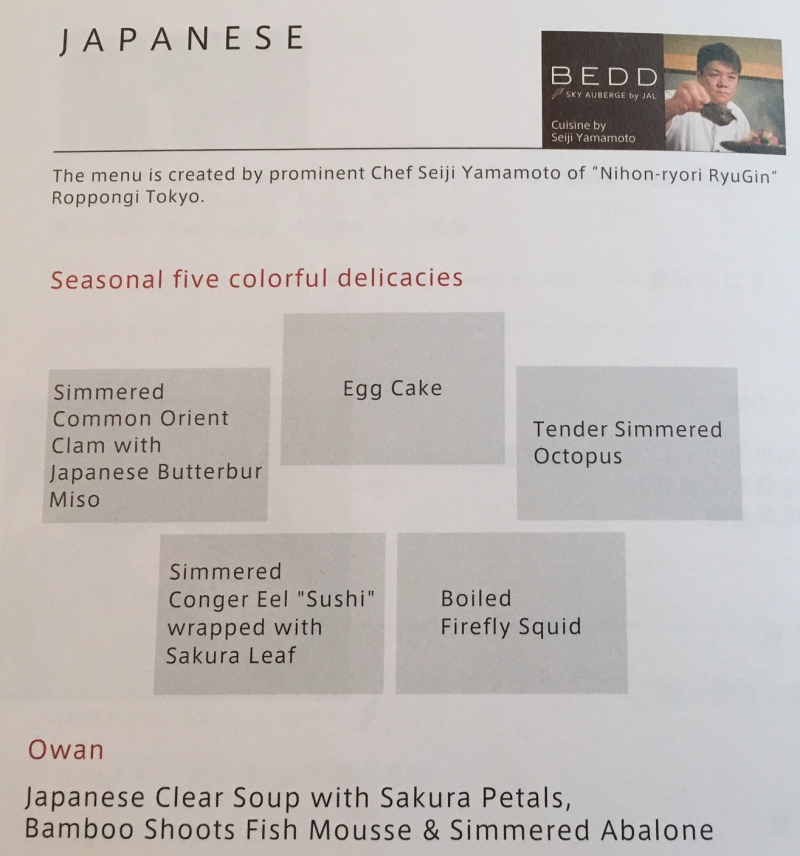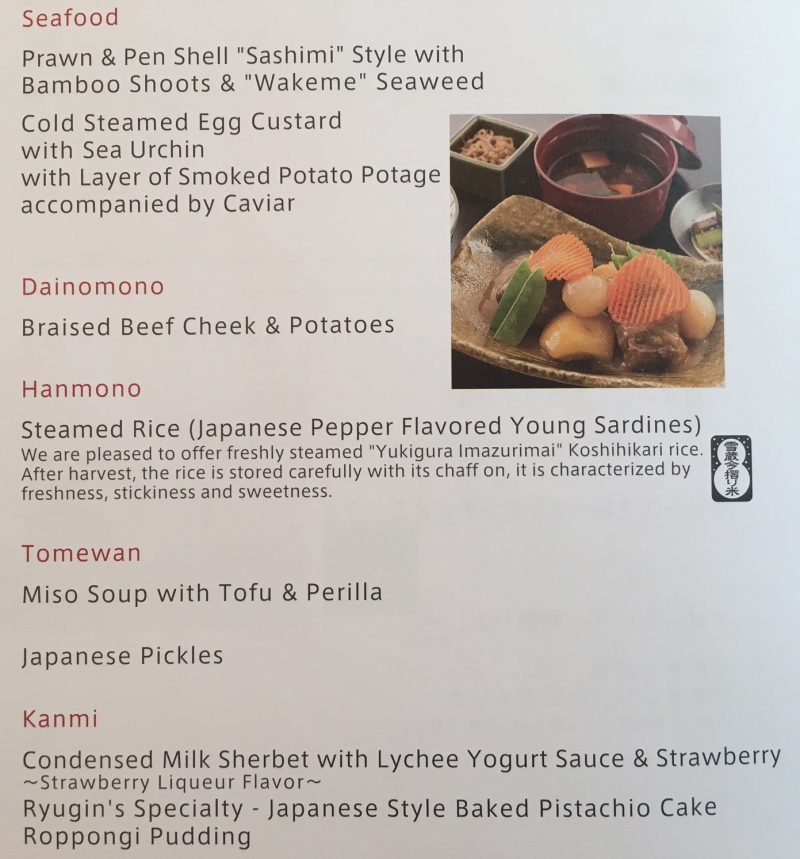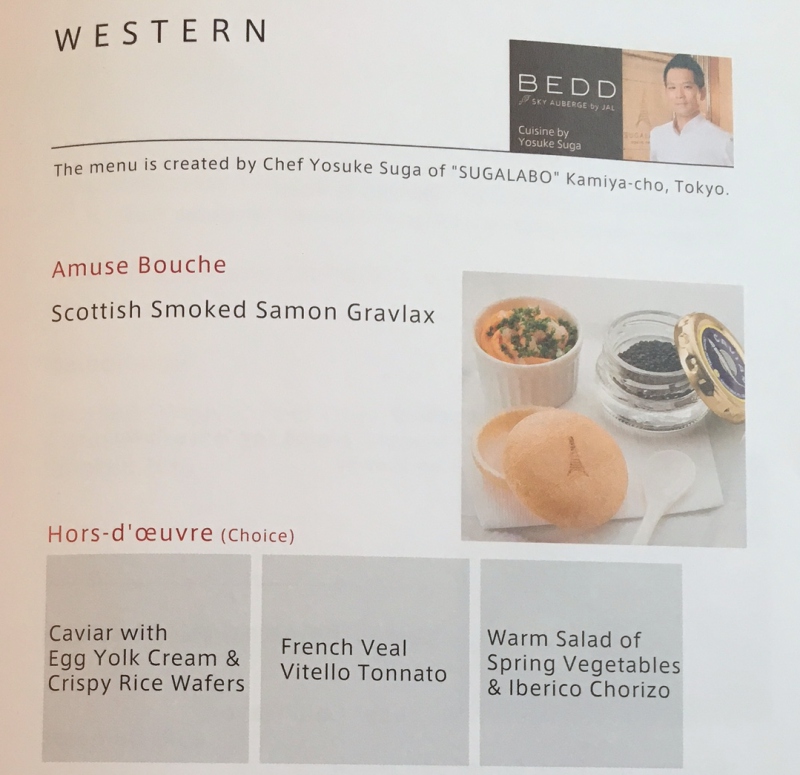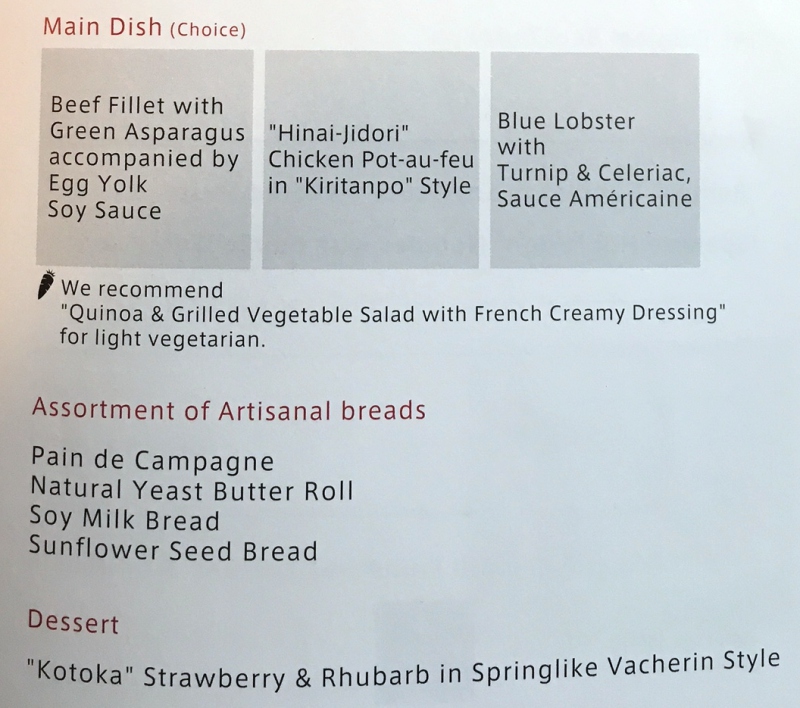 With my champagne came a tasty amuse bouche of feta cheese and tomato, and broccoli quiche.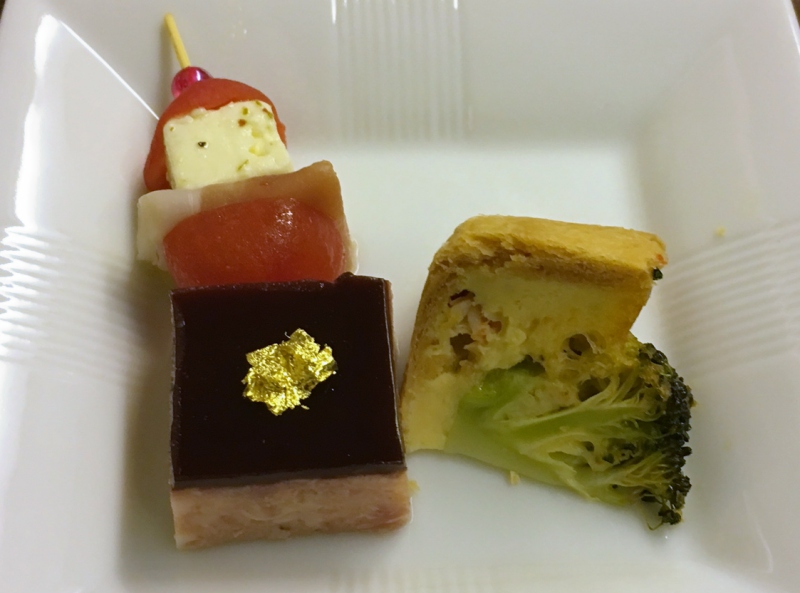 For  my dinner, from the Japanese menu, I selected the "Seasonal five colorful delicacies".  The octopus was cooked just right: not at all rubbery, but soft and warm.  The clam with miso was fresh and tasty.  The conger eel and egg cake were just mediocre, while the squid was also great.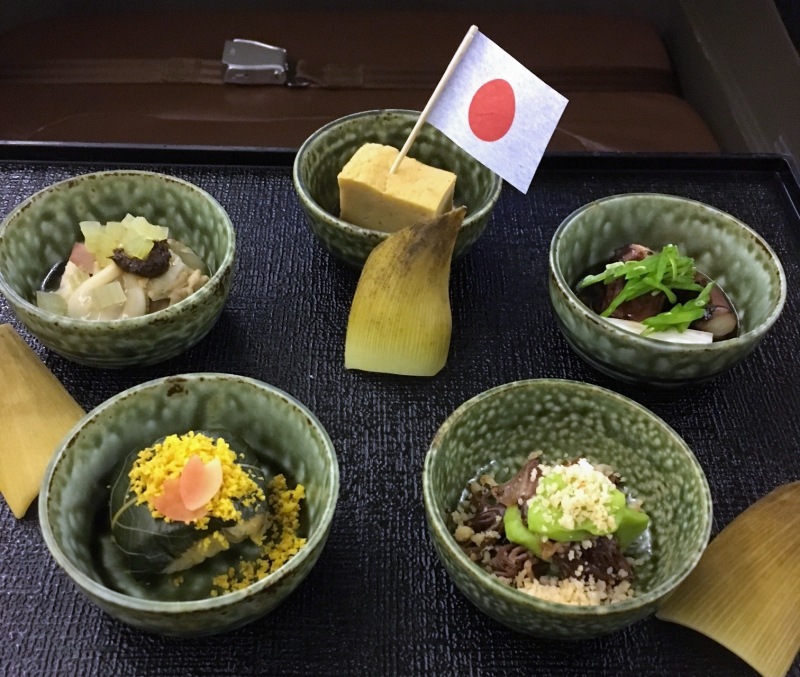 Next came the clear soup with sakura petals, which was excellent: very fresh and balanced, together with the fish mousse, which was rather blah.
After that, the sashimi was just mediocre, and seemed to have some jelly on it, while the sea urchin was not much better. The side of caviar lifted my spirits, and I paired this with a Riesling, which was very nice. My son, who had the Western menu, had a full jar of caviar that he happily devoured: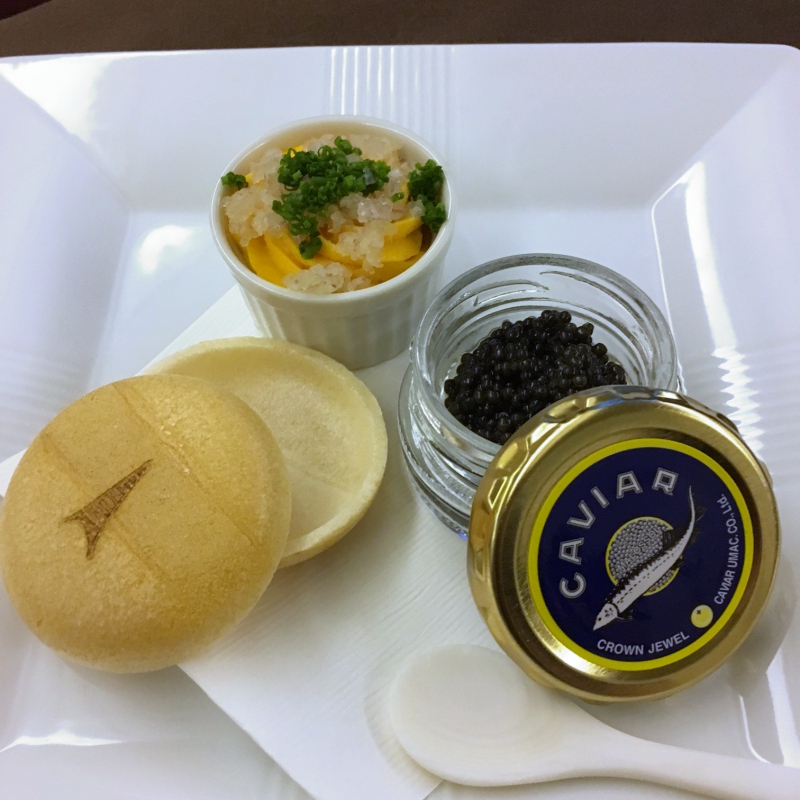 The braised beef cheek was quite succulent and delicious, and went very well with the sardine-flavored rice and miso soup.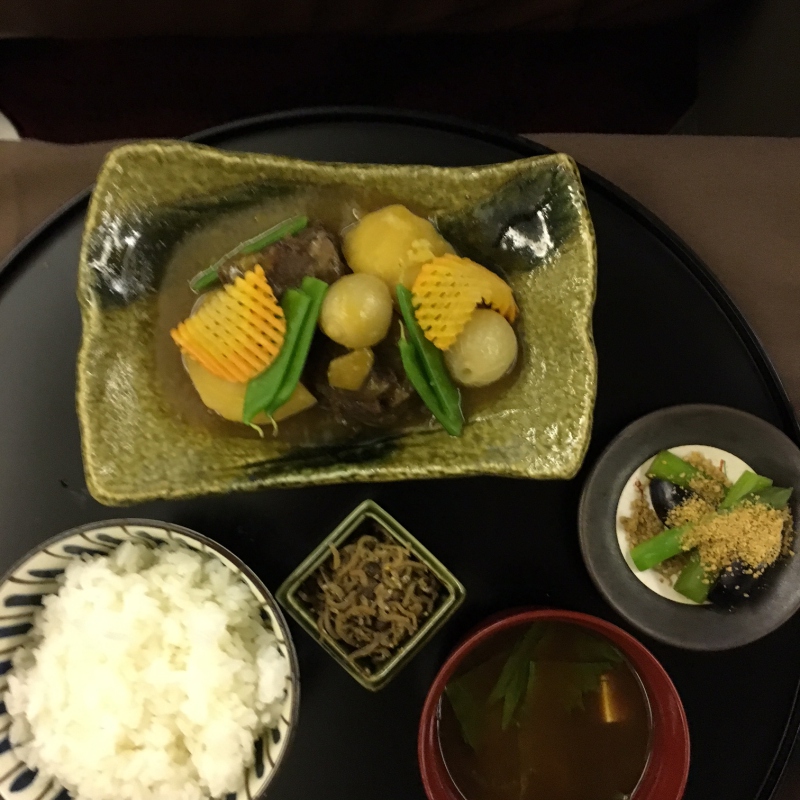 For dessert, the ice cream was so frozen hard I had to wait quite a while before eating it, while the pistachio cake was quite good, and the pudding was delicious.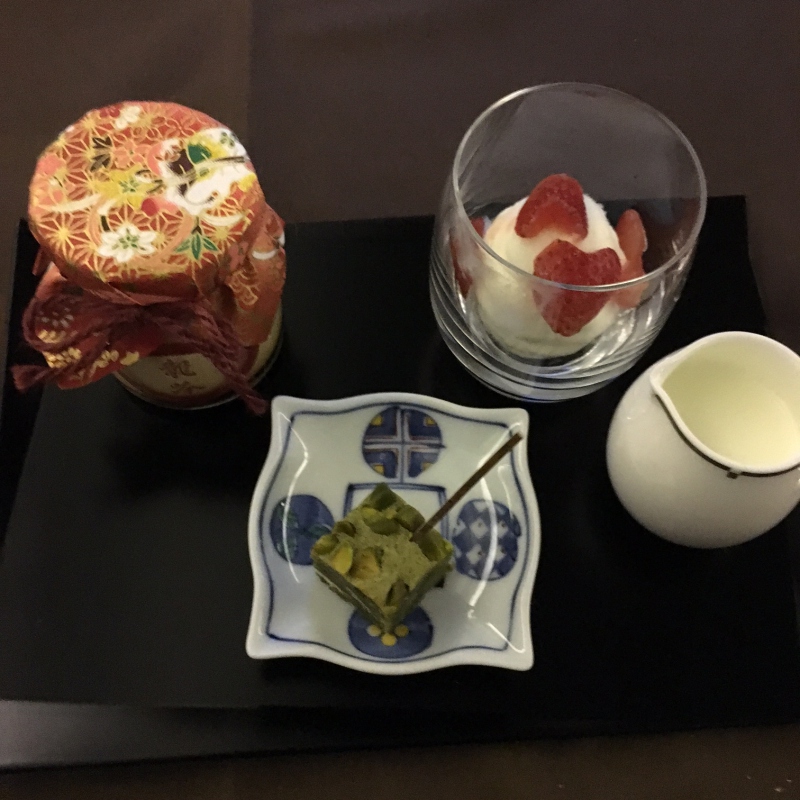 Somehow I also managed to taste my son's Western dessert "Kokota" strawberry and rhubarb, which was very refreshing.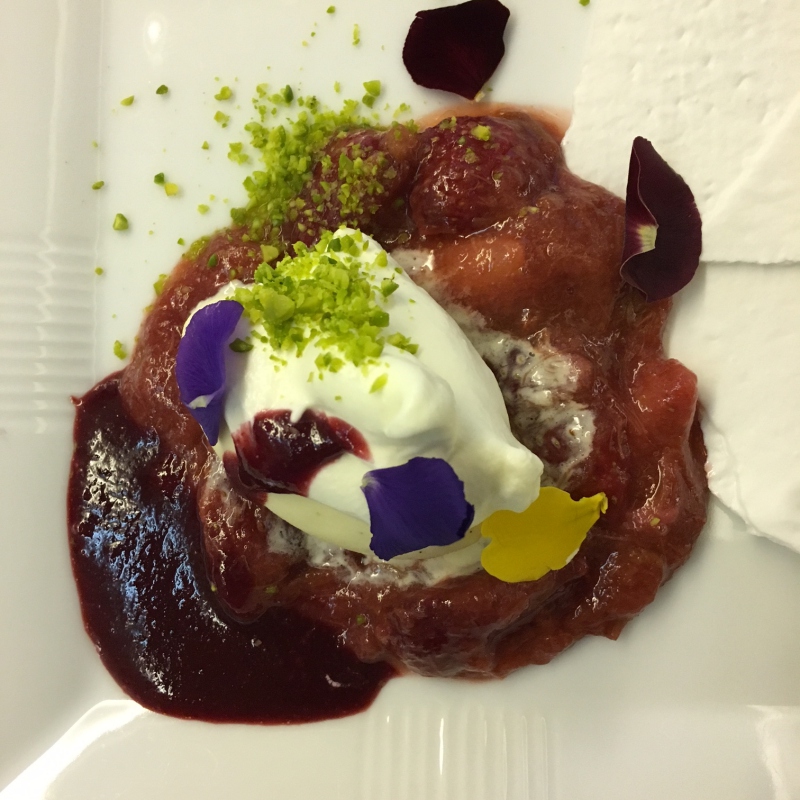 After I woke, for breakfast I had some fresh fruit, coffee, and udon (which came with a great chili spice mixture), which was very satisfying.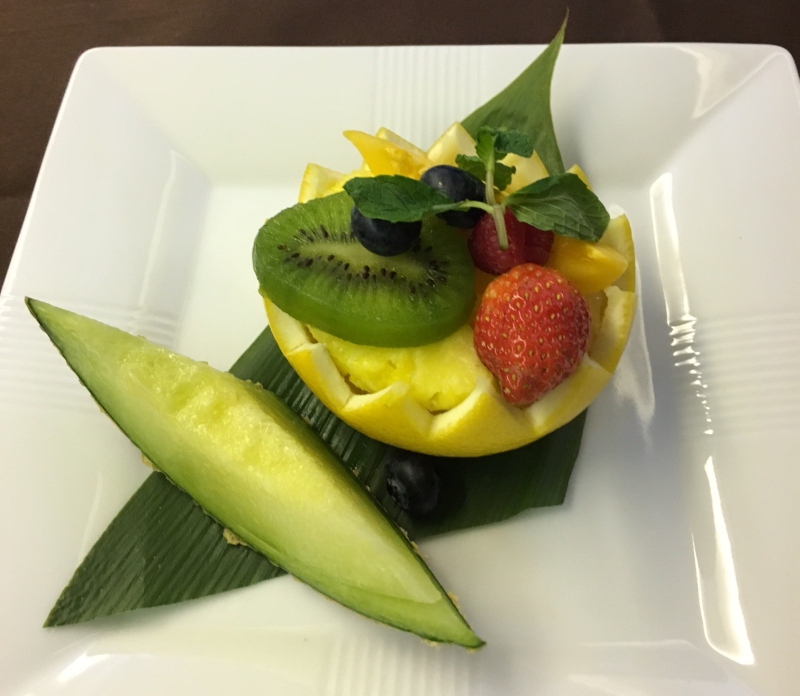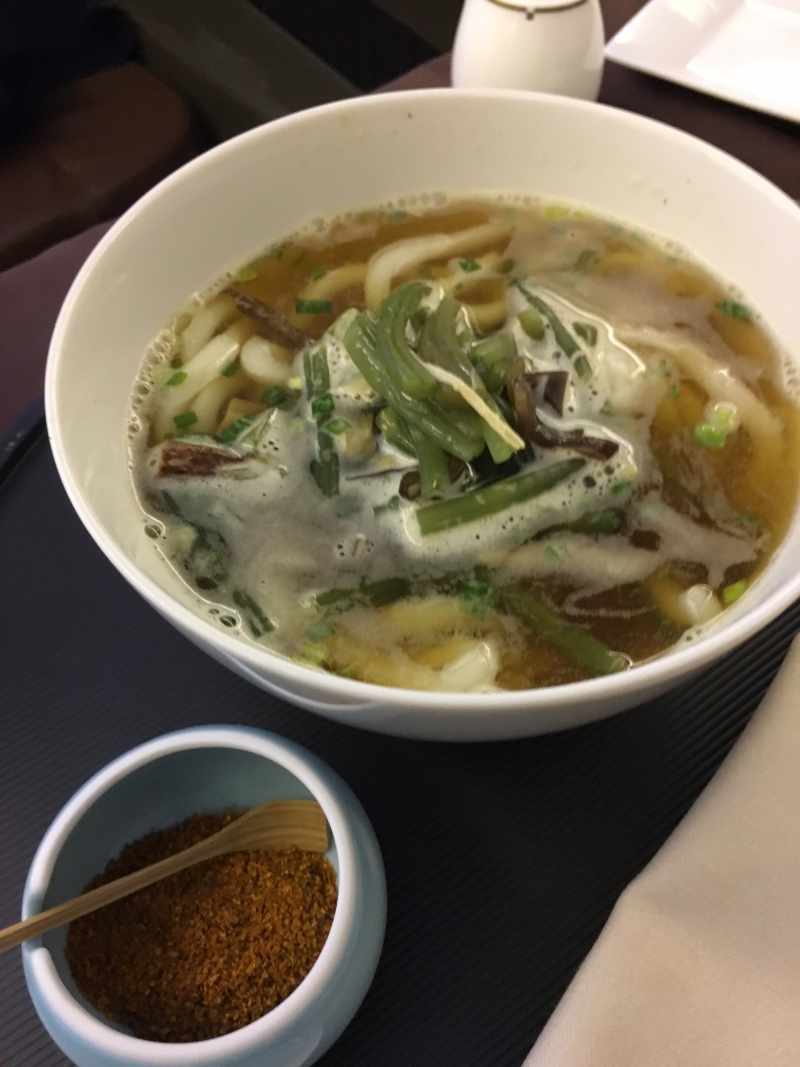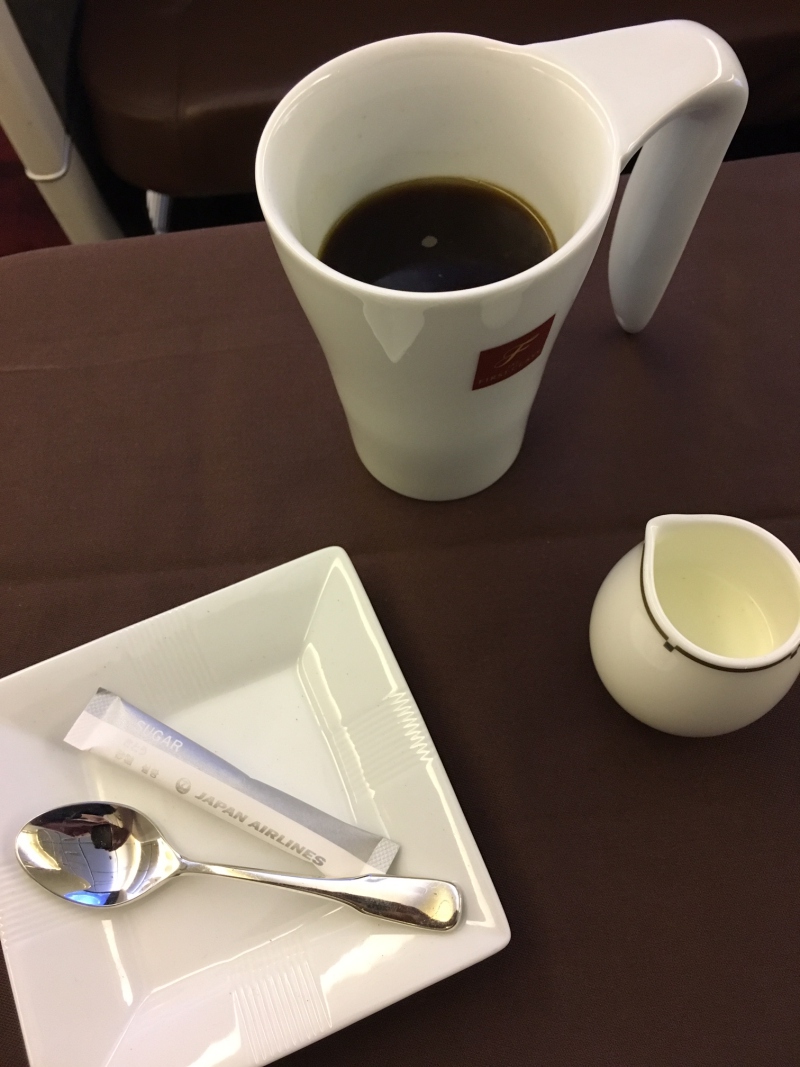 The parting gift of Jean-Paul Hevin dark chocolate was the perfect and rather decadent conclusion to the meal.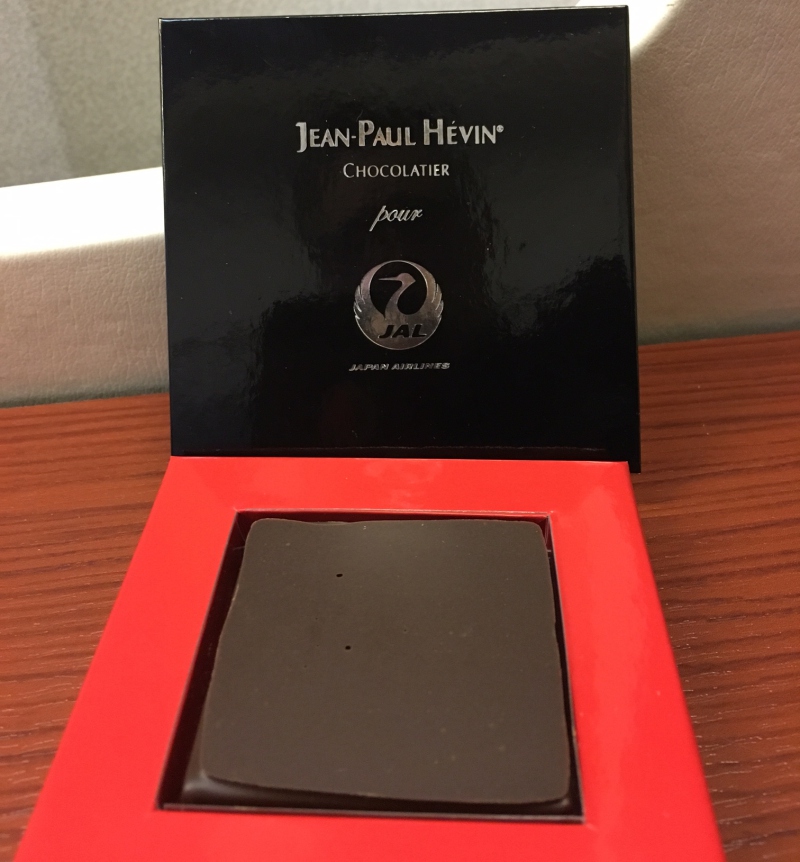 The Verdict
This is one of my favorite First Class products.  The seat was perfect.  The cabin feels spacious and light, without the unnecessary glitz of Emirates or the long, but poorly-designed compartments of Etihad First Apartment.  The service was also perfect, although the food was somewhat hit-or-miss.  Singapore Suites is still the best.  But JAL First Class is near the top.
If you've flown JAL First Class recently, what was your experience?
Recommended Posts