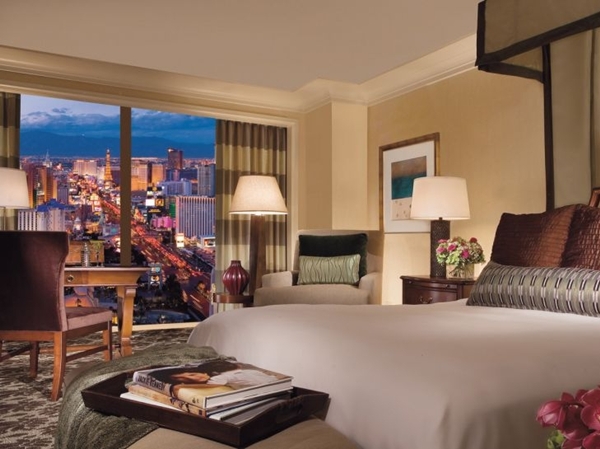 One of the questions we often get as a
Four Seasons Preferred Partner Travel Agency
is how to get deals and discounts on the Four Seasons, Ritz-Carlton, and other true 5 Star hotels that don't belong to points programs (or in the case of the Ritz-Carlton, owned by Marriott, and the St. Regis, part of Starwood, have limited or poor value redemption options).
Here are my tips and tricks for getting up to 70% off these properties. Keep in mind that in most cases this still won't be cheap, but you do get what you pay for. I've stayed everywhere from hostels to cozy bed and breakfasts to the usual chain hotel suspects (Holiday Inn, Marriott, Sheraton, Westin, Hilton, Hyatt, Intercontinental, etc.) to luxury boutique properties and a number of Ritz-Carltons and Four Seasons, and there's simply a higher level of service that most Four Seasons hotels in particular (and a few Ritz-Carlton hotels) plus several other 5-star properties consistently provide. It's certainly possible to find luxury boutique properties that meet this level, but I have yet to find one that consistently exceeds it, perhaps due to the inevitable turnover and high costs of recruiting, training and retaining top staff. And in my book, a hotel can have the most stunning views and perfect location, but rude or even indifferent service can quickly diminish an otherwise wonderful hotel.
1. Book Off Season
This seems common sense, but it's worth illustrating just how many hundreds of dollars you can save by booking during low seasons, instead of peak season. Now, you may not have much flexibility if you're taking a family vacation and it has to be during the summer or a school break, or if your job is simply too busy except for a few weeks in August. But if you can choose when to go, this is one of the best ways to save.
It's also a great excuse for a staycation at a hotel in your home city that you've been wanting to try, especially if you live somewhere with cold winters, such as New York, Chicago, or (as an extreme example) St. Petersburg Russia. You'll have easy access to bargains galore in late January, February, and often March.
Here's a peak rate (New Year's Eve) at the Ritz-Carlton Cancun: $796.86 for an Ocean Front Room: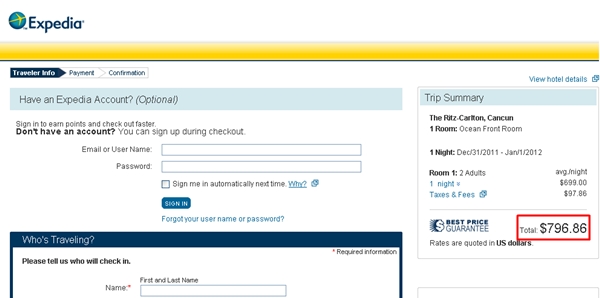 An offpeak rate for the same hotel, the Ritz-Carlton Cancun, on October 22-23 could end up saving you about 70%, just by going in fall, rather than winter break.
2. Book Ahead
While this advice isn't as salient if we're talking the 3 and 4 star hotels you find on Priceline or Hotwire (which, if they have lots of room inventory, will aggressively discount as you get closer to the stay date) for Ritz-Carlton, Four Seasons and 5-Star hotels of similar caliber, there isn't that kind of discounting. They certainly might upgrade existing guests to a nicer room, but you won't be finding amazing deals on Priceline or other discount sites. If anything, you might discover that the cheapest rooms are already gone, so if you want to stay there you'll have to buy a more expensive room category. Book ahead, especially if you want one of the cheaper rooms types that tend to sell out in advance.
3. Book Offpeak Days
If you're booking a 5-star hotel that is mostly booked by business travellers, look for good weekend deals. A good example of this is the Four Seasons Palo Alto, which primarily serves business travellers on trips to Silicon Valley. If, on the other hand, you're booking a resort in what is primarily a leisure destination, look for better prices during the week. This is true to some extent in Las Vegas, although more so with lower-end hotels. There are so many business conventions held in Las Vegas, you may well find certain weekday dates to be more expensive than weekend ones, more on this in the next point.
4. Avoid Major Holidays and Conventions
If you're checking prices and they seem strangely high even off season and offpeak, check whether there's a local holiday or major convention which is driving prices up. For example, watch out for Fashion Week dates in Paris, NYC, London and Milan; for the Consumer Electronics Show in Vegas in early January; for the JP Morgan Healthcare Conference in San Francisco in mid-January, and the like. Major conventions and events are frequently scheduled in Las Vegas due to the lower cost of hotel rooms, and in addition to obvious holidays such as New Year's, don't forget about even "minor" holidays such as Valentine's Day, which can have the effect of raising prices throughout the week and the preceding and following weekend when it falls during the week.
Let's take an example. If we wanted to book the Four Seasons Las Vegas for a post-Valentine's Day weekend, February 18-19, 2012, we'd be looking at $578.69: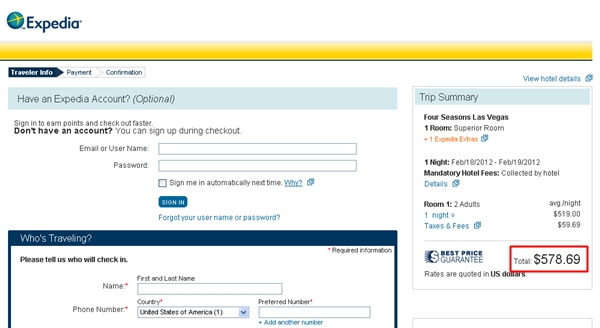 If we avoided Valentine's Day and also considered a weekday booking on November 9-10, we could instead bring the cost down to $255.34 on Expedia.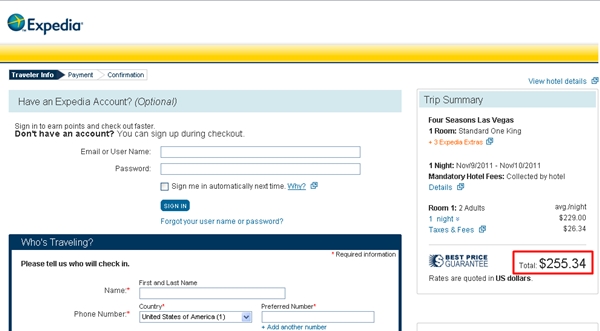 That's actually not the best price,  however. Check out our next point:
5. Book with TravelSort for VIP Value Added Amenities
TravelSort specializes in luxury hotel bookings that save you money by providing thoughtful extras, such as:
Upgrade to the next room or suite category
Complimentary breakfast for two
Spa or food and beverage credit
Complimentary Internet access
There is no cost to book through us, and the rates are typically the same as what you would book yourself online without these valuable amenities, so you'll save money and have a more enjoyable trip by booking with us whenever you have a luxury hotel stay. We can also book AMEX Fine Hotels & Resorts stays, and we recommend you book these through us to avoid disappointment, since certain AMEX FHR room bookings are *not* eligible for upgrades.
Please Note:
In order to ensure a high level of personalized service for our existing clients, we only assist and provide quotes for clients
after
our
New Client Request form
has been completely filled out, signed, scanned and emailed to us at concierge [at] travelsort.com