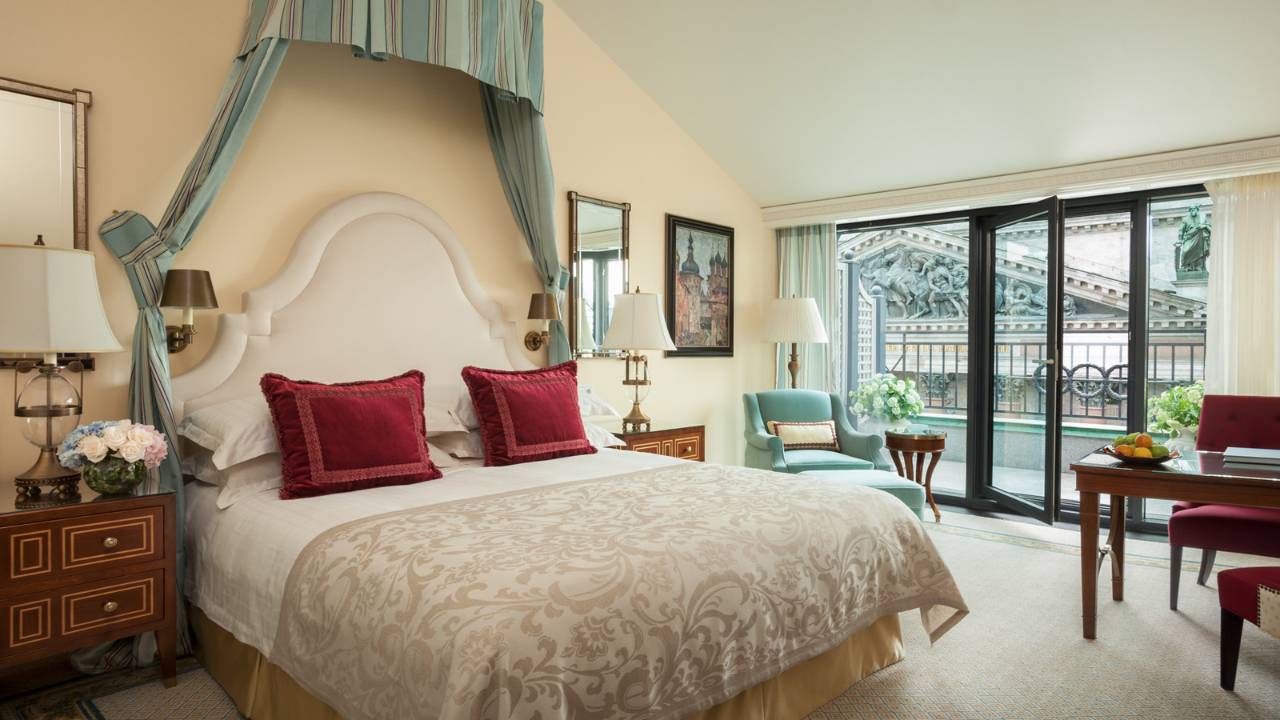 Ever wonder how to make a Four Seasons bed so comfortable and perfect looking? Earlier this year I got a chance to find out, thanks to Four Seasons Chicago, which hosted several other luxury travel advisors and me for a familiarization weekend. The hotel's head housekeepers demonstrated how to make a proper Four Seasons bed, before splitting us into two teams to try our hand at making a Four Seasons bed.
Here are a few tips we gleaned, followed by a video of how to make a Four Seasons bed.
1. Invest in a Great Mattress and Mattress Topper
It's no surprise that your sleep is only as good as the mattress you use, so invest in a great one. The new Four Seasons bed is made exclusively for Four Seasons by Simmons, and has a patented GelTouch heat absorbing foam center to help keep you cool. The bed is customizable to your preference, with three mattress toppers including a Signature Firm topper, a Signature topper, and a Signature Plush topper.
All new Four Seasons properties such as Four Seasons Orlando, Four Seasons St. Petersburg, Four Seasons Moscow, Four Seasons Seoul, the soon to open Four Seasons Oahu at Ko Olina, etc. have the new Four Seasons beds, and most existing Four Seasons hotels and resorts will phase in the new bed by the end of 2017.
You can actually buy a Four Seasons bed and topper, as well as the all cotton sheets, though Four Seasons is the model of luxury hotel discretion and doesn't heavily promote this offer.
2. No Fitted Bottom Sheet: Use Hospital Corners Instead
While most sheet sets consumers buy include a fitted bottom sheet, that's not what hotels use–it doesn't look as smooth as using a flat sheet and making hospital corners. To make them, you'll first tuck in the sheet at the end of the bed, but not on the sides. You'll grasp the sheet about 15 inches up from the foot of the bed and bring it up in a triangular shape before tucking in the excess fabric smoothly, still holding the triangular portion with your other hand. Finally you bring the triangular portion down and tuck that in smoothly, so the end of the bed looks like a wrapped present.
3. Provide Room for Feet via a Discreet Extra Length of Fabric at the End
Most hotels tuck in the top sheet so snugly that I have to untuck it completely. Not at the Four Seasons, thanks to the ingenious decision to provide an extra fold of fabric for precisely this purpose: room for feet, especially in the case of tall sleepers such as my 6'5 husband. Watch the video below, and you'll see how to leave this extra room, while still making everything look perfect.
4. Make Perfect Pillows
How are Four Seasons pillows so perfect? A tip is to fold the feather pillow in two before putting it into the pilloecase, then tuck the open end of the pillow case in so it looks nice and neat, before smoothing out each pillow and placing it at the head of the bed. See this video from Four Seasons Hotel George V, Paris at the 1:47 mark for a demonstration.
What's your favorite Four Seasons resort or hotel in the world?
Related Posts
New Four Seasons Bed: Customized to Your Sleep Preference
Four Seasons Preferred Partner Benefits
Why Switch to Four Seasons Preferred Partner from an AMEX FHR Booking
How to Sleep on Redeye Flights
Need Award Booking Help? Our fee is as low as $75 per ticket if you book your hotel through us.
If you enjoyed this, join 200,000+ readers: please follow TravelSort on Twitter or like us on Facebook to be alerted to new posts.
Become a TravelSort Client and Book Your Hotel with Virtuoso or Four Seasons Preferred VIP Amenities!