Recently there have been a number of folks who have gotten targeted 100,000 bonus offers for the American Express Platinum card, usually with a $3000 spend within 3 months or $10,000 spend within 6 months. While I would never apply for the AMEX Platinum with the current bonus of 50,000 Membership Rewards points, I would apply if I was targeted with a 100,000 point offer, as I suspect many of you would as well, even with the high $450 annual fee. While there's no sure-fire way to get targeted, there are a few common sense tips that can help:
1. Make Sure You're Opted In to Receive Credit Card Offers
This is generally not an issue for Chase; see their privacy chart below. Even if you wanted to, you can't opt out of Chase sharing information about you for Chase's own marketing purposes.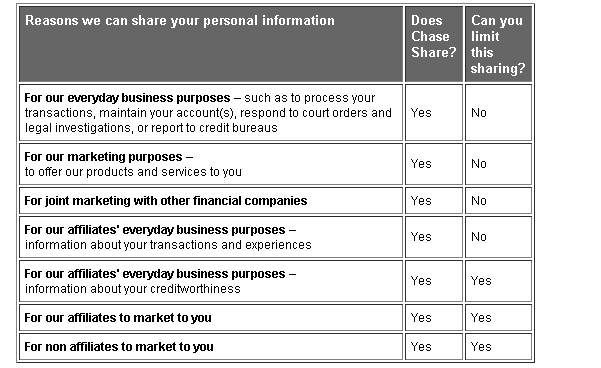 For American Express, you can opt out, so make sure you're opted in. Log in, then go to Profile & Preferences: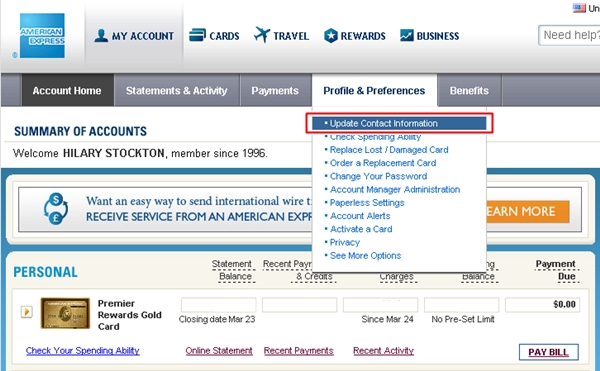 Click on Marketing Email Preferences, and make sure that New Card & Credit Offers is selected as "yes":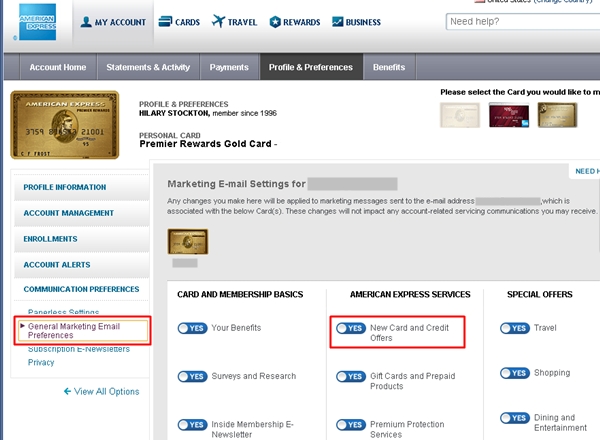 Also, if you ever previously opted out of firm offers (preventing Equifax, Experian, Innovis and TransUnion from providing your name to credit card companies to make preapproved credit card offers) then you should opt in at OptOutPrescreen.
2. Be an Attractive Customer
As you'd expect for cards such as the American Express Platinum, you want to appear attractive to AMEX, Chase and other issuers by having a strong credit score and history of responsibly using credit. As you can see in our chart in Understand How Your Credit Score Works to Maximize Credit Card Rewards, the two biggest factors impacting your score are your payment history (any bankruptcies, overdue payments in your history, how long ago were they) and amounts owed (credit utilization, outstanding debt). It goes without saying that it only makes sense to focus on collecting credit card rewards if you are debt-free and pay your balance off in full every month, and this helps your credit score as well. It certainly doesn't hurt to have many years of strong credit history and a good income as well, but you don't need a princely salary to be targeted for the AMEX Platinum. Many middle income potential customers have been targeted as well.
3. But Don't Already Be a Good Customer
It makes sense right? AMEX and Chase usually extend the best targeted credit card offers to people that either aren't their customers yet, or have a minimal relationship. For example, The Weekly Flyer noted that Mrs Weekly Flyer received a targeted 100,000 bonus offer for the AMEX Platinum card: "MrsWeekly Flyer only has a corp Amex and is also a secondary user on my SPG card." Others on FlyerTalk have had similar accounts, where their spouse or partner is targeted, and has little to no prior relationship with AMEX, or had an AMEX card that was cancelled. Some are angling to get great AMEX offers by cutting back their spending on their existing AMEX card. There are no guarantees, of course, but if you already have a number of AMEX cards and use them heavily, it's less likely you'll get targeted.
Note that AMEX Special Offers are usually for people who aren't already AMEX customers. See 75,000 Bonus Points for AMEX Premier Rewards Gold Card for tips on how to see your AMEX Special Offers.
4. Open All Your Mail…And Make Sure Your Spouse or Partner Does Too
It's amazing how much credit card mail I threw out without even looking at it, before I became more focused on credit card offers. While most mail will still end up as junk, because the offer is the same (or not even as good) as the publicly available credit card offers, make sure you don't throw away a great targeted offer by mistake, and alert your spouse or partner as well. In fact, many avid miles and points collectors find that their spouse or partner is the one who gets the most lucrative credit card offers, precisely because they have fewer cards and perhaps a minimal relationship with the credit card company extending the offer, as noted above.
Note that if your spouse, partner, parent or friend receives a targeted offer, it is good for that person alone. Unless you were also targeted, there's no way you can use that offer.
Related posts
AMEX Targeted Bonus Offers: Can Your Spouse Apply for Your Offer?
75,000 Bonus Points for AMEX Premier Rewards Gold Card
American Express Membership Rewards Changes: Miles, Points and Spend Strategy
The Best Credit Cards for Sign-up Bonuses and Everyday Spend
Detailed Review of the American Express Platinum Credit Card
Need Award Booking Help? Our fee is as low as $75 per ticket if you book your hotel or cruise through us.
If you enjoyed this, join 150,000+ readers: please follow TravelSort on Twitter or like us on Facebook to be alerted to new posts.
Become a TravelSort Client and Book 5-Star Hotels with Virtuoso or Four Seasons Preferred Partner Amenities!