How can you get 10 award tickets to Europe for summer travel? A TravelSort reader writes "I am planning a family vacation for 10 in Europe in Summer 2016 leaving from LAX so I want to plan ahead [to get 10 award tickets] by racking up frequent flyer miles to fly to London, France, and to any other country that I can fly economy without paying hefty taxes. I currently have 175,000 Amex MR and 80,000 AA that I am saving up. Could you please give me some suggestions on what airline to fly economy from LAX to Europe and flying back from what city in Europe to LAX? And what airline should I transfer my Amex Membership Rewards points to for this trip? Should I consider signing up for the Chase British Airways Visa or any other airline frequent flyer reward program for this trip?
Excellent Advance Planning, Although Program Changes Likely When Planning This Far Out
First of all, it's great that this reader is planning ahead to earn the frequent flyer miles well in advance of needing them. I can't tell you how often a reader or client contacts me hoping to get 2-3 business or first class award tickets just a few weeks or months out, when availability has dried up long ago, and even potential last minute availability is highly unlikely to yield 2-3 seats on the same flight for a specific date.
The issue is that airline and hotel frequent flyer programs can and do devalue (just look at the various Aeroplan devaluations, British Airways devaluation, Hilton devaluation, SPG Cash & Points devaluation, etc.) so planning for Summer 2016 award travel has to take into account highly likely frequent flyer program changes before the booking window opens in Summer 2015. I don't have a crystal ball, but I would advise building up ample cushions of frequent flyer miles and points in a few different programs as hedges. The advice below is based on the current environment, which could well change by Summer 2015.
United MileagePlus Offers Many Partner Options to Europe
Even though it's gotten a lot more challenging to use United MileagePlus miles to book first class and business class award space to Europe on the best products (see Lufthansa First Class Award Availability and Booking Strategy, Does Swiss First Class Award Availability Exist?) there's still good economy class award availability on many Lufthansa flights, such as nonstop to Frankfurt or Munich from LA or San Francisco (Frankfurt being preferable since there's more than one flight per day).
United Miles Are Easiest To Earn, Thanks to Signup Bonuses, Category Spend Bonuses and Ultimate Rewards
It used to be possible to earn AAdvantage miles cheaply, for half a cent a mile, thanks to BankDirect (until the BankDirect Devaluation) and for a few months it was possible to earn multiple 50,000 AAdvantage mile bonuses with the Citi AAdvantage Platinum Select (until recently, when the rules changed to prevent churning the Citi AA cards so frequently).
So given this, it's currently easiest to earn United miles and Ultimate Rewards points that transfer 1:1 to United miles via these cards, from initial signup bonuses and/or category spend bonuses
United MileagePlus Explorer: Targeted 55,000 United miles (may be available in Chase branch if you can't get it to work online, see United MileagePlus Explorer 65,000 Bonus Miles Offer Tips, including the most recent comments)
Sapphire Preferred: 40,000 points signup bonus, 2.14X points for spend on all travel and dining
Ink Bold, Ink Plus: 50,000 points signup bonus for each card, 5X points for Internet, telephony, office supply store spend
Chase Freedom: Only 10,000 points signup bonus, but rotating 5X points categories. Keep in mind you need an annual fee card linked to Ultimate Rewards, such as the Sapphire Preferred, Ink Bold or Ink Plus, in order to transfer points out to United Airlines and other partners
Currently, 60,000 United miles are needed for a roundtrip from the U.S. to Europe, so if 6 people in the group each applied for 2 cards, such as the United MileagePlus Explorer and a Sapphire Preferred or an Ink small business card, that would provide enough miles at current rates, although as I mentioned above, I would aim to earn a good cushion above what is currently needed due to likely increases in award chart redemption amounts over the next couple years.
Split Up the Group into 2-3 Flights
While it's unrealistic to expect to get 10 award seats on the same flight, even in coach, it currently can be possible to get 5 economy award seats at a time. Here's an example of 5 one way coach awards available on Lufthansa using 30,000 United miles + $2.50 each. A roundtrip would be 60K United miles per person, so if all the award tickets were booked using United miles at current award chart rates, it would be 600,000 United miles.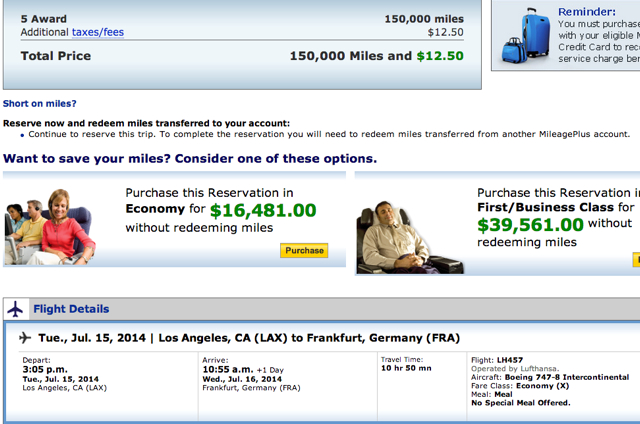 Backup Awards Can Be Booked with Singapore KrisFlyer Miles or British Airways Avios
When you're planning travel for a large group and can't get everyone on a single flight or potentially even flights that arrive on the same day in the same place, it's good to have backup options that you may or may not end up using, which have relatively low cancellation and redeposit fees. Well, that rules out the major U.S. frequent flyer programs, especially after United Increased Award Ticket Change and Cancellation Fees for Non Elites
Instead, consider booking awards with Singapore KrisFlyer miles (which you can get by transferring AMEX Membership Rewards points to Singapore KrisFlyer at 1:1) or with British Airways Avios (try to wait for an AMEX Membership Rewards points transfer bonus). Using Avios, you'd want to avoid booking on British Airways metal due to the fuel surcharges, but you could book from the East Coast to Ireland on Aer Lingus or to Spain on Iberia for lower charges. See Frequent Flyer Awards Low Fee Backup Options
Related Posts
Best Frequent Flyer Miles for London Award Travel
Tips for Booking Award Flights to Paris
Which Frequent Flyer Miles for Intra-Europe Flights?
Frequent Flyer Awards Low Fee Backup Options
Need Award Booking Help? Our fee is as low as $75 per ticket if you book your hotel through us.
If you enjoyed this, join 90,000+ readers: please follow TravelSort on Twitter or like us on Facebook to be alerted to new posts.
Become a TravelSort Client and Book Your Hotel with Virtuoso or Four Seasons Preferred VIP Amenities!
Photo: HarshLight