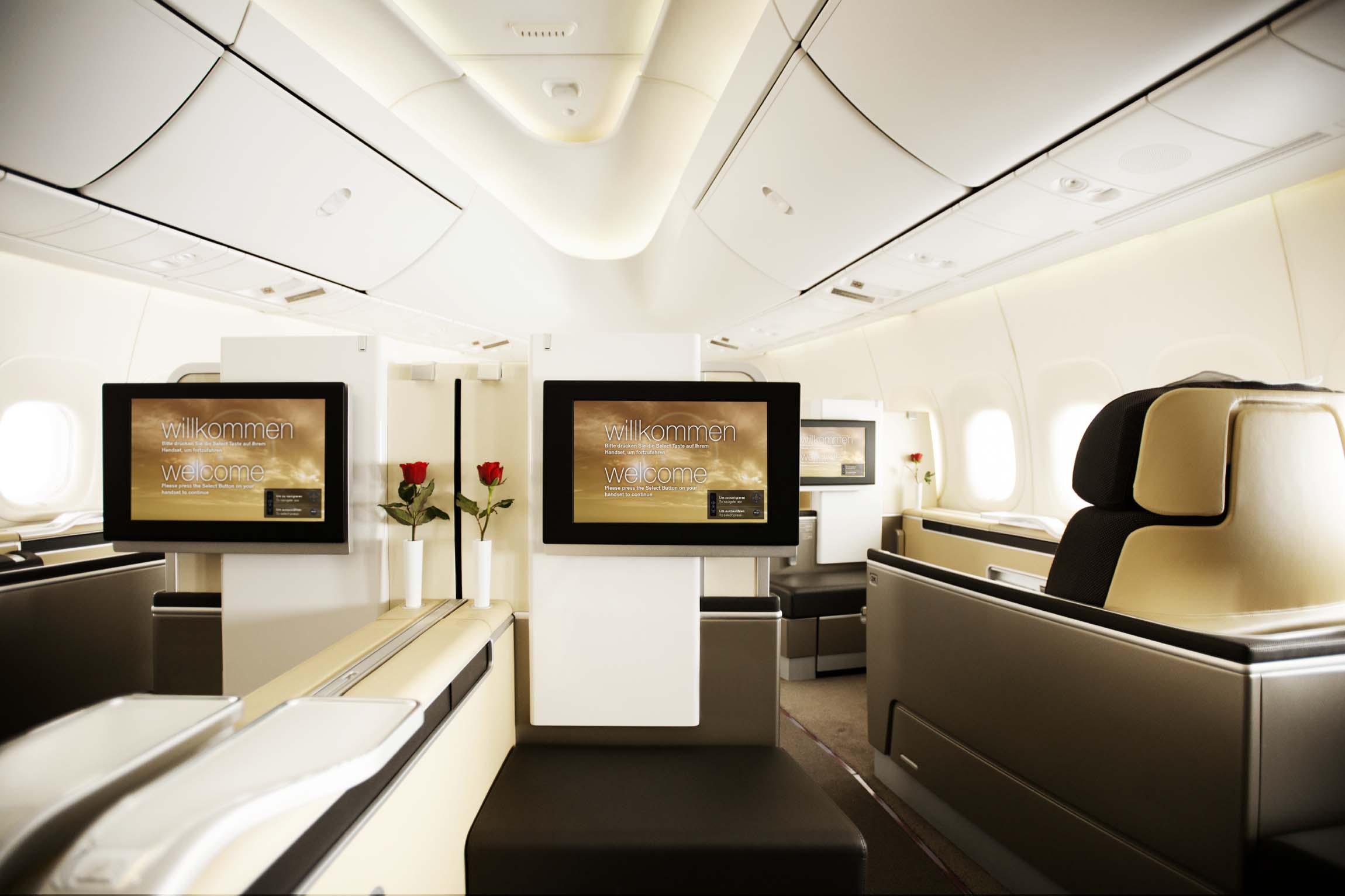 Update: It turns out you can access the old United award chart and change not only date, but also origin, destination, carrier, class of service, and even number of passengers, paying the difference in miles at old United Award Chart rates. See Old United Awards Give Access to Pre-Devaluation United Award Chart.
——–Original Post——-
How can you fly Lufthansa First Class later in 2014 with pre-devaluation United miles? TravelSort reader Louise writes "We're planning a trip to Asia for early fall 2014 and would really like to fly via Europe in at least one direction, flying Lufthansa First Class and Thai First Class. Thai First Class is bookable in advance, but is there a way to book Lufthansa First Class with pre-devaluation United miles, even though usually it's only available a couple weeks in advance?"
Great question, given that the United Award Chart Devaluation is causing partner first class awards to increase as much as 87%. It is possible, so let's look at how it can be done and also the risks.
Lufthansa First Class Only Available Up to 15 Days in Advance to United and Other Star Alliance Partners
The problem Louise is running into arises because, unlike Thai First Class and Asiana First Class, Lufthansa First Class awards are only available to United and Star Alliance partners up to 15 days in advance (see Lufthansa First Class Award Space: Booked 15 Days in Advance). This of course does not mean there will be any Lufthansa First Class award space for the particular flight you want, just that you won't be able to book it, if available, further in advance than that.
Date Only Changes Allowed for a Date Change Fee
As I wrote in United Award Chart Devaluation: Redeem Miles Before February 1, 2014, it is possible to change the date only of a given award, after the award chart devaluation takes effect on February 1, without increasing the miles needed for the award. You will have to pay a date change fee of $100, if you're not a United elite, although apparently many folks are just charged $50 when making the charge online. Keep in mind you would have already paid a close-in booking fee of $75 for non-elites, $50 for Premier Silver, $25 for Premier Gold (waived for 1K, Platinum, and Global Services members) for the initial Lufthansa booking, unless, say, you managed to get in on the Lufthansa First Class advance award availability on the Toronto-Munich route, or more recently on the Frankfurt to Tokyo Haneda route.
You Can Rebook Travel Later
The nice thing about selecting the "Cancel Reservation and Rebook Later" option is that you don't have to immediately select another date. If you did have to immediately select another date, that would make this strategy uneconomical, since you would have to keep selecting a date ~2 weeks out and pay a change fee each time, at least if you're not a United elite. Do note that you must still rebook your award within one year of your original booking date.
Risks of Booking Lufthansa First Class Now Then Canceling and Rebooking Later
Risk #1: No Lufthansa First Class Award Space on Your Preferred Date
The strategy of booking Lufthansa First Class now and rebooking later, using the same number of pre-devaluation United miles, works best if you have date flexibility. If you've already made definite plans, requested specific vacation dates, booked the rest of your itinerary, etc., there's always the risk of there not being any Lufthansa First Class award availability for your specific date.
Risk #2: Lufthansa First Class Award Space for Just One of You
A related risk, even if you do have some date flexibility, is finding a future date when there are two Lufthansa First Class award seats. There may just be one, and note that if you change anything other than date, including class of service, that would require reissuing the award and you'd be charged the higher, post-devaluation number of United miles.
Risk #3: You Want to Change Routing or Anything Other Than Date
As noted above, if *anything* other than the date changes, the award would reprice and you'd be paying the post-devaluation price.
Backup Option: Lufthansa Miles & More Miles
While you'll end up paying more miles, one option is to use Lufthansa Miles & More miles (earned, for example, using the Lufthansa Premier Miles & More Card) for a Germany to U.S. return leg, so you can experience the Frankfurt First Class Terminal or Lufthansa's Munich First Class Lounge. Just don't book this for a flight that you already have a ticket on, since you can't hold two tickets for the same flight. Since Miles & More flights have fuel surcharges, don't forget to use Barclaycard Arrival World MasterCard since the bonus gives you $440 in statement credit when redeemed for fuel surcharges or other travel expenses. Also see Best Ways to Use the Lufthansa Miles and More Award Chart.
Do you plan to book Lufthansa First Class before the United devaluation, and try to change the date later?
Related Posts
Lufthansa New First Class Review
Which Lufthansa Routes Have New First Class?
Review: Lufthansa First Class Lounge in Munich
How to Use ANA to Search for Star Alliance Award Space
Need Award Booking Help? Our fee is as low as $75 per ticket if you book your hotel through us.
If you enjoyed this, join 150,000+ readers: please follow TravelSort on Twitter or like us on Facebook to be alerted to new posts.
Become a TravelSort Client and Book Your Hotel with Virtuoso or Four Seasons Preferred VIP Amenities!