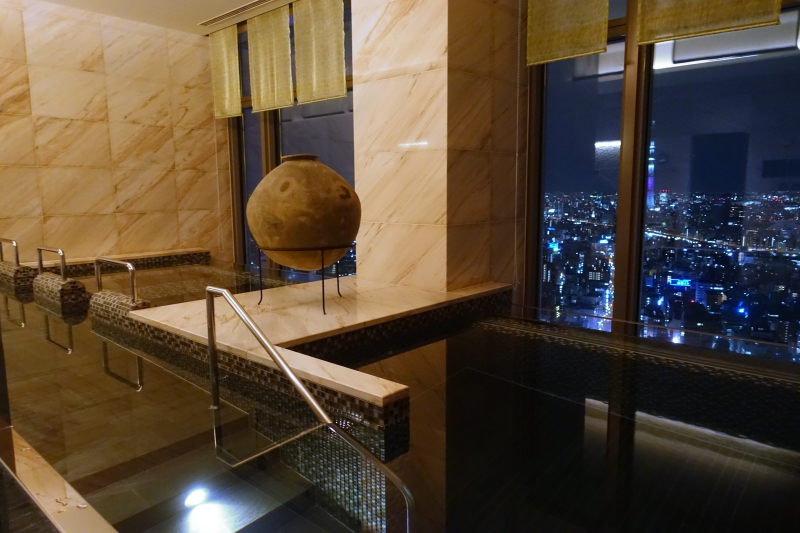 This Mandarin Oriental Tokyo Review is from our recent trip to Tokyo. As with many Tokyo luxury hotels, the Mandarin Oriental Tokyo offers some of the best service of any Mandarin Oriental property, and we had occasion to put this to the test–more in my post.
TravelSort Clients enjoy these Mandarin Oriental Fan Club or Virtuoso benefits:
Mandarin Oriental Tokyo Fan Club / Virtuoso Benefits
USD 100 Food & Beverage or Spa Credit, per room per stay
Daily full breakfast for two persons
Complimentary High Speed Internet Access during stay
Personalized welcome amenity (Fan Club)
One category room upgrade, subject to availability at time of check-in
Mandarin Oriental Tokyo Location, Check-in and Lobby
The Mandarin Oriental Tokyo is located at 2-1-1 Nihonbashi Muromachi, near luxury boutiques such as Hermes and Louis Vuitton, a 4 min. walk from Shin-Nihombashi Station (where you can take the Narita Express) and about a 15 min. walk from Tokyo Station.
Since the hotel itself is on the upper floors (floors 30-38), when you enter on the ground floor, you're greeted, but then take the elevator all the way up to the Lobby on the 38th floor.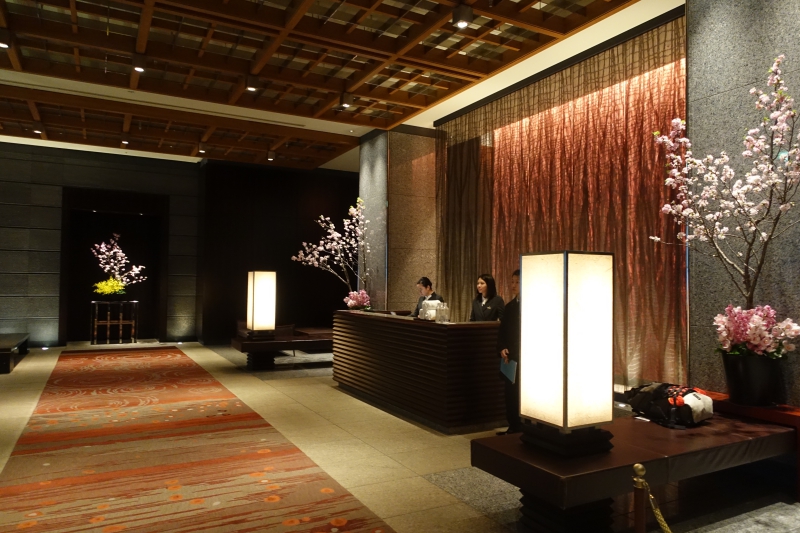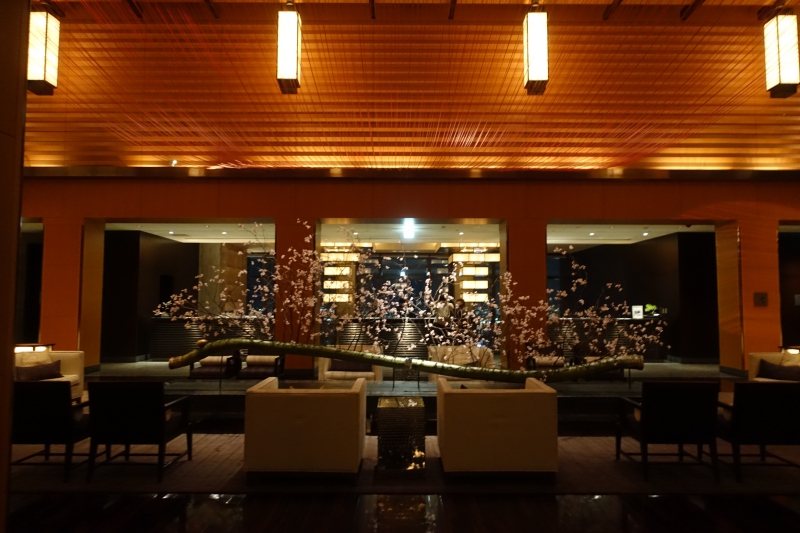 Mandarin Oriental Tokyo Deluxe Room
Entry-level Deluxe Rooms are 538 square feet, and offer either 1 King bed or 2 Twin beds. Here's our room, with 2 twin beds: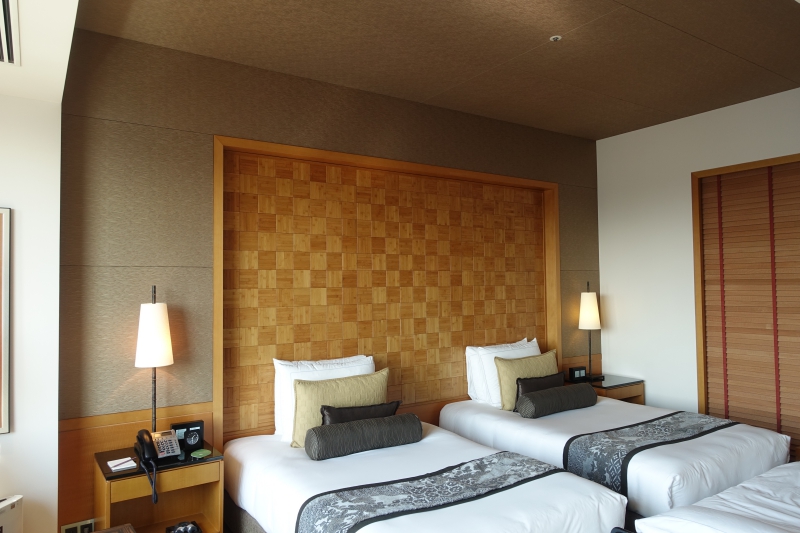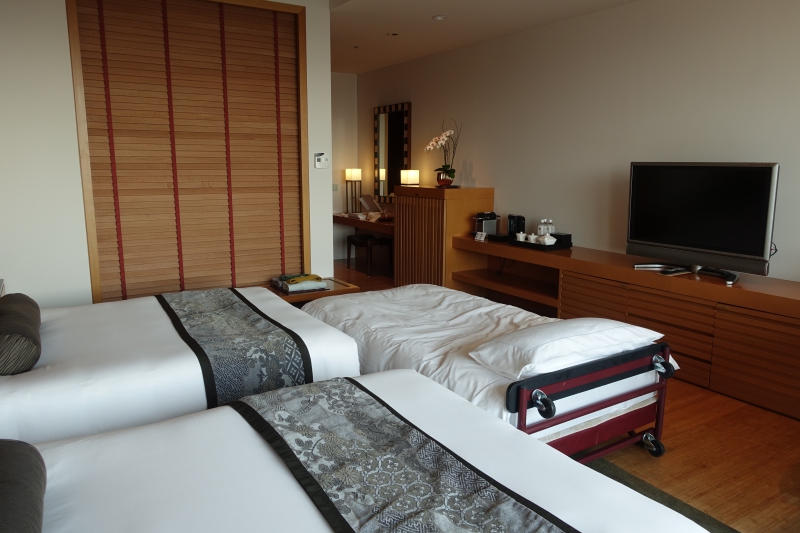 But before we got to the bedroom, we couldn't help but notice some delightful welcome amenities. First was a pizza box, which was funny to our son, since he and my husband had just had a pizza lunch at the hotel's Pizza Bar on 38th. More pizza?!
But in fact, it was fresh fruit cleverly arranged to look like a pizza, and the hotel must have looked at some of my blog entries to know that my son's absolute favorite fruits are watermelon and mango 🙂 The white "cheese" is actually white chocolate. This was truly one of the most personalized and creative food surprises for my son he's enjoyed as a hotel welcome amenity.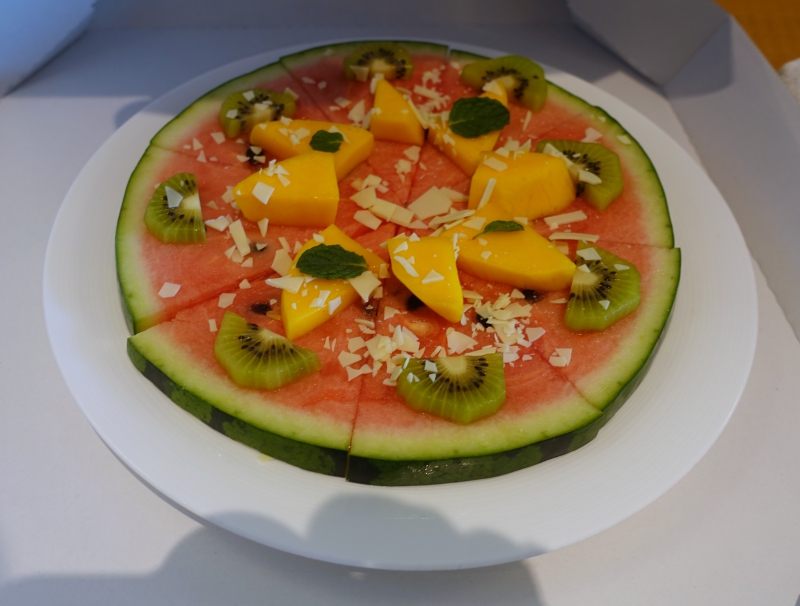 There were some fresh strawberries for my husband and me, which we also appreciated.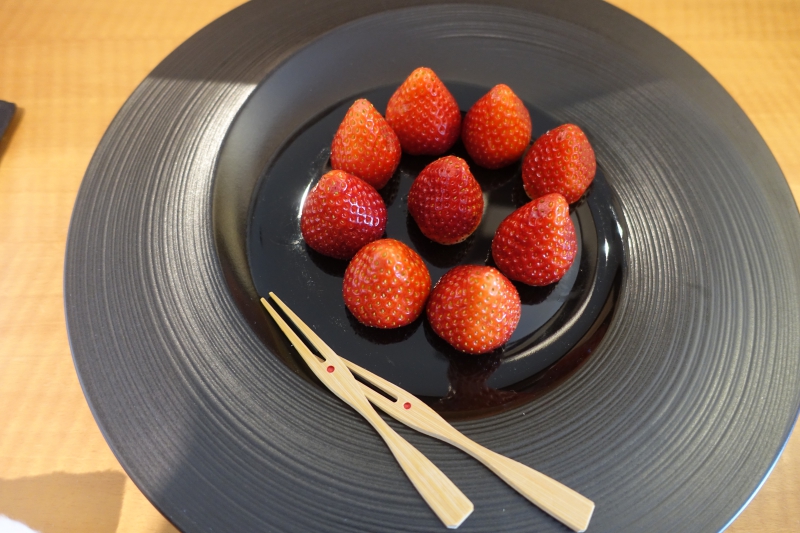 By the entrance were closets, with ample room for our suitcases and to hang clothes. There was also, as there was in The Peninsula Tokyo, a valet closet, so that you can place your shoes for shining or your laundry bag in a place where the bell staff can easily retrieve it, instead of simply putting it outside your door. A neat and discreet solution, which I've really only seen in Japan.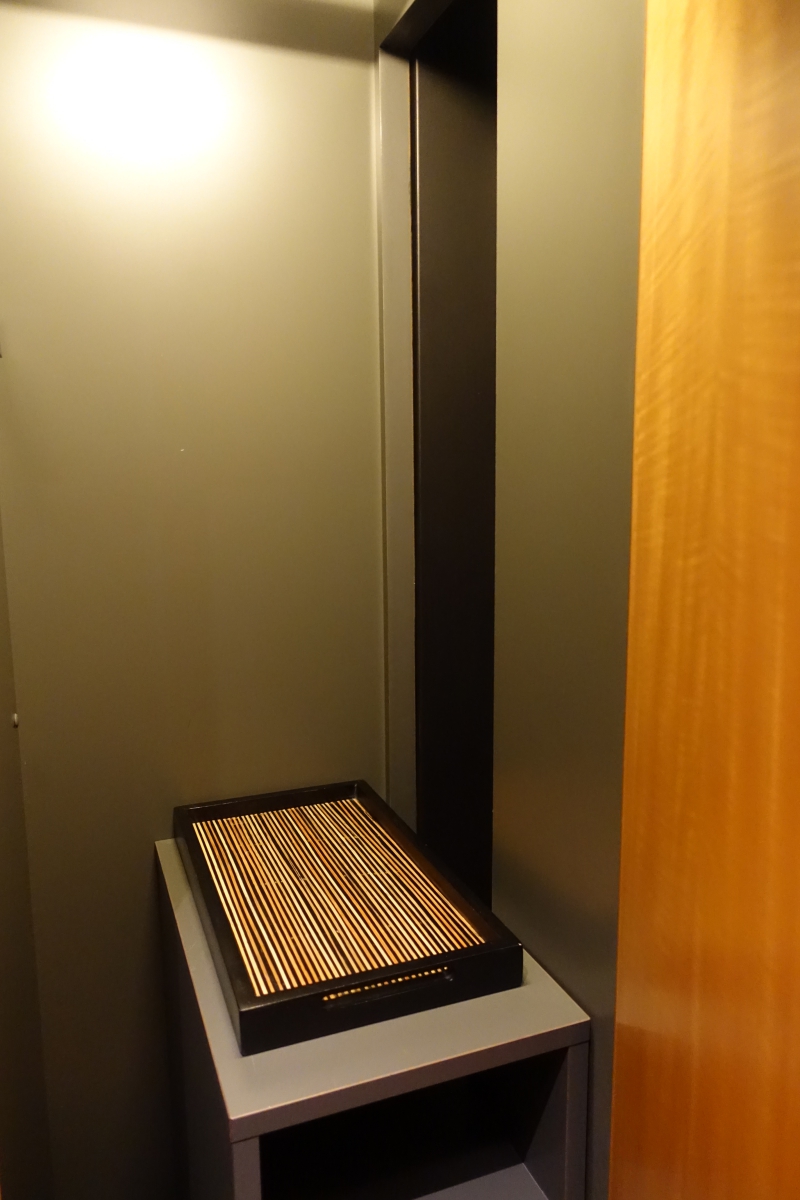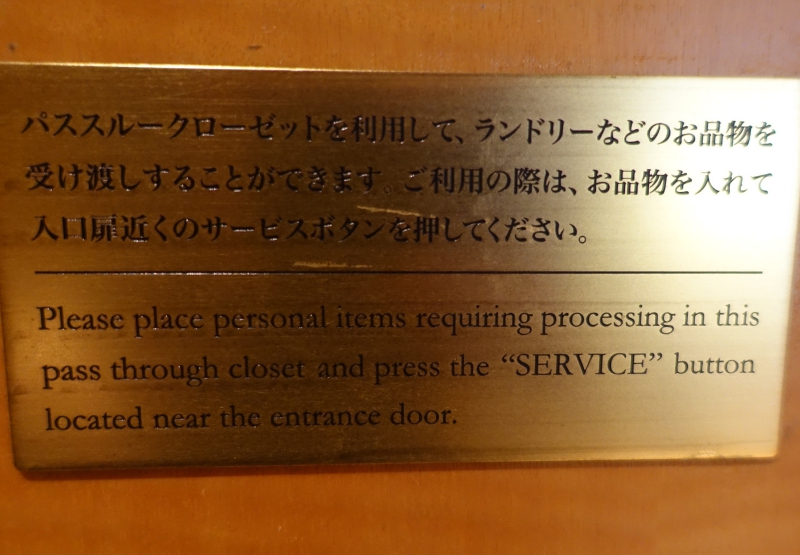 The bathroom wasn't large, with just one vanity and sink, but it had everything we needed. In fact, we didn't have time to use the ofuro soaking tub during our brief stay.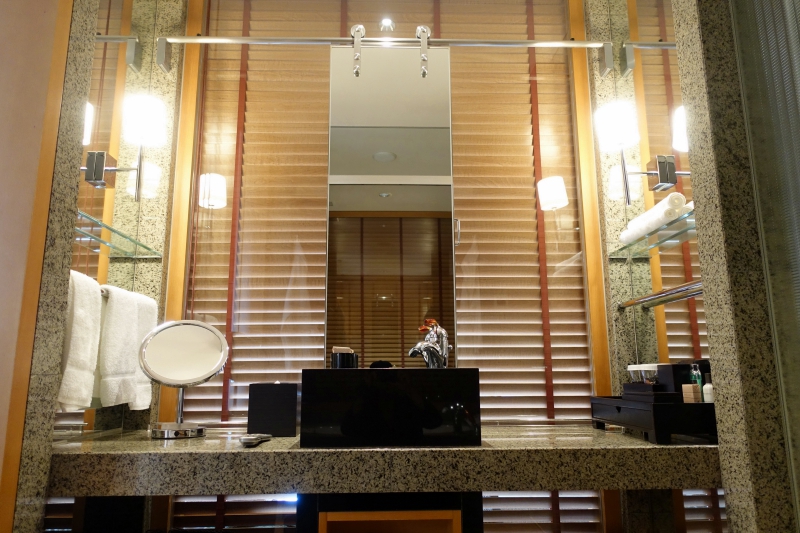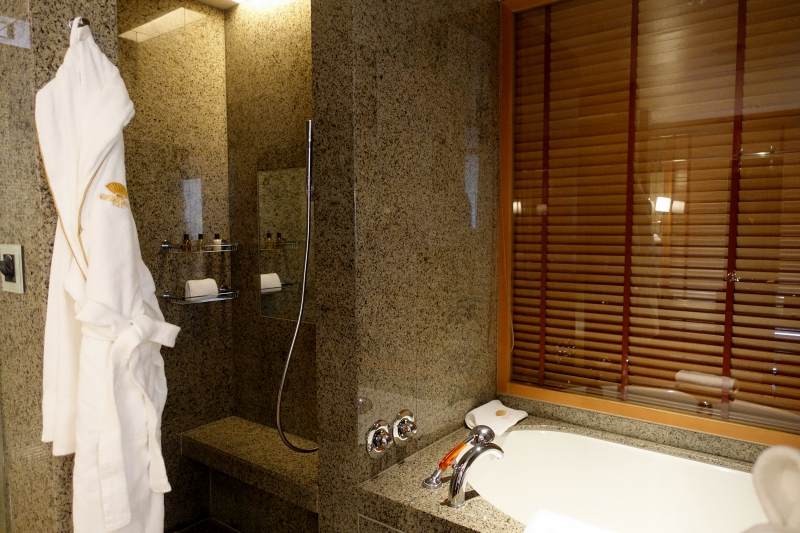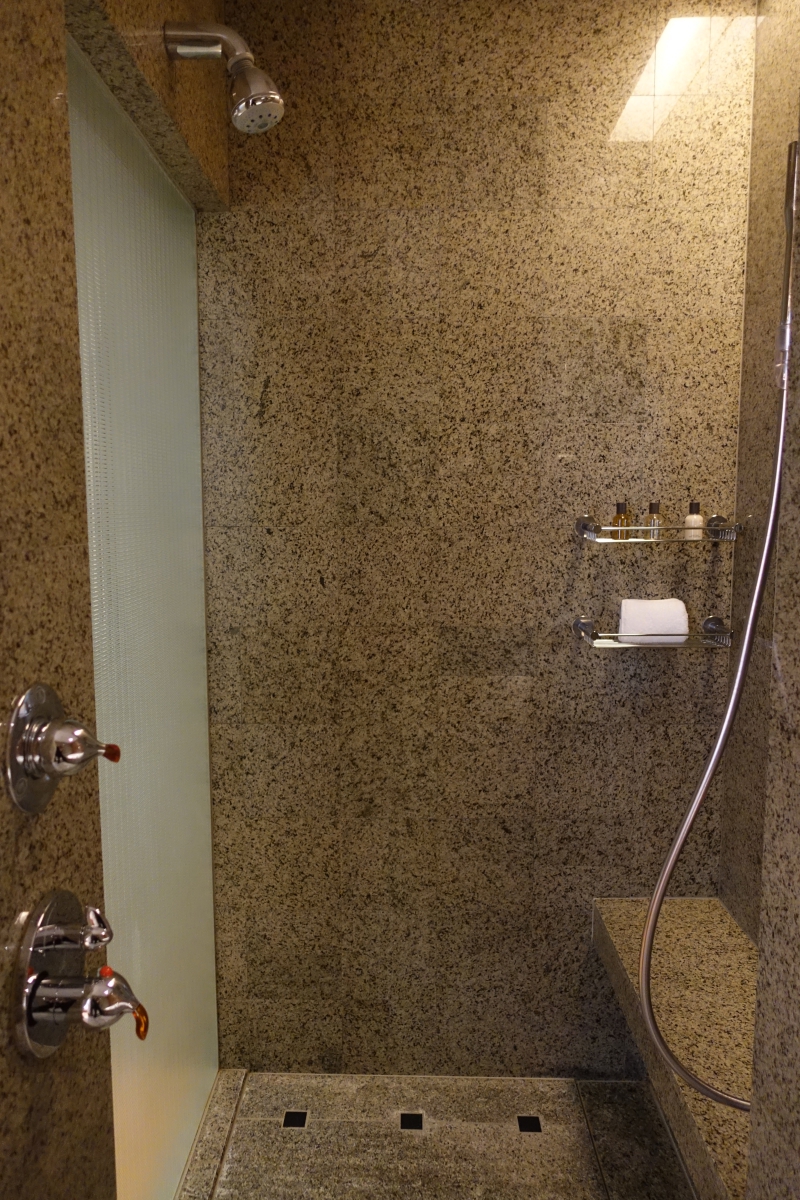 Bath products are by Bottega Veneta, and apart from the Aman Tokyo bath products, I liked these ones best of the branded bath products at our Tokyo luxury hotels.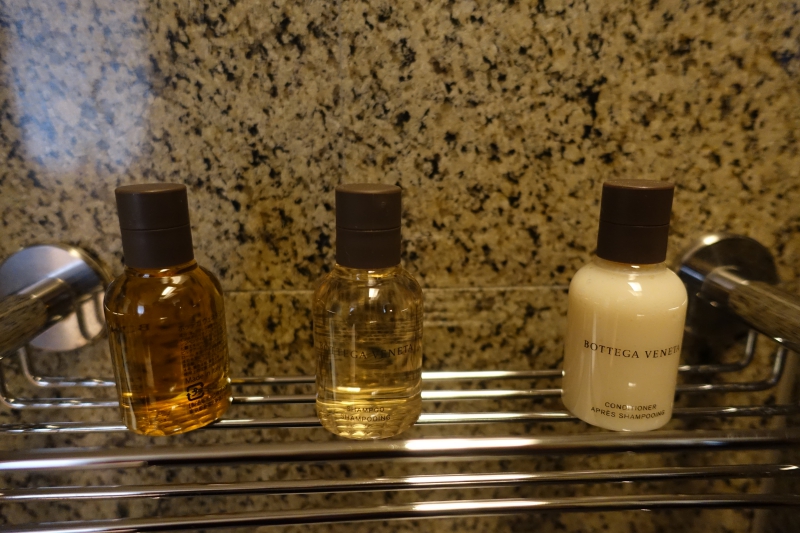 Since it's Japan and the Mandarin Oriental, not only is there a Nespresso machine, there's also a hot water kettle as well as a tea pot, for tea.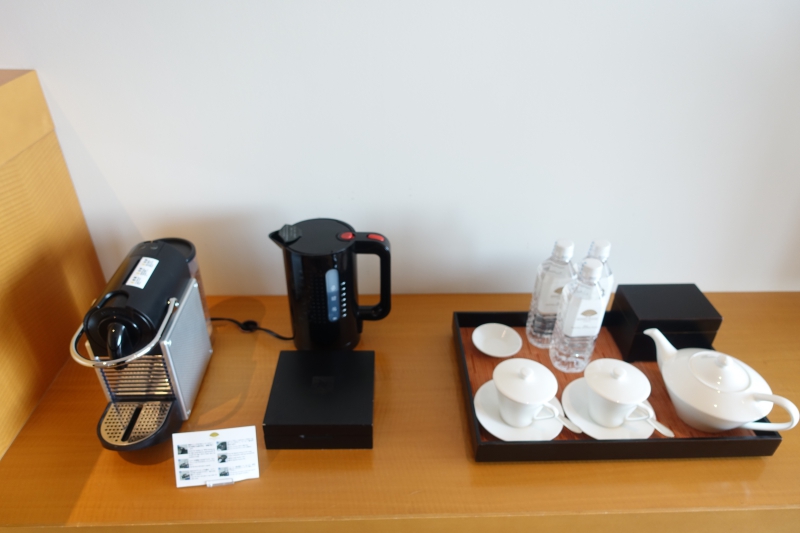 Here's a brief video of our room:
Mandarin Oriental Tokyo Spa
One thing to note is that there's no lap pool at the hotel, although there is the Mandarin Oriental Tokyo Spa on the 37th floor, with a comprehensive array of treatments. If you're not having a treatment, there's a fee to use the jacuzzi, sauna, and spa facilities except at a certain time in the morning (check with the Spa, as the time may change).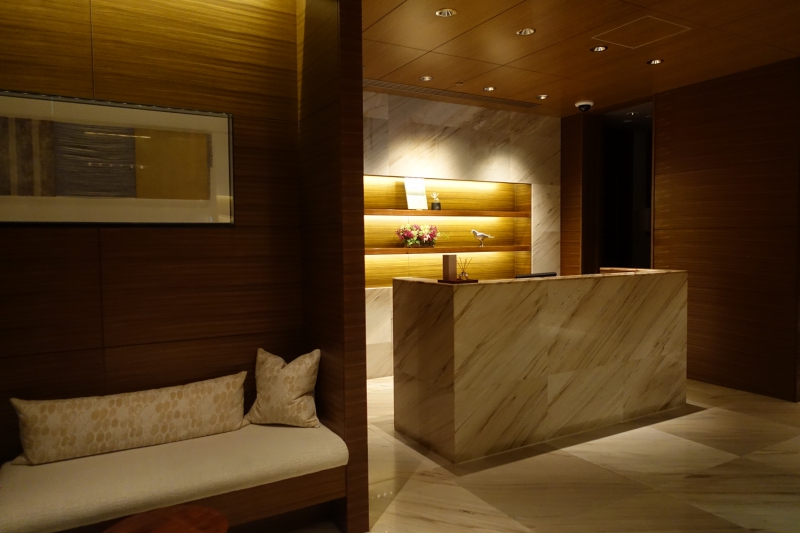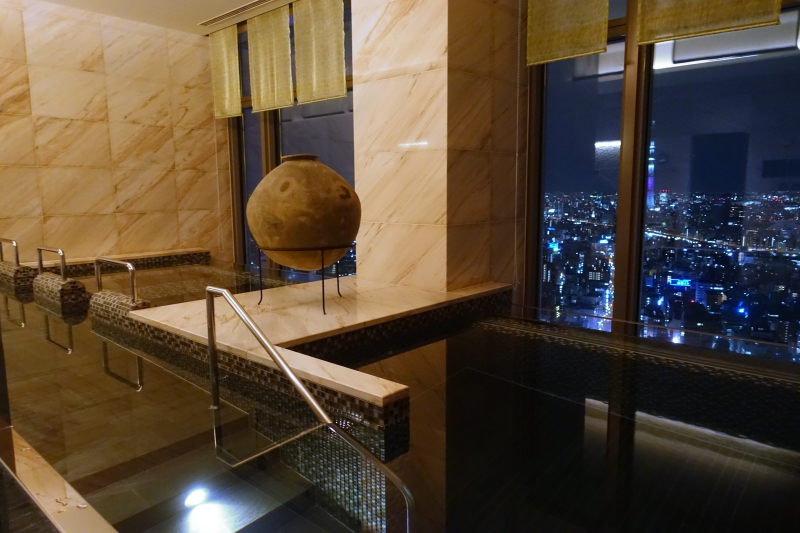 Mandarin Oriental Tokyo Service
We didn't intend to stress test the Mandarin Oriental Tokyo's service, but our perfect storm of forgetfulness inadvertently did test the hotel, which came through with flying colors. My husband inadvertently forgot his laptop about an hour outside of Tokyo (fortunately at the apartment of an old family friend) and despaired of being able to find his way back there without getting horribly lost, as neither of us speak the language. Plus, although we had the phone number of this family friend, who's around 90 years old, we weren't able to reach him. Oh, and we were departing Tokyo early the next morning and my husband was in the middle of some rather critical work.
Fortunately, the Mandarin Oriental Tokyo bell team was able to keep trying the number until they reached him, explained the situation, and managed to obtain his exact address. They even went all the way out to his apartment, retrieved the computer, and came back to give it to my husband. Naturally we paid for the taxi fare, but when my husband tried to tip the gentleman who helped him, he was refused. We both know that Japan is generally a no tipping culture, but truly this went above and beyond.
Then I had my own issue where I somehow misplaced my camera battery charger. The very helpful Concierge Team managed to locate a store that had one, carefully ensuring it was the right one for my camera, and for a modest fee, was able to have an associate pick it up for me. I couldn't be happier with the Concierge's professionalism and speed at locating the correct charger and procuring it for me.
The Verdict
The Mandarin Oriental Tokyo was very welcoming, and I loved the creative fruit pizza they left for our son–truly a creative (and delicious) surprise.
The Deluxe Room was our least favorite of the rooms we stayed in, and seemed cramped with the extra bed for our son, plus the bathroom didn't have dual vanities or a rain shower. Undoubtedly either 2 rooms or a suite would be a better choice for a family, but during this peak time, with peak pricing, I appreciate the hotel allowing us all to stay in one room. And the 538 square feet, it should be said, is spacious for the 2 people the room usually accommodates.
What must be emphasized is the fantastic service we received from the Bellmen and Concierge teams, who not only helped track down my husband's laptop at our friend's place, but actually helped my husband retrieve it before we departed Tokyo early the next morning. Similarly, I was indebted to the Concierge Team for their help in finding me a replacement battery charger for my camera battery.
The Mandarin Oriental Tokyo is also wonderful from a dining standpoint, as I'll cover in my Sushi Sora and K'Shiki / Pizza Bar on 38th reviews. In addition to these, it also offers the Tapas Molecular Bar (1 Michelin Star), Signature (French fine dining), Sense (Cantonese and dim sum) and several other lounges, bars and dining experiences.
If you've stayed at the Mandarin Oriental Tokyo, what was your experience?
Recommended Posts
Review: ANA First Class 777 New York JFK to Tokyo Narita
Hotel Review: The Peninsula Tokyo
Review: Four Seasons Tokyo at Marunouchi
Sushisho Masa, Tokyo Review: Our Favorite Sushi Bar in Tokyo
Disclosure: We were hosted by the hotel and enjoyed a complimentary stay, however the views expressed in this post are mine.
Need Award Booking Help? Our fee is as low as $75 per ticket if you book your hotel through us.
If you enjoyed this, join 200,000+ readers: please follow TravelSort on Twitter or like us on Facebook to be alerted to new posts.
Become a TravelSort Client and Book the Mandarin Oriental Tokyo with FanClub or Virtuoso Benefits!