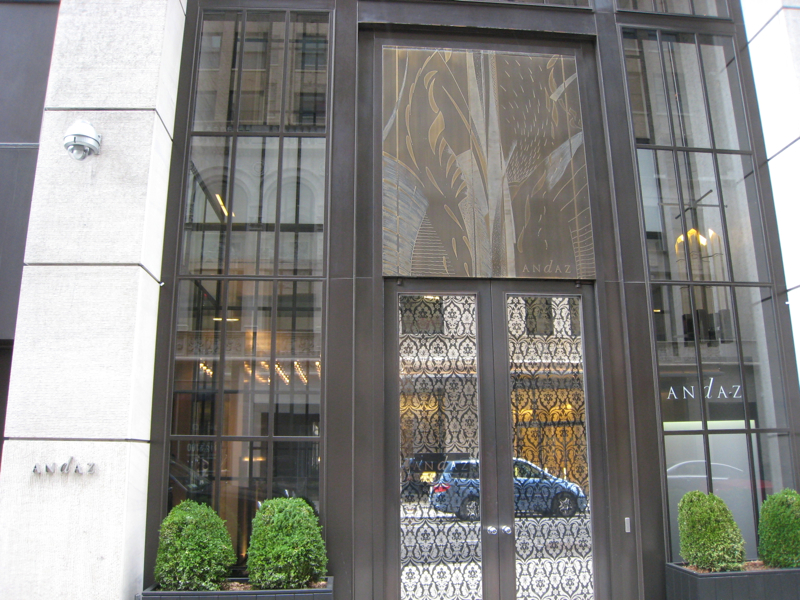 This Andaz 5th Avenue review is one of many NYC posts including NYC hotel reviews, NYC restaurant reviews and things to do in New York City. Visiting the Big Apple? I'm based in NYC, so Become a TravelSort Client and I'd be happy to help find your perfect NYC luxury hotel plus share insider tips for your perfect getaway.
Andaz 5th Avenue Location, Check-in and Lobby
The Andaz 5th Avenue is located at 485 5th Avenue at 41st Street, convenient to the B, D, F, M and 7 trains, as well as the 4, 5 and 5 trains, Grand Central Station, Bryant Park, and 5th Avenue shopping. Note that the entrance to the Andaz 5th Avenue is actually 41st Street, between 5th Avenue and Madison Avenue.
Our occasion for staying at the Andaz 5th Avenue was that we were hosting a family of 5 that night, so they took over our apartment, and we stayed at the Andaz 5th Avenue–much more economical than trying to book a hotel for 5 people. Plus, I still have a number of Hyatt Gift Checks, from the 10% Off Hyatt Gift Cards and Check Certificates at the end of last year, so there was no additional out of pocket cost to us beyond what I spent last year to acquire the Hyatt checks.
Since we arrived quite late, around 9:30pm, there was one Andaz 5th Avenue staff member in the lobby, who quite quickly checked us in. While I had booked a standard Andaz King room, she recognized my Platinum status with an upgrade to a Deluxe Room, and also asked if we'd need 2pm late check-out, which is a benefit of Platinum status.
Andaz 5th Avenue Deluxe Room: Andaz Large King
The Andaz 5th Avenue web site boasts that the hotel offers "some of the largest hotel rooms in New York City, starting from 322 square feet…", which puts you on notice that the hotel is squarely 4 star, and not even trying to compete with luxury hotels such as The Peninsula New York (rooms start at 370 square feet), Mandarin Oriental New York (rooms start at 400-425 square feet), Ritz-Carlton Central Park (rooms start at 450 square feet), or Four Seasons New York (rooms start at 500 square feet).
Our Andaz Large King was 400 square feet, so perfectly fine for 2 people, which is the maximum it accommodates. We entered to a somewhat dark, modern corridor, with the standout feature that the "closet" is out in the open: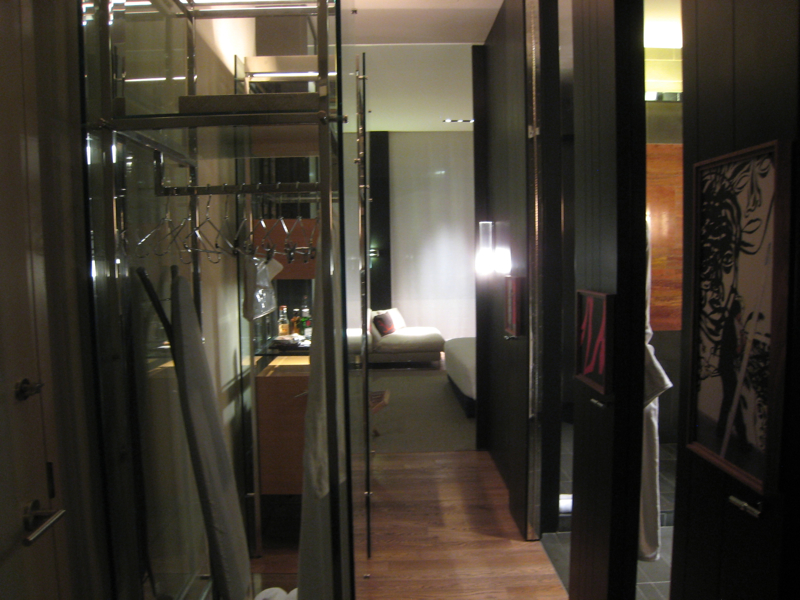 The room itself is plain and stark, which is presumably the modern look designer Tony Chi is going for, although I found it too austere and somewhat depressing in its plainness–it recalled IKEA and my student days a bit too much. While I do like modern and sleek when done well, personally I find that there needs to be something that warms or softens the room, such as fresh flowers. No doubt I was spoiled a bit, having come from the orchid-adorned Peninsula New York. I will say that I enjoyed the space afforded by the high 12 feet ceilings.
The King bed itself was fine, and quite comfortable, although I noticed that our sofa had a bit of a stain on it (one of the liabilities when choosing a light colored couch is that stains are very visible).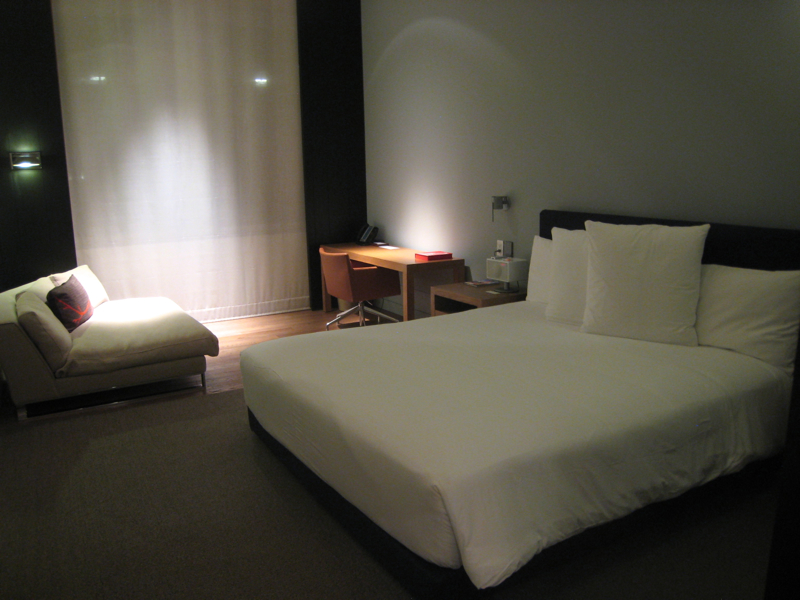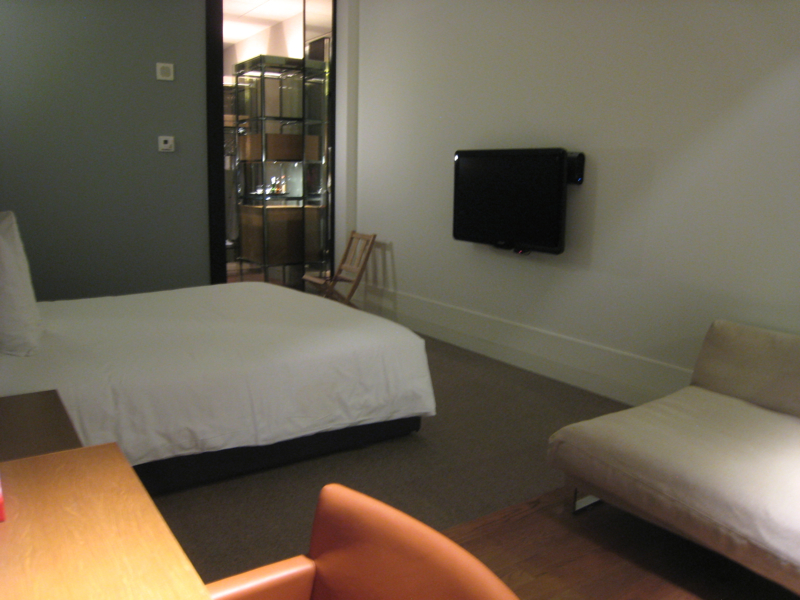 A nice touch at Andaz hotels is that snacks and non-alcoholic beverages are complimentary. Don't expect an abundance of snacks, however–for example, at the Andaz Maui at Wailea, there were basically a couple of Kind granola bars and potato chips as snacks. Similarly, here, there were potato chips, a peanut butter energy bar, and small trail mix package, as well as bottles of sparkling water, apple juice, tonic water, and alcoholic choices in the minibar. This is quite good for a 4-star hotel, although my preference is a nice assortment of fresh fruit rather than packaged food.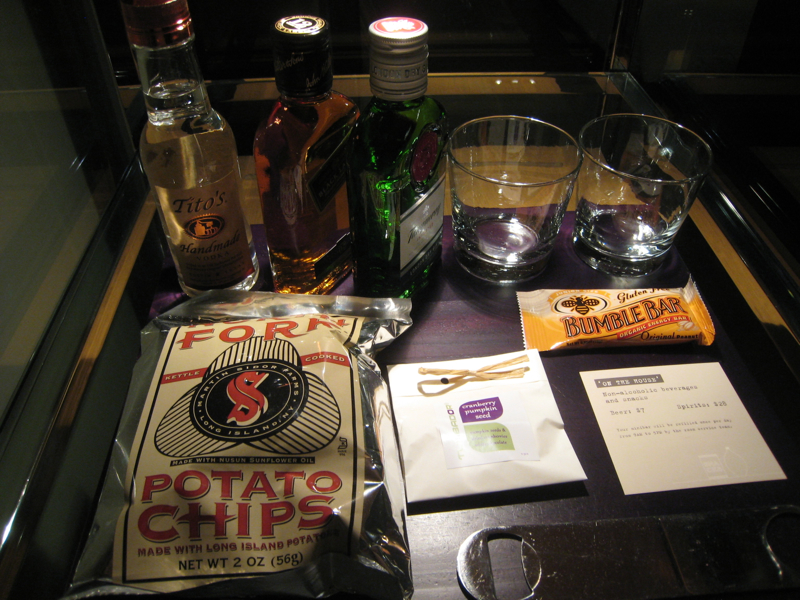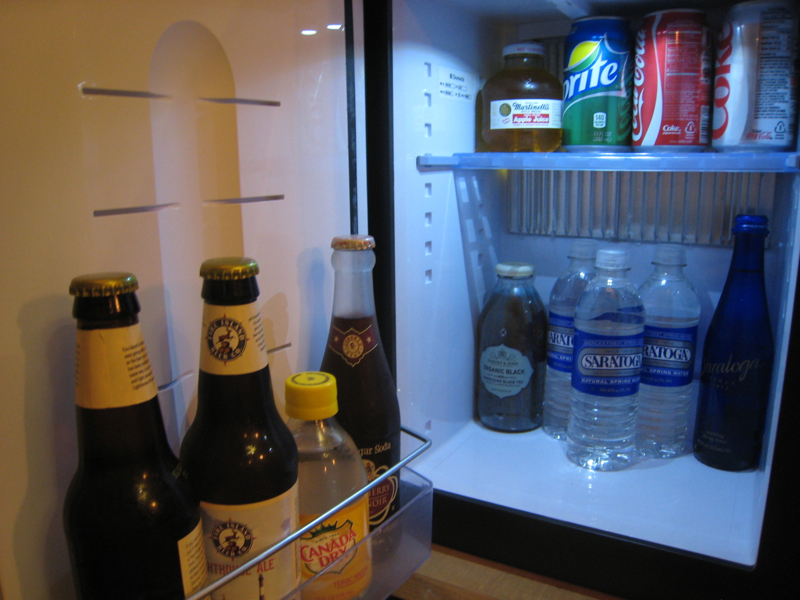 The bathroom is very sleek looking, in dark travertine marble, and I liked that there were dual vanities with his and hers sinks. The walk in shower was massive, and even professional basketball players will have no trouble taking a shower here, thanks to the rain shower and super tall ceilings. I did have a bit of trouble getting the temperature to be as hot as I wanted, but perhaps that was just my room.
It's a good thing the munchkin wasn't with us, however, as there was of course no soaking bath–you'd have to book a Splash Suite in order to have a bathtub.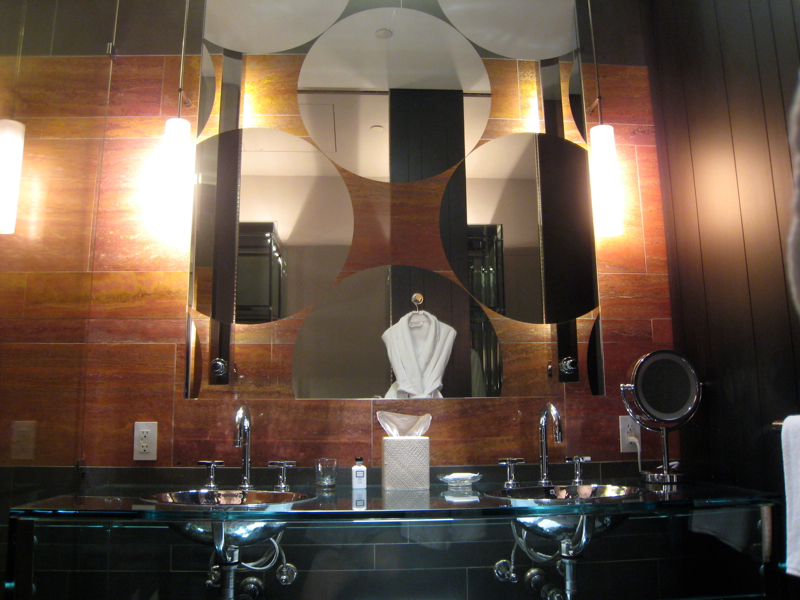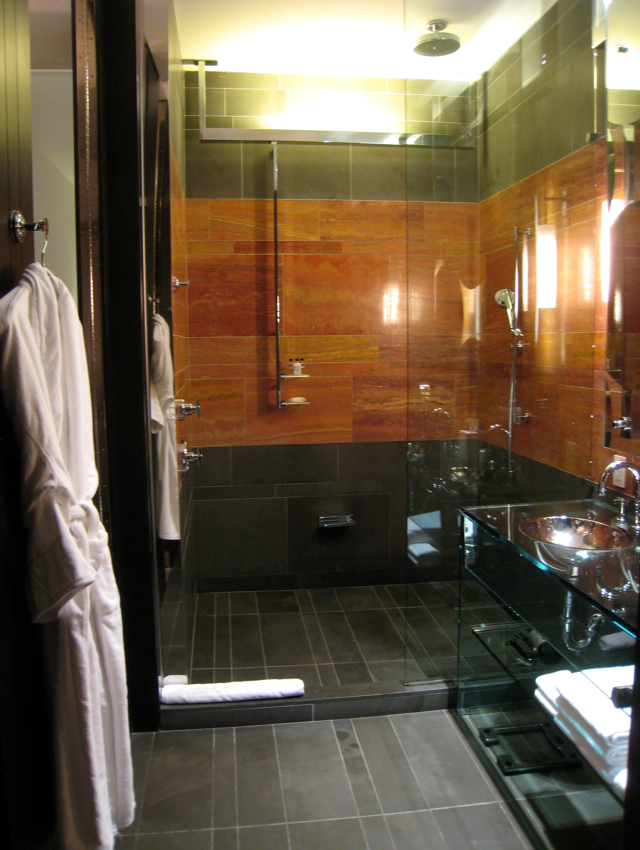 One thing I hated about the bathroom was that the doors were more style over substance: it was cumbersome and clunky to have to swing them closed, rather than just have a regular door. Also, I disliked the fact that there was no door to the toilet compartment, so there was no way to close that off from the rest of the bathroom.
I did like the bath products, which are Beekman 1802 "Fresh Air," made in upstate New York, and don't have any parabens or phthalates. What I didn't like is that there was no ingredients list on the bottle. Come on–there could still be an ingredient that some guests are allergic to, so include an ingredients list! I even looked on the company Web site and there was no ingredients list for the product–frustrating, although of course not the Andaz 5th Avenue's fault.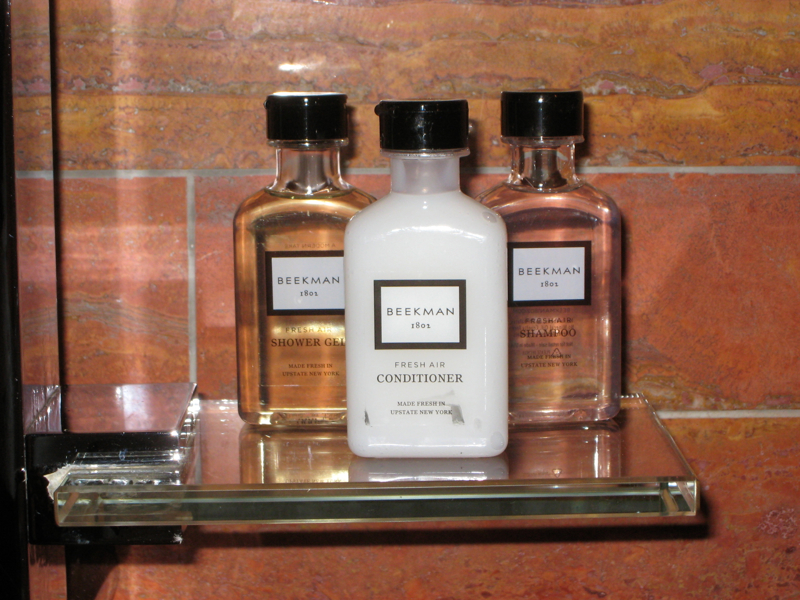 The sound system is Geneva, and we didn't have occasion to test it, but I was intrigued and a little fearful to find that a pair of earplugs were provided. Was the 41st Street noise going to necessitate their use? Were walls thin such that guests were always complaining of hearing their neighbors? Or was it more of a playful touch, in case you're with a partner who snores? Fortunately, at least on the Saturday night we stayed, it was quiet, and we didn't hear much in the way of street noise, and didn't hear neighbors either.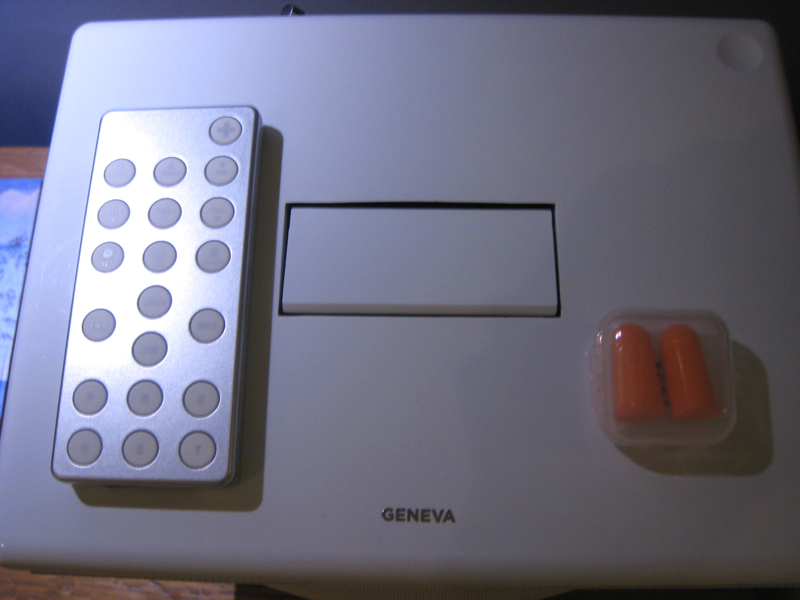 What did bother me, however, was, at least in our room, the fact that the shades (which were conveniently controlled from a master control panel, along with the lights) were not blackout shades, so the room was not completely dark even with them down. Big fail, in my book. Blackout shades are a must, I believe, in any serious hotel. Even most mediocre 3 star hotels have them, so there's no reason why the Andaz shouldn't either. I really shouldn't have to remember to pack eyeshades, even if I do have a good collection by now from Lufthansa First Class, Singapore Suites, etc.
The Shop at Andaz 5th Avenue
Many bloggers rave about the food at The Shop at Andaz 5th Avenue, but honestly, we've had such mediocre to poor experiences on the couple of occasions we've gone that I don't plan to ever go back. See Review: The Shop, Andaz 5th Avenue NYC Brunch Menu. If you want great pancakes, there are many better places in NYC for them; see Best Pancakes in NYC.
The Verdict
I liked the high ceilings of the rooms at Andaz 5th Avenue, the dual vanities in the bathrooms, and the fact that the walk-in shower accommodates tall people, such as my husband and much taller folks, for that matter. It's not my favorite location in NYC, but it is pretty convenient to a lot of transport, for getting around.
As a Category 6 property, it's not cheap for award redemptions, at 25,000 Hyatt points for a free night, or 12,500 points + $150 + tax, but given how expensive NYC hotels are, it can be a good 4-star bet for those not able to afford a NYC luxury hotel.
I consider the clunky bathroom doors, the lack of a separate door to the toilet, and the lack of true blackout shades serious design flaws, but perhaps the target demographic for this hotel doesn't mind these aspects.
If you've stayed at the Andaz 5th Avenue, what was your experience?
Related Posts
Review: The Shop, Andaz 5th Avenue NYC Brunch Menu
Hyatt Concierge on Twitter is Great-The Shop at Andaz Fifth Avenue, Not So Much
Park Hyatt New York: No Free Night Awards
Andaz Maui at Wailea Suite Review
Hyatt Cash and Points Awards Now Available
Disclosure: I paid for my own stay using Hyatt Check Certificates.
Need Award Booking Help? Our fee is as low as $75 per ticket if you book your hotel through us.
If you enjoyed this, join 150,000+ readers: please follow TravelSort on Twitter or like us on Facebook to be alerted to new posts.
Become a TravelSort Client and Book 5-Star Hotels with Virtuoso or Four Seasons Preferred Partner Amenities!