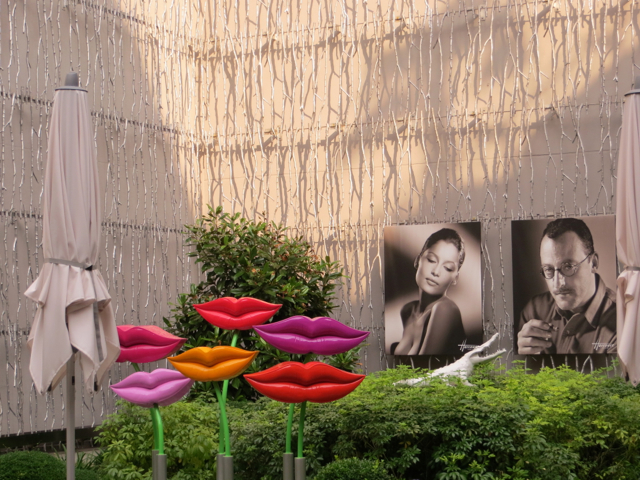 This Hotel Fouquet's Barriere Paris Review is part of a UK and France trip report including flights in British Airways in New First Class, Singapore Business Class and Singapore Suites, stays in a Scottish castle and 5-star hotels in London and Paris, and Michelin Star Dining in Paris. For the prior posts, please see:
British Airways Galleries Lounge in Newark and First Class Dining Review
British Airways New First Class 777 Review
British Airways Galleries Arrivals Lounge London and Concorde Room
Singapore Business Class Review NYC (JFK) to Frankfurt
Petrus London Restaurant Review
Dalhousie Castle Hotel Review, Scotland
Dalhousie Castle Falconry Review, Scotland
Epicure at Le Bristol Paris Restaurant Review
Four Seasons Paris Hotel Review
Paris Plages (Paris Beaches) Review
Le Cinq at Four Seasons Paris Restaurant Review
Park Hyatt Paris-Vendome Review
Park Hyatt Paris Breakfast Buffet Review
Prince de Galles Paris Hotel Review
La Grande Eperviere Barcelonnette Hotel Review
Things to Do in Barcelonnette, France with Kids
InterContinental Marseille Hotel Review
Vinoneo Bistro Marseille Restaurant Review
Westin Grand Frankfurt Hotel Review
La Maison Stella Cadente Review (Provins, France)
Provins France Fete de la Moisson (Harvest Festival)
Hotel Fouquet's Barriere Paris Location, Check-In and Lobby
Hotel Fouquet's Barriere is at a prime location, at the corner of the Champs-Elysees and Avenue George V (where, further down, the Four Seasons Paris and the Prince de Galles are located). The hotel, the only major Paris 5-star luxury hotel that is French owned, is quite new, having only opened in 2006. It rises above Fouquet's restaurant, which opened in 1899, and has long been a popular haunt for actors, film directors, and others in entertainment and the arts. For example, Beyonce Knowles and Jay-Z celebrated a wedding anniversary at Hotel Fouquet's Barriere.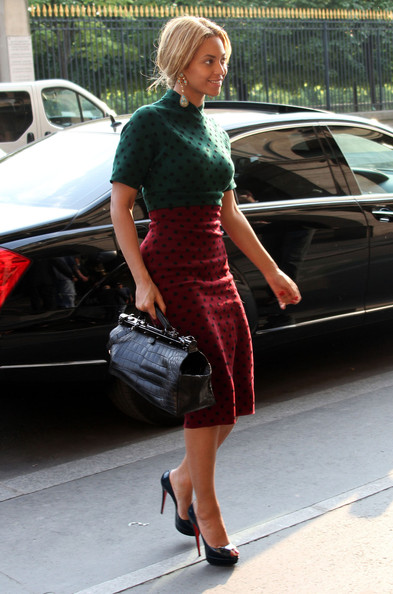 Photo Credit: FlynetPictures
While you could certainly take a taxi from the airport or wherever you're coming from in Paris, the hotel is literally a few steps away from the George V metro station, which is how we arrived after taking the subway from the Gare de l'Est after our stay in Provins.
The hotel's discreet entrance is off of Avenue George V, flanked by two topiaries.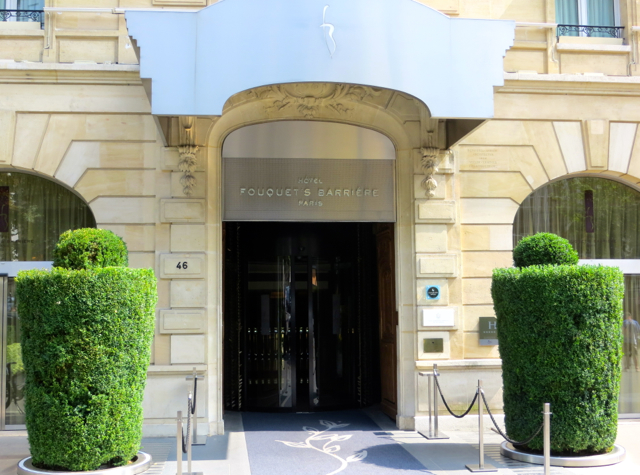 Even so, it would have been easy to miss, were it not for a rather striking black sports car parked in front of the hotel. I'm not an auto fanatic, but I'm sure one of my readers will be able to tell me what kind of car this was…anyone?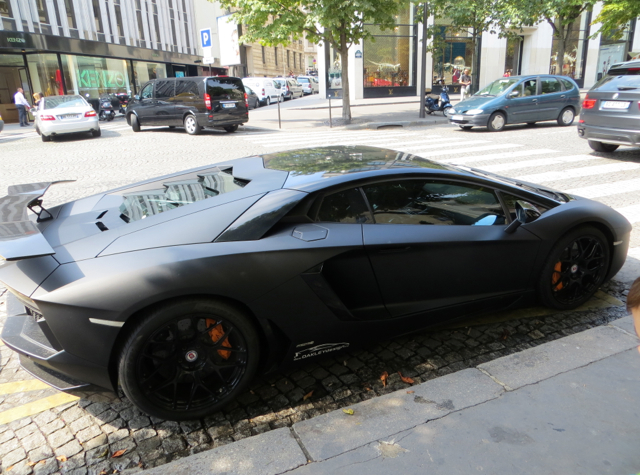 On entering, the reception is in front of you and the lobby, with elegant velvet banquettes and armchairs, was to our right.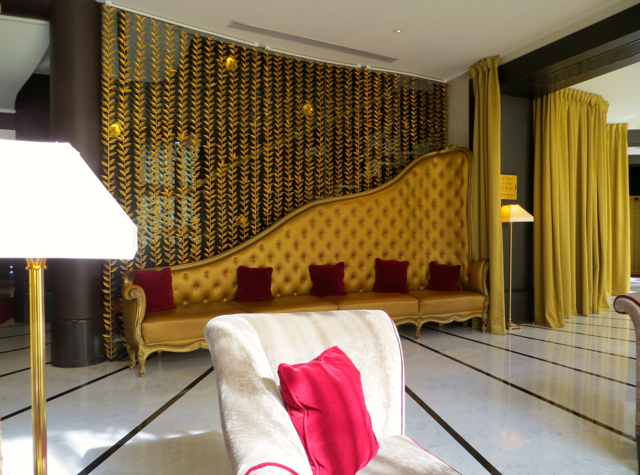 We were graciously checked in, and even introduced to our butler at the concierge desk, although our stay was brief and we didn't have occasion to call on her.
Deluxe Room
We were guests of the hotel and were booked into a Deluxe Room, which faced the Avenue George V and received plenty of natural light. While there are also Executive Rooms that face the Champs-Elysees and could be great for people watching, for some, it may be preferable to face the quieter Avenue George V. We didn't hear anything from our room and slept very soundly, so I can definitely vouch for the Deluxe Rooms.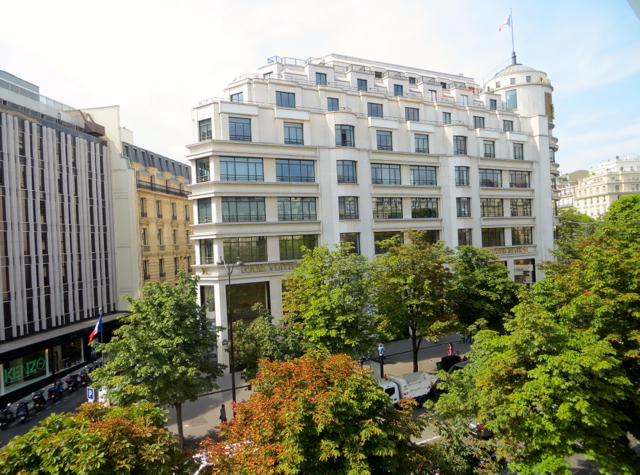 The first thing the munchkin spied on setting foot in the room were welcome gifts for him on the King bed: a cute ladybug stuffed animal named Grenadine (the children's mascot of Hotel Fouquet's Barriere) and a handmade red and black wooden top.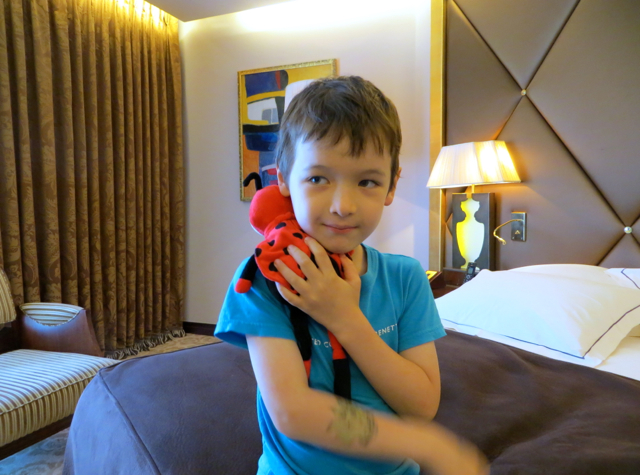 There were also coloring pencils and a nice big notepad for drawing, and the munchkin wasted no time in ensconcing himself at the desk and drawing: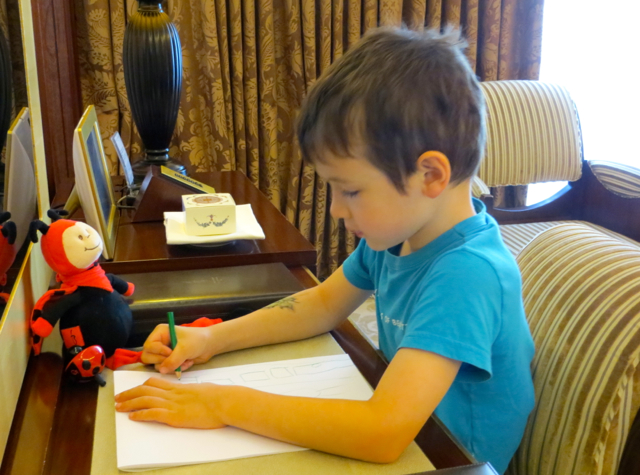 Well, that is, until he spotted some yummy delights left by the pastry chef, just for him, at the side table. He literally started jumping up and down with excitement over these goodies: chocolate cookies decorated with M&Ms, strawberry juice, and a beautifully arranged layered delight of marshmallows and fresh raspberries. It was all I could do to limit the sugar high: 1 cookie, the fresh raspberries, and some juice, so as not to spoil his appetite for dinner: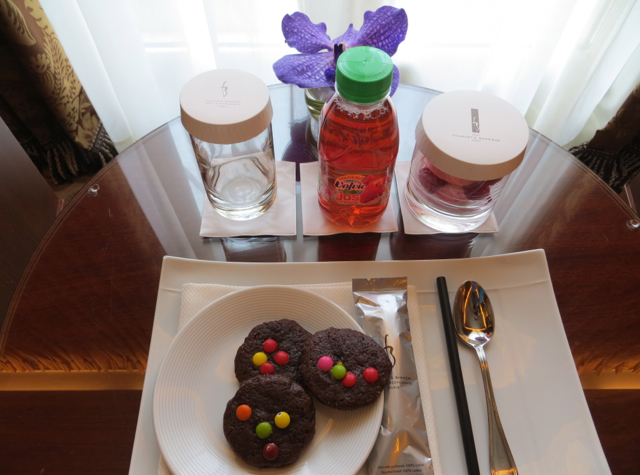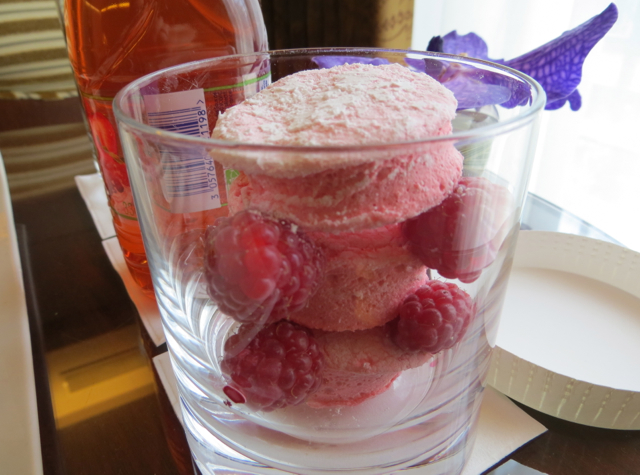 For me, there was a box of artisanal butter cookies, which I saved as a souvenir while sneaking a taste of my son's chocolate cookie 🙂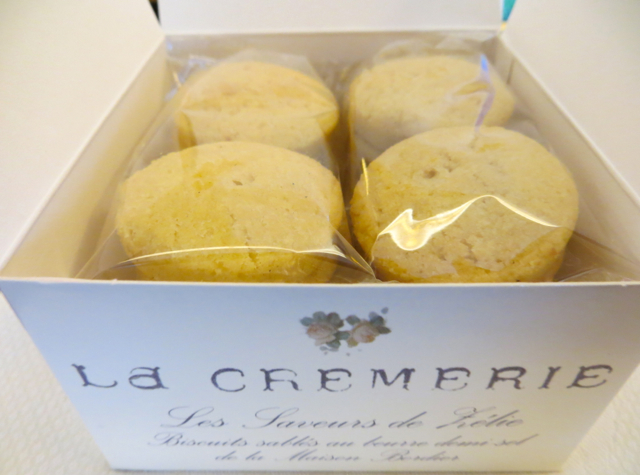 The King bed was very comfortable, and we both slept well. I didn't even bother with an extra bed, since it was plenty big enough for both of us and my husband wasn't with us, although the hotel is happy to put in an extra bed.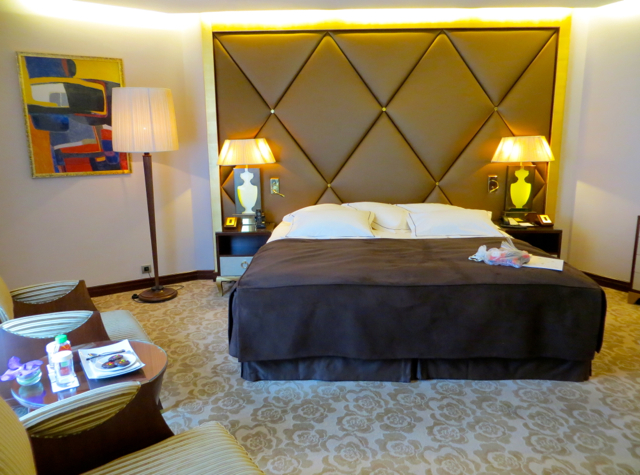 Interestingly, the toilet and bidet was in a separate room to the left after entering the room, completely separate from the bathroom.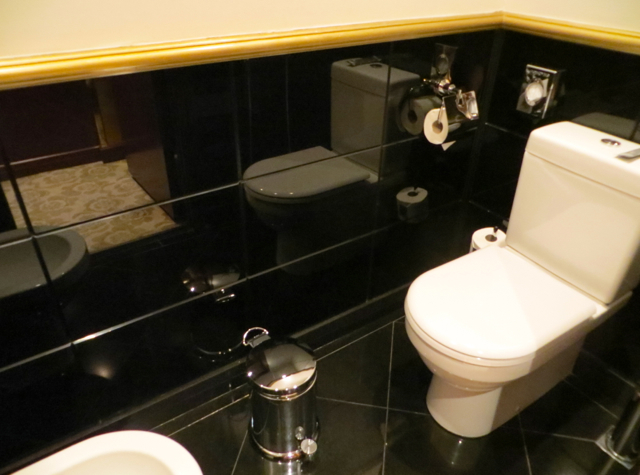 Across from the toilet was the closet, with ample space to hang clothes, and with bathrobes, including a child size bathrobe: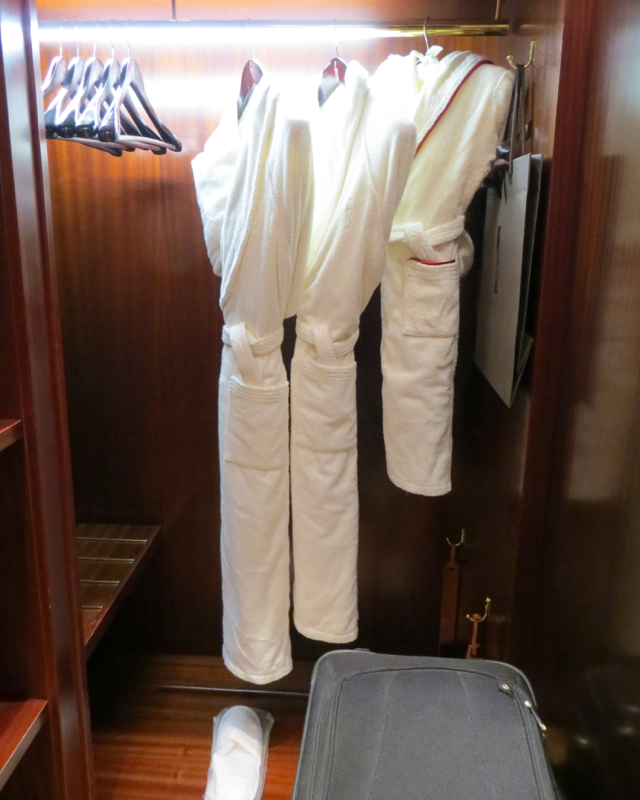 Next to the closet was the minibar: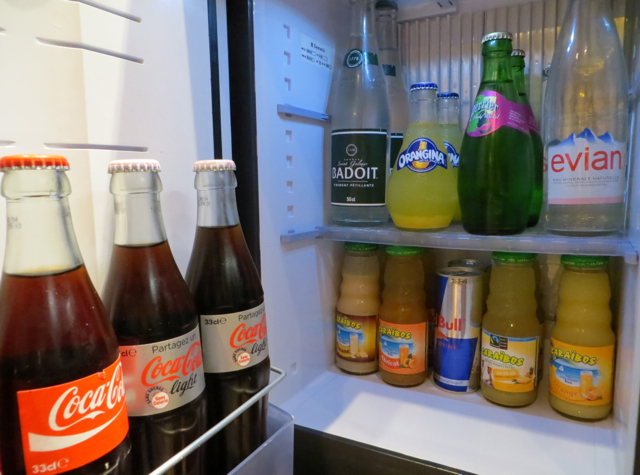 The bathroom, which was positioned off the bedroom, also faced the Avenue George V, and I liked having that natural light in the bathroom. I also was pleasantly surprised to find double sinks, since you typically only find this in certain Paris hotel suites–at the Hotel Fouquet's Barriere, all rooms and suites, including entry level Superior Rooms, offer double washbasins. The soaking tub was very generously sized, and there was also a walk-in rain shower.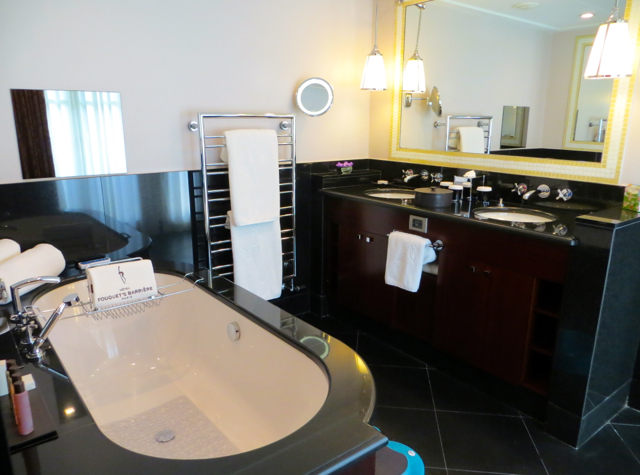 If I had to find something to criticize, I'm not a fan of private label bath amenities, and the bath amenities were Hotel Fouquet's own brand. I would have preferred Bulgari or L'Occitane. It was lovely, however, that the munchkin was given his own special bath amenities.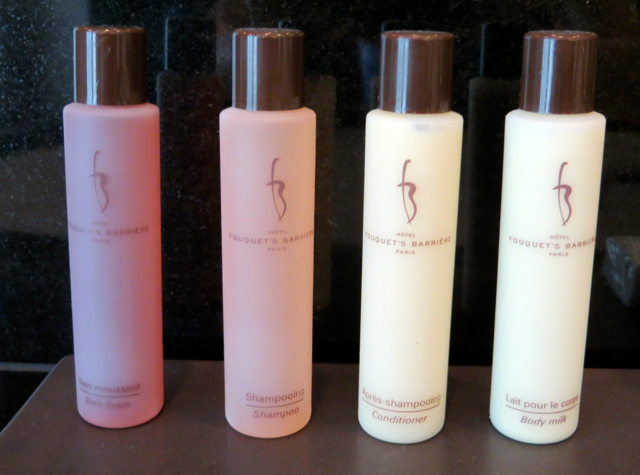 He was thrilled to enjoy a bubble bath later that night, after we got back from swimming: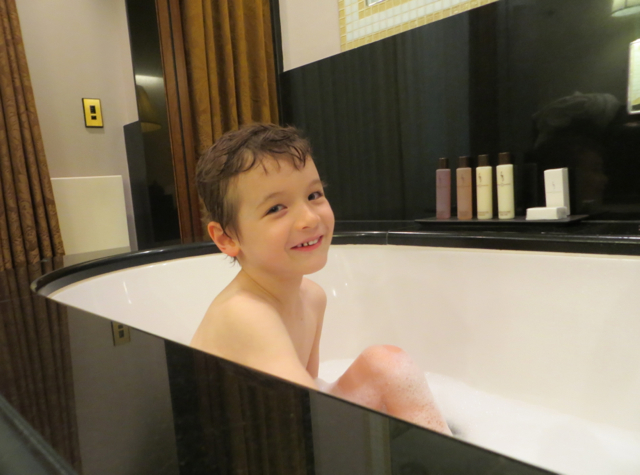 Galerie Joy, Terrace and Garden
While Le Fouquet's is iconic and perhaps best known, for its location right on the Champs-Elysees, I actually preferred the interior terrace and garden. It's green (at least in the summer) and such a peaceful place right in the heart of Paris. There are some whimsical, brightly colored "lip" sculptures (see first photo of the post), and on sunny days the terrace umbrellas provide welcome shade in which to enjoy your cocktails, light fare, or simply an espresso with some macarons and other sweet treats: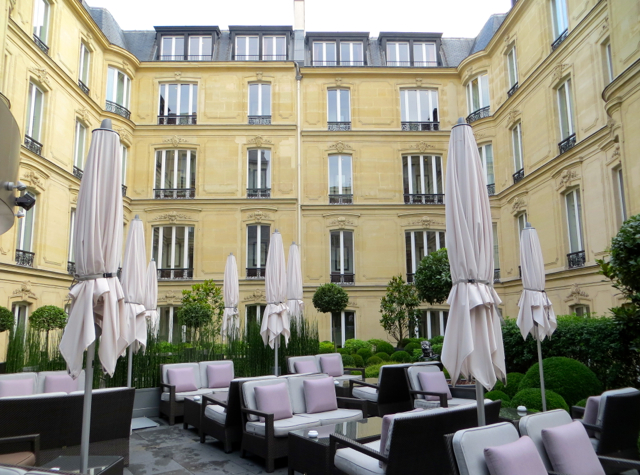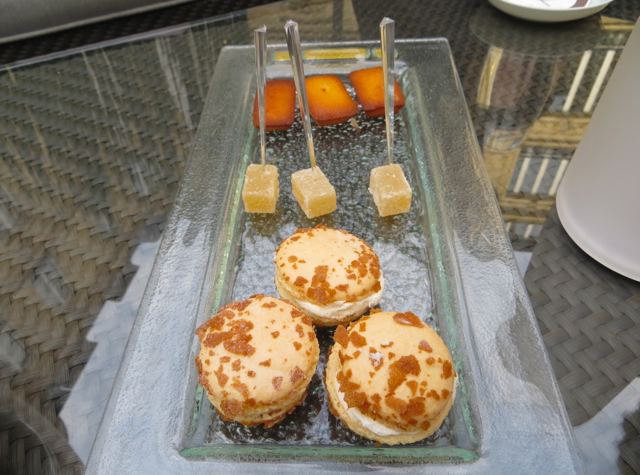 Spa Swimming Pool and Aqua Circuit
One of the best aspects of Hotel Fouquet's Barriere is its Spa Swimming Pool and Aqua Circuit. Since the Spa and pool area is open from 7am-10pm daily, we took advantage of the late closing time by visiting after returning from dinner. There was no one else around, so I didn't feel badly about letting the munchkin gleefully splash around the pool.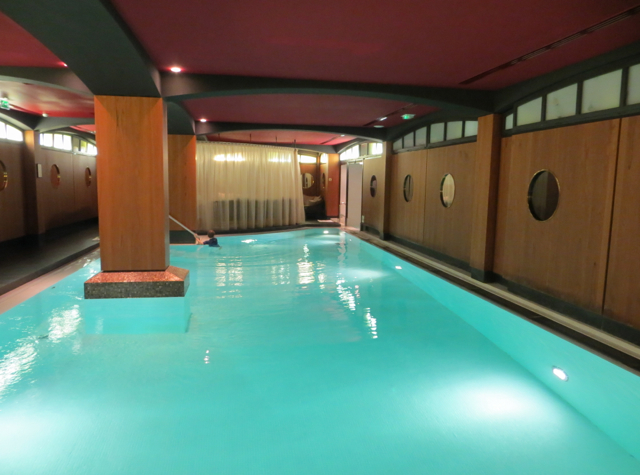 When someone did come down to do a few laps, I moved the munchkin to the aqua circuit, although I had to hold on to him given how powerful the jets are. Don't let your kids do this on their own unless they're older and strong swimmers! Great for massaging any sore muscles you may have after a workout or simply walking around Paris all day.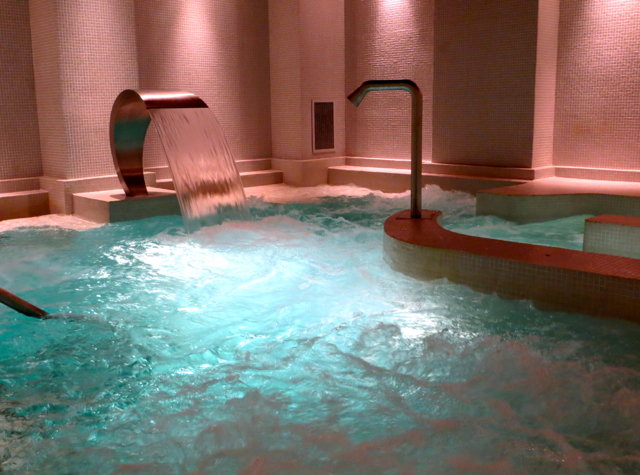 After the pool and aqua circuit, it was nice to nibble some dried fruits and have a cup of tea, courtesy of the spa. There was also a Nespresso machine: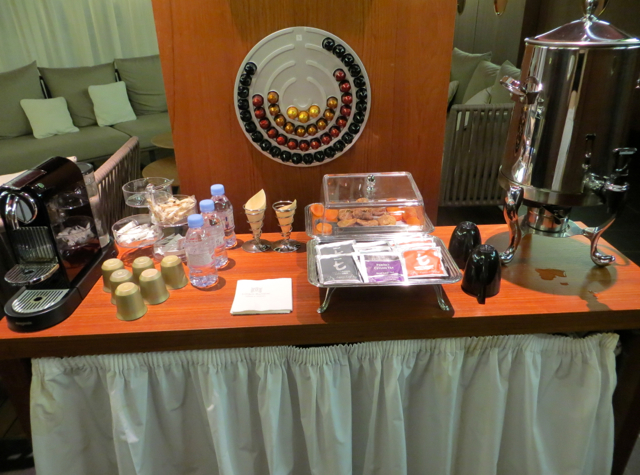 Then it was into his own cozy bathrobe and back upstairs for a bath: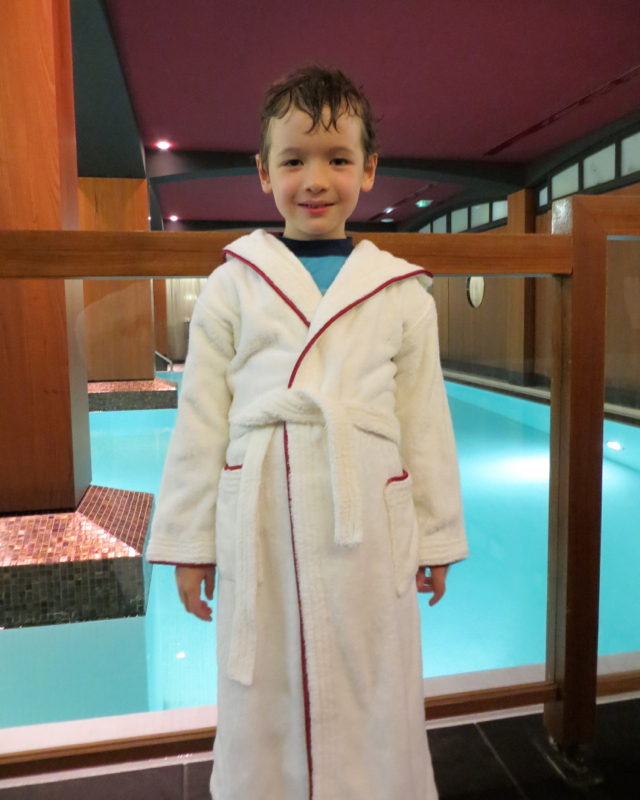 When we got to our room, we were happy to see that as part of turn down service, a delicious Maison du Chocolate macaron had been left for each of us, along with bottled water: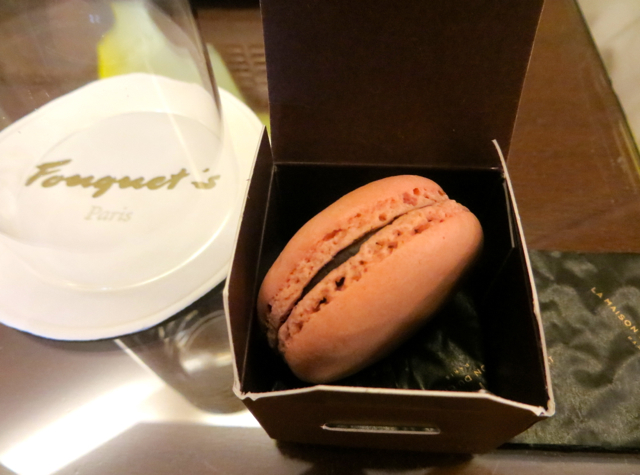 The Verdict: Hotel Fouquet's Barriere is the perfect choice if you want a luxury Paris hotel with spacious rooms but prefer a more boutique, modern feel.
Disclosure: I was a guest and enjoyed a complimentary stay at Hotel Fouquet's Barriere Paris, however the views expressed in this post are my own.
Related Posts
Four Seasons Paris Hotel Review
Park Hyatt Paris-Vendome Review
Prince de Galles Paris Hotel Review
Need Award Booking Help? Our fee is as low as $75 per ticket if you book your hotel through us.
If you enjoyed this, join 90,000+ readers: please follow TravelSort on Twitter or like us on Facebook to be alerted to new posts.
Become a TravelSort Client and Book 5-Star Hotels with Virtuoso or Four Seasons Preferred Partner Amenities!